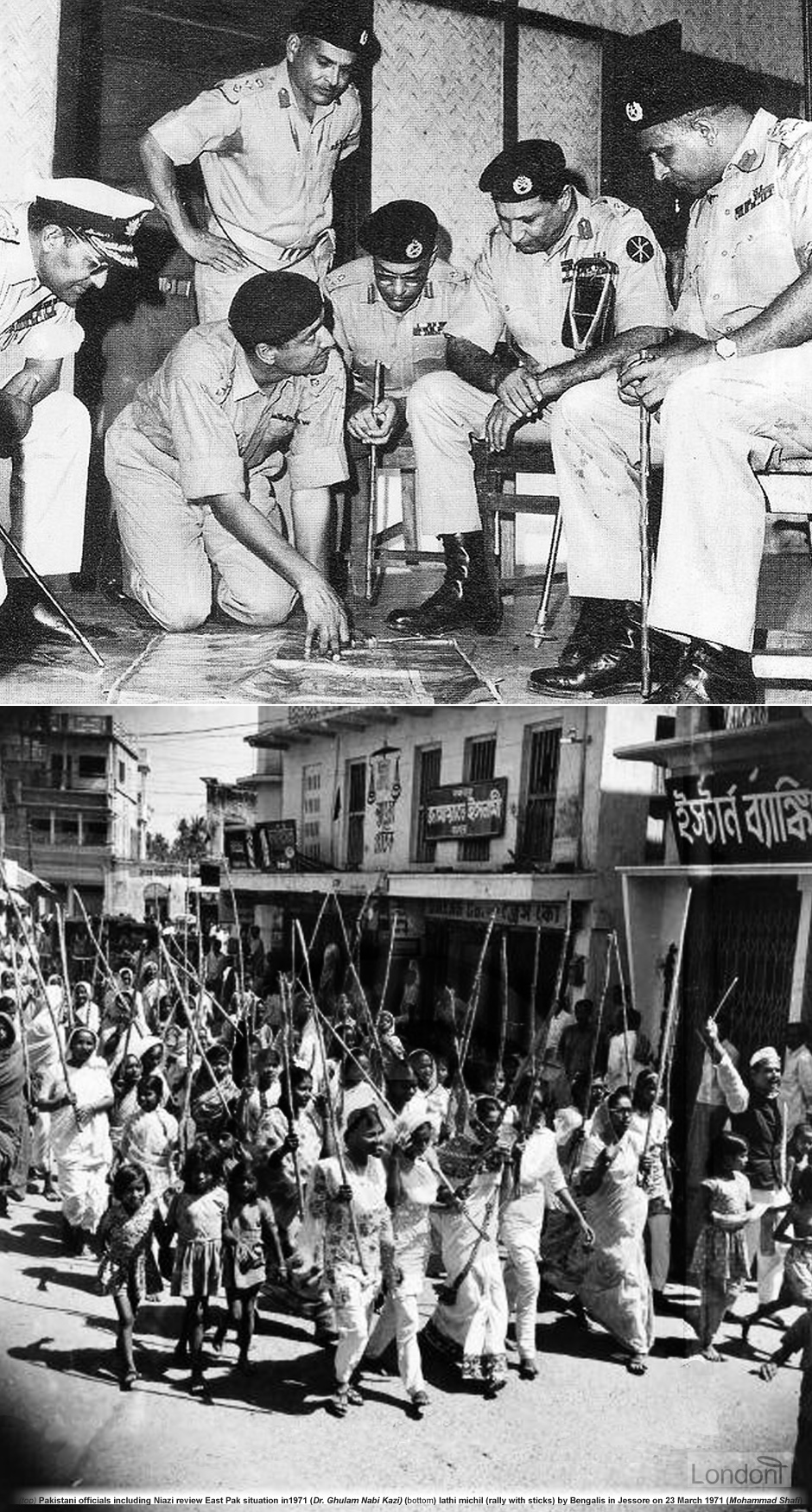 Days leading upto the war
8 March: Black protest flag flown and "Bikshubdha Shilpi Samaj" artists switch allegiance
On 8 March 1971 Black flags were hoisted atop the residential houses, education institutions, on all private and public transports, business establishments and a number of Government officers in the provincial metropolis in protest against the firing on the unarmed people in the current mass movement over all Bangladesh.
The call of hoisting of black flags for an indefinite period throughout Bangla Desh was given by the Awami League chief Sheikh Mujib in his address at the Race Course maidan on Sunday.

A large number of people belonging to all ages also put on black ribbon as a mark of mourning for those who laid down their lives for the emancipation of Bangladesh in the current movement.
During the same day 46 http://www.profile-of-bengal.com/p-b/www.profile-bengal.com/mnmarch9.html radio, television and film artistes representing the "Bikshubdha Shilpi Samaj" vowed to only participate in radio and TV programme from 10 March 1971 on the condition that the programme were "favourable to people's movement". A delegation of the artistes also met Sheikh Mujibur Rahman and reiterated their full support to him. For his part, Sheikh Mujib endorsed the programme of the artistes http://www.profile-of-bengal.com/p-b/www.profile-bengal.com/mnmarch9.html.
A statement was issued to the press. Among the signatories were Abdul Ahad, Samar Das, Dhir Ali, Khadem Hossain, Abed Hossain, Ghulam Mustafa, Hasan Imam, Anwar Rahman, and Ali Mansur to name a few http://www.profile-of-bengal.com/p-b/www.profile-bengal.com/mnmarch9.html.
In a joint statement, they emphasised the need of transmitting popular and patriotic songs and dramas to keep up the spirit of the people and to inspire them in their struggle for emancipation. They recalled that the artistes had associated this time also with the struggle of the people of Bangla Desh and had been boycotting Radio and TV since 1 March 1971.
On 10 March 1971 the artistes began to re-associate themselves with the radio and TV programmes as promised. However, they were quick to reassert that in no circumstances would they participate in any programme contrary to the spirit of the present movement or inconsistent with the overall situation obtaining in the country. They called upon the fellow artistes all over Bangladesh to take active part in the non-violent non-cooperation movement for the realization of people's legitimate rights.
During the same day the actor-actresses and the technicians under the leadership of Golam Mostafa and Khan Ata staged demonstration under the banner of Bikshubdha Shilpi Samaj http://www.banglapedia.org/HT/N_0219.htm.
9 March: Maulana Bhashani demands Yahya acknowledge independence
On 9 March 1971, two days after Sheikh Mujib's address, the influential Maulana Bhashani, co-founder of the Awami League, held a mammoth rally at Paltan Maidan, Dhaka, extending his support to Sheikh Mujib. In his address Maulana Bhashani asked President Yahya Khan to acknowledge the independence of Bangladesh and 'free' 75 million Bengalis. He also declared 14 points of NAP.
Relationship with Pakistan is over.

A defiant Maulana Bhashani at Paltan Maidan, Dhaka, on 9 March 1971
On the same day, Tajuddin Ahmed proclaimed 16 instructions on behalf of Awami League as guideline for civil administration while Ataur Rahman Khan urged upon Sheikh Mujib to form the national government. East Pakistan Communist Party (Marxist-Leninist) went a step further and called upon the people to liberate the country through guerrilla warfare instead of non-cooperation movement http://www.banglapedia.org/HT/N_0219.htm. Elsewhere, the Police, EPR, Intelligence Bureau and CID were asked to disrupt their relation with the government and Chief Justice B.A Siddiqui expressed his reluctance to conduct oath of newly appointed Governor Lieutenant General Tikka Khan.
Meanwhile, Radio Pakistan did not air any part of the influential Maulana's speech in any of its news bulletins, much to the disgust of NAP's General Secretary Mashiur Rahman http://www.profile-of-bengal.com/p-b/www.profile-bengal.com/mnmarch11.html. Mashiur issued a press statement in Dhaka on 10 March 1971 to deplore the total black-out of Maulana Bhashani's Paltan meeting.
The NAP General Secretary expressed surprise over the attitude of the Radio Pakistan authorities in boycotting the due coverage of the Paltan meeting of such a popular political leader.

He said the authorities would be solely responsible if any untoward incident took place in this connection in the province. The people of Bengal cannot tolerate such conspiracy.

Mashiur Rahman's furious over radio black-out of Bhashani's speech
9 March: Bhutto's cable of condolence to Sheikh Mujib
On the same day as Maulana Bhashani was holding the rally, Zulfikar Ali Bhutto sent a cable to Sheikh Mujibur Rahman expressing his condolences on the recent events in East Pakistan and requesting Sheikh Mujib to cooperate with him as the future of the country "hangs in balance". Ironically, it was Bhutto's refusal not to attend the National Assembly - and ultimately give Awami League and Sheikh Mujib their democratic right to power - which had triggered the uprising in the first instance.
I am deeply distressed and profoundly concerned over the recent turn of events in our country I grieve for our countrymen who have lost their lives in this crisis. My heart goes out to the bereaved families. We seek a new order for Pakistan - an order where exploitation of man by man or of region by region - comes to an end. Let us strive to enshrine such a new order not only in the constitution but in the hearts of all Pakistanis.

We are faced with a crisis of the gravest magnitude. The future of our country hangs in the balance. Both of us carry an extremely heavy responsi­bility and everything humanly possible must be done to avert the disaster that threatens us. It must be our common objective that Pakistan be saved and set on the road to peace and progress in which both wings of the country can play their full part.

The unfortunate crisis that has since developed leads me to believe that we have come to a stage when the two wings of Pakistan must immediately reach a common understanding if the country is to be saved and the country must be saved whatever the cost.

To overcome the present crisis, every effort roust be made to bring the people of the two wings together. Every effort must be made to erase the bitterness and misgivings engendered during the past 23 years. Every effort must be directed to preserve the unity and solidarity of the people of Pakistan so that they may march forward hand in hand as brothers.

I am prepared to visit Dacca again immediately to meet you and to devise a common solution to end the crisis that faces the country so that the Assem­bly can proceed with the framing of the constitution.

Let not the people say nor history afterwards record that we have failed them.
10 March: government threatens to "punish offenders"
On 10 March 1971, whilst artistes and technicians were demonstrating under the banner of Bikshubdha Shilpi Samaj, second class employees of the civil service were expressing their allegiance to Awami League. To control the growing non-cooperation movement, the government declared that any direct or indirect damage to government properties and obstruction to the movement of the armed forces would be punishable offence http://www.banglapedia.org/HT/N_0219.htm.
11 March: Intellectuals and award-winning personalities denounce title conferred by government
On 11 March 1971 Tajuddin Ahmad proclaimed more instructions regarding the conducting of economic activities. The non-cooperation movement also spread over in each and every educational institutions of the province. Students and youth of East Pakistan started taking armed preparation and armed training. Agitation started among the Bengali soldiers, para-military force such as EPR, Police, Ansar in East Pakistan. "Sangram Parishads" (Resistance committees) were being formed in every district, sub-division, thana and union in preparation of the impending attack by the military government http://www.banglapedia.org/HT/N_0219.htm.
From 11 March 1971, Intellectuals also started rejecting titles given to them by the Pakistani government. This act of uprising started with prominent 'Shilpacharjya' Zainul Abedin denouncing his Hilal-i-Imtiaz (Crescent of Excellence) title which was awarded to him in 1959. The Hilal-i-Imtiaz is the second highest civilian award and honor given to both civilians and military officers of the Pakistan armed forces by the Government of Pakistan.
Poet Ahsan Habib also denounced his title conferred upon by the government. Many others followed this courageous trend afterwards.
Zainul Abedin

(1914 – 1976) Bangladesh's leading painter. Given honorary title of 'Shilpachariya' (Great Teacher of the Arts). Born in Mymensingh.

Ahsan Habib

()
The administrative structure of the whole province was shattered. The offices and courts, bank, insurance companies ceased to work and realization of land revenue and taxes was stopped. The government instructed the officers and staff to join their offices by proclaiming new orders and circulars. But the movement went on uninterrupted by violating the orders of the government. Non-cooperation movement got wide publicity not only at home but abroad also.
10 - 13 March: West Pakistan prepare for war
The news had trickled into Dhaka from Sri Lanka that Pakistan Army personnel were flying over the island from the western wing to the eastern wing in civilian clothes. Between 10 and 13 March 1971, Pakistan International Airlines (PIA) cancelled all their international routes to urgently fly "Government Passengers" to Dhaka. These "Government Passengers" were almost all Pakistani soldiers in civilian dress.
The Government of India had earlier banned overflights of Indian territory by Pakistani aircraft after the Pakistan-inspired hijacking of an Indian Airlines plane 30 January 1971. The Fokker F27 Friendship aircraft named Ganga was hijacked by two Kashmiri militants, Hashim Quereshi and his cousin Ashraf Butt, whilst flying from Srinagar to Jammu and Kashmir. It was forced to land in Lahore, Pakistan, and was blown up on 1 February 1971 by the hijackers after the passengers and crew had been allowed to disembark and return to India. Initially the Pakistani government allowed media attention on the hijackers and lauded them as brave Kashmir "freedom fighters" for their daring act of resistance to the "illegal" government in Srinagar, whilst the Indian government and press denounced the "dastardly crime" committed by "criminals". On 4 February 1971 the Indian government used the incident as the stated reason for banning all Pakistani overflights of Indian territory. This was followed by a Pakistani inquiry which on 15 April 1971 branded their once 'heroes' as actual Indian RAW (Research and Analysis Wing) agents and sentenced them to prison. It was alleged that New Delhi had ordered the hijacking to have an excuse to ban Pakistani overflights, thus drastically complicating Pakistan's logistical problems in communicating between the two wings, and in this way assisting the 'separatist movement' in East Pakistan. India too lost important overflight rights of its own military and civilian planes over both East and West Pakistan. The hijackers were later released from prison after the 1971 war and in 1982 were still living in Pakistan without any restrictions - hardly possible if they had actually been "Indian agents".
This [ban on flying over India] made it necessary for Pakistani craft to take the circuitous route through Sri Lanka, and this was both expensive in terms of money and time-consuming.

Sukhwant Singh, author of "India's Wars Since Independence" (2009)
Reliance on air transportation at first restricted immediate reinforcements to lightly armed Pakistani forces, but in due course heavier weapons could be expected to fetch up by sea.
Pakistani Navy ship MV Swat, carrying ammunition and soldiers, was harboured in Chotrogram Port but Bengali workers and sailors at the port refused to unload the ship. The trouble gained a new dimension when a unit of the East Pakistan Rifles refused to fire on Bangali demonstrators. This action gave a sharper edge to Bangali resentment and began a mutiny of Bengali soldiers.
During those ten days, however, other more disturbing developments were taking place. The daily PIA flights continued to ferry to Dhaka soldiers dressed in civilian clothes. Military transport planes arrived full of arms, ammunition and provisions. Ironically, Yahya shipped soldiers and arms to East Pakistan more quickly than he had sent aid after the [1970] devastating cyclone. The military took control of the airport, turning it into a fortress complete with machine gun nests and artillery. Commando groups, specialists in assassination, sabotage, and undercover operations, were deployed in various cities. One by one, six shiploads of troops departed Karachi, West Pakistan, for Chittagong in the East. Bengali soldiers and policemen noticed, moreover, that their stocks of reserve ammunition were being reduced, on one pretext or another, and that senior Bengali officers were being dispatched on various useless or insignificant missions.

Viggo Olsen & Jeanette W. Lockerbie, authors of "Daktar: Diplomat in Bangladesh" (1996)
Foreign journalist whisked away
In the meanwhile foreign delegates present in East Pakistan during that time anticipated more intensity in the situation. The then Secretary General of United Nations, U Thant asked the local UN employees to leave East Pakistan. Just after that, Japanese and the West German governments also announced that they would be sending chartered planes to evacuate their citizens.
However, Sheikh Mujibur Rahman was quick to point out to the world that it was not only the foreign journalist and professionals who needed saving, but also the people of East Pakistan.
The responsibility of the United Nations does not end with the evacuation of their employees from a troubled area. The threat that we are facing today is of genocide. It is a threat which is in violation of the UN charter that protects the basic human rights of seven and a half crore people of this country

Sheikh Mujibur Rahman on 10 March 1971 highlighting the need for international help
U Thant

(1909 — 1974) Burmese diplomat and third Secretary-General of the United Nations (1961 - 1971). "U" is an honorific in Burmese, roughly equal to "Mr". "Thant" was his only name. In Burmese he was known as Pantanaw U Thant, in reference to his home town of Pantanaw.
12 - 14 March: Fight commences on the cultural front
On 12 March 1971 cultural activist announced that from now on Shapla will be the national flower of the province.
Meanwhile, a meeting of writers was held in Dhaka where they formed a "Lekhak Sangram Shibir" (Writers' Action Committee) with Hasan Hafizur Rahman as convener.
Amongst the Shibir members were poet Shamsur Rahman who would write his famous "Tumake Powar Jonno Hai Swadhinata" as a powerful dedication to the sacrifices of the people during the Liberation War, poet Abdul Gaffar Chowdhury who wrote the equally powerful "Amar Bhai'er Rokto Rangano Ekushey February" poem for 1952 Bhasha Andolon shaheeds (Language Movement martyrs), and filmmaker Zahir Raihan, soon to be killed as part of Bengali intellectual killing by the Pakistan Army and the razakars. The only two lady members Begum Sufia Kamal and Laila Samad.
Hasan Hafizur Rahman
Dr. Ahmed Sharif
Shaukat Osman
Ramesh Dasgupta
Badruddin Umar
Sayeed Atiqullah
Shamsur Rahman
Sikandar Abu Zafar
Borhanuddin
Syed Shamsul Huq
Abdul Gaffar Chowdhury
Mahadeb Saha
Farhad Majumder
Abdul Ghani Hazari
Zahir Raihan
Abu Kaiser
Rafiq Kaiser
Muntaseer
Rafiq Nowshad
Shahnur Khan
Mohammad Nurul Huda
Sajjad Kadir
Ahmed Humayum
Roknuzzaman Khan
Humayun Kabir
Bashir Al Helal
Ahmed Safa
Eklashuddin Ahmed
Masud Ahmed Masud
Begum Sufia Kamal
Laila Samad
There was no end to irony in those weeks of drama. General Yahya Khan, unable to exercise authority over East Pakistan, expressed his interest in travelling to Dhaka to talk to Sheikh Mujibur Rahman. The Bengali leader's response was crisp and sharp. President Yahya Khan, said he, would be "our guest". That certainly rankled with the military-led establishment, which spotted seeds of separatism in the statement. A couple of days later, asked by a foreign journalist if he planned to go for a unilateral declaration of independence (UDI), Mujib sounded ambiguous: "Independence? No, not yet".

At around the same time, when another foreign newsman questioned Mujib's challenging of the authority of the Pakistan government in the province, the Awami League chief snapped: "What do mean by government? I am the government".

The Daily Star (Bangladesh)
13 March: Sheikh Mujib terms new MLO (Martial Law Order) a provocation
On 13 March 1971 Sheikh Mujib issued a statement deploring the promulgation of another Martial Law Order (MLO) and said that promulgation of such orders could only serve as provocations to the people http://www.profile-of-bengal.com/p-b/www.profile-bengal.com/mnmarch14.html.
He urged the authorities concerned to desist from such provocation action.
The people will continue their struggle despite all such attempts at intimidation, for they know that now force can withstand the strength of a united people.
14 March: Bhutto proposes dual sharing of power & Tajuddin Ahmad issues 35 points for conducting government affairs
On 14 March 1971, from Karachi Zulfikar Ali Bhutto proposed the idea of transfer of power to the majority parties in east and west wing of Pakistan. Naturally, his suggestion created further uproar and added new dimension to the movement. Nurul Amin, Abul Hashim, Wali Khan criticised Bhutto's dual majority theory and commented that the implementation of the theory would invite disintegration of Pakistan http://www.banglapedia.org/HT/N_0219.htm.
On the same day various West Pakistan leaders, including Abdul Gafoor from Jamaat-e-Islami http://www.banglapedia.org/HT/N_0219.htm, expressed their support for Sheikh Mujib and demanded transfer of power to him. However, Abdul Qayyum Khan of Muslim League was publicly critical of the activities of Awami League http://www.banglapedia.org/HT/N_0219.htm.
Meanwhile, in response to growing army presence and activities, Sheikh Mujib voewd to continue the non-cooperation movement at the cost of life in order to attain independence 'so that the next generation may lead a life in liberty with self respect'. At the same time Tajuddin Ahmad declared 35 points instruction for conducting the affairs of the government on behalf of the Awami League http://www.banglapedia.org/HT/N_0219.htm.
Elsewhere, Chhatra Sangram Parishad installed check posts in several places of Dhaka to prevent smuggling of wealth to West Pakistan whilst various prominent newspapers of Dhaka published joint editorials under the caption "Time is running out" http://www.banglapedia.org/HT/N_0219.htm.
After the directives of Sheikh Mujibur Rahman the direct control of the Pakistan government over East Pakistan was virtually ceased. The control of Awami League was established everywhere save and except the army. Due to extreme pressure of the movement the government took a decision to have discussion with the political parties.