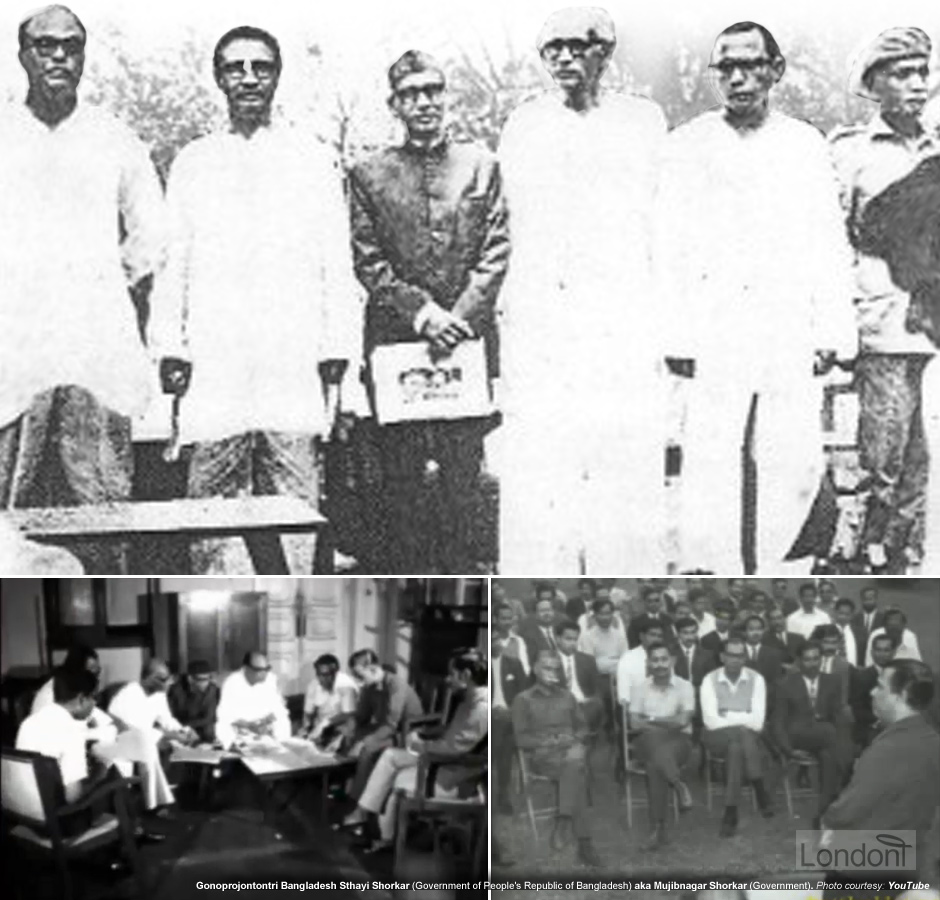 "Mujibnagar Shorkar" (aka Probashi Shorkar) - first government of Bangladesh
The events of March left gaping holes in the Awami League leadership. The directing hand of its revitaliser Sheikh Mujibur Rahman, who was arrested and his fate not known, was now missing. Out of this turbulent time a provisional government in exile was formed.
Narrow escape by Tajuddin Ahmad, Kamal Hossain and Amirul Islam
Tajuddin Ahmad, the 45-year-old General Secretary of Awami League, had visited Sheikh Mujib's home at Dhanmondi in the evening of 25 March 1971. However, failing to convince Sheikh Mujib to go underground as planned, Tajuddin returned home swiftly.
Tajuddin stood aghast in Bangabandhu's residence, hours before the crackdown, when his beloved leader told him that he would not be participating in the struggle and that Tajuddin should relax at home and get some sleep. Bangabandhu, being the emotionally charged leader he was, perhaps felt that if he surrendered it would help mitigate the Pakistani regime's brutality towards his people. The masses would revolt and demand the release of their beloved leader as they had done during the Agartala case.

With no instruction given to him or the upper echelon of Awami League leaders, Tajuddin returned home visibly flustered. After pacing up and down the corridor in disbelief at the nation's predicament, he began to collect his thoughts; this was no Agartala. The Pakistani regime's decades of mounting social, cultural, and racial oppression coupled with economic extortion reminiscent of British colonial rule had risen to a fever pitch.

The regime's refusal to hand over power to a democratically elected Awami League was the final straw. The breakdown in relations had reached the point of no return. An independent Bangladesh was the only solution the people would be satisfied with. Having made up his mind Tajuddin grabbed his rifle and embarked upon his singularly heroic quest. He would muster every ounce of his seasoned political skills to navigate through the treacherous terrain ahead.
Anxious and wary of the imminent crackdown by Pakistani military, Tajuddin Ahmad filled a side bag with his clothes, a rifle and a pistol and was picked up from his house after 9 pm by Dr. Kamal Hossain, the 33-year-old Awami League's constitutional advisor, and Amirul Islam, a 33-year-old eminent lawyer and Awami League member. Clad only in Punjabi and lungi, Tajuddin Ahmad jumped into the black car hoping to escape the military onslaught. As the three young protagonist set off they were stopped by Muzaffar Ahmed, a MP from Comilla, who warned them not to take the New Market road as the Pakistani army was approaching from that side. Thus they went a different direction.
Minutes later the Pakistani army surrounded Tajuddin Ahmad's home. However, his wife, Zohra Khatun 'Lily' was able to trick the soldiers by speaking Urdu and pretending to be a tenant of Tajuddin Ahmad. Few days later, Zohra was delivered a chit which Tajuddin Ahmad had written for her in the event of an emergency.
Due to leaving you so quickly I couldn't bid farewell to you all. I'm leaving, you join yourselves with the 75 million people, I don't know when we will meet again... AFTER LIBERATION.

Tajuddin Ahmad's farewell chit to wife, signed 'Dolon Champa' (a pseudonym so his wife can identify that it was genuinely him)
Meanwhile, Dr. Kamal Hossain was dropped off at one of his relative in Dhaka, whilst the other two escapees attempted to seek shelter in neighbouring India.
Fleeing for days by car, boat, walking, and even by horse, they travelled relentlessly through Keraniganj and Faridpur (Kushtia District) not knowing whether their family and friends were alive or dead. Finally they reached Magura town (Khulna Division) on 31 March 1971, six days after fleeing Dhaka. Once there, they were searched by the Bengali guards - ironically members of their own Awami League party - who had failed to initially recognise the exhausted, unshaven, and haggardly pair. That same morning, the Sub-Divisional Police Officer of Jhenaidah who led the '11 Ansars', Mahbubuddin Ahmed (popularly known as SP Mahbub), met Tajuddin Ahmad and Amirul Islam and helped to take them to the Bangladesh-India border after making arrangement with Towfique-E-Elahi Chowdhury, the Sub-Divisional Officer of Meherpur. They set off from Magura 'incognito' in a jeep and arrived at Jibannagar (Khulna Division) later that evening.
Tajuddin Ahmad conceives idea for provisional government
In the middle of a jungle, waiting beside a small culvert (a tunnel carrying a stream or open drain) a pensive Tajuddin Ahmad despaired at the demise of Pakistan which he had passionately believed in.
We waited on a no man's land. There were tall deodar and pipul trees all around. There was a small, almost dried out canal and a small culvert - on one side was Tajuddin Ahmad and on the other side was myself. We almost lied down but it was very hot so we couldn't even lie comfortably. But being exhausted I was feeling drowsy, but Tajuddin sir looked pensive as if he was thinking far. I asked him 'What are you thinking? You look sad'. He smiled and said, "I was thinking something". I was then very excited and exultant a new history was being created and we were part of it and playing major roles, so I was very excited. But he said, "I was thinking I've been defeated". 'How come defeat? We're heading for a win' I said. He replied, "No, during the creation of Pakistan my Hindu classmates used to tell me that your Pakistan won't survive. By raising different points I would then point out why Pakistan would survive and what were the reasons for it to survive. Now, I'm losing in that debate which I used to have with my Hindu classmates..."
It was also during this time that, according to Tajuddin Ahmad's eldest daughter Sharmin Ahmad (a prominent human rights activist), Tajuddin Ahmad came up with the idea of a provisional Bengali government.
Bangladesh was going through the darkest period of its 24-years existence as the eastern wing of Pakistan. Politically, on the one hand, there was the spectacle of a captive Sheikh Mujibur Rahman. On the other, there was no clear sign of anyone else in the Awami League hierarchy, at least up to that point, taking control and reassuring the country that everything was on course, or soon would be. The call of duty was one that Tajuddin Ahmad heard loud and clear. In order for the Muktijuddho (Liberation War) to be channeled in a constructive and right direction, Tajuddin Ahmad deemed it necessary to form an independent Bangla government and notified Amirul Islam of this decision.
One important fact should be mentioned that the First Bangladesh Government was conceived by Tajuddin Ahmad on 30 March 1971. This historic idea to form a national government under whose banner people from all walks of life, who want to fight for independence can be united changed the course of history. This idea dawned on him on 30 March 1971 while he took a refuge under a culvert, in Kushtia, near the border. Barrister Amirul Islam was his companion in their escape to an unknown destiny.

Sharmin Ahmad, eldest daughter of Tajuddin Ahmad
Later that evening, Golok Bihari Majumder, the Inspector General of India's Border Security Force at Kolkata had received information that two senior leaders of Awami League had arrived at the Indian border near Banpur. When he reached there, he was met by Towfique-E-Elahi and Mahbubuddin Ahmed who confirmed the information and returned to Jibannagar. It was a dark night, and Golok Majumdar saw four muffled figures emerging from the shadows of the mango orchard before him. Having questioned the individuals, Golok came to find out one of them was Tajuddin Ahmad and the other was Amirul Islam. Subsequently, the commander and his border officers gave them a guard of honour - a protocol reserved for leaders of a sovereign country only.
'Understanding' achieved on key issues with Indian Prime Minister Indira Gandhi
Once on Indian soil, Tajuddin Ahmad and Amirul Islam were taken straight to Dum Dum Airport (currently Netaji Subhas Chandra Bose International Airport) in Kolkata and introduced to K. F. Rustamji, the first Director General and founding father of the Indian Border Security Force. The pair were bathed, shaven, fed and clothed by Punjabi and Pyajama donated by Rustamji from amongst his own clothes. Meanwhile, Rustamji telephoned Prime Minister Indira Gandhi who told him to send them immediately. Thus Tajuddin Ahmad and Amirul Islam was flown to the capital New Delhi to meet the Indian prime minister.
However, just like Golok Bihari Majumder, RAW and other Indian intelligence agencies had raised doubts about the identity of the two escapees. Fortunately for them, prominent Bengali economist Rehman Sobhan, who helped draft the 6-Dafa Karmasuchi (Six Point Programme) was residing in India at the time and he was able to confirm the identity of the two protagonist.
On 1 April 1971, whilst waiting for Indira Gandhi and information regarding the latest development within their beloved motherland, the three men - Tajuddin Ahmad, Amirul Islam and Rehman Sobhan - decided upon a Proclamation of Independence to announce to the rest of the world the creation of Bangladesh and formulated key demands for India. Tajuddin Ahmad met Indira Gandhi to explain his plans to form a government-in-exile. He knew that exile, both his and that of everyone else in this time of horror, would need to be purposeful. With this in mind, he lost no time in setting out the three men's plan for freeing Bangladesh of its murderous Pakistani presence.
It was a Bengali war - to be fought and led by Bengalis alone and India can play the role of an ally to a sovereign nation. The Bengali freedom fighters fighting throughout the country should also be regrouped and given training, arms and other necessary supplies.
Bengali refugees resulting from the Pakistani oppression would be provided with food and shelter.
India will provide help for international publicity and diplomatic activities.
A radio station was required for publicity work.
Tajuddin Ahmad also requested recognition of the new country by India and informed her that he was meeting her as a minister and representative of the independent state and not to seek charity. However, Indira Gandhi said recognition would be given in "due time, the time of recognition did not come yet - first form a government".
The truth of the matter is that Mr. Tajuddin was a fiercely patriotic man. He knew that we were too small to do anything to a powerful country. We do not have that ability. But we do have our honour, we can't and won't accept anyone's pity, which is the message he wanted to convey, nothing more nothing less.

...There was a popular image about him in some circles as a pro-Indian fellow. It was far from the truth. He was, in fact, a completely non-aligned person. The first six months after the end of the war, yes, I have seen him in a pretty pugnacious mood against the US because of their hostilities, but after that he became a pragmatic politician. He no longer held the view that he could support India, support Russia, but not the Americans. His attitude was this: during a war we may get help from somebody, may not get from some others, anything can happen in the course of the war, but that doesn't tie us to a lifelong obligation of loyalty to any of them. No, that is not going to happen. Frankly, I do not believe Mr. Tajuddin was aligned to India in any way. He wasn't the one to bend his knees to anyone. He didn't have that kind of weak personality. If he had any strong feelings about any particular country, that was Bangladesh, his own country. He was, above all, a pro-Bangladeshi. In all the years I had the privilege of working with him I never saw him compromising on anything just because it was India. I worked with him for three years, never heard him say: alright, let it go, India is our friend. Nor did he ever believe that we had to be soft in our negotiations just because it was India. Never.

What he had, though, is gratitude. India gave us shelter, refuge, help, food, during the War, so he was grateful to them. But when it came to negotiating with them on matters of selling our jute to them or buying their fertilizer we would be just as tough with them as with anyone else. Mr. Tajuddin never asked us to go soft on them.

Nurul Islam, Deputy Chair of the First Planning Commission of Bangladesh
Initial formation
From New Delhi Tajuddin Ahmad and Amirul Islam flew to Siliguri, then Cooch Behar and finally arrived at the foothill of the Tura hills in Meghalaya province (north of Bangladesh). There they met with Syed Nazrul Islam and Abdul Mannan for the first time since the March crackdown and exchanged details on each others traumatic escape. Afterward, they flew off to Agartala, in Tripura province (next to the eastern border of Bangladesh).
On 10 April 1971 senior leaders of the Awami League and Bengali defectors from Pakistani civil and armed services formed a provisional government for Bangladesh called the "Gonoprojontontri Bangladesh Sthayi Shorkar" (People's Republic of Bangladesh). Plans for the new government-in-exile were outlined after a lot of deliberation, especially since Khondaker Mushtaq Ahmed had serious reservation. The veteran MP wanted to go to Makkah, Saudi Arabia and requested to be sent there. Later, after several discussion, he agreed to remain as foreign minister.
Tajuddin Ahmad announced the formation of this government-in-exile via Akashbani Calcutta in the night of 10 April 1971.
At this turning point of history, it was paramount to express people's needs through their elected representatives and making sure these expression are fulfilled.
A legitimate authority was required to be responsible for conducting the war on people's behalf. Since fighting was conducted to free the country from Yahya Khan's occupation and restore the balance of power, a representative body was required as a point of reference for the international government, international organisations (e.g. United Nations) and the world at large.
To facilitate communication with other governments and international organisations.
It was the ideal moment for transforming a de facto government into a de jure status - Proclamation provided it with the constitutional cloak and introducing new identity to a country.
Freedom fighters (including armed and civilian officers) throughout the new nation could perform their duties with allegiance to a legitimate authority. This then allowed them to enjoy the status of lawful armed forces as opposed to vigilantes or 'miscreants' as West Pakistanis tried to paint them as.
The Proclamation not only gave the government the legitimacy as was to be recognised by the world at large but it also gave a momentum to the war of liberation and particularly the "Mukti Bahini" operating in difficult situation for the objects acknowledged by the Proclamation for which many sacrificed their lives in order to liberate the country. Proclamation thus being based on sound legal and constitutional argument helped the freedom fighters gaining momentum in fighting a legitimate war and to receive such acknowledgment in the international media. This helped building the world opinion.

Pakistan's propaganda could not make any dent on our status and the legitimacy of the cause for self determination reinforced by our pledge to abide by the laws at all times 'whether in war or in peace'. The Proclamation thus made out a full proof case for Bangladesh.

...In this background, Proclamation of Independence was not only a necessity but also an imperative, as we owed to our people, freedom fighters and the world at large.
Reconfirmation of Declaration of Independence of Bangladesh
Like their predecessors Sheikh Mujibur Rahman and Ziaur Rahman, the Mujibnagar Government also declared the independence of the new nation via a written Proclamation of Independence, two weeks after the famous informal radio declaration. They broadcasted the Declaration to the new nation via Swadhin Bangla Betar Kendra on 10 April 1971.
We, the elected representatives of the people of Bangladesh, as honour bound by the mandate given to us by the people of Bangladesh, whose will is supreme, duly constituted ourselves into a Constituent Assembly, and having held mutual consultations, and in order to ensure for the people of Bangladesh equality, human dignity and social justice, declare and constitute Bangladesh to be sovereign People's Republic, and thereby confirm the declaration of independence already made by Bangabandhu Sheikh Mujibur Rahman, and do hereby affirm and resolve that till such time as a Constitution is framed, Bangabandhu Sheikh Mujibur Rahman shall be the President of the Republic and that Syed Nazrul Islam shall be the Vice-President of the Republic, and that the President shall be the Supreme Commander of all the Armed Forces of the Republic...

Bangladesh Declaration of Independence by Mujibnagar Shorkar on 10 April 1971
Amirul Islam had written this proclamation, which was also read out on the formal swearing of the Mujibnagar Shorkar on 17 April 1971.
Prior to the cancellation of the 3rd March session of parliament by President Yahya, Barrister Amirul Islam, then the elected whip and close colleague of Sheikh Mujibur Rahman, was tasked with organising a meeting of the Awami League Parliamentary party in Hotel Purbani, Dhaka, on 1 March 1971. In the meeting members discussed the approval of the draft Constitution of Pakistan on the basis of 6-dafa (Six Points) and 11-dafa (Eleven Points) Karmasuchi (Programme). However, after President Yahya announced the postponement of the session via radio, Barrister Amirul Islam drafted a resolution conferring and empowering Sheikh Mujib with all the powers to be exercised by him on behalf of all the elected members as well as the people of Bangladesh to take such decisions, make pronouncement and declaration as he would deem fit and necessary. This draft proclamation was unanimously passed and approved. Thus, when events took a turn for the worse after the Pakistani attack on 25 March 1971, it was logical that the declaration would be confirmed publicly at first available opportunity.
While drafting the Proclamation, a rare privilege, greater than any work I could have ever done, the awareness, alertness and articulations as flow from it, cannot be an expression of an individual. This could only can stem from the collective oneness of mind of a nation sharing together for realization of a dream inherited from our past generations and their experience culminated over centuries in to an urge to become the master of their own destiny; and that is the rare moment of history when individuals overcome their barriers and limitations otherwise inherent in physical existence distinct from the rest merging into a single entity becoming part of the process in the making of a Nation, a Country-a State in the family of nations so that we may prosper in freedom and may make our full contribution towards International peace and co-operation in keeping with the progressive aspirations of mankind.

Having had the privilege as member of the institute of International law and Comparative Studies and an active member of movement for colonial freedom in UK in early part of sixties headed by Lord Fenner Brockway and participating in active deliberation towards the need for two Covenants (ICCPR and ICESCR) while they were at conceptual/consultative/drafting stage for providing teeth to the 1948 UDHR, I carried those memories and experiences actively in my mind as well as those visions of understanding the right to self determination and human rights germinated since those days, helped me in drafting the Proclamation of Independence for our dream country to be named as People's Republic of Bangladesh.

Barrister Amirul Islam on his grand achievement
The Proclamation of Independence served as the interim Constitution of Bangladesh from 26 March 1971 to 16 December 1972 (when the country attained victory), and even received the status of 'genesis of Bangladesh Constitution' as pronounced by Bangladesh's Supreme Court in the Judgment of 8th Amendment case. It was simultaneously accompanied with 'Laws Continuance Enforcement Order', both dated 10th April, to come into effect since 26th March 1971. The Order permitted all laws which were in force on the 25th day of March 1971 to be continued in Bangladesh and subject to future change by competent Legislature or other competent authority when necessary.
Following the Declaration of Independence, Swadhin Bangla Betar Kendra broadcasted a speech by Tajuddin Ahmad, the soon-to-be-formally-appointed first Prime Minister of Bangladesh. This was the first time he had addressed the new nation.
Extract of Prime Minister Tajuddin Ahmad's first address to the nation on 10 April 1971