Momentous occasion
Efforts were underway to locate an ideal place for the formal inauguration of the new government. It was decided that the Bengali government would be formed on Bangladesh soil and not in India so that it can be accepted and interpreted as the will of the Bengalis and not be perceived as an Indian conspiracy to the delight of West Pakistani critics.
The Awami League leadership did not want to make the Proclamation and form the government in India as it would be branded as a puppet government of India and run the risk of losing its credibility.

They were determined to do this right inside Bangladesh territory, in public and with proper international media coverage.
Having searched the whole border area, K. F. Rustamji finally found the perfect place. It was a mango orchard in the small border town of Baidyanathtala (Bhoborpara), Meherpur District, Kushtia in north-western Bangladesh. It was only 300 steps away from the border of India thereby making it easily accessible for Indian officers. The town was still beyond the reach of the Pakistan Army and since the place was an enclave, Pakistan Air Force could not attack it easily. The large clustering of mango groves also made it hard for it to be visible.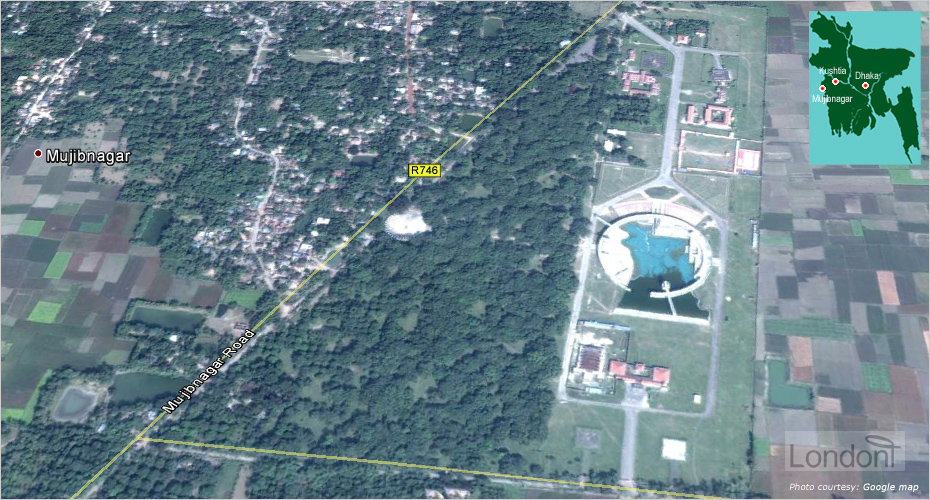 Bengal's death and birth under mango grove
Baidyanathtala also had a symbolic significance. The battle ground of Plassey near Murshidabad, Pachimbanga where Nawab Siraj-ud-Daulah fought his last battle with the (British) East India Company in 1757 was not very far away from Baidyanathtala. During that infamous battle Bengal lost its independence to the British thanks largely to the treachery of Siraj-ud-Daulah's Commander-in-Chief Mir Zafar Ali Khan (known more popularly by his short name Mir Zafar). Now, ironically, only few miles away from that battleground, the Mujibnagar Shorkar was poised to form a government for a new country of their own.
In one mango grove we lost our independence, in another mango grove we have regained it.
The date for the formal swearing ceremony was set for 17 April 1971.
[By then] We had already started calling it as "Bangladesh".

Golok Majumdar, Indian BSF
Preparation for grand ceremony
Preparations for this momentous occasion began two days earlier as the original venue of nearby Chuadanga had to be postponed due to security concerns.
Everybody around was busy trying to put up a makeshift stage. Wooden "charpies" were taken out from some poor men's bedroom to make a raised platform. Someone brought in a mike while yet another fetched a few chairs and spread sheets from the neighbouring church. Some bamboo pieces were cut down from the jungle and ropes were to be had from a home nearby. A group of boys from the neighbourhood under the guidance of Shabuddin Sentu was practising national anthem in a chorus. Even a harmonium, a few tablas and a table were procured. Participants included Asad, Stephen Pinto Biswas and Monsur Molla. ASM Rab joined them at the last moment. Persons were being organised for recital from the holy books. Eventually, however, only Quranic verses were recited during the ceremony.

Mahbubuddin Ahmed, Bir Bikram
On Rustamji's order a bust of Sheikh Mujib was carried by Tajuddin Ahmad harked back, "Remove it immediately! If a bust was kept people would think he was dead. Remove it immediately!".
A large contingent of civis clad soldiers from the Indian side were standing behind tree trunks guarding the place from any possible enemy attack. A flag was tied to an indigenously crafted flagpole made out of a cut piece of bamboo fixed in front of the stage. The platform was set up under a huge mango tree awaiting the arrival of the leaders-in-exile from Kolkata first thing in the morning.
This place was considered safe because it was an enclave which could not be attacked from the air without crossing Indian airspace. For greater safety, Indian commandos were put on guard, thinly beyond normal perception in civilian clothes. It was tactical to keep off any possible curiosity about it on the part of foreign journalists. Bangladesh leaders and the authority in India both wanted to make sure that the show appeared to be fully organised by and under the control of the Bangladesh government in exile.

By about 10 in the morning, we managed to reach our destination. It was a big mango groove surrounded by green paddy fields, small hutments, mud houses and many mango gardens all around. There was a church in the vicinity. We halted at the border outpost manned by some EPR men who, as you know, had joined our ranks on the fateful night of 25th March and were guarding the border on our behalf. By the time we arrived at the place it was humming with people converging from different directions. Many young people with firearms could be seen loitering. Within a short time the entire garden was abuzz with "Joy Bangla" chants.

By then, Joy Bangla had become our war cry. It gave us rhythm and inspiration in our moments of danger as well as glory. It became a part of our independence war saga. People embraced death shouting it. People wrote this mantra with blood while in captivity; this was a magical slogan which united the Bengalee nation like a rock behind Bangabandhu Sheikh Mujib.

By about 11am we heard the honking of motor cars coming along the kutcha road running almost parallel to the border. Quite a few ambassadors carrying a large number of journalists and our leaders-in-exile suddenly appeared. The whole place dramatically took a festive look with clicks and flashes of camera.
The historic ceremony started at 11am. The place was now buzzing with senior party members, international journalist - collecting latest information about the current military and political situation and numbering around 100 - local MPs, and people from all walk of life.
What if the Mujibnagar government had not taken shape? What if the men who would lead the armed struggle against Pakistan had chosen to spend the rest of their lives waiting for a negotiated settlement to the crisis? What if, in the absence of resistance, Pakistan had perpetuated its presence in Bangladesh and cast its ever-darkening shadow on Bengali heritage?

These are questions that need not be answered, seeing that history was to take an unambiguous course and was to lead the Bengali nation to its supreme triumph. Yet, prior to April 17, 1971, these fears were all too real for the nation to dismiss out of hand. Bangabandhu had been commandeered by the Pakistan army; and not one of us knew where the rest of the Awami League leadership echelon was at that point.

Syed Badrul Ahsan, Journalist
First leaders of the new nation
Long hours had been spent working out the details of the announcement of the government, its line-up and its objectives. Journalists from the global media had been told of the event and on the day would make sure they were there to take in the measure of Bengali resistance to Pakistan.
The imprisoned Sheikh Mujibur Rahman was selected as President, Syed Nazrul Islam as Vice President (who was appointed Acting President in Sheikh Mujib's absence), Tajuddin Ahmad as Prime Minister, Khondaker Mushtaq Ahmed as Minister for Foreign Affairs and Law, Muhammad Mansur Ali as Finance Minister, AHM Kamruzzaman as Minister for Home Affairs, Relief and Rehabilitation, and retired Colonel (later General) Mohammad Ataul Ghani Osmani as Commander-in-Chief of Bangladesh Forces. Professor Yusuf Ali, teacher-turned-politician and Chief of the Department of Relief and Rehabilitation, was appointed as potentiary (someone similar to present day Chief Whip in Parliament) and administered the oath of office. Amirul Islam was appointed Chief of the Volunteer Corps, Abdul Mannan as Chief of Press, Information, Radio and Film, Matiur Rahman as Chief of Commerce, and Major Mohammad Abdur Rab as Chief of Staff.
Syed Nazrul Islam

(1925 - 1975) First President of Bangladesh in Mujibnagar government-in-exile in Kolkata. Post independence appointed Minister of Industries, the deputy leader in parliament and a member of the constitution committee. Vice President under BAKSAL government. Once professor of history at the Anandmohan College, Mymensingh. Also practised law in Mymensingh. Born in Jashodal Dampara, Kishoreganj zilla. Murdered, aged 50, in Dhaka Central Jail in infamous char neta killing of 3 November 1975.

Tajuddin Ahmad

(1925 - 1975) First Prime Minister of Bangladesh (1970). Formed the Mujibnagar provisional government during Muktijuddho. Served as Finance Minister (1972-1974) but quit over BAKSAL. Memorized Holy Qur'an with the guidance from father Moulavi Muhammad Yasin Khan. Obtained Economics degree from Dhaka University (1953) and Law degree. Murdered, aged 50, in Dhaka Central Jail in infamous char neta killing of 3 November 1975.

Amirul Islam

(Born 1937) Senior Advocate of Bangladesh Supreme Court. Member of the drafting committee of for first Constitution of Bangladesh in 16 December 1972. Legal advisor to Awami League. Attended Harvard Law School. Chairman of Legal Education and Training Institute (LETI), Bangladesh Bar Council. Founder, Honorary Secretary General of Bangladesh Institute of Law and International Affairs (BILIA ) since 1972. Ex-President (1997-2000) of SAARC Law. Owner of Amir & Amir Law Associates.

Khondaker Mushtaq Ahmed

(1918 - 1996) Fifth President of Bangladesh. Foreign secretary during Mujibnagar government, but later replaced by Abdus Samad Azad. Under Sheikh Mujib's government (1972-1975) was Minister of Power, Irrigation and Flood Control. Executive Committee member in BAKSAL government. Took over the country after assassination of Sheikh Mujib. Proclaimed Indemnity Act to protect 15 August 1975 killers, which included nephew Colonel Abdur Rashid. Replaced national slogan of Joy Bangla with 'Bangladesh Zindabad' and changed Bangladesh Betar to 'Radio Bangladesh'. Removed from power by Major General Khaled Mosharraf on 6 November 1975. Attempted to salvage political career by forming Democratic League party in 1976 but to no avail. Jailed by Ziaur Rahman from 1976 till 1981. Obtained Law degree from Dhaka University. Born in village of Daspara, Comilla.

Muhammad Mansur Ali (aka Captain Mansur)

(1919 - 1975) Minister of Finance during Mujibnagar government in 1971. Third PM of Bangladesh (25 Jan 1975-15 Aug 1975). Executive Committee member of BAKSAL. Help Sheikh Mujib form Jatiyo Rakkhi Bahini elite force. Achieved Masters degree in Economics and Law from the Aligarh Muslim University. Vice-President of the Pabna District Muslim League from 1946 to 1950. Joined Pakistan Army (1947) in Jessore, Bangladesh and achieved Captain ranking. Left army in 1951 to practise law in Pabna District Court. Son Mohammad Nasim was Bangladesh's Home Minister in 1996. Murdered, aged 56, in Dhaka Central Jail in infamous char neta killing of 3 November 1975.

Abdul Hasnat Muhammad (AHM) Kamruzzaman

(1926 - 1975) Minister of Relief and Rehabilitation in Mujibnagar government. Home Minister post independence. Active member of Muslim League. Joined Awami League in 1956. Elected to National Assembly of Pakistan in 1962, 1965 & 1970. Minister of Industries and Executive Committee member of BAKSAL government. Obtained degrees in Economics (University of Calcutta, 1946) and Law (Rajshahi University, 1956). Practised law in Rajshahi District bar association. Murdered, aged 49, in Dhaka Central Jail in infamous char neta killing of 3 November 1975. Buried in birthplace of Rajshahi.

Yusuf Ali

()

Abdul Mannan

()

Matiur Rahman

() Chief of Commerce.

Mohammad Abdur (M. A.) Rab

(1919 - 1975) Bir Uttom. Assistant Commander-in-Chief of Liberation war and first Army Chief of Bangladesh. Founded the Muktijoddha Kalyan Trust and ran it successfully for years. Former MP. Chairman of the governing body of International Medical College. Born in village of Khagaura, Baniachang thana, Sylhet. Died a bachelor on 14 November 1975 at the Combined Military Hospital, Dhaka, after suffering from ailments including anemia. Buried in his village of Umednagar on the banks of Khowai River in Habiganj. http://www.thedailystar.net/newDesign/news-details.php?nid=182371
Other high profile members who were present included Abdur Razzak, Tofail Ahmed, Abdul Quddus Makhan, ASM Rab, Noor-e-Alam Siddiqui, and Noorul Quader Khan. Many other important people had missed the event as the venue and time were kept in secrecy for fear of enemy attack.
In Mujibnagar, elected leaders presented the Proclamation of Independence, formed a Bangladesh constituent assembly (to function in absentia), appointed the first cabinet of the Bangladesh government (to act in absentia), and declared Sheikh Mujibur Rahman the first president of Bangladesh (in absentia).
Once the cabinet was announced and oath of office administered, Mahbubuddin Ahmed gave an armed salute to the provisional government. Later Colonel Osmani led the guard of honour by 33 freedom fighters and Ansar personnel to the provisional government headed by Syed Nazrul Islam.
It was about half an hour after the arrival of the guests when Towfique came running, a little disturbed, and exclaimed, "Osman Bhai has not arrived yet. Time is running out. The guests are in a hurry. Can you suggest what should I do?" Elaborating, he said, "Osman Bhai was asked to come prepared to organise guard of honour for the President after the oath-taking. He has not shown up." I told him, "Don't worry, I can do it." "Sure you can," Towfique nodded. I said, "Yes, of course. I myself visited many ceremonial guards of honour in the police academy as a training requirement. Besides, as Sub-divisional Police Officer I had to inspect guard every week. So, I know the drill and you need not worry. You prepare the guests, I prepare my boys. Go!"

Towfique was relieved of a great burden, it appeared. I went to a side and called my soldiers. I also asked them to call others who could be found in uniform and fall in line for a parade. Not many were found in uniform. Those who wore uniforms were not shipshape. Most of them have been sporting the same outfit for weeks with nothing to change. Some had tattered apparels and creaky boots. Some had bayonets fixed, others did not have any. It was a motely formation, if you like, with or without helmets, camouflage or no camouflage; "kisti topies" worn by some, others with police blue berets and myself wearing a green beret, one presented to me by Maj Osman on the day I was turned from a police officer into a Muktibahini captain to command troops in the battle fronts.

In fact, there was nothing uniform, except, of course, the 303 rifles and the firm determination and patriotism to destroy the Pak army wherever and however found. Hardly a dozen people drawn from as many as four different sources viz. Police, Ansar, EPR and civilian youth were on hand. I commanded them to stand in two rows with myself in front and carried out several chores of rehearsal. We practised shoulder arms and present arms several times. I had a .38 calibre revolver in my holster hung on the left side of my belt. I tried to command with a loud voice. It took about ten minutes to get ready.

As soon as the flag hoisting and rendition of the national anthem synchronised, I raised my voice to the extreme and commanded "present arms" in honour of my flag heralding our identity to the world. When the flag reached the top of the pole it was tied, and Syed Nazrul Islam, the Acting President of The People's Republic of Bangladesh, appeared at the centre of the dais with MAG Osmani one step behind him on his right, clad in khaki and Tajuddin watching from the ground near the left end of the dais. In front of them and around the dais was the delirious crowd while my troops and I were facing them. Between the raising of the flag and the tying seconds I had commanded my troops back to attention with "order arms" and readied them for president salute. Syed Nazrul Islam's face was as determined as ours and the crowd was vibrant and wild with excitement. In a moment there was pin drop silence as the Acting President stood in front of us beaming with the pride of conviction. I felt my breath rising as I once again raised my voice to the extreme pitch and commanded shoulder arms and with a thud the rifles went up to the soldiers and were placed slanted at 45 degrees. My voice was already breaking but I could care a fig. With all the strength left in me I shouted "present arms". With double thuds the rifles behind me went up and stood erect and still in front of every soldier. The band of rifles stood unwavering like up-jutting minarets ready to pierce through the webs of Pakistani brutality and murder.

Mahbubuddin Ahmed, Bir Bikram
The Acting President then delivered his speech like any other Head of State and made an impassioned plea for recognition and international help.
I request my foreign journalist convey to the respective nation that liberty sanctity to them, democracy, as human dignity ... civilised governments of the world..and the other Asian countries and to the European countries to realise it, recognise it, come to our help and to do something positive to elevate the misery of the unfortunate [troubled] people of Bangladesh.

Part of Acting President Syed Nazrul Islam's speech during the official formation of the Gonoprojontontri Bangladesh Sthayi Shorkar (or Mujibnagar Shorkar)
Following this the new Prime Minister, Tajuddin Ahmad, briefed the press detailing the horrific events which lead to this day.
Bangladesh is at war. It has been given no choice but to secure the right of self-determination through a national liberation struggle against the colonial oppression of West Pakistan.

...A final word to our erstwhile brothers in West Pakistan. Before God we tried to preserve this nation of Pakistan in spite of the oppression, neglect and servitude inflicted on us by your rulers these 23 years. But your leaders could neither tolerate the idea of sharing power with us nor would they let go of us sufficiently to let us control our own destinies. As a result, today, you - the people of West Pakistan are silent spectators to the genocide being committed on the people of Bangladesh by your rulers. By their acts of mass murder in Bangladesh the name of Pakistan will rank with the Mongols, the Huns and the Nazis in the history books. On your conscience you will carry till eternity the curse of our murdered wives, our dishonoured sisters, our slaughtered children. But more destructive to you, you will carry till eternity the curse of this army of butchers with you for years to come.

By God's grace and our unconquerable spirit every last man of this army of occupation will either be driven out or destroyed by the people of Bangladesh. Out of the ashes a new Bangladesh will rise committed to peace, democracy and social justice resting on secure foundations of creed, language, culture and race and held together by the shared experience of a struggle which must take its place in the epic struggles of our time.

Newly appointed Prime Minister Tajuddin Ahmad on 17 April 1971
The green flag of Bangladesh with the red disc in the centre hallowed by the golden map of Bangladesh was then raised with the rendering of "Amar Shonar Bangla, Ami Tumai Bhalobashi" - which was later adopted as Bangladesh's jatiyo sangeet (national anthem). The event was concluded with the entire gathering cheering "Joi Bangla, Joi Bongabdondhu" in sheer ecstasy, and in complete unison.
17 April is celebrated as 'Mujibnagar Dibosh' (City of Mujib Day) in Bangladesh in honour of their achievement and leadership.
It was a Herculean task. Organizing civil administration and the freedom fighters, securing arms for the latter and training them, mobilizing international support for the liberation war through intense diplomatic action, ensuring speedy communication and effective coordination of various activities at hundred different levels, above all, keeping the morale of the freedom fighters high throughout the dark, difficult, and strenuous days of the war, called for extraordinary wisdom, dedication, patience, foresight, courage, and tenacity on the part of the Mujibnagar government and all those connected with it.

The establishment of the Mujibnagar government was an absolute necessity for another reason. Had it not been put in place, it is reasonably certain that diffuse guerilla movements would have spawned all over the country without any form of central control. The danger inherent in such politics lies in an absence of legitimacy. And in Bangladesh's politics at that point in time, the absence of the Mujibnagar government would only have given the freedom struggle a clearly secessionist hue, to the immense delight of the Pakistanis and to the consternation of a Bengali population directly in the military's line of fire. Seen in such light, the presence of Acting President Syed Nazrul Islam and Prime Minister Tajuddin Ahmed with their colleagues deep in Meherpur in April 1971 was a clear, unequivocal statement of intent: that the elected representatives of the people of Bangladesh had taken it upon themselves to give shape and substance to an independent statehood for them.
Baidyanathtala renamed to 'Mujibnagar' by Tajuddin Ahmad
On the day of the formal swearing ceremony (17 April 1971), Tajuddin Ahmad renamed Baidyanathtala to 'Mujibnagar' (City of Mujib) in honour of Sheikh Mujibur Rahman. He also declared that the town would be the official capital of Bangladesh.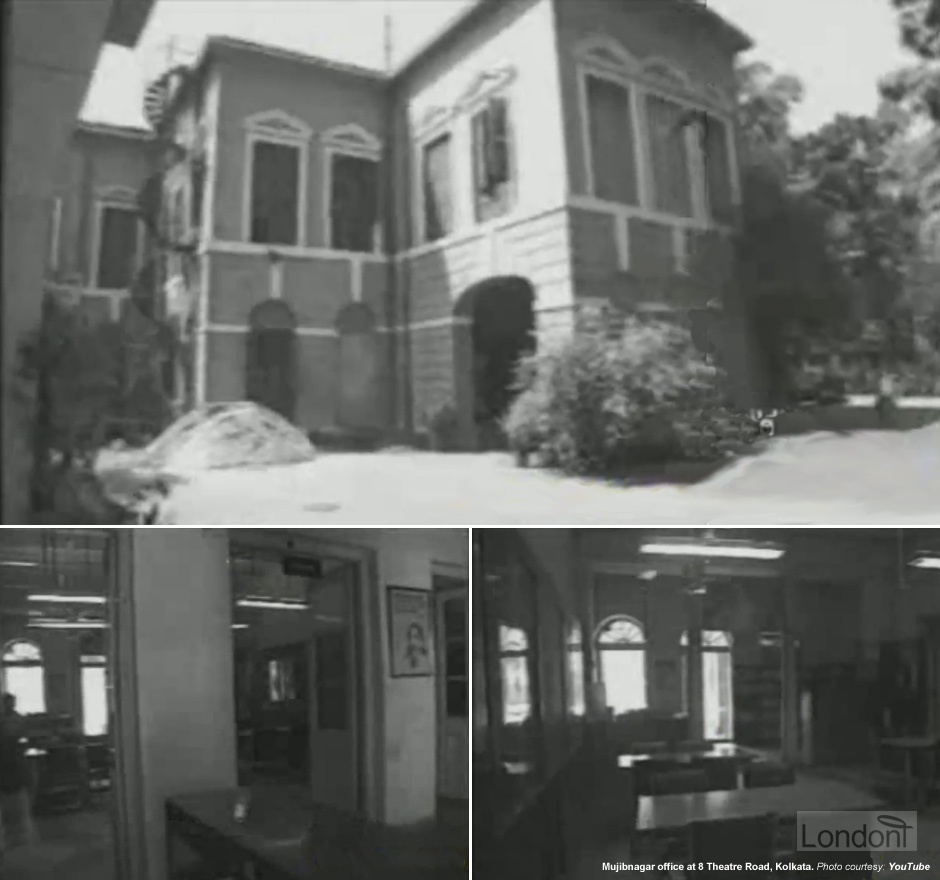 Government-in-exile in Kolkata
The political structure which Tajuddin Ahmad and his associates hurriedly formulated within 3 weeks of Sheikh Mujib's arrest would be the first Bengali government in history. Never before had Bengalis governed themselves.
In a bid to save themselves from the massacre of the Pakistani army and its collaborators, the provisional government fled the country and sought shelter in Kolkata, the capital of West Bengal, India. There, from a colonial mansion on 8 Theatre Road (later renamed Shakespeare Sarani), they coordinated the war efforts. The residence-cum-headquarter, once allegedly childhood home to Indian nationalist and guru Sri Aurobindo, was a big building with two floors. The leaders used to reside upstairs, whilst small 'pigeon hole offices' were made downstairs for other members. The hub of the headquarter was Prime Minister Tajuddin Ahmad's humble living and office room. Key conferences and decisions were taken here despite continuous fear of Pakistani commando and air attacks.
Lacking in money, human resource, facilities, and bargaining power, the Mujibnagar Shorkar continued it's work with a patriotic zeal. The aim was clear - liberate Bangladesh. Such was the dedication that many members vowed not to lead a normal family until the country was free. One such person was the newly appointed first Prime Minister of Bangladesh, Tajuddin Ahmad.
When Tajuddin Ahmad was finally reunited with his wife Zohra Tajuddin (nee Khatun) on 27 May 1971 at the home of Hossain Ali in Kolkata he told her about the vow. Even though he hadn't seen her or his young children for two months and had no idea whether they were still alive or dead during this turbulent period, he stuck to his vow and left promptly. He had met Zohra only for 7 minutes.
Around 1 am I heard a knock on my door. I opened the door and saw Hossain Ali standing there. He said, "Bhabhi, sir has come". I saw him coming - for 30 seconds I couldn't talk, I was just staring at him. I was thinking how to tell him about all the incidents. Then he abruptly said "Lets go in, lets see the children. Also I've to tell you something". We went inside the room. After seeing the children he said "Tomorrow you'll leave this house. This is an officer's house. You can't stay here. Besides, the most important thing this, we're now engaged in a war. We work day and night. We, the members of the cabinet have taken a vow that until our country is liberated we won't live family life anymore". He looked at his watch and slowly walked away - in total, just 7 minutes.
Tajuddin sir had taken a vow that as long as the country was not liberated he would not stay with his family. He was perhaps concerned especially for all those young men, who were supposed to live conjugal lives, were fighting and completely separated from their families so 'How could I being the Prime Minister lead a family life in this war situation?'. So as long as he stayed in 8 Theatre Road [Kolkata office of Mujibnagar Shorkar] his bedroom was next to his office room.

Amirul Islam on the PM's family sacrifice in favour of patriotic stance ,
The Mujibnagar Shorkar, consisting of the elected parliament members of the 1970 democratic election, worked day and night relentlessly for nine months until Bangladesh was eventually liberated. It undertook new, fresh initiatives, diversified its plan of action and organised the government into multiple division
It also supplied the sharply rising freedom fighters of Bangladesh with arms, and food with the active support of the Indian government.
There were, however, substantial limitations upon what New Delhi was prepared to do to support the Bangladesh liberation movement in this period [April]. The Declaration of Independence by the Bangladesh government in exile was, in effect, publicly ignored by India, which did not extend official recognition to this "sovereign" body until December [1971]. India closely supervised the Government of Bangladesh headquarters in Calcutta. The Awami League leaders issued public statements on occasion, but only after the External Affairs ministry's "representative" in Calcutta had cleared them. Some of the Awami League leaders resented this relationship of dependency to India, but they had no real alternatives available.

India's cautionary approach to Bangladesh liberation movement