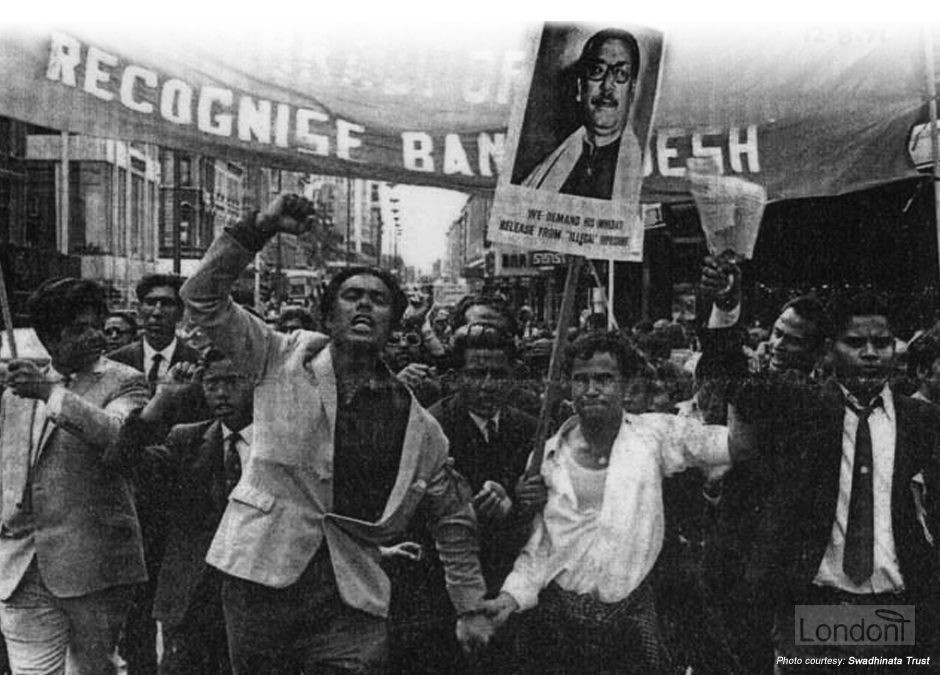 Probashi's campaign abroad for their motherland
The flames of freedom touched the expatriate Bengalis as well. They could no longer ignore the force. Expatriate Bengalis - known as "Probashi" (Non-residential) Bengali - campaigned from every corner of the world from fundraising, protest rallies, diplomatic defection, and other such methods to highlight the plight of the grief-stricken, oppressed Bangladeshis. These activities were in full force in UK, especially London, which contains the highest number of Probashis in the world. In London, the Probashis organised a protest rally in UK which was attended by over 10,000 people.
The generation of givers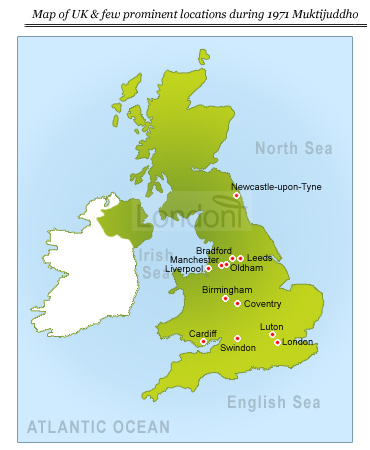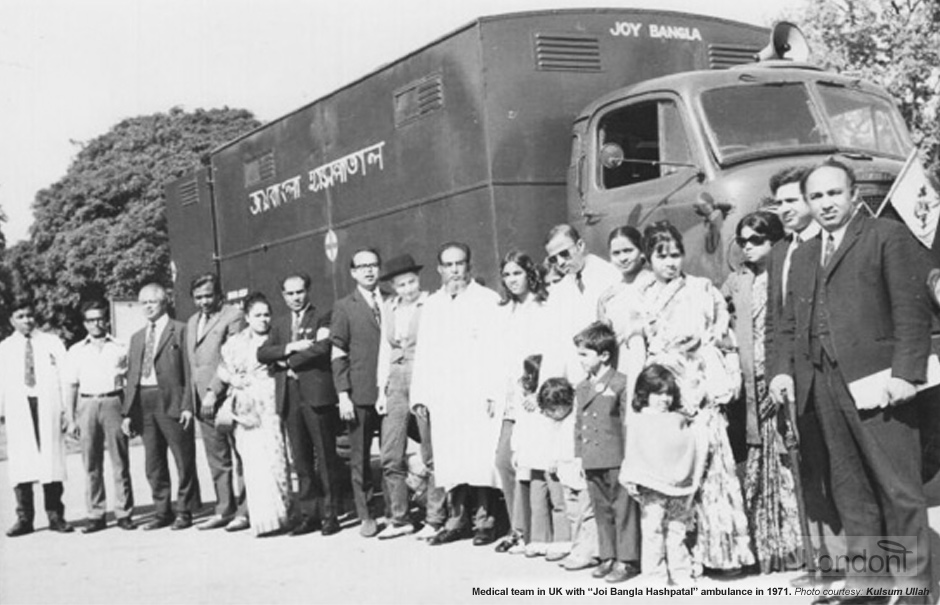 Brothers & sisters turn foes
Initially the relationship between the probashis from the two wings of Pakistan was strong and positive. Both set of people were bound by the same Islamic religion and Asian cultural practises. However, as tension grew with every passing year in Pakistan, these ripples were felt abroad.
The relationship took a sharp dive for the worse and the cold war began. Bengalis felt the West Pakistanis possessed an air of superiority and looked down upon them, even in UK. In their eyes, Bengalis were not considered 'original Pakistanis'. Urdu was used as medium of exchange - Pakistanis expected to converse in Urdu and never spoke to East Pakistanis in Bengali even though the East Pakistanis were the major populace and Bangla was the number one spoken language in Pakistan.
I came to Britain in 1962. We knew that we are Pakistanis, and we had it written in our passports. In reality we saw that those who were Urdu speaking are the owner of Pakistan. They used to mention us as Bengalis when they talked to us. In any case if you are to go to any Bank or the High Commission, you had to talk in Urdu. I lived in the North-West at that time. They were not willing to mention us as Pakistanis, we were called Bengalis. Most of the positions in offices were dominated by West Pakistanis. Even mosques were dominated by West Pakistanis. They used to disregard the Bengalis even in the factories where we worked on similar duties.

I came to Britain, with the help of my brother in February 1962. I was annoyed with Pakistan because of so many things, I used to write my home address as: East Bengal (instead of East Pakistan). One day my brother saw this and warned me about the consequences. He told me to write East Bengal within Bracket after writing East Pakistan. He warned me, this would create problem if they (Pakistani authority) notice this. I was so annoyed with the Pakistanis. Many of our people use to tolerate this but I could not bear these, so I had frequent quarrels with them in the factory I used to work.

When the six point movement of Bangabandhu started, I followed the events very closely. In 1969 when Asad was killed, I was living in a town called St Albans, we sent financial help from there. Afterwards we were hopeful as Ayub Khan stepped down from power, and Yahya Khan came and declared the election schedule. We were very hopeful then.

BBC was the main source of information for us, and from 1969, we depended on the 'Janomot' for information and news.

Sazzad Khan who was captured as a freedom fighter and detained for six months
I had very bad relationship with them [Pakistanis before the struggle began]. We had a conference in the West Pakistan before the war, when I was working in EPSIC (East Pakistan Small Industries Corporation). I was invited to give a lecture. I still remember, I was there in West Pakistan for 18 days. As soon as I started to speak, I started speaking in English, some of the people asked me to speak in Urdu, but I got angry with them and started to speak in Bengali.

Another thing was, when I was flying to the UK, they didn't allow me to carry more than £ 5.00. I boarded on the PIA (Pakistan International Airlines), with my children. They served food for only one child, when I asked them to serve all my children, they told me, what they are doing is right. The Pakistanis treated us badly right from the very beginning.

Another example of the oppression was, value of gold was 120 Taka per bori in East Pakistan and 90 Taka per bori in West Pakistan, although we were part of one country. Paper was also highly priced in East Pakistan. Thus we understood the process of subjugating us economically. Saris from Rajshahi were cheaper in West Pakistan, to which I could not understand why? The shop owners (Urdu speaking Biharis) in Mirpur were unwilling to answer us when we were talking in Bangla.

One girl was working under me, and I had to talk to her in Urdu. She used to speak in Urdu, and I used to talk in English.

I had a driver at EPSIC named Hafiz Ali. He used to look down on me and used to ignore my presence because he was from West Pakistan. Even children from West Pakistan origin were taught that they are the owner of Pakistan as Mohammed Ali Jinnah established Pakistan.

Anowara Jahan, a founding member of Bangladesh Women's Association
Their relationship hit rock bottom in 1971.
Demonstrators burn flag and photograph of Yahya, which were later aired around the world
On 28 February 1971 a Bengali demonstration took place in front of the Pakistan High Commission in London in protest against the delay in transferring political power to Awami League. The protestors gave a memorandum to the Commissioner requesting the upcoming National Assembly session should not be stopped and if this was to happen this will go against the will of the Bengalis and 'there will be no more Pakistan'. To their bewilderment President Yahya subsequently postponed the session sine die. Once again the demonstrators returned.
Two days later, on 5 March 1971, Bengali demonstrators came from Birmingham by coach and joined with their London counterparts and surrounded the Pakistan High Commission. That morning they brought down the Pakistan flag from the High Commission office building and burned it in front of the gathering media from various countries. They also burnt the photograph of Yahya Khan and wrote 'Joi Bangla', 'Swadhin Bangla' and other slogans on the wall of the High Commission.
We declared the independence of Bangladesh on that day. The memorandum of the independence of Bangladesh was handed over to Pakistan High Commissioner Suliman Ali by Azizul Hoque Bhuiyan, Secretary of East Pakistan Liberation Front. We shouted and chanted that from today we are citizens of an independent state of Bangladesh. We shouted that we have no connection with the state of Pakistan, withdraw the Pakistani troops from Bangladesh and recognise Bangladesh.

Mohammed Israel, accountant of the Bangladesh Steering Committee
The incident was immediately broadcasted all over the world through radio, television and newspapers. It drew attention to the development in East Pakistan and television channels in UK broadcasted the West Pakistani oppression against eastern Pakistanis by highlighting some of the ill practises.
During this time, there were many heroic acts, sacrifices and hardships endured by the Bengalis in the UK. Supporters went on hunger strikes and held all night vigils outside the Pakistani Embassy and the British Parliament. Whole weeks' wages, food and clothing were given for the cause.

Suffering verbal threat s and physical attack for standing up for their beliefs was part and parcel of the Bengali peoples' struggle in Britain. The Pakistani Government took away student grants, passports and did all in its power to intimidate the Bengalis in Britain. But their commitment, courage and determination to free the people of Bangladesh from Pakistan's tyranny couldn't be shaken. Many went to fight in the war, willing to give their lives for an independent Bangladesh.

Razia Shariff of Swadhinata Trust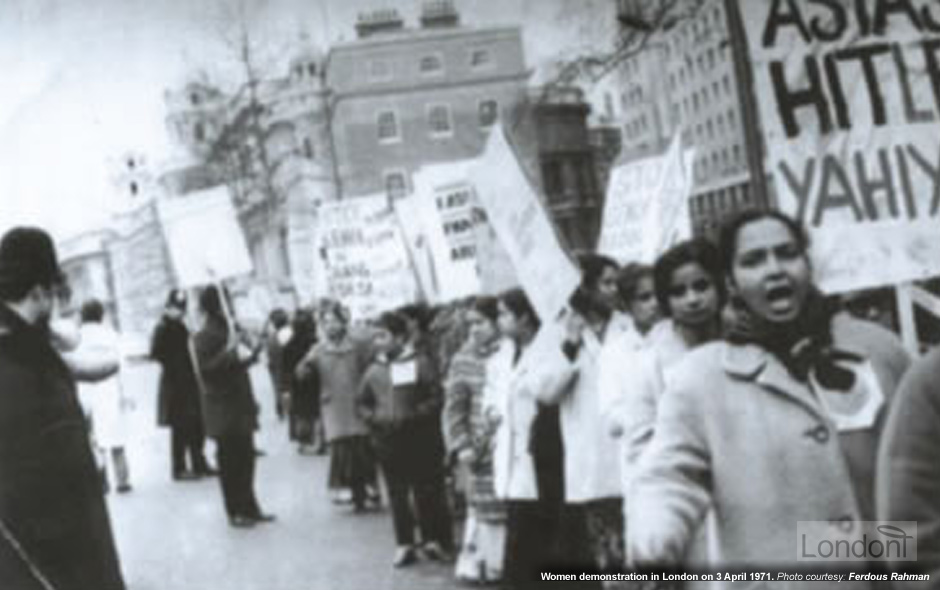 Hyde Park rally, London
The flag burning incident on 5 March 1971 gave Bengalis renewed courage. They felt free to express their provincial grievances in a foreign land knowing full well they wouldn't suffer the same dire consequences as they would in East Pakistan.
With this in mind, an all-party protest meeting was held at Hyde Park, London, on 7 March 1971. On the same day, over 5,000 miles away, Sheikh Mujibur Rahman was giving his famous historical speech at Race Course Maidan in Dhaka.
Bengali came from all over the UK and gathered at Hyde Park around 10 am. Over 10,000 people - the biggest procession in the history of England until then, as estimated by the Metropolitan Police - came to listen to MPs and other speakers. Such was the passion that husband came with their wife pushing young babies in the pram. Every Bengali wanted to be part of this historic moment.
There were very few Bangladeshi women in those days in 1971. A group of may be 100 or 200 women, and she (my wife) was one of them. She went to Hyde Park, Trafalgar Square and some times to the local parks, where ever the demonstration was. We would have a number of meetings on every other day, so if you miss a procession, the number will be small. So you have to be careful, that you don't miss. Nowadays if 80% of the people miss the procession, still it will be few miles long. In those days, if one person misses, then one person short, it could be counted.

Abdur Rashid, Assistant of the Labour Attaché,Pakistan High Commission in Bradford, a city full of (West) Pakistani people, who quit his job to support Swadhinata Juddho
After the meeting, the participants marched towards the Pakistan High Commission, surrounded the office and expressed their anger and disappointment. The procession chanted the independence of Bangladesh. Memorandums were submitted to British Parliament and other political bodies. Bengali students took over the offices of the Pakistan Student's Federation at Chesham Place (London) and established it as their temporary base.
Along with Trafalgar Square, Hyde Park became a common venue for demonstrations throughout Swadhinata Juddho. In one instance 15,000 - 20,000 people had gathered there and key speakers included Abdus Samad Azad and Justice Abu Sayeed Chowdhury. Both men gave passionate speeches and were dedicated people who worked tirelessly for the independence movement.
We used to coordinate demonstrations mainly by telephone. All the leaders of the towns used to meet in some pre-planned place and we use to decide the next programme.

Ajmat Ullah, then a grocery shop owner whose flat was used for many Luton Steering Committee meetings
We demonstrated in Hyde Park on so many occasions. We also contributed money for the war. I personally gave £100 [over 7 weeks pay in 1971] and on another occasion I gave £50 as donation for the war in Bangladesh.

We went to Hyde Park by coach from Whitechapel and people from all regions came to Hyde Park. People came from Birmingham, Manchester, Oldham, and Bradford and so on. Huge number of people gathered. I think people wouldn't respond today the way did in 1971 in the UK. They did it for the country, for the people who were being killed and massacred by the Pakistani army. Everyone was for the independence and for an independent Bangladesh.

Abdus Sami, campaigner
Effect of 'Operation Searchlight' on probashis
Once news had spread about the atrocities of the night of 25 March 1971, British-Bengalis attempted to take over the Pakistan High Commission the following evening but failed.
We came back to Pakistan High Commission to protest against it, as young people the whole night we stood in front of Pakistan High Commission. Other people were also coming and gradually we decided that we will stay in front of the High Commission until the parliament opens, however long it takes. On second or third day people came from Birmingham and other areas and joined us, our local people came too, because after 1st March there was no telephone or other communication between East Pakistan and Britain. People didn't know about their families in East Pakistan and we decided that we will stay in front of Pakistan High Commission.

The month of March was cold, there were few cars and we rested for a while and came back outside, and we continued that till 25 March 1971. Within this time 7th March came and Sheikh Mujib Rahman spoke about few conditions, about how to resolve the issue but nothing happened. On 25 March 1971 night also we were there.

On 26 March 1971 evening we tried to take over Pakistan High Commission, because by that time the independence was declared and we felt that the High Commission which was originally given by a East Pakistani resident would be our property, anyway we failed. The High Commissioner was a Bengali by default, that is he is a domiciled Bengali though he was from East Pakistan quota, he went for West Pakistan, his name was Salman Ali. The High Commissioner and the Deputy High Commissioner didn't come with us, so the High Commission was Pakistan's property. And our people were arrested, some of them were imprisoned and we couldn't take over the High Commission.

Sultan Mahmud Sharif, currently President of UK Awami League
Large number of Bengali refugees sought shelter in UK. With a ban on media coverage, probashis were limited to gaining latest news through newspapers and radio. They cried endlessly for their loved ones, not knowing what was happening and whether they were still alive or not. The question they posed to their West Pakistani colleagues and neighbours was simple - how would you feel if the military attack happened in Karachi, Rawalpindi or Lahore on unarmed, innocent civilians? Did the 'secessionist' accusation against one political party justify massacring a population of 75 million who fought to make Pakistan a reality?
When the (Pakistani) army attacked, we stopped, lot of people stopped (going to work). We didn't have any heart to go to office virtually, but we didn't resign. Nobody knew what to do and how to react, it was a terrible time for 48 hours, two or three days, terrible for everybody. What could you say, what could you do. When a country voted 99% to one party, one may differ, one may vote against, but when you have the 99% people elected one man, this is virtually the whole country, isn't it? And that country (East Pakistan/Bangladesh) has been raided by then a foreign country (West Pakistan) (in the) middle of the night and the leader is taken away. He wasn't put in jail in East Pakistan but was taken away to West Pakistan. It was a tremendous blow.

Unless you are in it, I challenge, nobody could feel like that. As if your heart is taken away, if you are a conscious person, and you feel and you go with the country. Then your leader on which you are dreaming lot of things, he is taken like a cat in the middle of the night, and he is taken away not in your country, he is taken thousand miles away, and the army attacking everything, and raiding, it was a terrible time. I can't describe it in words. And there can't be a time like this again. At least I feel in this way, and I can feel for hundreds and hundreds of people I saw, because I was one of the men who should have given hope to the people. Lot of people came to me for news rather I went to lot of people. So I didn't have a word to tell them and give any hope. Pray to God, time will heal, we don't know. What can you say?

I didn't resign but I left it, I said, "No, I will work in the street, clean the streets, but will not work with you again".

Abdur Rashid on the turbulent few days after the massacre began
They had violated us very much. They dealt with us badly even here in the UK. They used to say, "Bangal ka baccha, koi nehi accha" and we replied, "Pakistan ka baccha, koi nehi accha". We faced them boldly.

Tahir Ali, then a local campaigner in East London and one of the few peoples who distributed leaflets and posters almost everyday during the nine month war
I was very much sensitive about my country, my language, because, the Pakistanis treated us very badly, as if they are our superiors, and we are their servants. We had to respect them but they didn't respect us. If we asked them like, "Aup kaisa hai" they answered "Tu kaisa hai". They treated us badly all the time. The Punjabis (Pakistanis) did not respect Bengalis living in Brick Lane with the Pakistanis. I could not tolerate that. So as the independence movement started, we all joined [in].

...I went to the school with a Bangladesh badge on my shirt, and some of my friends who were the first year student also had badges on their shirts. As we got to the school, the Pakistani students took the badges off from the first year Bengali students and threw those on the ground. The badges were printed with Bangladesh map and picture of Sheikh Mujibur Rahman. The first year student were afraid and didn't protest, but as me and one of my friend of 5th year came to the school, the first year student told us the incident, and we then went to them, and there was a huge clash between us in the school. The school authority expelled us all. On the same day, in the evening near the Batty Street, there was a big factory, [where] they attacked us again. We clashed with them, and the police arrested us, and our parents freed us from the [police] custody. My friend had a steel comb in his pocket. He injured one of the Pakistani boys with that comb. They (Pakistanis) are still known to me, and on some occasions we meet, now they say that they had fun with us, and we also tell them we had fun with them.

The people were dreaming only one thing - day and night, the independence. The word Bangla gave us an emotional courage. We were so involved and so desperate at that time. Nowadays people are not proud of the identity, they love the identity of being a Muslim, and of course I am proud of being a Muslim. The Turkish are proud of being Turkish, Indians are proud of being Indian but why are we afraid of being Bengali. Some of the Bengalis, namely Young Muslims (YMO) tell (say) that we are Muslims, not Bengalis. They say that Bengali, is the name of a culture.

Tunu Miah, a secondary school student during 1971