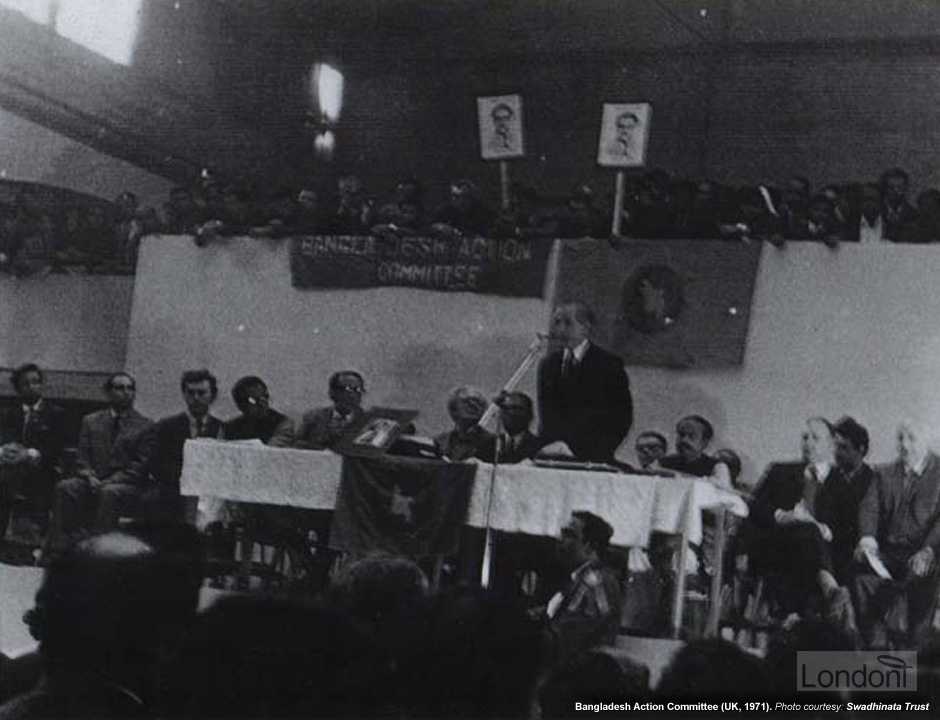 Steering Committees and "Bangladesh Action Committee"
East Pakistan Liberation Front and Bidrohi Bangla
In August 1969 Bengali settlers in Birmingham - the second biggest city in UK - formed 'East Pakistan Liberation Front' at 15 Vine Street in Aston with a view to supporting the independence movement. Abdus Sabur Choudhury (from Sylhet) was selected as the President, and Azizul Hoque Bhuiyan (Narshingdi) as Secretary. Other key contributors included Mohiuddin Ahmad (Dhaka), Mustafizur Rahman Dipu (Satkhira) and Mohammad Ismail Azad (Sylhet). The committee worked in clandestine manner for several months. It emerged publicly for the first time on 29 November 1970 (i.e. after Bhola Cyclone struck) when it held a public meeting at Digbeth Civic Hall, Birmingham, which was attended by approximately 2,000 people.
A huge public meeting was organised by the East Pakistan Liberation Front at Digbeth Civic Hall in Birmingham, on 29 November 1970 [i.e. after Bhola Cyclone struck]. Lots of Pakistani and Indian elites attended the meeting. After discussing the oppression and the on going ill motivated administration policy of Pakistan, the meeting decided that there is no other way to solve the crisis but to make East Pakistan an independent state. The independence movement was strengthened from then. The situation in Bangladesh and reactions of the other countries were also considered with due respect.
Azizul Hoque Bhuiyan, Mohammad Ismail Azad, and Mustafizur Rahman published a 4-paged handwritten Bangla newsletter, "Bidrohi Bangal" (Rebel Bangla), every fortnight as the voice of the organisation. The newsletter used to chronicle the decades of oppression of East Pakistan by West Pakistani administration. After its first year, the newsletter was enriched by the excellent handwritting of Roger Gwynn, an Englishman who was then a student at Oxford University.
Abdus Sabur Choudhury

() President of East Pakistan Liberation Front committe during 1971 Sangram. From Sylhet.

Azizul Hoque Bhuiyan

() Secretary of East Pakistan Liberation Front committee, and co-editor of Bidrohi Bangla newsletter during 1971 Sangram. From Narshingdi.

Mustafizur Rahman Dipu

() Key member of East Pakistan Liberation Front committee, and co-editor of Bidrohi Bangla newsletter during 1971 Sangram. From Satkhira.

Mohammad Ismail Azad

() Key member of East Pakistan Liberation Front committee, and co-editor of Bidrohi Bangla newsletter during 1971 Sangram. From Sylhet.

Roger Gwynn

(Born )
Other publications...
In addition to Bidrohi Bangla, there are many other newsletters during that period that worked with the same aspiration of informing the global audience and gathering support for fellow Bengalis. Among these publications were Joy Bangla in Leeds (edited by Khairul Bashar and Mohammad Nurul Huda), Swadhin Bangla in Birmingham (edited by the Bidrohi Bangla team), and Banglar Katha from London (edited by Tasadduq Ahmed).
'Mukti', mouthpiece of Pakistan Government
To counter the growing support for Probashi Bengalis, the Pakistanis published 'Mukti' (Freedom) at the initiative of the Pakistan High Commission in UK. This was a weekly publication printed at Barking, Essex, which first appeared on 21 May 1971. The paper rarely mentioned the name of the editor or its associates. But in one or two issues, Hafiz Nesar Ahmed was cited as editor. Abul Hayat, the Chief of Pakistan Solidarity Front, claimed to be the proprietor, publisher and chief editor of Mukti.
no-nonsense attitude calling Bengali freedom fighters 'miscreants', and 'group of young terrorists indulging in anti-people activities'. It encouraged villagers not to 'sit idly' and accept the 'foolishness' of boys armed by 'Hindu terrorist agents'. It warned the 'miscreants' that they'll 'give rise to a bloody civil war unprecedented in history' and 'there will be a bloodbath on the shores of Padma, Meghna and Jamuna'.
There is a whispering among the terrorists that the Pakistan Government will be compelled to withdraw the army if genocide continues for some time. But they cannot give any clear answers to where the soldiers will go after withdrawal from here. They also dream that if acts of terrorism can be continued, Government of Pakistan will be disheartened. In this case, they will leave the country to them and go elsewhere. These two thoughts are wrong. This is because the Islamic people of Pakistan have already experienced the bitter taste of the rule of the terrorists. As such, they will, under no circumstances, take poison form their hands.

In some cases, terrorist murderers have killed unarmed people who went to mosques to offer prayer. Many mosques are now under lock and key. They are under lock and key because people worthy of going to mosque are no longer alive in those areas. The killers have in the meantime martyred mosque-goers. If Muslims cannot offer prayer in the mosques of Pakistan, a nation achieved in the name of Islam, then what is the use of killing time by searching for Hindus and Jews?

We believe that if Hindustani terrorist agents do not disarm their boys, who have gone astray, there will be a bloodbath on the shores of the Padma, Meghna and Jamuna.

'Mukti' publication, Editorial of year 1, issue 25
It [Mukti] was published to mislead immigrant Bengalis in Britain and to undermine the war efforts there. In fact, in the history of Bengali papers in Britain, Mukti was the most hated publication.

Faruque Ahmed, author of 'Bengali Journals and Journalism in Britain (1916-2007)' (2009)
Central Steering Committee
Bidrohi Bangla spread the news of the Pakistani military action during Operation Searchlight. Following this, a meeting was held on 27 March 1971 in Small Heath Park, Birmingham, which was attended by over 10,000 Bengali residents. In the meeting the East Pakistan Liberation Front was abolished and a new Steering Committee was formed under the leadership of Justice Abu Sayeed Chowdhury. The Birmingham Steering Committee members included Jaglul Hoque Pasha, Azizul Hoque Bhuiyan, Kabir Chowdhury, Monowar Hussain, Sheikh Abdul Manna, Shamsur Rahman, Mohammed Israel and Kazi Mujibur Rahman. By end of the war there were approximately 110 such steering committees throughout UK, including Luton Steering Committee, Streatham Steering Committee, Coventry Steering Committee, Manchester Steering Committee, Swindon Steering Committee, etc. Members of the committee would meet every weekend and collect donation. They went house-to-house to raise fund and organised other fund raising events.
On 24 April 1971 a Central Bangladesh Steering Committee was formed in Coventry to coordinate the activities of all the sub-committees. Justice Abu Sayeed Chowdhury was selected as Chairman. A Bangladesh Trust Fund was also formed with Justice Chowdhury, John Stonehouse, and Donald Chesworth as Trustees. Funds were sent to help refugees and support the freedom fighters. The committee published a 4-page fortnightly newsletter from London called 'Ranangon' to focus on the activities of the Mujibnagar Shorkar, freedom fighters, probashis, and other events relevant to Bangladesh during that period. The hand-written publication was edited by Afroz Chowdhury.
The increasing media coverage gained by the group brought greater attention to the plight of the Bengalis in Bangladesh. It helped foster support among the non-Bengali communities around the world and was influential in convincing the British Government to finally support the Bengalis.
John Stonehouse

(28 Jul 1925 – 14 Apr 1988)

Donald (Piers) Chesworth

(30 Jan 1923 - 24 May 1991)

Afroz Chowdhury

() Editor of 'Ranangon' newsletter during 1971 Sangram.
Donald Chesworth was an avowed world federalist and had a concern for humanity wherever there was a need and he had particularly close connections with Tanzania, Mauritius, and Bangladesh. This last concern fitted well with his work and residence in Spitalfields where his knowledge of Bangladesh and his links with the country invested his work in fighting for the rights of Bangladeshis in Britain with both warmth and authority.

Michael Meadowcroft, Chair of the Leeds Library
I use to drive, at that time few people used to drive, and visited so many restaurants with the White people with my White Comrades. I mention here White only to describe it nothing else, not of race, we used to visit each and every restaurant, and we used to talk with the workers there, waiters and chefs and cook. And used to inspire them that, once there will be a Bangladesh. These people were very much inspired because at that time there were no media, no radio, and no television to speak for us. There was only one weekly, but at that time media was not so fast, news use to come late, one week, two week 14 days 15 days. However, we used to get fresh news each and every day from the Provisional Government of Bangladesh, and through other media, magazines, booklets and leaflets. Personal visit was very important, people used to be very much encouraged, when the people see that the White people are supporting the movement, they were very much pleased, and they used to help, they made lot of contribution towards the organisation.

Also I should mention about the students, the students were involved and lot of them were studying law, some of them were working like Zakaria Chowdhury, Shamsuddin Chowdhury Manik, Mohammad Hossain Monju, Shamsul Alam Chowdhury, A K Nazrul Islam and Syed Muzammel Haque, and Prof Wadud, ABM Ishaq and lot of others. Actually they were the core people, who were working behind the movement. They are the enlightened one who got academic qualification, they used to know about the politics, they were experienced and when they used to speak with people; people took them with good faith, their words were taken with very good faith. So these sorts of things actually win us and inspired us.

Also we got lot of support from the younger people. Ordinary working class people, Saturday and Sunday used to be closed day, and they could give their time to organise things, go to people, go to restaurants, go to meetings. So it helped in that way. So nobody can claim that he did something solely for Bangladesh, it was a collective support, it was a collective movement.
Given the role played by British Bengali activists, their roles were significant in the independence of Bangladesh. After all because of those movements and demonstrations western media, activists and governments went against Pakistan and helped Bangladesh's liberation. Bengalis in Britain played a significant role in the independence of Bangladesh.
During the nine months war, the Steering Committee raised £406,856 for the Bangladesh cause - a mammoth figure at the time.
Bangladesh Action Committees
By now a multitude of groups had formed throughout UK to raise fund for the Muktijuddho and support the Bangladesh cause. These included UK Student Parishod (a combined student wing of Awami League and National Awami Party or NAP for short), Bangladesh Chhatro Sangha (another student organisation which was formed to drum up support within the student populace), Doctors Association (which contributed £50 every week) and countless more. In addition, 'Operation Omega' and 'Action Bangladesh' were organised and sponsored by CAS Kabir to bring awareness among the non-Bengalis, British and Europeans regarding the genocide in Bangladesh. The groups contained about 50 regular members, both Bengali and English.
CAS Kabir

() Sponsored 'Action Bangladesh' and 'Operation Omega' during 1971 Sangram.
Attempts were made to bring all the groups together under one umbrella organisation thereby facilitating the coordination of action. The result was the formation of a 'Bangladesh Action Committee' in the East End of London. Various such committees were formed throughout UK and by end of April 1971 there were about 50-60 Action Committees all over the country and by the time the war ended 85 Action Committees were formed in UK and the Middle-East.
Anywhere there were 10 or 15 people, or even 5 people in any area, we asked them to form an Action Committee in that area. So we enlisted everybody to work together.
Bengali workers around the country paid part of their wages to fund the movement. This money was spent on paying the salary of Bengali Ambassadors who were sent on diplomatic negotiations throughout the world, and various other initiatives to support the movement such as publicity, aid for refugees, salaries for other people working for Bangladesh cause, and providing food and resources for muktijuddhas (freedom fighters).
The UK probashis raised huge amount of money and sent it to the Provisional Government of Bangladesh. This was the Mujibnagar Shorkar's first source of income and first foreign exchange as they had no foreign exchange till then.
So everybody, working people started with one week wages, like £10 or £20 . Everybody all around the country (UK), no one was left untouched. And that was the liberation movement run from here, Bangladesh, what could they had done, without the London movement, Bangladesh could not have been achieved. India came, OK, but who ran the foreign policy. It is Trafalgar Square and Britain.

Abdur Rashid on the grand contribution of probashis
All of us were together and working day and night, every Sunday and everyday. How it is everyday, that if you work for five days and you earn £10, that £10 was spent on the movement, by every family every person. People would come from Scotland, to attend a meeting in London that takes week's wage, people who would come from Manchester to attend the meeting, the only day he has a day-off, Sunday. This is how it was everyday. And our people were working in the factories and other such institutions, they all came and everyday that was the only thing they were thinking. And that is, we were so determined.

The fact is only people, the entire people worked, it is not one person out of 10,000 people, every body who had stake there (Bangladesh), that means home, heart, family, brothers and sisters. The only thing they were dreaming of were, will they be ever able to meet them if the Pakistan army wins. No, so they have to do or spent everything possible to free it from the Pakistanis and that is what every body was doing.
Delegates from the many Bangladesh Action Committees, coordinated by a Central Steering Committee, were sent to conferences all over Europe, the Labour and Conservative Party conferences in October 1971, the Trade Union Congress, the annual World Bank meeting, International Law Conference and any number of meetings where intellectuals and politicians gathered. They lobbied MPs, Parliament, Student Unions, and Embassies to recognise Bangladesh and conducted research to find out which country was providing ammunition to Pakistan. They even sent renowned barrister QC Tom Williams to Pakistan to find out the whereabouts of the missing Sheikh Mujibur Rahman. He returned and confirmed that Sheikh Mujib was still alive and in Pakistani custody.
Gathering and collecting information of the world sentiment about the problem of East Pakistan was my responsibility. I gathered information from five international newspapers namely The Times, The Telegraph, The Guardian, The Observer and The International Herald Tribune. We were figuring out which countries were favouring Pakistan and which weren't, and we took necessary actions according to our findings. Initially India, USSR, Britain and British media were in favour of Bangladesh.

We used to find out the country that is supplying arms to Pakistan and helping Pakistan in other ways, we then demonstrated in front of the foreign offices of those countries in London. I have preserved those newspaper cuttings. On 30 June 1971, the ship, Padma, loaded with arms and ammunitions, was preparing to leave Montreal port of Canada to Pakistan, we came to know the information and we gathered in front of the Canadian High Commission in London, and we demanded the suspension of the supply. The shipment was stopped because of our demonstration. On the 22 July 1971, France Government decided to stop arms and ammunition to Pakistan. On 4 August 1971, USA foreign Aid $220 million was suspended. The 7th naval fleet of America started moving towards the Bay of Bengal, to help Pakistan. We demonstrated against the move and later they suspended the advancement. We also succeeded to cancel the shipment of the £10 milllion worth of arms and ammunition according to the US arms deal, by our protest.

Her Majesty, The Queen Elizabeth sent especially personal message to Yahya Khan, the president of Pakistan to save the lives and look after the health of Bangabandhu Sheikh Mujibur Rahman that is why Pakistan Government did not have the courage to kill Sheikh Mujibur Rahman. He remained safe and in good health. We got our independence easily with a very short period of time, due to the presence of our great internationally recognised leader Sheikh Mujibur Rahman.

On 21 June 1971 there was a meeting at Paris of 12 donor nations of the World Bank, to discuss grants to Pakistan. We, 120 members, mostly from Birmingham Action Committee went there and we had rallies, protest and demonstration and later we were able to cancel the grant to Pakistan. Almost all countries stopped giving aid to Pakistan and Pakistan became bankrupt and withdrew the membership from the Royal Commonwealth on 14 August 1971.

On 11 August 1971, a special military court was set up to convict Bangabandhu as a rastrodrohy (treason charge), and later to execute Bangabandhu, we protested against the plan and the court was postponed.
Pakistan Cricket matches boycotted
There was also instances of boycotting events or and seminars which were attended by Pakistani representatives, such as in Birmingham where the Pakistani cricket team had come to play on 27 April 1971. Approximately 5,000 - 6,000 protestors gathered around the cricket ground to boycott the game and held demonstrations.
Members of the Action Committee travelled to every city and town where the Pakistani cricket team played and protested against the military crackdown in Bangladesh. Sometime these resulted in violent clashes with the Pakistani supporters, even involving knives, and injuries to demonstrators.
We went to Birmingham to demonstrate against the tour of the Pakistan cricket team when it was due there. We went with 5-6 coaches from Luton. There were 5,000 - 6,000 people around the cricket ground. Mukta Miah was a very active person in the movement. Most of the activists are no longer alive. Ibrahim Baksh was another activist of the movement. We were determined to get our country liberated. Some people were willing to give their salary and weekly wages to the fund just to get the country liberated from the heinous crime committed by the Pakistani Army. We were more determined as many of us were getting letters back from home that they are burning our houses, killing our people and so on. We also prayed to Allah to end the war and liberate our land. We had two mosques in Luton.
Throughout the nine months war every Sunday there was a Bengali demonstration in one part of the UK or another. Be it in the capital London, the second city Birmingham, the third city Manchester or its Bengali populated neighbour of Oldham, or even the Welsh capital Cardiff or in any other town, the Bengalis were united under one voice. Their demand simple - stop the genocide, release Sheikh Mujib, and withdraw Pakistani forces from Bangladesh.