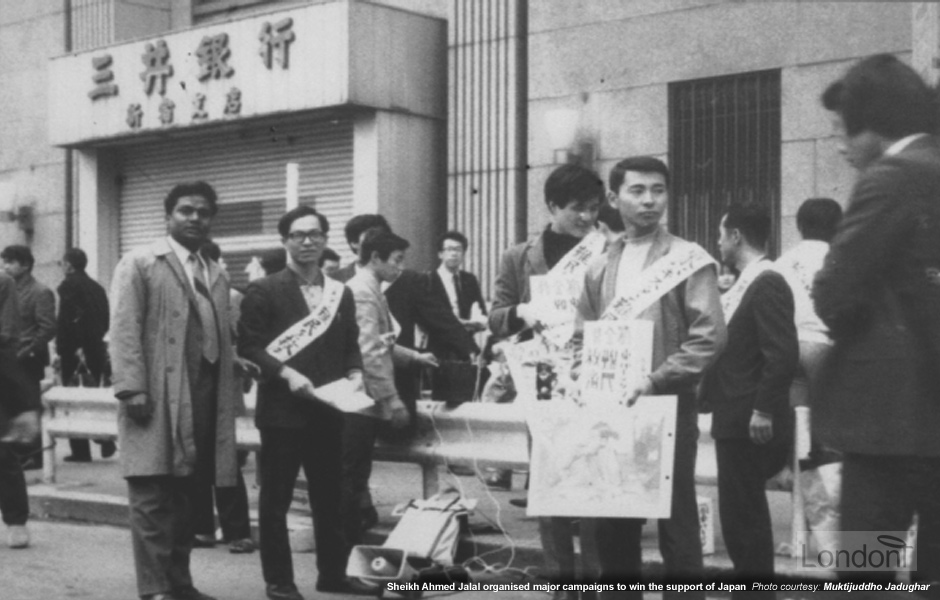 One man's drive in Japan
Despite obvious hurdles of language, culture and representation, Bengalis in Japan also played their part in spreading awareness and seeking recognition. In particular, Sheikh Ahmed Jalal excelled during this time.
Sheikh Ahmed Jalal had been studying in Tokyo University of Education and Tokyo University in the 1960s under the Japanese Government Monbusho Scholarship. Along with his formal studies in Mining Engineering, he mastered the Japanese language and was awarded the Diploma in Japanese Language from the Osaka University of Foreign Studies. While studying in Tokyo Sheikh Ahmed Jalal became acquainted with Muhammad Ali of Bogra, the then Ambassador of Pakistan in Japan. Muhammad Ali Bogra had been given the choice of the ambassadorial role in Japan or in France. And though the Japanese economy had not yet grown to its present giant status, Muhammad Ali Bogra realised the potential and elected to go to Tokyo, where he remained for three years (1955-58).
During this time, both he and Sheikh Ahmed Jalal worked towards the introduction of Bengali programme in Japan Radio. Subsequently, Sheikh Ahmed Jalal was appointed as the first announcer of Radio Japan's Bengali Service, a position he served for 12 years. He wrote, produced and actively participated in all aspects of the Bangla Service. He was also a special correspondent of Ittefaq and The Pakistan Observer from 1962-1970, writing regularly under the columns, "Tokyor Chithi" and "Tokyo Newsletter" respectively.
Sheikh Ahmed Jalal

()
During 1971 Muktijuddho, Sheikh Ahmed Jalal launched major campaigns to gain the support of Japanese politicians, researchers, teachers and public. His active participation in a land where Bengalis numbered very little earned him huge accolade.
After Bangladesh gained independence, Sheikh Ahmed Jalal entered the Foreign Service of Bangladesh - a career which span 28 years. Following his death, his family donated a great number of newspaper articles and other documents which he had collected during 1971 to the Muktijuddho Jadughar in Dhaka and which can be viewed online here.
Throughout his life, he amassed a prolific and valuable collection of literature and important documents regarding the Liberation War. These authentic first edition volumes and newspaper articles were well preserved and orderly documented, as he treasured their historical value and significance. His kindness in sharing of knowledge is well known and prized by all who knew him during his lifetime. His passing on 21st September 2003 at the age of only 62, did not stop his gift of sharing and giving and according to his last wish his family (Mrs. Selima Jalal, Faisal Jalal and Sylvia Jalal), is proud to make a contribution of these invaluable articles of history to the Liberation War Museum of Bangladesh.
May they [i.e. donated artifacts] bring the researchers and readers closer to the significance of our Independence through the clarity, honesty and transparency of the historical facts in these documents and re-awaken a passion for Bangladesh, which was so well exemplified by the life of Sheikh Ahmed Jalal.
Sheikh Ahmed Jalal was also instrumental in the formation of Japanese Universities Alumni Association in Bangladesh (JUAAB).
The Information and Cultural department of the Embassy of Japan in Bangladesh took the initiative in forming an Association of Bangladeshi Nationals who had earned academic degrees from Japanese universities. The department wanted to create an association which would further strengthen the cultural and academic relations between Bangladesh and Japan. With this in mind the Japanese Universities Alumni Association in Bangladesh (JUAAB) was formed. Prof. Alauddin Ahmed, Advisor to Honourable Prime Minister, Peoples Republic of Bangladesh and a former Monbusho Scholar was made convener, to draft a Constitution for the Association and to initiate the process of forming its first executive committee according to that Constitution. On 28 August 2000 the organisation was formed and Sheikh Ahmed Jalal became a Member of the Advisory Council of JUAAB.
Japan was one of the foremost countries to accord earliest recognition to Bangladesh. Formal diplomatic relations between Japan and Bangladesh were established on February 10th 1972. During those nine-month of liberation struggle Japan was so supportive of Bangladesh that even the school children saved their Tiffin money for the suffering Bangladeshi people in a rare gesture of friendship and compassion for the distressed humanity.

However, all this support and sympathy was not generated overnight. As for increa sing public support and mobilizing public opinion in Japan, one man played a great catalyst role. He was Mr. Sheikh Ahmed Jalal. He studied in Japan in the 1960s under Japanese government scholarship. Upon receiving instructions from the Bangladesh Government in Exile as early as May 1971, he vigorously participated in the public opinion mobilization campaign. During this time, he active ly maintained unofficial contacts with the Japanese government authorities, and carried out energetic lobbying among the civil society and general masses of Japan, contributing immensely to early recognition of independent Bangladesh by the Government of Japan. He did his utmost to mobilize support in Japan in favor of the war, the freedom fighters, the displaced people and the refugees of Bangladesh.

A man with deep patriotism and diverse talents, he was at the same time a scholar and a journalist with Radio Japan's Bengali Service for 12 years and wrote regular columns on Japan for leading East Pakistan dailies from 1962 to 1970.

Matsushiro Horiguchi, former Ambasador of Japan in Bangladesh