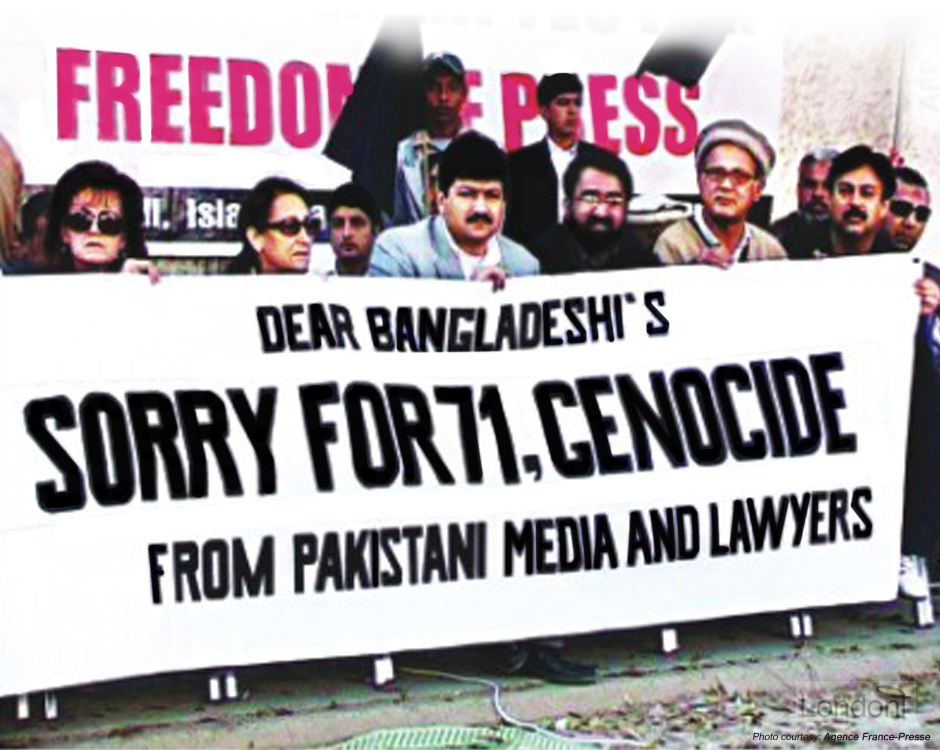 "Joh huwa soh huwa...move on"
In 2011, Foreign Minister of Bangladesh, Dr. Dipu Moni, a Hindu, raised the question of apology when new Pakistan High Commissioner to Bangladesh, Afrasiab Mehdi Hashmi, called on her. In response, the Pakistan Foreign Ministry spokesman in Islamabad urged Dhaka to "let bygones be bygones" and hoped that relations "would not become hostage to the past". But Bangladesh responded just three days stating that "Pakistan must apologise for the genocide it had committed in 1971", if bilateral ties are to improve. Dr. Dipu Moni also called for Pakistan's understanding and recognition of Bangladesh's position on a resolution of outstanding issues, including repatriation of stranded Pakistanis, division of assets and war reparations.
An early resolution of the outstanding issues will enable the existing friendly relations between Bangladesh and Pakistan to make a great leap forward and create a wider space for cooperation.
This is not the first time that Bangladesh has asked Pakistan to apologise. As usual, Pakistan has answered in part-apathy, part-irritation, by telling Bangladesh to "bury the past", "move forward as there are complaints on both sides". When a recent poll asked representatives from Pakistan's major political parties their views on whether Pakistan should issue a formal apology to Bangladesh, it discovered that this attitude was prevalent within Pakistan's political arena too. Pakistan People's Party (PPP, founded by Zulfikar Ali Bhutto), Pakistan Muslim League-Nawaz (PML-N) and the Pakistan Tehreek-e-Insaaf (PTI) all talked about "moving on". Pakistan Muslim League-Quaid (PML-Q) were willing to sit down and talk through 1971 with Bangladesh, whilst Jamaat-e-Islami (JeI), whose sister party in Bangladesh were on trial for 1971 atrocities, said that Pakistan should "under no circumstances" apologize, and demands, instead, that the apology should come from the Bangladesh and Indian governments.
When Pervez Musharraf visited Bangladesh, he regretted what happened. That should be enough.

What happened to pro-Pakistan groups in Bangladesh - that is also a part of history. The girls and the young ones of the pro-united Pakistan were also people. It is not like it was one-way traffic. It was two-way traffic. So why open a Pandora's Box.

Fawad Chaudhry, member of Pakistan People's Party and Special Advisor to the Prime Minister
No, under no circumstances [should Pakistan apologise for 1971]. Pakistan met Indian forces there!

The Pakistani forces, and those who did not speak Bengali - the non-Bengali Pakistanis - were killed on a large scale. If anyone should apologise, it should be the Bangladesh government. Sheikh Hasina [Prime Minister in 2013] should apologise. Her government should apologise. They conspired with India, and laid the basis for the the separation of Pakistan.

The Indian Army Chief General V. K. Singh made Mukti Bahini. And they carried out atrocities on a large scale. The Bengalis let Indian forces support them, and take part. The Indian forces infiltrated that area from 3 December 1971.

Sheikh Hasina should ask the Pakistani government for forgiveness. The Indian government should apologise too.

Dr. Farid Ahmad Piracha, Deputy Secretary General of Jamaat-e-Islami in Pakistan
There is no doubt that a lot of things should not have happened. A lot of things have also been exaggerated. We should learn lessons from the way it was mishandled. And it also shows once again that whenever you deal with things like that, you need to have a comprehensive strategy, and military action itself is not a solution to anything.

I also think it's time to move forward in the relationship. Regrets have been expressed. Various Pakistani leaders have expressed them.

Shafqat Mehmood, Information Secretary of Pakistan Tehreek-e-Insaaf
After having listened to all the arguments for not apologising, the poll concluded that a formal apology was a "fair request" which Pakistan "should consider seriously".
We think it's a fair request, and we think our politicians in Pakistan should consider it seriously - especially since Pakistan is no stranger to the politics of apologies (remember Salala?). At minimum that means engaging with the demand, for example by investigating what actually happened (an exercise that has still not really taken place, given that we only have access to a supplementary report from the commission that was tasked with the investigation, and given that Zulfikar Ali Bhutto put plenty of pressure on those involved to report a favorable picture). At most, it means issuing the apology, because formal apologies from states engaged with atrocities can be a powerful opportunity for the victims of 1971 to move forward.

Tanqeed website
Pakistani Mir Hamid, Imran Khan and Dawn newspaper plead government for formal apology
In the recent past, there have been growing voices from Pakistan pressurising their government to apologise for the atrocities committed in 1971.
On 25 December 2007, on the occasion of Pakistan's founder Muhammad Ali Jinnah's birthday annivarsary held at Islamabad Press Club, eminent journalist and Executive Director of Geo TV, Hamid Mir, led a banner campaign with fellow Pakistani media and lawyers apologising for 1971. The words on the banner read "Dear Bangladeshi's sorry for '71 genocide from Pakistan media and lawyers". This high profile protest created a reaction in Pakistan, especially since Hamid Mir was a recipient of Hilal-e-Imtiaz - Pakistan's second highest civilian award - and famous for interviewing high profile international figures such as Osama bin Laden, Condoleezza Rice, Tony Blair and L. K. Advani, amongst others. He was also a popular anchorperson of a large media group. However, the protest received support from Roedad Khan, the Press Secretary of East Pakistan during 1971, who was alleged to have expressed his sorry in the meeting also.
The 'sorry' photo received wide circulation in Bangladesh via Daily Prothom Alo newspaper, a popular national daily. It gained Hamid Mir and his colleagues a lot of respect for their brave stance and reassured Bengalis that their long standing cry for justice was heard by their brothers and sisters 1,000 miles away.
Some people hate me a lot in Pakistan. They hate me because I said sorry to Bengalis two years ago in Islamabad Press Club for the atrocities committed by Pakistan Army in 1971.They hate me because I also demanded an official apology from the government of Pakistan to the people of Bangladesh for the genocide of March 1971.They say I don't know anything. They say I am not a good Pakistani.

They say I was very young in 1971 and I am not aware about the truth. When I say yes I was only a young school-going boy in 1971 but I heard and read a lot about the genocide. How can I deny my late father, Professor Waris Mir, who visited Dhaka in October 1971 with a delegation of Punjab University students? My father was a teacher of journalism in Punjab University, Lahore. He was asked by the University administration to organise a visit of the student's union office bearers to Turkey, but he took the boys to Dhaka with their consent. They wanted to know what was actually going on in Dhaka.

I still remember that when my father came back from Dhaka he wept for many days. He told us stories of bloodshed. These stories were similar to the story of my mother. My mother lost her whole family during migration from Jammu to Pakistan in 1947. Her brothers were killed by the Hindus and Sikhs in front of her eyes. Her mother was kidnapped. She saved her life by hiding under the dead bodies of her own relatives. I remember that my mother cried a lot when my father told her that Pakistan army officers raped many Bengali women. My mother said: "We made sacrifices for the safety of our honour but why we are dishonouring each other today?"

My father always said that Bengalis made Pakistan and we Punjabis broke Pakistan. Once he said that March 23rd was Pakistan Day, March 26th should be the apology day and December 16th should be the accountability day. I started understanding the thoughts of my late father when I became a journalist in 1987.

When I first read the Hamoodur Rehman Commission Report I felt ashamed. This report of a Pakistani commission admitted murder and rape but, despite this documentary evidence, many people still live in a state of denial. They say Sheikh Mujib was a traitor who created Mukti Bahini with the help of India and killed many innocent Punjabis and Beharis. I say that Sheikh Mujib was a worker of the Pakistan movement, he was a supporter of Fatima Jinnah (sister of Muhammad Ali Jinnah) till 1966. He only demanded provincial autonomy but military rulers declared him a traitor. In fact, these military rulers were traitors because their troops raped their own mothers and sisters. They say I am a liar and an enemy of Pakistan. How could I be an enemy of Pakistan? My mother sacrificed her whole family for Pakistan. My problem is that I cannot deny truth.

A senior colleague of mine, Afzal Khan, is still alive. He is 73 years old. He worked with Associated Press of Pakistan (APP), and was secretary general of the Pakistan Federal Union of Journalists (PFUJ) from 1980 to 1985. He was sent to Dhaka on March 28, 1971 for the coverage of the army operation. He told me many times that yes Mukti Bahini killed a lot of innocent people but what the Pakistan army did was not the job of a national army. Once he was staying in Ispahani House in Khulna. An army major once offered him a girl to spend a night with. When Afzal Khan asked who the girl was, the major said that she was the daughter of a local police officer and she could come to Ispahani House at gun-point. After this incident Afzal Khan came back to Lahore in May 1971. He says that all those who were responsible for the rape and genocide of Bengalis never enjoyed any respect in Pakistan.

The name of General Yahya Khan is still like an abuse in Pakistan. His son Ali Yahya always tries to hide from people. General Tikka Khan is still remembered as the "butcher of Bengal." General A.A.K. Niazi wanted to become "tiger of Bengal" but is remembered as "jackal of Bengal." The majority of Pakistanis hate all those who were responsible for the genocide of their Bengali brothers. That is the reason the family members of these army officers don't even mention publicly that who their fathers were.

But still there are some people who are not ready to admit their blunders. These people are a minority but they are powerful. I consider them enemies of the Pakistan for which my mother sacrificed her family. Why should we defend these enemies? Why doesn't our democratic government officially apologise to Bengalis? This apology will not weaken Pakistan. It will strengthen Pakistan.

I am sure that Pakistan is changing fast. A day will come very soon when the government of Pakistan will officially say sorry to Bengalis and March 26th will become an apology day for patriotic Pakistanis. I want this apology because Bengalis created Pakistan. I want this apology because Bengalis supported the sister of Jinnah against General Ayub Khan. I wants this apology because I want to make a new relationship with the people of Bangladesh. I don't want to live with my dirty past. I want to live in a neat and clean future. I want a bright future not only for Pakistan but also for Bangladesh. I want this apology because I love Pakistan and I love Bangladesh. Happy Independence Day to my Bangladeshi brothers and sisters.
In the past, large and significant sections of the Pakistani media, while periodically recalling that long-ago hour of shame and berating the army of Yahya Khan for the ignominy it brought to Pakistan by its capitulation in Dhaka, have never made bold to report, even so many years after the mauling of history, on precisely the kind of terror the soldiers perpetrated on the Bengalis in 1971. There has never been a second Anthony Mascarenhas. There are Pakistani journalists, civil servants and political leaders who wistfully recall the old days of camaraderie with their 'East Pakistani' brothers. But they get careful at a point and fall short of indulging in serious reflections of what their people did to those 'East Pakistani' brothers close to four decades ago.

Mukto Chinta, blogger
In 2013 Hamid Mir's late journalist father Waris Mir was awarded the "Friends of Liberation War Honour" along with 12 other Pakistani nationals (including poets Faiz Ahmed Faiz and Habib Jalib, and Vice President of West Pakistan Awami League Malik Ghulam Jilani). Professor Waris Mir was the former head of Journalism Department of the Punjab University and a renowned Daily Jang writer who enjoyed respect in literary circles and in media. He travelled to Dhaka in October 1971 along with a student's delegation from the Punjab University to show their solidarity with the East Pakistani students. They visited the premises of Dhaka University where the massacre took place during Operation Searchlight and met with fellow teachers and students to 'remove misunderstandings between the two sides'. Left aghast by what they saw and heard, they returned back to West Pakistan and Prof. Waris wrote some columns in the Daily Jung but the military government did not allow its publication. However, the Jang Publishers compiled these articles into a book and published it in 1985, fourteen years after they were written.
In 2011 Prof. Waris Mir was awarded with Hilal-e-Imitiaz by the Government of Pakistan in recognition of his daring journalism and standing up for freedom of speech.
The Bangladesh government has honoured my father because he opposed the 1971 military operation in Bangladesh. He visited Bangladesh in October 1971, went back to Pakistan and informed people, by writing a series of articles, that the Pakistani army was committing atrocities and genocide in Bangladesh.

My father was treated as a traitor in Pakistan and faced difficulties in his social life. When we go back to Pakistan many people will raise questions about why we have received the awards.

Many people will tell me that your father was awarded at a function where some Indian army officials were also awarded. It will be a tough question because Pakistan and India do not have good relations with each other. But I have the courage to respond like my father did.
The honour from Bangladesh triggered many Pakistani critics to question the loyalty of these recipient and they did not shy away from labeling them as 'ghaddar' (traitors).
Salima Hashmi, who received the award on behalf of his father late Faiz Ahmed Faiz by the Bangladesh government on 24th March 2013, said: "The Pakistan government should formally apologise to the people of Bangladesh for the atrocities committed by Pakistan occupation army during the War of Independence in 1971". This is exactly the same language that Sheikh Hasina Wajid speaks.

...One should differentiate between opposing the military action in the then East Pakistan and those receiving awards for being friends of Bangladesh.

If Bangladesh government is pro-India and continues Pakistan-bashing, then those who received awards are not sincere with Pakistan. They do not feel qualms in condemning and blaming Pakistan while turning a blind against the horrors of Mukti Bahini and India's role; hence they are not patriots. Pakistan had formed Hamood-ur-Rehman Commission to investigate into the causes of the tragedy of disintegration of Pakistan, and the excesses perpetrated in then East Pakistan, of course by the rebels and the military that was trying to quell the rebellion.

It has to be mentioned that people have not forgotten the genocide of non-Bengalis during the civil war and afterwards at the hands of Bengali nationalists. However, Pakistan considered the matter settled, as Sheikh Mujib had made no demand for apology during his visit to Lahore to attend Islamic Summit or even after that. But Sheikh Hasina has shown complete obedience towards Indian masters, be it humiliating Pakistan or be it providing and unwavering support to India, which has deprived Bangladesh of its right over river Barak when India unilaterally decided to build a Tipaimukh dam on this site with huge reservoir. This means that River Barak, which flows into Bangladesh from the Indian state of Manipur, will go dry completely. India is also concentrating small rivers flowing from India to Bangladesh to make a mainstream in India to use water for its domestic needs; thus depriving Bangladeshi farmers of water by diverting its rivers. There was also dispute between India and Bangladesh on the matter of fencing the border by India.

After the break-up of Pakistan, India declared that two-nation theory had sunk in the Bay of Bengal. But eidetic reality was that Bangladesh became an independent country with Muslim identity, and in general Bengladeshis are not willing to accept India's hegemony. Bangladesh had also refused to send its troops to Afghanistan, which seems to be the result of the fact that Bangladeshis guard their freedom very jealously, despite Sheikh Hasina's appeasement policy towards India.
Despite the backlash, the Bengali campaign received a major boost when a legendary Pakistani unexpectedly gave his backing.
On 23 March 2011 - on the 64th anniversary of Pakistan Day - cricket legend and political chief of Tehrik-e-Insaf, Imran Khan, said Pakistan should issue Bangladesh a formal apology. Imran Khan was appearing in a live television show hosted by Hamid Mir on Geo News and Geo Super TV channels just a few moments before the start of a cricket match between Pakistan and West Indies in Mirpur, Bangladesh. After declaring his confidence in the Bengalis supporting the Pakistan Cricket team, Imran Khan stunned millions of viewers by supporting the Bengali's long standing grievance. In March 1971 Imran Khan was playing a National Under-19 tournament match in Lahore against a Under-19 team from Dhaka. He did not believe the East Pakistani youngsters when they informed him how bad the situation was there as such incident were not reported in West Pakistan since there was no independent media in Pakistan in 1971. It was only few months later when he went to England for higher studies that he was told by his Bengali class fellows in Oxford that the Pakistani Army had committed a lot of massacre.
The players from Dhaka told me that situation is very bad in the Eastern part of Pakistan but we were not aware (as) there was no independent media (at that time in West Pakistan). We just ignored the concerns of our (cricketer) friends from Dhaka. We were too young. We never understood what was going on in Dhaka.

That (1971) operation was a blunder. We must apologise.

...I think now we must give more preference to Bangladesh, we must improve our relations with Bangladeshis. You will see the difference when our team will play Semi Final in India on 26th . . .You will miss Bangladeshis.
Imran Khan became the first ever Pakistani dignitary who has demanded an apology from Pakistan to Bangladesh on a live TV show in Pakistan. He also spoke about the kind-heartedness of the Bengalis and how he experienced love and warmth during an exhibition match in Mirpur, Dhaka, in 1989. He warned Pakistan's leaders that if the lesson of 1971 were not learnt and applied then Pakistan will quickly self destruct.
We must learn lessons from our past mistakes and we should not repeat these mistakes in Balochistan and tribal areas where we have started Army operations on the US pressure". Cricketer-turned-politician Imran Khan is the first ever Pakistani dignitary who has demanded an apology from Pakistan to Bangladesh on a live TV show in Pakistan.
Imran Khan's comments drew massive appreciation from both the younger and older Pakistanis while The News International newspaper carried a report on the issue.
The following year, on 11 November 2012, the leading Pakistani English daily newspaper, Dawn, in its editorial came out for full-fledged apology to Bangladesh people. It wrote that Pakistan must recognise the wrongs committed by its leadership during those days, and issue a full-fledged apology - not just expressions of regret - that is acceptable to Dhaka.
Dhaka would like a proper apology from the Pakistani government for the large-scale killing of Bengalis. It was not satisfied with then president Gen (retd) Musharraf's expression of "regret" in 2002. According to the Bangladesh foreign secretary, "some unresolved issues" still exist although, he says, Ms Khar stated that Pakistan had "regretted in different forms and … it was time to move on". The debate by academicians and propagandists on both sides will continue; they will fight over the actual number - in thousands for some, millions for others - of Bengalis killed while resisting the injustices perpetrated on them by an insensitive western wing. What cannot be denied is that brute military force was used to exterminate activists, intellectuals and ordinary supporters of what was united Pakistan's largest political party, and that consequently led to Indian action and the creation of Bangladesh.

On its part Pakistan must recognise the wrongs committed by its leadership during those days, and issue a full-fledged apology - not just expressions of regret - that is acceptable to Dhaka. In doing so, it would be joining the ranks of other countries and institutions that have been courageous enough to admit the historical wrongs they have committed in order to give both themselves and the victim nation a chance to move on. The Vatican has apologised for the actions of Catholics who persecuted non-Catholics, and expressed sorrow over the attack on Constantinople during the Crusades. Japan has apologised to Koreans for wartime aggression. It is time for Pakistan, too, to come to terms with its past.
Human right activist Nasim Akhter and journalists Saad Hafiz and Shahzeb Jillani have also 'thrown their weight' in favour of Bangladesh and been critical of the Pakistani army role during 1971, and more recently in Baluchistan.
Bangladesh [must] carry out a massive campaign for building public opinion regarding the trial [of war criminals] for the sake of justice so that the perpetrators of the crime do not get a chance to hatch 'fresh plots' in the name of religion 'as they did in 1971.

Nasim Akhter, Pakistani human right activist
Hamid Mir, Nasim Akhter, Imran Khan and Dawn newspaper are not alone in demanding an official apology from the Government of Pakistan. Other fellow Pakistani journalists and members of civil society are continuously striving to encourage its government to clear their conscience. In 2012 three Pakistani journalists and an NGO expressed their regret to the national news agency of Bangladesh, Bangladesh Sangbad Sangstha (BSS), on the sidelines of an international conference held in Sri Lanka.
We still feel sorry for the misdeeds of Pakistani forces in 1971.

Saleem Saikh, a senior Pakistani journalist of the Dawn newspaper
I am just an ordinary citizen of Pakistan but I assure my Bangladeshis brothers and sisters that I am not alone in Pakistan. A big number of Pakistanis want to apologise because the majority of them were actually not aware of what happened in 1971. The reason is that there was military rule in Pakistan at that time. The press was not free and communication between East and West was very limited.

But the Pakistan of today is different from the Pakistan of 1971. Now, Dr. Ziauddin Ahmed from Philadelphia, USA, can contact me after reading my column and he can tell me that his father was a worker of the Pakistan movement who migrated from Assam to Sylhet in 1947. His father was killed by the Pakistan army on April 9, 1971 in Sylhet Medical College Hospital when he was treating some wounded people.

Dr. Ziauddin used to hate Pakistan, but a turning point came in his life in 2005. He was invited by Dr. Omar Atiq, the then president of the Pakistani Medical Association in North America. Dr. Atiq and hundreds of Pakistani doctors apologised to their Bangladeshi brothers for the genocide committed by the Pakistan army in 1971. Dr. Ziauddin wants Major Riaz and Colonel Sarfraz to be tried in a court of law for the murder of his father.

I also received an email from Lt. Col (rtd) Omar Huda, who was a captain in 1971. He was posted in Lahore but refused to accept the orders of his commander after the operation started in Dhaka on March 26. He was arrested by the Pakistan army. He was released in 1974 and eventually became a colonel in the Bangladesh army. Now he is retired and lives in Los Angeles. He still has many friends in Pakistan.

He is worried about the operations of the Pakistan army in Baluchistan and the Frontier Province (now Pakhtunkhwa) and thinks that perhaps one day someone like me will again write about the loss of human lives in these operations. He want that the armies in Pakistan, India and Bangladesh should not open fire on their own people, or even on each other. I agree with him.

I cannot mention all the emails and all the names of those who wrote their words with tears and finished my tears. I thank all of them. I assure my Bangladeshi friends that I will no more write only columns in newspapers. I will write a letter to the president and the prime minister of Pakistan and demand that they apologise to the Bangladeshis. If they do not, I will write a book on that issue. After that I will make a documentary so that the new generation of Pakistanis comes to know about the blunders committed by their elders in 1971. I am sure that one day my words will come true because I am fighting for truth.

This is my promise to the people of Bangladesh. This is a promise of a Pakistani who, like Bangladeshis, always hated military dictators. This Pakistani will always be thankful to Bangladeshis because their founding father Sheikh Mujibur Rahman not only created Bangladesh but was also part of the movement which created Pakistan in 1947. Bengalis actually created two countries. First Pakistan and then Bangladesh. You are really great people.
As if in a chorus, breaking out of the selective amnesia of that period, they have urged their government to formally apologise to Bangladesh.
War trial adds pressure
On 22 November 2012 Prime Minister Sheikh Hasina skipped the D-8 Summit held in Pakistan's capital Islamabad after accepting Foreign Minister Hina Rabbani Khar's invitation to attend. Hina Rabbani Khar had personally handed over the invitation to the Prime Minister at her Ganobhaban residence in Dhaka on behalf of Pakistan President Asif Ali Zardari. It was the first time a high-ranking Pakistani Minister had visited Bangladesh since Sheikh Hasina came to power for the second time in 2009. For her part, Sheikh Hasina had visited India, China, Bhutan, Myanmar and other countries within the region but not Pakistan.
The Bengali prime minister along with her Foreign Minister Dipu Moni allegedly handed over a list of demands to Hina Rabbani Khar during her visit. These demands included putting former military and political personalities involved in the 1971 military action on trial and an official apology from Pakistan for actions during the 1971 war.
The reception of the Pakistan Foreign Minister to Dhaka appeared to be cool as the media reported that she was not received or seen-off at the airport by her Bangladeshi counter-part. She was received at the air port by the Bangladesh Foreign Secretary.

Earlier Ms. Hina Kar's visit to Dhaka on 25 October 2012 was abruptly cancelled without showing any reason. On 9th November, she remained only five hours in Dhaka. No bilateral discussions were held. Her courtesy meeting with her Bangladeshi counter-part Dr. Dipu Moni was reportedly not more than 20 minutes and the meeting was perceived as "cut and dry" in diplomatic terms.

During the meeting, according to the Bangladesh foreign secretary, Bangladesh Foreign Minister raised with Ms. Hina Khar "some unresolved issues" including an apology from Pakistan for the atrocities committed on Bangladeshi innocent civilians in 1971. Ms Khar reportedly stated that Pakistan had "regretted in different forms and … it was time to move on".

Before Ms. Hina Rabbani Khar left she called on the leader of the opposition and former Prime Minister BNP Chairperson Begum Khaleda Zia and invited her to visit Pakistan.

Apart from the government to government relations, economic relations at the private sector level between the two countries are minimal although huge potentialities remain.
In fact, during the last four years, Dhaka's ties with Islamabad have been limited to visits of Bangladesh's education and commerce ministers and the parliamentary speaker to Islamabad and foreign secretary-level official consultations in November 2010. Then on a six-hour visit to Bangladesh Pakistan's Foreign Minister Hina Rabbani Khar came to Bangladesh on 8 November 2012 to formally invite Prime Minister Sheikh Hasina to attend the D-8 Summit in Islamabad on 22 November 2012. She called on both the PM and the leader of the Opposition. However, at the start she had a 'cut and dry' meeting with her Bangladeshi counterpart Dipu Moni at the latter's office. Later, foreign secretary Mijarul Quayes in a press brief disclosed that during the talks Dipu Moni asked Hina Rabbani that Pakistan should seek unconditional apology to Bangladesh for the atrocities committed during the war of liberation and expected that Pakistan would apologize at one stage. In an instant response Pakistani foreign minister said that they have regretted in different forms in the past and that it was time 'to move forward'.

It was just a reiteration of Pakistan's old stand and was impregnated with a kind of evasive but politico-diplomatic expression setting aside the burning issue standing as ALPS between these two brotherly Muslim countries of OIC. Notwithstanding anything contained in the words and expressions of the leaders of Pakistan about apology to Bangladesh, the issue is gaining good ground gradually in various circles, medias and civil societies in Pakistan. Furthermore, major issues such as apportionment of assets and liabilities and repatriation of stranded Pakistanis (non-Bengalis) have not been resolved till today.

Therefore, at the end of Bangladesh's passing of forty years of Victory Day again the hunting question is that will Pakistan look into the issue from the standpoints of crude reality and history bearing in mind that the healing power of true apology is so appealing, extensive and encompassing, which, if applied correctly and reasonably, is almost sure to touch the very heart(s) of the sufferer(s) piercing through or going beyond all limitations, factual or fictitious?
However, Hina Rabbani Khar denied such speculation and declared she was "received warmly" by the PM and her foreign minister and there was "good atmospherics". She also said that PM could not travel to Pakistan as doctors had advised Sheikh Hasina not to undertake air travel as she had an eye problem. However, it was widely believed that Sheikh Hasina skipped the summit as many Bengalis still bear a deep grudge against West Pakistani military action of 1971 and there were also security fears as the absconding convicted killers of her father Sheikh Mujibur Rahman might be there.
In 2013 the Government of Bangladesh started war crime trial of Bangladesh nationals who allegedly assisted the Pakistan military to commit 1971 atrocities. And with "clemency" provided to the alleged perpetrators under the 1974 Tripartite Agreement, thus providing protection to surviving high-ranking Pakistani military officers, observers say now more than ever it is all the more necessary for Pakistan to at least apologise to Bangladesh for the atrocities perpetrated on Bengali civilians.
...Over 42 years later, Bangladesh's search still continues.
In the civilian sphere, the lesson of the 1971 tragedy is to give importance to establishing rationality and universal human values in institutional structures and in political behaviour. The first step in rectifying the degeneration of politics in Pakistan would be to offer an apology to the people of Bangladesh. As a citizen of Pakistan, I humbly do so now

Dr Akmal Hussain, Professor of Economics, Beaconhouse National University, and FC College University