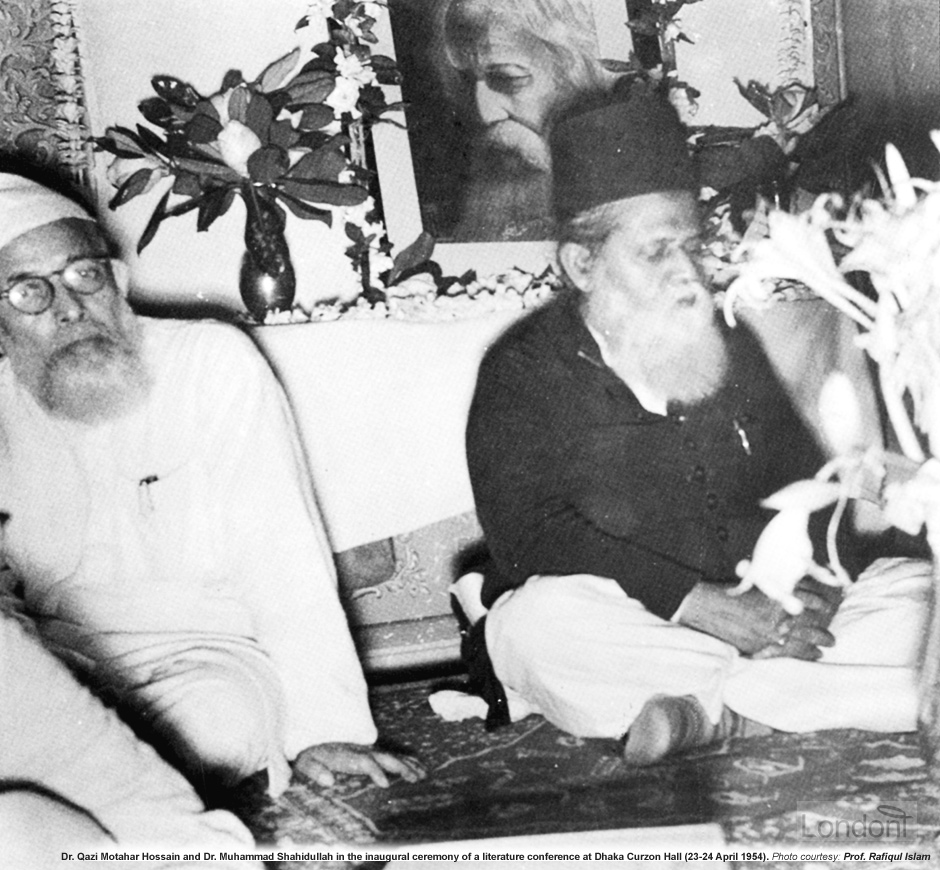 Advancement of Bangla language
Dr. Muhammad Shahidullah had interest in rural life. He had intimate knowledge of Old and Middle Age Bengali literature. Delving deep into the history, Dr. Shahidullah wrote extensively on these subjects, and gave pointers to solve many specificities of Bangla language and literature. He also took active interest in Bangla folk literature. Apart from research works, he wrote for children. He also translated and edited a number of books.
Sindabad Saodagarer Galpa (The Stories of the Merchant Sindbad, 1922)
Bhasa O Sahitya (Language and Literature, essays, 1931)
Babgala Byakaran (Bangla Grammar, 1936)
Diwan-i-Hafiz (Poems of Hafiz, translation, 1938)
Shikwah O Jawab-i-Shikwah (Questions and Their Answers, translation from Iqbal, 1942)
Rubaiyat-i-Omar Khaiyam (Quatrains of Omar Khayyam, translation, 1942)
Essays on Islam (1945)
Amader Samasya (Our Problems, essays, 1949)
Padmavati (Volume I ed, 1950)
Bangla Sahityer Katha (History of Bangla Literature, Volume I in 1953, Volume II in 1965)
Vidyapati Shatak (Collection of Vidyapati's Songs, text analysis, 1954)
Bangla Adab Ki Tarikh (History of Bangla Literature, essays, in Urdu, 1957)
Bangla Sahityer Itihas (History of Bangla Literature, 1957)
Bangala Bhasar Itibrtta (History of Bangla Language, 1959)
Qur'an Sharif (The Qur'an, 1963)
Amarkabya (Unforgettable Poetical Works, 1963)
Sekaler Rupkatha (Fairy Tales of Ancient Time, 1965)
With the passage of time Dr. Shahidullah started to write more in Bengali. Most of his seminal writings on Old and Middle Bengali appeared on the pages of the journal of the Bangiya Sahitya Parisat. Hence these articles failed to draw the much-deserved attention of the scholars outside Bengal. It does not mean that he did not write in English. Most of his articles dealing with Middle Indic or Old Indic and Iranian appeared in Indian Historical Quarterly or were presented in the All India Oriental Conference (AIOC) and appeared in the Proceedings of AIOC. In fact his article on Bengali phonetic and phonology which was written in French and which obtained him a diploma in Phonetics was never printed. Shahidullah's doctoral dissertation "Les chants mystiques de Kanha et de Saraha" originally published by Adrien Maisonneuve has long been out of print.
In 1920 Shahidullah's paper on "Outlines of the Historical Grammar of the Bengali Language" was published in the journal of the Department of Letters. This paper was written as a part of his assignment as the Sharatchandra Lahiri Research Fellow of Calcutta University. This is a compact introductory essay on the principles and application of Historical-Comparative Grammar with special reference to the history and development of the Bengali personal pronoun.
The topic chosen by Shahidullah was at the time an untrodden field. To familiarise the readers he sets out to define the scope of 'Historical Grammar' and 'Comparative Grammar', their interrelations and interdependence. To illustrate the points he did not cite examples of classical languages like Sanskrit, Greek, Latin - in fact that would have made his task easier but would have defeated the purpose of the paper. On the contrary to drive the point home he cited the different forms of the Bengali personal pronouns and unhesitatingly juxtaposed 'standard forms' and 'dialectal forms'.
'Purba Pakistani Ancalik Bhasar Abhidhan' (later renamed 'Bangladesher Ancalik Bhasar Abhidhan'
In 1965 Bangla Academy in Dhaka compiled the 'Purba Pakistani Ancalik Bhasar Abhidhan' (Regional Dialect Dictionary of East Pakistan, also translated as Lexicon of East Pakistan Dialects). The dictionary contains 166,245 words from colloquial speech and regional dialects (including some from English), collected by 453 field workers in three years' time from 17 districts. It was published serially in three volumes between 1965 and 1968. The 'Introductory Note' with background (Prasangakatha O Bhumika) was published in the first volume in 1965. It was priced at Rs. 15 and contained 201 pages. The second volume appeared with a part of the consonants of 468 pages (K-varga, C-varga and T-varga). It was published in November 1965 and priced at Rs. 25 only. Finally, the third volume appeared in April 1968 and contained 590 pages (T-varga and the rest) and was priced at Rs. 35 only.
The editor-in-chief of the dictionary was Dr. Shahidullah who was also a member of the sub-committee consisting of Muhammad Enamul Haq, Muhammad Abdul Hai and Kazi Din Muhammad. The President of the advisory sub-committee was Syed Ali Ahsan. Other notable contributors include A.K.M. Habibullah-Khondkar (supervisor from planning to compilation at various stages of the work), Rawshan Ara Begum (former assistant editor), Md. Abdul Kaiyyum//Qayyum (in charge of the Department of Research), and Latput Haidar Rejjak//Razzak (Director of the Department of Culture). The first edition was published by Fajal Habbi and the first part of the first volume (from a to andur) was published in the journal of the Academy in 1964, under the careful supervision of Hasan Jamal, in-charge of the publication.
The dictionary won critical praise for its outstanding scholarship and research.
...Generations of Bengali speakers whether in India or in East Bengal will be grateful to Bangla Academy for having taken in hand what promises to be a monumental work. Nothing to this extent has so far appeared in the Bengali language and the Bangla Academy has set an example not only to the Bengali speaking people as a whole but also to the rest of India.

Suniti Kumar Chatterji (December 1964), author of "The Origin and Development of the Bengali Language"
Muhammad Enamul Haq

()

Kazi Din Muhammad

()

Syed Ali Ahsan

()

A. K. M. Habibullah Khondkar

()

Rawshan Ara Begum

()

Md. Abdul Qayyum

()

Latput Haidar Razzak

()

Fajal Habbi

()

Hasan Jamal

()
After the Liberation of Bangladesh in 1971 the dictionary was renamed to 'Bangladesher Ancalik Bhasar Abhidhan'. The second edition of the first volume was published in 1973 and the second volume was published in 1974. Even before the publication of the second edition, the excessive demand for years had compelled the issue of a reprint of the Dictionary. The reprint edition was published without any addition of words or correction of errors printed earlier.
Dr. Shahidullah also edited "Traditional Culture in East Pakistan" in collaboration with Muhammad Abdul Hai. His "Buddhist Mystic Songs" (1960) is a translation and an edited version of the Charyapada. He was the first to note that Charyapada is completely written in Bangla and to highlight the religious philosophy of the work.
In 1928 three classics of medieval Indian Buddhist mysticism, the Apabhramsa-language Dohakosas ("Treasuries of Couplets") of the great tantric masters Saraha, Kanha, and Tilopa were published. Dr. Shahidullah translated Saraha's Treasury at least four times into French , and Kanha's Treasury once also in French.
The late Dr. Muhammad Shahidullah (1885-1969) was our national pride because of his many glorious contributions to our national heritage, language and culture. As a celebrated philologist, Dr. Shahidullah made our national language Bangla significant and meaningful by discovering its root and at the same time by reforming its terms and terminology. His thoughts on our national identity and educational, religious, political and social reconstruction enlighten us even today.

Muhammad Abdul Mazid, a former secretary and Chairman National Board of Revenue
Awards galore
Dr. Muhammad Shahidullah has received many academic honours from every quarter of the Indo-Pak subcontinent during his long and distinguished career. In 1952, during the culmination of Bhasha Andolon, Dr. Muhammad Shahidullah was conferred the title of "Vidya Vacaspati" by the Bangiya Sahitya Parishat in Dhaka. In 1958 the President of Pakistan awarded him 'Tamga-e Husn-e Karkardagi' (Pride of Performance) in recognition of his outstanding contribution.
Dr. Muhammad Shahidullah was a pious Muslim, and all his books on religion reflect his deep faith in Islam. He addressed public gatherings at different places to uphold the importance of Islam.
He [Dr. Muhammad Shahidullah] had been to Karachi in April 1959. He received an offer to join the Urdu Development Board there. He was entrusted with the intricate work of editing the Urdu dictionary to be published by the Board as one of the editors. He carried out an etymological study of Indo-Aryan and Non-Aryan words in Urdu for nearly a year or so. In such a short period he had been able to compile up to the letter 'be' of 1500 words.
Pioneer of Bangla Academy in Dhaka
Dr. Muhammad Shahidullah was first to emphasis the importance of establishing an organisation for Bengali language. This later resulted in the establishment of the Bangla Academy in Dhaka on 3 December 1955 upon the recommendation of the government's committee, which included Dr. Shahidullah. Towards the end of February 1960 the Bangla Academy appointed the 75-year-old Dr. Shahidullah as Editor-in-chief of the Regional Dialect Dictionary of East Pakistan. He officially joined the Academy two months later on 27 April 1960. In 1965 Dr. Shahidullah was tasked by the Bangla Academy of editing the Shorter Encyclopedia of Islam.
More prestigious awards for the 80-plus-year-old
In 1965 two special bulletins were published to commemorate the 80th birthday anniversary of Dr. Muhammad Shahidullah. The Bengali Department of Dhaka University and Rajshahi University published a special number of the Sahitya Patrika (edited by Muhammad Abdul Hai) and Sanityika Patrika (edited by Majharul Islam) bulletin respectively to honour the eminent scholar.
The following year the Asiatic Society of Pakistan published a Felicitation volume on Dr. Shahidullah which was edited by Muhammad Enamul Haq. The year after that (i.e. 1967) was a golden year for Dr. Shahidullah as he was flooded with many prolific awards. The Linguistic Research Group of Pakistan - which was founded in 1961 as a private, international organisation of scholars interested in promoting linguistic studies and research - honoured Dr. Shahidullah with the publication of 'Shahidullah Presentation Volume (1967)' at Lahore, West Pakistan. The Volume was edited by Anwar S. Dil. The Government of France awarded Dr. Shahidullah 'Chevalier dans l'Ordre des Arts et des Lettres' (Knight of the Orders of Art and Letters) for his lifetime achievement in research on language and literature. Meanwhile, Dhaka University accorded the 82-year-old the honour of an Emeritus Professor - a distinction which he richly deserved. Finally, the East Pakistan Writers' Guild - a Dhaka-based organisation primarily aiming to create new literature in the tradition of Islamic ways of life and social pattern - also honoured him in 1967. Syed Ali Ahsan was then the Secretary of the organisation.
Swadhinata Purushkar
In 1980 Dr. Shahidullah was awarded posthumously the Swadhinata Purushkar (Independence Day Award, also called Swadhinata Padak), the highest civilian award, by the Government of Bangladesh. Other winners that year include Mawlana Abu Zafar Mohammad Saleh (Education), Farrukh Ahmed (Literature, posthumous), Al-Haj Zahir Uddin (Social Work, posthumous), Munier Chowdhury (Science and Technology, posthumous), Dr. Khondokar Ameer Hasan (Science and Technology), and Sohrab Hossain (Music).
Mawlana Abu Zafar Mohammad Saleh

()

Farrukh Ahmed

()

Al-Haj Zahir Uddin

()

Munier Chowdhury

()

Khondokar Ameer Hasan

()

Sohrab Hossain

()