Early life
Tajuddin Ahmad was born 23 July 1925 in the village of Dardoria in Kapasia thana of Gazipur district, 82 km northeast from Dhaka, at a time when the British ruled India and the world was recovering from the horrific aftermath of World War I (1914 - 18). This seemed apt for a man who would go onto fight colonial authorities and oppressive leaders and participate in war himself.
Dardoria, which means "The River Gate" or "Flowing River", is a small picturesque village standing on the bank of river Shitalakhya, which perhaps lends itself to its name.
Tajuddin's ancesteral village was Niguari in Gafargaon upazila of Mymensingh district. His grandfather Ibrahim Khan came and settled in Dardoria village. The areas around their house was a jungle. The village was located deep inside Gajari forest. Very few houses existed during those days.
Tajuddin was born in a traditional conservative family. His father was Moulavi Muhammad Yasin Khan and his mother Meherunnesa Khanam. His father was a maulana (or moulavi), a highly qualified Islamic scholar. Nobody in the neighbourhood was educated except Moulavi Muhammad Yasin Khan. The couple had 8 children - 4 sons and 4 daughters. Eldest child Waziuddin Ahmad was followed by Sufia Khatun, Tajuddin Ahmad, Mafizuddin Ahmad, Sahara Khatun, Mariam Khatun, Badrunnesa Khanam and Afsaruddin Ahmad. As such Tajuddin came from a very big family, which was quite common during those days.
Tajuddin's family home was surrounded by acres of agricultural lands acquired by his forefathers. Their house was made up of two buildings which were built by Tajuddin's father. These buildings were next to each other and made of tin roof, wood and clay. Tajuddin was born in the building in the west. Sadly, this was later burnt down by the Pakistan military in 1971.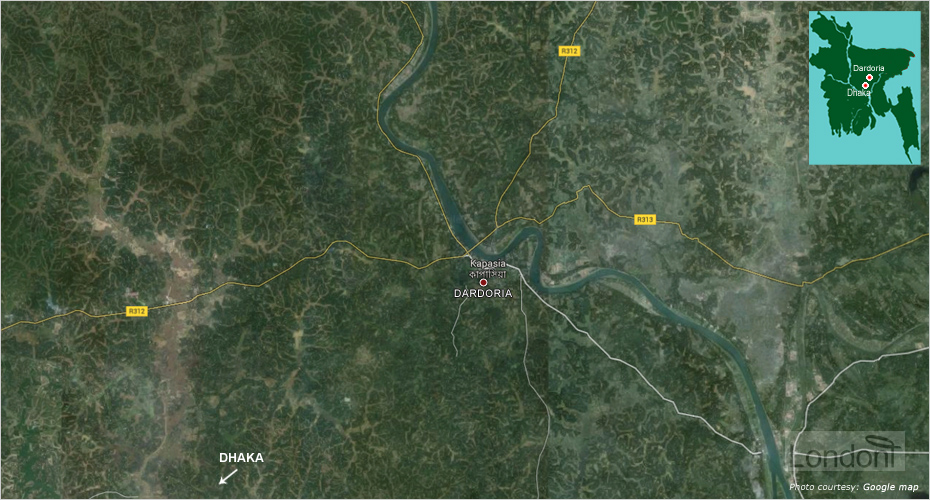 Beginning in his childhood years, Tajuddin was a very righteous, responsible and compassionate person. He spoke little, listened more and maintained moderation in his speech and action throughout his life.

As a child, his favourite foods were rice with cream and molasses.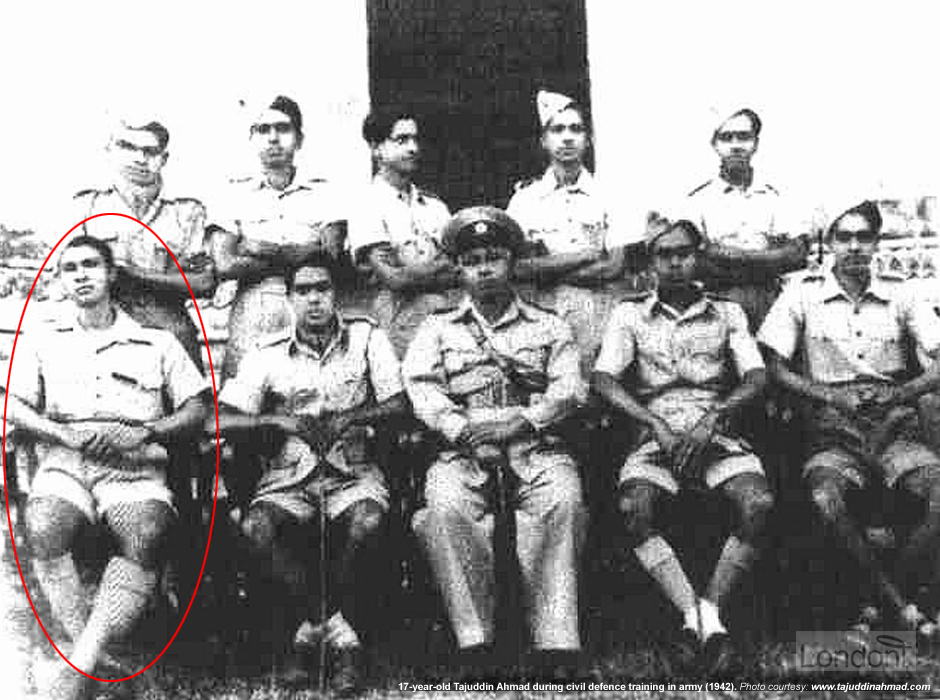 Bright and talented student
A hafez (one who memorised whole Qur'an by heart)
As was the norm for children from conservative middle class Muslim family, Tajuddin's education began at the village maktab (religious school) which was founded by his father.
Tajuddin eventually became a hafez, one who is extremely well-versed in the Noble Qur'an and has memorised the content by heart. At age eleven (1936) he had memorized up to the first eleven chapters of the Qur'an and around age 16 (1941) the entire Qur'an. This was an incredible feat for any Muslim, especially when Arabic is not your mother tongue. It requires great amount of mental strength, dedication, and long, frequent hours of studying to achieve such a difficult task.
As a Hafez (one who has memorized the entire Qur'an) in the Holy Qur'an he would occasionally lead during the Jummah (Friday prayer at midday) prayer at the Mosque. He would highlight in his sermons the importance of serving the poor, needy and orphans. The sign of a truly devout person, he believed, is one's unconditional service to humanity.

Tajuddin shunned all forms of self glorifications. He never gave any importance to his day of birth and refrained from celebrating his birthdays.
Later on he enrolled in Bhuleswar Primary School, 2 km from the family house.
I studied with Tajuddin in Bhuleswar Primary School for three years. Since childhood he was righteous. He never indulged himself or helped others in immoral things.

Abdul Mottalib, schoolmate
The prizes Tajuddin received, for the first time in his life, were a nine paisa (local coins) pen and one-and-a-half paisa ink pot for standing first in his class from grade one to grade two at Bhuleswar Primary School.

In the promotion exam from Grade II (Two) to Grade III (Three), Tajuddin stood first, as expected. As first prize he received books of "Ninety Nine Attributes of Allah" (God) and "Ali Baba and Forty Thieves" from the Arabian Nights.
Senior revolutionary leaders aid his education
When he was in Class IV (Grade Four) Tajuddin enrolled in Kapasia Minor English School, 5km away from Dardoria, thanks mainly to the encouragement of his mother. He was a brilliant student, especially in English. The school had an well known English teacher who used to love Tajuddin a lot and taught him special lessons. When Tajuddin was in Class VI (6) he stood First in the Dhaka district scholarship examination.
I've heard from my grandmother [Tajuddin's mother] that my father was a gifted and intelligent child. Since his childhood it became clear that he was a bit different amongst the 10 children. For example, my eldest aunt [Tajuddin's elder sister] who was older than my father said that the books she used to read Tajuddin could already tell from those books.

He used to talk less. He was involved in sports. Since childhood he had good sense of moderation. Finding his knack for education he was sent to Bhuleshawar school which was 1.5 km away from home. Teachers of that school soon noticed tha the boy was exceptionally gifted. Then the headmaster of that school met my grandfather and told him that the boy should be sent to a better school. Mostly because of my grandmother's eagerness my father was sent to Kapasia which was 6 miles away from home and was admitted into Kapasia Minor English School.
Ironically it was in this English School that Tajuddin drew the attention of three senior Indian revolutionary leaders who had dedicated their lives to liberating their country from the colonial rule of the British.
During those days there was a detainee camp in Kapasia made by the British for political prisoners. These detainees were brought from Calcutta (now Kolkata) and placed in different places. They had to report at the police station once a day. The locals went and visited these prisoners especially at night and would listen to their patriotic speeches and tales and borrow books from them. Young Tajuddin would also go and visit them regularly. He went and met Rajendra Narayan Chatterjee, Bireshwar Bannerjee and Mohindra Srimani and brought books from them. Within few months he studied more than 50 books which "planted the seed of patriotism in young Tajuddin's heart".
One day, when he returned from school, he found a bouquet of red roses placed on his bed. It was a gift from the revolutionary patriots who took notice of his talent. Since then red roses bore special significance and were among his favourite flowers.
Tajuddin was very honest and patriotic.

Abdus Samad, schoolmate
Tajuddin would also walk miles - even as far as 4-5 miles - to listen to speeches of prominent political leaders such as Sher-e-Bangla (Tiger of Bengal) A. K. Fazlul Haque and Huseyn Shaheed Suhrawardy.
The three revolutionaries were very impressed that such a young boy read the books so diligently and with so much interest. They went to his school and told the headmaster that the boy is destined to achieve something important in future life and requested to send him to a better school. Accordingly, Tajuddin was admitted into Class VII (7) in St. Nicholas Institution in Kalinganj. He studied here for one year. Tajuddin excelled in his new environment so much so that the headmaster advised that he be admitted into Muslim Government Boys' High School in Dhaka. He used to live in Dufrin Muslim Hostel. After here, Tajuddin went to St. Gregory's High School.
Lifelong Boy Scout member, training in civil defence in army, and excelling in Matric and IA exams
Tajuddin had been involved with Boy Scout movement throughout his life. In 1939 the world was once again entrapped in a global battle and World War II ensued (1939 - 45). At the height of the war in 1942 Tajuddin Ahmad, then only 17 years old, received training in civil defence. He did not fight in any war directly but his opportunity to utilise the war strategies would come along in 1971.
Two years later, in 1944, Tajuddin completed his Matriculation exam from St. Gregory's securing 12th place in the First Division in Calcutta Board, the only existing board in Bengal Province during that period (Dhaka Board had not been formed then). Four years later he secured 4th place in the First Division in Dhaka Board in his Intermediate examination.
When he was a school student cholera broke out in this [Kapasia] region. Down this river [Satkhiliya] in some households some people died of cholera. There was nobody left to cook for those families. Then he told my grandmother [Tajuddin's mother] "Mum, please cook for them and I will carry food to feed them". There was always an eagerness in him to help people.

Let me cite another example: during the British era somebody's land went to auction for not paying tax. My grandfather [Tajuddin's dad] purchased those lands. My father couldn't accept that some people who owned land would become landless overnight. He requested my grandfather that when the children of that family would grow up their land should be given back to them. And he gave back the land to those three families.
He used to stay at our home and would eat his meals here. We would walk to the school together. We used to cross the ferry as the school was on the other bank. He was the first boy in the class. He was a silent type and studied a lot. He was not indulged in gossiping. After school he would have snacks in the late afternoon and would walk beside the river.

Jalaluddin Fakir, schoolmate
I can't prove that I am Tajuddin's brother. But he has proven that he Tajuddin IS my brother. Our dad died when we were young. During that British period, my brother [Tajuddin] held my hand and enrolled me in primary school, high school, college. He did everything for us.

I am very saddened today that we could do nothing for Tajuddin.

Younger brother Afsaruddin, an advocate and former Minister of Cabinet
Prominent student leader in Dhaka University
His academic excellence secured Tajuddin a place in the prestigious Dhaka University (DU) to study Economics. In those days, to go to university was a big achievement. It was very rare for many youngsters to be that highly educated. And to go to the best university in the country, especially for a village boy, was almost unheard of. But not only did Tajuddin achieve this easily, he also became a student leader and a voice for the young people of newly formed East Pakistan.
My acquaintance with Tajuddin Ahmad dates back to my school days. Early in 1953, I stayed with my brother in Room N-12 of Fazlul Huq Hall of Dhaka University for about a month. Tajuddin Ahmad was one of his roommates. Tajuddin Ahmad lived a very simple but disciplined life. His usual dress was pyjama and shirt. He used to wash his clothes himself. I came to know later that he used to wash his clothes before going to bed even when he was the prime minister of the Bangladesh government in exile. He used to eat chira, gur [molasses] and banana in the morning.

Tajuddin Ahmad was a meritorious student and regularly kept a diary. He was well-read and had deep knowledge about politics. He was a regular speaker at all students' meetings and they used to listen to him with full attention and great interest. He was also very popular among the people of his locality in Kapasia. They used to come to him for assistance. He always listened to them attentively and helped them as much as he could, often going out with them to different places.

After I got admitted to Armanitola Government High School in 1953, my brother and I moved to a house close to my school. My brother was then a student of law at the University of Dhaka. Tajuddin and other close friends of my brother were regular visitors to our house and often shared meals with us. He once complained to my brother: "I am not eating chops or cutlets at your house. I shall eat dal-bhat [lentils and rice]. Why do you serve dal-bhat on such flat plates? I would prefer to eat in soup bowls instead". We still have those dinner plates at our ancestral house, and remember his comments whenever we use them.

Dr. Abdul Matin, former Chief Engineer of Bangladesh Atomic Energy Commission
Tajuddin Ahmad earned his Bachelor of Arts degree in Economics in 1954 and stayed on in Dhaka University to pursue a career in law. A decade later, in 1964, Tajuddin earned his Law degree. But he was political prisoner at the time and had to obtain a special permission from the board of education in order to appear for his law exam while in prison.