Narrow escape for Tajuddin from clutches of Pakistan military as war breaks out
General Election of 1970 and Non-Cooperation Movement of March 1971
After a year of rigorous and non-stop campaigning by all political parties, the General Election took place in December 1970. By all account it was a free and fair election. Sheikh Mujib's Awami League won a landslide victory in the east wing, while Bhutto's PPP did the same in the western half. However, the overall victorious party was Awami League and they gained the legal right to form a government. Tajuddin and others were elected members of Pakistan's National Assembly. It was the first time power was to be shifted from west to east since the birth of Pakistan in 1947, over twenty years ago. This rattled the authorities in West Pakistan - including President Yahya and Zulfiqur Ali Bhutto.
Bhutto spent the next three months openly opposing any effort to shift power to Sheikh Mujib, threatening to "break the legs" of any of his party members who met Sheikh Mujib and even suggested sharing the power between the two parties. Sheikh Mujib for his part remained defiant. His party had won the General Election and it was their right to be in power. There was no point of movement in this negotiation.
Both Bangabandhu and Tajuddin Ahmed were inspired by Bengali nationalism. Their patriotisms were beyond any question. Both of them were intelligent, courageous and superb organisers. Bangabandhu had charisma and ability to mesmerise the audience with his unique oratory. Tajuddin Ahmed lacked charisma. He was calm but very logical and methodical in his approach. The combination of their qualities created a formidable partnership.
In a poor attempt to deny the popular mandate President Yahya suddenly postponed the session of the National Assembly on 3 March 1971 when the Awami League party was to be sworn into the Government. All hell broke loose and Sheikh Mujib declared a nationwide hartal (strike). An unprecedented Non-Cooperation Movement was launched with even senior high Bengali officials refusing to work for Yahya's government. Sheikh Mujib virtually became the de facto ruler of East Pakistan. Under his guidance, all the administrative directives were issued by Tajuddin Ahmed from 7-25 March.
Both President Yahya and Bhutto flew into Dhaka for last minute negotiation. During all these critical meetings Tajuddin accompanied Sheikh Mujib.
In directing the organizational strategies of this movement and negotiating with the military rulers at the discussion table as a trusted associate of Bangabandhu, Tajuddin Ahmad proved his great talent and capabilities. While Bangabandhu could inspire people with hopes and dreams, it was Tajuddin who through his foresight and talent transformed those aspirations into realities. Indeed, Bangabandhu and Tajuddin were complimentary to each other.
Whilst the Yahya-Mujib-Bhutto talks were underway, Pakistan Army officers from West Pakistan were flown into the eastern wing in a covert operation. Very soon the situation which had been simmering for last 24 years would explode and result in the creation of a new country: Bangladesh. And Tajuddin Ahmad - not Sheikh Mujibur Rahman - was to play the main political lead.
He was not inclined to verbosity. He was not an orator. It was his organisational abilities which complemented the inspirational leadership of Sheikh Mujibur Rahman. These two men, more than all those others in the party, were the reason why Bangladesh needed to be. On their watch in the early 1960s were the Six Points formulated. In early March 1971, as Yahya Khan and Z. A. Bhutto resorted to chicanery, it was elemental Mujib-Tajuddin strength that kept them at bay, until they let loose the dogs of war.
Narrow escape with barrister Amirul Islam and Dr. Kamal Hossain
After months of tension the Pakistan Army began its campaign of genocide on the night of 25 March 1971 through 'Operation Searchlight'.
Elsewhere Tajuddin Ahmad, Colonel Osmani and others were in Sheikh Mujib's home at Road No. 32 in Dhanmondi trying to convince him to go underground and take shelter in a secret hideout as previously planned. But Sheikh Mujib was reluctant to do this fearing the violent repercussion on his Bengali people by the Pakistan Army and he wasn't willing to risk the lives of thousands. He was adamant that he was going to stay. Instead he advised Tajuddin and others to go into hiding themselves and undertake all necessary activities to liberate the Motherland from the clutches of their oppressors.
Moments after Tajuddin and others reluctantly left Sheikh Mujib, he was arrested by the army and taken to West Pakistan the next day. East Pakistan declared independence from Pakistan and emerged as a new nation on 26 March 1971 - Bangladesh.
In the minutes before the Pakistanis cracked down on unsuspecting, unarmed Bengalis on 25 March 1971, Tajuddin Ahmed tried persuading Bangabandhu Sheikh Mujibur Rahman to leave the city. That, thought Tajuddin, would make it easier for Bengalis to go into a war of national liberation. Bangabandhu had his own and very credible reasons, of course, not to leave the scene despite the attendant risks. The elected leader of a majority party in parliament does not run from danger. Bangabandhu chose to stay and confront the world on his terms. For his part, Tajuddin chose his own path. He would give shape to a government, the very first in Bengali history, and win a war against a formidable military machine.
Having failed to convince Sheikh Mujib, Tajuddin rushed back to his house. Tajuddin Ahmad filled a side bag with his clothes, a rifle and a pistol which were given to him by Arham Siddique, a colleague, and was picked up from his house after 9 pm by Dr. Kamal Hossain, the 33-year-old Awami League's constitutional advisor, and Amirul Islam, a 33-year-old eminent lawyer and Awami League member. Clad only in Punjabi and lungi, Tajuddin Ahmad jumped into the black car hoping to escape the military onslaught.
Dr. Kamal Hossain stayed back in Dhaka while Tajuddin and Amirul Islam embarked on a long and eventful journey and finally crossed the border to neighbouring India. Here they met with Indian Prime Minister Indira Gandhi - the only child of the first Indian Prime Minister Jawaharlal Nehru - where Tajuddin clearly stated that the war was to be fought to free Bangladesh from oppression, and nothing else.
Life would never be the same again.
Eventually, Dr Kamal Hossain decided to stay back in Dhaka. And so it was just me and Tajuddin Ahmad who followed the original plan. On our way to India, we were surprised to see that people from all walks of life were ready and willing to fight for emancipation.
When he crossed the border on 30 March 1971, he was not only leading a political party but also a nation to its freedom. It was a difficult challenge for him, since Awami League was a democratic party not a revolutionary one.

Ananta Yusuf, journalist
Back in March 1971, the risk for Bengalis was double-edged. On the one hand, there was the spectacle of a captive Bangabondhu. On the other, there was no clear sign of anyone else in the Awami League hierarchy, at least up to that point, taking control and reassuring the country that everything was on course, or soon would be. The call of duty was one that Tajuddin Ahmad heard loud and clear. By the time he found himself on Indian soil, he knew that exile, his and that of everyone else in those times of horror, would need to be purposeful. He lost little time in meeting Indira Gandhi and setting out before her his plans of freeing Bangladesh of its murderous Pakistani presence.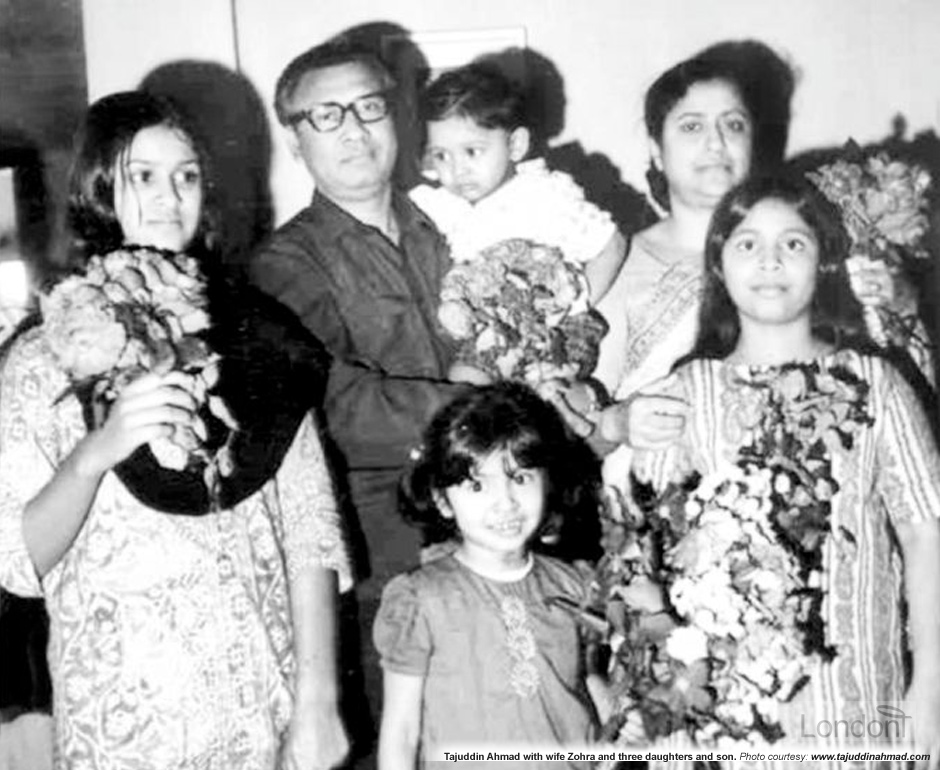 Wife Zohra bluffs Pak Army and goes into hiding with young children
Pakistani army encircle and attack Ahmad home and ask "Tajuddin kidar hai?"
Exactly 8 minutes after Tajuddin left, the Pakistani military surrounded his home. The couple lived on the ground floor of a two-storied house. After encircling the house, the Pakistani army shot flare, threw bombs and also began to shoot. They shot blank fires in the air and asked "Tajuddin kidar hai?" (Where's Tajuddin?).
Zohra had already sent their two eldest daughters Ripi and Rimi to hide in her elder sister's house in Tatibazar. But she still had her 5-year-old daughter Mimi and 1-year-old son Tanjim with her. She took the two children and hid with the tenant on the top floor, Atiya and Aziz. Dressed in Salwar-kameez, both Zohra and Atiya posed as Pakistani tenants of Tajuddin Ahmad. They were further convincing since both ladies spoke Urdu fluently. It was their ability to showcase such quick wit in such high pressure situation that fooled the armed officers into believing them. One mistake and they would be dead.
Meanwhile Zohra's elderly father, who was staying with them, remained in their ground floor house where the army was carrying out the shooting. After the military finished questioning him regarding the whereabouts of Tajuddin and Zohra he staunchly replied in English that "President Yahya can best say where Tajuddin is". The army was about to shoot him but one of the officers said "he's an old man, leave him" so they let him off.
The Army left everyone behind - except Aziz who was taken away and tortured mercilessly. Before they left, the officers left a bundle of rope in Tajuddin's father-in-law's room possibly with the hope of using it later to tie Tajuddin. Zohra kept the rope as a stark reminder for next 42 years until her sad demise in 2013.
Every moment of the night of March 25 in 1971 and the following two-months will always shine brightly in the depths of my memory. Even though I might not be able to express all those living memories in words, I will try to articulate a possible description of the events.

I remember my husband Tajuddin telling me on the day of the horrifying March 25 of 1971, "Lili, none of you should stay at home tonight, because I'm leaving, and Yahya's army has chosen a merciless path. I don't think it'd be wise to take an unknown risk by staying at home tonight." He didn't say anything else. However, I couldn't get out of the house on that terrible night.

It felt as if everyone could forecast the frightening results of the failure of the meeting and dialogue between Yahya and the leaders of Awami League. But no one could probably even imagine what was going to happen in reality. A strange kind of eeriness was present in the surroundings; it felt as if something ominous was going to take place. Relatives, friends, and acquaintances and strangers crowded in our house to know what the real news was! Many of them were leaving for a safe refuge. By the time I bid goodbye to all of them, it was almost half past eleven at night. But despite a hundred doubts, I couldn't step outside my house for elsewhere.

I had sent my older daughter and her younger sister , Ripi and Rimi, and an adult niece, who had come to visit us a few days back, to my elder sister's house in Tatibazar. My only son Tanjim, who was a little over a year at that time, and five-year old daughter Mimi were with me. I had thought that if I had to escape in a hurry then it would be difficult to move with all of them; I could probably slip away swiftly with my youngest children.

On that dreadful night, Tajuddin left the house in a car with Barrister Amirul Islam; Dr Kamal Hossain (the current Law Minister) also accompanied them. On the way, Dr Hossain got down at a relative's house in Dhanmondi. I later learnt that he was arrested by the Pakistani army a few days later. I was standing by a bush near the gate of our house, observing their car speed towards Road 15 in Dhanmondi, and then take a turn for Lalmatia. Right about then, I heard the sound of bullets and mortar going off in a distance, and I immediately noticed several armed cars of the Pakistani army speed by the road opposite our house, rushing toward Lalmatia. An unfamiliar fear gripped me at that time, but the very next moment I realised that Tajuddin had left the house for a dark, dangerous journey to fulfill a great responsibility and no matter how terrifying or gloomy the path, there was an invisible force that was guiding him in an unrestrained manner to his destination. The speeding cars of the Paksitani army had lost their way. They were successful in going beyond the Pak army's reach. It was as if there was a celestial manifestation of this incident within me.

Now I returned the focus on myself, as I took a firm resolve to gather all my strength. Our house was two-storied; we used to live on the ground floor. Abdul Aziz and Begum Atiya Aziz lived as tenants on the second floor. Mr. Aziz's was from Kaliganj in Dhaka, he was a former vice-president of Chattra League. Over the time we became very close. A few minutes after Tajuddin's car departed, I took my two children and got into the car, and told the driver to get on Road 21, which was opposite our house, as fast as he could. I would get down in front of any house there. I could see electric and telephones being torn, making a tremendous noise as they fell down right in front of our gate. Just then Aziz and Atiya almost leapt in front of us, and prevented me from setting off and said in a subdued voice, "Bhabi, get down from the car without a moment's delay; the minute the car gets out of the gate, it will be captured by the military." I immediately realised that the path of escape was obstructed but we couldn't stay in the house either. I quickly changed my mind. I got down from the car, and under the stairways I told Atiya, "I will go upstairs along with you and pretend to be a tenant as well."

Thankfully, Atiya and I both knew Urdu well. We changed our look by changing into salwar-kameez. Atiya would sometimes dress in this attire at home. We both looked like non-Bengalis thanks to our height and appearance, and this gave us hope that we could evade the clutches of the enemy.

Aziz bhai was also not supposed to be at home that night, but unfortunately, because of Atiya's firm opposition, he was forced to stay back, the result of which was tragic; he was captured by the Pakistani army and incarcerated in cantonment for seven months suffering from death throes, even though he was finally released in an unimaginable and miraculous manner. I went upstairs, changed my attire, laid down my sleeping son and daughter on the bed in Atiya's bedroom, and stood by the window. The sound of guns and mortar attacks was wafting up from a distance. I noticed that Atiya and Aziz bhai were tending to sleeping arrangements on sofas in the big hall room. But I thought that it would be wiser for me and Atiya to be in the same room. The sound of shooting gradually started to come from a closer distance. Atiya and I were together in the same room.

None of us uttered a word. I peeked through the curtains of the window to the South and an indescribable scene met my eyes; the entire sky in the South was splattered in red. The sky seemed to have disappeared within the red. I heard the sound of ensuing cars, one after the other, and it felt as if our whole house was surrounded by the military force. They were now really entering the house, shooting bullets on the way. Upon hearing Sheikhsaheb's call for creating a fortress of resistance, they probably thought that there was every kind of arrangement of resistance and counter-attacks in the houses of the leaders. Thus they took their positions all around the house, equipped with modern arms of that time, heading forwards in a very cautious manner. I peeked out of the window to take a quick look at the position of the main road outside of our house. Nothing apart from the cars of the Pak army and the occupying force came into view. Atiya and I decided that we would close the door and be inside the room, if they asked us to open the door or pushed it, we would open it and confront them. But by that time, intense shooting began downstairs. The occupying force were demolishing the doors, windows and fences of thick wires surrounding the veranda, which already came under the attack of their shells. They went into every room in search of Tajuddin and me.

We were ready to confront death with resolute determination. My father, a nephew and my sister-in-law's son were downstairs. Unable to fully understand the situation, 60-year old Barik Miya, the caretaker and gatekeeper of our house, hid in the bathroom of my father's room. One group of the occupying force tied their hands, and shouted out loud, inquiring about our location. Another group, consisting of around 50 men shelled the door of the stairway, breaking it into pieces and entered the veranda of the second floor. It felt as if some of them were running on the rooftop of the house. When a group of around 25 to 30 men pushed at our door with a tremendous noise, Atiya asked in Urdu, "Who's there?" and opened the door. Immediately four to five army officers took their position and entered the house, and pointing a small sten-gun at our chests, they asked in a stern voice in Urdu, "Where is Tajuddin? Who amongst you is Mrs. Tajuddin? You or you?" Meanwhile the rest of the sycophants were relentlessly shooting bullets from the window.

Atiya immediately answered in Urdu, "Where is Mrs Tajuddin here? You must be mistaken. All of us are tenants here, Tajuddin is our landlord. They reside on the ground floor."

I was worried about a picture of me hanging from a wall downstairs; there was the possibility of getting caught if we were even slightly careless. My son was in my arms, I concealed him a little and before Atiya could even finish her sentence, I said in a chastising tone in Urdu, "I had told you before to not rent a place in these politicians' house. Finally this is what is in our fate . . . Innali la hi wa inna ilaihi rajiun." Before I could end my sentence, the officer asking questions quickly lowered his sten-gun and fixing his sharp gaze firmly on us, he accepted his mistake as he said, "We made a mistake. Please stay here without any worry. I don't need to ask anything else." Meanwhile my five-year old daughter Mimi woke up from her sleep, she held on to me tightly in fright but thankfully, she didn't say anything in Bengali at that time. The officer patted my daughter's head and said to me, "Bibi, please go to sleep. You need not be scared of anything." After that they left the room. Atiya also went after them.

A newly married couple, guests of Atiya, were sleeping in the next room. They had come to visit from Narayanganj in the evening. As it got late after dinner and as it was risky to get out in the night, they had decided to stay back and had gone to sleep. They woke up in shock at the dreadful noise of the door being pushed, and as soon as they opened the door in fright and stood outside, an army officer ordered the gentleman in a stern voice to go with them. Immediately Atiya said in a reprimanding tone in Urdu to the guest, (who newly joined the Tularam College as a lecturer), "Habib bhai, what kind of a sleep were you in? These men were screaming so loudly and yet it took you so long to open the door!" In response, Habib bhai's wife accepted their fault in Urdu in an apologetic tone. Immediately an army officer said, "It's alright. You can go back to sleep." In an unthinkable twist, they both escaped.

Then they (the occupiers) tied up Atiya's husband, both my nephews and the old Barik Miah, and kept hitting them while they took them to their car. Aziz bhai's nine-year old nephew saw all of this while he was hiding from the army.

My father used to stay in a corner room downstairs; they went there and asked my father various questions in a rough voice. My father was quite ill at that time; he could not even get up from bed. The main query of their interrogation was where Tajuddin and I were. A few of them suggested that they take father along with them but two of the officers were unexpectedly well-mannered. When they asked him to lie down again, it felt as if his illness had touched their hearts. Later, while remembering this gesture of theirs, I felt like they were wolf in sheep's clothing (badorer hashi). My father didn't lie down expecting to be saved; he thought that he would be shot the minute he lied down. He overcame his fear and replied to them in English, "President Yahya can best say where Tajuddin is." At that time, father also did his own stint at acting. While on his bed he recited a stanza of a timely and valuable poem of Sheikh Sadi in Farsi and then translated its meaning in English for them. Even amidst such a tense situation of shooting, they looked at each other's face and left the room saying, "Assalamu Alaikum," leaving behind a bundle of rope in father's room. When I saw it later on, I guessed that the rope was brought to tie Tajuddin and take him with them. I have kept the rope with me, as it will remain a small witness if the history of the liberation movement is ever written.

After around two hours when the invaders left, all of us seemed to have become as still as a rock. None of us moved an inch, not a word left any of our mouths. We looked around very carefully to see that nobody was around. Atiya and I were alone upstairs, even though Habib bhai and his wife were in the next room with their door closed, and my father was alone downstairs. Every moment was spent in a frightening anxiety. But there was nothing to be done.

At that intolerable moment, I felt a very acute sense of pride in my sub-conscience. Without even realizing it, I was confronted with a heart-rending question - how strange is a person's mind! Tajuddin did not say a thing before leaving; he didn't even point towards any direction. That night, at around 10.30 pm, he returned home with Mr Samad (current foreign minister) and Mr Mohaimen (MCA). Amidst the urgency I noticed the faces etched with worry; there were many others with them, all of them left almost immediately. I saw that he was strolling around in the garden without saying a word to me; I felt as if he would leave right then. Just about then Barrister Amirul Islam (MCA) and Dr Kamal Hossain arrived at our house. They left after a while; on his way out, Tajuddin almost ran to me and asked me for a small towel. At the final moment, nothing was said. He just left me in the midst of danger. How was this possible? I found the answer to this question later. The question of the rights of over 70 million people was shining luminously in the glow of his decision at that moment; his wife and four children were lost amidst this.

Syeda Zohra Tajuddin's article " Udoyer Pothe" published in Dainik Bangla on 12 December 1972
Following her heroics, Zohra went into hiding with her young children not knowing whether her husband was still alive or not.
Chit received from Tajuddin Ahmad two days later
On 27 March 1971, nearly two days after he went missing, Tajuddin Ahmad sent a message to his Zohra written on a small piece of paper and delivered by a trusted compatriot, Musa.
Forgive me for not being able to say good bye. With children, become a part of 75 million people. I do not know when I will see you again---AFTER LIBERATION.

Tajuddin Ahmad's poignant message to wife Zohra on 27 March 1971
The simple and poignant message allayed Tajuddin's conviction that Bangladesh would ultimately be free very soon. Even at this daunting hour he didn't lose his nerve nor his hope. He was confident that his family could fend for themselves, and was ready to sacrifice his life if it meant freedom for his people.
He put dash marks in between. Tajuddin was certain that his beloved country would be liberated one day.
My elder brother's house was at Road 13, Dhanmondi area. Nobody knew that. So we took shelter there for a few days. I was looking for one Musa saheb. One day he came hurriedly. He handed me a chit. He gave it to me carefully and said "Read it secretly". I opened the chit and saw it was written by Tajuddin. He wrote "Due to leaving you so quickly I couldn't bid farewell to you all. I'm leaving. You join yourselves with the 75 million people. I don't know when we will meet again". Then he wrote "---" and after that in big letters "AFTER LIBERATION". He was so definite that liberation was a must, the country will be independent. Hence he wrote "After liberation". And beneath it was signed "Dolon Champa". That was our pseudonym. If I saw it I knew it was written by him and no one else knew it.
Young wife with four little children left to fend for themselves in war-torn country
We were fleeing one day in one place, next day in another. In jungle, in marshes. The soldiers were burning down things. One day my son was kept inside a jute field. He was given water to play with so that he wouldn't cry due to firings sound around. Then I thought I was not alone - everyone, millions of people were involved in this war. It was not important who survived. Important was the liberation of the country.
Family belongings auctioned off by Pakistan Army and Tajuddin Ahmad's diaries destroyed
Having invaded Tajuddin Ahmad's home, Pakistani military made camp during which time all of Tajuddin's family belongings were either destroyed or sold in auction. This included the destruction of his famous historical diaries. Thankfully, the diaries that had been borrowed by writer Badruddin Umar survived.
In 1972, following the independence of Bangladesh, one of Tajuddin Ahmad's friends found his 1954 diary at a second hand book store. Badruddin Umar also returned the diaries which he had borrowed. Subsequently, these diaries were translated from English into Bangla.
Sadly his last diary in which he wrote the history of Bangladesh liberation and a socio-economic guidance for future Bangladesh was stolen from Dhaka Central Prison after his assassination in 1975.