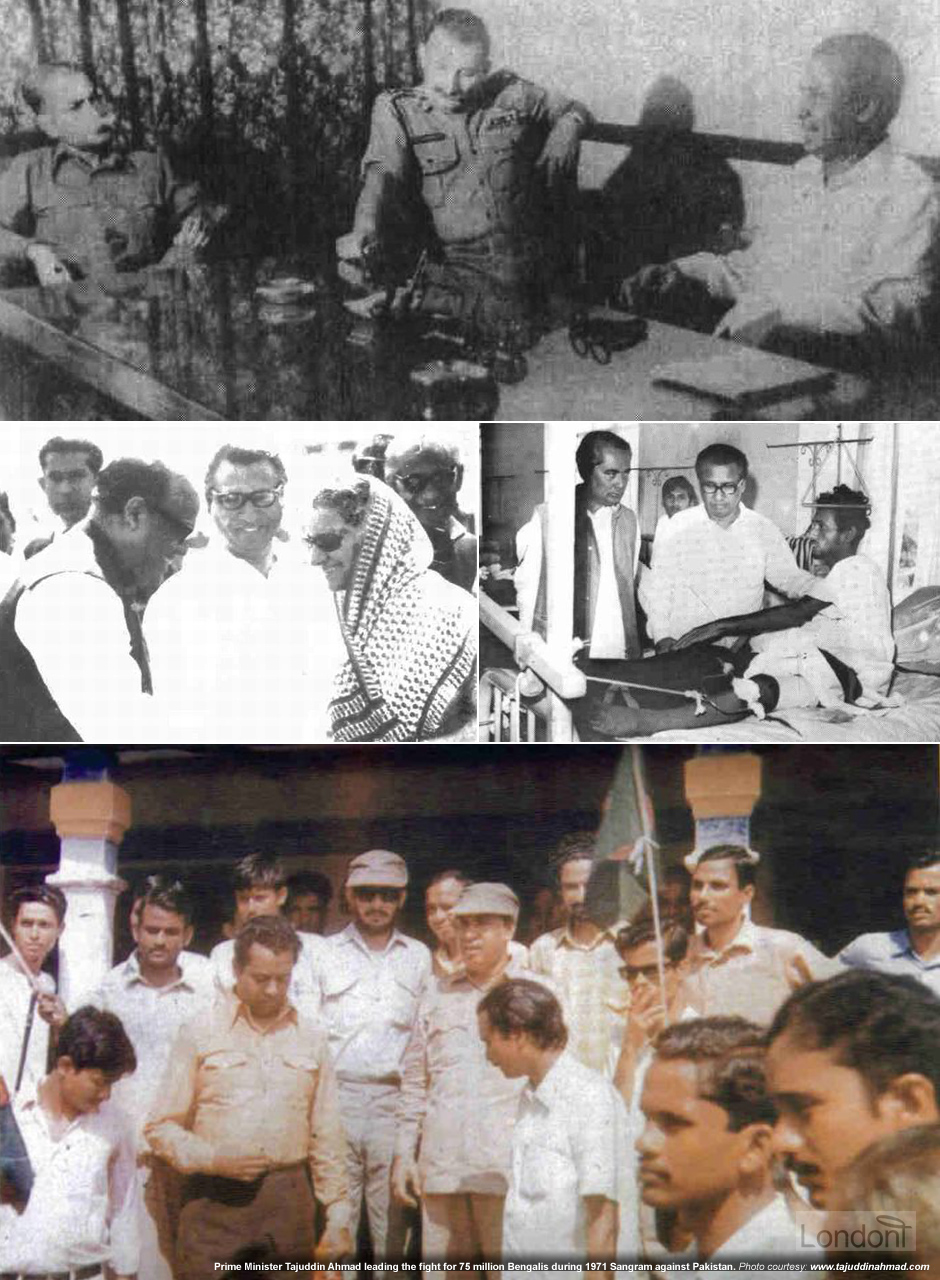 War-time Prime Minister of Bangladesh
In the physical absence of their powerful charismatic leader Sheikh Mujibur Rahman, imprisoned in Pakistan and isolated from all information, the responsibility of leadership devolved on Tajuddin Ahmad and he became the key political actor. There may have been a physical distance between him and his mentor but there was now psychological distance. Both men were born to lead. Now it was the turn of 45-year-old Tajuddin Ahmad.
Bangabandhu Sheikh Mujibur Rahman being in jail in Pakistan, it was Tajuddin Ahmad, the worthy deputy of Bangabandhu, who took the onus of leading the Bangladesh government in exile.
Formation of first Government of Bangladesh
Tajuddin was wise enough to understand, even at that early stage of war, the need for international assistance in an armed struggle to free his country. After their meeting with Indira Gandhi, Tajuddin immediately decided to form a government with the elected members of parliament. He realised that forming a government was the only way to fight against the occupational power and to gain international support for a free nation. It would also provide a point of reference for his colleagues whose whereabouts remained shrouded in mystery in the aftermath of the Pakistani onslaught.
Once Pakistan went on the rampage in Dhaka on 25 March 1971, Tajuddin lost little time in making his way across the border and linking up with Indira Gandhi. He was perspicacious enough to see, even at that early stage of national predicament, the need for outside assistance in an armed struggle he envisioned developing for Bangladesh's freedom. The man of substance in Tajuddin saw little alternative to the formal shaping of a governmental structure for a struggling nation.
The son of one of the largest landowners in Gazipur, Tajuddin Ahmad could have lived a life of carefree comfort. Instead, in 1971, with a lifetime of service and sacrifice already behind him, he found himself saddled with the extraordinary weight of revolutionary war on his shoulders as the first prime minister of the fledgling nation of Bangladesh.

With no clear directives from the larger-than-life leader Bangabandhu Sheikh Mujibur Rahman, and with an imminent military crackdown, the then General Secretary Tajuddin had come to terms with a few hard realities as he escaped with his life minutes before his home was raided.

Ever the pragmatist, he realised that West Pakistan's brutal suppression would continue unabated. A government was needed to legitimise and represent the cause and aspirations of the more than 70 million Bengalis living under subjugation. Ever the man of action, Tajuddin would cross the boarder into India and form Bangladesh's first ever government in Mujibnagar.

Taj Iman Ahmad, grandson of Tajuddin Ahmad
On 10 April 1971 the government of People's Republic of Bangladesh, or 'Gonoprojontontri Bangladesh Sthayi Shorkar' in Bangla, was formed. It was the first time in their history that the Bengalis became the rulers of their land. Tajuddin Ahmed became its Prime Minister by universal consent - making him the first PM of Bangladesh. The imprisoned Sheikh Mujibur Rahman was selected as President, Syed Nazrul Islam as Vice President (who was appointed Acting President in Sheikh Mujib's absence), Khondaker Mushtaq Ahmed as Minister for Foreign Affairs and Law, Muhammad Mansur Ali as Finance Minister, A.H.M. Kamruzzaman as Minister for Home Affairs, Relief and Rehabilitation, and retired Colonel (later General) Mohammad Ataul Ghani Osmani as Commander-in-Chief of Bangladesh Forces. Professor Yusuf Ali, teacher-turned-politician and Chief of the Department of Relief and Rehabilitation, was appointed as potentiary (someone similar to present day Chief Whip in Parliament) and administered the oath of office. Amirul Islam was appointed Chief of the Volunteer Corps, Abdul Mannan as Chief of Press, Information, Radio and Film, Matiur Rahman as Chief of Commerce, and Major Mohammad Abdur Rab as Chief of Staff.
The new government took formal oath of office a week later in the presence of Indian and foreign journalists in the Mango Orchard of Bayddanathtala in Kushtia, Bangladesh, which Tajuddin had renamed to 'Mujibnagar' (City of Mujib) in honour of their absent leader. He welcomed the journalists at the ceremony on behalf of "the Government Bangabandhu Sheikh Mujibur Rahman". Tajuddin then addressed the nation for the first time. His radio announcement provided reassurance and guidance for the people of the country who were left shell-shocked by the brutality of the Pakistan Army's sudden attack.
We do not aspire to join any bloc or pact but will seek assistance from those who give it in a spirit of goodwill free from any desire to control our destinies

Prime Minister Tajuddin Ahmad in a press statement following the new government's oath of allegiance
The first Bengali government in history, administered by Bengalis and for Bengalis, it took shape in the grey region between the sinister and the illuminating. The sinister was the programmed genocide launched with unprecedented viciousness by the Pakistan occupation army; and the illuminating was the truth that such a brutal assault on human dignity, indeed on the traditions of a people, could not go unchallenged and unbeaten. And so it was on 17 April 1971 that in Meherpur of Chuadanga, the senior leaders of the Awami League, close associates of Bangabandhu Sheikh Mujibur Rahman, came together to proclaim before the world that out of the debris of a fast enveloping war had emerged a government, the overriding purpose behind the deed being the liberation of the land.

The moment was a first for Bengalis in their thousand-year history. Of course, Sirajuddoulah, the last independent nawab of Bengal, had perished in 1757, waging war against the British and their local cohorts in defence of a lost cause. But here was Bengal, or the eastern part of a whole truncated already through the grim turn of events in 1947, ready to rise in defence of its self-esteem. There was a qualitative difference between Sirajuddoulah and the men about to transform themselves into a government in April 1971. It was simple: the political structure which Tajuddin Ahmed and his associates hurriedly cobbled into shape would be the first Bengali government in history. Never before had Bengalis governed themselves. Now, caught between a rock and a hard place, the government that would come to be known as Mujibnagar had chosen to strike back.
Once the die was formally cast in the early hours of 26th March by Bangabandhu, just before being arrested, Tajuddin assumed the leadership of the war of liberation as an almost natural continuation of his capable administration during the days of non-cooperation. Besides preparing and then presenting the proclamation of independence on 10 April 1971, and forming a small cabinet to run the government in exile, he also led the war with utmost commitment. He preferred to remain in the war field with the valiant liberation fighters rather than sitting in his office. It was because of his steadfast leadership that we could transform the war of liberation into a people's war and could defeat Pakistan in only nine months.

Atiur Rahman, economist
The exiled government established itself at No. 8 Theatre Road in Calcutta (now Kolkata), India. In two rooms at one corner of the house Tajuddin set up his office and his residence. It was from this tiny location that he'd manage the affairs of a nation and wage a diplomatic war.
For the first and last time I met Mr Tajuddin Ahmad was at the Headquarters of the Provisional/Exile Government of the People's Republic of Bangladesh located at 8 Theatre Road, Calcutta (now Kolkata), India, during the first week of July 1971. It was just a chance meeting to exchange pleasantries.

On 26 March 1971, as a young Captain of about five years of Commission service I defected from the Pakistan Army to join the forces of Mukti Bahini so as to participate in the War of Liberation of Bangladesh '71.

Prior to meeting the PM, I had to wait at the office room of General (then Retired Colonel and MNA) Mohammad Ataul Ghani Osmany, the C-in-C of the Bangladesh Liberation Forces, at the ground floor of the two-story building, as at the upstairs in a shared room with Syed Nazrul Islam, the Acting President, Mr Tajuddin Ahmad was washing his clothes all by himself. The Indian Government wanted to house them in a better accommodation with much more facilities including house aides, but they refused. And that what Tajuddin Ahmad was - simple living, high thinking and thoroughly committed to the cause of Bangladesh and the welfare of its people. He had always been a source of inspiration and hope, especially during War of Liberation '71.

The acting President Syed Nazrul Islam was also a meritorious, simple, austere, honest and passionate personality but less rugged than Tajuddin Ahmad. Combined together, they were the pillars of strength for the Liberation Forces.

General M A G Osmany and Lt. Col A R Chowdhury, who was a staff officer at the Bangladesh Forces Headquarters/BDF HQ, would speak volumes about Tajuddin Ahmad and his activities. I heard their stories, particularly, when I served in Sylhet Cantonment from 1979 to1982.

Even under severe stress and strain Tajuddin Ahmad used to remain calm and composed. It was a treat to observe the way he used to handle Gen Osmany - honouring the sentiment of the General but without disturbing the cohesiveness of the cabinet and day-to-day activities. Though during Oct-Nov, 1974 he was unceremoniously kept out of the cabinet, he remained totally loyal to Bangabandhu Sheikh Mujibur Rahman until his death.

Amin Ahmed Chowdhury, Bir Bikram, a freedom fighter and a retired Major General and former ambassador of Bangladesh
Creating a blueprint for success
And so began the long, intense, arduous journey to the road to freedom filled with pain, sacrifice and ultimately joy.
During the next nine months Tajuddin had to create the blueprint for a successful new nation and manage obstacles coming at him from all angles. Whether it was earning the trust of Indian Prime Minister Indira Gandhi, handling internal conflicts, earning the confidence of the people of Bangladesh, foreign recognition of Bangladesh, strategic planning of the war, motivating and inspiring freedom fighters, forming the armed wing of the government called 'Mukti Bahini' (Liberation Forces) under an united command with the assistance from the Indian army, gathering resources to fight a long battle with a powerful and highly trained enemy, Tajuddin was at the heart of it all. He led the war with remarkable diplomacy to finally achieve freedom from the Pakistani colonial occupation.
Tajuddin's life events - albeit in minuscule degree of intensity - had trained him to manage this mammoth task. As a boy he had single handedly arranged for food and relief for cholera victims in his village. Now he would oversee the relief efforts directed towards the 10 million Bengali refugees pouring into neighbouring India. As a forthright young man he had "challenged the anachronistic politics of the aristocratic elite" in pre-partition Bengal with the guidance of Abul Hashim. Now he would challenge the machinations of a genocidal Pakistan military.
Many of his colleagues, be they Bengali (e.g. Nurul Qader who was charged as a roving ambassador with the unenviable task of reaching out to leaders for international recognition and support at the time) or Indians (e.g. Golok Majumder, the senior Border Security Force (BSF) officer in West Bengal), have vouched for his capability as a wartime administrator and had openly declared that had anybody else other than Tajuddin had been at helm, Bangladesh may never have won the war as quickly as it did or even achieved independence.
What if the Mujibnagar government had not taken shape? What if the men who would lead the armed struggle against Pakistan had chosen to spend the rest of their lives waiting for a negotiated settlement to the crisis? What if, in the absence of resistance, Pakistan had perpetuated its presence in Bangladesh and cast its ever-darkening shadow on Bengali heritage? Prior to April 17, 1971, these fears were all too real for the nation to dismiss out of hand. Bangabandhu had been abducted by the Pakistan army; and not one of us knew where the rest of the Awami League leadership was at that point. We would, of course, know subsequently that even as we worried about the future, Tajuddin Ahmed and Amirul Islam were making frantic efforts to locate the other men who would form the core of the Mujibnagar government. Over a period of nearly a month, Syed Nazrul Islam, Mansoor Ali, Quamruzzaman, M.A.G. Osmany and a host of others would link up with Tajuddin Ahmed. The moment that would make history would be at hand.
Throughout the entire war period there was one recurring theme in the way he spoke. He would always begin by saying: "under the responsibility I have been given" or "the responsibility entrusted on me" - in other words never trying to usurp the authority of higher powers, always eager to remind people that he was only doing a job that he was assigned to. I never heard him saying: "or I will do this, or I am going to do this". His position was I'm only doing my duty as a deputy. His loyalty and dedication to his leader and friend, Shaikh Mujibur Rahman, was as solid as a rock. I think the "I" word never entered his speech because he genuinely believed he was carrying out his "Mujib Bhai"'s wishes, doing exactly what he would have wanted him to do. As if all he was doing was carry out the orders of his commander-in-chief.
He [Tajuddn Ahmad] was always calm while taking decisions but firm in his convictions. The credit for the victory in the war of independence in Bangladesh goes to a great extent to his foresight, able leadership and great organising capability. Unfortunately, his contributions to the independence of Bangladesh are yet to be evaluated properly.
Tajuddin tackles war on the Islamic front
Pakistan authorities projected the war as a battle of "Islamic" Pakistan versus Bengali "miscreants" and Indian "chancers". For them they were the rightly-guided Muslims hoping to silence the "rebellious" "gaddar" (traitor) Bengalis led astray by pagan Indians and "save" Pakistan in the process. And if this silencing meant killing them then so be it. They were happy and willing to do that freely.
The Pakistan military sought the help of a small section of Bengali collaborators, known collectively as 'Razakars', to help them in this mission.
The task of re-educating these Pakistani attackers and razakars on the basic fundamentals of Islam which promotes peace upon mankind was left to a clandestine radio channel called "Swadhin Bangla Betar Kendra" (Independent Bengal Broadcasting Centre). The channel sought the advice and guidance of Tajuddin Ahmad who was a hafez and was very knowledgeable on the core principles of Islam.
For his part, whether it was his first broadcast to the nation following the formation of the new government on 11 April 1971 or his broadcast on the eve of victory on 8 December 1971, Tajuddin's spoke mainly the language of peace. He warmly congratulated the unarmed people of Bangladesh for offering heroic resistance to the occupation Army of Pakistan and highly praised the freedom fighters. He also reminded them not to take any aggressive action against innocent people including the non-Bengalis.
Tajuddin who was well versed in the Qur'an and knew Islam's core principles to be fairness, justice and compassion, resisted these false attacks through foresight and intelligence. As Prime Minister, who was also in charge of Broadcasting and through his helpmates, he launched a radio program to define, in the light of Islam, the people's right to justice, liberty and human dignity.

Tajuddin conceived the future framework of a free Bangladesh as one in which the adherents of all religions would be able to practice their faiths freely and co-exist in harmony and peace with each other. His vision is reflected in the Swadhin Bangla Betar (Free Bengal Radio Center) Kendra's daily presentations and recitations of the holy scriptures from the Bible, Qur'an, Gita and Tripitaka, from Christian, Muslim, Hindu and Buddhist faiths groups.
Internal conflict with Khandaker Moshtaque Ahmed and 'Mujib Bahini' of Sheikh Moni, Sheikh Mujib's baghna (nephew)
Passion and ideas were running high during sangram (war).
Majority of the people in senior position were young, inexperienced men thrown together unexpectedly by the barbaric unprovoked attack of the Pakistanis. They had one objective in mind: free the motherland. With their champion of Bengali autonomy locked up 1,200 miles away, and with no clear structure, time, and established method of communication, misunderstanding and arguments crept up often and fast.
For Tajuddin these came in the shape of Khandaker Moshtaque Ahmed, Minister for Foreign Affairs and Law, and a group of rebellious Mujib loyalist known as 'Mujib Bahini' (Mujib's Army) headed by Sheikh Mujib's baghna (sister's son i.e. nephew) Sheikh Fazlul Haq Moni amongst others. Both set aimed to undermine Tajuddin's leadership and were constant thorn in his life. It was not easy being a prime minister and running the newly formed government.
Sheikh Fazlul Haq Moni and his band of Mujib loyalists took it upon themselves to undermine the nation's first prime minister even as he defined military strategy for a nation at war. There were other troubles as well. Tajuddin had constantly to look back, behind his shoulder, for there was a smell of conspiracy in Khondokar Moshtaque.

Syed Badrul Ahsan, Journalist
The young leaders in the Awami League, like Sheikh Fazlul Haq Moni, thought they were ignored. Sheikh Moni claimed that Bangabandhu gave him the order to run a revolutionary force to free the country. When the party was bridled with pettiness within its own domains, Tajuddin was busy uniting a nation. He had to fight against two forces within the government- the opposing, unhappy leaders like Khandakar Mushtaq, and the young, aggressive force of Mujib Bahini. The intellectual in him was prepared to withstand the challenges his fellow Awami Leaguers were throwing at him.

Ananta Yusuf, Journalist
He came under political assault the moment he took that considered step. The younger elements in the Awami League, typified by the likes of Sheikh Fazlul Haq Moni, thought they had been upstaged. Tajuddin, they thought and indeed propagated the message, had gone beyond his remit. He was not, said these angry young men, qualified or empowered to establish a government because he had not been authorised by Bangabandhu to do so. It was an unfased Tajuddin who went ahead with what he saw as his historic mission of bringing Bengalis together. The socialist in him was unwilling to cave in to fate or human machinations. The intellectual in his being was prepared to withstand onslaughts of the kind his fellow Awami Leaguers were throwing his way. He emerged from the experience a sadder man but a necessarily stronger man.
These conflicts would prove to be fatal for Tajuddin in an independent Bangladesh. For now, the war proved a powerful distraction - but the seed of hatred was firmly planted in the ground.