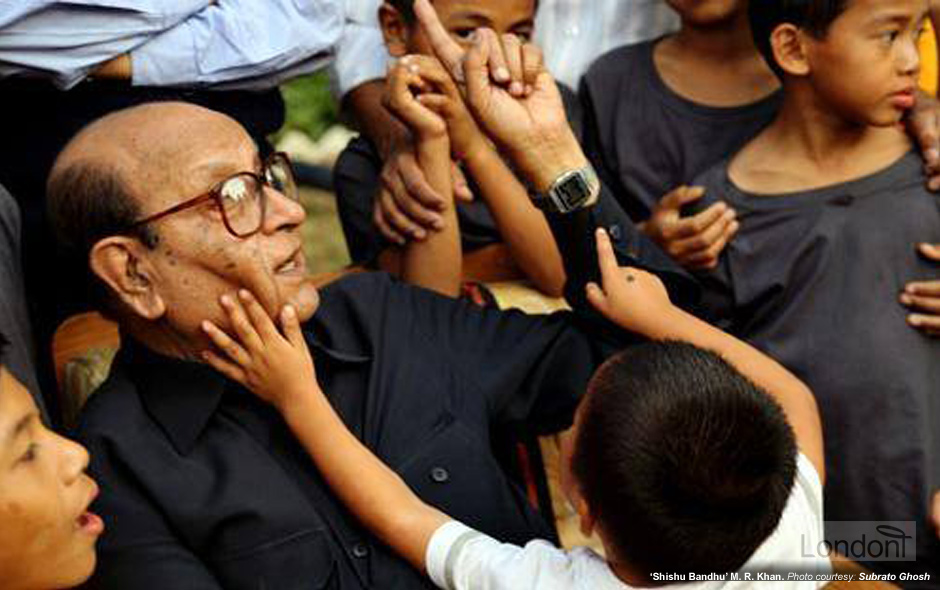 'Father of Paediatrics in Bangladesh' and 'Shishu Bandhu' (Friend of Children)
Founding president of Bangladesh Paediatric Association (BPA)
In 1972 few paediatricians in Bangladesh, including Dr. M. R. Khan, came together and established the Bangladesh Paediatric Association (BPA) to work for the interest of the children and paediatricians of the country. Dr. Khan was appointed as the founding President. He remained in that position till 1976 and was elected President of BPA on two more occasion - from 1981-84 and 1986-88.
Today, over four decades after its establishment, BPA has grown tremendously and is made up of thousands of pediatrician. It works with the Government of Bangladesh to formulate policies relating to child health (e.g. EPI, IMCI, IYCF, National Nutrition services etc.) and has branches all over country. BPA also works with national and international NGOs like ICDDR,B, World Health Organisation (WHO), UNICEF, Save the Children, USAID, alive&thrive, and many more.
Shishu Sasthya Foundation
In January 1983 Dr. M. R. Khan became the founding chairman of the Shishu Sasthya Foundation Bangladesh (SSFB) which is concerned with children's health and welfare. What began as a small nursery of infant care with 26 staff members has now mushroomed into a respectable national organisation with 250 staff members including 75 doctors, a good number of trained nurses and administrative staff caring for about 200 indoor patients and 600 out-patients daily at the 7-storied Mirpur complex in Dhaka.
Today the SSFB has nutrition, education, environmental pollution control, and even micro-credit facilities through its 12 programme areas in Tangail, Jessore and Satkhira. The programme includes a myriad of activities aimed at reduction of morbidity and mortality of mothers and children.
Shishu Sasthya Foundation was established in 1983, through which some 0.5 million women and children are receiving direct services in the field of health, nutrition, education, micro credit, environment etc through its field and centre based programme. Presently, some 6,000 women are provided microcredit supports for small-scale income generation activities.
The SSFB has set up multiple umbrella organisations which reflects Dr. Khan's lifelong effort to help the children.
Satkhira Shishu Hospital built on Dr Khan's family land and using his pension money
In 1988 Dr. M. R. Khan established the Sathkhira Shishu Hospital in his birthplace. Such is the selfless, clean-hearted, giving nature of Dr. Khan, that he donated the paternal family land he owned as well as the pension and gratuity money he got after retirement from service in order to set up Shishu Hospital and Rasulpur Secondary School.
Today, the 20-bed Shishu Hospital provide services to some 25,000 child patients, through its inpatient, out-patient and diagnostic departments in each year.
Institute of Child Health (ICH) and Shishu Hospital
One such organisation which the SSFB has established is the Institute of Child Health (ICH) and Shishu Hospital which has been set up by the Foundation at Tangail, Jessore, Satkhira, and Alamdanga (Jessore). The ICH is an unique national level training and treatment centre for health and nutrition of children and mothers. Like its parent organisation, the Institute of Child Health (ICH) and Shishu Hospital has provisions for diagnostic treatment of children's diseases in addition to teaching, training and research capabilities.
The Institute at Mirpur was established in 1995 and is currently housed in a 6-story complex. Each year some 186,000 children are being provided services through its 150 bedded in-patient departments, out-patient departments and diagnostic services. Every day some 600 children are getting services at the out-patient patient departments.
In 2006 the Institute launched a Diploma in Child Health (DCH) postgraduate course for MBBS doctors at this branch.
The Shishu Hospital in Jessore was established in 2000. The 50-bed hospital serves around 50,000 child patient each year.
Support Centre for under privileged children (Satkhira)
In 1995 the Shishu Sasthya Foundation Bangladesh (SSFB) established the Support Centre in Satkhira which provides microcredit, health and nutrition support to underprivileged children in addition to non-formal functional education. Since then, every two year some 150 working children are being provided support for self-reliant and prepared for the vocational training course in VTC, Satkhira.
Vocational Training Centre (VTC), Satkhira
In 2000 the SSFB opened a Vocational Training Centre in Sathkira through which 165 working children each year are graduating in eight vocational trade courses.
Electrical
Turning
Carpentry
Dressmaking
Light Engine
Audio Visual
Air Conditioning & Refrigeration
Computer courses
Institute of Nursing (Mirpur, Dhaka)
In 2008 SSFB established the Institute of Nursing in Mirpur, Dhaka to provide diploma in nursing to 20 students each year in a bid to cut the gap in nursing services in the country.
Medical College for Women and Hospital College (Uttara, Dhaka) - the first women medical college in Bangladesh
In addition to setting up the Rasulpur Secondary School in his birthplace of Satkhira, Dr. M. R. Khan also established the Medical College for Women and Hospital College in Uttara, Dhaka, in 1992. This is the first women medical college in Bangladesh.
Prompted by sheer urge to come to the aid of sick children, Professor M.R. Khan moves from one hospital to another from morning to evening in Dhaka city looking after patients, teaching students, and providing training to graduate doctors. He made strenuous efforts in setting up Uttara Women's Medical College and Hospital, Central Hospital and Nivedita Hospital for Children.
Nebedita Nursing Home, and Central Hospital Limited (Dhaka)
Dr. M. R. Khan has established two private hospitals in Dhanmondi area of Dhaka: Nebedita Nursing Home and Central Hospital Limited.
The Central Hospital Ltd was established in 1991 by gaining financial assistance from Bangladesh Shilpa Bank amongst others. It has the foundational structure to be potentially 12-stories high and is one of the largest and modern hospitals in the private sector in Bangladesh.
Dr. M. R. Khan is the Chairman and Managing Director of the hospital.
Dr. M. R. Khan & Anwara Trust Fund
Dr. Khan has created a charitable trust in his and his wife's name - 'Dr. M. R. Khan and Anwara Trust '. The Trust was established with all his pensions and gratuity fund after his retirement from public service. Through this trust assistance is being provided to different mosques, schools, hospitals and a number of destitute women and children in Satkhira and other places as well as different social welfare activities.
The Dr. M. R. Khan and Anwara Trust fund also awards gold medals to individuals in recognition of their outstanding contribution to social and economic development of the country. Among the notable recipients are Nobel Laureate Dr. Muhammad Yunus (Grameen Bank) and Sir Fazle Hasan Abed (Brac Foundation), Valerie Ann Taylor (CRP), Angela Gomes (Banchte Shekha), Dr. Sultana Zaman (Kalyani Foundation), and Late Tahera Kabir.
The Trust also awards the Shishu Bandhu Gold Medal - named in honour of Prof. M. R. Khan. Past recipient of this great award include Prof. Nazmun Naher, a well known paediatrician and President BCPS.
SSFB contributes significantly at national level to eliminate malnutrition, and offers treatment to suffering children and women of reproductive age through preventive and curative programmes.

SSFB, founded in January 1983, with National Professor M.R. Khan as its chairman and guiding spirit, has been working for almost 0.5 million target population of mothers and children.

Prof. M.R. Khan committed himself to the difficult task of ensuring physical and mental wellbeing of this most vulnerable group of the society through the aegis of SSFB, with its programme of activities gradually expanding over the whole country. Through these centres, non-formal education is provided to the under-privileged and disadvantaged children in the evening hours without hampering their economic contribution to the family.

A visionary in child health sector, Prof. M.R. Khan is working on alleviating the distress and suffering of the poor children. He is pleasant and amiable, and has enormous appetite for hard work and the ability to tackle difficult issues. The areas he has chosen for his work have begun to change, perceptibly.

Daily Star (Bangladesh, 2013)