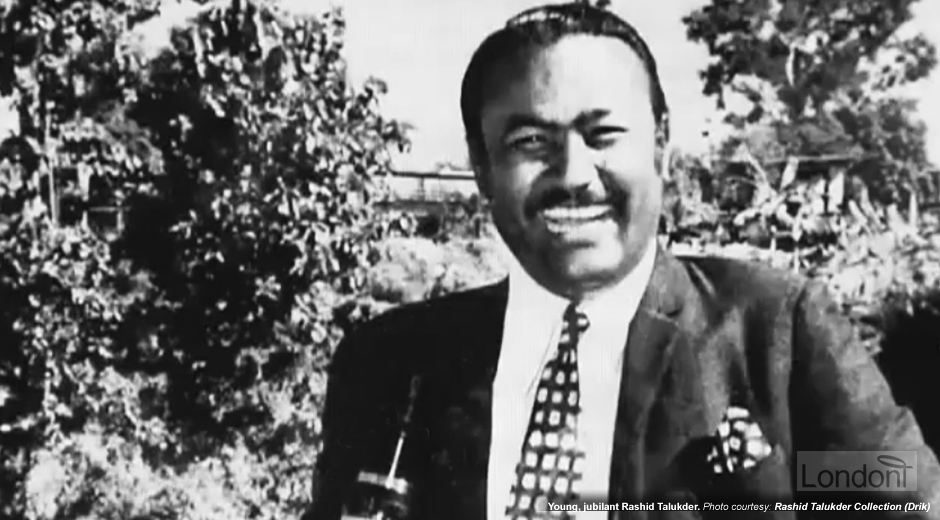 Early life of 'Kanchon'
Rashid Talukder was born in Baj Baj, near Kolkata in Chabbish (24) Pargana, West Bengal, in British India at the beginning of Second World War (1939) to Bangladeshi parents. His father, Abdul Karim Talukder, was a respected Stationmaster who was transferred to various places during his career. As such Rashid Talukder's childhood saw him get exposure to different landscape and people.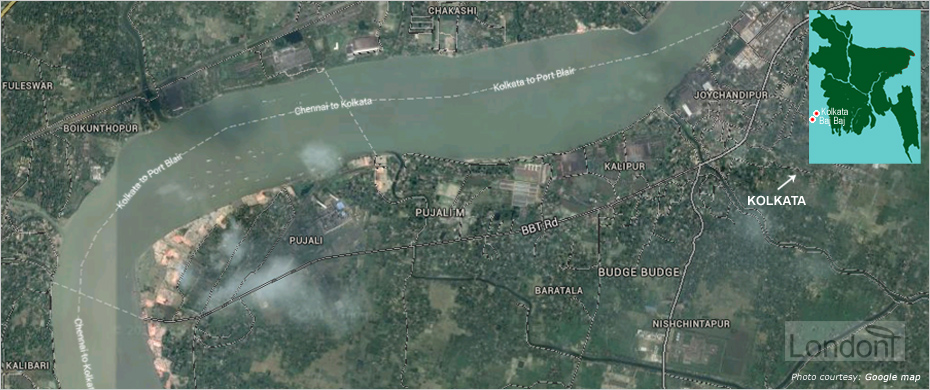 During his childhood, his father used to call him 'Kanchon', finding an allegory to the mountain Kangchenjunga, a section of the Himalayas to the north of Bangladesh and the 3rd highest mountain in the world.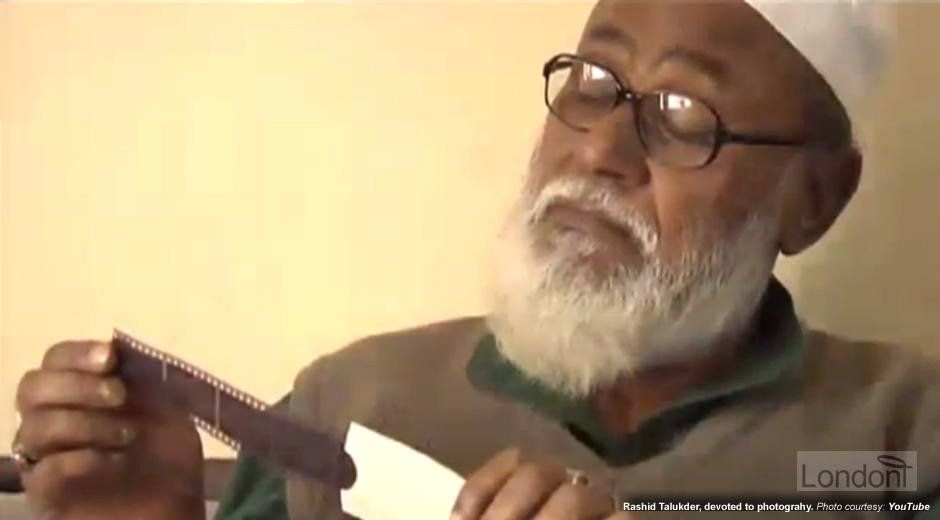 Education
Since his father was transferred regularly, Rashid Talukder could not complete his education from one particular school. However, it was as a student in Class VI (6) of Loknath High School in Rajshahi, when he first saw a photograph and quickly developed an interest in photography. This happened while he was walking home from school one day, and happened to notice photographs being put out to dry in the sun by the street. The curiosity that rose in him that day, led him to crave to become a photographer. He went home and told his elder sister, whom he used to call 'didi', about his heart's desire. She was not interested and let the idea drop.
There existed a time when viewing a photograph right after taking it was not only impossible, but unthinkable as well. Forty-nine years ago, the idea of a photograph was non-existent to Rashid Talukder. He was mesmerized and curious to how it was possible to capture something on paper, that was identical to what one could see.

The Daily Star (Bangladesh, 2010)
Rashid Talukder was still determined in pursuing his dream. For him photography was an international language that was understood by everyone. Very few people could speak different languages, but no words need to be spoken by a photograph yet its message is comprehended just by looking at it. Having made his decision to pursue a photography career, Rashid Talukder approached his father with the idea of him learning photography. His father was furious about the idea of a Stationmaster's son becoming a photographer, especially since the Muslim community back then had very conservative views and cast photography as a sin. On top of this, almost all the photographers of that time were of the Hindu religious background, which had made the thought even more unacceptable to the respected Stationmaster, whom every one called 'Boro Babu'. Upon relentless and constant badgering, his father caved in and allowed Talukder to start learning photography on the condition that he kept up his grades in school.
My father worked for the Railway Department and was transferred several times. There was no photographer in my family, so it was challenging for me to take up photography as a profession. Back in those days, the photo processing technology was rather poor. White was predominant after developing the images.
The hurdles didn't end there. At that time, there existed only two studios in the Rajshahi area where Muslim photographers worked. They were the Majeriya store and Star Studio. Star Studio was owned and run by Motaher Hossain. Hossain was not interested in Rashid Talukder's dreams, and didn't bother at all the first few times when Talukder approached him about learning photography. Ultimately, Talukder's persistence paid off as Hossain caved in as well. He told the relentless boy to bring over a guardian so that he may talk to them in regards of his apprenticeship. His 'didi' came to his rescue and kept the appointment with Hossain, and thus began Rashid Talukder's career in photography. By the time he reached Class VIII (8) in 1945, aged only 6, he started working in the darkroom as an apprentice making tea for the team. It took him 4 years to become a photographer under his 'guru' Motaher Hossain's teachings.
Motaher Hossain

()
He became fascinated with photography at a very early age. When most boys his age were playing cricket on the fields and memorising timetables, Talukdar was busy working as an assistant in Star Studio under Motahar Hossain in Rajshahi. His father, Abdul Karim Talukdar, was severely disappointed when he learnt that his son wanted to work in a studio, thinking it unbefitting for a young boy from a decent family. However, Talukdar was always at ease with the fact that he had started his career not as a photographer working in the darkroom, but as an apprentice making tea for the darkroom team.

The Daily Star (Bangladesh)
Photography is an international language.

...If you don't love photography it will not love you.

Rashid Talukder explains that art and creativity has to come from within a photographer, as if they possess a third eye dedicated only to the art of taking pictures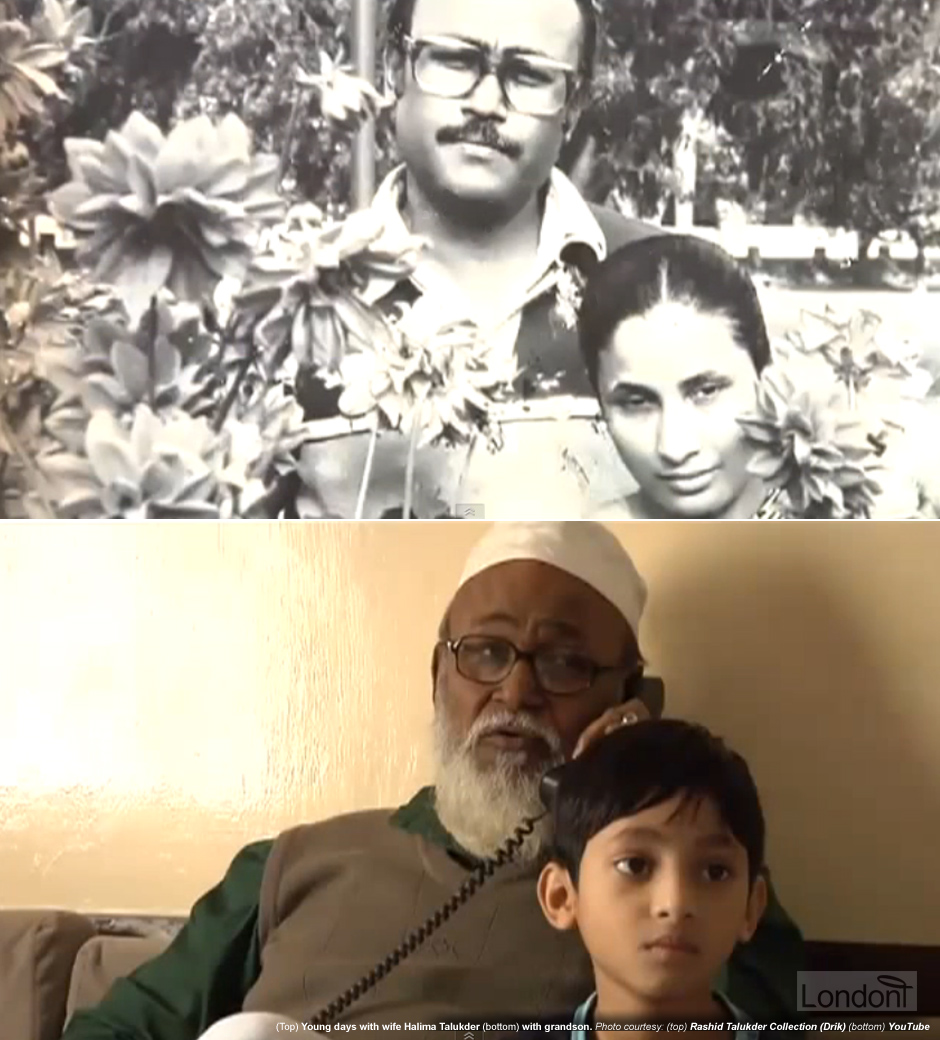 Family life
Rashid Talukder married Halima around 1961 when he was 22-years-old. The happy couple eventually had two daughters, Shahana Rashid Chowdhury and Sonia Rashid, and a son, Borhanuddin Talukder. They settled in Bashabo, a large residential area under Shabujbag police station at south-east of Dhaka metropolis (next to Motijheel area). It is a planned residential area built by the then Railway Diversion Division to rehabilitate the people affected by shifting of Dhaka railway station from Fulbaria to Kamalapur in the 1960's.
Later on, Shahana married and settled in Los Angeles, USA. Sonia became a teacher in Chittagong and Rashid Talukder and his son stayed together in their Bashabo home.
Throughout his life Rashid Talukder remained a humble, approachable and earthly person. Even though he had easy access to all premium events and knew all famous people, he'd still mingle with everyone else.
Before leaving any event Rashid bhai would familiarise himself with every foremen, every guard, every tea maker. Whenever he met them he'd ask them how is your son, is your daughter married yet, how's your mum, etc. He'd keep a connection with them. It is this humanness which I believe is the secret which has allowed him to create the range of work which he has produced.
This was a man who knew everyone worth knowing in this land of ours. But it was his relationship with lesser mortals that characterized the man. Walking with him to a major bank was an eye opener. Sure he could walk into the office of the chairman without an appointment, but he also knew every guard, every cleaner in the building. Would stop to ask someone how his new grandchild was doing. Whether his arthritis was better. Quietly slip someone some money because he knew there was no food at home. He remained his unassuming self regardless of who was at the other end. His was a large family whose members transcended all barriers of race and class. He was everyone's Rashid Bhai.

...As an understudy during a trip to a photo conference in Kolkata, Rashid Bhai, then the president of BPS led our motley gang to what in those days was a major regional event. This was when I saw first hand his remarkable people skills. Hardened customs officers at the Benapole border, who knew no language other than the one of Taka, soon became long lost friends. Perfect strangers were soon inviting us home for dinner. Rashid Bhai, playing the fake prima donna, insisting on his favourite dish being on the menu. His infectious charm brought out the cheekier side of Saeeda Khanam, the veteran woman photographer, who displayed a side we had never suspected.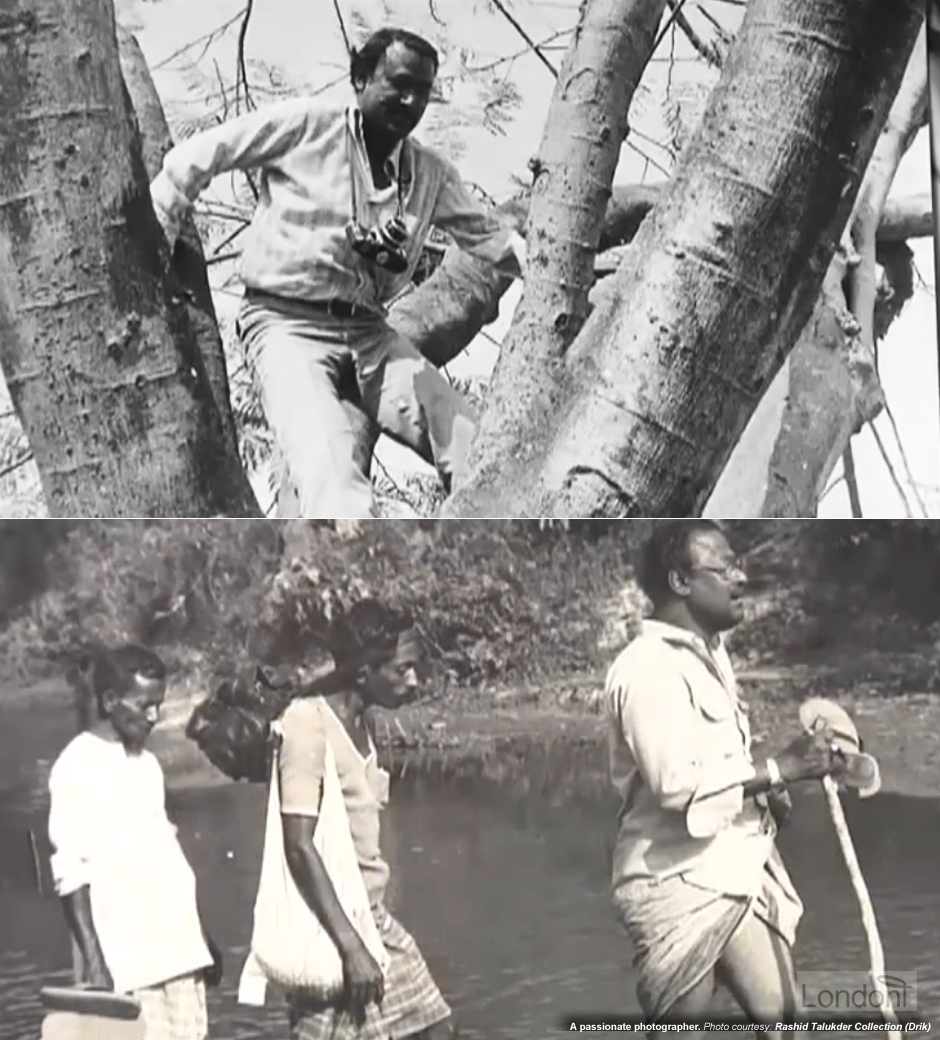 Career
From photo technician to photographer with Dainik (Daily) Sangbad for 14 years
Rashid Talukder began his career in 1949, aged 10-years-old, when he joined the Press Information Department as a photo technician. By then British India had been partitioned off to two countries: India and newly formed Pakistan, which consisted of two 'wings' (West Pakistan and East Pakistan) separated by 1,000 miles of Indian territory in-between.
In 1952 Rashid Talukder became a press photographer with Dainik Sangbad (Daily News) newspaper in Dhaka in East Pakistan, where he worked for 14 years. The Bengali language daily was founded by businessman Giashuddin Ahmed and first published on 17 May 1951 with Khairul Kabir as editor. It was printed and published in six pages from East Pakistan Press, 263 Bangshal Road, Dhaka by Nasiruddin Ahmad. In 1952 the Dainik Sangbad was bought by Muslim League who appointed iconic journalist A. B. M. Musa, known fondly as "Musa bhai" (brother Musa), as the editor.
A. B. M. Musa

()

Khairul Kabir

()

Giashuddin Ahmed

()

Nasiruddin Ahmad

()
Musa, who later became the founder of the Jatiyo (National) Press Club in Bangladesh, was a talented and patriotic Bengali. In 1950, two years prior to joining the Sangbad, Musa joined the influential Pakistan Observer newspaper and became a sub-editor. However, during the 1952 Bhasha Andolon the Pakistan Observer was closed down so Musa joined the Dainik Sangbad. But he didn't stay with them for long. Two years later he returned to Pakistan Observer when the newspaper resumed its publication in 1954 and was with it till 1971 Muktijuddho.
During the mid 1960s, Musa changed the number and wordings of his car's number plate to spell 'Bangla'. This act was seen as a form of rebellion by the Pakistani government, and he faced a lot of harassment from the government for this simple act of patriotism. However, Musa never budged from his stance, and refused to change the number plate.
A. B. M. Musa was a close friend of Sheikh Mujibur Rahman and drew a vivid picture of his long association with the founding president of Bangladesh in his only book "Mujib Bhai". He wrote that Sheikh Mujib would always jokingly refer to the journalistic trio of Abdul Gaffar Chowdhury, Faiz Ahmed and him as "aapod-bipod-musibot" (trouble, danger, and nuisance). In 1973 he participated in the first General Election of newly independent Bangladesh from his local Feni constituency and won. He also acted as a lawmaker upon Sheikh Mujib's request but left politics for good after the assassination of Sheikh Mujib in August 1975.
He [A. B. M. Musa] led the way to modernity in journalism... Musa bhai was very precise while dictating assignments to his reporters in the newsroom.

Kamal Lohani on the distinctive characteristic of A. B. M. Musa
The downfall of Muslim League in 1954's General Election of Pakistan led to the near demise of the Dainik Sangbad. However, the ownership of the newspaper changed hands and Zahur Hossain Chowdhury was made editor. At the same time many notable journalists and prominent people such as Ranesh Das Gupta, Satyen Sen, Santosh Gupta, Tawab Khan, Kamal Lohani, Mohammad Farhad, Ali Aksad, Bazlur Rahman joined the Sangbad. Four years later, in 1958, they were joined by eminent Bengali writer Shahidullah Kaiser as an Associate Editor.
The paper remained openly critical of the negligence of Pakistan leaders to East Pakistan and strongly opposed all military rules starting from Ayub Khan to Yahya Khan in 1971. As a result, the government acted against its editors and journalists and in 1958 tried to stop the publication of the newspaper.
Since its inception the Sangbad played significant role in fostering Bangla language and literature, and Bengali culture.

Over the time the paper grew into a platform of radical thoughts in politics and literary cultivation. One of the attractive feature pages of the Sangbad was Khelaghar. Habibur Rahman, the poet and juvenile litterateur, was the first editor of the section. Another attractive feature page of the paper was Mahila Pata (female section). In fact Sangbad was the first daily newspaper to open a section devoted to women. Laila Samad became the editor of this section. The Sangbad expressed its strong and unstinted support to political movements against the Ayub regime and in favour of Six-Point programme.

Obviously the Ayub regime was hostile to this radical paper. The paper was so aligned to all the progressive movements of the country that it had to face police atrocities occasionally.
Zahur Hossain Chowdhury

()

Ranesh Das Gupta

()

Satyen Sen

()

Shahidullah Kaiser

()

Santosh Gupta

()

Tawab Khan

()

Kamal Lohani

()

Mohammad Farhad

()

Ali Aksad

()

Bazlur Rahman

()
During Rashid Talukder's time with the Sangbad they didn't give the photographers any expensive camera. They only had ordinary cameras but even still Rashid Talukder took extraordinary photos with such simple equipment.
He [Rashid Talukder] always craved to hear that his photos were excellently captured. The next day when his photos were printed, he'd get the other newspapers and compare his photos with them to see which was better. He'd ask which I thought was better. He was keen to hear that it was his one. He worked exceptionally well under pressure.

During mass rallies he'd go fearlessly even in front of bullets. We'd scold him as to why he took his own life at such risk, he'd reply that he wanted his photo to be the best. That quality, that 'my photo should be the best' is today a very rare quality.

Ghulam Sarwar, former colleague and later editor of Samakal newspaper
"Daktaaar" [Doctor]. The loud call would be promptly followed by a big grin and a bigger bear hug. He insisted on calling me by that title and always referred to it, when addressing me in public. Rashid Talukder (Rashid Bhai – elder brother – to all of us) didn't speak 'posh' Bangla, struggled somewhat with English and wasn't encumbered with any of the polish of 'bhodrolok' upbringing many of us were trapped in. Unlike many others however, he took pride in his upbringing. That his apprenticeship involved making tea for the darkroom team, was something he was completely at ease with. There lay his charm. Quick witted, fast on his feet, streetwise, gregarious, loud and completely disarming. Rashid Talukder was an unlikely rebel who was impossible to dislike. He took ownership of my title. Despite his genius, he was all too aware of how photojournalists were regarded. In a profession way down in the pecking order of the hierarchical newsroom, he had felt the full brunt of the class structure where the photojournalist was the illiterate worker. Visually illiterate news editors would call the shots when it came to picture use. The concept of a picture editor had never entered newspaper parlance. The status my Daktar title implied to a photojournalist was something we were all going to share.

His first editor, A. B. M. Musa had given him a simple instruction on his first assignment. "Arrive 30 minutes before the event, leave 30 minutes after it is all over". Rashid Bhai had taken the message to heart, not only in terms of time, but in the spirit of the advice. He would always go that extra mile. His were the images that the others had failed to notice. The otherwise insignificant moments made significant through his discerning eyes.

Those were the days one would check the chemistry in the developer from its taste. An extra puff of the cigarette would serve as a safelight to check if the film had been sufficiently exposed. Deadlines often meant printing directly from wet negatives. Once the twin lens reflex cameras gave way to the more versatile 35 mm, the film stock itself was often the back end of a roll of cine film bought cheaply from movie industry rejects. Fibre base wasn't a fashionable thing in those days. It was the only type available. Chinese Xiamen and Era paper were found in limited grades with changes in the chemistry providing variation in contrast. It was in those grueling unventilated toilets converted to darkrooms that Rashid Bhai made print after print that documented the painful, rebellious, joyous moments of a young nation in the making.
Photojournalist with Dainik (Daily) Ittefaq for 29 years
After leaving Daily Sangbad, Rashid Talukder joined the Dainik (Daily) Ittefaq and worked there for 29 years as a photojournalist. The editor of the newspaper was Tofazzul Hussain, widely known as Manik Miah. It used to be printed and published from the Paramount Press at 9 Hatkhola Road, Dhaka.
The precursor to the Dainik Ittefaq was the 'Weekly Ittefaq' founded by Maulana Abdul Hamid Bhashani in 1949, who also started a political party named 'Awami Muslim League' (later the Awami League) that same year. The Awami Muslim League was an opposition party to the highly influential Muslim League which emerged as the government political party. It was against this backdrop that Maulana Bhashani started the popular weekly publication as a critique of the Muslim League government. Manik Miah worked as its editor and his post editorial column 'Rajnaitik Mancha' (Political Platform) became very popular in East Pakistan. Ittefaq had a significant role in the 1954 general elections, and it contributed to the victory of the United Front In 1958. Ittefaq always strongly opposed all military rule of Pakistan starting from Ayub Khan to Yahya Khan. Eventually during this time, Ittefaq went from being a weekly to becoming a daily newspaper.
It remains ambiguous under what circumstances Manik Miah started to use his own name as the owner of the weekly turned a daily.
The Dainik Ittefaq was seen as the "mouthpiece of Awami League" and the East Pakistan citizens. It supported the Six Point Program of Awami League during the mid-1960s and helped publish its ideas. President Ayub Khan censored its publication from 17 June - 11 July 1966, and then again from 17 July 1966 - 9 February 1969. Tofazzal Hossain was imprisoned several times until he passed away on 1 June 1969. The newspaper was subsequently managed by his two sons, Mainul Hossain and Anwar Hossain.
Maulana Abdul Hamid Bhashani

()

Ayub Khan

()

Tofazzal Hossain (aka Manik Miah)

()