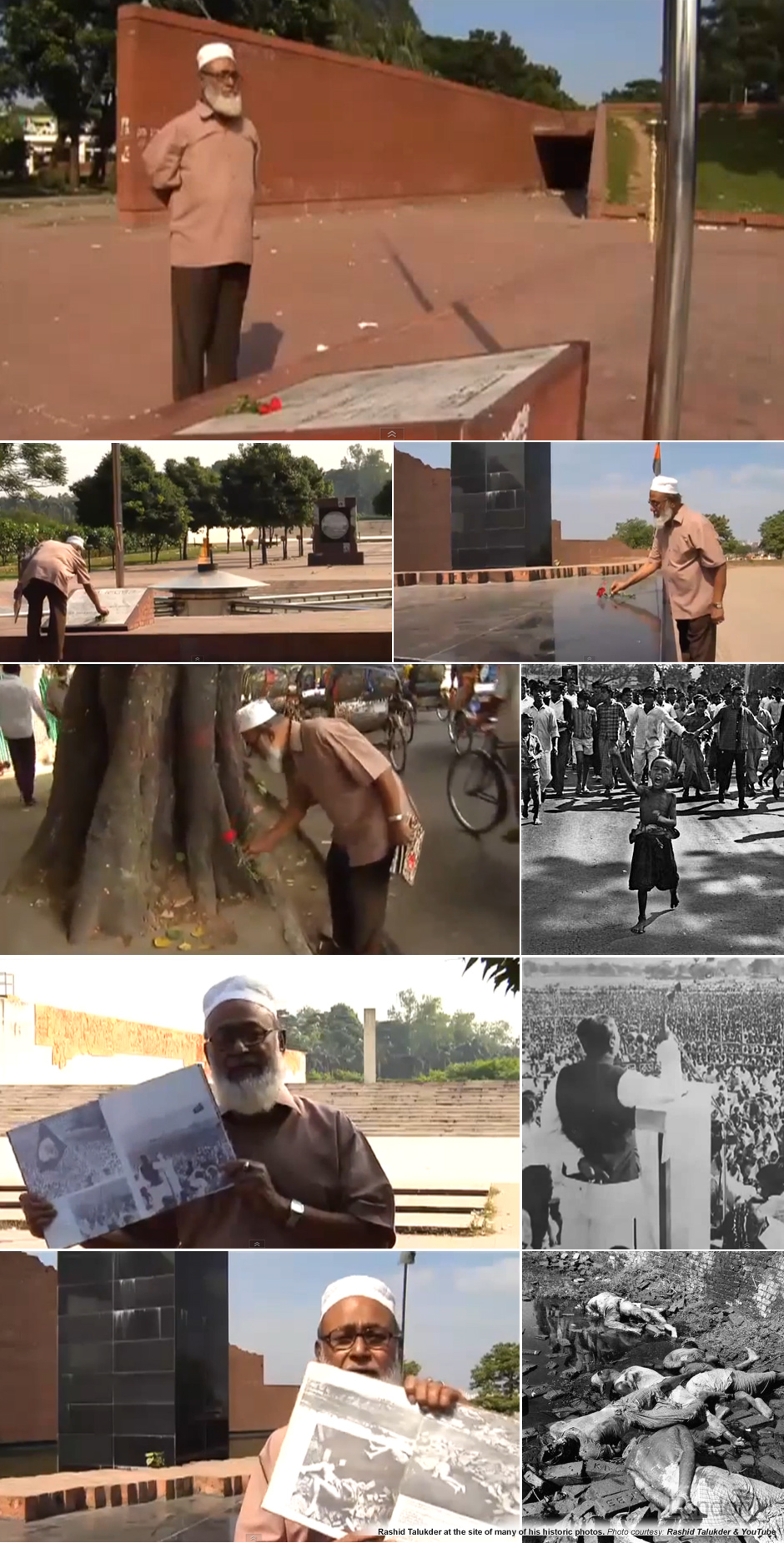 Storyteller, historian, and artist who captured the turbulent event of 1960s and 1970s including 1971 Muktijuddho
Right from his childhood Rashid Talukder witnessed first hand all the major events which finally culminated into the creation of Bangladesh in 1971. He was nearly 8 years old when British India was partitioned off in 1947. He was a young teenager when the 1952 Bhasha Andolon took place which rocked the new nation of Pakistan. He watched with anguish and frustration as his fellow Bengali political leaders of Jukto Front (United Front) were unfairly swiftly removed by the West Pakistani hierarchy in 1954 following their election victory.
But it was as a photojournalist in the 1960s that Rashid Talukder made his impact. He captured the 1962 student rally, 1966 6-Dafa Andolon (Six Point Movement), and 1969 socio-political uprising - arguably one of the biggest, or if not the biggest, mass rally in Bangladesh's history as everyone was involved.
Amongst his countless iconic photos is that of a little young "tokai" (street boy) leading a street procession against the Ayub Khan regime in 1969. The boy was shot dead on the spot by EPR (East Pakistan Rifle) police bullets moments after the photograph was taken. Other photographs that came under particular spotlight of Talukder's flash and lens show the bullet-struck bodies of shaheeds (martyrs) Asaduzzaman and Motiur Rahman Mollick who were killed during that same mass movement.
From the period of 6-point demand of 1966 to the Liberation War, in every aspect Rashid's photographs touched people's heart.

Tofail Ahmed, Awami League leader and close colleague of Sheikh Mujibur Rahman
The ebullient spirit of 1969-70, when war was imminent, is captured most powerfully by Rashid Talukdar's image of a young boy, no older than 10, leading a street march. The boy is obviously poor (he marches in bare feet) but his mouth is formed in an ecstatic shout as he leads the procession of men behind him, as though for those few minutes, it is his war, his people, his country.
Being a professional photographer since his youth days, Rashid Talukder had the credit of capturing innumerable unforgettable scenes of Bangalee political upsurge which depicted tales of oppressed sufferings and unbearable agonies of the people of this country during the pre-liberation period of the then-east Pakistan regime.

The deaths of late Asad and Motiur were, in fact, key turning points of the mass uprising that made way to raise and build combined awareness and agitation of the common people against the oppressive nature of the military forces of West Pakistan against the freedom seeking, helpless Bengali community.

The Daily Sun (Bangladesh)
...These milestone prior to the creation of Bangladesh have been captured as visual documentation through the photos of Rashid Talukder. These events have been captured so sharply and vividly within Rashid Talukder photos, and are unmatched by his colleagues.

Manzar-e Hasin Murad, eminent Bengali filmmaker, teacher and film activist
In 1970-71, after over two decades of West Pakistani colonialism, East Pakistan finally had enough. It was during this turbulent time that Rashid Talukder, working as a photojournalist for Dainik Ittefaq, came into a league of his own.
Be it the Great Bhola Cyclone of 1970, important speeches and meetings and eventual landslide victory by Awami League in the Pakistan General Election of December 1970, Sheikh Mujib's historic speech in Ramna Racecourse in Dhaka on 7 March 1971, the atrocities and heroics during the subsequent 9 month war, or the beheading of Bengali intellectuals days before victory, Rashid Talukder was there along with handful of fellow Bengali photojournalist like Abdul Hamid Raihan, Naib Uddin Ahmed, Aftab Ahmed, Jalaluddin Haider, Bal Krishnan, Golam Mawla, Mohammad Shafi, Manzoor Alam Beg, Sayeeda Khanum and Mukaddes Ali to document the events. Working both as war photographers and freedom fighters, these brave and talented individuals took photos which provide the only visual documentary of the gruesome brutality and heroics of the Liberation War. Today, these photographs are one of the main source of reference for teaching the history of Muktijuddho. The powerful and moving images remind the viewers of a glorious past and the massive sacrifices that people of that generation had made in order to create a better future for their youngsters and new generation.
I fought the battle not with arms, but with my hands. My camera was my weapon of choice.
1971 was a turning point. Rashid Talukder's nose for a picture and his journalistic instinct, ensured that he was at the right place at the right time throughout Bangladesh's turbulent history. Having had no formal education in photography, Talukder was freed of the compositional binds that many contemporary image makers were trapped within. The 2¼ square had its own aesthetic, but Talukder and other photojournalists used the balanced frame to capture some of the most disturbing images of the 20th century.
Talukder claimed himself as an "audacious" photographer and was always ready to face any tough situation. During the war, he snapped many outstanding incidents.

The Daily Star (Bangladesh)
Abdul Hamid Raihan

()

Naib Uddin Ahmed

()

Aftab Ahmed

()

Jalaluddin Haider

()

Bal Krishnan

()

Golam Mawla

()

Mohammad Shafi

()

Manzoor Alam Beg

()

Sayeeda Khanum

()

Mukaddes Ali

()
Office of Dainik Sangbad and Dainik Ittefaq burnt by Pakistan Army
The newspaper industry received a heavy jolt during the war. During the first week (i.e. 25-31 March 1971) offices and presses of three daily newspapers - The People, Dainik Ittefaq and Dainik Sangbad - were burnt down by the Pakistani army as part of their "Operation Searchlight" military campaign. Those others lucky enough to escape the Pakistani assault were still under constant surveillance of the Pakistani occupation forces during the war.
The Sangbad had to pay the highest price for its radical advocacy in March 1971 when the printing press with all its machinery and equipment were burnt down by the occupation army.
The publication of the Sangbad was kept suspended during the nine months of war of liberation and resumed some time even after the war was over. Sangbad began its publication again from 9 January 1972 with Ahmedul Kabir as editor. Later, Bazlur Rahman became its acting editor. After the death of Ahmadul Kabir and Bazlur Rahman, the ownership of the paper changed.
The Ittefaq on the other hand was revived nearly two months after it was burnt down. From 21 May 1971 it resumed publication and came under the surveillance of the Pakistani ruler.
In post-independent Bangladesh, the Ittefaq was brought under government management on 17 June 1975 after Sheikh Mujibur Rahman, then President of Bangladesh, implemented one-party rule via BAKSAL. All newspapers were banned except four dailies. Dainik Ittefaq was one of them. The other three were Dainik Bangla, Bangladesh Observer, and Bangladesh Times. Nurul Islam Patwary was made the editor of the paper. It was published from New Nation Press at 1 Ramkrishna Mission Road, Dhaka. The ownership of the paper was restored to Manik Miah's sons Mainul and Anwar on 24 August 1975 following the assassination of Sheikh Mujib.
Today, the Sangbad and Dainik Ittefaq still occupy a prominent place as pioneer newspapers in Bangladesh. They have one of the largest circulation in whole of Bangladesh and are still two of the leading and most popular newspapers in the country.
Photos published over 20 years later due to fear of safety
On 18 December 1971, two days after victory was officially achieved, Rashid Talukder had famously snapped freedom fighters of Kaderia Bahini stabbing suspected Bihari razakars with bayonet in front of a large, encircled crowd who had gathered to watch the 'tamasha' (show). The photographs were shockingly graphic. Fearing for his safety if the photos were to be published, Rashid Talukder decided to hid the photo and keep it to himself. A similar photo by couple of Western war photographers, Michel Laurent and Horst Faas, was featured on front pages and magazine covers around the world and won the duo the prestigious Pulitzer Prize in 1972 and World Press Photo.
It was only in 1993 - 22 years after he had snapped the event - that Rashid Talukder was persuaded into exhibiting the gruesome photo by Shahidul Alam, a prominent Bengali photographer and founder of the Drik Picture Agency in Dhaka.
In 2010 when Rashid Talukder won the prestigious 'Pioneer Photographer Award' of the National Geographic for his 1971 Liberation War photo the collection contained the infamous Kaderia Bahini execution photo.
His images of the Liberation War of 1971 have become so iconic that they are now among the lasting monuments of war. His photographs vividly document the atrocities of 1971, telling stories of pain, struggle and death, but also of hope, courage and love.

Indeed, his crisp, fluid black and white images of the 1969 uprising of East Pakistan, the non-cooperation movement, Bangabandhu's historic speech on 7th March and the Liberation War are more powerful than any bullet he could have used to fight the occupying Pakistan army.

The Daily Star (Bangladesh)
Shahidul Alam

()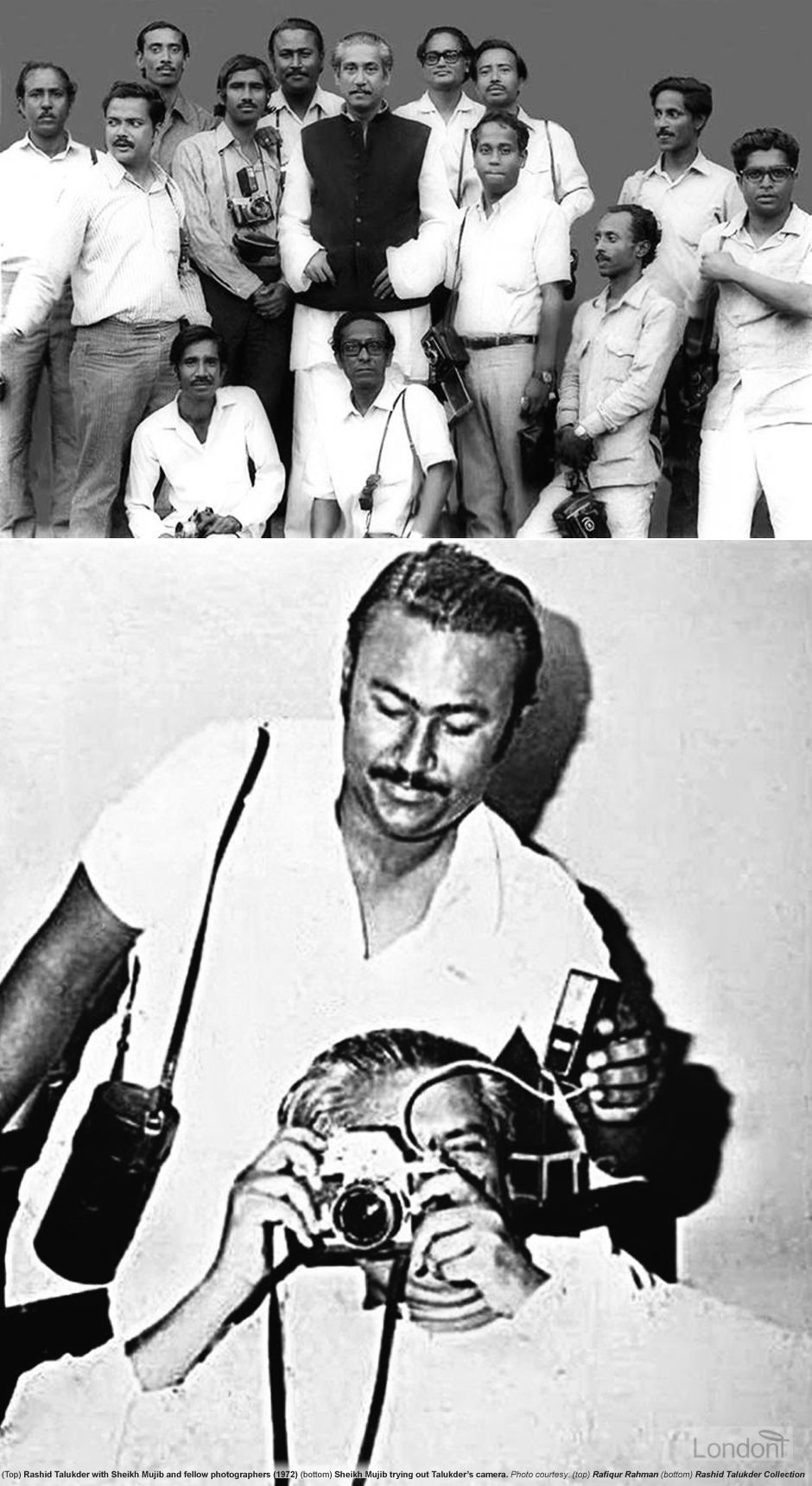 Founder of Bangladesh Photo Journalist Association (BPJA)
Rashid Taluder founded the Bangladesh Photo Journalist Association (BPJA) in Dhaka. Eminent photojournalist Zahirul Haque was appointed the founding president of BPJA. It holds yearly national photography competition and exhibitions to promote the growth of photography in the country.
Rashid Talukder was also a member of advisory councils of several photographic organisations including Bangladesh Photographic Society (BPS), which was formed in 1976 by few dedicated senior and experienced photographers and led by his war colleague Manzoor Alam Beg.
In 1992 the BPS awarded Rashid Talukder with Honorary Fellowship, the highest photographic award in the country.
Zahirul Haque

()