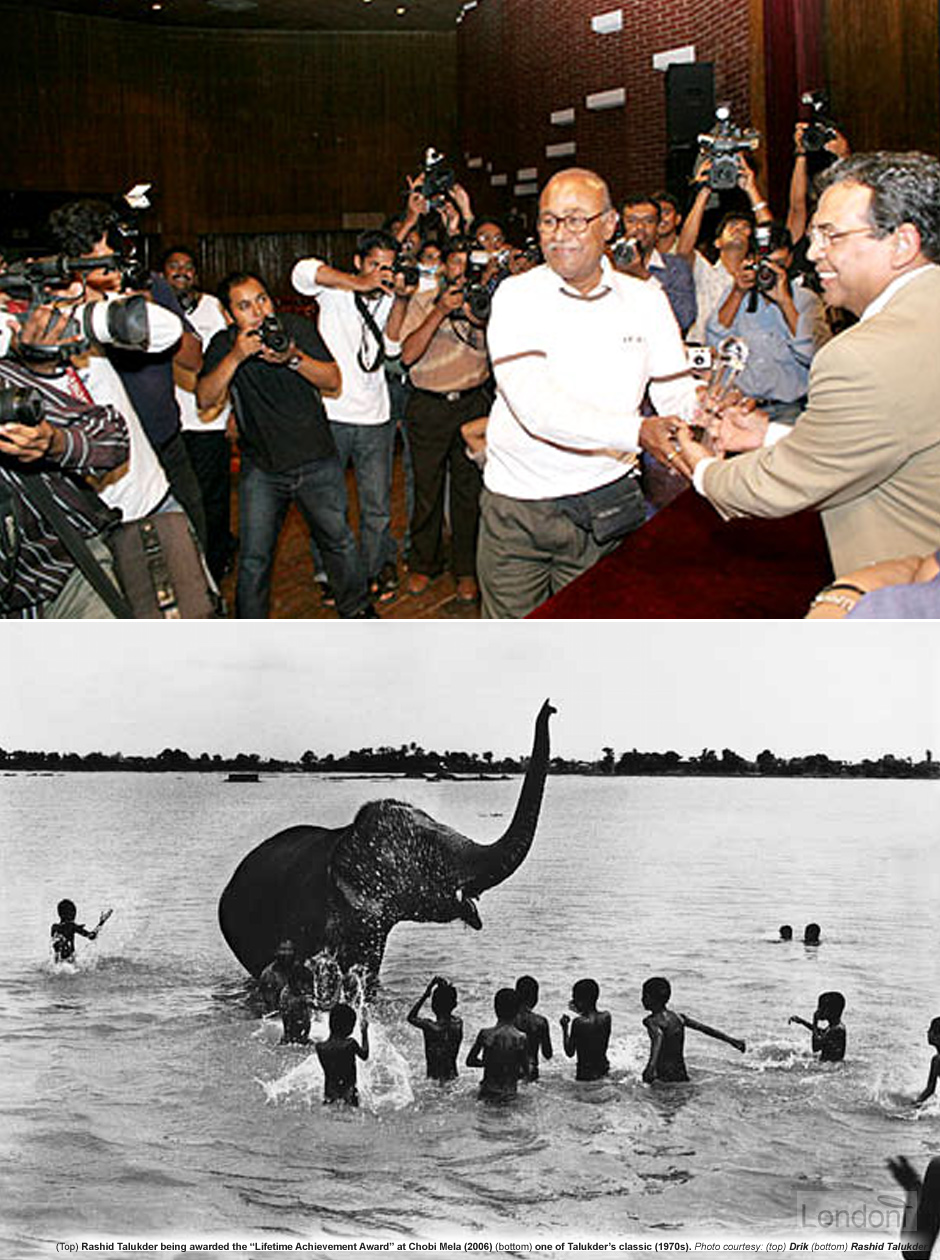 Awards galore
Rashid Talukder has been awarded with more than 53 awards at home and abroad. Among them six awards are from a single competition in France organized by the United Nations entitled Shelter for the homeless. He won 2nd prize in England Muslim World Photographic Competition and many of his photographs have been published in books and magazines including East Asia Encyclopedia, New Internationalist, Saudi Aramco & Himal.
Rashid Talukder was a founder board member of Pathshala, South Asian Media Academy and a contributing photographer to majorityworld.com, an online portal co-founded by Shahidul Alam showcasing and promoting works of photographers from around the world. His entire work is archived at Drik Picture Agency.
This was the man who had witnessed every major event in Bangladesh's turbulent history. Interspersed between the iconic images of our nation's past were the curious observations of a natural story teller. Kids bathing in the river with a real live elephant for a rubber duck. The courtship rites of hill people, a child being blessed by a sadhu, a duck sedately walking her ducklings across a busy Motijheel street were the slices of life that peered out of the more remembered seminal moments of our history that this remarkable photojournalist had meticulously recorded.
For several decades, he recorded on his camera numerous aspects of people and life in Bangladesh.

The Daily Star (Bangladesh)
Winner of Chobi Mela's "Lifetime Achievement Award" and National Geographic's "Pioneer Photographer Award"
In 2006 Rashid Talukder was awarded the Lifetime Achievement Award for contributions of photography at the Chobi Mela, an international photography festival in Dhaka. It is the first festival of photography in Asia and was started on 15 December 2000 - a day before Bangladesh's 29th Bijoy Dibosh (Victory Day) - by Drik, Pathshala and few international organisations. It takes place every two years in Bangladesh and is the single biggest media event in Asia, attracting upto a million visitors.
The Chobi Mela awards are given in recognition of outstanding contribution to photography and society. The award includes a scholarship given in the name of each recipient to a deserving student, to study for a year in Pathshala, The South Asian Media Academy. Previous recipients of the Lifetime Achievement Awards incldue Manzoor Alam Beg, Amanul Haque, and Golam Kashem (nick named "Daddy"), the pioneer of photography in Bangladesh.
The highlight of the first Chobi Mela was an exhibition titled "The War We Forgot" which showcased the work of 30 photographers from around 10 different nationalities who contributed to photographing the 1971 Swadhinata Juddho (Bangladesh Independence War). These included Don McCullin, Raymond Depardon, Marc Riboud, Mary Ellen Mark, David Burnett, Raghu Rai, Marylin Sylverstone, Abbas, Kishore Parekh and, naturally, Rashid Talukder.
It was the very first time ever that such a grouping of photographs by so many distinguished award-winning photographers presented to the public anywhere in the world.

...The exhibition is going to annually enrich our national archives in their collection of materials related to Liberation War 1971.
Golam Kashem

()

Amanul Haque

()
In 2010 Rashid Talukder won the prestigious 'Pioneer Photographer Award', part of 'All Roads Photography Programme' of the National Geographic. He was the first photographer from Bangladesh to win this accolade.
Although Rashid Talukder is a pioneering photographer, and has been in the business for nearly 50 years, his name is probably unfamiliar. Which is kind of the point: This year, he has been honored by National Geographic with a pioneer photographer award in the — part of the All Roads Film Festival, a week-long event spotlighting underrepresented minority cultures. The festival, underway this week, features 30 films and an outdoor exhibit of work by three honorees: an emerging [Sumit Dayal from Kashmir], mid-career [Tomas Munita from Chile] and pioneering [Rashid Talukder from Bangladesh] photographer.

NPR (in partnership with National Geographic)
The Lifetime Achievement Award he had been given at Chobi Mela V provided scholarships for deserving students from Bangladeshi villages to study at Pathshala, The South Asian Media Academy. My earlier attempts to get him recognized had failed. The Side Gallery had offered a grant to host his exhibition. Rashid Bhai had failed to get his work together in time. I was delighted when my nomination for the first National Geographic Pioneer Photography Award went to Rashid Bhai. Now that the award is said to be closing down, perhaps he will remain the only recipient of the prestigious award. Sadly here too the money never made it to him in time. Before he left for the United States, we arranged a long interview. Stories poured out that left us all in awe.
Exhibitions in UK
In 2008 Rashid Talukder's work was exhibited in UK as part of greater project to make the general public aware of 1971 atrocities in Bangladesh.
A photographic exhibition titled "Bangladesh 1971" opened at the Rivington Place gallery in Shoreditch, east London, documenting the Bangladesh war of independence. Curated by Autograph ABP in partnership with Shahidul Alam and Drik Picture Library, the show ran from April - 31 May 2008.
The exhibition consisted of more than 100 images organised in loose chronology, beginning with the first stirrings of nationalism and resistance to Pakistani occupation.
In this exhibition, all but one of the photographers are Bangladeshi. Most were amateur photographers at the time, men who happened to be holding a camera when they found themselves caught up in the war. For almost two decades, Shahidul Alam – director of the Drik picture library in Dhaka and a curator of the current exhibition along with Mark Sealy, director of photographic agency Autograph ABP – has made it his mission to collect these photos, visiting the photographers in their homes and saving their negatives. By highlighting the images taken by these accidental archivists, the curators have created an intimate, reflexive portrait of the war, ranging from photographs that are well known to others that have never been seen in public. It is in its attempt to challenge our expectations that the exhibition is most successful.

In the flagship piece, displayed against the window of Rivington Place, a group of women march in perfect formation through the middle of a busy road, rifles cupped in the palms of their hands. Another photograph is a seemingly idyllic image of two women wading through a pond with a basket of flowers. But the caption reads: "During the liberation war, female freedom fighters would smuggle grenades in baskets covered with water hyacinth." Scenes like this were common during the independence movement: many young women were given informal military training; in the villages, especially among the Adivasi hill people, women smuggled arms to the front lines of the resistance. Bringing these images to light in this setting challenges our notions of women's political participation in a country like Bangladesh. And as Londoners walk past Rivington Place, perhaps they will find a new window into the history of their neighbours on Brick Lane, a visual testament to the trauma and hope of independence.
Following the success of the London event, the "Bangladesh 1971" exhibition was then held in the Side Gallery of Amber, a film & photography collective supported by Arts Council England, in Newcastle Upon Tyne (north of UK) from 30 August - 18 October 2008.
In addition to the photographic exhibition, three cinematic films relating to Bangladesh were also screened: "Matir Moina", "The Promised Land", "A River Called Titas".
Outside the Bangladeshi community, the details may have been forgotten by many people in the UK, but the traumatic events of the country's war of independence continue to haunt its sense of identity. In an attempt to crush independence forces in what was then East Pakistan, the West Pakistani military regime unleashed a systematic campaign of violence that resulted in the deaths of thousands. The exhibition, drawn from the unique Drik photographic archive, documents this harrowing and bloody conflict, bringing together images taken by Bangladeshi and Indian photographers, including Golam Mowla, Aftab Ahmed, Rashid Talukder, Jalaluddin Haider, Mohammed Shafi, Mukaddes Ali, Bal Krishnan, Abdul Hamid Raihan and Naib Uddin Ahmed.
Another exhibition was held in 2010 in London which also featured Rashid Talukder's work. The "Where Three Dreams Cross: 150 Years of Photography from India, Pakistan and Bangladesh" exhibiton was held in Whitechapel Gallery from 21 January - 11 April 2010 which showcased how modern India, Pakistan and Bangladesh have been shaped through the lens of their photographers.
Over 70 photographers including Pushpamala N., Rashid Rana, Dayanita Singh, Raghubir Singh, Umrao Singh Sher-Gil, Rashid Talukder, Ayesha Vellani and Munem Wasif were presented in the show, with works drawn from important collections of historic photography, including the influential Alkazi Collection, Delhi and the Drik Archive, Dhaka.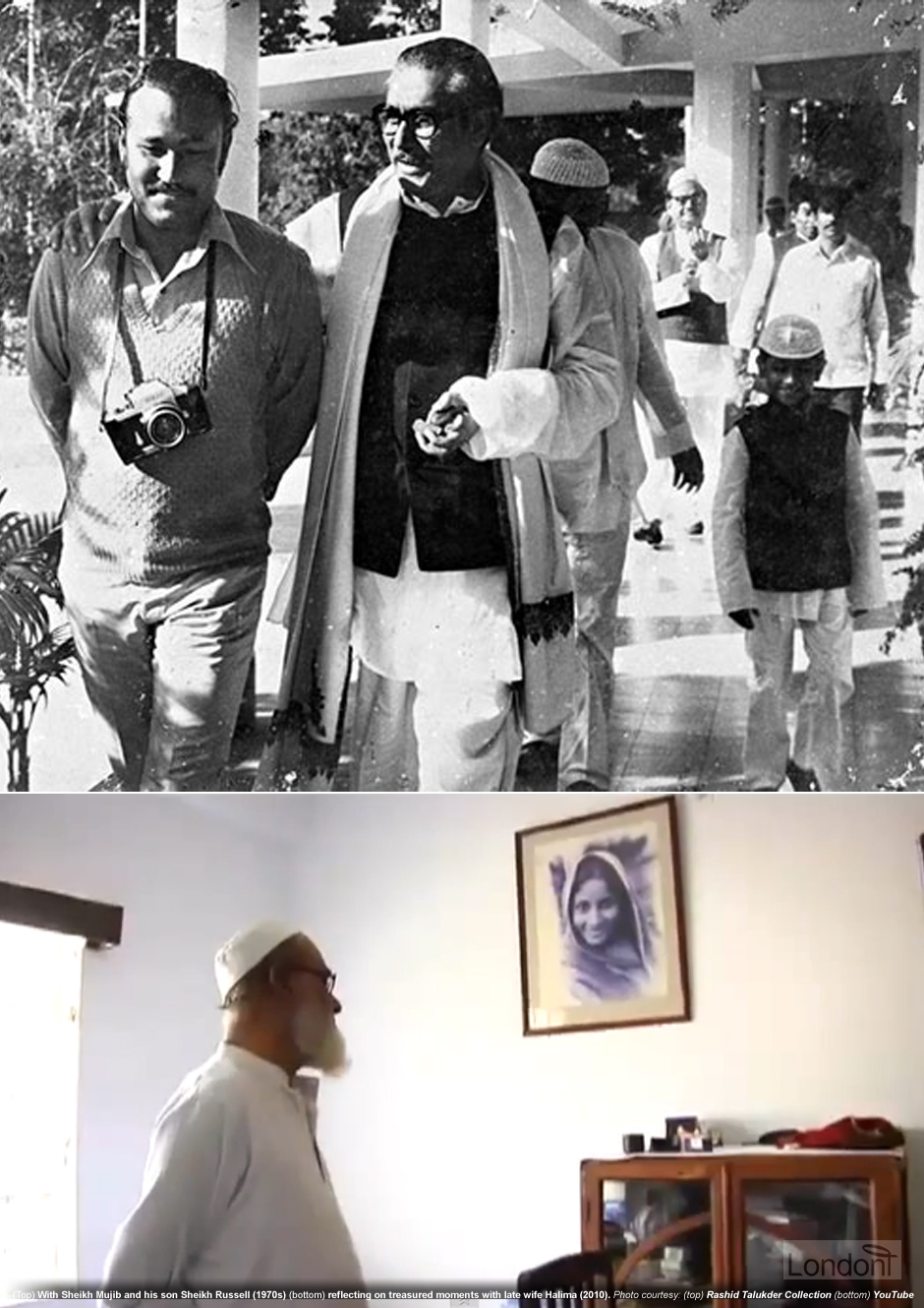 Unsung hero
Like the other photojournalists of his time, he too had been exploited by many. Fellow photographers who had borrowed negatives which were never returned, only to be published later in the borrower's names. Publishers who sweet-talked him into handing over negatives and prints for which he was often neither paid nor credited. Politicians who had used his photographs to further their campaigns. Surprisingly, there was no cynicism in Rashid Bhai's description of these events. He said them in his matter of fact way. Even the time when he had faced the brutality of a policeman, whose life he had saved in an earlier skirmish, left no trace of anger or a search for revenge. I knew full well, Rashid Bhai would yet again put his own life on the line to save the same policeman had the situation recurred. On that particular occasion, the police were still after him, and we had smuggled him out of the hospital bed, knowing he wasn't safe there.

In the days of territorial battles when photojournalists were barred from becoming members of the Bangladesh Photographic Society (BPS, a camera club that was more inclusive and embraced amateurs and art photographers), Rashid Bhai gave up his membership of the photojournalist association that he himself had founded, to show his solidarity with the wider fraternity. He wore the predictable ostracization as a badge of honour.

...We had both been given an honourary fellowship by the Bangladesh Photographic Society. In the group exhibition at Shilpakala Academy (The academy of fine and performing arts), Rashid Bhai presented a set of prints all laminated with a prominent "Gold Medallist" stamp in the corner. It had upset me at that time. They detracted from the images and I saw no reason for him to mention he was a 'Gold Medallist'. It seemed cheap. It was much later that I was able to step down from my high horse and recognize the reason for his actions. The man who had dedicated his entire life to telling the untold stories of his nation, had never been appreciated by his own public. Sure they praised him, and patted him on the back condescendingly on appropriate occasions, but he had never been given the professional respect that he deserved. The Ekushey Padak, the award given in memory of the language martyrs had never been given to the man who had done the most to enshrine that memory. Even upon Rashid Bhai's death, the newspapers that wanted to publish his pictures, wanted them for free. "We'll provide a credit line" they'd say, knowing the family still had outstanding medical bills to pay. They did not respect his work, understand his craft, recognize his sacrifice. They did understand gold medals. Yes, he had stooped to their standards. Pampered to their value systems. He was prepared to do so for his profession. The 'daktar' title suddenly made a whole lot of sense.
Rashid Talukder's plan to digitise vast collection
Many of Rashid Talukder's iconic photographs can be seen on the Internet. However, he still possessed a vast archive of photographs that he was planning to digitise which would allow "the memory of my country's history to be preserved".
From early childhood, photography has always fascinated me. As a Bangladeshi, I consider myself lucky to have witnessed the most crucial period of our country's history: the 1971 Liberation War. I never hesitated to put myself at risk in order to capture the moments of our country's journey toward independence. From 1959 to 2008, I photographed the various political and social events in my country.

Perhaps due to the way I began photography - I was trained to keep all of my work - I now possess a vast collection of photographs. I believe that there is a historical value in this collection, which should be shared with all Bangladeshis and the international community. Analog materials do not last forever - and it takes a lot of effort to maintain them - so I intend to digitally preserve my archive in order to share the work with the public - and to provide an important research resource for students, scholars, and photographers. Such a library will allow the memory of my country's history to be preserved.

My hope is that it will also help the development of photography and contemporary culture in both its practice and discourse into the future.
In 2010 Drik took the initiative of preserving more than 200,000 negatives of photographs that were captured by Rashid Talukder.
I chided him for the fact that he had never made any contact sheets. His life's possession, a garbage bag filled with negatives in no specific order or category, made it impossible to work from his archives. But what photographs!
He is happy that his work, his history is being preserved like this, and sad as well as others from his time had not done the same. He is also saddened by the fact that many historical moments from the liberation war of 1971, captured on film, will never be available again as they are either lost or destroyed due to lack of proper preservation.

The Daily Star (Bangladesh)