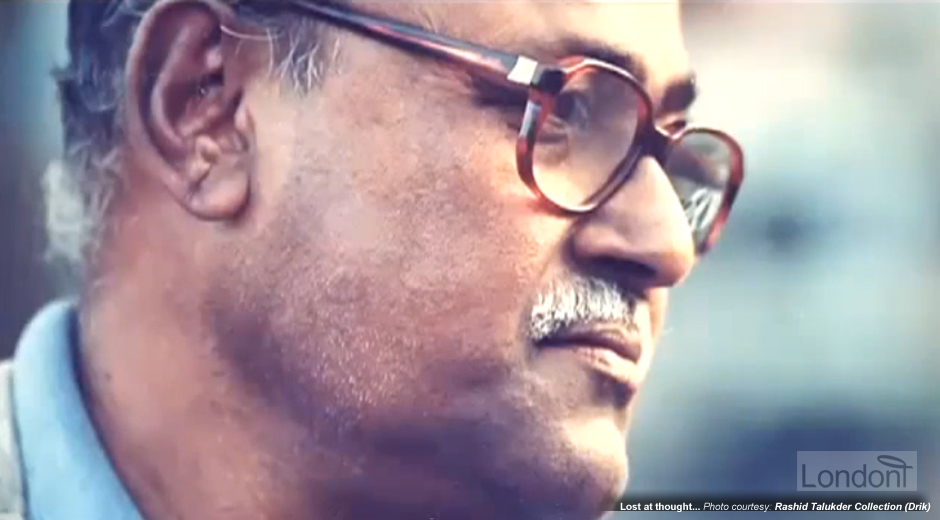 What others say about Rashid Talukder...
Talukdar was an incredibly talented and insightful photojournalist. To all those familiar with his work, he was much more than just a photographer – he was a storyteller, a historian and an artist; his photographs can simultaneously serve as narratives, historical artefacts and works of art. Although most famous for his celebrated images of the Liberation War, Talukdar's unique interpretations of everyday lives and situations are also memorable. Talukdar believed that a photojournalist must have a "third eye" that allows him/her to look beyond the obvious and the mundane, to see things others cannot. It was his "third eye" that enabled him to capture invaluable snippets of the past and the present and won him the love, respect and admiration of people around the world.

...Talukdar was a passionate, down-to-earth, charming and benevolent person. Loved, admired and respected in life, Talukdar will be greatly missed in death, as his family and friends grieve the death of a caring and compassionate man, and the country mourns the passing away of one of its most prominent photographers. Talukdar saw the world through his camera, and what he saw and captured in his camera was moulded by his insightful perspective on life. The photographs he left behind are incomparable national treasures. We hope that his kind and brilliant soul rests in peace.
While Mr. Talukder is virtually unknown outside of Bangladesh, he was one of the foremost chroniclers of the struggle for independence, photographing its origins in the language movement of the 1950s and continuing through the war's aftermath.

Now hailed as a founding father of Bangladeshi photography, Mr. Talukder made some of the most important images of the war, which by some estimates claimed one million lives and turned 10 million of his countrymen into refugees. He also documented everyday life in Bangladesh during his 46-year career, during which he worked for the newspapers The Daily Sangbad and The Daily Ittefaq.

A self-taught photographer with a strong sense of humor, he received a Lifetime Achievement Award at the Chobi Mela international photography festival in Dhaka, in 2006.

When Mr. Talukder died in October of last year, at the age of 72, Mr. Alam described him as "quick-witted, fast on his feet, streetwise, gregarious, loud and completely disarming".

At times it was hazardous being a photojournalist in Bangladesh, both before and after independence. There have been many military coups and little freedom of the press. Mr. Talukder himself was once beaten severely by a police officer — a man whom he recalled having rescued from an angry mob a few years earlier.

When he was shooting news with his medium-format Rolleiflex, he was looking down into the camera and getting quite close to his subjects — even in volatile situations. His pictures are direct, simple and often quite raw.

"He was working right in the middle of things because he had to be," Mr. Alam said. "There wasn't any security. And for many of the pictures, he was right in the thick of the conflict. He got injured several times".

Mr. Alam and his colleagues at Drik are trying to restore Mr. Talukder's archives, sorting through negatives that were mostly stored in garbage bags in no specific order. Decades of exposure to Dhaka's humidity and monsoons have badly deteriorated some of the negatives and prints.

To mark the 40th anniversary of the war for independence, Mr. Alam, with the help of Robert Pledge of Contact Press Images, published an award-winning book of photographs from the 1971 conflict, "The Birth Pangs of a Nation". Financed by the United Nations, it features many of the finest photographers of the time: Donald McCullin, Mary Ellen Mark, Bruno Barbey, David Burnett, Abbas as well as Mr. Haas, Mr. Laurent and Mr. Riboud.

Amid that celebrated group is one more name: Rashid Talukder.
Rashid Bhai had felt slighted at the wedding of Sheikh Mujibur Rahman's son. The father of the nation, sensing Rashid Bhai's obhiman [dishonour], also refused to eat at his own son's wedding. Pride was restored and the wedding went ahead only when the two men sat down to dine together. Stories of having kathal and muri at the open house of the great Maulana Abdhul Hamid Khan Bhashani were amongst the nuggets that he shared with us that day.

That was the last day we spoke. When I visited him in hospital near Drik, he was asleep. That was the only time he had failed to hug me or call out 'Daktaar'. Adieu my friend. May they recognize your greatness in afterlife. May we learn from your loss. May the light be with you.