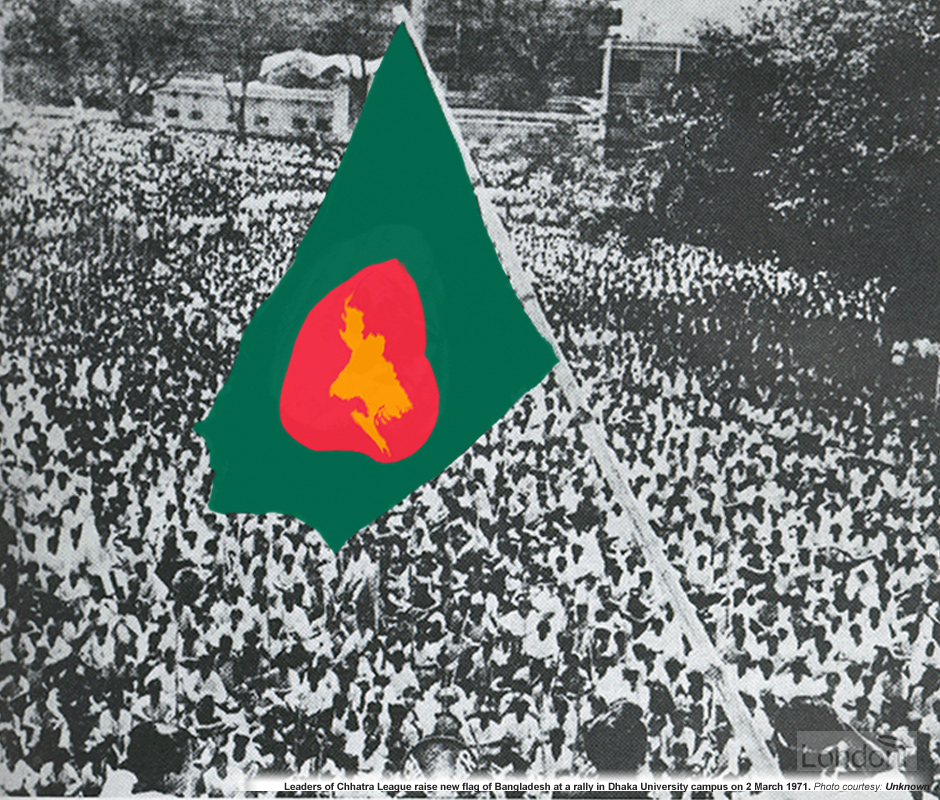 "Bir Bengali ostro dhoro Bangladesh swadhin koro"
Swadhin Bangla Nucleus
The idea for the March 1971 hartal came from Serajul Alam Khan, the founder of 'Swadhin Bangla Nucleus' (1962), a secret organisation which spearheaded the war of independence in 1971. Serajul, along with ASM Abdur Rab and Shahjahan Shiraj of Chhatra Sangram Parishad (Central Students Action Committee) at Dhaka University believed that the independence of Bangladesh could only be achieved through armed revolution. They advocated this approach and for the first time in Bengali history slogans demanding independence for Bangladesh were heard: "Bir Bengali ostro dhoro Bangladesh swadhin koro" (Courageous Bengalis, take up arms and free Bangladesh).
Serajul Alam Khan

(Born 1941) Political theorist and founder of Nucleus (Shadhin Bangla Biplobi Parishad, 1962) that spearheaded Bangladesh War of Liberation and created the jatiyo potaka (Bangladesh flag). Formed Bangladesh Liberation Force (BLF) & 'Joi Bangla Bahini' (1962) with Abdur Razzak and Kazi Aref Ahmed. BLF later renamed to 'Mujib Bahini' (1971). Nicknamed 'dada' (brother) by many. Studied Mathematics in Dhaka University. Served as a professor (adjunct) of political science in the university of Wisconsin, Oshkosh, USA (1997). Dedicated website include www.serajulalamkhan.co.uk. Born in Noakhali.
Student movement intensifies
On the first day of the strike (2 March 1971) the government placed curfew in Dhaka, and warned the people not to roam the streets from 8 am to 7 pm. However, defiant Bengalis took to the streets - two men were killed when Pakistani troops fired upon several unarmed young men at Farm Gate, Dhaka.
Further curfew were imposed in Sylhet, Rangpur, Chotrogram, and Khulna. In retaliation, angry mob burned the Pakistani flag. Defiant students of the Chhatra Sangram Parishad led by vice president A. S. M Abdur Rab, general secretary Shajahan Siraj, Nur-e-Alam Siddiqui, and Abdul Quddus Makhan held a massive rally. Here for the first time the Independent Bangla Flag (same as the current one but with a golden map of Bangladesh inside the red circle) was raised by Rab at the Arts faculty building of the Dhaka University, popularly known as the Bat-tala, to the tumultuous applause and cries of "Joi Bangla" (Long live Bangla).
On 2 March 1971 students hoisted new 'National flag of Bangladesh' on Dhaka University campus raising a slogan that said, "Jinnah's Pakistan now rests in Azimpur Gorostan ( Graveyard)".

Amir Hossain, Journalist
A. S. M. Abdur Rab

(Born 1945) Bangladeshi politician. Vice President of Dhaka University Students' Union (1971) and first person to hoist the Flag of Bangladesh on 2 March 1971 at the historic location Bat-tala. Founding member of left-wing Jatiyo Samajtantrik Dal (JSD, National Socialist Party). Served as a minister in Awami League cabinet (1996 - 2001).

Shahjahan Shiraj

() Bangladeshi politician. General Secretary of Bangladesh Chhatra League during Muktijuddho (1971). Held various position including acting general secretary and president of Jatiyo Samajtantrik Dal (JSD, National Socialist Party), environment minister, and vice chairman of the Bangladesh Nationalist Party (BNP). Won election five times from Tangail. Wife Rabeya Siraj is a women's movement leader, president of the BNP's Dhaka city women's front, and a member of BNP's national executive committee. Daughter Barrister Sarwat Siraj, is a practising Advocate in Bangladesh Supreme Court and son Rajiv Siraj is a member of board of directors of One Group. Shahjahan and wife arrested in 2007 for tax evasion and sentenced 13 years in jail, wife received 3 years.

Nur-e-Alam Siddiqui

()

Abdul Quddus Makhan

(1947 - 1994) Student leader, freedom fighter and politician. General secretary of the Dhaka University Central Students Union (DUCSU, 1970) and founding member of Swadhin Bangla Kendriya Chhatra Sangram Parishad on 1 March 1971. Hoised Bangladesh flag along with rest of Parishad's members on 2 March 1971 and declared Sheikh Mujibur Rahman the 'Jathir Jonok' (Father of the Nation) the following day. Educated at Brahmanbaria College and Dhaka University. Actively participated in Sheikh Mujib's Six-Point Movement (1966). Elected a member of jatiya sangsad from Brahmanbaria (1973) and member of Awami League central working committee (1992 - 1994). Born in Brahmanbaria. Died from cancer on 10 February 1994.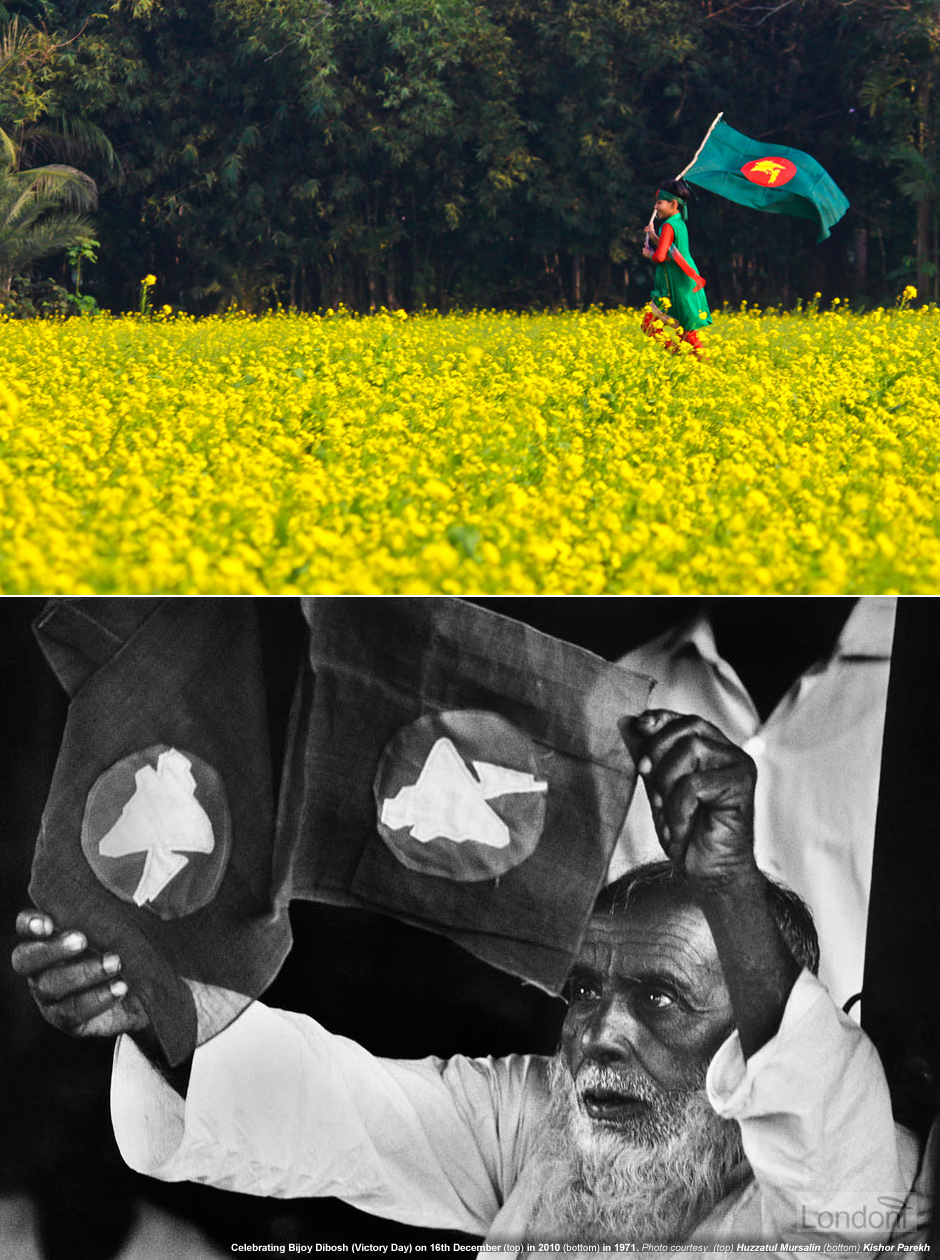 Bangladesh flag designed and conceived by student Shib Narayan Das and others
The first national flag of Bangladesh (Bangladesher Jatiyo Potaka, in Bengali) was conceived and designed by Shib Narayan Das, a Bengali student activist and Secretary of Comilla District branch of the then Chhatra League (Students League).
Shib Narayan Das

(Born ) Designed Jatiyo Potaka (Bangladesh Flag) on behalf of Nucleus (Shadhin Bangla Biplobi Parishad). Student activist, Secretary of Comilla District branch of Chatra League (Students League). Educated in Comilla Zilla School (1963). Proposed flag in Room 118 of the then Iqbal Hall of Dhaka University (DU) at a deep night of 6 June up to the dawn of 7 June 1970.
The flag was designed with a bottle green background and a red circle in the middle. Nested in the circle was the yellow outline of the new country. The green represented the lushness of the land of Bangladesh - and not the traditional colours of Islam as some have wrongly concluded - and the red circle symbolises the sun rising over Bengal, and also the blood of those who died for the independence of Bangladesh. The flag was conceived so as to exclude the crescent and the star considered as symbols of West Pakistan.
It was made from clothes donated by owner of Apollo Tailors Bazlur Rahman Lasker at Dhaka New Market.
By a match stick and yellow colored paint he marked the map of Bangladesh over the red circle of the proposed flag in the Room Num 118 of the then Iqbal Hall of Dhaka University (DU) at a deep night of 6 June up to the dawn of 7 June 1970. ASM Abdur Rab, Shahjahan Siraj, Kazi Aref Ahmed, Manirul Islam (Marshal Moni), Swapan Kumar Choudhury, Quamrul Alam Khan (Khasru) and some others were also involved in it and present at that time.
After the independence of Bangladesh, the new flag was modified slightly. The Bangladesh map was removed - possibly to simplify the design and remove any difficulty from rendering the map correctly on both sides of the flag - and the red circle was offset slightly toward the hoist so that it appears centred when the flag is flying.
It was adopted officially on 17 January 1972.
The flag provides a visual reminder of the relationship between people and land, and the national anthem, "Amar Shunar Bangla", praises the beauty of the Bengal landscape. As with the Shaheed Minar, the anthem features the image of the land as mother, affectionate, nurturing, and loving, and here too, the narrator responds with love and affection.

Sufia M. Uddin, author of "Constructing Bangladesh: Religion, Ethnicity, And Language in an Islamic Nation" (2006)
Students unofficially declare independence of "Bangla Desh"
On 3 March 1971, ASM Abdur Rab and Shahjahan Shiraj read out the declaration of Independence of Bangladesh at a public rally in the presence of Sheikh Mujib fearing that since Sheikh Mujib was in negotiations with President Yahya the revolutionary spirit was on the wane. They held a mammoth public meeting at Paltan Maidan, Dhaka, and issued an ishtehar (declaration) proclaiming Bangladesh independent
Joi Bangla: Proclamation of independence. Independence for Bangladesh is hereby declared. It is now an independent and sovereign country... The name of this territory of 54,506 [square] miles is Bangla Desh...

Opening line of the 'ishtehar' issued by students in Paltan Maidan rally
The Chhatra Sangram Parishad invited people to form resistance cells in every village, town and city. They sang "Amar Sonar Bangla" as the Bangladesh national anthem. But Sheikh Mujib was aware that the situation demanded sensitivity and cool head and therefore continued to call for 'a non-violent non-cooperation movement' instead of revolution.
The first declarations appear rather in texts composed by student leaders, who had first called the Bengali nation in East Pakistan "Bangladesh", a term used previously only in literature, which they had re-coined to symbolise sovereignty. Rather than politicians, student leaders first declared Bangladesh's independence. They composed and chanted slogans to proclaim and propagate Bengali nationalism. They captured the popular imagination. Student leaders - like Serajul Alam Khan, said to be the guru of the secret Bengal Liberation Front and the Student League - became the most influential theoreticians of nationhood. The Language Movement and the 1969 mass uprising were the achievements of student leaders.

Yet, students could never achieve their goals alone. They tied their vision of sovereignty to the Awami League's constitutionalism. They anointed Sheikh Mujib as Bangabandhu and rallied behind him. The SCSP pursued nationalist and socialist ideals that Sheikh Mujib did not share.

...The words and deeds of political icons such as Sheikh Mujibur Rahman and Ziaur Rahman played pivotal roles, to be sure, but independence did not originate with them. Bangladesh first became independent in the words and deeds of radical student leaders, who like countless followers and lesser lights in the national struggle, still do not have the place in history they deserve.

David Ludden, Professor of History, University of Pennsylvania
The next day, on 4 March 1971, the national radio station, 'Radio Pakistan', was altered to 'Dhaka Betar Kendro' (Dhaka Central Radio).
Sheikh Mujib describes President Yahya's proposed conference in Dhaka as "a cruel joke" and declines
Taken aback by the severity of the reaction and in a bid to curb the Bengali anguish which has erupted since he postponed the National Assembly, President Yahya went on radio in Islamabad on 3 March 1971 and issued a personal to 12 leaders of all parliamentary groups in the National Assembly - including Sheikh Mujibur Rahman and Zulfikar Ali Bhutto - to meet at Dhaka on 10 March 1971 (i.e. in a week time) to solve the constitutional tangle. The 'Round Table Conference' of Yahya harked back to the precedence set by his predecessor Ayub Khan two years earlier when he infamously made one last attempt to salvage his faltering career and power base.
Pursuant to the president's declaration of first March that he will do everything in his power to help the political leaders in achieving our common goal, he has issued immediate personal invitations to the elected leaders of all parliamentary groups in the National Assembly to meet at Dhaka. In the light of Ashura falling on 8th March, the date for this conference has been fixed for 10th March.

The president sees no reason why the National Assembly should not be able to meet within a matter of couple of weeks after the conference.
The [Pakistani] junta had begun to sense the magnitude of the movement which was underway. The call of around table conference seemed only a further provocation, since this would mean that a party enjoying the absolute majority in the National Assembly would have to sit at a round table conference with other leaders whose claims and credentials to be there at all would be highly questionable. In the meantime, curfews and firing upon unarmed civilians continued.
Sheikh Mujibur Rahman (Awami League)
Zulfikar Ali Bhutto (Pakistan People's Party)
Khan Abdul Qayyum Khan (Pakistan Muslim League)
Mian Monammad Muntaz Daultana (Council Muslim League)
Maulana Mufti Mahmood (Jamiat-ul-Ulema-i-Islam)
Khan Abdul Wali Khan (National Awami Party (Wali))
Maulana Shah Ahmed Noorani (Jamiatul Ulema-e-Pakistan)
Janab Abdul Ghafir Ahmed (Jamaat-e-Islam)
Mohammad Jamal Korefa (Pakistan Muslim League)
Nurul Amin (Pakistan Democratic Party)
Major General Janaldur (representing MNAs elected from tribal areas)
Malik Jahangir Khan (representing MNAs elected from tribal areas)
However, by this time, the Pakistani Army had already been posted all over East Pakistan and started killing Bengalis indiscriminately on slight pretexts. A large number of people were killed or wounded by army firing in Dhaka, Tongi, Chittagong, Rajshahi, Jessore, Khulna and in other places of the province. But during the week-long disruption of normal life and disturbances that followed, many Bihari Muslims, Punjabis, and army personnel were also attacked and killed by Awami Leaguers.
An incensed Sheikh Mujib laughed off President Yahya's proposal, labelling it "a cruel joke", and rejected the invitation outright on the very same day President Yahya made the proposal (i.e. 3rd March). Bhutto on the other hand accepted the proposal with glee.
The radio announcement of a proposed invitation to political leaders to sit with the Government of Pakistan in a conference in Dhaka on the 10th March 1971, coming as it does in the wake of widespread killing of unarmed civilian population in Dhaka, Chittagong and other places of Bangladesh, while the blood of these martyrs on the street is hardly dry, while some of the dead are still lying unburied and hundreds are fighting death in the hospitals comes as a cruel joke. This is more so, since we are being called upon to sit with certain elements whose devious machinations are responsible for the death of innocent unarmed peasants, workers and students.

With military build up continuing with the harsh language at weapons still ringing in our ears, the invitation to a conference is in effect being made at gunpoint.

In these circumstances, the question of accepting such invitation does not arise. I therefore reject such an invitation.

Sheikh Mujib's immediate press statement in response to President Yahya's conference proposal
I remember the pressure for an immediate rejection by Sheikh Mujib to this radio announcement. There were one or two voices suggesting that this proposal may not be rejected immediately but that the situation may be observed before a response is given. Some others suggested that at least the response may be deferred till the following day. Sheikh Mujib, however, reflecting the prevailing mood, decided that an outright rejection should be announced immediately. I was asked to prepare a statement for immediate issuance and within minutes the invitation to a Conference was termed as 'a cruel joke' and rejected. Attention, both inside and outside the country, was now rivetted to the meeting fixed for 7 March 1971. Foreign commentators had begun to predict that UDI would take place on 7th March.
Bhutto accepted the invitation with alacrity. Mujib, for reasons not hard to understand, rejected it. After all, he was de facto leader of the administration in East Pakistan. Neither the governor, Vice Admiral Syed Mohammad Ahsan, nor the zonal martial law administrator, Lt. Gen. Sahibzada Yaqub Khan, could have the writ of the Pakistan government run in the province.

The Daily Star (Bangladesh)
The meeting was eventually called off when it was also rejected by Nurul Amin and leaders of Jamaat-e-Islam, including Golam Azam.
Another wrong step has been taken by calling a conference on 10th [March] instead to resolve the constitutional issues.

Nurul Amin considers Yahya's meeting proposal as a 'wrong step'
While Ayub Khan had to resign within days of convening a round table conference in February 1969, Presidents Yahya Khan and Pervez Musharraf could last only nine months and a fortnight respectively, after they too had come up with similar suggestions to sit with country's politicians on a 'round table' towards the fag end of their tenures.

While Yahya had proposed one such session in March 1971 just a few months before handing over power to Bhutto, Musharraf had floated a similar suggestion in August 2008, a fortnight before tendering his resignation.

In other words, both Army generals had failed to weather the storms that were threatening their existence on the throne. President Yahya's offer to hold a round table in Dhaka on 10 March 1971 to soothe the Bengali feelings was summarily turned down by Sheikh Mujibur Rahman as a "cruel joke".

The News (Pakistan)
Nurul Amin also called upon the people to continue peaceful movement and to organise and co-operate with local committees to prevent acts of lawlessness committed on persons irrespective of caste, creed, local, or non-local. He also urged President Yahya to summon the National Assembly immediately to frame a constitution and transfer power to the elected representatives of the people. Abul Hashim, a leader of Pakistan movement, T. Ali, a former control minister, Khwaja Khairuddin, president of East Pakistan Council Muslim League, and Golam Azam, Amir of Provincial Jamaat-e-Islam also held this view.
Prof. Ghulam [also spelt Golam] Azam, Amir of Provincial Jamaat-e-Islami, yesterday held both the present Government and Mr. Bhutto equally responsible for the reaction causing the huge loss of life and property in Bangladesh.

A headline from the Daily Morning News paper on 8 March 1971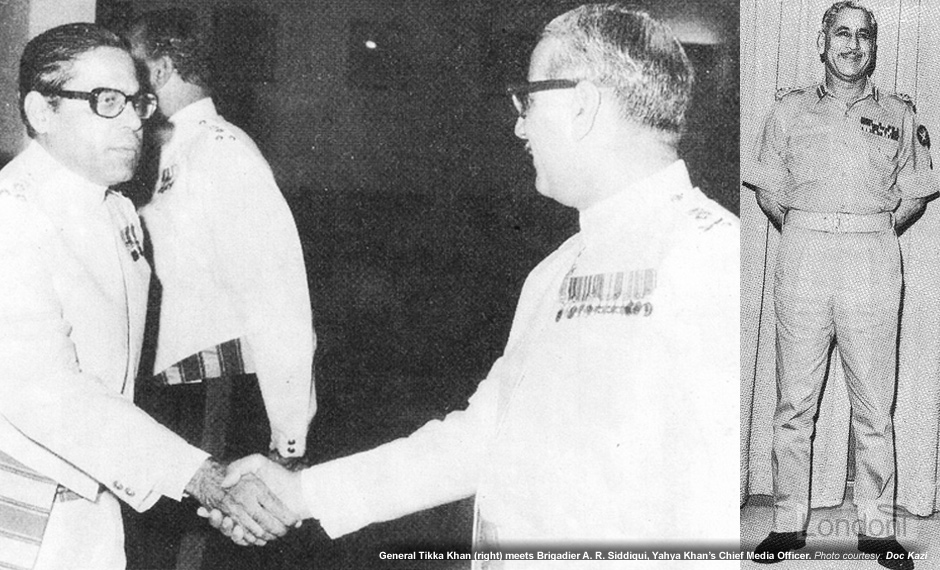 Notorious Pakistani general Tikka Khan takes charge in East Pakistan
Pacifist Pakistani Governor and MLA of East Pakistan both resign
Admiral Ahsan learned that the Central Military government had decided to launch a military operation in East-Pakistan in defiance of his recommendation and without his consultation. He had earlier warned Islamabad that if the assembly session was postponed a second time, it would lead to widespread disturbances, including ethnic violence. When it became apparent that they wouldn't heed his warning and an armed operation would take place, Admiral Ahsan resigned in protest from his position as Governor of East Pakistan on 1 March 1971, less than four weeks before the military action.
He picked up his personal belongings and did not waste a moment to stay in Eastern Military High Command's Headquarter in Dhaka. He immediately flew to Karachi and reported to Naval Combatant Headquarters (NHQ). Admiral Ahsan took honorary early retirement from Pakistan Navy, and permanently settled in Karachi. He remained silent and did not speak a word during the 1971 war.
What Yahya aimed at was not clear as the communication credibility had been lost in the polarisation; yet it is said that Yahya had a feeling that in the case of an army action in the province, Admiral Ahsan might not be very effective as he was a proven friend of Mujib's. Perhaps this was not so.
But who was responsible for creating this hostile atmosphere and hatred among the people? The situation deteriorated further after General Yahya Khan postponed the first session of the newly elected constituent assembly. It became very clear immediately after the election results that the generals were not prepared to transfer power to the Awami League. First the delay in summoning the National Assembly session and later its postponement confirmed the Bengalis' worst fears, that the election results were not acceptable both to the generals and to the majority of West Pakistani politicians. Zulfikar Ali Bhutto publicly called for a boycott of the assembly session. Such a transgression was bound to further fuel public resentment.

Admiral Ahsan in an article titled "A Nation's Shame", published in the Newsline magazine of September 2000
Vice Admiral Ahsan was sworn in as Governor of East Pakistan on 1 September 1969, taking some of the responsibilities previously assigned to Lt. General Sahabzada M. Yaqub Khan. On 23 August 1969, General Yaqub Khan assumed the command of East Pakistan as Martial Law Administrator (MLA) with absolute and authoritative governorship and political power and military power in East Pakistan. However, a notification issued by the cabinet secretariat on 1 September 1969 directed MLAs to refrain from performing the functions of Governor in their respective provinces with immediate effect, and Vice-Admiral Ahsan was sworn in as Governor of East Pakistan. General Yaqub Khan remained as MLA.
Now, in a strange twist of fortune, the urbane and erudite General Yaqub Khan - who according to General Niazi succeeded because he was "polished and was well-versed in English" - once again adorned the dual role of governor and martial law administrator when he was made the "head of civil administration in the province" in place of Vice Admiral Ahsan with effect from 1 March 1971. However, this dual role only lasted three days.
On 4 March 1971, General Yaqub Khan resigned after he suggested President Yahya settle things in East Pakistan politically and not militarily. Few days later, on 10 March 1971 - fifteen days before the Pakistani army began the Bengali massacre - General Yaqub Khan left East Pakistan in favour of West Pakistan just like Vice Admiral Ahsan before him. And just like Vice Admiral Ahsan, his role too was swiftly filled.
Immediately after taking over General Yaqub suggested that Yahya settle things politically and not militarily. Perhaps he was the first army general who had thought of settling political issues in their right perspective.

Paradoxically, this very earnest advice went down the drain. The suggestion was rejected, perhaps with condescension. General Yaqub found an honourable escape and quit the job on 4 March 1971, before it became too rowdy. The next day also proved unfortunate as Bengali radicals took to the streets shattering the town. Similar processions were reported from other parts of the province. They were also joined by Maulana Bhashani and Prof Muzaffar Ahmed's groups known for their separatist intentions.

Dawn (Pakistan)
Sahabzada Yaqub Khan

()
Pakistani military presence intensifies with appointment of General Tikka Khan
On 6 March 1971 President Yahya Khan announced that the Assembly session would be held on 23 March 1971. He warned the politicians that he and the armed forces would ensure at all costs the solidarity, integrity and security of Pakistan, and signalled his intention by appointing General Tikka Khan as the Governor of East Pakistan.
The appointment of hawkish Lt. Gen. Tikka Khan showed which way the Yahya-Bhutto duo was going to move.

Nitish K. Sengupta, author of "Land of Two Rivers: A History of Bengal from the Mahabharata to Mujib" (2011)
Tikka Khan

(1915 - 2002) Senior four-star Pakistani general. Served as first Chief of Army Staff of the Pakistan Army (1972 - 1976). Graduated from Indian Military Academy at Dehradun. Fought in World War II for Indian Army. Promoted in Major General in 1962 then Lieutenant-General in 1969. Joint role as Commander of Eastern Military High Command, Martial Law Administrator, and Governor of East Pakistan during 1971 Bangladesh Liberation War. Known as "Butcher of Bengal" for his massacre, especially during 'Operation Searchlight'. Posted as First Commander of II Corps at Multan, Pakistan, after Bangladesh stint. Appointed Defence Minister by Zulfiqar Ali Bhutto. Became Secretary General of Pakistan Peoples Party (PPP) after Bhutto executed in 1979. Imprisoned numerous times for political activities during late 1970s and 1980s. Appointed Governor of Pakistan's largest province, the Punjab (1988 - 1990). Died on 28 March 2002 after several years of illness. Received a state burial with full military honors. Buried in Rawalpindi, Pakistan.
Tikka Khan was an old hand at quelling disturbances. He was known as a tough, no-nonsense soldier who would not hesitate to use military force, or even brutality, to restore military regime's authority. He had already acquired the reputation of "Butcher of Balochistan" for his actions in 1958. Yahya Khan was clear in his mind about what he should do. The strategy would be to provide the necessary force, buy time for the preparations and strike hard at the appropriate moment. Encouragement also came from Tikka Khan.
Give me enough force and I will crush them [the Bengalis] in 48 hours.
Accordingly, Yahya Khan ordered the massive airlift to begin.
Justice B. A. Siddique, a Bengali, refuses to administer Tikka Khan's oath
Tikka Khan had arrived in Dhaka on 7 March 1971, a few days after the non-cooperation movement had started, to take up the dual role of Governor and Martial Law Administrator for the Eastern part, replacing Vice-Admiral Ahsan and Lt. General Shahabzada Yaqub Khan respectively. But he had not yet sworn it. Finally he decided to be formally sworn in as Governor on 9 March 1971 and summoned the chief justice of East Bangla, Justice Badruddin Ahmad Siddique (more popularly known as just B.A. Siddique) for the purpose of administering the oath. However, Justice Siddique very politely declined to perform the ceremony. So did the other judges of the Dhaka High Court - an act which was considered as one of the most striking event of that time. It also demonstrated the communal spirit that run through each Bengali's blood during that time, and also proved that Sheikh Mujib's directives were being obeyed even at the top level.
Finally, the Chief Justice of the Supreme Court of Pakistan had to be rushed to Dhaka to administer the oath.
B. A. (Badruddin Ahmad) Siddique

(1915 - 1991) Accomplished lawyer, Chief Justice of East Pakistan, a humanitarian activist, and diplomatic dignitary. Passed Intermediate Arts from Dhaka College, where he was the tennis champion. Graduated from Calcutta University and obtained a law degree from Dhaka University (1937). Joined law practice as a junior partner of Huseyn Shaheed Suhrawardy. Advocate in Calcutta High Court (1946) and involved in the Commission on the Hindu-Muslim riots of Calcutta. Various prominent role including Legal Counsel to the State Bank of Pakistan and to various private companies (1952 - 1957), Attorney General of East Pakistan (1957), judge in Dhaka High Court (1960), Chairman of East Pakistan Red Cross (1969), member of Executive Committee of World Judges Conference in Geneva (1967), Chief Justice of East Pakistan High Court (16 November 1967), and one of the four Vice Chairmen of International League of Red Cross (1969). Actively participated in relief work as Chairman of Pakistan Red Cross during 1970 Bhola Cyclone. Famously refused to administer oath of General Tikka Khan as Governor of East Pakistan on 8 March 1971. Became Chairman of Bangladesh Red Cross (1975) upon request by President of Bangladesh. Became Adviser to the President in 1986 with the rank and status of a Cabinet Minister. Represented Bangladesh as Ambassador Extraordinary and Plenipotentiary, Permanent Representative of Bangladesh to the United Nations, New York (1986 - 1988). Born in Dhaka in the Baliadi Zamindar family.
Tikka, known for an earlier demonstration of ferocity bordering on ruthlessness, had already earned a reputation as Butcher of Baluchistan. There was thus something of the portentous about his arrival in Dhaka. But such was the degree of political passion in the province that Justice B.A. Siddiqui, chief justice of the East Pakistan High Court, refused to swear Tikka in as the new governor. For the moment, therefore, Tikka was compelled to remain content with being martial law administrator for the province.

Daily Times (Pakistan)
Friction between Tikka Khan and Sheikh Mujib
One of the possible reason for President Yahya appointing Tikka Khan was the military dictator's ever-weakening hold on East Pakistan. Tikka Khan was convinced that he could bring Bengalis - and in particular Sheikh Mujib and his Awami League - 'to heel' if they stepped out of line. He mobilised the Pakistani Army and prepared for the massacre which were to be carried later in the month should the 'peace' talks fail.
After the swearing in, Tikka Khan is said to have summoned Mujib to his presence, but Mujib agreed to see the Governor only if he came to his house. This was the parting of the ways between Tikka Khan and Mujib, and perhaps between East and West Pakistan. Unable to stomach this personal insult, Tikka was bound to react violently against ostensible defiance on the part of Mujib and his Awami League. To Pakistani watchers, as well as to the General Staff of the Indian Army, a strong military action appeared imminent.

Sukhwant Singh, author of "India's Wars Since Independence" (2009)
During this period Sheikh Mujibur Rahman remained defiant. President Yahya's announcement that the National Assembly would meet in less than three weeks time did not deter Sheikh Mujib from going ahead with his action plan.
Between 1-15 March 1971, East Pakistan, under Bangabandhu Mujib's leadership 'assumed all the correlates of an independent State'. Never in history had such a phenomenon been noticed with not just the common people, but the administration, the judicial machinery, the police officials, the Bengal contingents of the army, and even the business community joining the non-cooperation movement and formally shifting loyalty from Pakistan to the authority of Bangabandhu in obedience to the people's electoral verdict of Dececmber 1970.

...Between 1-15 March 1971 Mujib played an unchallenged role in East Pakistan, controlling the entire machinery of administration. There is no other example in history where such a shift of loyalty emerged even before recognition of national independence. The total mandate that the people of East Pakistan gave Mujib in March 1971 had not been given to Gandhi, Nehru, Mao Zedong, Ho Chi Minh, Nkrumah or Julius Nyerere, or even Nelson Mandela.

Nitish K. Sengupta, author of "Land of Two Rivers: A History of Bengal from the Mahabharata to Mujib" (2011)