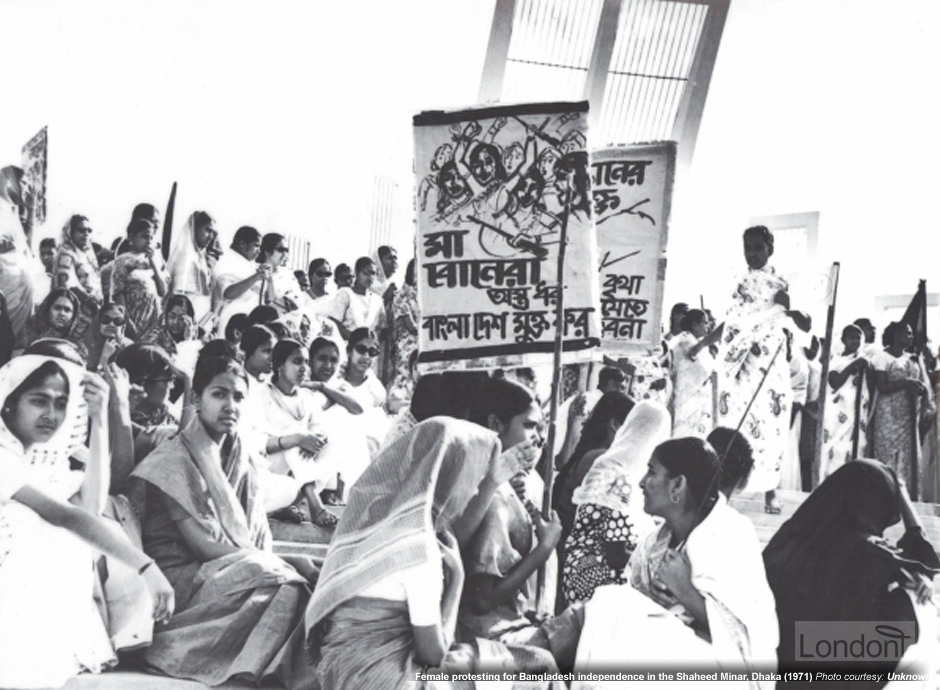 "Maa bonera osro dhoro, Bangladesh mukto koro!"
Historical account of war concentrates on military and political event, often to the negligence of women's contribution in war. The Bangladesh shadinota juddho is no such exception.
Bengali women had contributed so much to the war. They devoted themselves to taking care of the refugees in the camps and even took up arms to fight as part of the Mukti Bahini.
From cooks to warriors and leaders
Women underwent training on guerrilla warfare and first aid - in some instances there were more than 200 women in the training camp. Most of them had lost their family members and were resolute to take revenge. The food they used to get at the training camp was paltry but that didn't bother the camp inmates.
One such woman was Taramon Bibi. She joined the Sector 11 (Mymensingh-Tangail) camp commanded by Major Abu Taher initially as a cook and a cleaner. But noticing her resilience, bravery and strength, Taramon's godfather Muhib Habildar motivated her to become a freedom fighter. He taught her how to use arms like rifles and stein gun.
Taramon Bibi

(Born 1957) Bir Protik awarded in 1973 but no whereabouts found until 1995 when she was handed title by BNP leader PM Khaleda Zia. Village home in Shankar Madhabpur Kurigram. Fought in sector 11 (Mymensingh-Tangail). 'Taramon Bibi Female Students Hostel' at Begum Rokeya Government College, Rangpur, is named in her honour. She lives with her farmer husband and two children in Kaliakoir, Comilla.
Taramon Bibi's first encounter with the enemy came when she learnt that a gunboat carrying the Pakistani army was heading towards where they were located. She was having her lunch in the camp when she heard the news. She left everything behind and instantly got prepared for combat with her comrades. Together they attacked the enemy and succeeded in getting rid of them. This was just a flavour of things to come. Taramon fought in numerous battles, so much so she 'lost count'.
Taramon Bibi was only around 14 years old during the shadinota juddho.
She was the first lady - and only one of two, and the only one of them to have engaged in direct combat - who was awarded the 'Bir Protik (Symbol of Valor)' gallantry award by the Government of Bangladesh in recognition of her bravery during the war.
Some women even tied grenades to their bodies and threw themselves on the road in order to kill as many of the enemies as possible.
We were fighting to free our country. The last thing on my mind was worrying about my own safety.

Taramon Bibi, Mukti Bahini
Many women assisted at the 480-bed hospital in Agartala, Tripura (east of Bangladesh), known as the 'Bangladesh Hospital'. Here they treated injured freedom fighters and cared for their well-being. This group of young women put their heart and soul into their job as medical attendants and consoled themselves in the knowledge that helping out at the hospital was almost as good as fighting in the war.
This group were led by Dr. Sitara Begum, the only other woman to be awarded the 'Bir Protik' along with Taramon Bibi. She was a lieutenant at the start of the war, but promoted to Captain by Colonel Osmani.
Dr. Captain (Rtd.) Sitara Begum

() Bir Protik. Commanding Officer at makeshift hospital 'The Bangladesh Hospital' in Agartala, Tripura. Worked in Sector 2 (Comilla-Noakhali). Father Muhammad Israil was a lawyer. Passed her MBBS and completed her internship from Dhaka Medical College Hospital. Joined the arm force in 1970. Settled in America after brother Major A. T. M. Haidar, Sector 2 Commander, was killed in a conspiracy in 1975. Born in Kolkata.
Under Dr. Sitara's direction 400 final year medical students along with foreign doctors, such as Bengalis from UK who came to help out during the war, treated wounded mukti bahinis and Indian army officers. They worked in unimaginable circumstances with meagre facilities.
The hospital was made of bamboo which didn't look like a hospital from outside. The operation theater was a room covered with plastic cloth. The floor was also covered with plastic cloth.

Without Dr. Sitara Begum's devotion and excellent co-ordination it wouldn't be possible to give medical treatment to so many wounded soldiers with such insufficient facilities.
Similar to Bir Protik Taramon Bibi and Dr. Captain Sitara Begum many countless women carried out heroic deed during the war but they've gone unnoticed. It is an unfortunate characteristic of human beings, in general, around the world to neglect the veterans of war - both men and women. Their bravery and sacrifice for the greater good of humanity provides inspiration, but their are abandoned after the war and left to look after themselves.
Such tragedy happened with Taramon Bibi. She suffered from respiratory problems during March 2011 but could not afford to buy medicine, or extra food and fruits to improve her health. Her farming family survives on the honorarium Tk 5,760 (approx £57) per month from freedom fighter welfare trust and ration for three persons from police.
I want to live few more days to see the trial of the war criminals as my last wish. No mercy on them.

I fought against Pakistani troops with arms in hand, collected information in disguise. Death panic never touched me then and not even now.

(Speaking on her illness) It feels pain to inhale. Doctor has advised to buy an oxygen nebuliser but I do not have that ability to buy one.

Taramon Bibi, Mukti Bahini
Bengali women - sex toys for Pakistani Army and razakars
In the nine months of Bangladesh's war of independence, between 200,000 and 430,000 women are said to have been raped by members of the Pakistan army as well as local collaborators. Women from the ages of 7 - 75 were systematically sexually abused, gang-raped - sometime even front of their families - and either killed, or taken away by the military and made to become sex slaves of the officers and soldiers for the duration of the war.
Even as the Pakistani forces surrendered in 16 December 1971, some reportedly claimed that they were leaving their 'seed' behind in the women they had impregnated through the mass rape. A large number of survivors, including teenage girls, would never be able to bear children due to psychological and physical abuse.
The women were left to face the indignity of being 'tainted' - even today. Unable to bear society's shame many women committed suicide or had an abortion.
The army tied our hands, burned our faces and bodies with cigarettes. There were thousands of women like me. They gang raped us many times a day. My body was swollen, I could barely move. They still did not leave us alone. They never fed us rice, just gave us dry bread once a day and sometimes a few vegetables. We tried to escape but always failed. When the girls were of little use they killed them.

Aleya Begum, who was kidnapped at the age of 13, gang raped for seven months and rejected by her family after the end of the war
Many women had to serve a different man or men every night in the Pakistani army camp, and were moved from camp to camp every few weeks. They were used as 'comfort woman' by their fornicators. Left naked without food or water and their dignity shattered for life, many tried to commit suicide.
No account has demonstrated this more shockingly than that by Ferdousi Priyobashinee, who - after her fiance and relatives had left Khulna - became 'fair game' for a colleague, then a factory manager, then a businessman (mostly non-Bengalis), and finally for various Pakistani army officers and junior officers. She had to become the lover of an officer to escape greater harm.
Although thousands of young women were killed, the most attractive among them were captured to become sex slaves in the military cantonments. When the girls tried to hang themselves with their clothing, their garments were taken from them. Then, when they tried to strangle themselves with their long black hair, they were shaved bald. When they became five or six months pregnant, they were released with the taunt: "When my son is born, you must bring him back to me". Many such infants were strangled at birth.

Viggo Olsen & Jeanette W. Lockerbie, authors of "Daktar Diplomat in Bangladesh" (1996)
Mass rapes in Bangladesh in 1971 were not based simply on state policy or intent, but were the product of an extremely violent society, including a much longer history of open violence against women in East Bengal with undercurrents from two cultures of contempt and depreciation of women.
Much of the sexual violence can also be attributed to lust, colonial racism against Bengalis in general, the desire to humiliate Bengali men and women, and sadism. The Pakistani Army and its Razakar collaborators did not even spare the women or the innocent children when it came to the massacre.
....women fell like birds. Babies died in their mothers' laps. I don't think they were Muslims. How could Muslims kill others this way?

Rabeya, family massacred during Muktijuddho
A woman had a little child, but taking food to the Muktijuddhas occupied her attention more than looking after her baby. One day, when she returned home after feeding the fighters she found her child lying dead. A Pakistani army soldier had stood on the baby with his boots and killed the child. But she is (still) not recognised (by the nation) for her role.

Farida Akhter of UBINIG
Burden of being a 'birangona'
On 22 December 1971, only few days after victory was achieved (on 16 December 1971), the government of the newly independent state of Bangladesh awarded the women who had been raped during the war with the honorary title of 'Birangona', meaning 'brave woman' and often translated to and associated with 'war heroine'. The term was first given by the then president Sheikh Mujibur Rahman. The term was meant to pay respect to the women for their sacrifices during wartime. However, the title did not deliver all that it promised.
In a conservative country like Bangladesh where society views female sexuality as sacred, rape was, and largely still is, seen as an enormous source of shame for the assaulted woman.
The whole idea of women having 'lost their all' as a result of having been raped, reinforces a prevalent social norm - that a woman's 'all' lies in her virginity in the case of unmarried women, in her chastity in the case of married women, and in a woman's sexual exclusivity in general. The age-old relation between hysteria and the womb (called hystera in Greek) can be extended here, where a woman's sexuality determines her well-being and where something like rape establishes the death of her soul and her social self. While rape is a heinous sexual crime, presenting it as the end-all for a woman leaves her with little in life after the violation. Magnifying its significance to this extent, it may be argued, also contributes to its popularity as a weapon in times of war, where it has the power to have a woman ostracised by family and community and leaves any society, and especially conservative ones, split apart.
Though the label was given to honour the dishonoured women and help them to regain acceptance in society, it had the opposite effect. The 'birangona' title became synonymous with violated woman and only served to identify the 'bad' woman and isolate her. It soon became a mark of shame. These women were outcasted by society - making her a sympathetic figure for some, whilst a figure of shame for others. As such many women did not want to be associated with such title for fear of being rejected by society and stigmatised, and hence we know very few of them. As if their horrendous ordeal was not enough, many women faced the heartache of not being accepted even by their own families. This included parents in the case of unmarried women and husbands and in-laws in the case of married women. Some were even told by their own mother that she should have died and never come back.
Abandoned by their own community and loved ones, many women were pressurised into leaving their home and picking up prostitution since they were already "scarred". As a result of this exclusion and emotional torture, many Birangonas migrated to India, while others chose to take their own lives.
These women were seen as victims and were often portrayed in the media following the war as 'oppressed', 'disgraced' and 'dishonoured' rather than muktijuddhas who endured physical and psychological scars in freeing Bangladesh and who have shown incredible courage and endurance to survive the ordeal. The label 'birangona' itself was rarely used. Some people even distorted the word 'birangona' and pronounced it as 'barangona', meaning prostitute in Bangla. Other derogatory term used to tarnish her image included 'lanchhita' (carrying connotations ranging from being disgraced, harassed, insulted, and persecuted to stained, tarnished, spotted and soiled), 'biddhosto' (ruined or destroyed) and 'bibhranto' (confused or bewildered). Phrases such as 'women who have lost their all' also portrayed a shattered image of one who is supposed to be a heroine. Their suffering, both during and after the war remains unrecorded and unrecognized. Whilst others fought the war with their weapons, the birangona fought it with her body. In return, they were neither given state honour nor social respect. For most part, they could not live with their heads held high.
I became the target of terrible insult and humiliation... At one point I realised I don't need any human being in my life.

Ferdousi Priyabhashini, renowned Sculptor
Despite the glory apparent in the title of the birangona, society was hesitant in accepting, let alone glorifying, the woman behind the label.
Many of the razakars who had handed these young women over to the Pakistani military integrated back into society, and ow claim to be freedom fighters and occupy high position within society such as judgesn. ht
The country got freedom, but we never got back what we lost. So how can I say we benefited from independence?

Smritirekha Biswas, victim
Rehabilitation
Post independence, there were few rehabilitation centres and supporting organisation to help the birangonas. Bangladesh did not have neither the qualified psychiatric staff nor the facilities to help them with their long term healing. Most women got abortions, performed in secret clinics by local dais (midwives) or untrained local doctors using medically unsafe methods. Thousands gave their baby away abroad for adoption.
In 1972, the Bangladesh government established the Women's Rehabilitation Organisation to institutionalise women's-rehabilitation projects, with the National Central Women's Rehabilitation Board coordinating the government's post-war policies.
Rehabilitation centres were set up to provide medical aid to the women including treatment for diseases and abortion of unwanted pregnancies. In addition to state-sponsored programmes, International Planned Parenthood and the International Abortion Research and Training Centre, and local clinics helped women to carry out abortions. Clinics were set up with the support of the Bangladesh Central Organisation for Women's Rehabilitation in Dhaka and 17 outlying areas, in order to cope with unwanted pregnancies. The Red Cross and the Catholic Church also became involved in such rehabilitation programmes.
Women were also given socio-economic support. As part of this scheme, they were provided with training which would enable them to make a living on their own. In addition, a marry-off campaign was lodged which encouraged Bangladeshi men to come forward and marry the rape victims. Measures were also taken to send abroad many of the war babies - those born as a result of wartime rape - for adoption by foreign families.
Abortion and adoption were thus viewed as quick way of 'cleansing' the women - and the nation - of the 'lajja' (shame) and 'daag' (stain).
After the war, they [women] were the ones expected to reconstruct families, while dealing with the scars of war.
The story of Amirjaan is a common one. For many like her, life stopped with the war. For others, it somehow went on. For all of them, the wounds are beyond cure, and society has done little to help the healing. While glorifying the grand label of 'war heroine', society has either insulted outright, or else neglected, or, at the least, ignored the women within the label who sacrificed themselves in the war for its independence. Ensuring justice, respect and dignity for the birangona is the only way to honour their sacrifice.
Forgotten war babies
Bengali families tend to be large. And while Bangladeshi citizens can be foster parents, this is a difficult process. These factors along with the damage caused by a crippling war prompted the newly born government of Bangladesh to find quick solution for its socio-economic problem.
Under the Bangladesh Abandoned Children (Special Provision) Order of 1972, the government encouraged foreign adoption agencies to take war babies from Bangladesh during the early days of post-conflict period. The US branch of the Geneva-based International Social Service was the first international adoption agency to work in post-war Bangladesh. Through the Missionaries of Charity, other institutions also became involved in the programme, including Families for Children and the Kuan-Yin Foundation (both in Canada), the Holt Adoption Program (US) and Terre des Hommes (Switzerland).
Many of the social workers and medical practitioners were left with the daunting task of dealing with pregnancies. And while many of these workers were genuinely committed to supporting the victims, there were occasions when decisions of terminating pregnancy or giving up the baby for adoption went contrary to the women's own choices. Pleading by young pregnant girls were ignored in many instances as they were considered 'too young' to make mature decisions.
Many girls cried and did not want to give their babies away … We even had to use sedatives to make the women sleep and then take the babies.
Confusion over how to deal with the war babies appears to have gone to the very highest levels. Then-Prime Minister of Bangladesh Sheikh Mujibur Rahman repeatedly referred to these birangona (valiant) women as his "daughters", and asked the nation to welcome them back into their communities and families. However, he also declared, with incredible insensitivity, that "none of the babies who carry the blood of the Pakistanis will be allowed to remain in Bangladesh". Nilima Ibrahim, a prominent social worker and feminist author, recalls her meeting with Sheikh Mujibur, in her book 'Ami Birangona Bolchi'. When questioned about the status of the war babies, the prime minister said, "Please send away the children who do not have their father's identity. They should be raised as human beings with honour. Besides, I do not want to keep those polluted blood in this country".
An appeal was issued by Mother Teresa on 21 January 1972 urging women not to have abortions, and instead to contact the Missionaries of Charity, which offered to take care of the war babies. Most of these war babies were adopted by families in Canada, with some were also sent to France and Sweden. This met with objection from Muslim clerics who feared the children would be brought up with Christian upbringing.
Today, there is very little information about these children – about how they have developed, about how they often lived without social recognition within their societies, about what happened to those who were adopted by people from other countries. They remain an unspoken part of Bangladesh's history, brushed under and abandoned. Just like their mothers.
I had a lousy dad, who just insulted me … I tried to commit suicide four years ago … I often wonder why I am here in Canada, adopted by parents who divorced three months after I was adopted … I hated being a kid, and I am angry at Bangladesh for not taking care of me when I needed it most. I don't have any roots and that makes me cry. So that is why I am trying to learn more about where I was born.
While scattered narratives point to the experiences of children who fought during the war and were raped by the Pakistan Army or brutally killed, almost nothing is known about the destiny of the war babies. By now, they have largely disappeared from the official history of Bangladesh. The state acted as the moral agent, deciding who could stay and who could leave. Although the social workers and humanitarian and medical practitioners considered themselves to be working in the best interests of the war babies and their mothers, the assumption that they should be separated ultimately deprived the babies a chance to be raised by their birth mothers. This also generated additional trauma for already upset women.

...There is no way of knowing the fate of all the adopted war babies. Undoubtedly, however, their past and the trauma of violence that is linked to their births have haunted nearly all of them. Perhaps, by tracing through their histories, it could be possible for Bangladesh to obtain crucial data regarding its own interlinked past. But in this, it must be understood that it is not ethical to try to find these individuals, nearly all of whom have no intention to be found. Instead, it is more important to understand how, three and a half decades ago, the state, families and communities united to construct a destiny for Bangladeshi women and the war babies. This understanding would also benefit the movement in Bangladesh to seek redress for war crimes committed in 1971.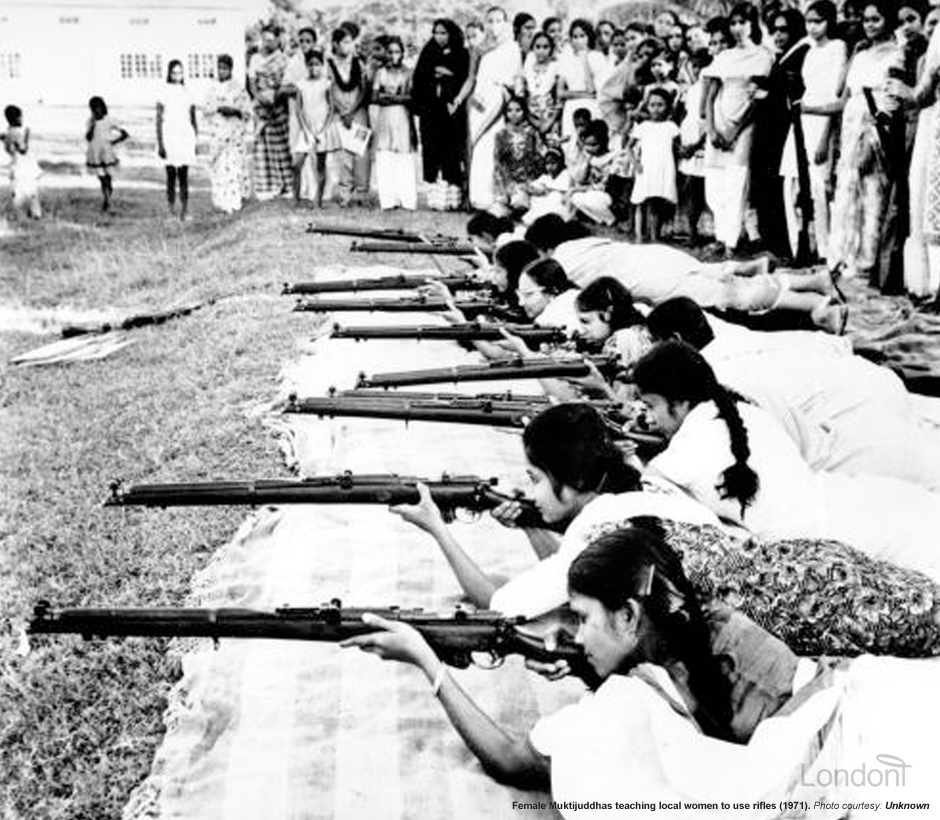 Women muktijuddha - overcoming personal tragedies to help others
The vast majority of the coverage of women's role in the 1971 war has centered on women as victims. However, even under such harrowing atmosphere and personal grievances, women fought in the war in so many different ways. They were active and willing participant in the fight for Bangladesh's independence.
They collected and distributed clothes and other necessary items for the children in the refugee camps. They took part in activities of the Mujibnagar government-in-exile who had their headquarter in Kolkata. Others hid weapons in the well of their home and and took these to local freedom fighters in nearby island on a boat during the night, steering the boat by themselves. Sometimes the Muktijuddhas would spent nights in their house and on they would keep vigil very often passing the whole night sleepless.
Women were guerrilla fighters, mothers, nurses, wives, informants, daughters, spies and so much more. They fought, spied, smuggled weapons, and trained - actions traditionally attributed to men. Their suffering may have been manifold, but so were their achievement and contribution.
The line between mukti juddha and birangona is often much more blurred than mainstream narratives will allow. That many women were captured and raped precisely because they were fighting for their country, spying within West Pakistani army camps, collecting information to relay back to fellow Bangladeshi guerrilla fighters. Yet they are not remembered as fighters. They are remembered as victims.
In 1971, I was just 16 year old and an active part of the leftist party of Barisal. I was too young to know what it really meant to be a political activist...Pretty soon I was helping my brothers write the leaflets and paint walls with slogans using crushed coal for ink.

In those days women had to wear a 'ghomta' (a veil over their head). Things like romance and talking to boys were not done, at least not openly. Women did not have exposure to a lot of things. Nevertheless, when the time came to stand side-by-side with the men to defend the country, women stepped up to the cause.

No woman was forced to go or called to go. Everyone went on their own. What was the point of staying home? Either way we would be attacked at the hands of the Pakistani Army or by rajakars (Bengali collaborators).

My mother cried a lot when I left. She still cries for my brothers who died in the war.

When I joined, I met many courageous women Monika, Bithika Ray, Reba, Rekha, Nur Jahan. Some had been tortured, some had lost their houses to arson, some came with their husbands.

My first weapon was the 3-knot-3 rifle. We didn't have a whole lot of arms. Later I carried a light machine gun (LMG), the pistol and hand grenades. At first I was scared about joining the war. But then my courage built up and it has stayed with me. To this day, I have no fear of dying. When the Liberation War began, Bengalis formed a togetherness for one cause that had ever existed before or will ever exist again. There was no difference between male and female. We often slept side by side across the floor, but at no point were we ever disrespected.

I wore a sari when I joined, then I started wearing a lungi. When that became too inconvenient and finally I moved on to wearing shirts with pants.

It was the practical thing to do. We had to go through rice paddy and khals (small lakes), wading knee-deep in water. Sometimes the water even came up to our shoulders.

We had to stay in the same clothes often for 4 or 5 days at a time without bathing or eating. During the war I killed members of the Pakistani Army and rajakars. I used my guns and I used my bayonet. I gained a lot strength of mind during that time. That strength of mind is helped me through the bad times.

The first man I killed was a rajakar. I thought it was justified because he has betrayed and wronged people. The rajakars, who were Bengalis, would guide the Pakistani Army to houses that had young women or active freedom fighters. The Army tortured, raped and killed these people to set an example and send a message to the terrorised Bengali people on where they stood.

When victory was declared in December of 1971 it was the most joyous moment.

My return to home was a different story. People did not look highly on women who joined the war. And though not a single Pakistani Army officer had laid a hand on me during the war, rumours had gone around about the possibility that I was manhandled or worse. Two months after independence, my husband was lured out of our house by government officials, taken to Jhalokati and killed. I was three months pregnant.

After his death, I went to a relative's house in Dhaka because I knew I would not be accepted back home. She sent me back to my father's house. The community did not receive me well. My parents took me in, but I got cold treatment. I kept going back and forth between my in-laws house and my parent's house.

I knew I had to stand on my own. I took up odd jobs paying a monthly salary of taka 40. I sewed, I tutored until I was financially solvent. I used to cry a lot. I used to beat my daughter. I took my anger out on her. I have nothing to hide. Have I said anything that should bring me shame? This is just the bare truth.

What I faced after I returned from the war, it cannot be expressed in words. And it did not stop with family and community. Politics that was once a higher cause, became debased. Since independence, I have not continued politics. I have been earning a living and raising my family. I have learned a lot from life experience. My mission is to pass this knowledge to my daughters. The pain of hunger is a strong pain. The real war is not fighting in the battle fields. It is what comes after the War.

I have led a very different life. I am happy about that. It has given me the opportunity to have many valuable life experiences.

If I could tell anything to today's young woman I would tell them to educate themselves, they have many opportunities we didn't. Learn to stand on your own.
I grew up in a political environment. My mother and father were both part of the Communist Party. In fact my mother was the 'Gono' Party's central member. My maternal uncles were also very political. My involvement was a long-term process - it didn't just start with the War. At the time the war started I was studying Bangla Honours at Edward College.

Women fought in different ways away from the forefront in the Liberation War. They somehow, almost miraculously tore down trees and laying them down on streets, barricading the Pakistani soldiers from moving forward. To Bengali freedom fighters they provided rice, shelter and information. Every house was a camp against the Pakistani Army.

Socially, women could not just join the war by showing up in a sari. I went in men's clothes - pants and shirts. I was 21 year old, lean and thin. Nobody could identify me as a woman. Only a couple of my close associates knew.

Pakshi Bridge in Pabna is where I saw my first armed conflict. I was in the forefront at the first phase of the war. There were 28 of us in my military camp. Almost all of them died. Sometimes people who were right next to me were killed.

What I saw as we moved forward was the remains of massacre after massacre. Lots of corpses on the streets. The group often had to split up, we were often separated for long periods of time from those we knew through the struggle. When we advanced from Pabna to Pakshi Bridge in Kushtia, I found myself among a group of strangers. When I did come across familiar people and we inquired about people who were missing I would get answers like "He died in the juddho".

When I first saw a Pakistani soldier, I was disgusted. Our rights, our votes, we should have had our Prime Minister, but they denied these things to us and instead turned on us.

The freedom struggle was the work of a lot of anger about that, which is what gave us the inspiration to fight.

There were some difficulties as a woman. In order to hide my identity, I would not bathe for days. Sometimes, I would go 10-15 days with bathing. A cousin who knew my identity, would explain to the others in the pond that I didn't know how to swim. When I had to go to the toilet, I had to wait until night.

The Pabna District Commissioner, Nurul Kader Khan knew there was a woman among the group, but he couldn't identify me even when I was standing right in front of our group as he addressed us. Once a foreign journalist who found out their was a woman in our regimen, asked to see me. Mr Khan asked our group where I was. He was shocked when someone responded pointing to me, "She's here." The journalist took a picture of me with a gun, which brought me a lot of recognition. The Statement of India, wrote a piece about me titled, "A Shy Girl with a Gun". But I actually fought only for a short time with arms. There were so many others, Taramon Bibi, Runa Das, Bithika Biswas who fought with me. But they didn't get published at the time.

I was in Pabna till April. I carried a 3-knot 3-Rifle, a 2-2 bolt these were weapons our Pabna DC collected from the police to distribute to people. We didn't have many arms. We used what we had. I started off using a large fish 'boti' (knife to cut fish) for a long time. When we ran out of ammunition we had to retreat further and further. We eventually went to India for support and to request for more weaponry. In India, they didn't give weapons to us at first.

There was a training camp for women. Sajedur Chowdhury was in charge of the women's training camp in India. I was in the first batch, which had 234 women. We organised ourselves and motivated the people of India to support the Bangladeshi cause. The Communist Parties of the two countries had a strong link.

I provided nursing and military training to some of the women in the camp. Though I thought I would eventually return to Bangladesh to fight in the war, I did not end up returning for the rest of the year. My first day back in Bangladesh was first of the new year, 1972.

When the war was over, we thought all of our dreams would come true. All of our dreams did not materialise. Our secular constitution was replaced with an Islamic constitution, we did not get freedom of religion, freedom from hunger, freedom from discrimination.

There is a long history and politics behind the war. A lot of misinformation has been produced since 1971 and now it is creeping into our children's history books. That is why it so important for me and others who were part of history to tell our stories.
The Liberation War of 1971 didn't just begin overnight. It took long years of mobilising people towards the cause of gaining an independent nation. It took time to motivate people, educate people on their rights, and prepare people for this kind of movement. My family and I had been involved in this process leading up to the war.

Fighting for independence was in my blood. My mother was a "Bhasha Shohinik" (activist in Language Movement of 52). Before that, my parents and maternal uncles were active in the struggle for independence of India from the British. The Brits called them "terrorists".

I had been involved with Chatra League for years. The West Pakistan governance created a disparity between the two Pakistans, they cheated us. We realised we had to stand on our own, we had to survive, we had to protect ourselves.

Bengalis are generally a peace-loving people. But when the Pakistani's unleashed such unbridled, inhumane atrocities, we as a people became furious.

When the war started, I helped establish camps for those who lost their homes. Among the displaced in the camps, we selected the young, strong ones to fight in the war. We collected arms and provided arms training.

We also collected funds for food, shelter, medicine and establishing nursing centers for the wounded. I was the leader of the Women's Guerrilla Squad in Agartala. I trained women to fight and use arms. We used our friends and relatives who were on duty in the Pakistani Army to help us free the captured.

Because of all my activities, I always carried a Chinese pistol. When I was with the others, fighting on the streets, I carried grenades.

During this terrible time, I saw villages set on fire, burning in the wake of the Pakistan's infiltration. The corpses we saw along our path saddened me and fuelled the fires to fight against injustice.

Sometimes we didn't eat for days, we walked miles, sometimes eating fruits on our way.

I did not face too much trouble joining the cause of war as a women. Actually, I was trained from childhood to do this. Besides, I went to a coed school and came from a broadminded family.

We all went through lots of trouble, but we did it for love of our nation. In the name of "Desh Prem" people can do anything.

After Muktijuddho, I did not associate with any political party because the country was free. The political party was just a vehicle to get there. Instead, I put my energies into social work, humanist activities, working for the poor. I write and I have actively called on the government to recognize freedom fighters.
We hear lots of bad comments; when I cross road people call me wife of the Pakistani military. They tell us that they will not bury us after we die. Why do we bear this sorrow? How can we go to the government?

During the Liberation War, there was a bridge in front of my house, and all of the freedom fighters' weapons were in our house. On the day that the freedom fighters blew up that bridge, I was with them. I passed all the weapons with my own hands from our house. The freedom fighters who are still alive told the government that I was a mukti juddha, but people not call me mukti juddha they call me birangona. What can I do? Where can I speak? Razakars [traitors to Bangladeshi guerrilla fighters] now have freedom fighters' certificates; they stay in houses and buildings now, and we stay under the banana leaf. I cooked rice for the freedom fighters, I hid all the time, brought them their weapons. Now, I am not a mukti juddha, but they [razakars] are? Twenty days after the war started I went to the Pakistani military's hospital, gathered information – where the Pakistani army's weapons were, where they were planning to go – all that information I gave to the freedom fighters.

Now I don't want tell any more. I talk about my experience time and time again, but nobody has done anything. The government has not given us freedom fighters' certificates, but razakars have those certificates. I have proof that I was a fighter. But now, I have nothing to show for it. It would be better if we were dead. Take me in front of the government, I will tell them to kill us by shooting us. It would be much better than how we live.

Asiya, one of the women at SUMS
Account of their remarkable resilience and strength were captured in two films - 'Narir Kotha' by Tareq and Catherine Masud and 'Tahader Juddho' by journalist Afsan Chowdhury.
But the most important role the women played besides taking active participation in the war and helping the Muktijodhas in various ways was as sustainers of families and households. These remarkably courageous women have waged a tough struggle to keep the family going on, raised their children and passed on the spirit of fighting to them. Whether they find room in the pages of history or not, it is an undeniable truth that it was their sacrifice and strength that helped the Bengalis win the freedom. For these poor, ordinary village women who had to fight simultaneous enemies on personal social and national level, the fight goes on.
A woman's war is unique – she has to fight not only on the battlefield, but also at her home, as the anchor of a family during the hardship of war.
And it's on standing on these households that society itself survived in 1971.

Afsan Chowdhury, Journalist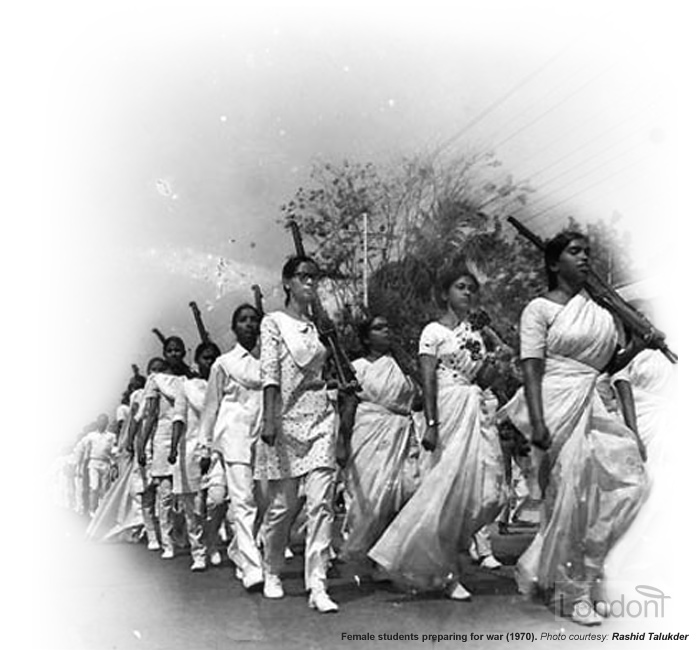 Bangladesh Mahila Parishad
On 4 April 1970 poet and social reformer Begum Sufia Kamal founded the Bangladesh (then East Pakistan) Mahila Parishad (Women's Council of Bangladesh), a women's human right organization. It's ran by voluntary members and any women above the age of 16 can join the organisation.
Bangladesh Mahila Parishad is devoted to establish a democratic, secular, discrimination free family, society and state in the light of united for human rights and on the basis of the spirit of our liberation war.

Bangladesh Mahila Parishad website
During the Shadinota Juddho they published an emotionally powerful book "To the Conscience of People" (1971) from within the blockaded Dhaka city. It contained photographs and vivid description that showed how Bengali women were tortured by the officers and soldiers of the West Pakistan army and by their collaborators.
The Bangladesh Mahila Parishad's contribution include amendment to the inheritance law, introduction of direct election of women representatives in reserved seats of the Parliament and introduction of free education for girls in junior high schools . They also fought to ban the dowry system, which was passed by the governement in 1980. Other activities include organising mass movement against polygamy, child-marriage, women trafficking and prostitution, and providing legal aid to oppressed women.
Another powerful book that was written during 1971 was "Ekatturer Dinguli" (The days of '71) by Jahanara Imam. It is a diary of her personal account of the Bangladesh Liberation War tragedy in which she lost her eldest son Shafi Imam Rumi, aged 19, and her husband, who died three days before Victory Day of 16 December 1971.
Sufia Kamal

()

Jahanara Imam

()
One of the greatest shortcomings in the perception of our fight for Independence is our consistent failure to recognise the role of women in our Liberation War. In fact, the role of women is largely ignored, denied and misconstrued in our mainstream history. This is because of our general tendency to think of war only in terms of physical fighting and exchange of gunshots. But our liberation war or any war for that matter, which has involved the entire population of the country, has been a struggle through which a united nation has asserted its aspiration for freedom. Such wars are not fought only in the battlefields, neither are they fought only with guns.

War heroes include those women who have supported the valiant freedom fighters with food, shelter, funds; who have nursed the wounded and hid weapons risking their own lives. They also include those who have willingly given their sons to war, who have lost their loved ones and even worse been subjected to sexual abuse and still survived to tell their stories.

Aasha Mehreen Amin, Lavina Ambreen Ahmed and Shamim Ahsan, Campaigners