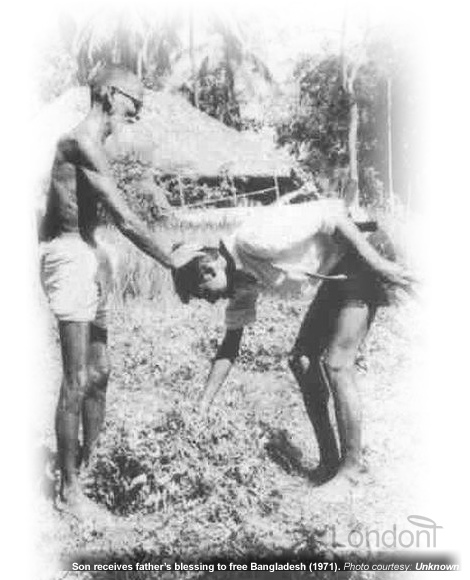 Gono Juddho
Discover amazing untold stories!!
We have a large section dedicated to the sacrifices the ordinary people made to free Bangladesh. You can read these articles and watch the videos here.
During 1971 villagers, students and civilians with no military background took up arms without a second thought. Until then the Bengali freedom movement had no organised platform like Army, Navy or police. However, very little focus have been placed on this spontaneous uprising whilst documenting the Bangladesh Liberation War. The contribution of these 'ordinary people', their suffering, and their will to survive have been engulfed by the military and political narrative. The gallant effort of students, teachers, women, farmers, daylabourers, officers, doctors, engineers, scientists, journalist and people from all other walks of life have usually been limited to few passing paragraphs in books.
The war the rich and educated fought was not the same that the poor and uneducated had to fight. The former fought the war from the political point of view of forming a state. But the latter, on whom the war had been almost imposed, endured it. But many a brave fighter emerged from among them.

As the aspirations and compulsions of the two classes were not identical, their experiences of the war, as my ground level study shows, are also different.

A lot has been written on the experiences, both empirical and political, of the educated middle class. But there has hardly been any attempt to document the experiences of the vast majority of the downtrodden, who were marginalized as soon as the war was over.

Afsan Chowdhury, eminent Bengali historian and journalist
It was the great dedication, sacrifice and do-or-die mentality of the common man which saw the spirit of the Liberation War did not die out under deluge of Pakistani attack. Nevertheless, such is the gap and distortion in the account of the Muktijuddho that even highly educated boys and girls occupying responsible and prestigious positions often request to tell the 'real' history of Liberation War. Even they are confused about what type of war it was. This is high time to let them know the real history through recognition and evaluation of the sacrifices made by people from all sphere of life.
War history has several dimensions. There are military, social, political, gender and other aspects. However, for a long while most histories of wars have focused on the role of the military or armed aspects as the dominant ones ignoring other dimensions. Given the historical background of nations where military conflict was considered the only legitimate way of resolving arguments, this is natural. It was also a very male centered imagination driven by individual narratives fuelling notions of physical bravery as the prime mover of history. This uni-focal notion has begun to change in the last few decades as research has shown that a war is a far more inclusive event where even military acts are also dependent on socio-economic factors. Without a comprehensive narrative that includes the role of various segments, history writing is very incomplete.

In case of 1971 this exclusion of other aspects is even more significant or problematic because this war had a much wider participation of people than many other wars. Militarily, it was both a resistance war which happened from within and later was a frontal war which happened from without. Perhaps some similarity can be found with the French situation in WW11 but the nature of resistance both by armed forces and paramilitaries, the role and pressure of refugee presence in India, international politics, the involvement of ordinary people in various forms of conflicts and survival strategies have made it a reasonably unique narrative.

When we read accounts of this war, we find most are descriptions of conflicts or extreme suffering and death. But many of these works are not very credible and even a rudimentary review shows that many wouldn't pass even the basic test of authenticity. These have become either heroic or pity seeking narratives that are closer to fiction in some cases. As it's in the political space where these works are played out, these pretend-histories are officially upheld because they uphold the official position as a quid pro quo. This practice has damaged the construction of a mature national history that was largely fought in the broadest sense by ordinary people.

Putting the ordinary person - the peasant, the farmer, wage labourer, woman- as the central focus of the war narrative poses certain problems of socio-political power management in Bangladesh. If the war is imagined as a broader participation than that is done now, the demand for sharing of state power with the people who are being given the central role becomes far more pressing. Thus the war can't be imagined as a product of participation of all but has to be only of those who became the leaders of the subsequent independent state.

This has resulted in a collection of many tales, narratives, myths etc that are not always located in facts and many such 'facts' survive because nobody wants to challenge them or are not comfortable challenging them.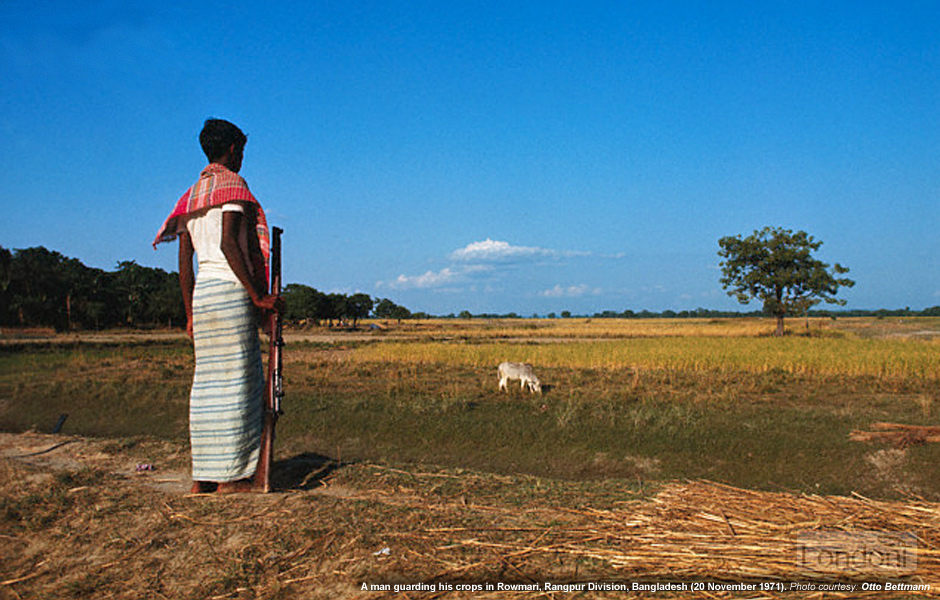 Different sort of sacrifice
When you travel through Bangladesh you can hear endless stories which resulted from the events of 1971. From the multitude of complex emotions that was present in 1971 stemmed different actions. Be it in their brave patriotic stance to free their land, from fear of death, from the need to survive, from confusion over the rapidly declining situation or to give the younger generation a better future - or a mixture of all the above - no two stories are the same. Each new story brings with it a new emotion, a new information, a new twist. But the common thread that binds all these stories together is that at its heart remain the sacrifice of the ordinary people.
The gruel kitchen was 20-25 minutes walk away. It was located in a big dilapidated rice mill. All our food was cooked there... Many had to give their lives for this job.
There's the heart-touching story of Abdul Mannan of Khaghar in Brahmanbaria who accepted the fate of a landless farmer by giving up his only piece of land for burial of the villagers massacred by the Pakistani Army on 9 October 1971.
I could have been one of them. What would I have done with the land if I was killed? I thought [Allah] the Almighty will take care of me so I gave my land to bury the dead.

Abdul Mannan shows no regret after donating his land and condemning himself for over four decades of poverty
Other amazing incidents include that of Karuna Begum who fought in the guise of a man at Nolchira of Gournadi and lost a leg in the process. Or that of Rebati Mahali, an indigenous tea garden labourer in Sylhet, who was tortured to death by the Pakistan Army for saving women and children from a fire, set by the army. Or that of Aminul Haque, who was among the 350 people who died of exhaustion from forced labour imposed upon them by the Pakistani Army to build the Saidpur Airport in 1971. Or that of Hasan Ali, a teenage freedom fighter who was killed by the Pakistani Army after he was brought to a military camp by a group of razakars. Such was the heroics that the young man showed in the face of death that even Pakistani Major Siddique Salik, who was at the camp at the time, gave an account of Hasan Ali's heroics in his famous book "Witness to Surrender".
Such was the impact of ordinary people's contribution that Colonel Quazi Nooruzzaman who commanded Sector 7 (Dinajpur-Rajshahi-Pabna) refused his Bir Uttam award as he felt it was "people's war". Whilst posted at Bholahat (in Rajshahi division, bordering India) the Colonel came to know about a poor old woman 'who crept out of her hut, found the mines and picked them up' as she suspected that these could be fatalistic for 'our boys'.
If she had been in Britain she would receive George Cross for her contribution to the war. She did this out of love for the boys fighting the war. She got no reward.
In another incident, a woman in nearby Boalia, wife of the local area representative, gave information about her husband that 'proved him to be a liar'. Another woman, the sector commander's wife, Sultana, joined in punishing a freedom fighter after he was caught looting. Sultana, a psychologist, was intent on setting a good example and helping to correct and reform the restless youth. She also worked hard to get the first aid supplies to the guerrillas against all odds.
These incidents, and many more like this, deeply touched the Colonel and he felt it was only correct that he 'shy away' from accepting the Bir Uttam award when countless others - most of whom were unlettered - could perform such selfless act of bravery without anybody's knowledge or acknowledgement.
Everyone is a soldier in a war of liberation, young and old alike… It would be impossible to pick and choose among the many who deserve it.

Major Quazi Nooruzzaman, Sector 7 (Rajshahi-Pabna) Commander, declined Bir Uttam award on the ground that the Liberation War was a people's war and that gallantry awards are given to professional soldiers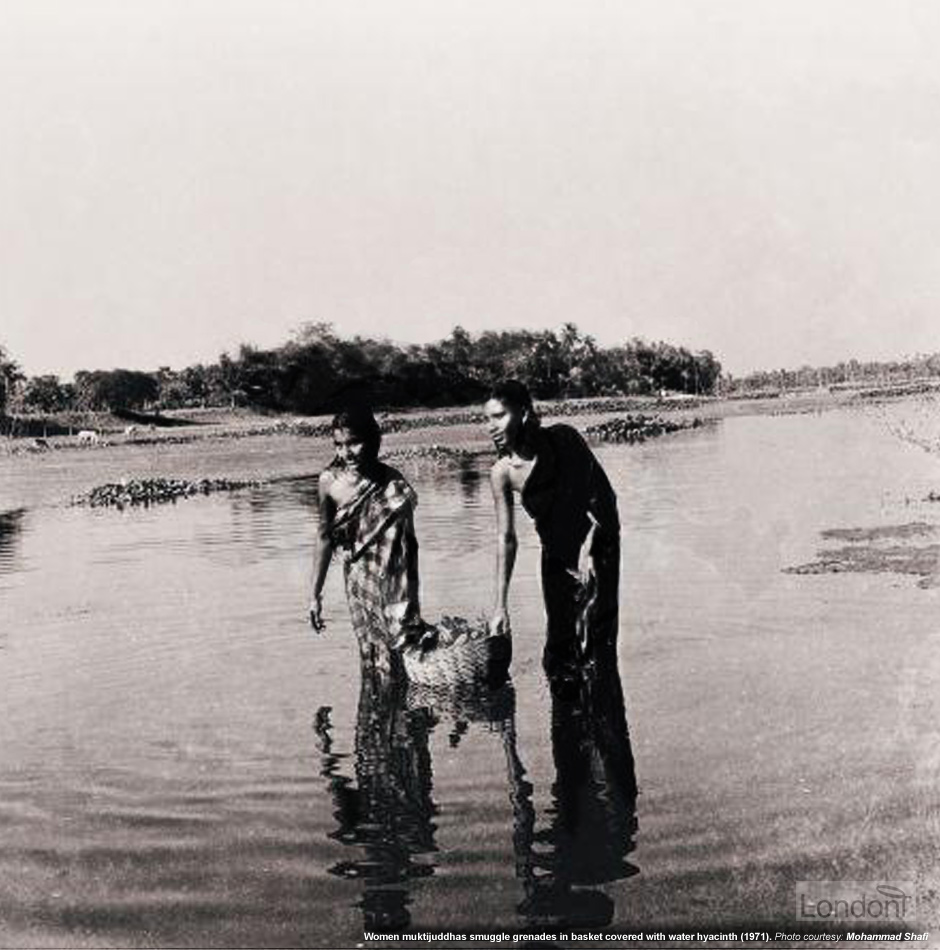 'Tahader Juddho'
In 2001 prominent historian and journalist Afsan Chowdhury produced and directed a documentary on the experiences of poor, uneducated village women of the 1971 war. Titled "Tahader Juddho" (Their War), the film is based on a series of interviews and discussions with women who were victimised, who suffered, helped others and also fought in the war. They describe how they risked their lives and those of their families to secretly deliver food, clothes, blankets etc to the Muktijuddhas, hiding them in their homes to save them from watchful razakars and the Pakistan Army, smuggling arms from one place to the other. Tahader Juddho also portrays their life and struggle in later days as their sacrifices have not been recorded in history and nor have they been considered worth mentioning.
With our patriarchal mindset we are more comfortable to think of women only as hapless war victims who at best can appeal to our sympathy but cannot command our respect.
But as the film points out, such heroic acts and unconditional patriotism have not been recognised or mentioned in history books. In the film Chowdhury asks the question: "Weren't these women as much Muktijoddhas as the men who fought the Pakistani army with guns?"

...After the war ended, women – many of whom who had lost their men – husbands, sons, fathers – had to keep on fighting for the survival of their families and households. "And it's standing on these households that society itself survived in 1971", says Chowdhury.
Afsan Chowdhury

()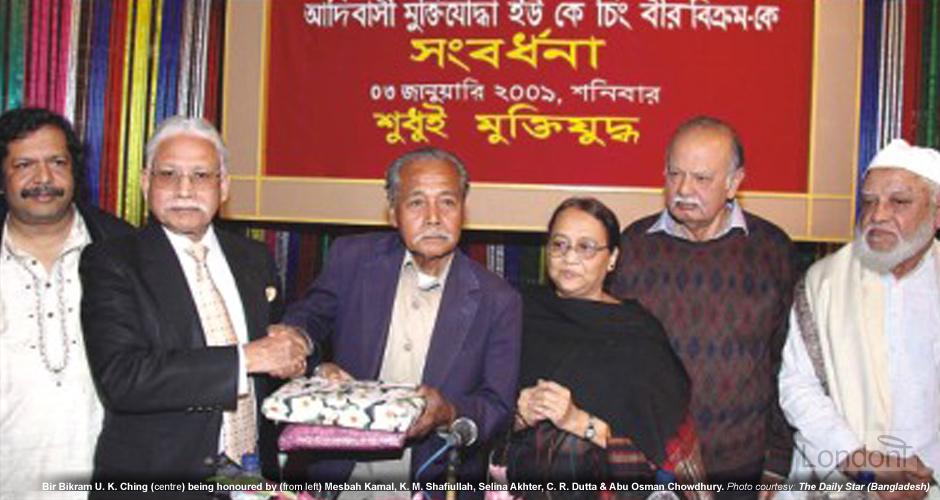 "Aale hu disham le Swadinakada" - indigenous people's contribution to the Swadhinata Juddho
It is worth remembering that the freedom the people of Bangladesh enjoy is one that was brought about by not only Bengalis, but also non-Bengalis who did not hesitate to give up their homes, families, livelihoods, and in some cases their lives.
Very little is known about the contribution of the indigenous people to the Bangladesh Liberation War. A large part of this is due to the insurgency in the Chittagong Hill Tracts that has tarnished the image of the tribal people in the eye of the Government of Bangladesh who exert great level of influence in history writing in Bangladesh. However, this should not constitute a cause not to recognise their gallant contribution for the freedom of a country that is also theirs.
During 1971 many indigenous Bengalis such as Shantal of the north, Orao, Dalu, Malpahari, Chakma of Chittagong Hill Tract, Marma, Tripura, Garo of Mymensingh, Hajong, Coach, Manipuri of Sylhet (including workers of tea gardens) took part in the War of Independence, sheltered the freedom fighters, built resistance against the occupation forces and faced the enemy with bows and arrows. Training centres for freedom fighters were also set up at Rangamati and Ramgarh Sadar in Chittagong district. Some 1,300 Garo, Hajong and Coach communities from greater Mymensingh region is believed to have participated in the war. Of them, 115 people fought under Sector 11 (Mymensingh-Tangail) at Haluaghat and few of them embraced martyrdom.
The indigenous people, or 'adivashi' in Bengali, fought hand in hand with their fellow Bengalis and inspired and organised other members of their community to participate in the war. They did not view the fight as something concerning the Bengalis exclusively but one which was aimed at liberating the people of Bangladesh, of which they were a member. It was their fight too. However, this 'freedom' had heavy cost for them too. They lost their land and property and suffered repression. Some had even ignored the threat of their landlord who were local collaborators of the Pakistani occupation forces, only to feel the wrath of family members of these landlords post-independence. Event today, these powerful elements are prone to evicting the adivashis from their ancestral land.
Freedom fighter Uttam Kumar Sarder said he felt "ignored and inferior" before people around him in India, where he had fled at the beginning of the Liberation War in 1971.

Despite such humiliation, like many other indigenous people, he undertook training in guerrilla warfare and returned to the country to fight against the Pakistani occupation forces. He fought several battles on the war front and was once caught and tortured by local collaborators of the Pakistani forces.
I was 35 during the Liberation War and I had wife and a son then. I worked as a farmer in my village. Many people took shelter in the houses of indigenous people in Madhupur Garh area when the Pakistani occupation forces started massacre and some freedom fighters from Tangail set up a camp there in the end of May. I heard from them that the freedom fighters of Bangladesh are taking training in India. I decided to join the Liberation War. I along with Biren Sangma and Amolendra Sangma of my village went to Dhalu in Meghalaya in India through Nandina in Jamalpur on Ashar 10 (in Bangla calendar). After trainings for about a month, our group led by commanders Anis and Nuru attacked the Pakistani forces on Dhanua Kamalpur border. Later pretending to be a mad, I went near the Pakistan forces' camp and returned safely after a recce. We about 300 freedom fighters attacked the Pakistani camp at Dhanua Kamalpur and after a terrible fight for three days, the Pakistani forces fled, leaving huge arms and ammunition. Twelve Pakistani soldiers died in the fight.

I also took part in battles on behalf of Kaderia Bahini and after freeing Tangail from the Pakistani forces on December 11, I stayed at Bindubasini High School camp. Later I surrendered my arms to Bangabandhu Sheikh Mujibur Rahman at the school ground and returned to my village. Now at 70, I have to work as a day labourer for Tk 70 to Tk 80 per day for living.

I joined the Liberation War with a hope to eradicate oppression and immoral practices but we the indigenous people are facing oppression and torture.

We did not fight for such a country.

Muktijuddha Chin Sangma of Dharati village in Tangail laments the ill-treatment of adivashis
Denial of equal rights
The defection of influential Chakma leader Raja Tridev Roy to the Pakistani side and the subsequent years of conflict between the Government of Bangladesh and the Shanti Bahini of the Chittagong Hill Tracts intensified the hostility towards the adivashis.
Post-independence various indigenous groups have regularly complained of ill treatment by the Government of Bangladesh and the majority Bengali population. Common complaints include denial of equal social and economic rights, non-recognition of ethnic identity within the Constitution of Bangladesh, non-recognition of contribution during Muktijuddho, illegal land grabbing, and indifference of the authorities to preserve their culture and language, leading towards a steady decline of their ancestral heritage.
The adivashis feel that the majority (Muslim-Bengali) people of Bangladesh has failed to realise and appreciate the diversity in Bangladesh in terms of culture and religion, resulting in discrimination, conflict and deprivation. According to Professor Mesbah Kamal of Dhaka University, General Secretary of Bangladesh Adivasi Odhikar Andolan (Indigenous People's Rights Movement Committee), it's important for Bangladesh to take initiative which "shows respect to plurality and cultural diversity of the country" and ensure equal rights to people from other cultures.
Many indigenous people, including brave freedom fighters, are now working as day labourers and find it difficult to survive on daily basis and meet their basic needs such as food, clothing and shelter.
Organisations such as Bangladesh Adivashi Forum, Bangladesh Adivashi Parishad, Bangladesh Adivashi Adhikar Andolon, Research and Development Collective, Adibashi Sangskritik Unnayan Shangstha (ASUS), Working Journalists for Indigenous Community are driving the efforts for the adivashis to receive the due honour and recognition from the state. They are working to readdress this balance and provide a realistic picture of 1971 to future generations.
They did not want anything from the state and the state also did not give them any reward.

Sanjib Drong, writer and researcher
U. K. Ching - the only adivashi to be awarded state recognition
U. K. Ching belongs to the Marma community - the second largest ethic minority group in Bangladesh behind the Chakmas - of Ujanipara in Bandarban, Chittagong Division. During 1971 he was a naib subedar of the East Pakistan Rifles (EPR) stationed at the Hatibandha border outpost in Rangpur Division when the war began and joined the war after he had come to know of the brutality perpetrated at the EPR headquarters at Pilkhana, Dhaka.
As a member of the EPR, he fought in many districts as a platoon commander. He fought at the battles at Gangamari and Chowdhury Hat in Chittagong district and describes the Chowdhuryhat battle in particular as a "deadly battle" and one he "survived by luck". Alongside guns, U. K. Ching used indigenous tools and tactics against the Pakistan army. His ingenuity amazed the muktijuddha war commanders. He also fought in the Rangpur district and took part in blowing up the Lalmonirhat power station. U. K. Ching was a courageous soldier who only lost 3 of his men in the nine months of war and took initiative to rescue many Bengali women from the hands of the Pakistani army.
In the course of war U. K. Ching came in contact with Indian General Jagjit Singh Aurora and martyred Bengali war hero Lieutenant Abu Moyen Mohammad Ashfaqus Samad.
U. K. Ching

()
After independence U. K. Ching was awarded Bir Bikram - Bangladesh's fourth highest gallantry award - by the Government of Bangladesh in recognition of his contribution. Till today, U. K. Ching remains the only member of the ethnic minority communities to have been awarded such recognition.
U.K. Ching's journey from near obscurity to recognition is one that should give the nation pause. There is little information about his contributions in the war and hardly any documentation about this gallant hero in official records.

U.K. Ching's experience in the frontlines is a testament to his valour and his indomitable spirit in the quest for freedom. Now around seventy-five years old, he is still a feisty man with a sparkling sense of humour, which was manifest in the war stories he related.
However, such is the disregard shown to indigenous people - and to the common man in general - that on 11 March 2004 in the National Gazette, which claims to be the final list of all freedom fighters, U. K. Ching, with serial number 175 under the gallantry award section, was listed as deceased. It was through the efforts of Lt. Col. Quazi Sajjad Ali Zahir and the support of the Bangladesh Rifles (now renamed to Border Guard Bangladesh) that U. K. Ching was found to be alive.
Now frail and reaching his 80th birthday, U. K. Ching is leading a life of hardship with his 8 family members. He cannot work hard due to his illness and does not receive any support from the government. Even a national hero like U. K. Ching was at the receiving end of mistreatment which has been the longstanding experience of many of his fellow members of the ethnic communities. After shifting from Bandarban town to the outskirts of Langipara, U. K. Ching tried to develop an orchard of teak but local hoodlums occupied it.
If these [ethnic and religious maltreatment] continue, how could you claim there is no disparity?

I can say it from my condition. It is tough to arrange three meals now. I had a house in Bandarban town but had to sell it to cope with financial hardship. I had written to the Prime Minister for an auto-rickshaw but there was no response. I can assess the condition of others through my condition.
U. K. Ching believes the goals of Liberation War, such as the abolition of economic disparities among citizens, remains a remote reality even after four decades of independence. The sustained maltreatment of minority communities - both ethnic and religious - by successive governments leaves him appalled and infuriated. It makes him wonder if the sacrifices he and countless others made to create a new nation had been worth it.
The ideals of the war are yet to be realised and successive governments have completely ignored these ideals. I do not believe they can be met...This is not the Bangladesh that we fought for nine months.

Many people inquire of my condition when March or December comes. For the rest of the year, no one actually bothers.

The political parties come up with a long list of promises such as establishment of basic and civil rights of the people before every general election. However, once they are elected, they forget everything and literally become autocrats. We dreamt of a country where there would be no discrimination on the basis of religion or ethnicity. Unfortunately, in reality, the practice of Punjabis continues.

The state machinery appeared busy in efforts to Islamise the state and has finally done so by making Islam the state religion. Even the Awami League, which gave political leadership to the war of independence, stuck to the agenda.

I do not think I fought for this Bangladesh. I don't believe the major parties would do away with the communal provision in foreseeable future.
Few other indigenous war heroes:
Lakkhan Chandra Barman
Parimal Chandra Kotch
Chandra Mohon Barman
Sona Toch Burman
Nipen Barman
Lakhyi Kanto Kotch
Ajit Chandra Barman
Jotin Chandra Kotch
Suresh Chandra Barman
Rabindra Chandra Barman
Jotindro Chandro Barman
Uttam Kumar Sarder
Shushil Soren
Bishwanath Hembrom
Abatar Mondol
Hemanta Kumar Murai
Shukh Chand Murari
Naresh Chandra Murari
Shrikanta Murarti
Biren Murari
Narayan Murari
Joy Chand Mondol
Bisto Chandra Hazra
Buddinath Orao
Dasu Murmu
Thakur Mardi
Ushit Mong of Cox's Bazar
Goda Orao of Joypurhat
Chin Sangma of Netrakona
Nikhil Hajong of Mymensingh
Manindra Kishore Tripura of Matiranga in Khagrachhari
Lawrence Marandi of Joypurhat
I too like many of my compatriot freedom fighters shed blood for our motherland. I can't understand why I still feel ignored and inferior. Why am I not recognised constitutionally?
I underwent torture and returned from the edge of death. These incidents seldom come back in my memory. But I can never forget the day when Pakistani soldiers killed a pregnant woman and then tore her into pieces and severed her baby from her womb.

If we have the same feelings for the country, we have also our right to be recognised in the constitution.

Muktijuddha Shushil Soren who, aged 18, joined the freedom fighters, leaving behind his wife and 3-month old daughter for the cause of the country
Rebati's anguish
On April 1971 the Pakistani Army attacked the slum in Khadim tea garden in Sylhet. After shooting the men who were hiding among the bushes, they pushed all the women and children inside the huts and set them on fire. Defying fear, 16-year-old Rebati Mahali, a tea-garden labourer of the Mahali indigenous community, broke the shacks and helped the women and children to escape. But she was caught by the army. Dragging her under a tree, the Pakistani army tortured Rebati inhumanely and raped her one by one. Nobody came to her rescue as she screamed for help.
Men were made to stand in two lines and the women and children were all pushed inside the thatched houses. To their horror, the men saw one machine gun was being set up by the soldiers on the high ground in front of them. Before they could understand, the soldiers opened fire at the men standing in the line. Most fell dead and only a few ran and took shelter in the tea-garden. The women and children inside the thatched houses could hear the screaming of their men being killed mercilessly. But they did not understand what lay ahead of them. The soldiers brought petrol from their truck, spread it over the slums and set fire on them. The women and children were somewhat dumbfounded as they had no idea as to how to save themselves.

Rebati watched her mother and few others engulfed by the fire as the women and children began to scream. Brave Rebati made all out effort to break open the bamboo wall of the slum to allow first the children to escape from the fire. She started pushing the children out of the slums. The children ran and took shelter in the tea-garden but many women could not come out. Rebati decided not to run out of the slum but to continue helping the women in distress. From the high ground the army personnel spotted Rebati who was trying to save the others. They caught Rebati and dragged her near the large tree. The soldiers unleashed their anger and hit her and she fell on the ground. The soldiers raped her one by one. Her screams echoed from across the hills and valley. There was no one to help her that day. After committing the heinous crime, the soldiers along with their collaborators left the slum area for more comfortable bungalows of the tea-garden officials.
Even today, over 40 years after she sacrificied her life for the freedom of her motherland, the Mahali people can still hear Rebati's scream echoing in the hills of Khadim tea garden in Sylhet.
I contemplated the answer for sometime and then told them that she comes back because she has not received justice for all these years.

Lt. Col. Zahir on why Rebati continues to haunt the hills of Sylhet
Rebati's tragic story - and many more like hers - only came to light after Liberation War researcher Lt. Col. Quazi Sajjad Ali Zahir 'dug out her story from the lost pages of history that mostly accounted the heroic tales of enlisted freedom fighters and leaders'.
Bangabandhu had intended to honour the sacrifice of Rebati and thousands of women like her with the 'Birangana' title, however because of socio-cultural limitations and our own failure as well as the curse of our patriarchal social system, the word has lost its essence. [I had] Requested many a government to recognise the contribution of women with state honour, but no one has ever listened. We conveniently forget them when we are in power.

Selina Hossain, Literateur
Raising awareness
In 2008, authors Ayub Hossain and Charu Haque co-wrote the research-based book "Muktijuddhe Adivasi" (Indigenous people in the War of Liberation) to highlight the contribution of that community. Air Vice Marshal A. K. Khandaker launched the book and sought recognition and allocation of equal rights for the indigenous people. Referring to several incidents of land grabbing, he said no-one has the right to grab the lands of the indigenous people.
Another active supporter has been Major-General Chitta Ranjan Datta, Sector 4 (Habiganj, Sylhet) commander and Bir Uttam. Major C. R. Datta, as he is popularly known, has been a regular campaigner calling on the government to ensure the rights of the indigenous community and condemned the repression. Being a Hindu, which represents less than 10% of Bangladesh's population, the Major is no stranger to the frustration of the minority.
For the adivashis of Bangladesh they want the state to recognise their freedom fighters and ensure they enjoy equal facilities as the Bengali freedom fighters. They want everyone to be respected irrespective of caste, culture and community.
Muktijoddhas have asked for very little; their demand has always been that the country be built on the values of freedom, dignity and equality, which they fought for. Yet thirty-seven years into independence, the nation has failed its children and the very ideals it was created for.

Successive governments have yet to recognise the role of non-Bengalis in the liberation struggle and have failed to protect, preserve and respect the rights of adivasi communities who are part and package of the diversity of this nation. They are still denied their right to land, language, and culture. They are denied their space in the Bangladeshi constitution, thereby being dismissed as people of no-consequence.

It is a shame for Bengalis who fought so hard for their language, their right to autonomy, their culture and their freedom with the assistance of the adivasi communities, that they have failed the very people with whom they continue to share the water, air and land of this country. Till our adivasi brothers and sisters, neighbours and friends get their rightful position in this country, the struggle for liberation is not over.

A medal means very little if there is little understanding of its true value. Recognition is tainted if it is limited to honouring the contributions of only those of a particular ethnic group, however it is defined - by the colour of one's skin, one's language, one's culture. Freedom loses its meaning if one enjoys it at the expense of another.

U.K. Ching, and men and women like him who gave it their all for independence, did not ask for a medal nor for recognition. They fought along with their Bengali brothers and sisters because it was what they believed they should do during a time of severe crisis. In return, they did not expect the country they fought for to fail them again and again, such that today even their grandchildren continue to be forgotten, their land is grabbed through illegal settlements, and their resistance is silenced by violence and intimidation.

Recognising the dire circumstances in which U.K. Ching and his family now live in, Dr. Zafarullah of Gonoshastho Hospital and Dr. Hasan of Al Biruni Hospital have come forward offering free medical treatment; others have pledged to assist them in any way possible. Yet, such private initiatives cannot replace the role and responsibility of a national government that, in sheer callousness, listed a living hero as being dead.

The heroes of '71 expected more from the country they helped create; at the least, they did not expect to be forgotten. In the case of the adivasis, their contribution in the independence of this country has yet to be recognised, as is their right as equal citizens of this land. They are still waiting for the country to embrace them as its own. They should not have to wait anymore.

Tazreena Sajjad, member of Drishtipat Writers' Collective
It is upto you, my Bengali and adivasi brothers and sisters, to save our country. It is your turn now.

Bir Bikram U.K. Ching speaking at a function organised by Shudhui Muktijuddho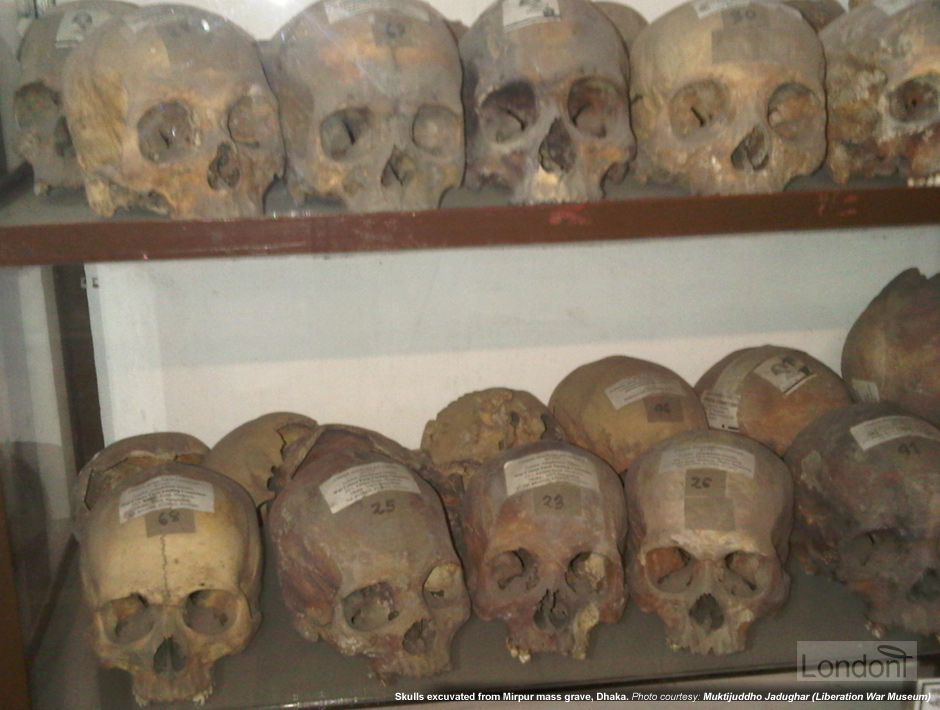 Efforts to record People's War
The social and political chaos that followed the Liberation War, particularly in the 1970s (which included assassination of Sheikh Mujibur Rahman and Ziaur Rahman and large scale famine), meant that recording history became neglected. And with emotions still raw from the trauma of 1971 and increased political pressure to reflect events favourable for parties in charge, it became difficult for genuine freedom fighters to open their mouth and tell the truth about the liberation movement.
Few have collected information about these ordinary people and their role in 1971 so their memories and their war experience have become invisible and inaudible over time. We know so little about them that they are almost non-existent narratives. So the narratives of the mainstream and the powerful, have become the only history. The memories of the majority have been allowed to die through neglect.
Nevertheless, with the advent of time these efforts have been intensified. Most of Projonmo Ekkattor (Generation '71) have either passed away or are in their last days, therefore it has become even more important to preserve history and provide a true - or as close to truthful - account of events during those turbulent days. Two Bengalis who are excelling in their efforts are Lieutenant Colonel Quazi Sajjad Ali Zahir and Afsan Chowdhury.
Colonel Zahir, a Bir Protik, is an independent researcher and author of over 26 books on the Bangladesh Liberation War whose numerous articles have been published in both national and international newspapers. During 1971 he escaped from his post as a Battery Officer in the 78 Field Regiment Artillery, 14 Para Brigade in Sialkot, West Pakistan, crossed the Jammu-Kashmir Border and joined the war initially as a Guerrilla Commander in Sector 4 (Kushtia-Jessore). Later he raised 2 Field Battery Artillery and as a Gun Position Officer and an Artillery Observer, he participated in the battles of Borolekha, Shamshernagar, Juri, Kulaura and Fenchuganj in Sylhet. For his valor in the battle of Borolekha, Colonel Zahir was awarded the "Bir Protik" Gallantry Award - Bangladesh's third highest gallantary award.
Quazi Sajjad Ali Zahir

()
Post independence, Colonel Zahir, who had experienced first hand the bravery and sacrifices of ordinary people on a day-to-day basis, has been very active in trying to spread knowledge of the people's contribution towards war. He is a regular guest speaker at schools, colleges and universities in urban and rural areas of the country and is currently the project director of the Bangladesh Army History project. He is also a national committee member under the Ministry of Foreign Affairs composed for honouring foreign nationals who have contributed to the Liberation War of Bangladesh, and is a committee member and book reviewer for Islamic Foundation of Bangladesh.
In addition, he's the founder and Executive Director of Shudhui Muktijuddho (literally meaning 'Just Only Liberation War', but used to denote 'Our Struggle for Freedom'), an initiative that documents the narratives of ordinary freedom fighters of the Liberation War and the experiences of civilians in 1971. The organisation conducts research on war crimes that were committed during the nine-month war and also extensively documents information about the missing and disappeared during this period. Shudhui Muktijuddho is also affiliated with 70 student organisations and conducts training workshops on systematic collection, recording and verification of oral history of the Bangladesh genocide.
Colonel Zahir is also the creator of the documentary series Deshtake Bhalobeshe (For the Love of Our Country), a regular 30-minute television program that uncovers genocide in different parts of the country and the stories of survivors and witnesses who lived through the atrocities. Over 225 episodes of Deshtake Bhalobeshe have been aired nationally so far.
For his continuous efforts and sheer dedication Colonel Zahir was awarded the Bazlur Rahman Memorial Award for Best Television Documentary on the 1971 Liberation War in 2011, and in 2013 he was awarded the prestigious Swadhinata Purushkar (Independece Award), Bangladesh's highest civilian award.
For people like Zahir, we shall not forget history.

Selina Hossain praises Lt. Col. Zahir for compiling stories that have 'remained in the shadows of history'
Like Lt. Col. Quazi Sajjad Ali Zahir, Afsan Chowdhury too has been very proactive in spreading awareness of villagers contribution to the Swadhinata Juddho.
A student of Dhaka University's history department, Afsan Chowdhury initially planned, in the late 1970s, to write his MPhil thesis on how the whole idea of Bangladesh's independence movement evolved since the creation of Pakistan in 1947. He was responsible for the state-sponsored project for the documentation of the first six of the 15 volumes of Bangladesh's history of struggle for democracy in its Pakistan era. The volumes, known as 'Bangladesher Swadhinata Juddho: Dolil Potro' was edited by Hasan Hafizur Rahman, and another reputed historian, Dr. Sukumar Biswas, was also part of this endeavour. But as he was exposed to some military documents during his involvement with the history documentation project between 1978 and 1983, certain bitter truths of the country's political history confused the innocent researcher in him.
Suddenly I realized that military conspiracies are part of the country's political history, because I came across some 'classified' military documents that showed that the army used to issue cheques for certain political programmes, which were regarded by the people as sacred!
Frustration over "the sense of constraint.. and fortifying political positions rather than presenting facts and accounts" forced Afsan Chowdhury to leave the project and he travelled around Bangladesh to collect and record oral history of the Bangladesh genocide. He produced a 6-episode radio series titled "Women and '71" for BBC in 2000 and then produced 'Tahader Juddho' documentary a year later. In 2003 he interviewed a number of Indian and Pakistani nationals for yet another BBC radio series.
In 2007 Afsan Chowdhury edited and co-authored the mammoth "Bangladesh 1971", a 4-volume set totalling over 3,000 pages chronicling the birth of Bangladesh. Compiled over a period of 4 years, the book, written in Bangla, is split into seven parts comprising of 22 chapters. The first six parts are spread over the first three volumes and details the events preceding 1971 and during the war itself. It covers a wide range of subject including disparity between two wings of Pakistan, growth of Bengali nationalism, political, military and diplomatic aspects of the Liberation War, social context of 1971, role of India, Pakistan's problems during 1947 which resulted in its split in 1971, and role of international actors. The final seventh part occupies the entire fourth volume and consists of only one chapter - a compilation of 15 reports and 132 in-depth interviews collected over a period of about 7 years. The interviews are grouped into those of Liberation War organisers, veterans and social workers, villagers, women, Indian politicians, civil and military bureaucrats, cultural activists, journalists, and two social workers, non-Bengali Pakistanis stranded in Bangladesh, Pakistani intellectuals and academics, and miscellaneous persons of various nationalities.
A few years later, however, I did return to research, but with a slightly different purpose in mind. Hoping for a small, finite piece of terrain, on which I could be sure of what I was learning, I turned to the villages of Bangladesh for rescue – and possible redemption. Here, I would not find out about state-making, but I would find out what had actually happened to people and families and communities. Most importantly, I would not be mixing up the past with half-truths and the unknowable.

My ideas about the craft of history also began to change. I came to realise that, in ignoring the memories (both individually and collectively) of those people whose experiences and work has not been written down, we historians make a crucial distinction between what is and what should be. Traditional history began to strike me as too incomplete, too imprecise. Like the state that it often served, it seemed to have made up only those rules that served it best. The documents, the written words, the impeccable claims of sourcing seemed, in the end, inadequate. Traditional history 'outsidered' everyone except for the powerful.

As such, my new undertaking began with listening to people of all kinds, both the so-called fringe and the principal players. The marginal, the riff-raff, especially in the villages or the slums, had not experienced state-making to begin with. As such, they discussed what was actually important to them, rather than what was important on a political level. In fact, such conversations rarely explained events; they rarely put them together into any kind of framework. For me, there was a certain liberation inherent in all of this: to focus solely on a very small area, to hear what stories would arise, then to cross-check these facts. This was research – truly finding out what happened.

I realised that those in the villages saw the words for country, state, land, village very differently from how we Dhaka researchers did, and perceived themselves and us urban observers even more differently. There was always a framework of facts, quite ordinary in the national context but about which almost the entire village agreed. To them, we were like sailors from victorious armadas of distant lands, who had come to collect riches and disappear. The disconnect between the state and society is reflected in the multiple, often contradictory, constructions of society or the village by the 'peripherals', and the convergence, contact and ultimate domination by the power-based cultures reflected in the state.

It must be noted that we were not using Marxism, 'subaltern' history or any another ideological paradigm in the process of coming to various understandings. Instead, only the villagers' own perceptions were used. For instance, the word 'desh' meant 'country' to us, but meant 'village' to them – an ironic distinction. Likewise, the events of 1971 were considered glorious milestones of nationalist history to us; to them, however, in their failure to encapsulate nationalism while stuck in villages or slums, it meant continued suffering, even while they continued singing the national anthem.

During the first few years of these explorations as a reporter on history, my own anxiety lessened over what had really happened versus what I knew. At the same time, the space between the facts and what was being told had also shrunk. Ultimately, the dynamic that was set up was one in which, for instance, the act of a woman telling me about what she knew would neither make her powerful nor benefit me. This was merely a transaction of words and memories, an exchange of nothing. I am not romanticising here. Rural life, and that of the 'peripherals', is mostly brutal, nasty and short. It can be cruel, and is dictated by its own set of politics. Nor did I feel as though I had discovered my long-lost family of 'good people' standing in the mud. We were clearly different, apart, strangers even in our own spaces. But we were also able to talk; and I, to listen.

As leader of the team, I began to see this project as something of a sunflower: a large centre surrounded by long petals. At the core would be the villages in 1971 – and not your usual cast of heroes, politicians and soldiers, but the people who survived, those who would never be heroes. The focus of this project would be the ordinary people, those who are rarely included even as footnotes in history. It would not exclude our conflicts, stupidities, vanities and shame, or that of others; but unlike most works of history, it would not be a narrative of patriotism or even nationalism, at least insofar as these are normally understood. It would be a history of a particular year, a time, a period of moments rather than 'liberation' or 'independence'. In the end, it became a documentation of inevitabilities, right from where all Bangladeshi began in the Subcontinent.

It took six years to complete the book, and a half-dozen souls to do the work. It was a non-government effort, and largely the collective labour of the young, all born after 1971. This made it possible for these people to go out, listen, explore and often probe, without the burden of a sense of obligation to the state and its birth narrative – very unlike the compunctions felt by us older researchers. In its final form, it is a four-volume work, totalling 3,000 pages and sold by the publisher as one book. It is not the best, but is certainly the largest book in Bangla in Bangladesh.

Afsan Chowdhury on writing his monumental book "Bangladesh 1971" recording contribution of rural 'outsiders'
This work, with its historical focus on the experience of the common wo/man during our war of liberation, will no doubt in the days ahead become the standard against which to measure 1971 history writing by.

...The book reminds and returns us, by degrees, to the roots of our war of liberation.
Afsan Chowdhury also appears as a guest speaker in educational institutions both nationally and internationally.
Though both Lt. Col. Quazi Sajjad Ali Zahir's and Afsan Chowdhury's efforts are highly commendable, there are still work to be done. It is the duty of writers and scholars - and more importantly the youngsters - to not only cherish and uphold the spirit of Swadhinata Juddho but also continue to spread it.