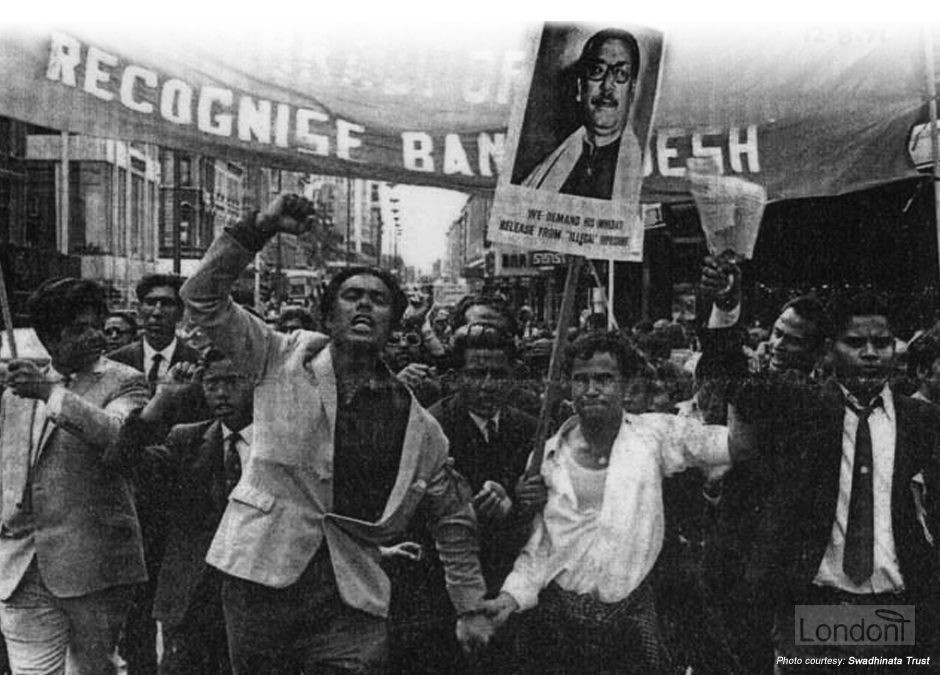 Probashi's campaign abroad for their motherland
The flames of freedom touched the expatriate Bengalis as well. They could no longer ignore the force. Expatriate Bengalis - known as "Probashi" (Non-residential) Bengali - campaigned from every corner of the world from fundraising, protest rallies, diplomatic defection, and other such methods to highlight the plight of the grief-stricken, oppressed Bangladeshis. These activities were in full force in UK, especially London, which contains the highest number of Probashis in the world. In London, the Probashis organised a protest rally in UK which was attended by over 10,000 people.
The generation of givers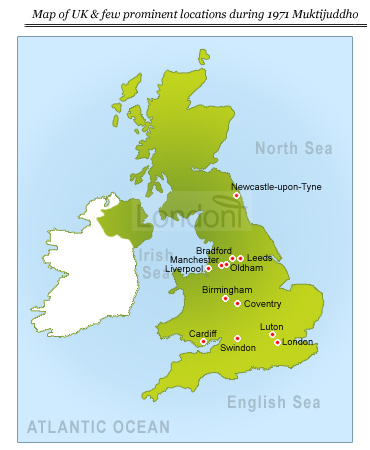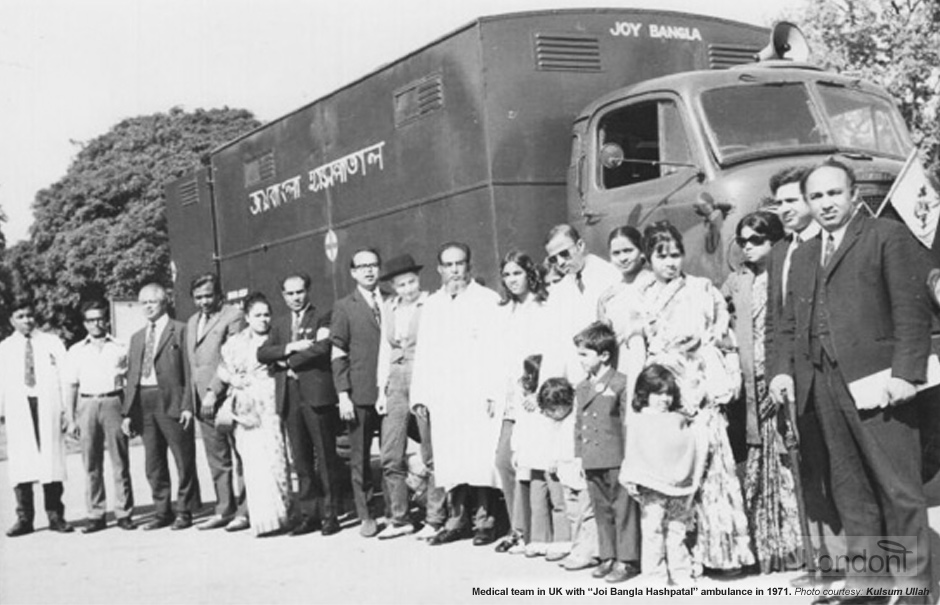 Brothers & sisters turn foes
Initially the relationship between the probashis from the two wings of Pakistan was strong and positive. Both set of people were bound by the same Islamic religion and Asian cultural practises. However, as tension grew with every passing year in Pakistan, these ripples were felt abroad.
The relationship took a sharp dive for the worse and the cold war began. Bengalis felt the West Pakistanis possessed an air of superiority and looked down upon them, even in UK. In their eyes, Bengalis were not considered 'original Pakistanis'. Urdu was used as medium of exchange - Pakistanis expected to converse in Urdu and never spoke to East Pakistanis in Bengali even though the East Pakistanis were the major populace and Bangla was the number one spoken language in Pakistan.
I came to Britain in 1962. We knew that we are Pakistanis, and we had it written in our passports. In reality we saw that those who were Urdu speaking are the owner of Pakistan. They used to mention us as Bengalis when they talked to us. In any case if you are to go to any Bank or the High Commission, you had to talk in Urdu. I lived in the North-West at that time. They were not willing to mention us as Pakistanis, we were called Bengalis. Most of the positions in offices were dominated by West Pakistanis. Even mosques were dominated by West Pakistanis. They used to disregard the Bengalis even in the factories where we worked on similar duties.

I came to Britain, with the help of my brother in February 1962. I was annoyed with Pakistan because of so many things, I used to write my home address as: East Bengal (instead of East Pakistan). One day my brother saw this and warned me about the consequences. He told me to write East Bengal within Bracket after writing East Pakistan. He warned me, this would create problem if they (Pakistani authority) notice this. I was so annoyed with the Pakistanis. Many of our people use to tolerate this but I could not bear these, so I had frequent quarrels with them in the factory I used to work.

When the six point movement of Bangabandhu started, I followed the events very closely. In 1969 when Asad was killed, I was living in a town called St Albans, we sent financial help from there. Afterwards we were hopeful as Ayub Khan stepped down from power, and Yahya Khan came and declared the election schedule. We were very hopeful then.

BBC was the main source of information for us, and from 1969, we depended on the 'Janomot' for information and news.

Sazzad Khan who was captured as a freedom fighter and detained for six months
I had very bad relationship with them [Pakistanis before the struggle began]. We had a conference in the West Pakistan before the war, when I was working in EPSIC (East Pakistan Small Industries Corporation). I was invited to give a lecture. I still remember, I was there in West Pakistan for 18 days. As soon as I started to speak, I started speaking in English, some of the people asked me to speak in Urdu, but I got angry with them and started to speak in Bengali.

Another thing was, when I was flying to the UK, they didn't allow me to carry more than £ 5.00. I boarded on the PIA (Pakistan International Airlines), with my children. They served food for only one child, when I asked them to serve all my children, they told me, what they are doing is right. The Pakistanis treated us badly right from the very beginning.

Another example of the oppression was, value of gold was 120 Taka per bori in East Pakistan and 90 Taka per bori in West Pakistan, although we were part of one country. Paper was also highly priced in East Pakistan. Thus we understood the process of subjugating us economically. Saris from Rajshahi were cheaper in West Pakistan, to which I could not understand why? The shop owners (Urdu speaking Biharis) in Mirpur were unwilling to answer us when we were talking in Bangla.

One girl was working under me, and I had to talk to her in Urdu. She used to speak in Urdu, and I used to talk in English.

I had a driver at EPSIC named Hafiz Ali. He used to look down on me and used to ignore my presence because he was from West Pakistan. Even children from West Pakistan origin were taught that they are the owner of Pakistan as Mohammed Ali Jinnah established Pakistan.

Anowara Jahan, a founding member of Bangladesh Women's Association
Their relationship hit rock bottom in 1971.
On 28 February 1971 a Bengali demonstration took place in front of the Pakistan High Commission in London in protest against the delay in transferring political power to Awami League. The protestors gave a memorandum to the Commissioner requesting the upcoming National Assembly session should not be stopped and if this was to happen this will go against the will of the Bengalis and 'there will be no more Pakistan'. To their bewilderment President Yahya subsequently postponed the session sine die. Once again the demonstrators returned.
Two days later, on 5 March 1971, Bengali demonstrators came from Birmingham by coach and joined with their London counterparts and surrounded the Pakistan High Commission. That morning they brought down the Pakistan flag from the High Commission office building and burned it in front of the gathering media from various countries. They also burnt the photograph of Yahya Khan and wrote 'Joi Bangla', 'Swadhin Bangla' and other slogans on the wall of the High Commission.
We declared the independence of Bangladesh on that day. The memorandum of the independence of Bangladesh was handed over to Pakistan High Commissioner Suliman Ali by Azizul Haque Bhuyian, Secretary of East Pakistan Liberation Front. We shouted and chanted that from today we are citizens of an independent state of Bangladesh. We shouted that we have no connection with the state of Pakistan, withdraw the Pakistani troops from Bangladesh and recognise Bangladesh.

Mohammed Israel, accountant of the Bangladesh Steering Committee
The incident was immediately broadcasted all over the world through radio, television and newspapers. It drew attention to the development in East Pakistan and television channels in UK broadcasted the West Pakistani oppression against eastern Pakistanis by highlighting some of the ill practises.
During this time, there were many heroic acts, sacrifices and hardships endured by the Bengalis in the UK. Supporters went on hunger strikes and held all night vigils outside the Pakistani Embassy and the British Parliament. Whole weeks' wages, food and clothing were given for the cause.

Suffering verbal threat s and physical attack for standing up for their beliefs was part and parcel of the Bengali peoples' struggle in Britain. The Pakistani Government took away student grants, passports and did all in its power to intimidate the Bengalis in Britain. But their commitment, courage and determination to free the people of Bangladesh from Pakistan's tyranny couldn't be shaken. Many went to fight in the war, willing to give their lives for an independent Bangladesh.

Razia Shariff of Swadhinata Trust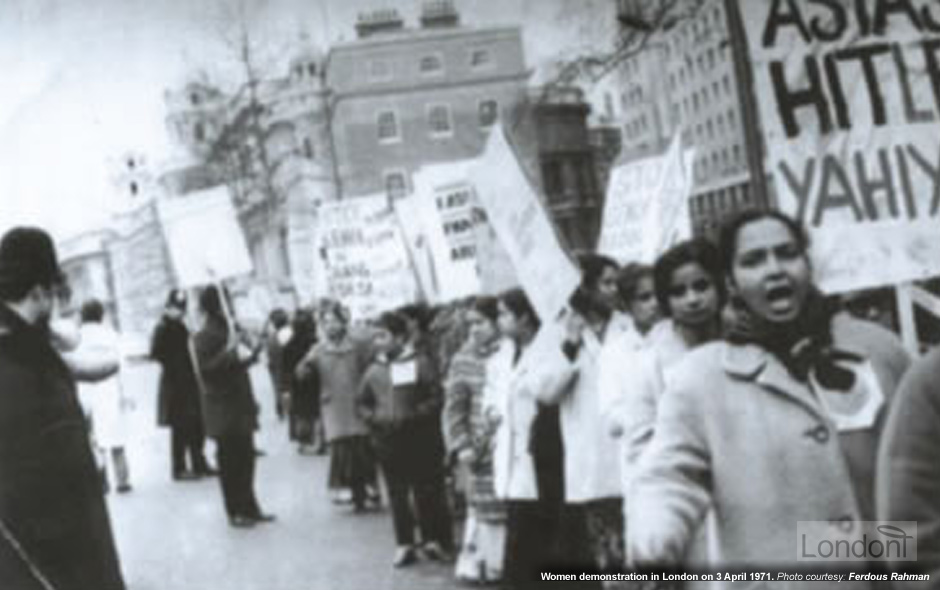 Hyde Park rally, London
The flag burning incident on 5 March 1971 gave Bengalis renewed courage. They felt free to express their provincial grievances in a foreign land knowing full well they wouldn't suffer the same dire consequences as they would in East Pakistan.
With this in mind, an all-party protest meeting was held at Hyde Park, London, on 7 March 1971. On the same day, over 5,000 miles away, Sheikh Mujibur Rahman was giving his famous historical speech at Race Course Maidan in Dhaka.
Bengali came from all over the UK and gathered at Hyde Park around 10 am. Over 10,000 people - the biggest procession in the history of England until then, as estimated by the Metropolitan Police - came to listen to MPs and other speakers. Such was the passion that husband came with their wife pushing young babies in the pram. Every Bengali wanted to be part of this historic moment.
There were very few Bangladeshi women in those days in 1971. A group of may be 100 or 200 women, and she (my wife) was one of them. She went to Hyde Park, Trafalgar Square and some times to the local parks, where ever the demonstration was. We would have a number of meetings on every other day, so if you miss a procession, the number will be small. So you have to be careful, that you don't miss. Nowadays if 80% of the people miss the procession, still it will be few miles long. In those days, if one person misses, then one person short, it could be counted.

Abdur Rashid, Assistant of the Labour Attaché,Pakistan High Commission in Bradford, a city full of (West) Pakistani people, who quit his job to support Swadhinata Juddho
After the meeting, the participants marched towards the Pakistan High Commission, surrounded the office and expressed their anger and disappointment. The procession chanted the independence of Bangladesh. Memorandums were submitted to British Parliament and other political bodies. Bengali students took over the offices of the Pakistan Student's Federation at Chesham Place (London) and established it as their temporary base.
Along with Trafalgar Square, Hyde Park became a common venue for demonstrations throughout Swadhinata Juddho. In one instance 15,000 - 20,000 people had gathered there and key speakers included Abdus Samad Azad and Justice Abu Sayeed Chowdhury. Both men gave passionate speeches and were dedicated people who worked tirelessly for the independence movement.
We used to coordinate demonstrations mainly by telephone. All the leaders of the towns used to meet in some pre-planned place and we use to decide the next programme.

Ajmat Ullah, then a grocery shop owner whose flat was used for many Luton Steering Committee meetings
We demonstrated in Hyde Park on so many occasions. We also contributed money for the war. I personally gave £100 [over 7 weeks pay in 1971] and on another occasion I gave £50 as donation for the war in Bangladesh.

We went to Hyde Park by coach from Whitechapel and people from all regions came to Hyde Park. People came from Birmingham, Manchester, Oldham, and Bradford and so on. Huge number of people gathered. I think people wouldn't respond today the way did in 1971 in the UK. They did it for the country, for the people who were being killed and massacred by the Pakistani army. Everyone was for the independence and for an independent Bangladesh.

Abdus Sami, campaigner
Effect of 'Operation Searchlight' on probashis
Once news had spread about the atrocities of the night of 25 March 1971, British-Bengalis attempted to take over the Pakistan High Commission the following evening but failed.
We came back to Pakistan High Commission to protest against it, as young people the whole night we stood in front of Pakistan High Commission. Other people were also coming and gradually we decided that we will stay in front of the High Commission until the parliament opens, however long it takes. On second or third day people came from Birmingham and other areas and joined us, our local people came too, because after 1st March there was no telephone or other communication between East Pakistan and Britain. People didn't know about their families in East Pakistan and we decided that we will stay in front of Pakistan High Commission.

The month of March was cold, there were few cars and we rested for a while and came back outside, and we continued that till 25 March 1971. Within this time 7th March came and Sheikh Mujib Rahman spoke about few conditions, about how to resolve the issue but nothing happened. On 25 March 1971 night also we were there.

On 26 March 1971 evening we tried to take over Pakistan High Commission, because by that time the independence was declared and we felt that the High Commission which was originally given by a East Pakistani resident would be our property, anyway we failed. The High Commissioner was a Bengali by default, that is he is a domiciled Bengali though he was from East Pakistan quota, he went for West Pakistan, his name was Salman Ali. The High Commissioner and the Deputy High Commissioner didn't come with us, so the High Commission was Pakistan's property. And our people were arrested, some of them were imprisoned and we couldn't take over the High Commission.

Sultan Mahmud Sharif, currently President of UK Awami League
Large number of Bengali refugees sought shelter in UK. With a ban on media coverage, probashis were limited to gaining latest news through newspapers and radio. They cried endlessly for their loved ones, not knowing what was happening and whether they were still alive or not. The question they posed to their West Pakistani colleagues and neighbours was simple - how would you feel if the military attack happened in Karachi, Rawalpindi or Lahore on unarmed, innocent civilians? Did the 'secessionist' accusation against one political party justify massacring a population of 75 million who fought to make Pakistan a reality?
When the (Pakistani) army attacked, we stopped, lot of people stopped (going to work). We didn't have any heart to go to office virtually, but we didn't resign. Nobody knew what to do and how to react, it was a terrible time for 48 hours, two or three days, terrible for everybody. What could you say, what could you do. When a country voted 99% to one party, one may differ, one may vote against, but when you have the 99% people elected one man, this is virtually the whole country, isn't it? And that country (East Pakistan/Bangladesh) has been raided by then a foreign country (West Pakistan) (in the) middle of the night and the leader is taken away. He wasn't put in jail in East Pakistan but was taken away to West Pakistan. It was a tremendous blow.

Unless you are in it, I challenge, nobody could feel like that. As if your heart is taken away, if you are a conscious person, and you feel and you go with the country. Then your leader on which you are dreaming lot of things, he is taken like a cat in the middle of the night, and he is taken away not in your country, he is taken thousand miles away, and the army attacking everything, and raiding, it was a terrible time. I can't describe it in words. And there can't be a time like this again. At least I feel in this way, and I can feel for hundreds and hundreds of people I saw, because I was one of the men who should have given hope to the people. Lot of people came to me for news rather I went to lot of people. So I didn't have a word to tell them and give any hope. Pray to God, time will heal, we don't know. What can you say?

I didn't resign but I left it, I said, "No, I will work in the street, clean the streets, but will not work with you again".

Abdur Rashid on the turbulent few days after the massacre began
They had violated us very much. They dealt with us badly even here in the UK. They used to say, "Bangal ka baccha, koi nehi accha" and we replied, "Pakistan ka baccha, koi nehi accha". We faced them boldly.

Tahir Ali, then a local campaigner in East London and one of the few peoples who distributed leaflets and posters almost everyday during the nine month war
I was very much sensitive about my country, my language, because, the Pakistanis treated us very badly, as if they are our superiors, and we are their servants. We had to respect them but they didn't respect us. If we asked them like, "Aup kaisa hai" they answered "Tu kaisa hai". They treated us badly all the time. The Punjabis (Pakistanis) did not respect Bengalis living in Brick Lane with the Pakistanis. I could not tolerate that. So as the independence movement started, we all joined [in].

...I went to the school with a Bangladesh badge on my shirt, and some of my friends who were the first year student also had badges on their shirts. As we got to the school, the Pakistani students took the badges off from the first year Bengali students and threw those on the ground. The badges were printed with Bangladesh map and picture of Sheikh Mujibur Rahman. The first year student were afraid and didn't protest, but as me and one of my friend of 5th year came to the school, the first year student told us the incident, and we then went to them, and there was a huge clash between us in the school. The school authority expelled us all. On the same day, in the evening near the Batty Street, there was a big factory, [where] they attacked us again. We clashed with them, and the police arrested us, and our parents freed us from the [police] custody. My friend had a steel comb in his pocket. He injured one of the Pakistani boys with that comb. They (Pakistanis) are still known to me, and on some occasions we meet, now they say that they had fun with us, and we also tell them we had fun with them.

The people were dreaming only one thing - day and night, the independence. The word Bangla gave us an emotional courage. We were so involved and so desperate at that time. Nowadays people are not proud of the identity, they love the identity of being a Muslim, and of course I am proud of being a Muslim. The Turkish are proud of being Turkish, Indians are proud of being Indian but why are we afraid of being Bengali. Some of the Bengalis, namely Young Muslims (YMO) tell (say) that we are Muslims, not Bengalis. They say that Bengali, is the name of a culture.

Tunu Miah, a secondary school student during 1971
We had good relation with the Pakistanis at the beginning. But as the war started, we had very critical relationship with one another. We were annoyed and angry with them. They used to attack us on the streets just after the war started but later we protested and used to fight them. We used to move in groups and were prepared to fight them anywhere we faced them.

The Pakistanis used to tell us in Urdu "Bengali machli! Wo kya karega" [what will the Bengali fish do?]. As if we Bengalis were good for nothing. They really treated us like dirt. They treated us like second class citizens. I had a Pakistani supplier. He was a good friend and was a loyal supplier of goods to my grocery shop. He used to spend all day in my shop. As the movement started he was deadly against us and used to tease us. He really showed his true colours.

How can we forget all that happened in 1971? The Pakistanis really tested our patience. Then we started protesting and taking action against them. Police used to support us very much. The police helped us very much. The White people supported us in the independence movement.
Well, I got no prejudice against the Pakistani people. You are to make friends, I had not got any sort of prejudice. I had a Pakistani friend, who used to be in Multan at that time. He was... in Pakistan and he was a Maulana and he was also academically qualified, he was a very very good friend of mine. So I wrote him a letter at that time, that we are going to be separated, we will be an independent state, we will be Bangladesh, and you will be Pakistan, when you come back here you will see it. In reply he wrote me that you will be separated from us, but can't be separated from my heart, you are my friend. Then you are a Muslim and I am a Muslim as well. We are Muslims, country may be two. So there were many elite Pakistanis they realised that... it is not possible to keep these two wings together. I got no prejudice, but I got the hate against the Pakistani army. The way they behaved and the way they tortured the Bengali people, we will never forget them, we will never forgive them.

CAS Kabir, organised and sponsored of 'Operation Omega' and 'Action Bangladesh' group
For the Bengalis, 'Operation Searchlight' was the final nail in the coffin. There was no more Pakistan. Now Bangladesh became a reality. Nationalistic feelings prevailed, there was no room for compromise.
To drum up support and spread awareness, the Bengalis intensified their activities and become even more proactive. They wrote articles in the British press, held meetings in various places, placed advertisements in the Times and Guardian newspapers, launched the 'no aid to Pakistan campaign' and sent relief missions to the refugee camps. They also provided huge financial and moral support to the freedom fighters and activists such as the diplomats and officials who switched allegiance.
Justice Abu Sayeed Chowdhury provides much required leadership
During those turbulent days in UK there was no strong leader or umbrella organisation to represent the Bengalis. They desperately needed somebody of prominence, known to the local population who could take the community forward. Thus the sudden arrival of Justice Abu Sayeed Chowdhury fulfilled the leadership vacuum which had been missing till then.
Justice Chowdhury added another dimension to their campaign. Though he was no politician and did not know UK too well and as such required the assistance and guidance of wealthy Bengali people, Justice Chowdhury's allegiance brought much needed credibility and media coverage. Now the probashis had a well-known person of international repute who could represent the Bengalis and act as an intermediary between them and the Mujibnagar Shorkar. He also created and eased networking opportunities with other fellow Bengalis throughout Europe and America.
He was aided in his efforts by Gaus Khan, the President of UK Awami League. Gaus Khan had been very proactive throughout the nine months campaign and instrumental in mobilising people and raising funds. He was recognised posthumously in 2011 when he was awarded the prestigious Swadhinata Purushkar (Independence Day Award), the highest civilian accolade in Bangladesh. Many of Gaus Khan's relatives were based in Luton and they provided the local community and organisations with upto date information, organised meetings and provided motivation for raising money.
British media played its part too. They gave reverence to Justice Abu Sayeed Chowdhury by referring to him as 'his Excellency' or 'sir' and even the British politician spoke of him with respect. The support of British ministers like John Stonehouse, Peter Shore and Michael Barnes, and others in the Parliament also encouraged the British Government to get involved.
Anthony Mascarenhas's 'Genocide' article in the British Sunday Times newspaper also brought the story to everybody's door. This gave the independence movement a tremendous boost as the article could be presented as material evidence of Pakistani attack.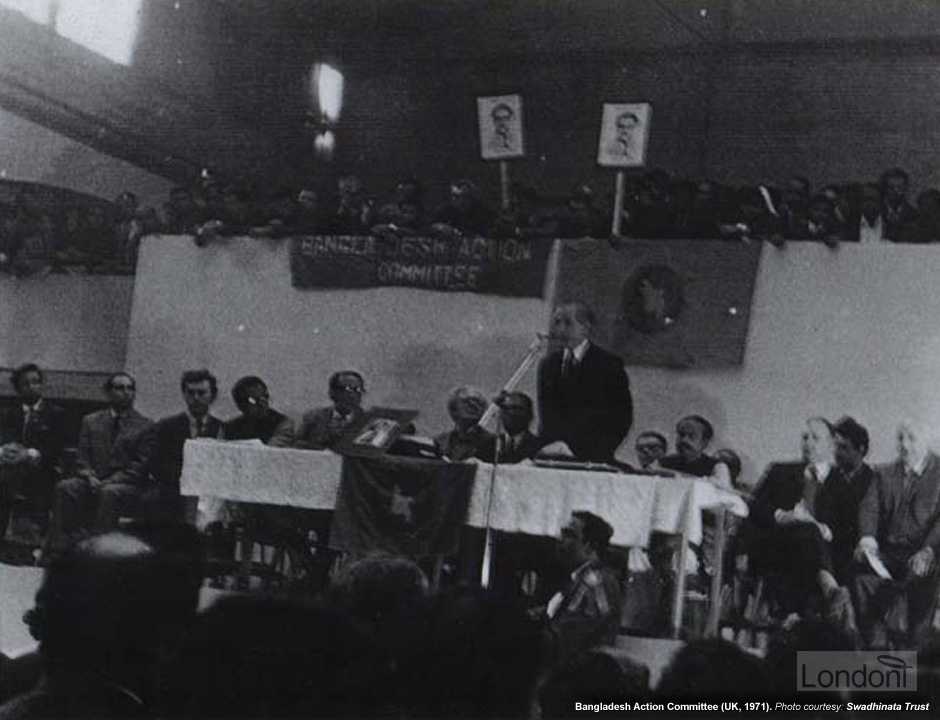 Steering Committees and "Bangladesh Action Committee"
From East Pakistan Liberation Front to Central Steering Committee
In August 1969 Bengali settlers in Birmingham - the second biggest city in UK - formed 'East Pakistan Liberation Front' at 15 Vine Street in Aston with a view to supporting the independence movement. Abdus Sabur Choudhury was selected as the President, and Azizul Hoque Bhuyan as Secretary. Mustafizur Rahman of East Pakistan Liberation Front published a Bangla newsletter, ''Bidrohi Bangal' (Rebel Bangla)', every fortnight as the voice of the organisation. The newsletter used to chronicle the decades of oppression of East Pakistan by West Pakistani administration.
A huge public meeting was organised by the East Pakistan Liberation Front at Digbeth Civic Hall in Birmingham, on 29 November 1970 [i.e. after Bhola Cyclone struck]. Lots of Pakistani and Indian elites attended the meeting. After discussing the oppression and the on going ill motivated administration policy of Pakistan, the meeting decided that there is no other way to solve the crisis but to make East Pakistan an independent state. The independence movement was strengthened from then. The situation in Bangladesh and reactions of the other countries were also considered with due respect.
Bidrohi Bangla spread the news of the Pakistani military action during Operation Searchlight. Following this, a meeting was held on 27 March 1971 in Small Heath Park, Birmingham, which was attended by over 10,000 Bengali residents. In the meeting the East Pakistan Liberation Front was abolished and a new Steering Committee was formed under the leadership of Justice Abu Sayeed Chowdhury. The Birmingham Steering Committee members included Jaglul Hoque Pasha, Azizul Hoque Bhuyan, Kabir Chowdhury, Monowar Hussain, Sheikh Abdul Manna, Shamsur Rahman, Mohammed Israel and Kazi Mujibur Rahman. By end of the war there were approximately 110 such steering committees throughout UK, including Luton Steering Committee, Streatham Steering Committee, Coventry Steering Committee, Manchester Steering Committee, Swindon Steering Committee, etc. Members of the committee would meet every weekend and collect donation. They went house-to-house to raise fund and organised other fund raising events.
On 24 April 1971 a Central Bangladesh Steering Committee was formed in Coventry to coordinate the activities of all the sub-committees. Justice Abu Sayeed Chowdhury was selected as Chairman. A Bangladesh Trust Fund was also formed with Justice Chowdhury, John Stonehouse, and Donald Chesworth as Trustees. Funds were sent to help refugees and support the freedom fighters.
The increasing media coverage gained by the group brought greater attention to the plight of the Bengalis in Bangladesh. It helped foster support among the non-Bengali communities around the world and was influential in convincing the British Government to finally support the Bengalis.
John Stonehouse

(28 Jul 1925 – 14 Apr 1988)

Donald (Piers) Chesworth

(30 Jan 1923 - 24 May 1991)
Donald Chesworth was an avowed world federalist and had a concern for humanity wherever there was a need and he had particularly close connections with Tanzania, Mauritius, and Bangladesh. This last concern fitted well with his work and residence in Spitalfields where his knowledge of Bangladesh and his links with the country invested his work in fighting for the rights of Bangladeshis in Britain with both warmth and authority.

Michael Meadowcroft, Chair of the Leeds Library
I use to drive, at that time few people used to drive, and visited so many restaurants with the White people with my White Comrades. I mention here White only to describe it nothing else, not of race, we used to visit each and every restaurant, and we used to talk with the workers there, waiters and chefs and cook. And used to inspire them that, once there will be a Bangladesh. These people were very much inspired because at that time there were no media, no radio, and no television to speak for us. There was only one weekly, but at that time media was not so fast, news use to come late, one week, two week 14 days 15 days. However, we used to get fresh news each and every day from the Provisional Government of Bangladesh, and through other media, magazines, booklets and leaflets. Personal visit was very important, people used to be very much encouraged, when the people see that the White people are supporting the movement, they were very much pleased, and they used to help, they made lot of contribution towards the organisation.

Also I should mention about the students, the students were involved and lot of them were studying law, some of them were working like Zakaria Chowdhury, Shamsuddin Chowdhury Manik, Mohammad Hossain Monju, Shamsul Alam Chowdhury, A K Nazrul Islam and Syed Muzammel Haque, and Prof Wadud, ABM Ishaq and lot of others. Actually they were the core people, who were working behind the movement. They are the enlightened one who got academic qualification, they used to know about the politics, they were experienced and when they used to speak with people; people took them with good faith, their words were taken with very good faith. So these sorts of things actually win us and inspired us.

Also we got lot of support from the younger people. Ordinary working class people, Saturday and Sunday used to be closed day, and they could give their time to organise things, go to people, go to restaurants, go to meetings. So it helped in that way. So nobody can claim that he did something solely for Bangladesh, it was a collective support, it was a collective movement.
Given the role played by British Bengali activists, their roles were significant in the independence of Bangladesh. After all because of those movements and demonstrations western media, activists and governments went against Pakistan and helped Bangladesh's liberation. Bengalis in Britain played a significant role in the independence of Bangladesh.
During the nine months war, the Steering Committee raised £406,856 for the Bangladesh cause - a mammoth figure at the time.
Bangladesh Action Committees
By now a multitude of groups had formed throughout UK to raise fund for the Muktijuddho and support the Bangladesh cause. These included UK Student Parishod (a combined student wing of Awami League and National Awami Party or NAP for short), Bangladesh Chhatro Sangha (another student organisation which was formed to drum up support within the student populace), Doctors Association (which contributed £50 every week) and countless more. In addition, 'Operation Omega' and 'Action Bangladesh' were organised and sponsored by CAS Kabir to bring awareness among the non-Bengalis, British and Europeans regarding the genocide in Bangladesh. The groups contained about 50 regular members, both Bengali and English.
Attempts were made to bring all the groups together under one umbrella organisation thereby facilitating the coordination of action. The result was the formation of a 'Bangladesh Action Committee' in the East End of London. Various such committees were formed throughout UK and by end of April 1971 there were about 50-60 Action Committees all over the country and by the time the war ended 85 Action Committees were formed in UK and the Middle-East.
Anywhere there were 10 or 15 people, or even 5 people in any area, we asked them to form an Action Committee in that area. So we enlisted everybody to work together.
Bengali workers around the country paid part of their wages to fund the movement. This money was spent on paying the salary of Bengali Ambassadors who were sent on diplomatic negotiations throughout the world, and various other initiatives to support the movement such as publicity, aid for refugees, salaries for other people working for Bangladesh cause, and providing food and resources for muktijuddhas (freedom fighters).
The UK probashis raised huge amount of money and sent it to the Provisional Government of Bangladesh. This was the Mujibnagar Shorkar's first source of income and first foreign exchange as they had no foreign exchange till then.
So everybody, working people started with one week wages, like £10 or £20 . Everybody all around the country (UK), no one was left untouched. And that was the liberation movement run from here, Bangladesh, what could they had done, without the London movement, Bangladesh could not have been achieved. India came, OK, but who ran the foreign policy. It is Trafalgar Square and Britain.

Abdur Rashid on the grand contribution of probashis
All of us were together and working day and night, every Sunday and everyday. How it is everyday, that if you work for five days and you earn £10, that £10 was spent on the movement, by every family every person. People would come from Scotland, to attend a meeting in London that takes week's wage, people who would come from Manchester to attend the meeting, the only day he has a day-off, Sunday. This is how it was everyday. And our people were working in the factories and other such institutions, they all came and everyday that was the only thing they were thinking. And that is, we were so determined.

The fact is only people, the entire people worked, it is not one person out of 10,000 people, every body who had stake there (Bangladesh), that means home, heart, family, brothers and sisters. The only thing they were dreaming of were, will they be ever able to meet them if the Pakistan army wins. No, so they have to do or spent everything possible to free it from the Pakistanis and that is what every body was doing.
Delegates from the many Bangladesh Action Committees, coordinated by a Central Steering Committee, were sent to conferences all over Europe, the Labour and Conservative Party conferences in October 1971, the Trade Union Congress, the annual World Bank meeting, International Law Conference and any number of meetings where intellectuals and politicians gathered. They lobbied MPs, Parliament, Student Unions, and Embassies to recognise Bangladesh and conducted research to find out which country was providing ammunition to Pakistan. They even sent renowned barrister QC Tom Williams to Pakistan to find out the whereabouts of the missing Sheikh Mujibur Rahman. He returned and confirmed that Sheikh Mujib was still alive and in Pakistani custody.
Gathering and collecting information of the world sentiment about the problem of East Pakistan was my responsibility. I gathered information from five international newspapers namely The Times, The Telegraph, The Guardian, The Observer and The International Herald Tribune. We were figuring out which countries were favouring Pakistan and which weren't, and we took necessary actions according to our findings. Initially India, USSR, Britain and British media were in favour of Bangladesh.

We used to find out the country that is supplying arms to Pakistan and helping Pakistan in other ways, we then demonstrated in front of the foreign offices of those countries in London. I have preserved those newspaper cuttings. On 30 June 1971, the ship, Padma, loaded with arms and ammunitions, was preparing to leave Montreal port of Canada to Pakistan, we came to know the information and we gathered in front of the Canadian High Commission in London, and we demanded the suspension of the supply. The shipment was stopped because of our demonstration. On the 22 July 1971, France Government decided to stop arms and ammunition to Pakistan. On 4 August 1971, USA foreign Aid $220 million was suspended. The 7th naval fleet of America started moving towards the Bay of Bengal, to help Pakistan. We demonstrated against the move and later they suspended the advancement. We also succeeded to cancel the shipment of the £10 milllion worth of arms and ammunition according to the US arms deal, by our protest.

Her Majesty, The Queen Elizabeth sent especially personal message to Yahya Khan, the president of Pakistan to save the lives and look after the health of Bangabandhu Sheikh Mujibur Rahman that is why Pakistan Government did not have the courage to kill Sheikh Mujibur Rahman. He remained safe and in good health. We got our independence easily with a very short period of time, due to the presence of our great internationally recognised leader Sheikh Mujibur Rahman.

On 21 June 1971 there was a meeting at Paris of 12 donor nations of the World Bank, to discuss grants to Pakistan. We, 120 members, mostly from Birmingham Action Committee went there and we had rallies, protest and demonstration and later we were able to cancel the grant to Pakistan. Almost all countries stopped giving aid to Pakistan and Pakistan became bankrupt and withdrew the membership from the Royal Commonwealth on 14 August 1971.

On 11 August 1971, a special military court was set up to convict Bangabandhu as a rastrodrohy (treason charge), and later to execute Bangabandhu, we protested against the plan and the court was postponed.
Pakistan Cricket matches boycotted
There was also instances of boycotting events or and seminars which were attended by Pakistani representatives, such as in Birmingham where the Pakistani cricket team had come to play on 27 April 1971. Approximately 5,000 - 6,000 protestors gathered around the cricket ground to boycott the game and held demonstrations.
Members of the Action Committee travelled to every city and town where the Pakistani cricket team played and protested against the military crackdown in Bangladesh. Sometime these resulted in violent clashes with the Pakistani supporters, even involving knives, and injuries to demonstrators.
We went to Birmingham to demonstrate against the tour of the Pakistan cricket team when it was due there. We went with 5-6 coaches from Luton. There were 5,000 - 6,000 people around the cricket ground. Mukta Miah was a very active person in the movement. Most of the activists are no longer alive. Ibrahim Baksh was another activist of the movement. We were determined to get our country liberated. Some people were willing to give their salary and weekly wages to the fund just to get the country liberated from the heinous crime committed by the Pakistani Army. We were more determined as many of us were getting letters back from home that they are burning our houses, killing our people and so on. We also prayed to Allah to end the war and liberate our land. We had two mosques in Luton.
Throughout the nine months war every Sunday there was a Bengali demonstration in one part of the UK or another. Be it in the capital London, the second city Birmingham, the third city Manchester or its Bengali populated neighbour of Oldham, or even the Welsh capital Cardiff or in any other town, the Bengalis were united under one voice. Their demand simple - stop the genocide, release Sheikh Mujib, and withdraw Pakistani forces from Bangladesh.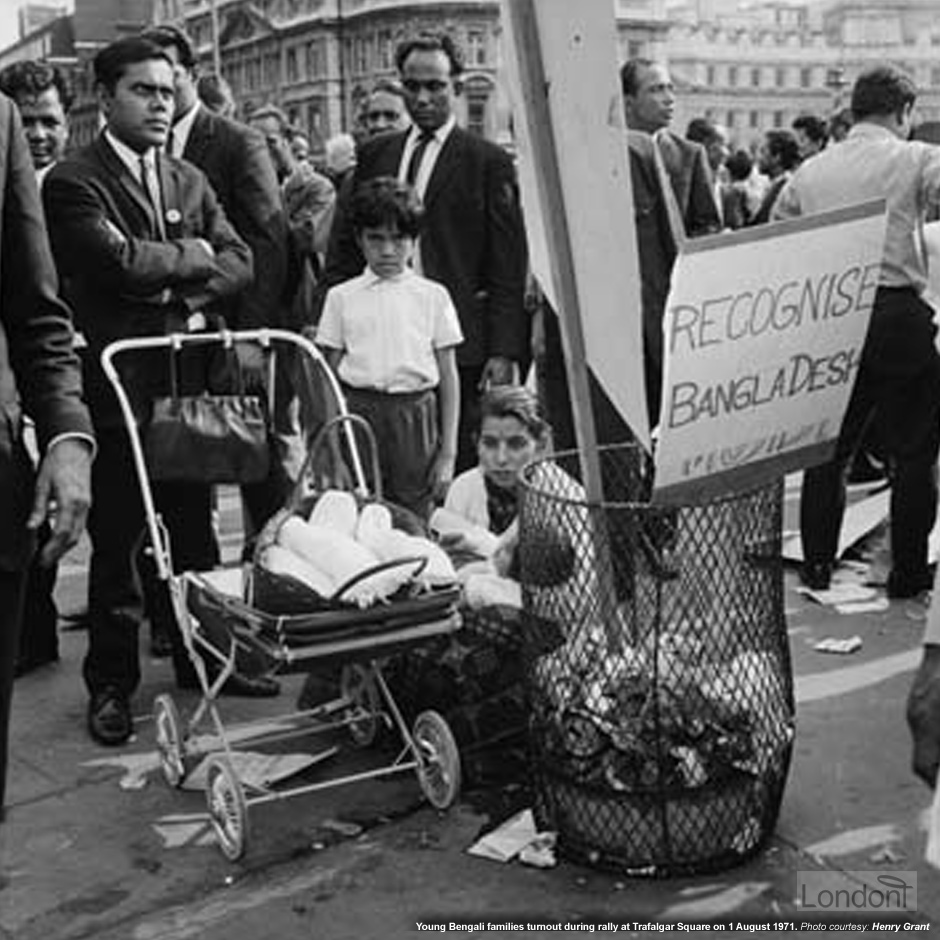 "Bangladesh Women Association"
Bengali women migrants in the UK played a vital role.
The first women's procession in London was on the 3 April 1971. The procession began at Charing Cross Station near the river Embankment and ended at Hyde Park corner. And though many male participants from different organisations participated in the demonstration, this march also successfully gathered around 300 women, many of who were young mothers or newly married. What was more incredible was that these women attended the entire procession with their children gripping tight to their captivating placards and yelling their slogans. Many had left their elder child with loved ones to attend the event.
"Not a penny not a gun, Yahya, Bhutto Tikka Khan"
"Stop stop genocide, Recognise Bangladesh"
"World Power act for humanity"
"Liberation Army, we are with you".
Later, women handed over a memorandum to 10 Downing Street and also to various embassies including the American Embassy. The procession was widely covered by the media. Demonstrators found support in a group of which Princess Anne was a trustee. Ferdous Rahman and her diplomat husband Habibur Rahman were actively involved in the demonstration. Habibur Rahman later resigned from his role as Education Officer in the Pakistan High Commission and worked for the Bangladesh Mission in London.
I had no reason to take part in these activities, because I was not expecting anything from all these and we were not directly affected by the war. But we were anxious of our friends, family and for the love of our homeland.

...We carried on event after the war ended, because we thought, we need to fight and take arms in our hands to get the women in the front, so we didn't stopped our work even after the war ended.

Anowara Jahan, a founding members of Bangladesh Women Association
The passion, drive and attitude that these women demonstrated were actually quite different from the conventional Bengali family customs and cultural traditions of the migrant family. They were enormously independent, and ..were also entirely comfortable, confident and quite often compromising their family commitments in order to fully participate in the movement. During the late 1960's early 1970's a lot of these women were in their early twenties and were new comers to England. The majority were not just young activists they were often newly married, with children or heavily pregnant. They were wives they were mothers and their commitments varied from maintaining their household duties, occasionally balancing this with part-time or full-time jobs and yet generating the time to organise and participate in demonstrations and campaigns. Occasionally they would have the support from family and neighbors so enabling them to leave their children behind however the harsh reality was that this luxury was not always available and often they were required to take their children along with them.

Yet these family obligations the cultural traditions did not prevent them from taking an active stand and fighting for justice. They demonstrated an immense amount of tenacity, patience and bravery in overcoming their various obstacles. The nationalism and the call of their national freedom compelled them to break these barriers.
Whilst the men were busy forming "a hive of patriotic committees", so were the women. Two of these pioneering women organisations were the 'Bangladesh Women Association UK' based in London and 'Women Welfare Association Midland' located in Birmingham.
The founding members of Bangladesh Women Association included Lulu Bilkis Banu, Anowara Jahan, Jebunnessa Baksh, Ferdaus Rahman, Munni Rahman, Shefali Huq, Khaleda Uddin, Sofia Rahman and some of the younger women. Sofia Rahman was the secretary for the first three months before passing the role onto Anowara Jahan as she could not continue due to family reasons. Monwar Uddin wrote the first constitution for the association though this was amended later.
Through these organisations hundreds of women participated in various demonstrations and campaigns to raise awareness and help the Bengali people.
I was the organiser of the Women Association that is why I had to move from place to place. I had to go to many people. We arranged a demonstration with the women participation only, at that time we brought women from East London, at that time there were few (Bengali) women here and they were also unwilling to come out of their houses. That is why we had to collect people, going door to door. The husbands were concerned with their security and demanded their full security, and told us to bring them back home. It was our responsibility to drop them off safely. The campaigns were usually arranged in Sundays and almost regularly. The whole nine months I was busy keeping aside my kids and family, whenever I was called to a demonstration or to go to somewhere for fundraising by film show, I was always there with some other participants. Most of the programme was arranged for women. The largest women gathering was achieved in the biggest demonstration, it was a huge demonstration, I alone took 150 women at least, and the number was quite a lot.

People from all over UK participated in all the rallies; they came from Birmingham, Manchester, Leeds and Bristol, all parts of England. Say for example when we gathered at Hyde Park for the long march, people from the whole of Great Britain joined the rally. They came on busses.

Kulsum Ullah, a founding member of Bangladesh Women's Association
Activities
The women collected money and goods and engaged with NGO's such as the Red Cross, Save the Children and War on Want. They sought support of British MPs and university students, and sent several telegrams to the first ladies of the world. They wrote letters every month which cost them £4, paid from their own pocket. Though later on they received small grant and fund these went straight to the campaign .
Bengali ladies attended various meetings, gatherings and engaged in mass communication. They narrated real stories of atrocities that were taking place. In order to attract the attention of the media and the general public the women went out wearing saris. On 14 May 1971, during the debate on Pakistan in British Parliament a significant number of women showed opposition even though politics was seen 'not as a women thing to do'. When America provided two ships of arms and ammunition to Pakistan, a woman by the name of Razia Choudhury carried out hunger strike in front of the American Embassy. To raise funds they organised coffee morning, fairs, jumble sales, film showings, cultural functions and collecting donations, selling Pan Supari (Beetle nut and leaf) along with various other Bengali food. They also created other extremely successful fundraising events alongside their husband, family members and on most occasions with the help of their community.
Female even travelled with their male counterparts to France to demand suspension of foreign aid to Pakistan.
We were writing letters to the leaders of the nations of the world, and to their wives as well. We also personally handed over letters to the leaders of the UK, some accepted us and some did not. We used to keep contacts with the different organisation in the UK. I was a bit of an out going type of person, so I used to go to those meetings. We had some hand written documents and I used to keep connection with those as well. Sometimes we use to collect money singing and arranging different types of programmes. We had arranged a huge mela at that time, and we raised £700 in a day. Today £700 is nothing but in those days it was a huge collection. For example, you can't get on a bus without 70 penny now, but it would take 4 penny then.
Women in London and Birmingham also organised a hunger strike in different places to attract the media and international attention. Some of the women, during that time were heavily pregnant yet commenced with the hunger strike putting their physical health at risk.
Many women could not attend public events but raised money and donations.
Those who cannot come to the demonstration they were still in the background, they were making samosas and pakoras for us and we collected it and then sold it.

Mrs Pasha, campaigner
We used to sell calendar and neck tie with the map of Bangladesh on it to raise money. In big gatherings and meetings the younger ones use to sell the items.
Non-Bengali women also contributed greatly. Some of these women even traveled to Bangladesh themselves to offer their assistance whilst others were heavily involved in the UK movement.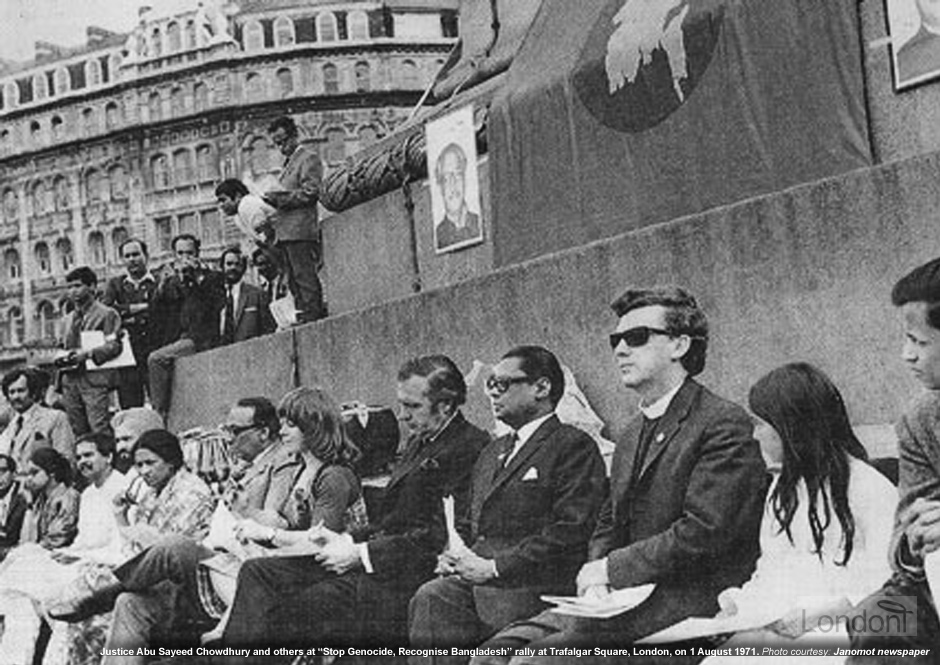 Trafalgar Square rally formed mainly by white English
The famous Trafalgar Square rally of 1 August 1971 where diplomat Mohiuddin Ahmed publicly switched allegiance was arranged in large part due to school teacher Paul Connett and Oxford University graduate Marietta Procope of 'Action Bangladesh'. It was due to their leadership and organisational ability that 25,000 people were able to gather in one place.
Marietta Procope had even donated her house to be used as the headquarter for Action Bangladesh. Action Bangladesh's sister organisation, Operation Omega, was run by several people including Roger Moodey and Ellen Connett. Both organisations were sponsored by CAS Kabir, a Bengali.
The gathering of the 25,000 people in Trafalgar Square is a record. And I was one of the organisers. You can't organise this sort of big rallies in one day. That was in April, every year their used to be a meeting in Paris, about financing the Pakistan government, called the Paris Consortium. We went to Paris also, we demonstrated there, to stop grants to Pakistan government.

Paul Connett, with one Pakistani flag in hand, went in front of Pakistan High Commission and said 'Joi Bangla'. That was recorded by the TV, and behind Paul Connett, Marietta Procope was there with another Bangladesh flag. So there were two white persons demonstrating against the military attack on the people of Bangladesh. One interviewer at that time from the television questioned Paul that 'you are a single person, and you are an English man, how come you can free Bangladesh, from the rule of the military junta?'. Paul at that time with his confidence declared, 'you watch and see what I can do' and later he was able to draw 25,000 people on 1 August 1971. It did not happened in one day. We had about 250 regular members of the two committee [Action Bangladesh and Omega Operation], Twin committee, in each and every town we had our people. We used to print out leaflets, magazines and we send them all those things and organise things.

Four months before the meeting of 1st August, we fixed the date and we booked the Trafalgar Square. We were organising (this) through all the medias, (and letting them know) that on 1 August 1971 we were going to have a rally in Trafalgar Square and declare the independence of Bangladesh. By this time, Marietta Procope and Lutfur Jehan Chowdhury, a very good worker, visited the British Parliament and invited each and every MP to join with the movement and took signature of about 200 people, 200 parliamentarians to declare the independence of Bangladesh. That was a great task. Veteran politicians like Tony Benn, Bruce Douglas Man, Michael Barnes, Sir Christopher May Hew, Robert Silkin (trade union leader and he was very young at that time). Those are the people actually worked very hard. And they were giving directions what we can do, how we can do and they sought so many experience and examples about Vietnam War and other world movement and politics. They used to guide us, that you are to do these things, that's the way you will achieve independence and that's the way, and you deserve it. Because you are Bengali people and you are a nation and you are separated from West Pakistan by about 1000 miles and in-between, there is another vast country called India. So this is a country, today or tomorrow it will collapse, that sort of advice we used to get from them. And we were very much inspired by their advice. So that's the way, things were being organised, things were not been organised in one day, we had to go to different places, different people.
The person above all who made an impression upon me was Marietta Procope. She was personally committed to the cause and – as I understand it – had originally given Action Bangladesh a room from which to organise. By the time I arrived the organisation had taken over not only her life, but her house, all she had left to herself was her bed! I remember her as very slim and a prodigious consumer of cigarettes and coffee. I don't know whether I had a crush on her, I might have done, but I do know she inspired me. That week at Action Bangladesh convinced me that ordinary people can make a difference, that there is always hope and that people are fundamentally good. I went back to school, the war ended and East Pakistan became Bangladesh. I never saw Marietta or anyone from Action Bangladesh again, but in the forty years that followed I have been involved in the Labour Party then the Communist Party, I have been a trades union official, I have campaigned against nuclear weapons, against Apartheid, against racism, I have demonstrated, canvassed, petitioned, leafleted, I have written letters and lobbied, and I continue to do so.

I was very upset when I learned of Marietta's death after she returned from Bangladesh, having visited shortly after the war. I can't pretend to understand how others think, but I have known the pits of depression and considered killing myself and I regret that anyone should suffer. I like to think of her death as one last protest against mans inhumanity to man. I was pleased to see that she is among the 124 foreigners being honoured by Bangladesh for their contribution to the War of Liberation; for my part I would like to think that the campaigning and political activity I have undertaken is a small, but not inappropriate, tribute to the memory of the woman who inspired me to action.

Rory Paton, a seasoned human rights activist who participated in the "Stop Genocide, Recognise Bangladesh" rally
In addition, protestors would go and demonstrate against the Chinese Embassy, Pakistani High Commission and other high commissions or embassy, who were against the independence of Bangladesh. Some (white) English members of Action Bangladesh had even went on hunger strikes outside the Pakistan High Commission 'days after days for the independence'. Street dramas were also organised throughout London showing the way the Pakistani military were torturing the people of Bangladesh and how they were burning houses. Lutfur Jehan Chowdhury and Reba Francesca of Action Bangladesh played a vital and active role in organising such events, and they were aided by 250 other people (including 30 Bengalis) who worked regularly throughout UK to bring awareness to the wider public.
Like Hyde Park, Trafalgar Square also became a regular venue for demonstrations.
Usually demonstrations were held at Trafalgar Square every Sunday. We attended demonstration in London by hired coaches. On our way to London we used to collect people from smaller towns and reached our destination with 4 or 5 coaches full of people. We had a demonstration in Luton and I think 2,000 - 3,000 people participated in it. There were many English and people from other nationality who participated in our demonstrations. They asked us, what was the problem, and we used to tell them about the atrocities going on in East Pakistan (Bangladesh). Some were convinced and used to participate with us. We had a big demonstration at Bury Park. We had fights on that day as the Pakistanis attacked us. The police gave us protection. We had many White people supporting us but unfortunately I can't remember their names at this moment. I can remember some Black people supporting us, one was Mr Brown, one was Mr Smith, another was Mr Leman. I can't remember the rest of their names.
If you need to have Trafalgar Square full up, we did fill up few times. We did have to organise it from all corner of the UK, including Scotland, Ireland etc, and people filled up the coaches. May be 100 coaches and it was strictly ordered that everybody take the maximum effort to fill up the coaches because, otherwise the Trafalgar Square will not be full. And it was eventually the camera, to shows around the world, and when we were able to show the full Trafalgar Square, and people hanging all over, and went all over the world, it meant something, to people of different countries. Because when it is in the Trafalgar Square, it is in the world because of the central position of the Trafalgar Square. So it's not my wife or myself, it was everybody, who were living in UK had to take time off from work. It used to start 8'o clock and finishes at 7 o'clock in the evening. So they left their work there, one day they could earn so much, so they lose their wages there, in addition they give money to the fund, its was not an easy thing. But people did, stick to the task, utmost sacrifice, beyond their ability. Everybody had the facility to settle here. They would not have to bother about what is happening in Bangladesh. Who kills what? But, they did it. Those who were leaders did more.
...and many more...