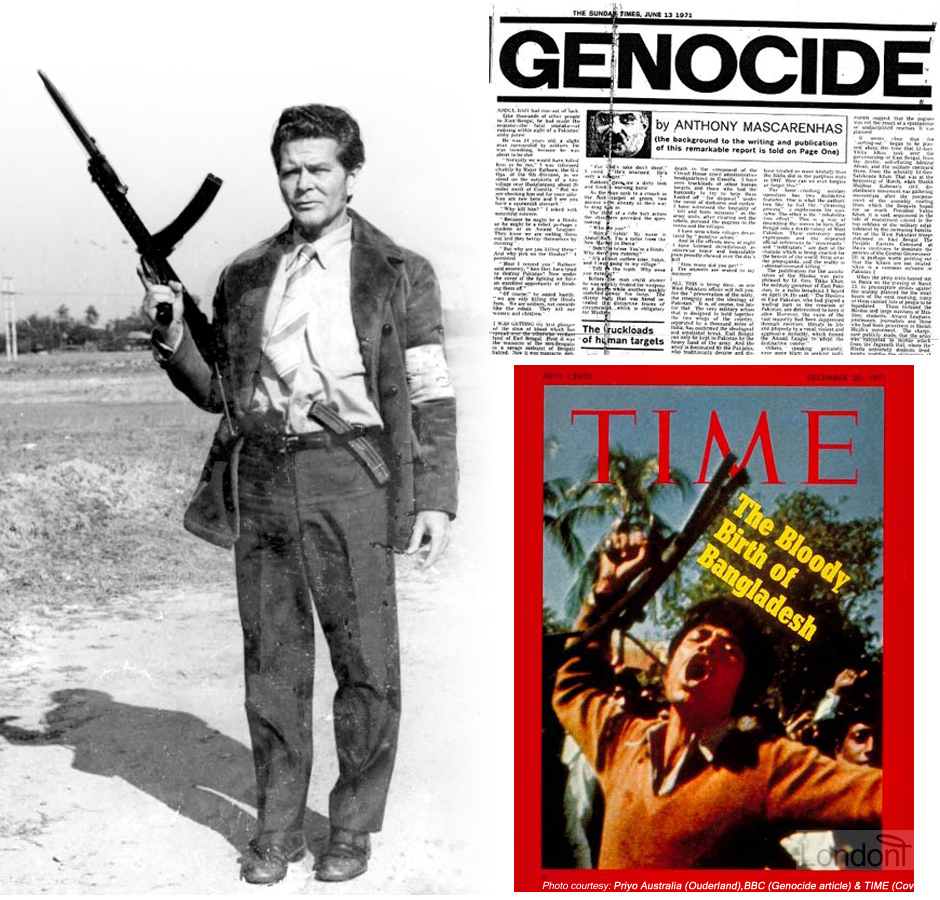 A foreign body - but a heart & soul of a Bengali
The plight of the Bengalis were not only highlighted by fellow Bengalis themselves but also by other prominent people around the world who were devastated by the very little they saw and heard from a country that was cut off from the rest of the world at the time. Such people included Dutch-Australian businessman and ex-army officer William AS Ouderland, Pakistani journalist Anthony Mascarenhas, American journalist Dan Coggin, Indian musical maestros Ravi Shankar and Ustad Ali Akbar Khan, British pop icon George Harrison (from The Beatles), Argentine Victoria Ocampo, and American singer Joan Baez, to name a few.
Facing potential life threat - even death - for themselves, their families and loved ones these brave people made sure that the world knew about the silent screams of the Bengalis.
Faiz Ahmed Faiz, Habib Jalib, Ahmad Salim...our West Pakistani brothers in need
Poets are called "conscience of the people". This was aptly demonstrated by the leading poets in West Pakistan who refused to remain silent over the brutality and inhumanity committed in their name in East Pakistan. Among such poets were Faiz Ahmed Faiz, Habib Jalib, Ahmad Salim, Sheikh Ayaz and Ajmal Khattak. They were few of the Pakistanis that the Bangladeshis looked upon with the greatest possible admiration and affection.
Their stance becomes even more courageous when you consider that Pakistan was at that time under martial law government. Strict media censorship prohibited any news of genocide from reaching the outside world. Expressing dissent thus had dire consequences - very few were brave to take the government on, and those who did were either jailed or paid an even higher price.
Faiz Ahmed Faiz

()

Habib Jalib

()

Ahmad Salim

()

Sheikh Ayaz

()

Ajmal Khattak

()
Did we not have friends in Pakistan? Of course we did. Good Men who are good at heart exist everywhere.
Faiz Ahmed Faiz, a Nobel Prize nominee and one of Pakistan's greatest poet, wrote the powerful poem "Hazar Karo Mere Tan Se" (Stay Away from me (Bangladesh I)) in March 1971 when the battle for the freedom of Bangladesh was still raging. This forthright poem was written as an warning to the oppressors in 1971 as it talks of the oceans of suppressed anger and the bottled up desire for retribution as powerful indictments of tyranny.
How can I embellish this carnival of slaughter? How decorate this massacre?
Whose attention could my lamenting blood attract?
There's almost no blood in my rawboned body
And what's left isn't enough to burn as oil in the lamp?
Not enough to fill a wineglass.
It can feed no fire,
Extinguish no thirst.
There's a poverty of blood in my ravaged body—a terrible poison now runs in it.
If you pierce my veins, each drop will foam as venom at the cobra's fangs.
Each drop is the anguished longing of ages' the burning seal of a rage hushed up for years.
Beware of me. My body is a river of poison.
Stay away from me. My body is a parched log in the desert.
If you burn it, you won't see the cypress or the jasmine, but my bones blossoming like thorns in the cactus.
If you throw it in the forests, instead of morning perfumes, you'll scatter the dust of my seared soul.
So stay away from me. Because I'm thirsting for blood.

English translation of Faiz Ahmed Faiz's poem "Hazar Karo Mere Tan Se" (by Aga Shahid Ali)
In another poem written few years later, 'Hum ke thehre ajnabi' (We who have been rendered strangers), Faiz summed up the agony of the of the two nation whose friendship has been torn asunder by the war. Faiz wrote this poem after his return from Dhaka, Bangladesh in 1974 where he was a part of an official delegation as an advisor on culture.
In Dhaka, Faiz met with old friends but his closest ones like Shahidullah Kaiser, Munir Chowdhury, Zahir Raihan, all writers and Communist Party activists, had disappeared. In the late 1960s, Munir Chowdhury had even focused on Faiz's poem 'Mujhse pehli si mohabbat mere mehboob na maang' (Do not ask from me, o' my love, that love I once had for you) in one of his talk show when he hosted a literary television programme in the then East Pakistan. The late Bengali writer presented Faiz as a social revolutionary and a poet of the oppressed. Such was the respect that Faiz Ahmed Faiz commanded in the Asian sub-continent. But now others were uneasy with Faiz as memories, unshared history and the reality of two distant states came between friends . He clearly missed the warmth of their friendship, which is evident in this haunting poem.
Hum ke Thairey ajnabi itni madaraatooN ke baad
Phir banain gaiN aashnaa kitni mulaqatooN ke baad

Kab nazar maiN aaey ge bai_daGh sabzey ki bahar
Khoon ke dhabbey dhulain gaiN kitni barsaatooN ke baad

Dil to chaaha par shikasht-e-dil nay muhlat he na di
Kuch giley shikvey bhi kar laitey manajaatooN ke baad

Thay buhat bai_dard lamhey Khatm-e-dard-e-ishq ke
TheeN buhat bai_mehar subhaiN meherbaaN raatooN ke baad

Un se jo kehney gaey thai "faiz" jaaN sadqa kiye
Unkahee he reh gai voh baat sab baatooN ke baad

'Hum ke thehre ajnabi' poem by Faiz Ahmed Faiz after his return from Bangladesh (1974)
"Hospitalities exchanged, yet we who strangers stay, With how many encounters, shall amiability display? After how many rains, shall the blood stains fade, And when, in our sight, shall unspotted fields sway? All that the heart desired, its breaking permitted not, No grievance did those contained praises betray; Merciless were moments, that witnessed the end of pain, Benevolent nights brought in a cruel break of day; That which, on your life, you determined to convey; Unspoken on your lips, Faiz, the decided words lay."
Like Faiz Ahmad Faiz, Habib Jalib was also a revolutionary poet with left-wing political views. He opposed martial law, both through his poem and his political activism, and was jailed during Ayub Khan dictatorship. In June 1962 his popularity surged after he wrote his famous poem 'Dastoor' (The Constitution/System) in response to the imposition of a "new" constitution by General Ayub Khan.
Jalib was jailed again for opposing the tyranny in East Pakistan. He was accused of being a traitor by the Punjabis and, while visiting him in jail, his own father told him Yahya Khan was a 'mujahid-e-millat' and that he should support him.
In response Jalib wrote the following four-liner:
They say I don't have any love for the homeland
And are using machine guns to teach me the love
I can't call oppression a blessing, a fool that I am,
And that's the title they have given me.

Habib Jalib's four-line poem on army's 1971 invasion of East Pakistan
Habib Jalib wrote 'Bagiya Lahoo Luhan' (The Garden is Gory, also translated as The Garden is A Bloody Mess) which refers to Pakistan as the garden which has been spoilt by the oppression in East Pakistan in 1971. Apparently, whenever Jalib would recite this poem, his eyes would well up with tears.
Haryali ko aankhen tarsen bagiya lahoo luhan
Pyar ke geet sunaoon kis ko shehar hue weeran
Bagiya lahoo luhan.

Dasti hain suraj ki kirnen chand jalaye jaan
Pag pag maut ke gehre saye jeewan maut saman
Charon ore hawa phirti hai le kar teer Kaman
Bagiya lahoo luhan

Chhalni hain kaliyon ke seeney khoon mein lat paat
Aur nahjaney kab tak hogi ashkon ki barsaat
Dunya walon kab beeteinge dukh ke yeh din raat
Khoon se holi khel rahe hain dharti ke balwan
Bagiya lahoo luhan

'Bagiya Lahoo Luhan' (The Garden is Gory/Bloody Mess) poem by Habib Jalib
"My eyes are thirsty for greenery, but the garden is gory, Whom shall I sing songs of love for - the cities are in ruin, The garden is gory; Sunshine stings me and moonlight sears my soul, Shadows of death on every street, life is breathing death, Air all around is carrying a bow and an arrow, The garden is gory; Battered are breasts of flower buds, petals are covered in blood, And who knows how long the rain of tears shall last? O people of the world, when will the days and nights of gloom end? The brave sons of the soil are playing holi with blood, The garden is gory."
Dutch-Australian William Ouderland - the only foreigner awarded 'Bir Protik'
William A. S. Ouderland, an ex-soldier who participated in the Second World War, came to Dhaka in late 1970 as the Production Manager of the Bata Shoe Company. Within few months he was promoted to the post of Company Manager in Tongi, north of Dhaka.
William AS Ouderland

(1917 - 2001) Dutch-Australian William AS Ouderland was the only foreigner who was honoured with the state insignia of 'Bir Pratik' by the government of Bangladesh for his very active participation in and heroic contribution, to the war of liberation in 1971. An Australian national Ouderland was born at Amsterdam in Netherland on 6 December 1917. At the age of seventeen he took a job in the Bata Shoe Company as Shoe-shiner (1934). After two years he left the job and joined National Service and was a Sergeant in the Royal Signal Corps (1936). He left the service in 1940 and then participated in the Second World War (1939-1945) as a guerrilla commando of the Dutch army.
Moved by the killing during Operation Searchlight and subsequent Pakistani atrocities, which reminded him of Nazi brutalities in occupied Europe, Ouderland took advantage of his privileged 'foreigner' status which gave him free movement. And as the CEO of a major multinational, he enjoyed close access to higher echelon of the occupation forces and built a friendly relationship with 22nd Baluch Regiment captain Sultan Newaz. This allowed him to penetrate into Dhaka cantonment and get in close contact with the unsuspecting Governor General Tikka Khan, Major General Rao Forman Ali, and General A. A. K. Niazi, who considered him a "Distinguished Friend". He even managed to get a security pass to contact with them frequently. Ouderland utilised his skills gained from working in the Dutch intelligence during Second World War and gathered information for the Mukti Bahini. He communicated these secret intelligence to to Major ATM Haider of Sector-2 and Ziaur Rahman so they could target the Pakistan military assets and personnel. Not content with just doing that, Ouderland fought side by side with the sons of the soil and actively took part in the Liberation War in the sectors 1 and 2. He even sent his family away from occupied Bangladesh so he could turn his home into a safe haven for the freedom fighters and their weapons. As the war progressed, Ouderland secretly trained young recruits in the art of guerrilla resistance so they can be prepared for the long bloody battle ahead.
As a foreigner he had the access to Pak-army and thereby the opportunity to move in the army headquarters and often attend meetings of the army officers in the cantonment.He helped the freedom fighters in every possible way by supplying provisions and financial support. With his experience in the Second World War as a guerrilla commando and himself being an active member of a guerrilla branch of the freedom fighters of Sector 2, he imparted regular training to the freedom fighters in guerrilla warfare at different secret camps in Tongi including the Bata Shoe Factory premises.
Ouderland also provided photos of West Pakistani army torture and genocide to news agencies around the world, giving them a graphical snapshot of the horror show that was taking place in Bangladesh during those nine months.
After the war ended, William AS Ouderland continued his service in the Bata Shoe Company in his elevated position as Managing Director. He did this till 1978 and then retired and returned back to Australia and settled there for the rest of his life. He died on Friday 18 May 2001 in a hospital at Perth in West Australia after prolonged ailment at the age of 84. He was buried with Bangladesh colours in Karrakatta Cemetery, Perth, where there's Memorial wall (located at Lance Howard Memorial Gardens) built in his honour.
William A.S. Ouderland left behind his wife Maria and a daughter. After Maria passed away in 2008, she was buried next to him.
Bangladesh mon amor (Bangladesh is our love). Maintain this flow of emotion for the generation to come.

William A. S. Ouderland's last words to his wife and daughter
Ouderland was the only foreigner to be awarded the Bir Protik, the fourth highest gallantry award of Bangladesh.
rIn February 2010 at the initiative of Kamrul Ahsan Khan of Australia, the Mayor of Dhaka, Sadeque Hossain Khoka, enamed the Road no 84 in Gulshan-2 area as "Ouderland, Bir Pratik Road" in the presence of Dr. Justin Lee, High Commissioner for Australia to Bangladesh and former Bangladesh High Commissioners and other distinguished guests. A Bengali biography on Ouderland titled "Bengali Biography on Ouderland Bir Pratik" was written by Mahbubur Rahman and published in 2010.
Now cracks a noble heart, Good-night, sweet prince,
And flights of angels sing thee to thy rest.
Pakistani Anthony Mascarenhas - wrote the report that changed the war
Anthony Mascarenhas, a prominent Pakistani reporter, was one of the eight journalist that was given a 10-day tour of the eastern province by the Pakistani Army during the early stage of the Shadinota Juddho.
For six days as I travelled with the officers of the 9th Division headquarters at Comilla I witnessed at close quarters the extent of the killing. I saw Hindus, hunted from village to village and door to door, shot off-hand after a cursory "short-arm inspection" showed they were uncircumcised. I have heard the screams of men bludgeoned to death in the compound of the Circuit House (civil administrative headquarters) in Comilla.

...On 18 April Chandpur was deserted. No people, no boats. Barely 1% of the population had remained. The rest, particularly the Hindus who constituted nearly half the population, had fled.
The journalist were ordered to write from the subjective viewpoint of the army once they returned back home. Seven of them did exactly as ordered - except Mascarenhas. Scarred by the massacre that he had personally witnessed, Anthony was determined to write the truth even though all newspaper articles were checked by the military censor, and if caught he was likely to be killed.
Anthony Mascarenhas

(1928 - 1986) Former assistant editor of Morning News, Karachi. Educated in Karachi, Pakistan. Major works of Anthony include ;The Rape of Bangladesh' (1972) and 'Bangladesh: A Legacy of Blood' (1986). He broke the news in 1979 that Pakistan has developed nuclear weapons. Born in Goa, India.
I'd never seen my husband looking in such a state. He was absolutely shocked, stressed, upset and terribly emotional.

He told me that if he couldn't write the story of what he'd seen he'd never be able to write another word again.
Pretending he was visiting his sick sister, Mascarenhas then travelled to London, UK, where he headed straight to the Sunday Times newspaper and the editor's office. His article entitled "Genocide" - the first time this term was used openly - was printed in the newspaper on 13 June 1971. This explosive and powerful article helped to inform the whole world the trauma that the Bengalis were suffering on a daily basis.
A copy of his 'Genocide' article is still kept in Bangladesh's Muktijuddho Jadughar (Liberation Museum) in Dhaka for public viewing.
"Abdul Bari had run out of luck. Like thousands of other people in East Bengal, he had made the mistake - the fatal mistake - of running within sight of a Pakistani patrol. He was 24 years old, a slight man surrounded by soldiers. He was trembling because he was about to be shot."

So starts one of the most influential pieces of South Asian journalism of the past half century.

Prime Minister Indira Gandhi told the then editor of the Sunday Times, Harold Evans, that the article had shocked her so deeply it had set her "on a campaign of personal diplomacy in the European capitals and Moscow to prepare the ground for India's armed intervention," he recalled.

Not that this was ever Mascarenhas' intention. He was, Evans wrote in his memoirs, "just a very good reporter doing an honest job".
Anthony Mascarenhas also famously interviewed Syed Faroque Rahman and Khandaker Abdur Rashid, the young 'Killer Majors' who were responsible for killing Sheikh Mujibur Rahman and his family in 1975. He undertook these interviews for ITV's "World in Action" programme that was broadcast in England on 2nd August 1976, a year after the coup took place.
American Dan Coggin - his pen was his sword
Veteran U.S. journalist Dan Coggin, who had worked for Associated Press (AP) and TIME magazine in 1954-82, was expelled from Dhaka by the Pakistani army along with 35 other foreign journalist hours after launching Operation Searchlight. However, like Anthony Mascarenhas, Dan was determined to uncover the truth and project it to the rest of the world.
Dan Coggin

() spent most of the past seven years observing turmoil in Asia—grim but invaluable experience for his latest assignment, this week's cover story on Pakistan. A former Marine, Coggin witnessed the Indonesian crisis of the mid-'60s, went next to South Viet Nam and then served as New Delhi bureau chief. http://www.time.com/time/magazine/article/0,9171,878390,00.html
Dan Coggin first entered India and reported on the dire refugee situation of the Bangladeshis in the bordering Indian states. But Dan was determined to report from the heart of the action - and for that he needed to be in Bangladesh.
In a painstaking journey, he trekked back from India by Honda motorcycle, truck, bus and bicycle, and finally became the first expelled American journalist to re-visit Dhaka. Now inside, the brave and bold reporter informed the outside world in the developments inside Bangladesh, where the Mukti Bahini were putting up stiff and courageous resistance against the Pakistani army and the local razakars. Dan was also in Dhaka to report on the historic surrender of the Pakistan army to the joint India-Bangladesh command on 16 December 1971.
For twelve tense days, Dacca felt the war draw steadily closer, with nightly curfews and blackouts and up to a dozen air raids a day. It was a siege of sorts, but one of liberation. Until the last few days, when it appeared that Pakistani troops would make a final stand in the city, the Indian army was awaited calmly and without fear. Most people went about their usual business — offices were open, rickshas running and pushcarts plying.

Dan Coggin in the TIME magazine few days after Bijoy Dibosh
Dan Coggin was also one of the few Western journalists who interviewed Sheikh Mujibur Rahman just before his arrest on 26 March 1971. Later, he interviewed Zulfiqar Ali Bhutto as soon as he became president of Pakistan on 20 December 1971.
The influential U.S. media played their due role: they covered the Bangladesh genocide and mass rape quite extensively, to let the world know about the atrocities by a state military machine upon unarmed civilians. And Dan Coggin was one of those prominent journalists whose contribution to unbiased reporting in 1971 was enormous.

... He understood the need to serve the cause of humanity and justice, putting his pen precisely opposite to what his country's government did in 1971. We deeply mourn the death of Dan Coggin, the great friend of Bangladesh.

Haroon Habib, Freedom fighter, author, journalist, and secretary-general of the Sector Commanders' Forum
In 2012, Dan Coggin suddenly fell sick and was admitted to a New York hospital where he passed away on 22 January.
Indian Ravi Shankar and Ustad Ali Akber Khan & British George Harrison - the world's first aid event
On 1 August 1971, Indian sitar maestro Ravi Shankar and ex-Beatle George Harrison organised two benefit concerts in Madison Square Garden in New York City, USA, entitled 'Concert for Bangla Desh' (as 'Bangladesh' was spelt then) to bring awareness and aid to the plight of the Bengalis.
It was the first time in history that such a concert was being held - and this would later inspire other famous concerts such as Live Aid (1985) and it's predecessor Band Aid (1984).
Many world famous and leading musician participated in the Concert for Bangla Desh, including Ustad Ali Akbar Khan, Ringo Starr, Bob Dylan, Eric Clapton, Billy Preston, Leon Russel and the band Badfinger.
Ravi Shankar

(1920 - 2012)

George Harrison (from The Beatles)

(1943 – 2001)

Ustad Ali Akbar Khan

(1922 - 2009)
You can view videos and get indepth insight into this groundbreaking event in our Bhola Cyclone article.
Argentine Victoria Ocampo - campaigned for Bangladesh even though aged 90
Victoria Ocampo was an Argentine writer and intellectual, described by Jorge Luis Borges as "La mujer más argentina" (the quintessential Argentine woman). Best known as the architect of cultural bridges between the American and European continents and as publisher of the legendary literary magazine Sur (1931 - 1992), she was also a writer and critic in her own right and one of the most prominent South American women of her time.
Her love for Bengali poet Rabindranath Tagore was legendary and she remained a lifelong follower of Tagore.
Victoria Ocampo

(1890 - 1979)
In 1971, Victoria Ocampo waged a campaign in her country Argentina seeking justice and freedom for the people of Bangladesh, and an end to the oppression carried out by the Pakistani government. What made her stance even more remarkable was that she was 90 years old. Tender, frail, and barely able to look after her own self, Victoria Ocampo used her high status to focus world's attention to the Bangladesh tragedy and led a passionate campaign to help the Bengalis.
American Joan Baez - sings her heart out for Bangladesh
Highly reputable American musician Joan Baez wrote and performed the song "The Story of Bangladesh" at the Concert for Bangladesh, Madison Square Garden in 1971. This song was based on the Pakistan Army crackdown on unarmed sleeping Bengali students at Dhaka University on 25 March 1971, which ignited the nine-month Bangladesh Liberation War. The song was later entitled "The Song of Bangladesh" and released in the chart-topping 'Come From the Shadows' album on May 1972.
Joan (Chandos) Baez

(Born 1941) American folk singer, songwriter, musician, and a prominent activist in the fields of human rights, peace, and environmental justice. Has a distinctive vocal style, with a strong vibrato. Songs and material typically deal with social issues. Began recording career in 1960, and achieved immediate success. Her first three albums, 'Joan Baez', 'Joan Baez Vol. 2', and 'Joan Baez in Concert' all achieved gold record status, and stayed on the hit album charts for two years. Long history of campaigning for social and environmental issues such as Civil Right movement led by Martin Luther King Jr., Vietnam War, Iraq war, gay and lesbian rights, and much more. Amnesty International, the largest grassroots human rights organization in the world, introduced the 'Amnesty International Joan Baez Award' on 18 March 2011 (at their 50th Anniversary Annual General Meeting in San Francisco) in her honour. The award is given to an artist - music, film, sculpture, paint or other medium - for Outstanding Inspirational Service in the Global Fight for Human Rights.
Bangladesh, Bangladesh
Bangladesh, Bangladesh
When the sun sinks in the west
Die a million people of the Bangladesh

The story of Bangladesh
Is an ancient one again made fresh
By blind men who carry out commmands
Which flow out of the laws upon which nation stands
Which is to sacrifice a people for a land

Bangladesh, Bangladesh
Bangladesh, Bangladesh
When the sun sinks in the west
Die a million people of the Bangladesh

Once again we stand aside
And watch the families crucified
See a teenage mother's vacant eyes
As she watches her feeble baby try
To fight the monsoon rains and the cholera flies

And the students at the university
Asleep at night quite peacefully
The soldiers came and shot them in their beds
And terror took the dorm awakening shrieks of dread
And silent frozen forms and pillows drenched in red

Bangladesh, Bangladesh
Bangladesh, Bangladesh
When the sun sinks in the west
Die a million people of the Bangladesh

Did you read about the army officer's plea
For donor's blood? It was given willingly
By boys who took the needles in their veins
And from their bodies every drop of blood was drained
No time to comprehend and there was little pain

And so the story of Bangladesh
Is an ancient one again made fresh
By all who carry out commands
Which flow out of the laws upon which nations stand
Which say to sacrifice a people for a land

Bangladesh, Bangladesh
Bangladesh, Bangladesh
When the sun sinks in the west
Die a million people of the Bangladesh

'Song of Bangladesh', written & composed by Joan Baez
Though the song was not so strong lyrically, the message was loud and clear. This powerful message further highlighted the Bangladesh cause to the international masses. It was a great feat to have a renowned star like Joan Baez stand right beside the people of Bangladesh to uphold their constitutional right and seek justice for an oppressed nation. The song was a source of inspiration and strength to the 75 million people in those dark days of turmoil, uncertainty, pain, courage and innumerable deaths that brought independent Bangladesh.
The problem is consensus. There is a consensus out that it's ok to kill. If you kill inside the country you get into trouble. If you kill outside the country, right time, right season, latest enemy, you get a medal.

...The pacifist [peace maker] thinks there is only one tribe... the three billion members. They come first. We think killing any member of the family is a dumb idea. We think there are more decent and intelligent ways of settling differences and man had better start investigating these other possibilities because if he doesn't, then by mistake or by design he will probably kill off the whole human race....
...and many more!
In 2011, the Government of Bangladesh came up with a list of over 500 foreign friends who have made immense contribution during the Muktijuddho and the initial years of Bangladesh. Each one of them will receive honorary award from the government in recognition of their contribution. The awards will be given in two categories - "Bangladesh Muktijuddho Sammanana" (Bangladesh Liberation War Honour) and "Muktijuddho Moitri Sammanana" (Friends of Liberation War Honour).
This list includes as many as 24 international organisations, including Red Cross, United Nations High Commissioner for Refugees (UNHCR), British Broadcasting Corporation (BBC), Indian radio broadcaster Akash Bani, Geneva-based International Commission of Jurists, World Health Organisation, and International Labour Organisation.
The late Indian Prime Minister Indira Gandhi was the first 'foreign friend' to be conferred with the honorary award. She was awarded 'Bangladesh Freedom Honour' posthumously in July 2011. Her daughter-in-law and ruling Congress president Sonia Gandhi received the honour on her behalf at a special ceremony in the Bangabhaban (President's House) in Dhaka.
American

Allen Ginsberg
Anna Braun Taylor
Archer K. Blood
David Weisbrod
Prof. Edward C. Dimock
Edward C. Mason
Cornelius Edward Gallagher
Senator Edward M. Kennedy
Senator Frank Forrester Church
Senator Fred R. Harris
Senator George Stanley McGovern
Prof. J. Kenneth Galbraith
Joseph Garst
Lear Levin
Richard K. Taylor
Prof. Robert Dorfman
Thomas A. Dine
Father William Evans
William Greenough
Father William Richard Timm
Senator William Saxbe
British

Biman Mullick
Bruce Douglas-Mann
Sir Edward Richard George Heath
Ellen Connett
Lord Harold Wilson
Julian Francis
Michael Barnes
Paul Connett
Lord Peter David Shore
Simon Dring
Sir William Mark Tully
Russian

Aleksei Nikolayevich Kosygin
Anatoly Dobrinin
Andrei Gromyko
Kirillowitsch Koschewoi
Leonid Brezhnev
Nikolai Firyubin
Nikolai Viktorovich Podgorny
Rear Admiral Sergey Pavlovich Zuenko and his team
Prof. Vladimir Stanis
Yakov Alexandrovich Malik
17 members of the Communist Party of Soviet Union politburo
Indian

Lance Nayek Albert Ekka
Anil Bhattacharya
Annada Shankar Roy
Arundhati Ghosh
Aveek Sarker
Bhupen Datta Bhaumik
Bhupen Hazarika
Bhupesh Gupta
Maharani Bibhu Kumari Devi
Chandra Rajeshawar Rao
Dasharath Dev Burman
Debdulal Bandyopadhyay
Prof. Dilip Chakrabarti
D.P. Dhar
Golok Bihari Majumder
Gouri Prasanna Majumdar
Hiranmoy Karlekar
Ishwari Prasad Gupta
Lt. Gen. Jack Frederick Ralph Jacob
Lt. Gen. Jagjit Singh Aurora
Jagjivan Ram
Jayaprakash Narayan
Jyoti Basu
Kaifi Azmi
Brigadier (retd) Kailash Prasad Pande Maha Vir Chakra
Karan Singh
Manik Sarker
Manosh Ghosh
Mother Teresa
Capt. (retd) M. N. R. Samant Maha Vir Chakra
Narayan Desai
Nargis Dutt
Nripen Chakraverti
Pankaj Saha
P.N. Haksar
Purno Agitok Sangma
Dr. Rathin Datta
Rawshan Ara Begum Sangma
Robin Sengupta
Sachindra Lal Singh
Samar Sen
Field Marshal SAM Manekshaw
Brigadier (retd) Sant Singh Maha Vir Chakra
Santosh Kumar Ghosh
Sarat Chandra Sinha
Sashanka S. Banerjee
Siddhartha Shankar Ray
General S. S. Uban
Advocate Subrata Roy Chowdhury
Sunil Dutt
Sardar Swaran Singh
Justice Syed Sadat Abul Masud
Tarun Sanyal
Dr. Triguna Sen
Waheeda Rehman
Capt. Williamson A Sangm
Indian people and Mitro Bahini from India
Rest of the world

Jorge Luis Borges, Argentina
Anthony Laurence Clifton, Australia
Bruno Kreisky, Austria
Pierre Trudeau, Austria
Jigme Dorji Wangchuck, Bhutan
Fidel Castro Ruz, Cuba
Dr. Kirsten Wastergaard, Denmark
André Malraux, France
Barbara Dasgupta, Germany
Erich Honecker, Germany
Sunil Dasgupta, Germany
Willy Brantd, Germany
Nora Shariff, Ireland
Sean McBride, Ireland
Father Mario Varonice, Italy
Naoaki Usui, Japan
Takashi Hayakawa, Japan
Takayoshi Suzuki, Japan
Prof. Tsuyoshi Nara, Japan
Dr. A. Surian, Malaysia
B.P. Koirala, Nepal
Dr. Ram Baran Yadav, Nepal
Kinten Watey Bugg, Netherlands
August Zaleski, Poland
Hong Suk Ja, South Korea
Sir Senaratna Gunawardane, Sri Lanka
Prof. Gunnar Myrdral, Sweden
Olof Palme, Sweden
Sven Stromberg, Sweden
Prof. Jean Ziegler, Switzerland
Cardinal José Humberto Quintero, Venezuela
Madam Nguyen Thi Binh, Vietnam
Marshal Josip Broz Tito, Yugoslavia
The victory in the War of Liberation, 1971 is a glory to rejoice forever. But at the same time, it is forever an event for remembrance of those valiant fighters at home, and of those who lent valuable support in various ways, be it in the form of door-to-door fund-raising, music for freedom or concerts and freedom marches abroad. It is a great pity that we are lagging behind in bestowing respect to those who have fought for our cause of national emancipation. Although belated, the present government has undertaken a very apt decision to remember and honour them.

People like Victoria Victoria Ocampo, the great Argentinean known for her love for Rabindranath Tagore, waged a campaign in her country for our liberation in 1971 while she was 90. Also nearly 35 Pakistanis who dared to stand for the cause of Bengalis, exposing themselves to tortures, imprisonments and manhunts.
The story of Bangladesh is an ancient one again made fresh.