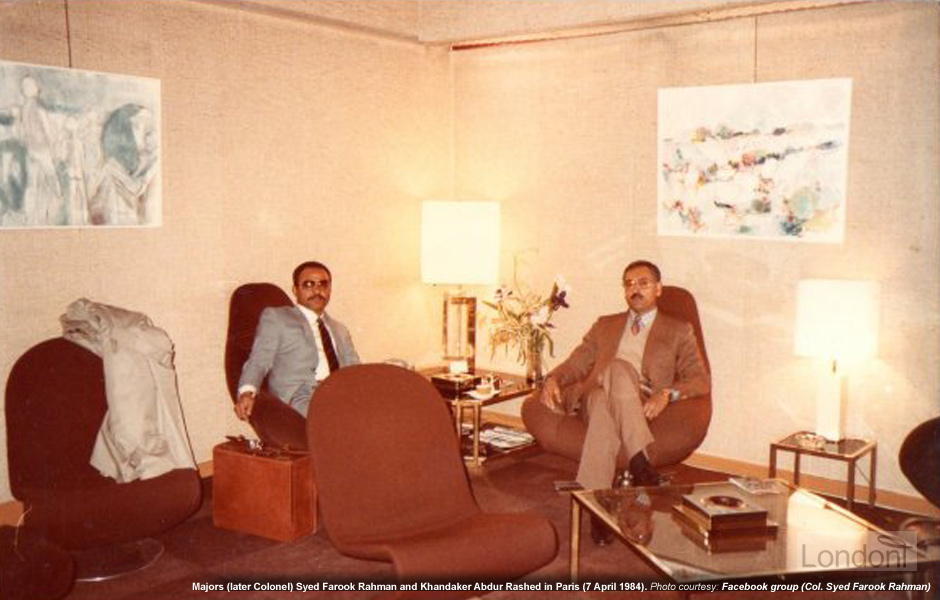 Profile of the two masterminds or 'Killer Majors' Syed Farook Rahman & Khandaker Abdur Rashid
Among the angry young men in the Bangladesh army were two young Majors who took immense pride in their professional competence and who now found their careers on the rocks because of Sheikh Mujib's studied neglect of the armed forces. One was Farook Rahman, Second-in-Command of the 1st Bengal Lancers, the country's only tank regiment which till the middle of 1974 had only three obsolete tanks in its armoury. The other was Khandaker Abdur Rashid, the Commanding Officer of the 2nd Field Artillery, also based in Dhaka.
Farook (also spelled Faruque or Farooq) and Rashid, both born within a month of each other in 1946, were good friends and brothers-in-law since they had married the daughters of S. H. Khan who belonged to Chittagong's leading industrial family. Farook was married to Farida, and Farida's elder sister Zubeida, nicknamed 'Tinku', was married to Major Rashid. The girls' sasa A. K. Khan (the older brother of S. H. Khan) was a former Industries Minister in the Pakistan government.
Farook and Abdur Rashid were ideally placed in Dhaka to carry out the coup.

Abdur Rashid commanded the 2nd Field Artillery conveniently based in the capital and Farook led the Bengal Lancers, Bangladesh's only tank regiment. Between them they had more fire power than anything Shiekh Mujib could hope to muster.

Anthony Mascarenhas, Journalist
Farook's background
Farook - full name Dowan Esheratullah Syed Farook Rahman - comes from an upper class Bengali family and claimed that on commissioning he was the first second-generation Bengali officer in the Pakistan army. His father's family are known as the 'Pirs' (religious leaders) of Rajshahi, claiming direct descent from Arab Syeds who had settled on a modest estate in Nauga. His mother belongs to a land-owning zaminder family of the Jamalpur/Islampur area of Mymensingh who claim descent from Turkish soldiers of fortune under the Mughal emperors. Between them Farook was closely related to Dr. A. R. Mallick (former Vice Chancellor of Chittagong University who replaced Tajuddin Ahmad as Finance Minister), Syed Nazrul Islam (Acting President during Mujibnagar Government), Syed Ataur Rahman Khan (former Chief Minister of East Pakistan and Prime Minister of Bangladesh) and Major General Khaled Musharraf who was briefly Chief of Staff of the Bangladesh army in November 1975 before being killed in the Sepoy Mutiny. In fact, Brigadier Khaled Musharraf was Farook's mamu (maternal uncle).
Farook's father, Major Syed Ataur Rahman, was an Army doctor and Farook's education reflects the pattern of his postings. He cross-crossed the sub-continent six times in 13 years starting off in the Fatima Jinnah girls school, Comilla (Farook jokes about his 'one and only time in a convent'). He went to Abbottabed (Burnhall), Dhaka (St. Joseph's), Quetta (St. Francis' Grammar School), Rawalpindi (Station Raod school where Field Marshall Ayub Khan's daughter Naseem was also a student), Dhaka (Adamjee College), ending up in a college in Kohat for a crash course in maths.
Farook was the eldest of three children - he had two sisters - and it was not intended that he should go into the army. His love of flying got him a solo licence at the age of 17 and he had unsuccessfully tried to join the Pakistan Air Force. So his family got him admitted to Bristol University, UK, for course in aeronautical engineering and he would have gone to UK in 1966 but for the intervention of hostilities with India in the spring of 1965 over the Rann of Kutch.
Caught up in the prevailing patriotic fervour Farook, on his way to college, stopped off at the Inter-services Selection Board office in Kohat and volunteered for a commission. A week later when the call came there was initial disapproval from his mother who didn't want to lose her only son to the army. But Farook, with his father's consent, finally made it to the Pakistan Military Academy at Risalpur where he quickly distinguished himself by becoming battalion sergeant major. When he graduated 4th of 300 officer cadets, he was given his choice of service. Farook chose the armoured corps. "I didn't want to do foot-slogging in the army" he said politely turning down suggestions by Major Ziaur Rahman and Khaled Musharraf, then instructors in the PMA, that he should join the Bengal Regiment. Instead, Farook was appointed to the 13th Lancers.

Later Farook transferred to the 31st Cavalry, then based at Sialkot, and in 1970 at the age of 24, he found himself a captain, acting squadron commander of 'Charlie Squadron' and "in the command chain of the armoured corps". This significant career opening was made possible by his success in the tactical armour course which he topped with B+.

Anthony Mascarenhas, author of "Bangladesh: A Legacy of Blood" (1986)
In addition to flying, Farook had other loves - reading volumes of military history and tactics, driving fast cars, and music.
Whilst based as a squadron commander in Abu Dhabi and billeted in the British Officers mess in June 1971 he came across a bundle of British newspapers exposing the Pakistan Army's atrocities in Bangladesh. Amongst these was Anthony Mascarenhas' "Genocide" article writeen in the Sunday Times.
What actually convinced me about your writing was your technique and reporting. The way you wrote about those Pakistani officers straightaway struck me that this man is not a fraud. Only a chap who has been in close touch with the Pakistan Army knows exactly how they behave, I know. And I also know that no one can simulate it. That's why I was solidly convinced that this chap knew exactly what he was writing and I couldn't be wrong. This forced me to decide to go.

I was not interested in politics because I was rising very fast professionally with the little service that I had. I was only interested in seeing how fast I could go. I was only interested professionally in being a general officer. Then suddenly this thing came to me and disrupted my whole damn career.
A letter from his uncle, Nurul Quader, a Bengali civilian officer in the Mujibnagar government, confirmed his worst nightmares. Bangladesh was at war with Pakistan.
Farook is an ardent nationalist. He is single-minded, with decisiveness grounded on careful planning. After carefully weighing the situation, Farook decided he could no longer serve in the Pakistan army.

On 12 November 1971, he packed a bag and drove to Dubai airport where he abandoned his car. Then he caught the first flight to Beirut and London for the long journey to Bangladesh.
Unlike other Bengali military officers who made their daring escape to India through the frontier, Farook reportedly travelled first to Tripoli before making his way to the Mujibnagar government. That tells you something.
Farook and Rashid first met in the Pakistan Military Academy at Risalpur. Farook belonged to a senior batch, however it was common for the Bengali officer cadets to 'stick together'. The political tension that was engulfing the two wings of Pakistan were being felt within the military. The Bengali officers, who were heavily outnumbered by Punjabis and Pathans, sat together in the cafeteria "to chit-chat" as Rashid tells it. Rashid was very talkative, Farook a good listener.
Rashid's background
Like Farook, Khandaker Abdur Rashid considered it his patriotic duty to join the Pakistan military academy as Indo-Pak war broke out in 1965. Rashid came from the tiny village of Chaypharia on the road between Comilla and Daudkhandi where his father was a primary school teacher of modest means. Unlike Farook, Rashid was not connected to 'the great or the learned' and is not related to Khandaker Moshtaque Ahmed as is popularly believed.
Rashid is the first to deny Bangladesh gossip the he is a nephew of Khandaker Mushtaque Ahmed. There only connection is 'an accident of geography' according to Rashid. They come from the same sub-district.

Khandaker Abdur Rashid and Khandaker Moshtaque Ahmed are not related
Rashid was studying soil science, geography and geology at Dhaka University when the war broke out in 1965, and he thought it was a patriotic duty to seek a commission in the Pakistan Army. He was selected and after a run-of-the-mill showing in the PMA, graduated 92nd in his class. Rashid requested posting to the Bengal Regiment but instead was given his second choice and commissioned in the 2nd Field Artillery then based in Bannu in the North-West Frontier Province.
When the Pakistan army crackdown came in March 1971 Rashid's unit was stationed in Hajira on the Pakistan side of the ceasefire line in Kashmir. It was a trying period for the young Bengali officer. The radio reports he was picking up from different parts of the world gave horrifying stories of the trauma in East Pakistan. Rashid decided to defect from the Pakistan army.
I thought that once the movement had started, whatever the cause may be, and right or wrong, it had to be seen through to the end. If we failed to liberated our country then we would have been tremendously subjugated by the Pakistanis. They would never have treated us like human beings again. We therefore had no choice. It became a duty of every Bengali to fight for his country's liberation so that we could live independently with honour and respect.
Like millions of other Bengali women at the time, Rashid's wife Tinku rallied bravely behind her husband.
The country comes first - other things are not important. We must go.
To break out of their isolation in Hajira, Rashid applied for a 10-day furlough on the excuse that his parents were ill and he had to see them. After an agony of waiting his request was granted and on 2 October 1971 he took Tinku and their baby daughter to Dhaka. Rashid sent his wife and child to her parents in Chittagong and tried to cross the border into India at Agartala. He was nearly caught in the cross-fire on two occasions but fortunately for him he slipped through on his third attempt on 29 October 1971.
He re-entered Bangladesh through Sylhet at the beginning of December with a Mukti Bahini howitzer battery attached to Ziaur Rahman's 'Z' Force. After independence this battery was raised to a regiment, the 2nd Field Artillery, and Major Khandaker Abdur Rashid became its Commanding Officer.
Thus both Farook and Rashid joined the Muktijuddho during the final phase and were witness to the birth of Bangladesh. They were very passionate and proud of their new country and would regularly sit together and ponder about its future.
A single wall separated their bungalows in Dhaka cantonment and in the evenings the sisters and their husbands would often get together, as they put it, "to pass the time". It was these family ties that allowed them to confide in each other about their disenchantment with the way things were going in Bangladesh. The two Majors were otherwise poles apart in terms of personality and came from very different backgrounds.

...Farook and Rashid, like the other Bengali officers and men involved in the liberation movement - the Bangladesh army itself - had high hopes for Bangladesh after its creation. They were proud of their country, extremely nationalist and the fact that they were willing to take a back seat in the first years of independence clearly shows that they had no political ambitions. Sheikh Mujibur Rahman, however, did not see it that way. His bitter experiences in Pakistani jails made him suspicious and hostile to all things military. In his anxiety not to re-create the 'monster' he had known in Pakistan he ended up doing that very thing - and it destroyed him.
Dalim incident proves a sore point for young army officers
Towards the end of January 1974 some young army officers were involved in an incident which would have a direct bearing on Sheikh Mujibur Rahman's assassination. The occasion was a wedding reception in the Dhaka Ladies Club hosted by Major Shariful Haq 'Dalim' and his attractive wife Nimmi for Dalim's cousin Tahmina who was marrying Colonel Reza. Many high-ranking dignitaries from civil and military world were present as invited guests.
Sharful Haque (Dalim)

( - )
Nimmi is the daughter of R. I. Chowdhury and her family were close friends of Sheikh Mujib and his family. Begum Chowdhury, a senior member of the Awami League, had accompanied Begum Mujib when she came to London for medical attention in 1973. R. I. Chowdhury, who was First Secretary (Consular) in the London High Commission, had also been favoured by Sheikh Mujib with more than the normal extensions of service after reaching retirement age. Thus Dalim and his wife were considered part of the 'in' set, but perhaps not so well in with Mujib as the brother of another guest at that wedding, Gazi Golam Mostafa. Apart from holding a very lucrative position as Chairman of the Bangladesh Red Cross, Gazi was also the Awami League's hard hitting city boss in Dhaka. In the later capacity he was Sheikh Mujib's right-hand man, very tough, powerful and free-wheeling and was known privately as "Lord of the Bustees (Slums)".
In one version of the story, Gazi Golam Mostafa's brother is alleged to have made some insulting remarks about Nimmi which led to altercation where Gazi's "bully-boys is said to have joined and roughed up the army couple". Some of the guest say the thugs attempted to kidnap them, but there was no confirmation of this.
In another version, Gazi Golam Mostafa is alleged to have kidnapped Major Dalim, Nimmi and their aunt after an altercation between Gazi's teenage sons and Dalim's brother-in-law Bappi from Canada. According to this version an incensed Gazi stormed into Ladies Club in the middle of the wedding ceremony with a car and two microbuses filled with 10-12 civilian with sten guns and kidnapped Major Dalim, two of his freedom fighter friends (Alam and Chullu), his wife Nimmi and his aunt who was also the bride's mother.
Where is Major Dalim? What does he think of himself. He has gone too far. I shall teach him a lesson today.

Gazi Golam Mostafa is alleged to have shouted at the top of his voice
Gazi Golam Mostafa had intended to take them to the notorious Rakkhi Bahini's headquarter in Sher-e-Banglanagar (known as the Second Capital) but Dalim talked him into taking them to Sheikh Mujib first to resolve the matter as many people had witnessed their abduction and "the situation could get out of control". Thus Gazi changed his mind and took them to Sheikh Mujib's home in Dhanmondi where both parties appealed to Sheikh Mujib for redress.
Regardless of the true version of the incident, the end result was disastrous. Dalim's army colleagues decided to take immediate action. They piled into two trucks and went hunting for the offending gang and ended up wrecking Gazi Golam Mostafa's bungalow. They raided the house and took everyone available into custody. The army also established check posts all over the city and checked every passing car.
Sheikh Mujib was visibly incensed with Gazi's hot-headedness and called upon Chief of Army Staff Major General K. M. Shafiullah to dampen the tension.
K. M. (Kazi Mohammad) Shafiullah

(Born ) Bir Uttam. 2nd Chief of Army Staff (1971 - 1975) and senior vice president of Sector Commanders' Forum. During 1971 Muktijuddho he was the Second in Command of 2nd EBR (East Bengal Regiment) that revolted with 6 officers on the night of 25 March 1971. Became Sector 3 (Sylhet-Brahmanbaria) Commander. Led "S-Force" (named after his surname). Retired from politics after Sheikh Mujibur Rahman's assassination in 1975. Accepted ambassadorial appointment overseas.
"Damn fool! What have you done?" Roared Sheikh Mujibur Rahman. He left his chair came forward and embraced both of us. Khalamma could not walk properly. Kamal and others helped them to up stairs. It was a pathetic seen. In the room we were only four of us Nimmi, Sheikh Saheb, Gazi and myself. Nimmi out of anguish, anger and insult burst into tears. Sheikh Saheb was trying to clam her down. Gazi was standing at a corner trembling like a guilty person. Suddenly the Red telephone rang. The call was from Gazi's residence. The army had raided his house and took every one available into custody. Not only that, the army established check posts all over the city and checking every passing car. As the news of the kidnapping reached the officer's mess, the young officers came out instantaneously and had started looking for Major Dalim and his wife. Members of the MP units were all over in strength. There was a hue and cry in the Capital. Gazi is also missing. After receiving the call Sheikh Saheb's face became dark. Immediately he picked up the other receiver and in front of us called Major General Shafiullah and said, "Hello Shafiullah! Gazi Dalim and Nimmi all are here with me. I want you here right away".

After talking to Major General Shafiullah he turned to Gazi and said, "Come on! beg apology from Nimmi and Dalim".

As Gazi took a step forward Nimmi roared like a wounded tigress.

"Don't you dare to come near me. A swine like you don't have any right to beg apology". Then she turned towards Sheikh Mujib and said: "On whose blood you are the Prime Minister today? You claim yourself to be the father of the nation. I want justice from you. I want the same kind of justice that you would have meted out had it been either Sheikh Hasina or Sheikh Rehana in my place insulted in similar way. I want a reply from you. How dare this man - Gazi, the 'Kambal Chor' dares to lay hands on those freedom fighters on whose blood and sweat you and your party are enjoying the power today? I want an answer. Uptill now you can not say that I had ever asked anything from you personally. But today I am asking fair justice. If you don't do the justice then Allah will render his judgment".

In spite of my best efforts I failed to claim her down that day. Usually soft and composed Nimmi even could have such fire within herself that became known to me just on that day. It was quite amazing for me.

Sheikh Saheb again embraced her affectionately and said "Maa please cool down. You are just like Hasina and Rehana to me. I shall definitely do the justice. It is really very wrong! Grossly incorrect! Please you calm yourself".

Then he called Sheikh Rehana and asked her to take Nimmi up stairs.
Once Major General Shafiullah arrived and Major Dalim had reassured his colleagues that they were well, Sheikh Mujib asked Dalim to forgive Gazi and turning to Gazi with annoyance ordered him to "go and complete the ceremony". However, Dalim was not willing to forgive nor forget.
Mr. Gazi need not have to come to complete the ceremony. I can neither forgive him. That will be against my principles. We fought and liberated the country sacrificing our blood. Shedding blood is nothing new for us. We are serving in uniform not for money. Mr. Gazi has very wrongfully hurt my pride as a freedom fighter and has dishonored my uniform. You had deployed us to protect the people and to ensure their security to get hold of the armed miscreants and to punish them. In such a situation we are being dishonored. As the Prime Minister of the country you have promised to do justice. We shall wait to see what justice your render.
Though Sheikh Mujib managed to temporarily soothe the situation the incident soured all relationship. Gazi Golam Mostafa would not forget the incident in a hurry.
Later, Major Dalim was posted in Comilla Cantonment as a troop of the 1st Field Artillery Regiment along with Captain Bazlul Huda and Major Aziz Pasha. Here they met with Major Sultan Shahriar Rashid Khan, the Chief Inspector of Army School of Physical Training in Comilla. However, after an incident was reported, Sheikh Mujib instituted a military inquiry into the young officers' misconduct. As a result 22 young officers were dismissed or prematurely retired from service for 'a breach of indiscipline'. Among them were Major Dalim, Major Nur Chowdhury (ADC to General Osmani) and Captain Huda.
Major Dalim believed Gazi Golam Mostafa had influenced the decision as many of the officers who were dismissed had attacked and ransacked his house during the wedding incident. This new incident gave Gazi the perfect excuse 'to get even'.
Thus Tahmina's marriage became a witness to a historic event and a night to remember. The event itself has become a glaring testimony to prove the reckless and outrageous atrocities of the Awami League leaders and their private Bahinis. I was not finding any justification for such an hineous act where a man of Gazi Golam Mostafa's stature could personally get involved.

Much later I gathered from various reliable sources that after our Comilla operation the Awami League brought in lot of pressure on Sheikh Mujibur Rahman to teach a lesson to me for my outrageous action. But Sheikh Mujib under such pressure had said to his party people, "Army has not done their job as novice. They have done everything as par law. Each and every one was caught red-handed with evidences. In such a situation what can I do?" Against this inability Gazi took the responsibility on behalf of the party to teach me a lesson. For long he was looking for a chance. And the chance came. On the marriage night whatever had happened between Bappi and his sons he wanted to capitalize on that to teach me a befitting lesson.
The Dalim incidents caused discontentment to grow within the army who were aggrieved by the perceived nepotism of Sheikh Mujib. Whilst young talented officers like Major Dalim were discounted and their military career ended, people close to Sheikh Mujib were being rewarded. Gazi Golam Mostafa, for example, became an Executive Committee Member of BAKSAL.
As a gesture to the family Sheikh Mujib tried to make it up to Dalim by assisting him in setting up a business venture. The hurt, however, rankled. A year later the three ex-army officers would figure prominently in Sheikh Mujib's assassination.

Meanwhile the Dalim incident caused widespread resentment among the younger officers. They felt betrayed not only by Sheikh Mujib but also by their seniors in the army. Many of them began to carry side arms for personal protection whenever they went out with their families and they talked openly about their dissatisfaction. Military messes became centres of plotting. The intelligence services kept close tabs on all this and when their reports reached Sheikh Mujib he made no secret of his intention to supplant the army with the Rakkhi Bahini. The more he moved in that direction, the more he alienated the army.
Meanwhile, a frustrated Major Shahriar resigned from the Bangladesh Army and started a business dealing in old TV and Refrigerators in Dhaka. There he met with Major Dalim on regular basis and both discussed their frustration.
One day Major Dalim came to (my) business office and lamented that it is a far cry to get any justice for freedom fighters like them, rather it was difficult for them to survive.

Nobody would care about them even if they die on the road.

He further said that on one hand Sheikh Mujib was brain washed and on the other, everybody surrounded him in such a way that he was not allowed to know the truth. This must be redressed.
Nur Chowdhury

( - )

Bazlul Huda

( - )

Shahriar Rashid Khan

( - )

Abdul Aziz Pasha

( - )
Gift of tea result in Farook getting Egyptian tanks which kills Sheikh Mujib
During the Arab-Israeli war in October 1973, the Bangladesh government, anxious to make a show of support for the Arab cause, decided to make a gift of a plane-load of the finest domestic tea to Egypt. In the absence of more tangible support with money and arms, the tea was at best a token gesture. On 27 October 1973 a Bangladesh Biman 707 with the fragrant cargo took off from Dhaka and after attempting a landing at Cairo airport, which was closed, was diverted to Benghazi in Libya where it off-loaded the tea.
Egyptian President Anwar Sadat never forgot Bangladesh's unusual gesture and decided to make a handsome gesture in return. He knew that Bangladesh had no worthy armaments so he gifted them 30 T-54 tanks. The offer was conveyed to Sheikh Mujib in the spring of 1974. It dismayed him. He was alarmed at the prospect of having such military equipment in Bangladesh. He did not want tanks. They did not fit in with his ideas about the army. The Foreign Office and his ministers, however, persuaded Sheikh Mujib that he could on no account refuse President Sadat's gift.
The 30 T-54s and 400 rounds of tank ammunition arrived in Bangladesh in July 1974, making a very welcome addition to the army's strength which was then built around all of three vintage ex-Pakistan army tanks left over from the 1971 war. When they were ceremonially handed over to the 1st Bengal Lancers, Bangladesh's only 'armoured' regiment, one of the officers taking delivery of the tanks was Major Farook Rahman. Though officially second in command of the regiment, he was the most experienced armoured corps officer and the tanks came effectively under his control.
Thus man and weapons were brought together - all because of a gift of tea.

One year later Farook led the tanks to Sheikh Mujib's house and changed the course of Bangladesh.