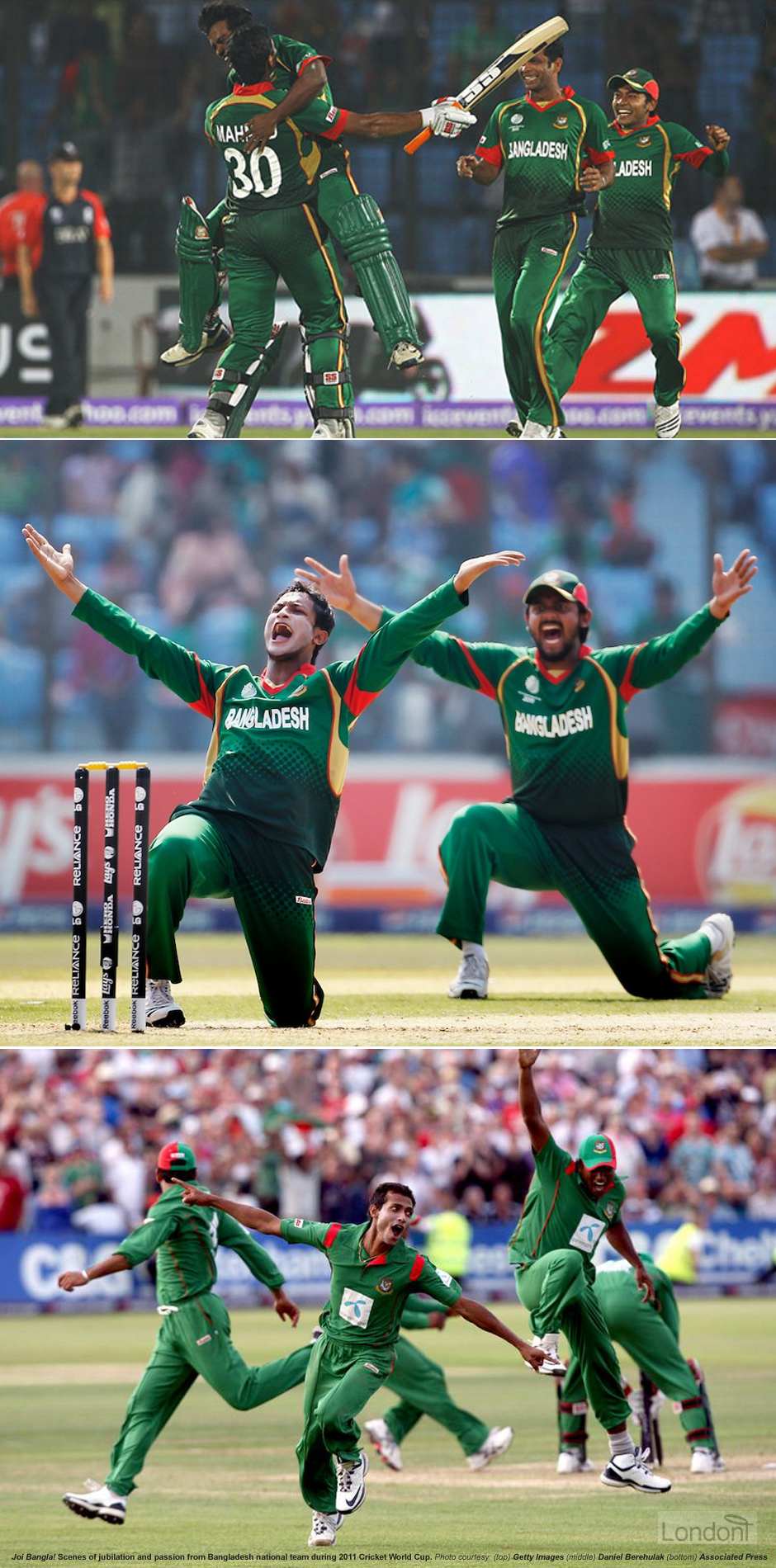 Unforgettable moment
Bangladesh's first win in the world cup
On 25 February 2011 at the Sher-e-Bangla Stadium in Mirpur, Dhaka, Bangladesh notched up their first of three wins in the tournament by beating Ireland by 27 runs - the Tigers hit a respectable 205 with Ireland replying 178 all out.
Tamim Iqbal continued to set the standard and hit 44 of 43 balls. Raqibul Hasan (38) and Mushfiqur Rahim (36) helped Bangldesh to a decent score on a slow pitch. Around 25,000 home fans packed the stadium and watched nervously in what was a must-win game for Bangladesh if they wanted to stay in contention for the quarter-finals from Group B.
It had looked for long periods as though Ireland could repeat their victories over the Tigers at the 2007 World Cup in the Carribean and the 2009 World Twenty20 in England, but they could not keep enough wickets in hand. Former Bangladesh captain Mohammad Ashraful, who scored just one run, turned an unlikely hero with the ball by claiming two top-order wickets (Ed Joyce and Andrew White) with his part-time off-spin. Skipper Shakib Al Hasan also picked up two wickets (William Porterfield and Niall O'Brien) with left-arm spin.
But undoubtedly man of the match was 21-year-old seamer Shafiul Islam who recorded the best figures for a Bangladeshi bowler in World Cup matches, with 4-21. Shafiul superbly "polished off the tail in quick time" to take 4-10 from six overs in his third spell - including that of Kevin O'Brien (37) who would later single-handedly destroy England - to wrap it up for the home side.
The win helped Bangladesh avenge two successive defeats by Ireland in major events and also sent the nation further into cricketing frenzy.
Shafiul Islam

()
Bangladesh, who had started their tournament with a crushing defeat at the hands of fellow host nation India on Saturday, They got off to a scintillating start too, openers Tamim and Imrul Kayes sending the home fans wild with a spate of early boundaries as they reached 53 from 6.2 overs before the Irish impressively reeled them back in.

...Shakib had warned Ireland's batsmen prior to the game that they might struggle on the slow pitch and Bangladesh's spinners were proving as good as their captain's word, probing away relentlessly and giving the Irish very little at which to swing their arms.

Kevin O'Brien had joined his brother at the crease and he served notice of his intentions by clattering Razzak behind point for four before Niall O'Brien gave his wicket away in the next over off Shakib, caught magnificently in the deep by a full-length diving Tamim.

At 110-5 the Tigers looked to be in the box seat, but Kevin O'Brien and Botha put on 41 in 54 balls as O'Brien in particular went after Ashraful, clubbing him for one giant six and two fours before he hoisted Shafiul into the deep, caught by substitute fielder Suhrawadi Shuvo.

That started another decline from which Ireland would not recover and after Mooney was bowled by Naeem Islam for a duck, Shafiul was too good for Botha, Johnston and Boyd Rankin, the seamer finishing with the best figures for a Bangladesh bowler in World Cup history.

BBC (25 February 2011)
West Indies bus stoned after demolition of Bangladesh
West Indies crushed Bangladesh to 58 all out for only 18.5 overs - Bangladesh's lowest ODI score, and the 4th lowest in world cup. Only Junaid Siddique (25) and Mohammad Ashraful (11) made double-figures with bowler Suliemen Benn doing all the damage for the West Indies, taking 4 wickets for 18 runs.
The only other time Bangladesh would lose again was in their final and must-win game against one of the tournament favourite South Africa. They would beat Bangladesh by a staggering 206 runs by bowling out Bangladesh for 78. South African Robin Peterson would go one better than Suliemen Benn and take 4/12.
Suliemen Benn

()
The West Indies humiliation was too much to bear for the passionate Bengali fans most of whom left the stadium in disgust long before the match had finished. The fans booed the Bangladesh team at the ground and threw their shoes on to the road in front of their bus on their return to the team hotel, a huge insult in the country. Police said they also took a fan into custody in Chittagong for showing his thumbs to Bangladesh players, again a big insult in the country - but he was released upon the request of the players. Some section of the supporters stoned the West Indies bus coach as they left the stadium thinking it was the Bangladesh bus coach. Many Bengali star player's home, including captain Shakib Al Hasan and star player Tamim Iqbal's, were stoned by furious supporters venting their anger.
In recognition of the national outrage, Shakib Al Hasan apologised formally to the nation and vowed to win the hearts and minds back by beating England - and boy did they perform against England! Absolutely breathtaking!
Match of the tournament #1: India's draw against England
India batted first and opener Sachin Tendulkar scored his 47th ODI century and 5th World Cup century, the highest number of centuries by anyone ever in a World Cup. He finished off with a score of 120 and was well supported by Gautam Gambhir and Yuvraj Singh who both made half-centuries. England's bowleer Tim Bresnan took his first five-wicket haul in ODI matches, which included three wickets with four balls in the 49th over.
Chasing 339 to win, Andrew Strauss made his highest score in ODI cricket, with 158, before being dismissed by Zaheer Khan. After a collapse from England, Graeme Swann scored one run off the final ball, tying this scintillating match of high calibre performance.
Kevin O'Brien scores fastest century in world cup history
England were left in shock and awe as Ireland's Kevin O'Brien went on the rampage and scored a century in 50 balls! This was the fastest century in cricket world cup history. In a display of controlled hitting he launched 13 fours and 6 sixes to rescue Ireland from defeat after England had scored a match winning 327 runs in Bangalore, Sri Lanka.
Jonathan Trott (92), Ian Bell (81) and Kevin Petersen (59) seem to have secured England their first victory of the campaign. With the five top order Irish batsmen totaling a combined score of 96, Ireland were on their way to a humiliating second successive defeat, having already suffered in the hands of Bangladesh. However Kevin O'Brien had other ideas. Supported by Alex Cusack (47), O'Brien finally scored 113 off 63 balls and single-handedly helped Ireland to a sensational 3 wicket victory by getting 329 with 4 balls to spare.
The victory was the first for Ireland in the current world cup - their only other win came against Netherlands - and matched their famous win against Pakistan in the previous world cup.
Kevin O'Brien

()
It was triumph to trump Ireland's memorable win over Pakistan at the 2007 World Cup.

If England's tie against India on Sunday was dramatic enough, this match probably threw up even more wonderful theatre.

O'Brien (113) came to the crease when damage limitation seemed the best his team could hope for, after they lost three wickets for eight runs to falter to 111 for five in an apparently vain pursuit of 327 for eight. But he responded with an innings of immense power, smashing six sixes and 13 fours in a 50-ball hundred and dominating a stand of 162 in 17 overs with Alex Cusack (47).

No one in the England attack was safe, with Graeme Swann (three for 47) the lucky one that he managed to complete his full 10-over allocation before O'Brien began his assault in earnest. England did not help themselves, dropping five catches in all, including O'Brien and Cusack once each. In the end even O'Brien's run-out, trying to scamper a second run at the start of the 49th over, could not stop Ireland getting home with five balls to spare.
Sri Lankan Malinga & West Indian Roach take six wicket, including a hat-trick
Sri Lankan fast bowler Lasith 'Slinga' Malinga bowled out Kenya for 6-38 including a hat-trick, and became the first player ever to take two World Cup hat-tricks. In 2007 world cup against South Africa he became the first ever player – and so far the only one – to take four wickets in four consecutive balls in international cricket.
Not to be out done, 22-year-old West Indian bowler Kemar Roach also took a hat-trick and 6 wickets - but for 27 runs against Netherlands. His hat-trick came with the final three balls of the game and Roach became the first West Indian player to take a hat-trick in a World Cup match.
Lasith Malinga

()

Kemar Roach

()
Chetan Sharma (1987) = India vs New Zealand: Ken Rutherford, Ian Smith and Ewen Chatfield
Saqlain Mushtaq (1999) = Pakistan vs Zimbabwe: Henry Olonga, Adam Huckle, Pommie Mbangwa
Chaminda Vaas (2003) = Sri Lanka vs Bangladesh: Hannan Sarkar, Mohammad Ashraful, Ehsanul Haque (unique since Vaas did it with the first three deliveries of the match)
Brett Lee (2003) = Australia vs Kenya: Kennedy Otieno, Brijal Patel and David Otieno
Lasith Malinga (2007) = Sri Lanka vs South Africa (took 4 wickets in 4 balls): Shaun Pollock, Andrew Hall, Jacques Kallis and Makhaya Ntini
Kemar Roach (2011) = West Indies vs Netherlands: Pieter Seelar, Bernard Loots and Berend Westdijk
Lasith Malinga (2011) = Sri Lanka vs Kenya: Tanmay Mishra, Peter Ongondo and Shem Ngoche (also bowled out Elijah Otieno with the fifth ball)
Lasith Malinga turned into a one-man hit squad as he became the first man to pick up two World Cup hat-tricks to lead Sri Lanka to a crushing nine-wicket victory over Kenya today. Malinga, who missed his side's opening two matches with a sore back, fired back with the wickets of Tanmay Mishra (0), Peter Ongondo (0) and Shem Ngoche (0) with successive, full deliveries, the latter two clean bowled.

After finishing with a career best 6- 38 to dismiss the Africans for 142, a relaxed Malinga sat back in the pavilion and watched his team mates chase down the score in just 18.4 overs.

In 2007, Malinga grabbed four in a row against South Africa.

It is the second hat-trick in two days at the World Cup after Kemar Roach took the last three Dutch wickets in West Indies' 215-run victory in Group B on Monday.
Chris Gayle (80) and Kieron Pollard (60 from 27 balls) took the Windies to an imposing 330-8 on a pitch of irregular bounce, before Roach got stuck in.

The fast bowler produced some exhilarating pace as the associate nation capitulated for 115.

Roach's hat-trick, with the first three balls of the 32nd over (his ninth), saw Pieter Sielaar and Bernard Loots beaten for pace and trapped lbw, before last man Berend Westdijk had his middle stump flattened in emphatic style.

...Roach went on to collect only the sixth World Cup hat-trick and the first of the tournament, as well as the eighth-best figures recorded in the ICC's flagship event.

The ability to keep my pace up and be accurate is the biggest positive for me," Roach said afterwards. "The surface was slow, so our plan was to bowl straight and fast".

He added that he had been inspired by injured all-rounder Dwayne Bravo, whose tournament ended with a knee injury sustained on Thursday.

"I take a lot of inspiration from him, to me he is the big brother. His words inspired me this morning. He tried to give me confidence and I'm glad to perform in front of him.

"He said 'go hard and enjoy', as he always does, 'and be confident of what you do'".
Match of the tournament #2: Bangladesh's dramatic win over England in Chtrogram (Chittagong)
Match of the tournament - along with India's draw against England - has to be the heart pounding win by Bangladesh against England.
On 11 March 2011 in the Zahur Ahmed Chowdhury Stadium in Chtrogram (Chittagong), Bangladesh won the toss and opted to field first. England hit a modest 225 with Jonathan Trott (67) and Eoin Morgan (63) being the two highest scorers. No other English batsman had more than 20 runs.
With England a depressing 53-3 in the 17th over, it was left to Eoin Morgan (63 from 72 balls) to make his team competitive. Morgan had barely had time to acclimatise to conditions, having been flown in from London to replace the injured Kevin Pietersen.
Crucially for the Tigers, Eoin Morgan was dismissed thanks to a wonderful effort from 23-year-old Imrul Kayes, who charged in from deep square-leg and dived forward to claim the catch after Naeem Islam had bowled to the Englishman. 24-year-old Naeem was the most effective of the Bengali bowlers getting 2-29 – his other casualty was English captain Andrew Strauss. Abdur Razzak's 2-32 (Prior and Bopara) and Shakib Al Hasan's 2-49 (Trott and Swann) led to the quick collapse of England's top order batting.
That nightmare against West Indies was being exorcised, forgotten or forgiven by an adoring crowd. Every wicket, every catch and the solitary run-out was cheered to the skies.
Bangladesh, which needed to win to keep hope of reaching the quarterfinals, started the batting brightly. Imrul Kayes (60) and Tamim Iqbal (38) responded to the wonderful support for the home side and Bangladesh were cruising. An 82-run stand from 104 balls between Kayes and Shakib put Bangladesh in an excellent position. However, all hopes were quickly dashed. England looked on course to defend their score after taking 5 wickets for 14 runs between the 30th and 40th over and restricting Bangladesh to a lowly 169-8. Bowler Ajmal Shahzad, of Pakistani background, did the damage by getting 3-43.
A disheartened crowd started to leave when an English win was guaranteed with Bangladesh requiring 56 runs. Only two bowler tail enders were left, and bowlers are not known in cricket world to score high runs. But up stepped 21-year-old Shafiul Islam and 24-year-old Mahmudullah who had other plans.
It was dadagiri of a different kind as Shafiul and Mahmudullah stood and delivered under a deluge of attack from the English bowlers. Their heroic ninth-wicket stand resulted in them scoring 58 from 56 balls, with Mahmudullah hitting a four to win the match. This sealed a two-wicket victory for Bangladesh with 6 deliveries remaining. It was only their second victory against England in 15 ODIs.
Zahur Ahmed Chowdhury Stadium

()

Mahmudullah

()

Ajmal Shahjad

()
The euphoria of beating another top team in the biggest cricketing event wiped out any feeling of despair bought on by the West Indies annihilation in the previous match. Bangladesh's team bus instead of being stoned was surrounded by revellers dancing with delight.
The result also kept Bangladesh alive in the tournament and prevented England from automatically qualifying to the quarter-finals.
England now had to beat West Indies, who defeated Ireland at the Punjab Stadium in Chandigarh, India, earlier on the day by 44 runs thanks to Devon Smith (107) and Kieron Pollard (94). England will also have to rely on other results going in their favour to progress into the quarter-finals.
For the Tigers, a win against low ranking Netherlands and the mighty South African team would guarantee a place in the quarter-finals for the second consecutive world cup.
To the delirium of a nation and the despair of England's increasingly grumpy cricketers, Bangladesh conjured a famous victory that throws Group B wide open yet again.

Shakib Al Hasan's side, pilloried here after their ignominious defeat to West Indies in Dhaka a week ago, were heroes once more after defeating England by two wickets with an over to spare in yet another thrilling contest involving Andrew Strauss's weary tourists.

A breathtaking ninth-wicket partnership between Mahmudullah, the coolest man in Chittagong on Friday night, and Shafiul Islam, bold and nerveless in a crisis, saw Bangladesh home. They added 58 to snatch back a game that the home side had dominated for most of the day, but that seemed to be lurching back towards England when Bangladesh lost five wickets for 14 runs in mid innings.

Suddenly that stand, sparked by Shafiul smiting Graeme Swann for four and six in the off-spinner's final over, transformed the mood of the crowd, many of whom had started to drift home. Some of England's players looked exhausted as well as disenchanted by the end. Jimmy Anderson, Strauss's banker in the Ashes series, delivered three wides in the first over of the final powerplay. He was striving as hard as he could but the eyes were glazed and there was not much going on behind them. There seemed nothing left to give.

This result means that England will surely have to beat West Indies in their final group match next Thursday to have a chance of that quarter-final slot. A blitz from Chris Gayle, if he recovers fitness, or Kieron Pollard in Chennai could finish them off for good. Meanwhile, Bangladesh's hopes are still alive.
Some Bangladesh fans, so buoyant for much of the contest, were already heading for the exits when Swann then supplied the eighth wicket as Abdur Razzak swung across the line and was caught by a diving Tim Bresnan at long-on.

But out of nowhere, Mahmudullah and Shafiul Islam took 16 runs from Swann's final over, and the ninth-wicket pair coolly took the requirement down to 33 from the last five overs.

Anderson had been the weak link throughout and he was unable to control his inswinger, presenting the batsmen with three more wides, one costing an extra four runs as it eluded Prior's gloves en route to the boundary.

Shafiul, the number 10, skewed a boundary off Bresnan from a thick outside edge in the next over and then drove the wilting Anderson past mid-off for four more.

The winning runs came when Mahmudullah hit Bresnan through the covers and the home fans celebrated wildly.

While England are no longer in complete control of their own destiny, the co-hosts know that wins against Netherlands and South Africa in their final group matches will seal a last-eight berth.
History is proof to the never-say-die attitude of the Bengalis. It is this fighting spirit in the face of great adversity which makes them defy all the odds.
I thought Mahmudullah and Shafiul batted exceptionally well. At one stage we thought we'd lost the game but they showed their character, how tough they are and how hard-working.

I thought we'd lost the game but they just played outstandingly. I can't describe how well they batted.

It means a hell of a lot to the whole country. We all know we're very emotional about cricket. It was a great win for us and hopefully we'll kick on from here. No matter what happens we'll fight to the end.
The roar of the tigers Shafiul Islam and Mahmudullah will go down in Bangladesh folklore. JOI BANGLADESH!!

A Bengali fan