Aftermath X
46 languages in Bangladesh!
Although Bangla is the official language of Bangladesh and is spoken by almost everyone in the country, there are approximately 46 languages within Bangladesh itself, of which 42 are indigenous or native languages. All these are still actively used today.
Table: Languages of Bangladesh

| Language | Spoken by (population) |
| --- | --- |
| Bengali | 110,000,000 |
| Chittagonian | 13,000,000 |
| Rangpuri | 10,000,000 |
| Sylheti | 7,000,000 |
| Burmese | 300,000 |
| Bihari | 250,000 |
| Rohingya | 200,000 |
| Sadri, Oraon | 166,000 |
| Santali | 157,000 |
| Chakma | 150,000 |
| Marma | 150,000 |
| Garo | 120,000 |
| Tippera | 85,000 |
| Bishnupriya | 40,000 |
| Kurux | 40,000 |
| Rakhine | 35,000 |
| Mru | 30,000 |
| Usoi | 22,400 |
| Tangchangya | 21,600 |
| War-Jaintia | 16,000 |
| Meitei | 15,000 |
| Chin, Bawm | 13,500 |
| Assamese | 9,000 |
| Hajong | 8,000 |
| Sauria Paharia | 7,000 |
| Megam | 6,870 |
| Koch | 6,000 |
| Chak | 5,500 |
| A'tong | 5,400 |
| Kok Borok | 5,000 |
| Pnar | 4,000 |
| Mundari | 2,500 |
| Pangkhua | 2,500 |
| Chin, Asho | 2,340 |
| Chin, Khumi | 2,090 |
| Koda | 1,300 |
| Chin, Haka | 1,260 |
| Riang | 500 |
| Mizo | 250 |
| Chin, Falam | Very few speakers |
| Khasi | Very few speakers |
| Indian Sign Language | 7,596,511 deaf people in Bangladesh and 14 deaf institutions |
Source: Ethnologue - Languages of Bangladesh
Get involved
We need to make sure that our children develop a habit of reading from a very young age. Each classroom in schools, starting from the Kindergarten to the senior classes should have shelves filled with both old classics and contemporary books. I am not against the 'computer technology', but we also have to make sure that our children do not ignore books because of the computers.

If people in Chittagong, Khulna, Sylhet and other districts are not exposed to the quality and quantity of books like those in Dhaka, then how can we expect these people to create a demand for books? A proper distribution is very much necessary. Not only in Kolkata, but there are thousands of Bangalis living in the United Kingdom, United States and all over Europe. If the respected High Commissioners in these countries can arrange a three-day or a five-day book fair and invite publishers from Bangladesh, we will be able to arrange our own travel expenses and display our books in these countries. The Bangalis living abroad are always craving for books from Bangladesh and this would be a wonderful way to promote our books to them.

In spite of everything, I am amazed at the fact that more and more children love to simply finger through pages of books when they come to our stall!

The other day I could not help taking a picture of a large group of children who were going through books in a nearby bookstall. It was wonderful to watch them practically devouring the books! After all, one can anticipate a bright and a corruption-free future for this country, if these children are given the right books to read at the right age.

Advocate Jahar Lal Saha, owner of Muktodhara Publishing
Bangladesh is the only country in the world whose people sacrificed their lives for the language.
Learning resources
Glossary of terms
Martri basha

Mother tongue (language)

Bhasha Andolon

Language Movement

Gorbo

Pride

Jagbar din aaj

It's time to get up (literally, wake up day)
Bhasha shoinik / sainik

Language activist

Prabhat pheri

Mourning procession
May Allah continue to progress our Bangla basha and our People. Ameen.
Aftermath IX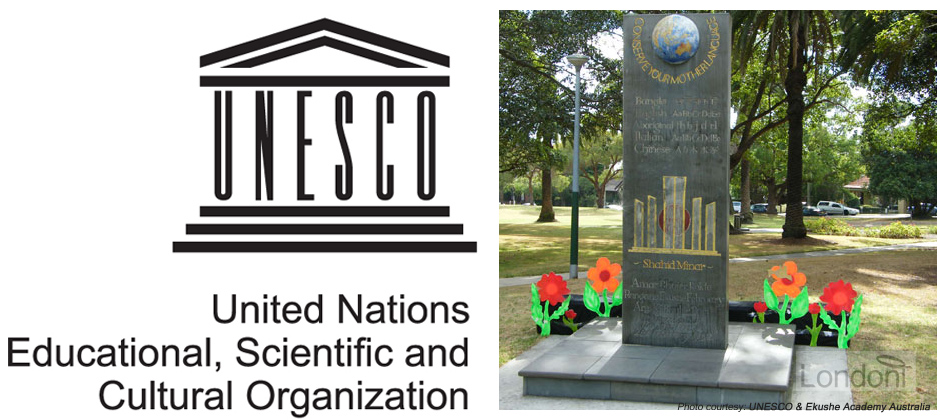 Ekushey February - UNESCO's official International Mother Language Day
On 17 November 1999, at the 30th session of the General Conference in Paris, UNESCO (United Nations Educational, Scientific and Cultural Organization) – the United Nation's specialised agency which tries to promote peace and security through international collaboration – declared 21st February as "International Mother Language Day" for the whole world to celebrate the importance of language.
This honour was bestowed by the international community on the historical language movement of Bangladesh and paid tribute to its inspiring universal message.
On 16 May 2007 the United Nations General Assembly in its resolution A/RES/61/266 called upon Member States "to promote the preservation and protection of all languages used by peoples of the world". By the same resolution, the General Assembly proclaimed 2008 as the International Year of Languages, to promote unity in diversity and international understanding, through multilingualism and multiculturalism.
24. Welcomes the decision taken by the General Conference of the United Nations Educational, Scientific and Cultural Organization on 17 November 1999 that 21 February should be proclaimed International Mother Language Day, and calls upon Member States and the Secretariat to promote the preservation and protection of all languages used by peoples of the world.
25. Proclaims 2008 International Year of Languages, pursuant to the resolution adopted by the General Conference of the United Nations Educational, Scientific and Cultural Organization at its thirty-third session on 20 October 2005, invites the United Nations Educational, Scientific and Cultural Organization to serve as the lead agency for the Year, and in this context:
(a) Invites Member States, the United Nations system and all other relevant stakeholders to develop, support and intensify activities aimed at fostering respect for and the promotion and protection of all languages, in particular endangered languages, linguistic diversity and multilingualism;
(b) Invites the Director-General of the United Nations Educational, Scientific and Cultural Organization to report to the General Assembly at its sixtythird session on the impact of the activities carried out during the Year
Rafiqul Islam & co's labour of love
The International Mother Language Day initiative was started by Rafiqul Islam, a mukti juddha and ex-pat living in Canada who's younger brother, Saiful Islam, was killed during Shadinota Juddho (Bangladesh Liberation War) of 1971.
On 9 January 1998, Rafiqul Islam wrote to UN Secretary General Kofi Annan requesting the UN to take steps to save all languages of the world from the possiblity of extinction and for the declaration of an International Mother Language Day (IMLD) to honour all world languages. He proposed 21st February – in memory of the Ekushey martyrs of 1952 – as the day for international commemoration.
Everyone loses if one language is lost because then a nation and culture lose their memory, and so does the complex tapestry from which the world is woven and which makes the world an exciting place.

Vigdis Finnbogadottir, UNESCO's Goodwill Ambassador for Languages, and former President of Iceland
However, his request was declined on the basis that the proposal needs to come from an UN member state rather than an individual or organisation.
Not one to give up, Rafiqul Islam formed "Mother Language Lovers of the World" along with fellow Bengali Abdus Salam in Vancouver, Canada. Initially, the organisation contained ten members representing seven different languages.
Rafiqul Islam & Abdus Salam (representing Bangla)
Albert Vinzon & Carmen Cristobal (Philippino)
Jason Monir & Susan Hodgins (English)
Dr. Kelvin Chao (Cantonese)
Renate Mertens (German)
Karuna Joshi (Hindi)
Nazneen Islam (Kachi)
Rafiqul Islam is the president and others are the members of 'Mother Language Lovers of the World' in Canada.
Rafiqul Islam

(Born 1951) Architect behind adoption of Ekushey February as Internationa Mother Language Day by United Nations on 1999. President of Vancouver-based (Canada) NGO "Mother Language Lovers of the World" which campaigned relentlessly to achieve this. Member of Society for Bangladesh Climate Justice. Earned Master of Commerce Degree from Dhaka University. Younger brother killed in 1971 Muktijuddho. Treated for leukaemia in 2011. Born in Rajbari, Comilla.

Abdus Salam

()
Abdus Salam then re-wrote Rafiqul Islam's original letter on behalf of these ten members and sent it to David Fowler, the Canadian Ambassador to the UN, requesting him to submit it to the UN. David Fowler sent that letter to the Canadian Foreign Ministry for approval – which came after one year.
Appreciating their hard work but recognising that this was bearing no fruit, the Chief Information Officer of the UN, Hasan Ferdous – a fellow Bengali himself – advised Rafiqul Islam that it'd be more productive to approach UNESCO with respect to this matter.
They did as advised, and in Anna Maria Majlof, who works for UNESCO's Bureau of Strategic Planning, they found a highly supportive ally. With her informal advice, Rafiqul Islam and Abdus Salam contacted the National Commission for UNESCO of Canada, Bangladesh, India, Hungary, and Finland. Hungary was the first to reply on 16 April 1999 giving their full support to the proposal.
Hasan Ferdous

()

Anna Maria Majlof

()
However, there was a hitch.
The proposal needs to be sent to UN as a proposition from the country itself and not as support to another organisation or individual.
It was then in late-August 1999 that Rafiqul Islam and his organisation approached the Education Minister of Bangladesh, A. S. H. K. Sadek, who sent the request to the then prime minister Sheikh Hasina. Sheikh Hasina was very keen on the proposal but requested she gets approval from all her ministries before submitting it to the UN. However, time was short.
The deadline for submitting any UNESCO proposal was 10 September 1999 (if it was to be acted upon in 1999) – that is, only few days away. Matters were made worse as A. S. H. K. Sadek was out of the country during this period. As panic set in, Rafiqul Islam contacted Professor Kafiluddin Ahmed, UNESCO National Commissioner of Bangladesh Secretary, who conveyed his message directly to A. S. H. K. Sadek. Once A. S. H. K. Sadek returned to Bangladesh he raised the issue directly in the Jatiya Sangshad (Parliament) in the presence of Prime Minister Sheikh Hasina who gave her instant approval. Now all efforts were made to submit the proposal before deadline – which they did, on 9 September 1999, a day before the deadline.
The Prime Minister was instrumental in ordering a 'short-circuit' of the procedures so that the proposal reached Paris in time.

The then Secretary of the Education Ministry Mr Quazi Rakibuddin, the then education Minister Mr. Sadeq, UNESCO National Commissioner of Bangladesh Secretary Professor Kafiluddin, and Mr. Moshiur Rahman (one of the Directors in the PM's Office) played active role in managing the matter in Dhaka. Mr. Tony Huq who is a Senior Advisor to the Director General of UNESCO and Ambassador Syed Moazzem Ali and Mr. Ikhtear Chowdhury of Bangladesh Embassy in Paris also played a very active role in expediting the process. The entire embassy in Paris was enthusiastic.
Having now received the proposal from a member country rather than an individual or organisation, from 10 September 1999 to 12 November 1999, UNESCO made all efforts to convince its member states to sign the proposal. The Bangladeshi proposal in the form of a draft resolution was published on 26 October 1999. Twenty-eight countries gave their backing – including Pakistan.
These countries were : Banin, Bhahama, Balaroush, Comoros, Chili, Dominic Republic, Egypt, Gambia, Honduras, Italy, Iran, Micronesia, Oman, The Philippines, Papua Newgini, Pakistan, Paraguay, Russian Federation, Sir Lanka, Saudi Arabia, Surinam, Slovakia, Vanuatu, Indonesia, India, Ivoricost , Lithuania, and Malaysia.
This larger proposal was then submitted by UNESCO's technical committee, Commission Two, to United Nation's General Assembly on 12 November 1999.
30 C/DR.35 (submitted by Bangladesh and Saudi Arabia; supported by Oman, Benin, Sri Lanka, Egypt, the Russian Federation, Bahamas, Dominican Republic, Belarus, the Philippines, Côte d'Ivoire, India, Honduras, Gambia, the Federated States of Micronesia, Vanuatu, Indonesia, Papua New Guinea, Comoros, Pakistan, Islamic Republic of Iran, Lithuania, Italy and the Syrian Arab Republic) relating to paragraph 05204, the Commission recommends that the General Conference proclaim "International Mother Language Day" to be observed on 21 February.
Five days later, on 17 November 1999, UN declared 21st February – Ekushey February – as "International Mother Language Day". The UNESCO resolution further recognized the supreme sacrifice made by our Language Martyrs on 21 February 1952.
On the first anniversary of International Mother Language Day held by UNESCO in Paris on 21 February 2000, Rafiqul Islam and his wife was invited as honourable guest.
Making of history is never free. Lots of pain, time, money, energy, sleep, health, family life, social life, hobby have to be sacrificed for it. The invisible contribution of the wife/sons of Rafiq (Buli Islam, Jyoti Islam and Joyonto Islam) and Salam (Deena, Sami, Sadi) cannot be overemphasized.
As a matter of great co-incidence, two out of the ten have same names as the famous Salam and Rafiq of 21 February 1952 fame. These ten have honoured the people who speak 6528 Mother Languages across at least 188 countries spread over all continents.
Ekushey February IMLD memorial - in Australia!
On 19 February 2006 an International Mother Language Day monument, 'Monument of Remembrance', was erected at Ashfield Park in Sydney, Australia, by the Ekushe Academy Australia, a Bangladeshi organisation.
The monument consists of a slab of slate mounted vertically on a raised platform. There are stylized images of the Shaheed Minar and the globe on the face of the stone. There are also the words "we will remember the martyrs of 21st February" in English and Bengali and words in five alphabets to represent mother languages on five continents where people live. It was officially unveiled by H.E. Ashraf UdDoula, High Commissioner for Bangladesh.
We hope that the spirit of the International Mother Language Day will help develop in us a deep respect for not only our mother tongue, but for those of others as well; help the expression of all kinds of majority and minority languages and put an end to the dictates of one language over the other.
Bengalis celebrating Ekushey February around the world...
Ekushey reminds Bengalis that regardless of their religious differences, Muslims, Hindus, Buddhists, and Christians suffered West Pakistani violence and oppression. Ekushey, with all its invented traditions, is the source of a political myth that fed Bengali secularism and independence, and the result is the common slogan "Our identity is in Ekushey".
Aftermath VIII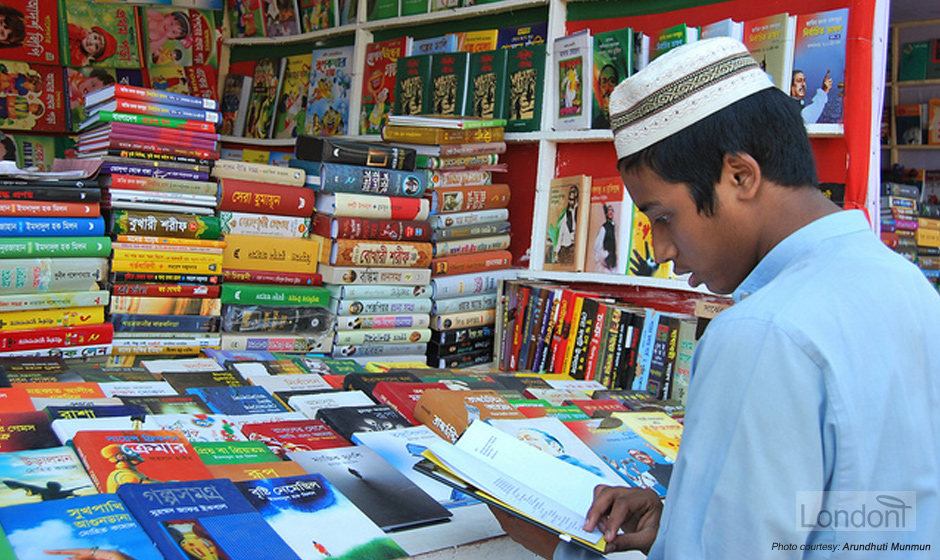 'Omor Ekushey Grontho Mela' (aka Ekushey Boi Mela)
Founded:

1978 by Bangla Academy

Location:

Bangla Academy, Kazi Nazrul Islam Avenue, Ramna, Dhaka-1000, Bangladesh

Event date:

1 - 28 February every year

Opening hours:

15:00 - 21:00 daily (11:00 - 21:00 on holidays and 8:00 - 10:00 on Ekushey February)

Entrance fee:

Free

Website:

www.banglaacademy.org.bd
The 'Omor Ekushey Grontho Mela' (Book Fair of the Immortal 21st), popularly known as 'Ekushey Boi Mela' (Book Fair of the 21st) is the national book fair of Bangladesh. It's the largest book fair in the country and takes place over whole month of February every year. The month-long fair is also an attraction as a meeting place for readers, publishers, booksellers, media personnel, authors, cultural activists and celebrities.
In Bangladesh a number of fairs or 'melas' take place at different times of the year. These include, among others, Banijya Mela (Trade Fair) Baishakhi Mela, Poush Mela, Gazoner Mela, Dhaka Boi Mela - another national book fair initiated by the government in 1990s and taking place in January every year - Kutir shilpa Mela, Pitha Mela etc. However, Ekushey Boi Mela has a special reverance due to its historical significance.
Small stall of Muktodhara Publishing grows into grand Ekushey Boi Mela
During its early days the Bangla Academy used to hold a seven-day event on its grounds to commemorate shohid dibosh. In 1972, Chittaranjan Saha, owner of Muktodhara publishing house, started a little sell in front of Bangla Academy and decided to display 33 of his books - including 'Roktatto Bangla' (Bengali Blood), a collection of articles based on the Liberation War, written by various distinguished authors. Very soon, Muktodhara had hit it off with quite a number of readers. For the rest of the week, there was a huge demand for these books, something that was quite unexpected by the Muktodhara team.
Chittaranjan Saha

()
Later, other book publishers joined there unofficially, attracting a lot of people. Gradually it became official and the most popular book fair of Bangladesh. Bangla Academy took over organization of the fair in 1978. In the 1980s, a list of criterion or 'nitimala' was also formed to maintain a standard of the publishing houses and also the kind of books that they published, so as to participate in the fair. A committee was formed to make sure that the nitimala was followed and Chittaranjan Saha became one of the members of this committee.
It was around the time of Liberation of Bangladesh and everyone wanted to do something for Bangla. Theoretically, we also wanted to be a part of the war.

Chittaranjan Saha decided to fight along, not with weapons, but with knowledge and books thereby instilling the love of reading amongst the Bangalis. That is how the idea of establishing a publishing house came about.

We found a spot on the grass and displayed our books on a small jute-mat for the visitors. We did the same in 1973. In 1974, we built a proper stall for ourselves besides the mango tree in the Bangla Academy grounds, where the security is placed this year. Artist Pranesh Mandal had even designed a gate. In 1975, a few more bookstalls joined Muktodhara, making the seven-day event an unofficial book fair. We had with us Khan Brothers, Ahmed Publications, Boi Ghor from Chittagong and a few more. That was when we decided to have the 'unit-system' for each stall. Back then, 8 feet by 8 feet was the normal size for one unit. The publishers would take up one or two units for their books. But today, the unit size has come down to a mere 8 feet by 6 feet which is not enough for us to accommodate all our books, even if we take up two units.

Advocate Jahar Lal Saha, Chittaranjan Saha's brother-in-law who had been with Muktodhara right from the beginning and also the current owner of the publishing house
In 1984 the book fair was named 'Omor Ekushey Grontho Mela'.
Structure
Only the Bangladeshi booksellers who have published at least 25 or more books in a single year can participate in the fair. Between 300 and 400 publishing houses, book sellers and such other organisation, including Bangla Academy and Nazrul Institute, take part. In 2011, the venue was divided into 556 units (spaces for stalls) to accommodate 376 publishers. Usually these publishers will spend most of the year in preparation to publish a huge number of books during this month.
The venue of the book festival - limited to Bangla Academy's boundary - and outside is decorated with banners, festoons and placards in conformity with the spirit of Omor Ekushey. The entire fair venue is free from smoking and polythene.
The Bangladesh Ministry of Culture is in control of the fair while the Bangla Academy does the ground work. Given the importance, usually the Prime Minister (or the Chief Adviser in case of Caretaker Government) inaugurates the fair on the first day of February, with the media making live broadcast of the inaugural ceremony. Special guest(s) usually accompany the Prime Minister in the inaugural ceremony. During 2011 the guest of honour was Nobel Prize winner Amartya Sen. In 2009 it was the minister for Cultural Affairs AK Azad and Professor Kabir Chowdhury.
Every year the fair has a dedicated special theme. The theme for 2011 was Robindronath Thakur (also spelt Rabindranath Tagore) - marking 150th birth anniversary of the poet. Bangla Academy held discussion and seminars such as 'Mukti Snagram, Sangskriti and Rabindranath' and 'Rabindranath O Bangladesher Sangskritik Andalan' throughout the whole month as tribute.
Table: Ekushey Boi Mela themes since 2000

| Year - Theme | Guest of honour |
| --- | --- |
| 2000 - | |
| 2001 - | |
| 2002 - | |
| 2003 - | |
| 2004 - | |
| 2005 - | |
| 2006 - | |
| 2007 - | |
| 2008 - Bengali Literature and Culture - Achievement of three decades | |
| 2009 - Potentiality of Bangladesh | Minister for Cultural Affairs AK Azad and Professor Kabir Chowdhury |
| 2010 - | |
| 2011 - Rabindranath Tagore | Nobel laureate Amartya Sen |
| 2012 - 60 years of Language Movement | |
"Munier Chowdhury" and "Chittaranjan Saha" memorial awards are also given to the publishing house bringing out the highest number of quality books and the publisher of the best book in the fair respectively.
Security is ensured via closed circuit cameras and security arches, while police, RAB and intelligence agencies provide additional protection.
'Lekhok Kunjo' attracts Bangladesh's elite authors
The event attracts the creme-de-la-creme of Bangladesh literary world. There is a 'Lekhok Kunjo', a dedicated place for writers, and 'Nazrul Manch', a corner dedicated to poet Kazi Nazrul Islam. A media center is also set up to accommodate the journalists, with Wi-Fi available for laptops. In 2011, nine corners of the mela was dedicated in the name of noted literati, language movement martyrs, poets and intellectuals while a corner was dedicated for children.
Attracted by discounted price (30% books published by Bangla Academy, 25% for all other publishers), readers rush there.
In 2008 the sale proceeds from books sold shot up to a record Tk. 200 million.
Although Ekushey Boi Mela started merely as a book fair, it has evolved into a national cultural festival reflecting the cultural spirit of the modern Bengali nation. In addition to book sales, Bangla Academy organizes literary and cultural events everyday. Thousands of people gather everyday not only to purchase books but to spend time in the company of books and their authors with a patriotic zeal.
Aftermath VII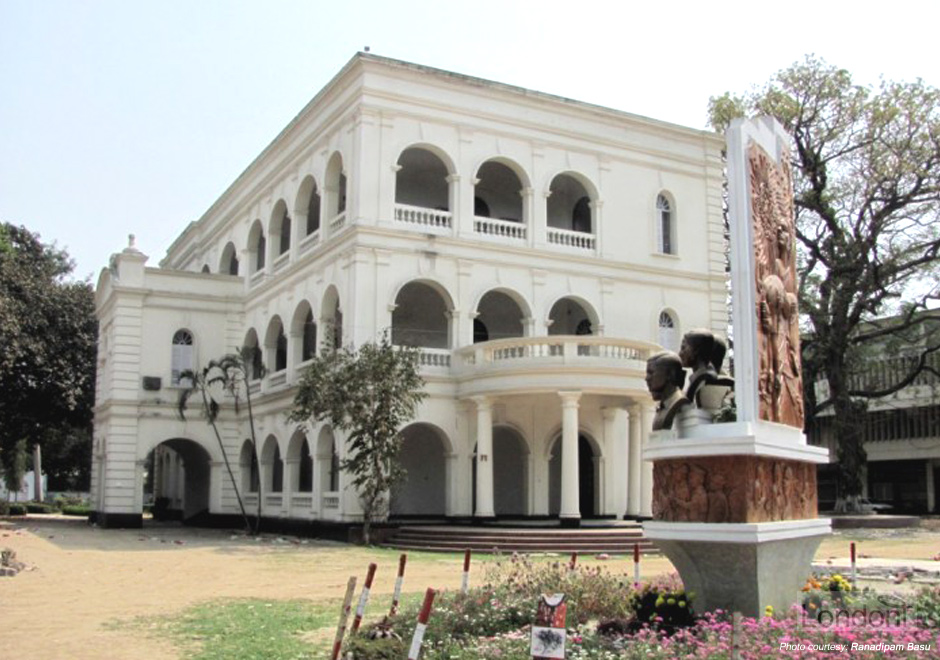 Bangla Academy
Founded:

3 December 1955

Address:

Burdwan House 3, Kazi Nazrul Islam Avenue, Ramna, Dhaka-1000, Bangladesh

Contact details:

[T] 0088 02 8619577 [F] 0088 02 8612352 [E]

This email address is being protected from spambots. You need JavaScript enabled to view it.

Opening hours:

Entrance fee:

Website:

www.banglaacademy.org.bd
Bangla Academy is the national academy for promoting Bangla language in Bangladesh. It's located in between the main campus of Dhaka University (known as the Arts Faculty) and the central Shaheed Minar, which are about half a mile away from each other.
The establishment of an institute for the research and the cultivation of the Bangla language and culture was one of the primary demands of the language movement. Prominent linguist Dr. Muhammad Shahidullah, one of the first people to fight for the Bangla language, was first to emphasis the importance of establishing an organisation for Bengali language. His idea was later supported by the Shorbodolio Kendrio Rashtrobhasha Kormi Porishod (All-Party State Language Action Committee) on 27 April 1952. In June 1953, the Dhaka University Court (now called the Senate) had strongly recommended the establishment of a Bangla Academy for the development of Bangla language and culture. They were supported by prominent scholars and linguist such as Dr. Muhammad Shahidullah, Muhammad Enamul Huq, and Professor Muhammad Abdul Hai amongst others. Later, in 1954, the short-lived but popular Jukta Front announced, as part of their 21 point manifesto, that "The prime minister from the United Front will dedicate the Bardhaman House for establishing a research centre for Bengali language".
Dr. Muhammad Shahidullah

(1885 – 1969) Educationist, writer philologist and linguist. Dhaka University's Shahidullah Hall of residence named after him. Born in the village Peyara, 24 Pargana, West Bengal.

Muhammad Enamul Haq

(1902 - 1982) Researcher, litterateur and educationist. Born in village of Bakhtpur in Fatikchhari upazila of Chittagong district.

Prof. Muhammad Abdul Hai

(1919 - 69) Educationist, litterateur and phonologist. He passed High Madrasa examination (1936) from Rajshahi Madrasa and IA (1938) from Islamic Intermediate College, Dhaka. He completed BA Honours in Bangla (1941), obtaining first class second position, and MA (1942), obtaining first class first position from the University of Dhaka. Abdul Hai also passed MA (1952) in Phonology from London University. Staunch nationalist. Wrote several books on bangla language and literature, including Sahitya o Sangskrti (Literature and Culture, 1954), Bilate Sare Satsha Din (Seven hundred and fifty days in England, 1954), Tosamod O Rajnitir Bhasa (Language of sycophancy and politics, 1959), Bhasa O Sahitya (Language and Literature, 1960) Dhvanibijnan O Bangla Dhvanitattva (Phonology and Bangla Phonetics, 1964). Hai also wrote an English book on Bangla phonetics: A Phonetic and Phonological Study of Nasals and Nasalization in Bengali (1960). He co-authored Bangla Sahityer Itibrtta (History of Bangla Literature, 1968) with Syed Ali Ahsan and Traditional Culture in East Pakistan with muhammad shahidullah. Pioneered research in Bangla phonetics, was given the Bangla Academy Literary Award (1961) for his scholarly contributions. Born in the village of Maricha in Murshidabad, West Bengal. Killed on 3 June 1969, aged 50, in an accident on a railway line.
Inauguration
An Urdu Academy was established in West Pakistan after the creation of Pakistan, but East Pakistan had to wait until 1955 for its language to be taken seriously.
Following the subsequent election success of Jukta Front, the education minister Syed Azizul Haque placed the order to fulfill this promise. In 1955, the Government formed a committee to expedite the process. The committee was composed of leading intellectuals like Dr. Qazi Motahar Hossain, Dr. S.M. Bhattacharya, Dr. W. H. Shadani,Muhammad Barkatullah, and Dr. Muhammad Shahidullah, who planned the basic framework of the Bangla Academy.
On 3 December 1955, the prime minister Abu Hossain inaugurated the Bangla Academy in Burdwan House - the residence of ex-chief minister Nurul Amin, who ignored the Ekushey tragedy. At first, Muhammad Barkatullah acted as the Special Officer in charge. Later, in 1956, Dr. Enamul Haque took over as the first director general.
The 'Bengali Academy Act' was passed by the East Pakistan Legislative Assembly on 3 April 1957 to "promote the culture and development of the Bengali language and literature in East Pakistan". This act of the parliament formally established the funding source and the Government support for the Academy.
The first book published by the academy was Laili Maznu, an epic by the medieval poet Daulat Ujir Bahram Khan, and edited by Prof. Ahmed Sharif. The first fellow of the academy was the poet Farrukh Ahmed.
Syed Azizul Haque

()

Dr. Qazi Motahar Hossain

(1897 - 1981) Educationist, scientist and litterateur. Passed BA Honours (1919) and MA (1921) in Physics from Dhaka College. Received Bangla Academy Award (1966) for his valuable contributions in Bengali literature and Swadhinata Purushkar (1979) for distinctive contributions in science and technology. Born in the village of Lakshmipur of Kumarkhali upazila in Kushtia district.

Dr. S. M. Bhattacharya

()

Dr. W. H. Shadani

()

Muhammad Barkatullah

(1898 - 1974) Essayist and prose writer. Born in Ghorasal, Pabna.
In building the new state, one of the major challenges for us was to establish our mother tongue in education, bureaucracy, higher courts and other spheres of our lives. We, however, didn't take the challenge. We failed to implement Bangla in higher education, not enough books have been written, and translations are not available.

Serajul Islam Choudhury, Professor Emeritus of Dhaka University
Organisation
On 12 June 1957 the Bengali Academy was set up with the Departments of Research, Translation, Compilation, Publication and Sales, Cultural, Folk, and Library.
The Bangla Academy consists of several departments, including a press that publishes works in all areas of Bengali literature in both English and Bengali. The academy also houses a rich library and a Bengali folklore research wing, and its biggest annual cultural event is a month long Ekushey book fair.
Objectives
The main task of the Academy is to conduct research on Bengali language, culture, history, and publish Bengali literary and research work. It has also established the Bangla Academy Award since 1960, and issues the award each year for outstanding contribution to Bengali language.
To prepare and publish treatises and research works on various branches of Bangla Language and literature, a complete history of the Bangla Literature, biographies of outstanding Bangla Literary figures.
To produce and publish dictionaries and compendiums.
To publish complete works of great Literary figures, lists of writings in old periodicals, souvenirs and memorial volumes, Ekushey volumes and commemorative volumes on great Bengali writers.
To arrange to translate classics of different languages like English, French, German, Arabic, Sanskrit, Pali etc.into Bangla and the Bangla classics into foreign languages.
To produce and publish juvenile books on Bangladesh's heritage, nature and life.
To organize seminars and cultural functions on different occasions which include a month long Ekushey celebrations, Independence Day, Victory Day, Martyred intellectual Day, Bengali New year, Eid-e-Miladunnabi, Bangla Academy Foundation Anniversary and so on.Besides,it celebrates birth and death anniversaries of Rabindranath, Nazrul Islam and Bangabandhu Sheikh Mujibur Rahman and to organize discussion-meetings on the birth and death anniversaries of prominent personalities. Bangla Academy also organizes functions on national levels in collaboration with the government.
To publish a monthly journal, 'Uttaradhikar',a quarterly research journal, 'Bangla Academy Patrika',two six-monthly juvenile journal called 'Dhanshaliker Desh'. It also publishes a newsletter called Bangla Academy Barta covering cultural news almost all over the country along with the events of Bangla Academy.
To produce and publish textbooks and references on various branches of physical sciences, engineering, biology, agricultural sciences, social sciences, humanities, gender, environment, law and commerce.
To conduct training for proper use of our mother language Bangla in offices and courts, to offer courses to teach foreigners Bangla, and to ensure use of standard Bangla words everywhere.
To arrange computer training under the digitalization programmers of the present government.
To produce and published scientific researches.
To produce and published books on science in every day life/ popular sciences and biographies of scientists.
To identify and remove difficulties in scientific studies in Bangla.
To take steps for renovating and modernizing the Bangla Academy press.
To help scholars and researchers with rare and important books, old and rare punthies and documents preserved in the Bangla Academy Library.
To prepare a detailed description of the activities of Bangla Academy and to make it open for the people.
To arrange the annual general meeting of Bangla Academy.
To preserve books and journals published by Bangla Academy, to make them available in the market and to advertise them, to arrange the Ekushey Book-Fair and to participate in the book-fairs organized at home and abroad.
The main office of the organization is located at the Burdwan House, once a part of the campus of the University of Dhaka, beside Suhrawardy Udyan.
Bhasha Andolon Jadughar & Jatiya Sahitya O Lekhak Jadughar
Founded:

1 February 2010 (Bhasha Andolon Jadughar) & 1 February 2011 (Jatiya Sahitya O Lekhak Jadughar)

Address:

Bangla Academy, Burdwan House, Kazi Nazrul Islam Avenue, Ramna, Dhaka-1000, Bangladesh

Contact details:

Opening hours:

15.00 - 18.00 seven days a week

Entrance fee:

Free

Website:

www.banglaacademy.org.bd
The Bhasha Andolon Jadughar (Language Movement Museum) and Jatiya Sahitya O Lekhak Jadughar (National Literature and Writer's museum) are two museums which were opened by then Prime Minister Sheikh Hasina Wajed to highlight the history, struggle and achievement of the Bangla language and literature.
Bhasha Andolon Jadughar
Located on the second floor of the Bangla Academy's Burdwan House, The Language Movement Museum is unique as there's no such museum in the subcontinent.
It has precious memorabilia such as language martyr Abul Barakat's educational certificates, Shafiur Rahman's spectacles, bag and coat, and photos of the entire language movement from 1948 and its aftermath. One such photograph shows the penultimate time of the movement, when students prepared at the historic Amtala (near the Arts Faculty Building of Dhaka University) to break the Section 144 on 21 February 1952. Several of the displayed photographs are by eminent researcher Professor Rafiqul Islam.
Photos along with brief bios of Language Movement martyrs Rafique, Jabbar, Salam and Barkat are also displayed at the museum. It also has rare documents such as memorandum that was given to the then Governor General of Pakistan, Muhammad Ali Jinnah, by Rashtro Bhasha Karmo Parishad. The memorandum highlights five points in favour of Bangla as the state language. The address of welcome -- containing demands for Bangla as the state language and the overall grievances of the then East Pakistan -- to the then visiting Prime Minister Liakat Ali Khan by the students of Dhaka University is also at the museum. A couple of pages from the journal of Tajuddin Ahmed, written on February 21 and 22, 1952, have been showcased as well.
There are also paper cuttings from the Daily Azad, Ittefaq and Pakistan Observer newspapers which were the leading newspapers during that period. Covers of several books on the Language Movement are on display at the museum.
The museum is still in its infancy. However, it is an important step to archive many priceless documentaries related to the Language Movement. It is also a scope for youngsters as well as many individuals who want to delve deep into our national history.

Fahud Khan, Journalist
Jatiya Sahitya O Lekhak Jadughar
The National Literature and Writer's Museum is located on the first floor of the Bangla Academy's Burdwan House. It has photocopied scripts and maps on the evolution of the Bangla alphabet, and photos of ancient, middle and modern time literary works.
It also has manuscripts and portraits of different eminent literati and memorabilia of such literary powerhouse as Rabindranth Tagore, Kazi Nazrul Islam, Michael Madhusudan Dutta, Jibanananda Das, Dr. Muhammad Shahidullah, Sharatchandra Chattopadhyay, Deen Bandhu Mitra, Buddhadeb Basu and Fakir Lalan Shah to name a few.
Belongings of late poets Sufia Kamal and Shamsur Rahman are also exhibited in the museum.
I had little knowledge that Bangla language and literature is so enriched, and that dedication of so many poets and writers lies behind it