Aftermath V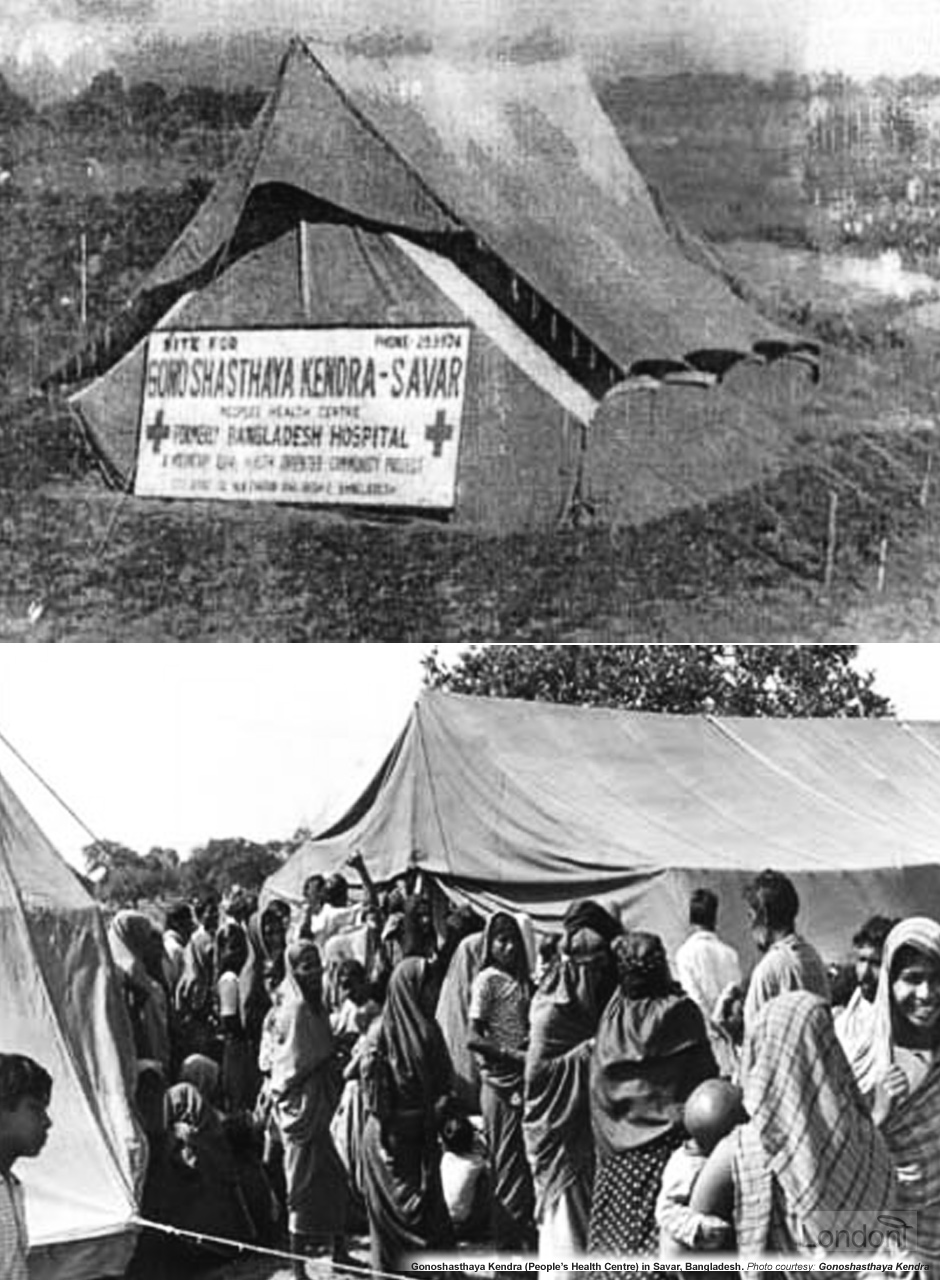 Gonoshasthaya Kendra (GK)
Following independence some workers of Bangladesh Field Hospital relocated the hospital to 132 Eskaton Road, Dhaka.
In April 1972 Dr. Zafrullah Chowdhury presented a paper in Dhaka entitled "Basic Health Care in Rural Areas" which emphasised independent, self-reliant and people-orientated development. The paper provided the foundation for the establishment of a new type of healthcare system based on a holistic approach to preventing disease and which later become the basis for international discussions on Primary Health Care. In pursuit of this revolutionary vision, on 27 April 1972 the hospital moved once more, this time to the southern part of the village of Nolam, Bishmail, near the National Martyr Monument of Savar, 40 km north of the capital Dhaka . A total of 22 volunteers and doctors opened the new 'hospital' - originally just 6 large tents and an outpatient clinic under a tree which provided better health care services to the surrounding rural poor, especially women and children who became the main patients. It was opened with the motto "Grame Cholo Gram Goro" (Let us go to village and build village), and Dr. Zafrullah instigated a system whereby medical students went to educate the villagers about healthcare and, most importantly, family planning.
These barefoot doctors, as they were known, only made passing visits, and the villagers themselves were illiterate. How could they introduce concepts of birth control and leave villagers the means and know-how to use them?
The hospital was renamed as 'Gonoshasthaya Kendra' (People's Health Centre) and popularly became known as just GK. As funds became available the hospital was rebuilt in concrete.
The 1971 Swadhinata Juddho left Bangladesh with a shattered economy. Poverty was rife and the population was expanding rapidly so there was an urgent need for birth control. The lack of sanitary and health facilities also made apparent the need for a permanent rural health program. The answer was to establish Gonoshasthaya Kendra as a charitable trust with the principal objective of 'health for all'.
The lessons learned from treating the Freedom Fighters and refugees and the need to re-construct new Bangladesh provided invaluable insights in developing the vision and the characters of today's Gonoshasthaya Kendra (GK).
In the early 1970s Savar was a typical rural community without industry, a health complex or even an NGO. The post-liberation period was a euphoric time when young leaders were thinking with vision and excitement about the possible future of their communities and became eagerly involved with the task of reconstruction after the devastation wrought by the war.

Gonoshasthaya Kendra - The People's Health Centre - was born out of this idealism.
GK is a non-government organisation (NGO) and was established with two visions: firstly "the fate of the poor decides the fate of the country", and secondly "development of the country depends on development of women". To exemplify this vision, the staff chose community living and participated in morning agriculture. Local villagers also donated land and basic building materials. Later on, two other hospitals, in Shimulia and Dhaka, and sub-centres in 13 surrounding districts were established.
When peace came, he found no suitable openings for a skilled, British-trained vascular surgeon. "If I wanted to survive", he said, "I discovered that I had to do bread-and-butter surgery for the next 10 years".

Zafrullah recognisd that his country's awesome health problems could never be solved simply by curative medicine practised by a few qualified physicians. "Prevention would be much more useful than curative medicine, and certainly less expensive. And, at least so far in the future as we could see, paramedics would probably be more important than physicians". In the villages there were few licensed doctors - perhaps 1 for each 30,000 of the population. There were plenty of villagers, but turning them into paramedics presented difficulties. "Less than 2% of the women and 8% of the men were literate", he says. Even with such a handicap, he commenced a training program. In a few years he was allowing some of his young paramedics to do minor surgery, setting broken bones and performing abortions. "This made the medical mafia very nervous", he recalls. "The minister of health - he knew me, he had been one of my teachers - told me, 'Stop this or we must send you to jail!' I said to him, 'I would very much love to see you try to do this'". In 1976 he was actually taken to court and charged with allowing a woman to do surgery. "I will take the responsibility," he told the judge. "If anything goes wrong, you can put me in jail".

Nothing went wrong. In fact, Zafrullah was winning international recognition for his work.

How Dr. Zafrullah Chowdhury had to fight the system to establish his innovative plan
Young women who had completed their secondary school certificate were eligible for training as paramedics. Aged 18–30, they would travel to villages by foot or bicycle, educating people about basic health care and the services available at the hospital, sometimes providing basic treatments or vaccinations.

Every day up to 300 patients visit the Gonoshasthya Kendra outdoor clinic in Savar, about 25 kilometres north-west of the capital Dhaka in central Bangladesh. While government-run hospitals offer low-cost medical care, they are often inaccessible, crowded, understaffed and lacking medicines. Gonoshasthya Kendra serves about 1.2 million people, more than 60% of them poor or very poor.
Holistic approach to disease prevention
Based on his experience of working in the Bangladesh Field Hospital, Dr. Zafrullah Chowdhury took on the challenge of developing an effective rural health care delivery system which takes a holistic approach to preventing disease. The emphasis was on the complete wellbeing of a person and not just the absence of disease. He believed that in order to break the cycle of poverty and poor health an effective health care system should be integrated with other social needs such as nutrition, literacy, clean water, good sanitation, family planning and even employment. To facilitate this vision, GK runs several supporting projects, including a university ('Gono Bishwabidyalay' or People's University set up in 1992 to offer courses in Development and Social Sciences, Local Governance and Health Sciences), medical college, vocational training centre, agricultural cooperatives, printing press, community schools and a generic drug-manufacturing plant. But, it is in the health field that its work has been most innovative.
The emphasis on a holistic approach to primary care is particularly significant for a developing nation like Bangladesh which was ravaged by the war. Even now, four decades later, GK still operate on Dr. Zafrullah's founding philosophy and all projects are interwoven with this basic aim.
Concentrating on the poor, GK provided preventative and primary health care services for the surrounding villages where access to health services was almost non-existent. Over the years, GK developed into a complex, integrated rural development project which included other sectors besides health, namely education, nutrition, agriculture, microbiology, vaccine research, herbal medicinal plant research, income generation and vocational training.

The vocational training centre for rural landless women was set up in 1973. The reasons for starting the vocational training centre were related to women's vulnerable position in society which was hindering their access to health services.
Gonoshasthaya Kendra was the first to introduce the concept of paramedics in Bangladesh, an innovation which was later adopted by the Government of Bangladesh in 1977. GK introduced mini-laparotomy method of female sterilisation (tubectomy) in Bangladesh in 1974.
Funding via 'Rural Health Insurance System'
In 1973 GK introduced a 'Rural Health Insurance System' whereby a patient only pays a premium according to their ability to pay and receive essential health care. This means the poor and low income groups are charged lower rates of health insurance premium than the rich and middle class patients who pay much higher rates. However, all groups receive equal quality health care. This ensures GK's services is available for all and is affordable and accessible to the rural masses in Bangladesh.
The introduction of a Rural Healthcare Insurance System in 1973 was probably one of the first of its kind in the world. What started out from a field hospital during war times has evolved into a mammoth social movement involving a university, research establishment, basic drugs and intra-venous fluids producing pharmaceutical setup, printing press for promoting public health.
Currently, GK's breadth and reach has been limited to a small geographic area. However, Dr. Zafrullah believes that with the cooperation of government this can be broadened to national and even international level.
I would say that in the field of paramedical training and domiciliary services, GK has led the way not just in Bangladesh but across the globe.

My intention was to develop a model that can be replicated nationally. Public health is a matter for the state to take charge of. It can never be left to the private sector.
Awards galore
Dr. Zafrullah Chowdhury has received national and international acclaim for his integrated community health and family planning services via Gonoshasthaya Kendra.
In 1975 the renowned medical journal Lancet hailed Dr. Zafrullah for coming up with the idea that a grassroots, effective healthcare delivery system can be developed in rural Bangladesh by utilising women as a primary healthcare delivery platform. Two years later, in 1977, he was awarded the Swadhinata Purushkar (The Independence Day Award), Bangladesh's highest national award. This was followed by Magsaysay Award from Philippines (1985), Right Livehood Award from Sweden (1992) and International Health Hero Award from Berkeley University (2002) amongst others. In fact, GK's innovative programme was accepted as one of the three main background papers for Alma Ata Declaration of the Worlh Health Organization in 1978.
In electing Zafrullah Chowdhury to receive the 1985 Ramon Magsaysay Award for Community Leadership, the Board of Trustees recognizes his engineering of Bangladesh's new drug policy, eliminating unnecessary pharmaceuticals, and making comprehensive medical care more available to ordinary citizens.
In addition to forming the Gonoshasthaya Kendra, Dr. Zafrullah Chowdhury became the founding member of Muktijuddha Sangshad (Freedom Fighters National Council) in 1972 and was elected as its Chairman from 1978-1980. In 1982 he formulated the Bangladesh National Drug Policy which is considered the first comprehensive drug policy in a least-developed country. The Policy ensures "the availability of essential drugs from the grip of predatory capitalist mechanisations of the global pharmaceutical lobby".
It is a crucial matter. If we cannot ensure delivery of even the most basic of drugs then how can you be sure of a public health system.
In 1981 GK set up the celebrated company and factory of Gono Pharmaceuticals (GP) to make essential drugs of the highest quality at low cost. It has been a great success and now supplies an average of 5% of all Bangladesh's drugs, but as much as 60% of some categories. Just as importantly, the fact that its prices were as much as 60% below those of the multinationals has meant that prices generally have fallen greatly. The factory employs some 400 people. Half of its profits are reinvested, half go to GK's social projects.

The GK experience meant that Chowdhury was a key adviser to the Bangladesh government in 1982 when it drew up its Essential Drugs Act, proscribing 1,700 dangerous or useless drugs and setting a unique example to other countries of how to control their market for therapeutic drugs. Detailed plans have now been laid for the establishment of an Institute of Health Science that will train doctors specifically in community health and medicine relevant to Bangladesh's needs.
Dr. Zafrullah also wrote an exhaustive book on the issue, "The Politics of Essential Drugs: The Making of a Successful Health Strategy: Lessons from Bangladesh" which was published in 1995. He also campaigned against commercial food producers from labelling their milk products as substitutes for breast milk.
Be it bringing together freedom fighters, starting the Bangladesh Medical Association in exile or 'raging against the machine' of drugs, healthcare or pointing out how 'research' is used as a new method of colonisation, Zafrullah has been nothing less than a modern-day revolutionary.

Archiving long lost memories
Like any other artefact, photography also has an aesthetic value. That is why preservation of photography is so important. For more than two decades Shahidul Alam, internationally acclaimed photographer, writer, and human rights activist, has made it his mission to collect Muktijuddho-related photos, visiting the photographers in their homes and saving their negatives.
By highlighting the images taken by these accidental archivists, the curators have created an intimate, reflexive portrait of the war, ranging from photographs that are well known to others that have never been seen in public.
Thirty five year ago, even longer perhaps, just a camera in hand, they had gone out to bring back a fragment of living history. Today, those photographs join them in protest. Peering through the crisp pages of the newly printed history books, they remind us, "No, that wasn't the way it was. I know. I bear witness".

The black and white 120 negatives, carefully wrapped in flimsy polythene, stashed away in a damp gamcha [cloth], have almost faded. The emulsion eaten away by fungus, scratched a hundred times in their tortuous journey, yellowed with age, they bear little resemblance to the shiny negatives in the modern archives of big name agencies. They too are war weary, bloodied in battle.

So many have sweet talked these negatives away. The government, the intellectuals, the publishers, so many. Some never came back. No one offered a sheet of black and white paper in return. Few gave credits. The ones who risked their lives to preserve the memories of our language movement, have never been remembered in the awards given that day.

35 years ago, they fought for freedom. They didn't all carry guns, some made bread, some gave shelter, some took photographs.

Shahidul Alam on Abdul Hamid Raihan's preserved negatives (2007)
In 1989, Shahidul Alam co-founded Drik Picture Library along with writer and anthropologist Rahnuma Ahmed. Drik, a Sanskrit word refering to vision, inner vision and philosophy, is an award winning picture library based in Dhaka which also provide media services including web development, video production, print production and exhibitions. In 1998 Drik set up Pathshala: The South Asian Institute of Photography and Chobi Mela, the first festival of photography in Asia.
Shahidul Alam

()

Rahnuma Ahmed

()
"The Birth Pangs of a Nation" (2011)
In 2011 Shahidul Alam published an award-winning book of photographs from the 1971 conflict with the help of Robert Pledge of Contact Press Images. Titled "The Birth Pangs of a Nation" and financed by the United Nations, the book features many of the national and international photographers mentioned above. Salil Tripathi wrote the sole essay in the book.
This year is the 40th year of Bangladesh's independence. But it also coincides with the 60th anniversary of the 1951 United Nations Convention relating to the Status of Refugees, as well as the 50th anniversary of the 1961 United Nations Convention on the Reduction of Statelessness, that together have provided a strong international legal framework for the protection of refugees and stateless people around the world. Since achieving its own independence 40 years ago, Bangladesh has brought many unique and compelling perspectives to the global experience of migration, forced displacement and protection of refugees and stateless persons. With the support of the government and the people of Bangladesh, the UNHCR and its sister agencies of the UN and a number of national and international NGOs have provided the assistance the refugee needs.

The images in this volume capture, in frozen frames, the hopelessness and despair of the displaced of one tragic upheaval. But it is not an unremitting saga filled with pathos. The birth of a nation is a matter of joy, and this beautiful land celebrates that, with its swaying paddy, windswept skies, the cheerful boatmen singing soulful songs in its rivers, the ecstasy of the Baul singers, the babble of its cities, the reflective calm of the countryside, and the haunting, elemental mangroves. The refugees longed for that sense of normalcy – and you see it in the curious eyes of the child looking at the new world, in the expectation on the faces of crowds standing with quiet dignity for their turn at the rations, in the joy of an impromptu volleyball match.

Extract of Salil Tripathi's essay in "The Birth Pangs of a Nation" (2011)
In 2012 the Government of Bangladesh presented the book as part of the official gifts to international delegates during the Swadhinata Dibosh (Independence Day) celebrations.
A film by the same name was created to accompany the book. The film, conceptualised, researched and narrated by Shahidul Alam and directed by Shuman Shams, contains personal interviews of photographers, freedom fighters, refugees and care givers, and records the pain and sacrifice of ordinary Bengalis.
1971. '71. Ekattor. Is it a number? A word? A history? To any Bangladeshi, it embodies the pride of our nation, the struggle for our independence, the pain of loss, the humiliation of being violated, the joy of victory.

The events leading up to '71 were documented almost entirely by local photographers. It was a story that international media neither knew nor was interested in. The crackdown in the night of the 25th March went barely recorded. For local photographers it was too dangerous to be out there with a camera. A few foreign journalists managed to sneak out or film through the windows of Hotel Intercontinental. They provided the only tangible record of those fateful hours. Others, who recorded those moments, were amateurs who took exceptional risks in preserving the only visual records of the atrocities.

Missing are the subtle nuanced observations of ordinary people, trying to survive, the euphoria and hope of an expectant nation being replaced overnight by the terror of living under occupation. Missing also are photographs that should be here, yet are not, by photographers who have passed away, their archives untraceable. Images have been lost. In once instance the photographer, unwilling to hand it over to a nation not concerned enough to preserve the most heroic moments of its history, hurt and impoverished, destroyed his negatives.

An incredible list of talented and deeply dedicated photographers responded to one of the greatest humanitarian crises of recent times. Their documents are an indictment of those who caused the pain, and the ones who let it happen. It is a tribute to those who abandoned all for the sake of greater good.

Has '71 indeed brought liberation to the women and men who toil on our land? To the garment workers and migrant labourers who bolster our economy, but struggle to meet basic needs. Does '71 only mean freedom for some?

The preservation of these documents remains of crucial importance. Memories and emulsions both fade with time. We owe it to future generations to retain what exists of the only material evidence of our glorious past. We need them to remind the world. "Never, no never again".
Shuman Shams

()

Salil Tripathi

()
"Bangladesh: A Brutal Birth" (1972) and "Bangladesh: The Price of Freedom" (2011)
In 1972, barely few months into Bangladesh's independence, Kishor Parekh published his iconic photographs in a book titled "Bangladesh: A Brutal Birth". The 95-pages long book was a landmark document on the atrocities committed by the Pakistani forces and the suffering of the native Bengali population. Such was the powerful images captured by Kishor Parekh that the Indian government commissioned 20,000 copies of the book to raise awareness of the war. Kishor Parekh's work appeared in numerous national and international publications including National Geographic, Paris Match, Sunday Times, Time magazine, Stern, Popular Photography and Asahi Graphic.
[Kishor] Parekh, much senior to [Raghu] Rai, also covered the conflict and along with war photographer Don McCullin depicted the war in all its horror. Their photographs dripped with violence and blood at its graphic best.
Bangladesh was Kishor's highest point. Self-assigned, self-funded, driven by his own instincts, emotions and guts, in a two week period he produced a startling set of images that became a powerful book and statement.
A photograph is not just a story about a subject, it also reveals something about the person behind the lens. In barely a few days, Parekh had a comprehensive body of work, one that he was confident enough could hold together not just as a photo story for a newspaper but for an entire book. His photos of Bangladesh in the making, considered his best, are now iconic images imprinted on the minds of those who have seen them, even though the book is no longer in print. A young girl stopped short by the sight of a mutilated corpse on the road, her pursed lips seemingly swallowing a scream, her unblinking gaze unable to turn away from the horror of it. A wounded boy, naked chest down, crying as blood from his head gushes down his legs on to the road. The brutality of not just Pakistani soldiers, but India's own ("They had suffered casualties too" as Parekh's caption puts it) as they kick suspected Razakars or spies lined up against a wall, or check inside a man's lungi - not for any sign of his religion, as this action has widely been misinterpreted as since, but for hidden weapons. Among other images, we see Mukti Bahini guerrillas as they hunt down snipers on a deserted street, Pakistani army guns piled up like firewood after their surrender, and the surrender itself: humiliation writ large on the face of Pakistan's Lieutenant General Niazi.

Once seen, never forgotten.
In 2011, around the same time as he was publishing The Birth Pangs of a Nation, Shahidul Alam was contacted by Raghu Rai after he discovered a number of his misplaced film roles depicting the 1971 war. Raghu Rai had lost these negatives 39 years ago but his assistant stumbled upon a tightly bounded and taped envelope with 'Bangladesh' scribbled on it when they were attempting to archive a pile of his material. Luckily, the negatives were still in unblemished, 'A-class' condition.
"I never seem to find something when I need it", confesses ace photographer Raghu Rai settling behind a capacious desk at his studio in Mehrauli New Delhi. For many decades Rai had been searching for his 1971 Bangladesh war photographs and had given them up for good. But when old boxes were dug up in his studio in the process of digitizing his work, his assistance handed him a dusty old packet marked 'Bangladesh'.

"The packet was so tightly sealed that everything inside was in perfect condition", says Rai.

The packet contained Rai's first and only conflict photographs. He was barely five years old in his profession then and though some of his war photos were published in significant papers around the world, he lacked the confidence to turn them into a book.

But these photographs passed the test of time. Over the decades, the human suffering they depict is as fresh and compelling. "When I looked at the pictures today I thought they were potent enough and they deserved to be put in a book", says Raghu Rai.
Shahidul Alam excitedly contacted his network of colleagues and associates and eventually this chain reaction resulted in an unique exhibition the following year. On 7 December 2012, the Bengal Gallery of Fine Arts and Indira Gandhi Cultural Center, High Commission of India, Dhaka, arranged and launched the 10-day long solo photography exhibition called "The Price of Freedom". These never-seen-before black-and-white prints, capturing the scenario at the border area during August 1971, were invaluable assets for a Bangladesh stepping into the 42nd year of freedom.
The large black-and-white and grainy images in 'The Price of Freedom'... are mainly those of refugees walking desolately, their meagre belongings wrapped in cloth bundles, into the border areas of West Bengal, Tripura, Bihar, Assam and Meghalaya. Close-up portraits of creased faces with helplessly widened eyes. Women and children, barely a single piece of tattered cloth covering their frail bodies, trudging along with nothing left to say to one another. The more fortunate, the ones evidently used to the luxury of blouses and shirts, packed together in buses and bullock carts. The next lot is of Mukti Bahini fighters, those who fought a guerrilla war against their oppressors (and with whom Rai had first crossed the border). And then of the battle fought by the Indian Army, and of the jubilation after Pakistan's surrender.
As one strolls down the gallery, he would not be able to ignore the pain and hollowness entrenched deep into the eyes of the refugees who were citizens of our very own country. One will never be able to fully empathize with what they were going through. Raghu Rai immortalized those images, one can empathize well enough.
In 2013, Raghu Rai's photographs was published in a book "Bangladesh: The Price of Freedom". However, unlike Kishor Parekh's "Bangladesh: A Brutal Birth" which focused on the gore, Raghu Rai's book focuses on the human stories. The 116-page long book contains 91 photographs, with the introduction by Shahidul Alam and short texts by Raghu Rai himself describing his two assignments during the war.
Having stored away the images for safekeeping, Rai seemed to have forgotten their whereabouts. Two years ago, he excitedly called his friend Shahidul Alam, the gifted Bangladeshi photographer, to say that the lost negatives had been found. This was a huge discovery; Bangladesh was turning 40 in 2011, and the generation that fought for its freedom was fading. Alam, who has made it the mission of his life to document the Bangladeshi saga in all its manifestations by promoting visual culture through his agency, Drik, was himself compiling the works of photographers from Bangladesh and abroad for the book he published in 2011, The Birth Pangs of A Nation. That book includes some of Rai's photographs and went on to win an Asia Publishing Award last year. (I wrote the sole essay in that book).

Meanwhile, Rai put together his own collection, with Alam writing its introduction. The Bengal Gallery in Dhaka exhibited Rai's photographs last December, exposing a new generation of Bangladeshis to the pain their parents' generation had endured. I went to see the exhibition with a Bangladeshi friend. Many young Bangladeshis paused for a long time before certain images, some taking pictures on their cellphones; for many young visitors, this was their first exposure to the horrors of that war, because for long periods of the past four decades, the country has been ruled by governments that were lukewarm about independence, with coalition partners who had once been hostile to the idea of freedom from Pakistan.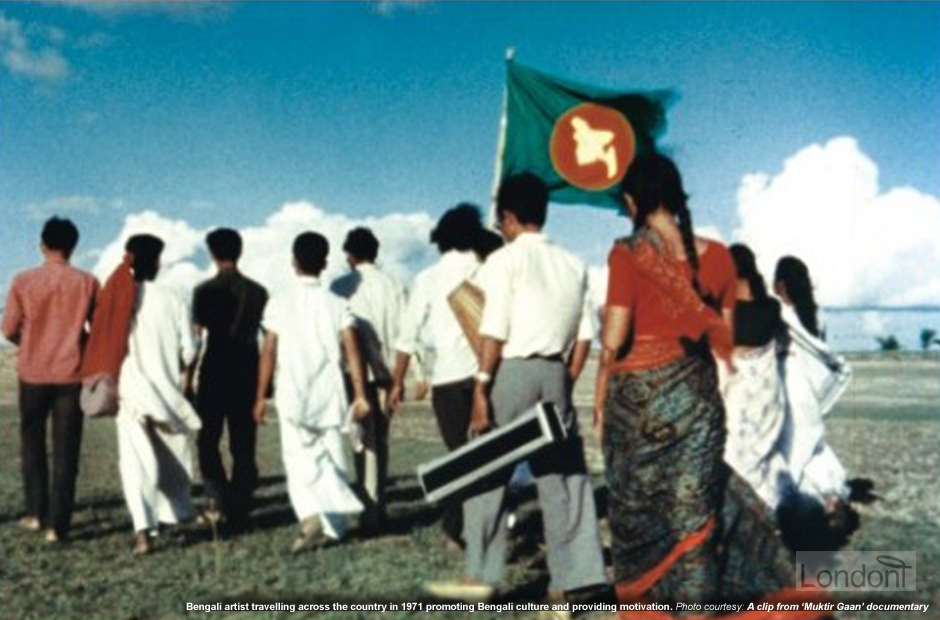 'Muktir Gaan' documentary
Muktir Gaan (Songs of Freedom) is a 90-minute long documentary film which takes the audience back to 1971 and explores the impact of cultural identity on the liberation war, where music and song provided a source of inspiration.
For large part, it follows a group of young Bengali cultural activists known as the Bangladesh Mukti Sangrami Shilpi Shangstha (Bangladesh Freedom Struggle Cultural Squad) who traveled through refugee camps and battle zones performing rousing patriotic songs and political puppet shows to inspire the freedom fighters and increase the bond amongst the whole emerging nation.
The original video footage was captured by American film-maker Lear Levin. Bengali director Tareque Masud and his American wife Catherine Lucretia Shapere (later Catherine Masud) made ample use of this footage and combined it with archived photo and videos of the war from around the world to produce Muktir Gaan. They used footage from CBS and NBC in New York, ITN, BBC and Visnews in London, and shots from Sukdev's documentary "Nine Months to Freedom" and Gita Mehta's "Dateline Bangladesh" as produced by Bombay Films Division.
The Masuds directed and scripted the documentary whilst Catherine, assisted by young student Dina Hossain, carried out the editing and Tarik Ali provided the narration.
Lear Levin

()

Catherine Masud (née Lucretia Shapere)

()

Tareque Masud

()

Dina Hossain

()

Tarik Ali

()
Twenty-five years in the making, the film began with the ambition of Lear Levin to make an epic documentary on the Bangladesh Liberation War of 1971 in the tradition of Robert Joseph Flaherty, a fellow American filmmaker who directed and produced the first commercially successful feature length documentary film, 'Nanook of the North' (1922).
Levin, then a 30-year-old young man who knew no Bengali, and his crew followed the troupe of traveling musicians who sang songs of struggle to inspire the guerrilla cadres and the millions of refugees. There's also footage of the crew's interaction with the Freedom Fighters during a brief visit to a liberated zone in late November, and Lear's beautifully shot pastoral images of rural Bengal - farming, bathing, people going to market, cow carts, river scenes.
After the Pakistani army's crackdown, I wanted to inform the world community about the atrocities of the occupation army. And to do so, I decided to make a documentary film titled 'Joy Bangla'. My aim was to make a comparison between the post and pre-war situation in this land.

Places that were covered with green trees and structures were seen barren after the Pakistan army's invasion.
...Another aspect of Lear's footage had an exceptional quality of timelessness. These were the numerous close up portraits of ordinary Freedom Fighters: listening to the troupe's music, caught in the rain, or just standing by the roadside. No typical news cameraman would or could have taken portraits of such startling perception.
However, these latter scenes were not included in Muktir Gaan as the Masud's wanted to appeal to a new generation of young, contemporary Bengali audience who are more likely to be disinterested in the liberation struggle.
Muktir Gaan features a total of 11 immortal songs sung by Mahmudur Rahman Benu, Shahin Samad, Tarik Ali, Laila Khan, Lubna Marium, Swapan Chowdhury, Bipul Bhattacharjee, Sharmin Murshid, Dulal Chandrashil, Lata Chowdhury and Debobroto Chowdhury. The artistes of Bangladesh Mukti Shangrami Shilpi Shangstha wrote their own songs and drew pictures to inspire the FFs and the general people with the spirit of liberation war.
The film also features Brigadier General (retired) Giasuddin Chowdhury, Aminul Haque Badshah and other nameless freedom fighters who fought for liberation of the country.
Lear captured the spirit of the Bengali people through 20 hours of beautifully photographed footage. However, he became so caught up in filming that he returned to the US only just as the Bangladesh war was coming to an end. He was unable to get funds to complete his 'Joy Bangla' project and, disheartened by lack of interest, he shelved the project, literally, on the walls of his basement in New York - not to be seen for the next 20 years.
By the time Levin returned with over 20 hours of footage from India and Bangladesh, however, the media and the public had moved on. Cambodia, Watergate, the continuing struggle in Vietnam and a host of other events merged to make the obsession with Bangladesh a short-lived moment in the history of media frenzies.
After Tareque and Catherine Masud married in 1988, they moved to Staten Island, New York, and eventually tracked down the 20-year-old trail of Levin.
It was in the fall of 1990 that the directors tracked Levin with the intention of making a film based on his material.
In New York, Tareque was working in a famous used-book store called The Strand, and amassing an enormous collection of books on film and Indology in the process. I was an executive in an advertising agency, half-heartedly climbing the corporate ladder. We were both looking for something inspiring to throw ourselves into, but weren't quite sure how and where to start.

At that time, we were spending almost every weekend with my brother Alfred, who was completing his post-doctoral work in physics in Princeton, New Jersey. One day he was stopped on the street by a South Asian-looking woman who needed directions to the physics department. They began to chat - she said she was originally from Bangladesh, and Alfred said his sister was married to a Bangladeshi.

One coincidence led to another, and it turned out she was the wife of Tarik Ali, an old friend of Tareque's first cousin Benu. The Alis lived in the neighbouring town of Lawrenceville, and the following weekend found us sitting cozily in Tarik bhai's living room, exchanging stories of Dhaka and dreams of return.

The conversation drifted to the Liberation War. Tarik bhai and Tareque's cousin Benu bhai were together at that time, singing in a cultural squad of refugee artistes. Tarik bhai recalled that an American film-maker and his crew had traveled with them for some time, documenting their experiences during the war. Tareque vaguely remembered that in the early 1970s, Benu bhai had often mentioned this film-maker in passing during reminiscences of the war. His name, according to Tarik bhai, was Lear Levin. We were immediately intrigued. What an unusual name: Lear. It conjured up images of grandeur and tragedy. What had become of his footage? Perhaps it was a journalistic catalogue of events of the war. Certainly Lear no longer lived in New York. Perhaps he was long since dead.

Over the next week or so, Tareque and I gradually forgot about Lear Levin. But the following Saturday, I was suddenly inspired to pick up the phone book and look through the Ls. There were pages and pages of Levins. But suddenly, there it was. Lear Levin. And Lear Levin Productions. I am always nervous about phone calls, so I handed the phone to Tareque. He called the production office -- it was the weekend, but he could leave a message. But someone picked up the phone.

Tareque: Yes, I was trying to reach a Mr. Lear Levin.
Lear: This is Lear Levin.
Tareque: Oh ... were you by any chance in Bangladesh in 1971?
Lear: Yes.
Tareque: You did some shooting then?
Lear: Yes.
Tareque: Well, I wanted to talk to you because I'm also from Bangladesh, I'm a film-maker, my name is Tareque Masud.

Mahmoodur Rahman Benu is my first cousin. Do you remember Benu?

At the sound of Benu's name, Tareque could almost feel, through the telephone line, a rush of emotion overtaking Lear.

Lear: Of course I remember him. Well, in 1971 I was a young man, 30 years old. I went to Bangladesh to make a film about the Liberation War. I put a lot of myself into that film, a lot of money and time, but eventually I had to abandon the project. And now, you have called. I've been waiting almost 20 years for this phone call.

Catherine Masud recalls her and her husband Tareque's search for Lear Levin,
Not long after a telephone conversation with Lear Levin, the Masuds met him at Film Video Arts, a film-maker's cooperative in Lower Manhattan where Lear brought along a couple of cans of his footage. Much to Tareque and Catherine's amazement the editing machine began to play back pristine, full colour images rather than dusty, black-and-white newsreel as they were expecting. Upon seeing his cousin (brother) Benu and many other familiar faces from his childhood, 'all fresh and glowing with youth and the ideals of '71', Tareque nearly began to cry. Lear then informed the couple that he had another 19 hours of footage still lying in his basement.
A few days later, the Masuds went to Lear's home on the upper West Side of New York City to begin the lengthy process of studying and cataloging his footage. In the basement Tareque unearthed the old boxes stuffed with 91 rolls of movie films of over 36,000 feet with a total duration of almost 20 hours, a never-seen-before documentary on the birth of Bangladesh.
His basement was not the dusty dumping ground typical of many homes; it was the storage centre of a professional film-maker, and as such, was professionally maintained. It was clean and cool and the walls were lined to the ceiling with shelves of film cans and boxes. He pointed to one particular wall and there we saw a series of cardboard boxes unobtrusively stacked for posterity. They all bore a distinguishing hand written label: "Bangladesh".
Not only did the Masuds find Levin, they also received permission to use the footage without any royalty. Compared to the exorbitant prices the filmmakers had to pay for the few minutes of archival news-reports obtained elsewhere, Levin's gift made the film possible.
A process of reverse script-writing began, with the Masuds extracting sequences from 20 hours of footage to piece together the story of a traveling band of Bengali musicians collecting funds for the war effort and raising the spirits of the guerrillas. Along the way, the husband-wife team found assistance from a variety of activists in the Bengali community in the US, including invaluable help in raising the seed money from fund-raisers. For a community that was struggling for economic stability in the US, being instrumental in a large-scale film project was unusual at that time.
It took five years to complete the film. Despite opposition by the BNP-led government - the film contains Sheikh Mujib's 7th March speech, shots of soldiers yelling his name, reference by Ziaur Rahman to Sheikh Mujib as "great national leader" during the Declaration of Independence - and attempts to block it for giving 'partisan version of history' , the movie was premiered in Dhaka on 1 December 1995.
Muktir Gaan was a resounding critical and commercial success, and won the National Award for best documentary (1996) as presented by Bangladesh Film Journalists Association, as well as a Special Jury Prize at Film South Asia '97, Kathmandu.
Section of Lear Levin's original footage that was left out from Muktir Gaan, such as life in the refugee camps, refugee women cooking, children fetching water and bathing, people receiving rations, refugee children being inoculated, etc, were used extensively in the Masud's next venture - 'Muktir Kotha' (Words of Freedom). Released in 1999, this 80-minute documentary continues the story after 1971 when those who fought for freedom were still living in poverty whilst the rewards were reaped by the rich. The ethnic and religious minorities, women and others who are marginalised, tell their own stories of genocide, rape and other atrocities.
'Ekkattorer Shobo Shainik'
The mammooth efforts of Belal Mohammad and others behind the formation of Swadhin Bangla Betar Kendra has been captured in a documentary entitled "Ekkattorer Shobdo Shainik" (Voice Warriors of '71). It is made by Sajal Khaled and Kawser Mahmud and tracks the history of the Bangladesh's first radio station from its inception through the nine moths of its early existence.
Sajal Khaled

()

Kawser Mahmud

()
Swadhin Bangla Betar Kendra was the first organised group venture by the people to fight for what they believed in. It was an organization that was conceived as a means of great requirement during that moment, and was ended and shifted to something new, after having served its purpose.
Painters like Dey Das Chakraborty, Kamrul Hasan, Nazir Ahmed, Nitin Kundu, and Pranesh Mandal also played an important role.