Bangladesh Nu-bahini (Bangladesh Navy or BN)
Bangladesh Navy (Bangladesh Nu-bahini) was officially formed in August 1971 with the Bengali Naval troops who had deserted from the Pakistan Navy. Initially, there were two light-class ships, Padma and MV Polash - which were armed with 40-mm Bofors - and 45 navy personnel, including many frogmen. These ships proved adequate for warfare in the estuaries and carried out many successful raids on the Pakistani fleet, notably 'Operation Jackpot'.
In the office of Colonel Osmani, there was a map in which the positions of the Mukti Bahini and the enemy forces had been identified with red and blue markers.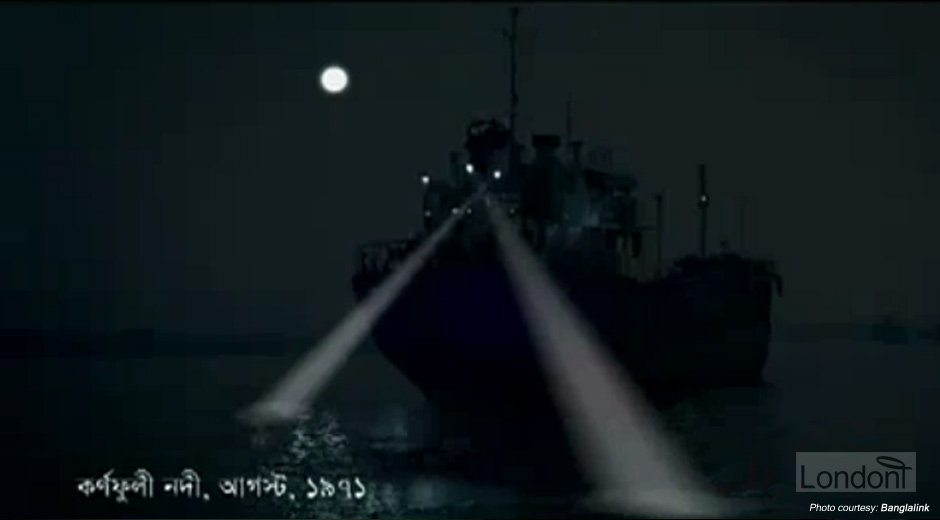 'Operation Jackpot'
Guerrilla operations, which slackened during the training phase, picked up after August. Economic and military targets in Dhaka were attacked by a crack commando group trained by Major ATM Haider (Ex SSG commando) of Sector 2.
The biggest success story for the Bengalis during this period was the military operation codenamed 'Operation Jackpot', in which naval commandos mined and blew up Pakistani ships in Chotrogram (or Chittagong), Chandpur (below Dhaka), Mongla (in Khulna) and Naryanganj (outskirt of Dhaka) on 15 August 1971.
Bangladesh is a country made up of rivers. During the shadinota juddho the road and railway system of the then East Pakistan was at a primitive state and as such the river transport system became even more vital for economic activity. The ports were used by the Pakistani Army to import arms and weapons into the country. As such it became important for the Bengali freedom fighters to carry out war on this marine front too, in order to cut the Pakistani supply chain and to ward off foreign ships.
8 Bengali naval commanders defect from Pakistani submarine PNS Mangro in France
With a burning passion to aid their fellow Bengalis back home, eight Bengali submariners defected from the Pakistani submarine PNS Mangro (which was commissioned first on 5 August, 1970) anchored in Toulon, France on 29 March 1971 to join the war. Initially 10 out of 13 Bengali submariners were supposed to desert but one withdrew citing family obligation whilst another defected but later decided to flee to UK in search for a better life.
The 8 final submariners were: A. W. (Abdul Wahed) Chowdhury, Ahsanullah, Badiul Alam, M. Abedur Rahman, A. Raquib Miah, Sheikh Amin Ullah, Musharraf Hussain, and Mohammad Rahmatullah.
A. W. (Abdul Wahed) Chowdhury

() Bir Uttam and Bir Bikram. Commodore of the Bangladesh Navy who led the marine commandos who destroyed nine ships anchored in the Chittagong during Operation Jackpot on August 15, 1971. Radio Operator from Chittagong.

Ahsanullah

() Submariner.

Badiul Alam

() Bir Uttam. Seaman from Rangpur

M. Abedur Rahman

() Bir Uttam. Mechanic from Noakhali

A. Raquib Miah

() Electrical Mechanic from Tangail

Sheikh Amin Ullah

() Bir Uttam. Petty Officer from Comilla with four children.

Musharraf Hussain

() Bir Uttam (his award was later revoked by Bangladesh Govt). Petty Officer from Faridpur with 7 children residing in Dhaka.

Rahmatullah

() Chief Petty Officer, aged 35 yrs, a services footballer with a family of two children resident of Khulna
The eight submariners sought political asylum from the Indian embassy in Spain and reached Mumbai, India, on the second week of April 1971. This became the first defection by any Bengalis posted abroad.
But, the path was very risky.

We could not trust the French government, since the Pakistani authorities had not paid the French authorities for the newly purchased PNS Mangro till then and we speculated that to recover their dues, the French might side with the Pakistanis.

I was looking for a way on how to defect when one of my South African friends, who was also in Toulon for training, suggested that I should seek political asylum from a neutral country. When I discussed my plans with other Bengali submariners of PNS Mangro, I came to know that Ahsanullah, Badiul Alam, MA Rahman and AR Miah had also planned to defect. We fixed March 29 as the date for defection. On the day, I found that 10 Bengalis were ready to defect.

Being the secretary to the captain of the submarine, Lieutenant Commander SA Khaled, I had the access to the 'safe chamber' where the valuables of the submariners were kept. I took all the 45 passports kept in the chamber and prepared for the abysmal void.

But, one, I cannot remember his name, refused to go with us citing family obligations. Nine of us — A. W. Chowdhury, Ahsanullah, Badiul Alam, M. A. Rahman, A. R. Miah, A. U. Sheikh, Musharraf Hussain, Rahmatullah and M. A. Mannan left the submarine. Mannan, however, left later.

As per the plan, we went to the Geneva border from Toulon by taxicabs, planning to reach Geneva, Switzerland, to seek political asylum. But we could not cross the border since we had no visa. We were very worried by that time, since the Bengali submariners who had not joined us, and another Bengali officer named Shawkat, who worked in the Pakistani embassy in France, knew about our defection plan. From the Geneva border we rushed to Lyon by train, without wasting any time. From a travel agency in Lyon, Rahmatullah and I managed to find out a route to Barcelona, Spain. On April 1, we reached Barcelona. From there, we went to Madrid and sought political asylum from the Indian embassy. Interestingly, the Indian authorities approved it within 10 minutes. Only then were we relieved.

The Indian authorities planned to send us to Bombay through Rome. We started from Madrid for Rome on April 10. But the aeroplane in Rome, which was supposed to take us to Bombay, was late by 10 hours. It was an embarrassing situation for the Indians since the Pakistani intelligence authorities were trying to take us in their custody in Rome. Then we were sent to Geneva and from there we reached Mumbai, India.
Training for marine attack
General MAG Osmani, along with high-ups of the Indian armed force, met the eight submariners at a hotel in Delhi, India. It is alleged that Brigadier (later Major General) Shubeg Singh, Indian Commander of the Delta Sector, had planned the upcoming marine attacks on Pakistani ships.
The Indian Navy initially gave the submariners exclusive training in the river Jamuna, Delhi, to prepare them as frogmen to carry out secret suicide missions in the Chittagong port, since they were desperate to cut the only existing supply line for the Pakistani armed forces.
Later, they changed the plan.
Indian commander Bhattachariya, Major Jalil and Colonel M.A.G. Osmani in collaboration with top regional commanders established secret camps known as 'Commando Camp' at Ambagan in Plassey, West Bengal on 26 May 1971. The camps were codenamed 'C-2 P' by the commandos. Training spot was set up by the river Bhagirathi in Plassey. The 8 submariners were sent here, and volunteers were selected from various Mukti Bahini sectors to be groomed as naval commandos by the submariners and Captain M. N. Chumunat (Samanth) and Lt Col G. Martis of the Indian Navy. Initially 300 volunteers were chosen to be trained in the camp for high-risk amphibian operations. Later, 200 more mukhtijuddhas were recruited - making it a grand total of 500 naval commandos. These were mainly student activists and eager local youths who were sturdy swimmers. Good swimming skill was a strict precondition to qualify for the naval fighting force as they had to have the stamina and swimming prowess to extract the maximum advantage from the fast flowing rivers of Bangladesh.
The training included underwater swimming, survival training, underwater sabotage using limpet mines, hand to hand combat and navigation. They were intensive day-night training session which began on 21 May 1971 and continued to 31 July 1971 under the supervisions of the Indian navy and the Bangladesh headquarters.
The training programme was almost 15 to 18 hours daily. The course included swimming, night swimming, survival training, under water demolition, night demolition, object demolition training with strong foundation like bridge or big building, using limpet mines on ship like objects, hand to hand combat etc.

During training commandos were divided into 8 Grades according to their training results. The best commandos were in Grade A and as per the training result they were posted till Grade H. The commandos were selected for operation not only based on their results but also on their origin of home district. Information on river tides, weather and East Pakistan naval infrastructure and deployment was collected through the Indian Military report and Mukti Bahini.

Selected commandos were sent from C2P to forward bases in Tripura and West Bengal, where a final briefing was given to them.
By August 1971, the first batch of commandos were ready for action, christened 'Operation Jackpot'. But before they left all the recruits took the oath of allegiance and vowed that 'nobody will claim anything at their death'.
Group effort
On 10 August 1971 three groups of 60 guerrillas (i.e. 20 per group) set out from Harina, in the Indian state of Tripura, which was the headquarters of the Mukti Fauj first sector, commanded by Major Rafique. These three groups, led by A. W. Chowdhury, Dr. Shah Alam and Majharulla, were instructed to converge on the port city of Chittagong and destroy shipping and port facilities, barges and other vessels of the occupational forces in the Bay of Bengal and the river Karnaphuli. Similar, smaller groups were sent to hit other river ports like Mongla (formerly located at Chalna, about 11 miles or 18 km upstream on the Pusur River, but it is now located 48 km south of Khulna city), Chandpur, and Narayanganj simultaneously. The aim was to paralyse the vital inland waterways transport system of estuarine Bangladesh and deny the Pakistanis sea access to important ports.
The task of destroying Chittagong Port - the country's major seaport - was assigned to A. W. Chowdhury as he belonged from the port city of Chittagong and was already familiar with the geography and the details of the ships in harbour.
The groups were instructed to listen to All-India Radio's Calcutta station every evening at a certain time for a programme of Tagore songs. If a certain song was on the air, it meant go ahead with the operations. If another was played, it would signal a call-off. That might be necessitated for operational reasons. Luckily, the boys penetrated the port area without detection by the Pakistanis.
The naval commandos crossed the Indian border into Bangladesh in disguise and were supported by other fellow muktijuddhas, political leaders, and local leaders who were aware of their upcoming commando operations in the ports. The respective sectors ensured security for the naval commandos on their ways to their destinations.
Information on river tides, weather and Pakistani infrastructure and deployment was collected through the Mukti Bahini. Selected commandos were sent from C2P to forward bases in Tripura and West Bengal, where a final briefing was given to them. Mukti Bahini in Sector 1 (Chotrogram) assisted the group going to Chotrogram, Sector 2 (Comilla-Noakhali) aided the groups going to Chandpur and Naryanganj and Sector 9 (Barisal-Patuakhali) assisted the group targeting Mongla. Each commando carried a pair of fins, a knife, a limpet mine, and swimming trunks. Some had compasses. One in three commandos had sten guns and hand grenades and the group leaders carried a transistor radio. All the groups carried their own equipment to their targets and after entering Bangladesh between 3-9 August 1971, reached their destinations by 12th August, using the local Mukti Bahini network of safe houses.
'Warning' and 'action' songs
Two songs were aired on the Indian radio station Akashbani Kolkata to act as cryptic signal for the go-ahead of Operation Jackpot. The first song (referred to as the 'warning' song), a Tagore classic, 'Ami tomay joto shuniyechhilem gaan' rendered by Pankaj Mullick, was aired at 6:00 am on August 13 with a confirmation signal played at 6:00pm in the evening of the same day, giving 48 hours notice to the Bangladeshi marine commandos to carry out the operation.
The second more modern song (referred to as the 'action' song) 'Amar putul ajke prothom jabe shoshor bari', rendered by Sandhya Mukharjee, was aired on the same channel at the same time on the following morning, again with a confirmation signal repeating the song in the evening, which was meant to convey the message to the commandos to attack after midnight.
However, only the commanders were made aware of this cryptic signal and nobody else, including the participating commandos, had any idea regarding this.
The high ranking Indian Army officers had trained only the commanders of four groups on the radio signals before the marine commandos entered into the then East Pakistan.
On 2 August 1971, General Chowdhury, an Indian army officer, called me and my deputy Dr Shah Alam Bir Uttam to his office in Agartola and handed over two transistors for me to listen to two particular songs to be aired on Aakashbani Kolkata any day after 10th of August at 6:00am in the morning and again 6:00pm in the evening to get the operation signals, probably to be carried out in the first hour of August 15.

Both of us listened to the two songs — Ami tomay joto shuninechhilem gaan and Amar putul ajke prothom jabe shoshur bari — for seven days secretly on cassette player so that we don't forget the signals and the rest of the commandos had no idea about the final attack.
Damages to Pakistani navy
On the night of 14 August 1971 - on the 24th anniversary of Pakistan - the three groups heading for Chittagong regrouped at Charlakha, an island estuary, and proceeded to the port area. All the important sectors within the port was controlled by Pakistani officers and staffs who were known to harass the Bengali employees and staffs.
Nevertheless, the group managed to skillfully stick limpet mines - brought from India and hidden in katal (jackfruit) baskets which they carried on their heads nonchalantly - onto waiting ships and barges. This was a difficulty and lengthy process. Just after midnight they carried out their mission as it coincided with the beginning of the ebb tide and the change in shift of the dock's labour. Early next morning between 00:15am and 00:45am explosions rocked the port city, sinking 9 ships, destroying barges, blocking the harbour and causing extensive damage to the port facilities. The port was rendered inactive and subsequently was announced 'red alert zone' internationally.
They rolled up their lungis like in a vaudeville show, and put on their swimming fins (discarded in later operations as it compromised the anonymity of the frogmen who were anyway excellent swimmers). Watches were synchronised and they entered the cold murky waters well upstream at precalculated intervals. With a bamboo reed in their mouth acting as a breathing snorkel, they floated downstream with the ebb current keeping as low as possible in the water. On reaching their assigned targets, they held on to wooden spars under the jetty in order to syncronise attacks for creating maximum confusion and thereby escape to safety.

When H-hour [military term referring to specific hour when operation commences, i.e. zero hour ] approached, Choudhry and Alam took a deep breath and swam to the middle of the vessel and attached the limpet mines with magnets to the port side of the hull adjacent to the engine room and just below the water line. The explosion would then flood the engine room, thus disrupting the power supply which would render the pumps unserviceable. The other pair of Aminullah and Momen likewise attached the limpets to the starboard side of the freighter. Then both paris swam downstream past the docks and escaped inland by the time the soluble plugs dissolved in about 30-40 minutes thus activating the limpet charges.

All hell broke loose when explosives rent the air and the Pakistani freighters Al-Abbas and Ohramzd settled on the bottom.

Mihir K. Roy, author of 'War in the Indian Ocean'
Similar operations were carried out successfully by the other "Special forces".
| Place of assault | Number of commandos | Commanded by (Submariner) | Damages |
| --- | --- | --- | --- |
| Chittagong | 31 (60 originally sent) | Abdul Wahed Chowdhury | Between 1:45 to 2:15AM explosions sank the MV Al-Abbas, the MV Hormuz and the Orient barge no.6, sinking 19,000 tons of arms and ammunitions |
| Chandpur | 18 (40 originally sent) | Bodiul Alam | 3 steamers/barges were damaged or sunk |
| Narayanganj | 20 | Abedur Rahman | 4 ships were sunk or damaged |
| Mongla | 20 | Md. Ahsanullah | Damage 6 foreign owned ships. Destroyed 50 ships |
Source: Wikipedia - Operation Jackpot
Two groups comprising 40 commandos could reach the destination in time and I engaged 33 commandos in 11 small groups to set mines on 11 ships at the port. The rest of the seven commandos were engaged for our security with sten guns.

The mines were timed to explode after 30 minutes so that we could leave the area without any casualties. On the following day we heard that nine ships were sunk and made the port completely inactive.
Due to their operation, supply of arms and ammunition to Pakistan army was disrupted and shipping agencies, who brought the army's supplies, were disinterested in anchoring their ships at the port as the risk of being sunk was high.
Operation Jackpot was a very successful and well-synchronised commando operation. When the ports, the only existing supply lines for the Pakistani armed forces, were under threat, it damaged the confidence of the Pakistani forces. It was so effective that no casualties were reported. Moreover, the operation got huge coverage in the international media. As a result, it challenged the claim of the Pakistani authorities of 'normality existing in the then East Pakistan' to the international community.

I still remember the zeal in the eyes of General Osmani who embraced me when I went to meet him at his office after the success.
International coverage
Operation Jackpot further exposed to the world that a guerrilla warfare is going on in the then East Pakistan for the liberation of Bangladesh. The naval commanders of muktijuddhas received worldwide coverage after causing so much damage in just only one day.
On the night of 15 August 1971, Voice of America (USA), BBC (UK), Akashvani (India), Tass (USSR), and news media covered the operation. They broadcasted that 'East Pakistani infiltrators' destroyed 27 ships in different sea and river ports in East Pakistan. The news also said a US Ship has been damaged in Mongla and that foreign ships are no longer secure in East Pakistan.
Further attacks
Post Operation Jackpot, the commandos participated in other small-scale missions to support the muktijuddhas as ordered by General Osmani. These operations were usually planned in conjunction with the Indian forces.
In September two British vessels, the 16,000-ton tanker Teviot and the 10,000-ton freighter Chakdina were severly damaged - a remarkable feat for saboteurs operating so far from base. A number of other vessels were also sunk or damaged in Chalna and Chittagong.
On 12 October 1971, the most daring exploit of all took place. By all accounts a Mukti Bahini gun-boat ventured out to the open seas and attacked a British cargo boat, the 7,000-ton City of St Albans - peppering its hull and forcing it to limp back to Kolkata. Pakistani waters were thereafter a danger zone for shipping supplying the occupation government and armed forces.
A total of 45 ships were destroyed by the naval commandos during the war with an estimated 800-900 marine commandos taking part in such activities.
Multiple 'operation jackpot'
The codename 'Operation Jackpot' was very popular during the Bangladesh Liberation War and was used for other operations. For example, the Pakistani response to Bengali Operation Jackpot was also ironically named Operation Jackpot. The allied Indo-Bengali naval attack on Pakistan Navy in December 1971 was also called Operation Jackpot.
Indo-Soviet Treaty of Peace, Friendship and Co-operation negates Chinese threat
On 9 August 1971 India received back-up support from the Soviet when they signed the Indo-Soviet Treaty of Peace, Friendship and Co-operation for a period of 20 years. For the Indians it was a breath of fresh air in the existing tension-laden atmosphere. Now they had a firm friend to counter against the growing Sino-Pak-American diplomacy.
This treaty took care of the threat of Chinese intervention in the event of hostilities between India and Pakistan. China and the Soviet Union were involved in serious border clashes two years earlier in 1969. Thus the Chinese were worried that an attack on India could possibly result in pre-emptive strike on its northern border, where about 40 Russian divisions were poised for action. With a threat of this magnitude close to its borders, China had to think twice before embarking on an adventure on the Indo-Tibetan border, especially in view of the Indo-Soviet treaty. The treaty also ensured better procurement of much-needed weaponry and other equipment for the Indian armed forces.
We do not want war. We do not rattle sabres. But India is prepared for any emergency.

An emboldened Indira Gandhi told the nation on Independence Day from the ramparts of the Red Fort in Delhi. The warning was very clear.
In a televised interview aired throughout West Pakistan last week, General Agha Mohammed Yahya Khan was almost preternaturally calm as he uttered the chilling words. "Total war with India is very near," said Pakistan's President. "There is a limit to our patience, and we are very close to it." Alarmist talk? Perhaps. Yet in the capitals of both countries, foreign diplomats rate the chances of averting a conflict at no better than 50-50.

TIME magazine on 16 August 1971
'Butcher of Bengal' Tikka Khan replaced as Governor and CMLA of East Pakistan
On 31 August 1971 Tikka Khan was replaced as Governor of East Pakistan by Dr. Abdul Motaleb Malik, a retired East Pakistani civil servant, thus giving the impression that civil authority had been restored. Two weeks later, on 16 September 1971, Tikka Khan was again replaced, this time as Chief Martial Law Administrator by General Niazi. Tikka Khan was recalled back to West Pakistan for another assignment.
It was believed that his [Tikka's] transfer was brought about by international pressures backed by adverse public opinion at his atrocities. The prevalent tension in East Pakistan could not be eased while he continued at the helm of affairs.

...The choice of Niazi to replace Tikka Khan was unfortunate for Pakistan. Whereas Tikka Khan had a dedicated application to national aims and political vision, Niazi was essentially a battalion commander in a general's uniform. He inherited a delicate task of great politico-military significance, coupled with fighting insurgency in his command, well away from the hub of the decision-making headquarters in Islamabad. The situation in East Pakistan was out of the usual run and too complex for a conventional soldier. The post Niazi held required a man capable of thinking for himself and taking momentous decisions in a crisis, and then executing them without guidance or supervision as his higher-ups were too far removed physically to be aware of developments. Niazi was not a man of that mettle.

Although he was liked by his subordinates, his manner of handling the situation showed that his vision did not extend beyond deployment of companies and platoons, an unfortunate trait of senior infantry officers in both India and Pakistan. He was unimaginative and relied too much on his subordinates to run things while he indulged in the world pleasures his status bestowed on him. As a result, he was never master of the situation throughout his tenure as Martial Law Administrator.