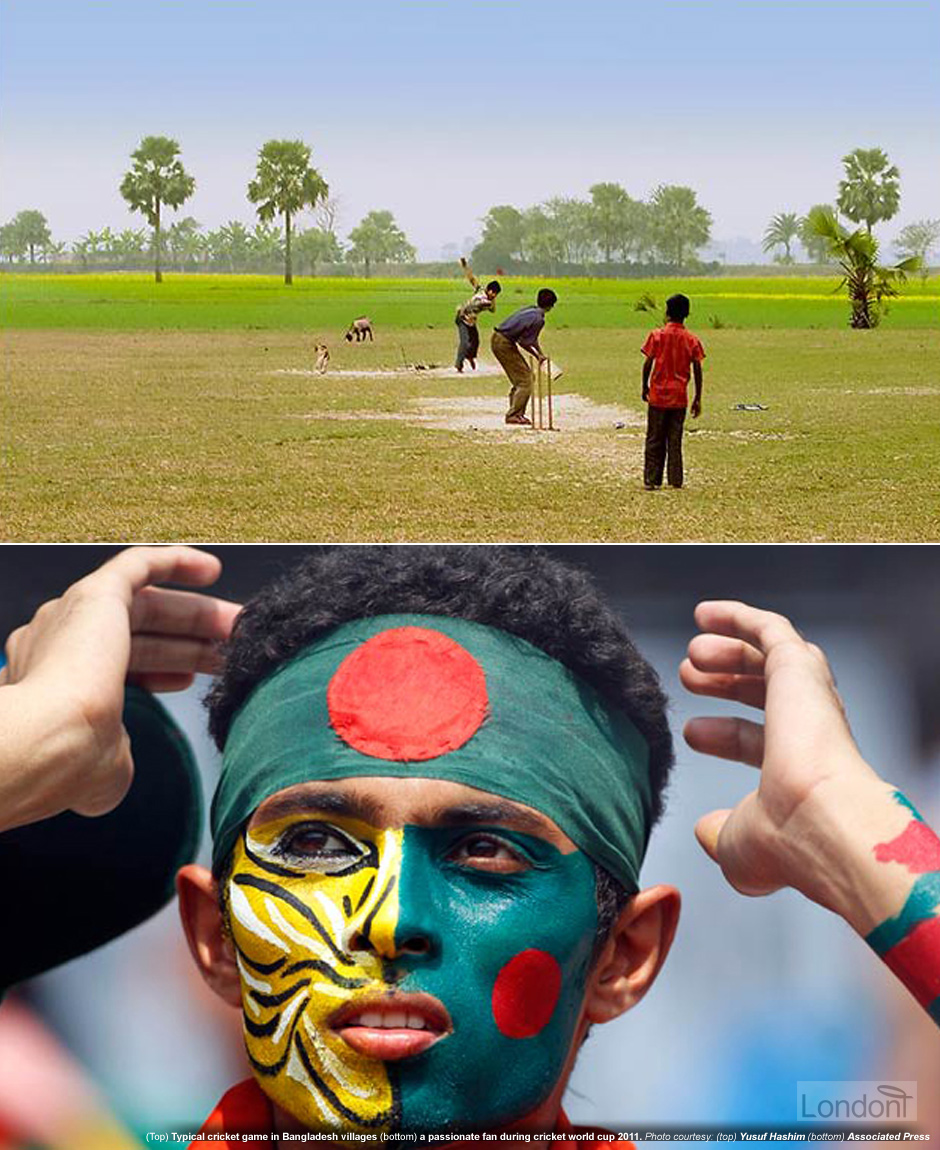 First major international spectacle hosted by Bangladesh
Format
During the world cup 14 teams contested the tournament – 10 Test-playing nations and 4 qualifying countries. The teams were split into two groups: Group 'A' and Group 'B'.
Each team would play the other group members once (i.e. round-robin format) and the top four team would go to the next knockout round, the quarter-finals, and play a team from the other group. Winners of the quarter-finals will play semi-finals and the winning semi-finalists will play in the final.
Bangladesh was in Group 'B' with tournament favourite India and South Africa, who were ranked number 1 in ODI going into the world cup. They also had England, who were the 'dark horse' of the competition and who had just beaten Australia in their home soil to retain the Ashes.
2011 Cricket World Cup draw

| Group 'A' | Group 'B' |
| --- | --- |
| Australia | Bangladesh |
| Canada | England |
| Kenya | India |
| New Zealand | Ireland |
| Pakistan | Netherland |
| Sri Lanka | South Africa |
| Zimbabwe | West Indies |
'Stumpy' the mascot
The idea of a mascot for the cricket world cup was first introduced in the 2003 World Cup in South Africa where 'Dazzler' the zebra was selected as the official mascot. In the next world cup in 2007 in West Indies an orange mongooses known as 'Mello' was the mascot.
For the 2011 World Cup in Bangladesh, India and Sri Lanka a blue elephant named 'Stumpy' was chosen as the official mascot. Elephants are the common animal in the three hosting nation. The 6.5ft tall mascot was unveiled at a simple but impressive function at the P. Saravanamuttu Stadium in Colombo, Sri Lanka, on 2 April 2010 ahead of the third Test between Sri Lanka and India. The location was very appropriate as elephant is the national animal of Sri Lanka.
This is the second elephant mascot. The first was "Appu", the baby elephant, in 1982 for the Asian Games in New Delhi.
ICC has tried to imbibe morals of an ideal player into the mascot's personality by stating that the mascot believes in hard work and is always learning to master the art of concentration. ICC had said the mascot is someone who is young and enthusiastic, and determined individual.
Cricket fans all over the world were given an opportunity to name the mascot via an online competition conducted by the International Cricket Council in the last week of July 2010. Few days later finally 'Stumpy' was chosen and officially released on 2 August 2010, four months after the mascot was officially revealed.
The idea of our mascot is to crystallise the feelings and action of the sport and the fans in a graphic form that reflects the visceral tone and emotion that Cricket creates in its followers, especially in an event like the CWC (Cricket World Cup).

It also emphasises the enthusiasm of youth both in general and for Cricket itself, especially on the sub-continent with its massive and dedicated following. He's stylised to give an instantly recognisable graphic strength so that with exposure his bold lines and strong colouring will instantly create a friendly face for the CWC.

Ratnakar Shetty, Tournament Director
Stumpy was manufactured in Hydrabad, India in the same unit where Mello, the 2007 World Cup mascot in West Indies, was also manufactured. A total of 15 Stumpy costumes and 20-feet tall World Cup inflatables were dispatched to the host nations in preparation of the upcoming main event.
Bangladesh's World Cup record
Bangladesh's World Cup record

| No. | Year | Host | Winner | Round | Position | Games played | Won | Highest score |
| --- | --- | --- | --- | --- | --- | --- | --- | --- |
| 7th | 1999 | England | Australia | Round 1 | 9/12 | 5 | 2 | |
| 8th | 2003 | South Africa, Kenya & Zimbabwe | Australia | Round 1 | 13/14 | 6 | 0 | - |
| 9th | 2007 | West Indies | Australia | Second Round | 7/16 | 9 | 3 | |
1997: Bangladesh win ICC Trophy in Malaysia and qualify for World Cup for the first time
In 1997 Bangladesh Cricket Team defeated Kenya in the ICC Trophy in Malaysia. The match was played over two days on 12-13 April after heavy rain had affected the final. Kenya batted first and scored 241-7 from their 50 overs with Steve Tikolo scoring a sensational 147 runs. Slow-left-arm bowler Mohammad Rafique was the pick of the Bengali wicket-takers with 3-40. Khaled Mahmud (2-31) and Saiful Islam (2-39) were the other two wicket-takers. But the heavy rain affected play and Bangladesh's target innings was shortened to 166 from 25 overs by the Duckworth-Lewis method. After a batting collapse where Aminul Islam was the top scorer (37), Bangladesh won the match dramatically with the last ball of the match.
The tournament win qualified Bangladesh for the 1999 Cricket World Cup for the first time in their young history. Bangladesh also became a regular ICC member with the right to play ODIs, and were not eligible to defend their ICC Trophy title as they were elected to Test status in 2000.
1999: Bangladesh famously defeats Pakistan & Scotland in its first World Cup appearance
The 1999 Cricket World Cup was held in England for the fourth time. Some of the games were also hosted in Ireland, Wales, Scotland and the Netherlands.
Bangladesh was drawn in Group 'B' along with eventual winner Australia and finalist Pakistan. Their historic first game was against New Zealand in the County Ground, Chelmsford on 17 May 1999. However, the game lacked a fairytale beginning as the whole Bangladesh team was bowled out for 116 runs with Enamul Haque top scoring with mere 19 runs. New Zealand subsequently won by 6 wickets.
This inauspicious start was followed by a 7-wicket defeat to West Indies. However, this time round they faired slightly better scoring 182 runs with Mehrab Hossain (64) as the top scorer. In the next game Bangladesh would make history by recording their first victory in the World Cup.
On 24 May 1999 Bangladesh played Scotland at Grange Cricket Club Ground, Raeburn Place, Scotland. Batting first, Bangladesh scored 185 runs after a catastrophic start where the five top-order batsmen scored a total of 10 runs (Khaled Mashud, Aminul Islam and Akram Khan were all bowled out for a duck). However, Minhajul Abedin stepped in and scored 68 not out to restore some honour. He was supported by Naimur Rahman (36). Thankfully for Bangladesh, Scotland capitulated in similar fashion when they batted. They scored 163 runs with Gavin Hamilton (63) scoring most of the runs.
In the next game Bangladesh returned to old ways with 7-wicket defeat to eventual champions Australia. However, they bounced back spectacularly to create the biggest shock of the World Cup by defeating the mighty Pakistan.
Table : Bangladesh's match result for 1999 Cricket World Cup

| Match & score | Result |
| --- | --- |
| Bangladesh 116 (37.4 overs) v New Zealand 117/4 (33 overs) | New Zealand won by 6 wickets |
| Bangladesh 182 (49.2 overs) v West Indies 183/3 (46.3 overs) | West Indies won by 7 wickets |
| Bangladesh 185/9 (50 overs) v Scotland 163 (46.2 overs) | Bangladesh won by 22 runs |
| Bangladesh 178/7 (50 overs) v Australia 181/3 (19.5 overs) | Australia won by 7 wickets |
| Bangladesh 223/9 (50 overs) v Pakistan 161 (44.3 overs) | Bangladesh won by 62 runs |
Bangladesh's spectacular cricket rise continued for the next few years. On 26 June 2000 Bangladesh joined the elite cricketing nation by gaining the status of a Test playing nation.
However, disaster struck in 2003.
2003: A humiliating second World Cup for Bangladesh
Bangladesh's 2003 Cricket World Cup campaign was shambolic.
The 8th Cricket World Cup was co-hosted by South Africa, Zimbabwe and Kenya from 9 February - 23 March 2003. It was the first time the African continent was holding the prestigious event.
Bangladesh lost five of their six matches (one ended in no result), including fixtures against lowly Canada, who hadn't played international cricket since the 1979 World Cup, and Kenya who eventually made the semi-finals of the tournament.
Table : Bangladesh's match result for 2003 Cricket World Cup

| Match & score | Result |
| --- | --- |
| Canada 180 (49.1 overs) v Bangladesh 120 (28 overs) | Canada won by 60 runs |
| Bangladesh 124 (50 overs) v Sri Lanka 126/0 (21.1 overs) | Sri Lanka won by 10 wickets |
| West Indies 244/9 (50 overs) v Bangladesh 32/2 (8.1 overs) | No result |
| Bangladesh 108 (35.1 overs) v South Africa 109/0 (12 overs) | South Africa won by 10 wickets |
| Bangladesh 198/7 (50 overs) v New Zealand 199/3 (33.3 overs) | New Zealand won by 7 wickets |
| Kenya 217/7 (50 overs) v Bangladesh 185 (47.2 overs) | Kenya won by 32 runs |
2007: Bangladesh send nation into cricketing frenzy by reaching Super 8, defeating India in the process
The 16 teams competing in the 2007 Cricket World Cup in West Indies were divided into four groups, with the two best-performing teams from each group moving on to a "Super Eight (or Super 8)" format. Bangladesh was in Group 'B' with Asian giant India and Sri Lanka and low ranking but cricket mad Bermuda.
On 17 March 2007, in their first match of the World Cup, Bangladesh secured a five-wicket win over India, one of the tournament favourites.
India won the toss and chose to bat first. Sourav Ganguly (66) and Yuvraj Singh (47) saved India as the rest of the team collapsed with ease. They were bowled out for 191, with Mashrafe Mortaza (4-38), Mohammad Rafique (3-35) and Abdur Razzak (3-38) doing all the damage.
Bengali top order batsmen went on the rampage with 18-year-old Mushfiqur Rahman (56), 20-year-old Shakib Al Hasan (53) and 18-year-old Tamim Iqbal (51) all scoring over 50 runs.
The surprise result triggered late night partying in Bangladesh despite government bans on public gatherings. The other shocking result in the group stages was when Ireland, an associate (non-test playing) nation, beat Pakistan by 3 wickets to knock them out of the competition.
Unfortunately, Bangladesh came crashing down in the next game with eventual finalist Sri Lanka. They lost by 198 runs after rain had delayed proceedings and Bangladesh's target was reduced by the Duckworth-Lewis method to 311 runs from 46 overs.
But Bangladesh bounced back to show the cricketing world that the India win was no fluke. Once again rain had delayed the match and it was reduced to 21 overs per side. Bangladesh won the toss and decided to field first. Bermuda were limited to 94 runs for 9 wickets with two of the Bengali bowling heroes from the India game once again the main wicket-takers. Abdur Razzak (3-20) and Mashrafe Mortaza (2-8) were this time joined by future national team captain Shakib Al Hasan (2-12).
After a nervous start to the batting, Bangladesh secured the win with 21 balls remaining. The two group wins ensured Bangladesh a passage to the Super Eight whilst knocking out India in the process.
Table : Match score and result for group stages

| Match & score | Result |
| --- | --- |
| India 191 all out (49.3 overs) v Bangladesh 192/5 (48.3 overs) | Bangladesh won by 5 wickets |
| Sri Lanka 318/4 (50 overs) v Bangladesh 112 all out (37 of 46 overs) | Sri Lanka won by 198 runs (Duckworth-Lewis method) |
| Bermuda 94/9 (21 overs) v Bangladesh 96/3 (17.3 of 21 overs) | Bangladesh won by 7 wickets (Duckworth-Lewis method) |
During the Super Eight stage each of the 8 teams played only 6 matches rather than 7 as each group's two representatives carried forward their result against each other rather than play again.
The Super 8 proved one step too far for Bangladesh. They managed only one win and lost to everyone in the round including Ireland. Their win however came against the mighty South Africa.
Bangladesh's superior run rate over Ireland ensured they didn't finish bottom of the table after both team were level on points (ironically, Ireland's only win in the round came against Bangladesh).
Meanwhile, South Africa recovered from the Bangladesh shock to secure a semi-final spot along with Australia, New Zealand and Sri Lanka. They lost to Australia who beat Sri Lanka in the final to win their third consecutive World Cup and their fourth overall.
Table : Bangladesh's 'Super 8' result during 2007 Cricket World Cup

| Match & score | Result |
| --- | --- |
| Bangladesh 104/6 (22 overs) v Australia 106/0 (13.5 of 22 overs) | Australia won by 10 wickets |
| Bangladesh 174 all out (48.3 overs) v New Zealand 178/1 (29.2 overs) | New Zealand won by 9 wickets |
| Bangladesh 251/8 (50 overs) v South Africa 184 all out (48.4 overs) | Bangladesh won by 67 runs |
| Bangladesh 143 all out (37.2 overs) v England 147/6 (44.5 overs) | England won by 4 wickets |
| Ireland 243/7 (50 overs) v Bangladesh 169 all out (41.2 overs) | Ireland won by 74 runs |
| West Indies 230/5 (50 overs) v Bangladesh 131 all out (43.5 overs) | West Indies won by 99 runs |
Table : Final 'Super 8' standing showing 7 matches for each team (covering 6 Super Eight qualifiers and the relevant Group Stage game)

| Ranking and team | Games won | Net Run Rate | Points |
| --- | --- | --- | --- |
| 1. Australia | 7 | +2.4 | 14 |
| 2. Sri Lanka | 5 | +1.483 | 10 |
| 3. New Zealand | 5 | +0.253 | 10 |
| 4. South Africa | 4 | +0.313 | 8 |
| 5. England | 3 | -0.394 | 6 |
| 6. West Indies | 2 | -0.566 | 4 |
| 7. Bangladesh | 1 | -1.514 | 2 |
| 8. Ireland | 1 | -1.73 | 2 |