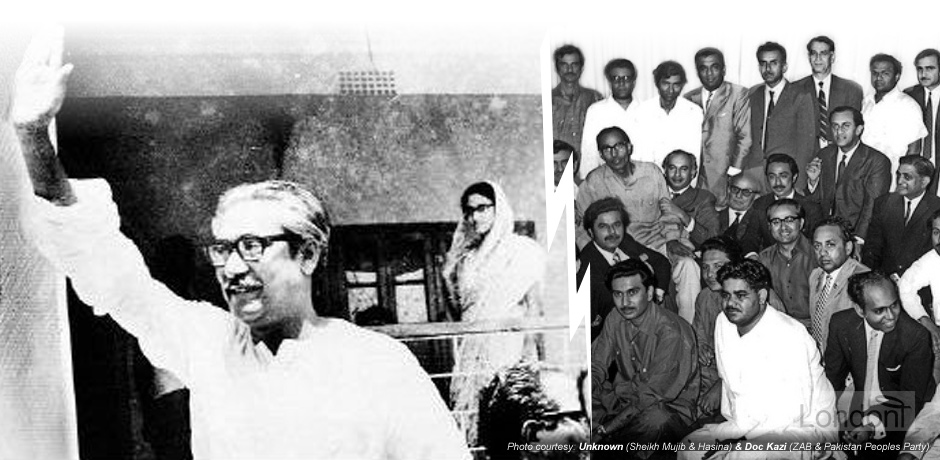 1970's General Election: Sheikh Mujib's Awami League vs Zulfikar Ali Bhutto's Pakistan People's Party (PPP)
The East-West Pakistan hostility reached a climax in 1970.
Severe monsoon flooding in East Pakistan in August 1970, followed by the terrible disaster of the November cyclone which claimed an estimated million lives, delayed the elections from October to December. The polling days for the National and Provincial Assemblies – the 7th and 17th – were declared public holidays. Almost a year had elapsed since the restoration of political activities at the start of the year.
Leading candidates
East Pakistan had 17 political parties, but the three most important ones were Awami League, headed by Sheikh Mujibur Rahman, National Awami Party (NAP) led by Maulana Bhashani, and the Pakistan Democratic Party (PDP) led by Nurul Amin, a former Chief Minister of East Bengal infamous for his hardline stance during 1952 Bhasha Andolon.
The four leading parties in the western province were the Pakistan People's Party (PPP) led by Sindhi and former professor Zulfikar Ali Bhutto, NAP (Wali) led by Abdul Wali Khan, Muslim League (Qayyum) led by Abdul Qayyum Khan, and Jamiat Ulema-e-Islam.
Most parties except the Muslim League were, in effect, regional or provincial parties, but for a long time the Muslim League had been divided.
(1920 - 1975)

First PM and 4th President of independent Bangladesh. Leader of Awami League. Popularly referred to as 'Bangabandhu' (Friend of Bengal), 'Jathir Jonok/Pitha' (Father of Nation) and 'Rajnitir Kobi' (Poet of Politics). Help create first Constitution of Bangladesh. Four principles of Awami League (nationalism, democracy, secularism, socialism) referred to as 'Mujibbad' or 'Mujibism'. Created controversial BAKSAL one-party system. Assassinated along with most of his family by rebel officers on 15 August 1975 at family home in Dhanmondi, Dhaka. Daughter Hasina has become PM of Bangladesh on many occasions.

Zulfikar Ali Bhutto

(1928 - 1979)

Fourth President (1971-1973) & 9th PM of Pakistan (1973-1977). Founder of Pakistan Peoples Party (PPP) in 1967. Obtained Political Science (1950) degree from University of California, Berkley, and Law degree from Christ Church, Oxford University, UK. Early political career as Minister of Commerce (1958) and Minister of Foreign Affairs (1963 – 1966) under Ayub Khan regime. Resigned from cabinet ostensibly in 1966 on grounds of ill-health. Disagreed strongly with Ayub's conciliatory policy with Indian over Kashmir at the time, and made several bitter and lengthy speeches in the United Nations Security Council. Opposed Sheikh Mujib's premiership in 1970 and allegedly responsible, along with Yahya Khan, for massacre of 3 million Bengalis in 1971 Bangladesh Liberation War. Signed Simla Agreement (2 July 1972) with Indian PM Indira Gandhi to free 93,000+ Pakistani Prisoners of War. A nationalist-socialist with close ties with China. Consider father of Pakistan's Nuclear weapon programme. Born in Larkana, Sind, Pakistan, to a prominent Muslim Rajput family. Son of Sir Shah Nawaz Khan and Lady Khurshid Bhutto née Lakhi Bai. Mother converted from Hinduism to Islam before marriage. Eldest daughter Benazir Bhutto, from his second Iranian-Kurdish Shi'a Muslim wife Begum Nusrat Ispahani, became 11th PM of Pakistan. Hanged at Central jail, Rawalpindi, on 4 April 1979 on charges of murder of a political opponent.

Maulana Abdul Hamid Khan Bhashani

(1880 - 1976)

Founder and President of Awami Muslim League which later became Awami League. Nicknamed "Red Maulana" apparently due to closeness to socialists/communists and progressive forces. Received religious education at renowned Deoband Madrasah in India (1907 - 1909). Founded 'Weekly Ittefaq' newspaper in 1949 which later became 'The Daily Ittefaq', one of Bangladesh's most popular newspaper. Led massive Born in village of Dhanpara, Sirajganj in Rajshahi Division. Died in Dhaka, aged 96, but buried at Santosh, Tangail, north-west of Dhaka.

Nurul Amin

(1893 - 1974)

Chief Minister of East Pakistan (1948) and member of Muslim League. Born in village of Shahbazpur, Brahmanbaria District in Chittagong Division. Buried in Jinnah (aka National) Mausoleum in Karachi, Pakistan.

Mian Mumtaz Daultana

(1916 - 1995)

Renown activist of "Teherek-e-Azadi" and close friends of Quaid-e-Azam Muhammad Ali Jinnah. Graduated in Law from Oxford University (1938). Held various position including 2nd Chief Minister of Punjab (1951-1953), Defence Minister of Pakistan (1957), and High Commissioner to the United Kingdom. His uncle Sir Shahab-ud-Din was speaker of Punjab assembly before separation of sub continent.

Khan Abdul Wali Khan

(1917 - 2006)

Prominent democratic socialist and Pashtun leader. President National Awami Party (Wali) in 1968. Campaigned against British Raj just like his prominent dad Bacha Khan. Protested against crackdown on East Pakistan (or Bangladesh) in 1971. Fierce rivalry with Zulfiqar Ali Bhutto, even labeling him "Adolph Bhutto" after Hitler.

Abdul Qayyum Khan

(1901 - 1981)

Political powerhouse in Khyber-Pakhtunkhwa (formerly North-West Frontier) province. Previously, an eminent criminal lawyer. Member of Muslim League. Nicknamed 'Lion of Frontier' by supporters. Joined Bhutto's PPP cabinet as Federal Interior Minister after East Pakistan broke away in 1971. Inspired by Khan Abdul Ghaffar Khan, a Pashtun political and spiritual leader and a renowned pacifist.
The two leading election personalities, from East and West Pakistan respectively, were 50-year-old lawyer Sheikh Mujibur Rahman and 42-year-old lawyer Zulfikar Ali Bhutto. Of these two men, Bhutto was more widely-known internationally as he served as Foreign Minister (1963-1966) during Ayub Khan's regime, but Sheikh Mujib was the man most widely tipped as the next Prime Minister.
Sheikh Mujib was essentially a provincial politician, his primary aim was the betterment of the people of East Bengal. In pursuit of this aim, he had joined Jinnah's Muslim League and taken an active part in the Pakistan movement. Over the years, as he began to project the interests of East Pakistan - such as actively participating in Bhasha Andolan, spending half his life in jail for social causes, promoting regional autonomy culminating in the Agartala Conspiracy - the size of his constituency expanded enormously.
In contrast, Bhutto's political initiation had occurred much later than Sheikh Mujib's and under very different circumstances - he had been picked by General Ayub Khan to represent Sind in the cabinet. Bhutto, the son of a wealthy landowner, was educated in Britain and became an expert in international law before devoting himself into politics. As Pakistan's Foreign Minister he negotiated the country's agreement with its allies - including the trade pact with the Soviet Union which he signed in Moscow. At the United Nations he spoke for Pakistan in the country's dispute with India over Kashmir and other territories. However, after resigning from the Ayub Khan cabinet in 1966 and finding the socialist Pakistan People's Party the following year (November 1967), Bhutto served three months in jail for his anti-Ayub campaign only two years prior to this general election. And now with a Sheikh Mujib-led Awami League victory likely, there were intense speculation about the future of the fiery leader known to his supporters as "Quaid-e-Awam" (Leader of the People).
When Bhutto was introduced to politics, he had no personal constituency of his own and did not develop one for as long as he remained his job as foreign minister and began to tour the country that he developed a personal following. As with Mujib, the size of Bhutto's following increased very rapidly but, in contrast to Mujib, people were attracted to Bhutto for the novelty of the cause that he had begun to espouse. Bhutto's type of populism was not a new phenomenon in Third World policies. Very deliberately he had fashioned his style and his idiom after such Third World leaders as Sukarno [Indonesia], Nkrumah [Ghana], Peron [Argentina], and Castro [Cuba]. But for West Pakistan, this populist approach was a new development; until that time, West Pakistani politicians had followed a very low-key approach toward politics, preferring to negotiate among themselves rather than to use popular support to further their aims and ambitions. Bhutto was a new kind of leader. Accordingly, the constituency that he cultivated for himself was new - a constituency was galvanised into action very quickly, but when he left the scene, the constituency still remained. Like Peronism, Bhuttoism was to survive Bhutto.

Sanjay Dutt, author of "Inside Pakistan: Fiftytwo Years Outlook" (2000)
Overall, 20 political parties were expected to contest the election which would mark the handover from Army to civilian rule and could herald the end of martial law imposed in March 1969.
In the election, Pakistanis will choose 313 delegates - 169 from East Pakistan (7 of whom must be woman), 144 from West Pakistan (including 6 women). And, in accordance with the Legal Framework Order (LFO), President Yahya Khan gave the new assembly 120 days from the time of its first meeting to frame a new Constitution to preserve the country's unity. He also reserved the right to "authenticate" the constitution and warned that he will not accept a constitution that will tend to weaken the unity of the two parts of the country. In that case, he said, martial law would continue and he will still run the country.
In the provincial assemblies, East Pakistan had 310 seats (with 10 reserved for women).
Voting will take place in all constituencies on 7 December 1970, but the polling was postponed for few weeks for the 9 constituencies in the disaster area wrecked by Bhola Cyclone. Voting for 9 National Assembly seats and 21 Provincial Assembly constituencies in the cyclone-affected area will take place on 17 January 1971.
The political decisions taken will be among the most crucial in the country's 23-year history. After the election Pakistan could turn to Parliamentary government, martial law could continue, and there could be serious internal dissent in the country.

Some 56 million Pakistanis are due to cast their ballots in what is the country's first one-man-one-vote election. The election has been called to smooth the way from military to civilian government. The army will supervise the election.

The election will test whether the eastern and western parts of the country can co-exist and co-operate in a national government.
Election campaign
An intense election campaign took place in 1970 as restrictions on press, speech, and assembly were removed. Every party had its programme but two parties - the Awami League and the Pakistan People's Party - were being eyed by the electorate as the potential winners.
The Awami League, the largest East Pakistani political party, contested the elections on the 6-Dafa Karmasuchi (Six-Points Programme), which were designed to maintain greater political autonomy (freedom) from central government in Islamabad, West Pakistan. Sheikh Mujib, who had already become the symbol of Bengali protest and nationalism, used the election campaign to rouse the general public with many passionate and highly emotive speeches. The Awami League campaign was used to air long standing grievances and focused on the history of the western wing's treatment of East Bengal as a 'colony'. The 1970's natural calamities once again dramatised the disparities between the East and the West, as war had done, in 1965.
The new experience had only brought into sharp focus the basic truth that every Bengali has felt in his bones, that we have been treated so long as a colony and a market.
Mr Gandhi and other Congress leaders who opposed the partition of India but the Muslims had voted for Pakistan through referendum... In the colonial days the resources were utilised for the benefit of Britain and now the money earned in East Pakistan is being taken to West Pakistan in a planned manner.

Sheikh Mujib recalling an emotive parallel from the sub-continent's recent history
The by now traditional charges were repeated of West Pakistan's monopolisation of foreign investment, dominance of successive governments, larger and unfair share of the common resources of the two wings, dumping of manufactured goods in the eastern wing and misuse of the foreign exchange raised by its jute exports. Their decentralisation demands were also supported by other East Pakistani parties. This demand became increasingly intense, encouraged by natural catastrophes in the eastern province where the Bhola Cyclone, accompanied by a 30-foot tidal wave, in particular shattered the coastal districts. The perceived lack of response of the central government, with their base in the affluent western wing, and of the 'callously indifferent' West Pakistani politicians - in particular President Yahya - to the havoc that these catastrophes wrought, as well as the need for competing for the votes of an aroused Bengali electorate, meant decentralisation remained the eastern Pakistani parties' number one rallying cry. Autonomy was their platform.
28 October 1970: Sheikh Mujib addresses nation through Radio Pakistan
On 28 October 1970 Sheikh Mujib detailed his federal scheme in a 30-minute long election speech on Radio Pakistan, inviting voters in Pakistan to help him frame a federal constitution. He began his speech by offering munajat (prayers) for the 'heroic martyrs' which culminated in the mass upsurge of 1969 and ended with 'In sha Allah' (Allah Willing) and 'Pakistan zindabad' (Long live Pakistan).
In a broadcast on 28 October 1970, Sheikh Mujib advocated equality of all citizens and particularly equal rights for the minority community. While rejecting the thesis of Islam being in danger due to the Six-Point formula, he reiterated that 'nothing which promotes prejudice between region and region and man and man can be opposed to Islam'. He urged General Yahya Khan once again to repeal the restrictive provisions of the Legal Framework Order to allow the elected representatives of the people to function as a sovereign Assembly in the task of formulating the constitution. In the field of foreign policy he stated that normalisation of relations with neighbours would be to the best advantage of Pakistan. He stated that there should be 'a just settlement of the Kashmir dispute in accordance with the UN resolutions' and also of the Farakkah problem which threatened to do 'grave and permanent damage to the economy of Bengal'.
During the ten months when Sheikh Mujib hit the campaign trail, he addressed on average 22 meetings a day, appealing to the people to vote for the boat symbol (chosen as Awami League's election symbol on 17 October 1970), and speaking to mammoth hysterical audiences eager to see him and hear his voice. In that process he transformed this campaign into a one-horse race and turned his party into virtually the only political party in the east.
There could be no mistaking the nationalist content and anti-colonial tenor of the Awami League's election campaign. This not only ensured that West Pakistan based parties, such as Bhutto's People Party, would fail to get any Bengali support but also eliminated the chances of any success in East Bengal of "moderate" and "centrist" parties, such as the Pakistan Democratic Party.
Just as the Muslim League in 1946 had present Pakistan as a panacea for social ills, the Awami League depicted the prospect of a Shunar (Golden) Bengal if the autonomy programme was implemented.

Ian Talbot, author of "Pakistan: A Modern History" (1998)
Bhutto's PPP campaign for patriotism and socialism
Meanwhile, the Awami League's serious contenders in the western wing, Pakistan People's Party (PPP), campaigned on a strongly nationalist and leftist platform. Launched only three years earlier, the party's slogan and driving motto was "Islam is our faith, democracy is our policy, and we believe in the supremacy of the people". The Chairman of the left-wing party, Zulfikar Ali Bhutto, initially talked of bringing "secular scientific socialism" to Pakistan (as embodied in the PPP documents of November 1967) with the aim of totally restructuring the economy. His doctrine quickly changed to "Islamic Socialism" to appeal to the Pakistani traditionalist. However, during the election campaign, Bhutto was criticised by some religious parties of preaching "socialism" which they termed as "kufr" (anti-Islamic).
Socialism kufr hai. Muslim millat ek ho [Socialism is heresy: Muslim community become one].
To fend off the implied criticism, Bhutto changed the word "Islamic Socialism" for "Musawwat-i-Muhammadi" (equality as preached by Prophet Muhammad).
Bhutto promised the masses that along with economic reform his party would bring democracy and an independent foreign policy to Pakistan. He said that the PPP would provide "roti, kapra, aur makhan" (bread, clothing, and shelter) to all, and proclaimed a "thousand year war with India", although this pronouncement was played down later in the campaign. This endeared him to the leftists and the intellectuals and the extreme anti-Indian line that he had taken when he was Foreign Minister (and afterward) had given him a nationalist image that was very attractive to Muhajirs and Punjabis alike. Thus Bhutto overcame the handicaps of being a Shi'a Sindi in a Sunni dominated country where East Pakistan and Punjab provinces had the greatest population.
Like Sheikh Mujib, Bhutto ran a highly rabble-rousing and rhetorical election campaign and warmed up the campaign by traveling all over the country, delivering rabble-rousing speeches. Transforming himself from a gentleman in a suit to a sharif in Salwar-Kamiz, he launched his election campaign on 4 January 1970 - on his 42nd birthday and three days after party politics were permitted by President Yahya - by addressing a public meeting at Nishtar Park, Karachi, where he declared in his forceful style that the people were his 'Round Table Conference'. Bhutto chose a sword as his party's election symbol. His following came mainly from his own stature in Pakistan politics, his enormous political acumen, experience, and charisma.
Bhutto's effective use of potent religious imagery is illustrated by his designating a sword as his party's election symbol, thereby alluding to the legendary Zulfiquar-e-Ali (Ali's sword). In so doing, Bhutto sought identification with Prophet Muhammad's wise and courageous cousin and son-in-law as well as Islam's fourth khalifah (caliph), who had defeated many an enemy of Islam with his famous sword, thus contributing to Islam's expansion and glory.

Moreover, Bhutto wanted the image of the sword to inspire the masses with the ideal of a jihad (holy war) to be waged by the PPP regime against the evils of capitalism and feudalism in particular and against exploitation and injustice in general. In the realm of foreign affairs, he promised a jihad against the evils of imperialism, colonialism, and neo-colonialism. He also stirred his audiences by saying that he was prepared to lead Pakistan into a 1,000-year-long jihad against India and celebrate Shaukat-e-Islam Day (Glory of Islam Day) in New Delhi and Srinagar.

During his whirlwind tours of West Pakistan, Bhutto pointedly made very publicised visits to the religious shrines of a few famous pirs (spiritual guides). He performed public prayers at popular Islamic festivals like Eid in an attempt to counteract his conservative Islamic opponents' criticism that he was a kafir (unbeliever).
The leaders of the two parties had devoted their energies to one wing only of the country, highlighting their lack of popularity in the other wing. Therefore, the election involved two separate campaigns - one in the east, one in the west. Efforts to create electoral alliances were unsuccessful both between the parties of east and west and among the parties of the different western provinces, which was a continuation of the regional party organisation and support that had began in the mid 1950s when Jukta Front, an eastern alliance, won a commanding victory.