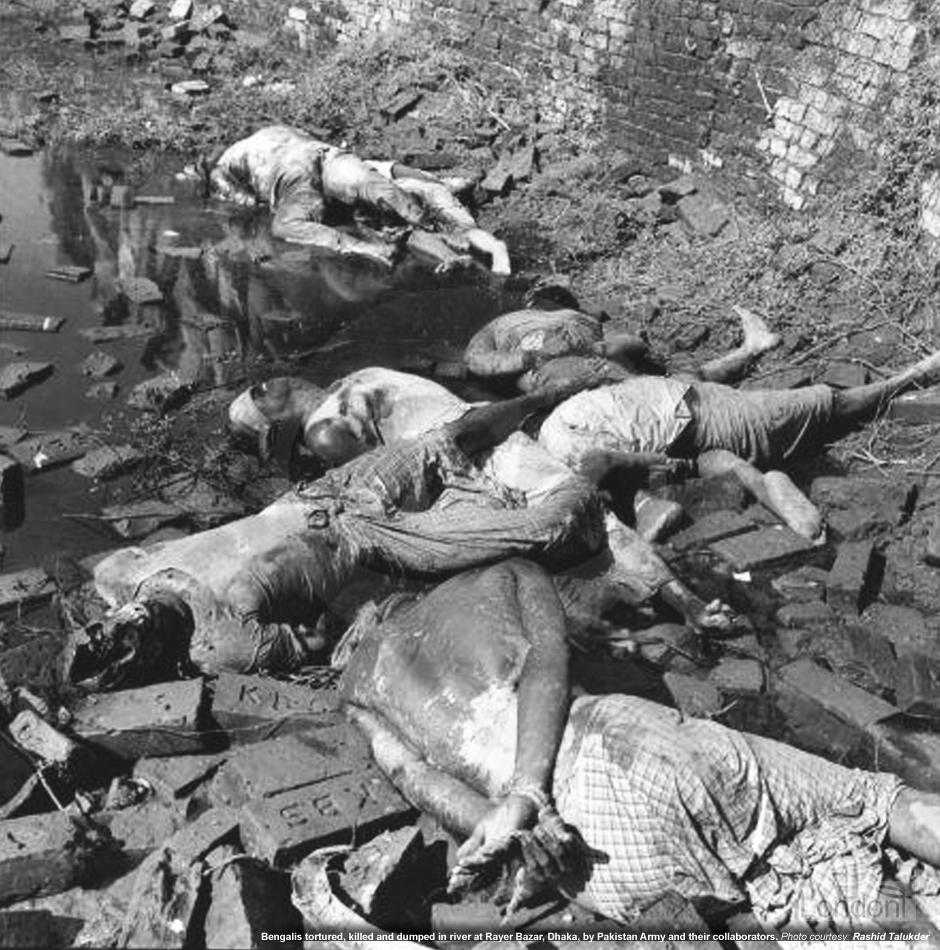 Shei Raater Kotha Bolte Eshechchi...
The Pakistan Army was ordered to launch operation on Bengali people at midnight of 25 March 1971 with a view to curbing the Bengali nationalist movement. The military action – codenamed Operation Searchlight (also referred to as 'Operation Blitzkerieg' in many literature) – intended to take controls of the major cities on 26 March 1971 and then eliminate all opposition, political or military, within one month.
'Operation Searchlight' triggers genocide
Plan for Operation Searchlight were sketched out a week earlier by Major General Rao Farman Ali, General Khadim Raja and others to eliminate all defying forces in East Pakistan. Sensing that negotiations were failing, the East Pakistanis also began preparing with whatever weapons they had. Retired air force recruits declared that they were ready to fight guerrilla warfare like Vietnam. Mahila Parishad (Women's Union) started giving special training to women and members of Gonobahini (People's Army) trained by Chatra (Student) Union paraded the streets of Dhaka with dummy rifles, creating an excitement among the mass people. This further heightened the Bangali spirit.
Rao Farman Ali

(1923 – 2004)

Khadim Hussain Raja

(1922 – 1999) Prominent Pakistani officer. Graduated with Honours in English from Government College, Lahore. Joined British Indian Army (1942) and received the King's Commission from Indian Military Academy at Dehradun. Served in Burma till the end of Second World War in an infantry battalion. Graduated from Staff College, Quetta, and later from the US Army Command and General Staff College, Fort Leavenworth. Had the distinction of serving on the faculty of Command and Staff College, Quetta, twice. Commanded the First Pakistan Battalion (Quaid-i-Azam's own) at the Pakistan Military Academy, Kakul, and rose to the rank of Major General. General Officer Commanding 14 Division in East Pakistan during 1971 Bangladesh Liberation War. Served as Director General Artillery at the General Headquarters. Raised and organised the Army Welfare Trust as its founding Managing Director (1972 - 1977). Appointed Ambassador of Pakistan in Mozambique and was also accredited to Angola, Swaziland, and Lesotho.
It is now a well-known fact that the negotiations in Dhaka with Mujib were a smoke screen for gaining time for Yahya Khan to airlift supplies and military personnel to Dhaka for subsequent military operations

Abdus Sattar Ghazali, author
Plan of attack
The initial Pakistan operation seemed to be to secure Dhaka, to break the Awami League hold on the local administration, to ensure the use of Chittagong naval base as the major port of entry for shipping from West Pakistan, to safeguard the functional airfields, to facilitate an aerial buildup in troublesome regions, to guard cantonments and arsenals, to clear the road, rail and inland waterway systems, to ensure the security of main towns, and in the process to disarm the East Bengal Regiment, the East Pakistan Rifles and police.
The planned and designated centers of offensive operations under that plan were Dhaka, Khulna, Chittagong, Comilla, Jessore, Rajshahi, Rangpur, Saidpur and Sylhet areas where West Pakistani army units were concentrated. Pakistani Army units and paramilitary elements in other areas of East Pakistan were to maintain control of their respective areas and await reinforcements during the initial phase of the operation. Once Dhaka had been secured, the 9th and 16th divisions from Pakistan were to be airlifted into East Pakistan as reinforcements.
At a meeting of the military top brass, Yahya Khan declared: "Kill 3 million of them and the rest will eat out of our hands."

Accordingly, on the night of 25 March, the Pakistani Army launched Operation Searchlight to "crush" Bengali resistance in which Bengali members of military services were disarmed and killed, students and the intelligentsia systematically liquidated and able-bodied Bengali males just picked up and gunned down.
A critical factor in explaining the civil war in Pakistan is the dominant role played by the military in Pakistani politics throughout its history. Pakistan has been under military rule for approximately half of the time it has been independent. As was the case with many postcolonial countries, Pakistan inherited weak civilian political institutions from British colonialism. The military, dominated by the Punjabis and to a lesser extent by the Pashtuns, has styled itself as the only real guarantor of Pakistani national unity. The military has stepped in to take control in response to many crises in Pakistani history, but even when the military has not been in direct control, it has exerted enormous influence on the polity. Consequently, the Pakistani military has seen itself as being charged not only with the external security but also with internal security.

Karl R. DeRouen & Uk Heo, editors of "Civil Wars of the World: Major Conflicts Since World War II, Volume 1" (2007)
According to the plan for Operation Searchlight two headquarters were established. Major General Rao Farman Ali with 57 Brigade, led by Brigadier (later Lieutenant General) Jehanzeb Arbab, was responsible for operation in Dhaka city and its suburbs while Major General Khadim Raja was given the responsibility of the rest of the country. Lieutenant General Tikka Khan assumed the overall charge of the operation.
The 57 Brigade included 18 Punjab and 32 Punjab regiments, 22nd Baluch regiment, 31 Field artillery regiment and the Bengal unit 2nd East Bengal Regiment (2 EBR) stationed in Joydevpur. The task for 22 Baluch was to disarm the East Pakistan Rifles (EPR) and seize wireless at their Pilkhana headquarter. 32 Punjab was to take over the Rajarbag police lines, some key police stations and the President's House. 31 Field artillery regiment, commanded by Lt. Col. Zahed Hassan, was to secure the Mohammadpur and Mirpur area. Meanwhile, 18 Punjab, under the command of Lt. Col. Basharat Sultan, was responsible for securing Dhaka University, the television station and Shankharipatti (a Hindu area in old Dhaka), and also for providing tank protection and guarding the Intercontinental Hotel. As 'Operation Searchlight' got under way, Lt. Muhammad Ali Shah of 18 Punjab had the task of providing close protection to the tanks with a platoon of troops. The Brigade Headquarter was set up in the area of Dhaka referred to as the 'second capital', Sher-e-Bangla Nagar. General Tikka Khan was in the Eastern Command headquarters at Kurmitola (north of Dhaka, next to the airport).
Major Jafar Khan had arrived in the first week of March to take over from Bengali Major Khaled Mosharraf as Brigade Major of 57 Brigade. Major Khaled Mosharraf was transferred to 4th East Bengal Regiment in Comilla.
Just before the army action the Bengali Commanding Officer of 2 EBR, Lt. Col. Masudul Hasan Khan was relieved of his post on 22 March 1971 and replaced by another Bengali officer, Lt. Col. Raquib, who had been Commanding Officer of 32 Punjab at Dhaka, much to the consternation of all ranks. On the night military action started, Lt. Col. (later Brigadier) Muhammad Taj, who was originally from 18 Punjab, was commanding 32 Punjab, but was also in overall charge of all three units.
Pakistanis refrained from mass transfer of Bengali officers, as that might have compromised security of the plan. Bengali officers were urged to take leave (although all leave had been cancelled since February 1971), while West Pakistani officers were told to stay put. Families of West Pakistani officers and soldiers were evacuated from East Pakistan, and when possible families of some West Pakistani civilians were brought into the cities.
Muhammad Taj

()

Basharat Sultan

()

Muhammad Ali Shah

()

Zahed Hassan

()

Raquib Uddin

()
Dhaka becomes a killing field
The students and the nationalist political activists put up resistance at Farmgate, Dhaka, one kilometre from the army cantonment. Huge road blocks were created by placing big tree trunks across the road. The hulks of old cars and unserviceable steam roller, were also used. Several hundred people chanted the slogan Joi Bangla which lasted for about 15 minutes. But soon guns silenced them.
Wireless-fitted jeeps and trucks loaded with combat troops armed with automatic weapons and mortars - some in M-24 Chafee tanks - groaned on the streets of Dhaka City. Pakistan's army's 14th Infantry Division, then headquartered in Dhaka, moved into the city before scheduled time and started the genocide at midnight of 25 March. They focused on areas seen as hot-beds of the Awami League's autonomist activism - Dhaka University campus, halls of residence, including one used by female students, and a district of narrow alleyways in the old part of the city largely inhabited by the Hindu community.
From the night of 25 March 1971, when the Pakistani army launched its surprise offensive in East Pakistan in an attempt to crush the Bengali autonomy movement, normal standards of logic and reason stopped applying. The mindless brutality of the West Pakistani troops demonstrated the military regime's irrational determination to hold on to East Pakistan at whatever cost and by whatever tactics are necessary. In turn this brutality has fired and fed an increasingly effective and popularly supported guerrilla counteroffensive that keeps East Pakistan in chaos. Every army reprisal against the civilian population produces new Bengali freedom-fighters. The Bengalis – now sullen, bitter, hating – seem ready for a long fight for full independence. Talks of anything less, such as the old goal of East Pakistani autonomy within Pakistan, is considered heresy.

Sydney H. Schanberg wrote in the article "Pakistan Divided" (1971)
Hell unleashed - the ravaging of shunar Bangladesh
26 March 1971 was a Friday. Friday is a holy day for Muslims as amongst other thing it's on a Friday that the first Prophet, Adam (Peace Be Upon Him), was created, the day he was sent down to the earth and the day that he died. Friday is also a day when our supplications to Allah are answered as long as it isn't something forbidden. This is also the day where the onset of the last hour will begin. Allah has made this day the master of all other days to the extent that it is greater to Allah than the days of Eid-ul-Fitr and Eid-ul-Adha.
On this holy day on 26 March 1971 the Pakistani military forces killed everybody in sight on the footpath and destroyed everything on their way. Silence of the night was violated with the sounds of Mortar shells, firing Rifles and heavy tanks. The tanks roared through the streets of Dhaka blasting indiscriminately at the people and official and residential buildings. They gunned down clusters of settlements and set fire on them. Scores of artillery bursts were pounded, while the tanks rumbled into the city roaring the main streets. Throughout that long night three battalions of soldiers - one infantry, one artillery, one armoured - killed defenseless Dhaka Bengalis with bayonets, rifles, machine guns, mortars, artillery pieces, rockets, flame throwers, and tanks.
Areas targeted
The Pakistan Government launched a vicious campaign of systematic massacres intending to cripple the 'secessionist uprising'. The Pakistani army was unleashed to carry out what Archer Kent Blood, the American Consul General then situated in Dhaka, termed as selective genocide''. With military precision the Pakistani army tackled their target.
Dhaka University - mainly Iqbal Hall (now 'Jahurul Haque Hall') and Jagannath Hall. Liaquat Hall (now 'Suhrawardy Hall') of Engineering University (BUET) was also an intended target.
Rajarbagh Police Headquarters
Peelkhana / Pilkhana headquarters of East Pakistan Rifles (EPR) // East Pakistan Rifles (EPR) cantonment
Sheikh Mujibur Rahman's home in Dhanmondi
Radio Pakistan transmitter
Offices of a pro-Mujib newspaper 'The People' (who's motto was: "You cannot fool all the people all the time")
Nawabpur and other old Dhaka areas with majority of Hindu residences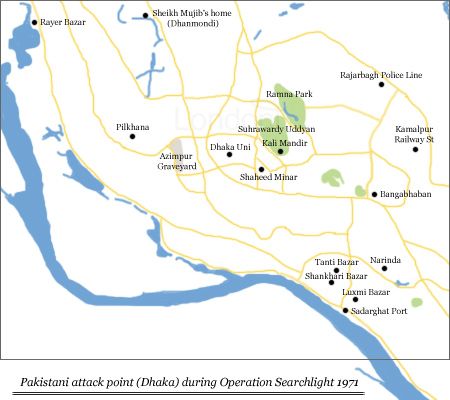 Apart from these, the Katabon slums, bazaars, newspaper offices, Kamalapur railway and Sadarghat also came under brutal attack.
But it was at Dhaka University where the soldiers' ferocity came into full, macabre display.
Yayha was no longer interested in taking shelter of either logic or morality and had reverted to the law of the jungle in his bid to crush the people of Bangladesh.

Tajudd Ahmad's damning assessment of President Yahya Khan's calculated massacre