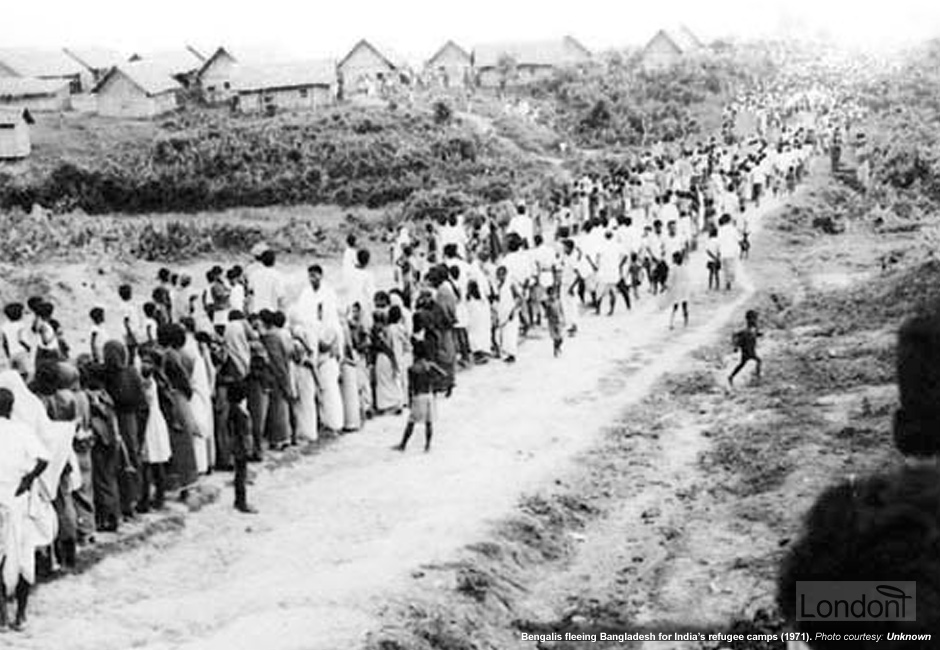 Majhee (boatman), Oii majhee, wait, wait for us!
Mass exodus - India opens border for 10 million refugees
Prime Minister of India, Indira Gandhi - only daughter of Jawaharlal Nehru, first Prime Minister of India and a prominent leader of the Indian Independence Movement under the tutelage of Mahatma Gandhi - expressed full support of her government to the freedom struggle of the Bengalis. The national Indian government repeatedly appealed to the international community, but failing to elicit any response, on 27 March 1971, the day after Operation Searchlight, Indian Border Security Force (BSF) opened Bangladesh-India border to allow the tortured and panic stricken Bengalis to have safe shelter in India.
It is not merely the suppression of a movement, but it is meeting an unarmed people with tanks.

Indira Gandhi's address to the Lower House of Parliament on 27 March 1971
Indira (Priyadarshini) Gandhi

(1917 – 1984)
The governments of West Bengal, Bihar, Assam, Meghalaya and Tripura established refugee camps along the border. In May 1971, few weeks after the war began, around 330 camps had been established to care for the 4 million refugees who were coming at an estimated rate of 60,000 per day. The likelihood of an independent Bangladesh was increased as people fled to India, thereby internationalising the crisis in East Pakistan. The refugee issue bought India into war along with, perhaps, a chance to sneak a blow at their old enemy while it was having trouble.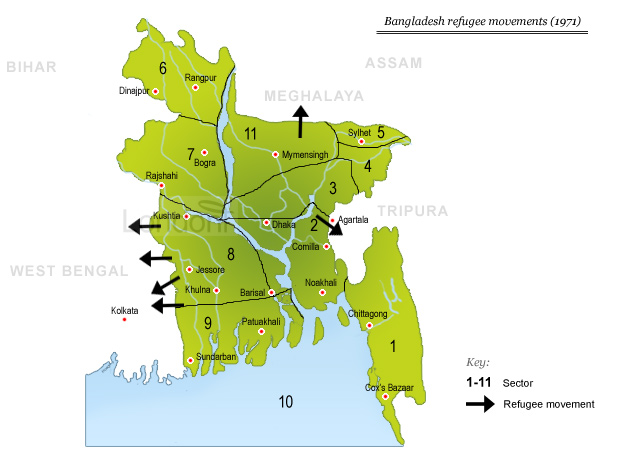 Source: Genocide Bangladesh
About 500 rickshaws were moving very slowly along the Dhaka-Chittagong highway. What was most amazing was that there was dead silence every where-- even the children forgot to cry!

I didn't need a ticket on the train. The Indian trains at that time were free for anyone who would say "Joy Bangla".

Rothin Roy (of Swadhin Bangla Betar Kendra) recalls the horror of his journey from Jalpaiguri to Kolkata
The psychological wound of those refugees who were forced to flee across the borders of the two newly independent countries leaving their motherlands, their homes and almost all belongings in search of security of life and living, peace and communal harmony in their new destinations, still remains constant reminders to them about the traumas of their lives, and some of them harbour deep hatred in their minds for their past tormentors. They may very well instill these feelings in their children and grandchildren! The unending propaganda campaigns of the media and the governments of the two feuding countries for the last 60 years are constantly adding fuel to the fire.
Camp around Indo-Bangladesh border so refugee return home is swift
The Government of India restricted the Bengali refugees to Indo-Bangladesh border rather than, as in the past, allowing them to move into India as citizens of India. This was due to the fact that the first bunch of refugees were Bengali Muslims of diverse backgrounds. For example Awami League leaders and cadres, Bengali Muslims in Pakistan army or police in East Pakistan, substantial number of so-called Bihari Muslims, and few West Pakistani civil and army officials fleeing from Awami League-controlled areas near the border.
The Government of India was not disposed to accept the permanent settlement of Muslims from East Pakistan in India, no matter what their politics might be.
Also, the Indian government was wary of potentially more refugees coming in, including Bengali Hindus whom Pakistan wanted to force into India to "solve" the Hindu element allegedly supporting Awami League.
Broken families of mixed background
Not every refugee ended up in Indian camps. Many of them had family ties in India and moved directly into their homes, since, under the circumstances it was impossible for the Border Security Force (BSF) or the police to channel the massive flow across the border entirely into camps.
Most in the refugee camps were from families of farmers, landless labourers, rural artisans, fishermen, and petty traders - the last three especially were occupations often held by Hindus. An estimated 1.5 million had an urban background. Most Hindu tea workers from Sylhet district left with their families - amounting to 280,000 people. Many camps became ready ground for recruitment of the freedom fighters. Yet most Hindu men were not ready to take up arms against the Pakistanis - 80% or more of the Mukti Bahini forces set up in India were Muslims, among them many from urban middle class, primarily students. There were more adult men than women among the refugees, while the low number suggests that many children of these families were left behind with relatives, neighbours, or friends. Some men sent money back across the border to their families.
As the Indian authorities lacked the manpower to control the border to East Pakistan in its entirety, the figure of 3.1 million refugees said to be staying with relatives or friends (especially in West Bengal) is to a certain extent questionable; the figures for the refugee camp population [over 9.8 million] appear solid. This was one of the biggest flight movements in history.
The majority of the refugees were driven out by Pakistani military operations in the countryside from April to June 1971 - two-thirds (6.4 million) had left East Pakistan by late June 1971, more than 9 million by late September 1971. Other refugees who stayed behind in Bangladesh took shelter in Christian missions in order to find a sanctity. These refugees, mainly Hindus, ranged from a few dozen to the thousands.
The grand scale of refugees forced Indira Gandhi to reject Pakistan's view that East Pakistan was an 'internal matter'.
The refugees coming to India belong to every religious persuasion - Hindu, Muslim, Buddhist and Christian. They come from every social class and age group. They are not refugees in the sense we have understood this word since [1947] partition.
'Burden' on the local Indian community
The refugees often came in big waves.
A local study from Chchianobboi gram describes the decision-making for the collective exodus of 96 villages. Their members formed an eight-mile long column, and their flight routes and halts were highly organised by Hindu leaders in view of repeated attacks on the fringes of the area and the declared inability of Muslim neighbours to offer protection. The escape from the cities proceeded in a much more chaotic way. Fear and danger accompanied the refugees all the way to the border. Treks of refugees or individuals were attacked by Pakistani troops, particularly at river crossings. Four hundreds were said to have been killed at Chuadanga, Kushtia district. Observers saw many refugees with gunshot or bayonet wounds in the camps.
As fighting grew between the occupation army and the Bengali Mukti Bahini an estimated 10 million Bengalis, mainly Hindus - allegedly 80% of the refugees - sought refuge in the Indian states of Assam, Tripura and West Bengal. The refugee in some districts of these states outnumbered the local population. An estimated 900,000 Bengalis crowded into the hill state of Tripura alone, where the indigenous population numbered only 1.5 million.
The financial burden of refugee relief was estimated by the World Bank, as quoted in the New York Times, at about $700 million in a full year. This was roughly half of India's defence budget in 1970, and the nation groaned under this additional economic pressure.
The refugees are not only a crushing economic burden on India, but they present a grim political specter as well - thrusting million of jobless and homeless people into India's already unstable and disorderly eastern region, which the national government in Delhi lost effective control over some years ago. And since most of the refugee's have been from East Pakistan's Hindu minority - a special target of the Pakistani army - the crisis has revived among all Indians the memories of the bloody Hindu-Muslim rioting of 1947.

Sydney H. Schanberg, Analyst
Anticipating that the stream of refugees would lead to variety of complex social conflicts, the Indian government stated categorically from the beginning that the East Bengalis would have to return home once conditions allowed it. India, then as one of the world's poorest nation, was already struggling to feed it's almost 600 million population. 'Garibi Hatao' (Eradicate Poverty) became Indira Gandhi's theme in her bid to win the 1971 general election held in March - which she did with a landslide victory. The ambitious anti-poverty development program was aimed at empowering the rural and urban poor and uplifting them socially and economically.
Main kehtin hoon garibi hatao. Voh kehten hain Indira hatao. Ab faisla aap keejiye.
Actual problems caused by the exiles included local food price inflation, envy on the part of the local populations because the refugees were said to be better supplied, problems of public finance, competition for jobs and the undercutting of rural wages, hostile reactions by West Bengali Muslims who supported Pakistan or felt their position in India undermined, and deep rooted anti-Muslim feeling which had existed post 1947 partition.
News of a cholera epidemic inside the camps, which had estimated to kill 6,000 people, had slowed down the flow of refugees in early June 1971. At My Long Camp in Meghalaya, a 200-bed hospital was forced to accommodate 600 cholera victims. Patients were lying in the corridors, between the beds, in every available space.
They lay on the cold floor, a hundred men, women and children, retching and shaking, their terrified eyes fixed on the back entrance of the hospital where the corpses were piling up... Cramped in the tiny village hospital, some only half alive, they are all victims of the cholera epidemic sweeping through the refugee camps... A dying baby still clings to its dead mother's body. An old man coughs and dies a foot away from my feet.
The Indian authorities did what most foreign observers described as an outstanding job of supplying this flood of refugees with basic necessities, especially with food and medical aid. Sanitation and shelter remained bigger problems. As a result, deaths through starvation were rare, whereas gastro-enteric and respiratory diseases took a higher toll. About 15,000 deaths were reported, mostly among children.