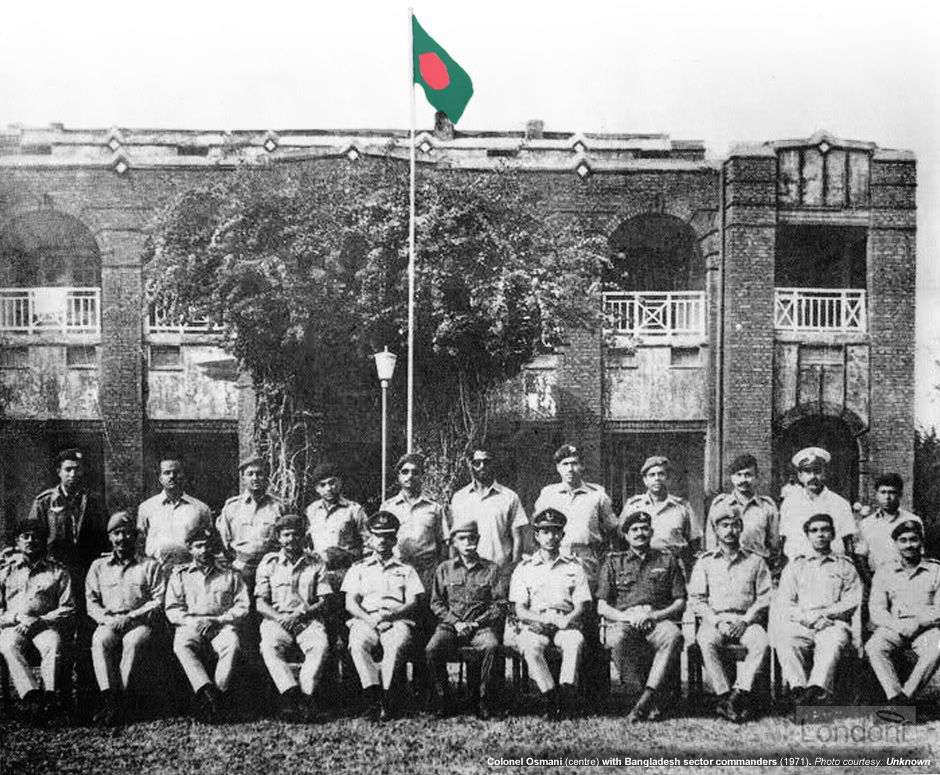 Eleven Sectors I: Country divided into 11 sectors and allocated colonels
29 March 1971: Indian Border Security Force's (BSF) Bangladesh mission
After 26 March Pak Army attack, Khasru F. Rustamji, the first Director General and founding father of the Indian Border Security Force (BSF) who helped Tajuddin Ahmad and Barrister Amirul Islam seek Indira Gandhi's help, was tasked with maintaining security on the Eastern Frontier. With this in mind, Rustamji lost no time in hand-picking officers like Brigadier B. C. Pande, Colonel Rampal Singh, Colonel Megh Singh and Brigadier M. S. Chatterjee with their special commando forces at the most strategic points of the Bangladesh border. On 29 March 1971 (i.e. three days after the Pakistani killing began in Bangladesh) Rustamji verbally directed Brigadier B. C. Pande to proceed to Tripura, east of Bangladesh, for aiding the Bangladesh liberation forces. Commanding the 104 Commando Batttalion and known fondly as 'Papa Pande', Brigadier Pande was then posted at Agartala.
To contact the liberation forces and help them as best as possible.
To train para military forces and people who volunteer to join Mukti Bahini.
To plan and conduct such operations as may help Mukti Fauj to achieve their aim.
To liaise with civil and military authorities and keep them informed about the situation on Indian borders.
BSF was directed to take such measures as would not endanger the security of the border on the Eastern Frontiers while helping the liberation forces of Bangladesh to achieve their aim.

K. F. Rustamji, Director-General of Indian BSF
Khasru F. Rustamji

()

B. C. Pande

()
1 April 1971: Brigadier Pande meets Bengali officers in Sylhet
In the afternoon of 1 April 1971 Brigadier Pande crossed over to Bangladesh and reached the dak bungalow of Teliapara Tea Garden in Madhabpur upazila, Habiganj district, Sylhet, a semi hilly area covered by tea gardens. Here he met with Bengali Lieutenant Colonel S. M. Reza and Major Shafaat Jamil and notified them that Colonel Muhammad Ataul Ghani (M. A. G.) Osmani was in Agartala while Major Ziaur Rahman was at Ramgarh (in Chittagong Division, on the Indo-Bangladesh border) after rebelling against the 8th East Pakistan Regiment.
During this meeting it was decided a second meeting would be held three days later, on 4 April 1971, to discuss how to coordinate the Bengali troops for revolts and how they could be successful in acquiring full Indian BSF assistance. Brigadier Pande left by assuring the others that he'll bring over all the other concerned officers stationed or hiding in India at the time. Immediately the next day he established contact with Bengali desert officers of East Bengal Regiment (EBR) and East Pakistan Rifles (EPR), as well as Colonel MAG Osmani, who arrived at Agartala from Dhaka on foot.
The Indians believed the impending Bangladesh-Pakistan war necessitated that they form a coalition of some sorts with senior Bengali officers and also form local commanders of the Indian Army to neutralise effect of attacks by the Pakistan Army. This involved protecting flanks of the Indian armed forces, guarding lines of communication, looking after potential arms dumps and prisoners of war. The war also provided the Indian government with the perfect excuse to split the old enemy into two forever.
I will never forget the discussions I had with our Prime Minister Mrs. Indira Gandhi in the Government House in Agartala at midnight about Bangladesh Operations. Having heard me patiently for about an hour , she asked me a number of questions to satisfy herself about the safety and security of our borders. In the end she asked if I need any help from Delhi. I told her that every thing we needed was being provided by Rustamji from Delhi.
4 April 1971 - Teliapara, Habiganj, Sylhet: the first conference of Bengali officers where Bangladesh was divided into 4 military zones
At the time of Bengali revolt on 27 March 1971, the 4th Battalion of the EBR - known fondly as "Baby Tigers" or "Junior Tigers" - was located at Brahmanbaria under Major Khaled Mosharraf. The Pakistani authorities had dispersed the battalion over a large area, from Jangalia at Comilla to Srimongal at Sylhet, in early March 1971 to prevent the battalion taking an unified action against them.
By the first week of April communications amongst the revolting East Bengal battalions and the wings of EPR were being established. The first of these was the communication between 4th EBR and 2nd EBR at Kishoreganj under Major Kazi Mohammad Shafiullah (more popularly known as K. M. Shafiullah). By 2 April 1971 both these batallions had regrouped at Teliapara Tea Garden where they received information about 8th EBR's revolt in Chittagong under Major Ziaur Rahman. The fate of 1 EBR at Jessore and 3 EBR at Saidpur were still unknown.
Soon, it became obvious a command structure was required to conduct and coordinate the operations. With this in mind and with the assistance of the Indian Army and the Border Security Force (BSF) a conference was arranged at the Teliapara Tea State.
On 4 April 1971, a meeting of 27 patriotic and defecting army officers took place at the tea state's manager's dak bungalow, which had served as a temporary headquarters for Sector 2 and 4 commanders from 1 April 1971. Amongst the attendees were senior officials and officers of the rank of majors and above such as Colonel Muhammad Ataul Ghani (M. A. G.) Osmani, Lieutenant Colonel Mohammad Abdur (M. A.) Rab, Lieutenant Colonel Salahuddin Mohammad Reja, Major Qazi Nuruzzaman, Major C. R. Dutta, Major Ziaur Rahman, Major Khaled Mosharraf, Captain Nasir, Major Nurul Islam, Major Shafat Jamil, Major Mainul Hossain Chowdhury, Major K. M. Shafiullah, Lt. Syed Ibrahim, Commandant Manik Chowdhury and others. Also present at the meeting were Abdul Matin, Indian Brigadier Shuvramaniam and MPA Maulana Asad Ali.
This conference was the first meeting of the senior army officers, serving and retired, and is considered as an important landmark in Bangladesh Liberation War.
Teliapara conference formed the nucleus of the higher organisation in our War of Liberation. Higher direction of whatever level, was provided in this conference. It gave the liberation forces an organisational concept, which was soon implemented in the form of Mukti Bahini. Formation of the government of Bangladesh in exile was to materialise hardly six days after, on 10 April at Agartala.
During the meeting the members took some very important and critical decisions. It was decided a political government would be formed by the elected representatives of the 1970 general election. This will help to legitimise the war and prevent it from being branded falsely by the Pakistani junta as a mutiny and thus giving them right to kill them. The political government could also mobilise international support and help shape world opinion in favour of the Bengalis. In addition, they could arrange material support and ammunition for war that was desperately required by the freedom fighters.
During the meeting an interim policy for the armed resistance was also formulated and Bangladesh was divided into 4 military zones or sectors to be commanded by a colonel. Major Ziaur Rahman was made operationally responsible for Chittagong-Chittagong Hill Tracts - designated as 'Sector 1' area - Major Khaled Mosharraf for Comilla-Noakhali (Sector 2), Major K. M. Shafiullah for Sylhet-Brahmanbaria (Sector 3), and Major Abu Osman Chowdhury for whole western sector (Panchagar in the north and Satkhira in the south) which was later designated as 'Sector 8'.
Later, the manager's bungalow of Teliapara tea garden was used as the office of Sector 3 (Sylhet-Brahmanbaria).
11 April 1971: Three more sectors added by Tajuddin Ahmad
Following the formation of the Mujibnagar government on 10 April 1971, Tajuddin Ahmad announced the creation of 3 more new sectors the very next day. Rangpur (Sector 6) to be led by Wing Commander M. Khademul Bashar, Dinajpur-Rajshahi-Pabna (Sector 7) under Major Nazrul Huq, and Barisal-Patuakhali (Sector 9) under Major Mohammad Abdul (M. A.) Jalil.
On 11 April Tajuddin Ahmed, Prime Minister of the Government of Bangladesh in a radio address from All India Radio, Gauhati called upon the people of Bangladesh to mobilise their energy for the liberation struggle. In his spirited and patriotic speech, he eulogised the Liberation Army, which was being formed around the nucleus of the professional soldiers from the EBR, the EPR and the police. While surveying the activities of the Liberation Army with additional information he further expanded the command structure, dividing the country into seven major regions and appointed the region commanders.
11 - 17 July 1971: Second and last officer's conference held in Kolkata divides country into final 11 sectors
Serious initiative for organising the rapidly growing Bangladesh liberation army was taken at the second and last senior officers' conference held in Mujibnagar headquarters at 8 Theatre Road, Kolkata, between 11-17 July 1971. It was during this meeting that the Bangladesh Sena Bahini (Bangladesh Defence Forces or Bangladesh Army) was officially created. Initially, some commanders proposed formation of a war council with Major Ziaur Rahman playing a significant role behind this plan. Colonel Muhammad Ataul Ghani (MAG) Osmani, the eminent and highest ranking Bengali army officer who retired five years earlier, took it personally and got furious over this plan. He offered his resignation but Prime Minister Tajuddin Ahmed persuaded him to withdraw his resignation letter. Eventually, Colonel Osmani was made Commander-in-Chief (C-in-C) of Bangladesh Sena Bahini, with the status of Cabinet Minister, and had his base in India. Lieutenant Colonel M. A. Rab was appointed as Chief of Staff (COS) with his base in Bangladesh, Group Captain Abdul Karim (A. K.) Khandker as Deputy Chief of Staff (DCOS) with his office in Kolkata, and Major A. R. Chowdhury as Assistant Chief of Staff (ACOS).
In addition to the seven sectors, four more sectors were created to bring the final total to eleven. Habiganj zilla in Sylhet (Sector 4) to be led by Major Chitta Rajan (C. R.) Dutta, Durgapur-Danki area in Sylhet (Sector 5) under Major Mir Shawkat Ali, Bay of Bengal (Sector 10) under naval commandos, and finally Mymensingh-Tangail (Sector 11) under Major Ziaur Rahman who had by then left Sector 1 (Chittagong-Chittagong Hill Tracts) under the responsibility of Major Rafiqul Islam.
Each of the eleven sectors were assigned a number starting from Chittagong and moving anti-clockwise (Sector 11 was created later). These sectors were further divided into sub-sectors and commanded by other officers. During the nine months war it was common practise to replace one sector or sub-sector commander by another whenever the situation necessitated such action.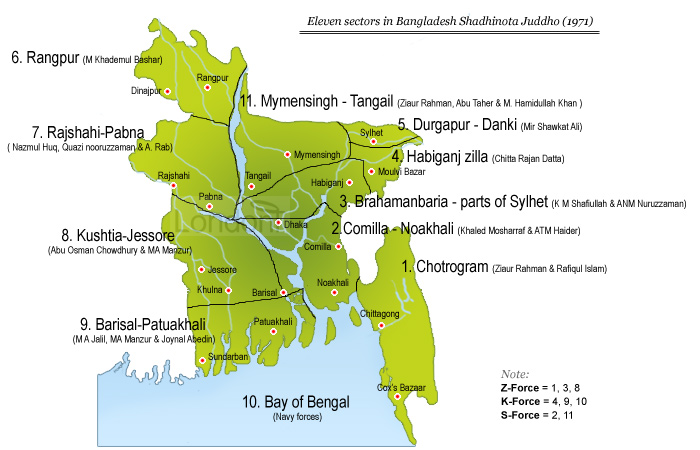 Source: Banglapedia - War of Liberation
Table : Command structure for the 11 Sectors
Sector no.
Area (Headquarter)
No. of freedom fighters
Commanded by Major (duration of term)
Sub-sectors (commanded by)
1
Chittagong-Chittagong Hill Tracts
(Harina)
10,000
(includes 2,000 regular troops)

Contained 137 guerrilla groups
Ziaur Rahman
(10 Apr 1971 – 25 Jun 1971)

Rafiqul Islam
(28 Jun 1971 – 14 Feb 1972)

Rishimukh (Capt. Shamsul Islam)
Sreenagar (Capt. Matiur Rahman, later replaced by Capt. Mahfuzur Rahman)
Manughat (Capt. Mahfuzur Rahman)
Tabalchhari (Subedar Ali Hossain)
Dimagiri (an unknown Subedar)

2
Comilla-Noakhali
(Melaghar, 20 miles south of Agartala, India)
35,000
(6,000 regulars)
Khaled Mosharraf
(10 Apr 1971 – 22 Sept 1971)

A. T. M. Haider
(22 Sept 1971 – 18 Dec 1972)

Gaugasagar, Akhaura and Kasba (Mahbub, later replaced by Lt. Farooq, and Lt. Humayun Kabir)
Mandabhav (Capt. Gaffar)
Shalda-nadi (Abdus Saleq Chowdhury)
Matinagar (Lt, Didarul Alam)
Nirbhoypur (Capt. Akbar, later replaced by Lt. Mahbub)
Rajnagar (Capt. Jafar Imam, later replaced by Capt. Shahid, and Lt. Imamuzzaman)

3
Sylhet-Brahmanbaria
(Hejamara)
30,000

Contained approx 19 guerrilla groups
K. M. Shafiullah
(10 Apr 1971 – 21 Jul 1971)

A. N. M. Nuruzzaman
(23 Jul 1971 – 14 Feb 1972)

Asrambari (Capt. Aziz, later replaced by Capt. Ejaz)
Baghaibari (Capt. Aziz, later replaced by Capt. Ejaz)
Hatkata (Capt. Matiur Rahman)
Simla (Capt. Matin)
Panchabati (Capt. Nasim)
Mantala (Capt. MSA Bhuyan)
Vijoynagar (Capt. MSA Bhuyan)
Kalachhora (Lt. Majumdar)
Kalkalia (Lt. Golam Helal Morshed)
Bamutia (Lt. Sayeed)

4
Sylhet: Habiganj areas
(initially Karimganj, later Masimpur)
13,000
(4,000 regulars)
Chitta Rajan Datta
(10 Apr 1971 – 14 Feb 1972)

Abdur Rab

Jalalpur (Masudur Rab Sadi)
Barapunji (Capt. A Rab)
Amlasid (Lt. Zahir)
Kukital (Flight Lt. Kader, later replaced by Capt. Shariful Haq)
Kailas Shahar (Lt. Wakiuzzaman)
Kamalpur (Capt. Enam)

5
Sylhet: Durgapur-Danki areas
(Banshtala)
5,800
(800 regulars)
Mir Shawkat Ali
(10 Apr 1971 – 14 Feb 1972)

Muktapur (Subedar Nazir Hossain, freedom fighter Faruq was second in command)
Dauki (Subedar Major BR Chowdhury)
Shela (Capt. Helal and two assistant commanders, Lt. Mahbubar Rahman and Lt. Abdur Rauf)
Bholajanj (Lt. Taheruddin Akhunji and assistant commander Lt. SM Khaled)
Balat (Subedar Ghani, later replaced by Capt. Salahuddin and freedom fighter Enanmul Haq Chowdhury)
Barachhara (Capt. Muslim Uddin)

6
Rangpur
(Burimari near Patgram)
11,000
(2,000 regulars)

Guerrillas established 35 bases all over Rangpur and Dinajpur
M. Khademul Bashar
(Apr 1971 – 14 Feb 1972)

Bhajanpur (Capt. Nazrul, later replaced by Squadron leader Sadruddin and Capt. Shahriyar)
Patgram (initially, some junior commissioned officers of the EPR and later Capt. Matiur Rahman)
Sahebganj (Capt. Nawazesh Uddin)
Mogalhat (Capt. Delwar)
Chilahati (Flight Lt. Iqbal)

7
Dinajpur-Rajshahi-Pabna
(Tarangapur near Balurghat)
15,000
(2,500 regulars)
Nazrul Huq
(10 Apr 1971 – 27 Sept 1971)

Quazi Nooruzzaman
(28 Sept 1971 – 14 Feb 1972)
Abdur Rab

Malan (initially some junior commanding officers and later Capt. Mohiuddin Jahangir)
Tapan (Major Nazmul Haq, later replaced by some junior commanding officers of the EPR)
Mehdipur (Subedar Iliyas, later replaced by Capt. Mahiuddin Jahangir)
Hamzapur (Capt. Idris)
Anginabad (a freedom fighter)
Sheikhpara (Capt. Rashid)
Thokrabari (Subedar Muazzam)
Lalgola (Capt. Gheyasuddin Chowdhury)

8
Kushtia-Jessore
(Kalyani)
28,000
(3,000 regulars)
Abu Osman Chowdhury
(10 Apr 1971 – 17 Jul 1971)

M. A. Manzoor
(14 Aug 1971 – 14 Feb 1972)

Boyra (Capt. Khondakar Nazmul Huda)
Hakimpur (Capt. Shafiq Ullah)
Bhomra (Capt. Salahuddin later replaced by Capt. Shahabuddin)
Lalbazar (Capt. AR Azam Chowdhury)
Banpur (Capt. Mostafizur Rahman)
Benapole (Capt. Abdul Halim, later replaced by Capt. Tawfiq-e-Elahi Chowdhury)
Shikarpur (Capt. Tawfiq-e-Elahi Chowdhury, later replaced by Lt. Jahangir)

9
Barisal-Patuakhali
(Taki near Bashirhat)
20,000
M. A. Jalil
(17 Jul 17 – 24 Dec 1971)

M. A. Manzoor

Joynal Abedin

Taki
Hingalganj
Shamshernagar

10
Bay of Bengal
-
Bangladesh Navy under Colonel Osmani & Indian commander MN Sumanta (3-16 Dec 1971)
-
11
Mymensingh-Tangail
(Mahendraganj)
25,000

Kader Bahini contained 16,000 guerrilla fighters
Ziaur Rahman
(27 Jun 1971 – 10 Oct 1971)

Abu Taher
(10 Oct 1971 – 2 Nov 1971)

M. Hamidullah Khan
(2 Nov 1971 – 14 Feb 1972)

Mankarchar (Squadron Leader Hamidullah)
Mahendraganj (Lt. Mannan)
Purakhasia (Lt. Hashem)
Dhalu (Lt. Taher, later replaced by Lt. Kamal)
Rangra (Matiur Rahman)
Shivabari (some junior commanding officers of the EPR)
Bagmara (some junior commanding officers of the EPR)
Maheshkhola (a member of the EPR)
Source: Banglapedia - War of Liberation and Wikipedia - List of sectors in Bangladesh Liberation War
Note: sector numbers were assigned in July 1971 when Bangladesh was divided into 11 sectors.
These [i.e. Teliapara and Kolkata] were the two strategy conferences during the war to formally provide higher directions.
War strategy
The Kolkata meeting was attended by officers of the rank of Major, and its equivalent in the airforce, and above. Among these were: Colonel Osmani, Lt. Col. M. A. Rab, Group Capt A. K. Khandker, Wing Commander Mohammad Khademul Bashar, Lt. Col. Qazi Nuruzzaman, Major C. R. Dutta, Major Ziaur Rahman, Major K. M. Shafiullah, Major Khaled Mosharraf, Major Mir Shawkat Ali, Major Abu Osman Chowdhury, Major Azizur Reza Chowdhury, Major Nazmul Haq, Major Mohammad Abdul Jalil and Major Rafiqul Islam.
During the meeting four important resolutions were taken in consideration of strategic aspects of the war, existing problems and future course of resistance:
Composition and tactics of the combatants would be as follows:
(i) Guerrilla teams comprising 5 to 10 trained members would be sent to specific areas of Bangladesh with specific assignments.
(ii) Combat soldiers would carry out frontal attacks against the enemy. Between 50 and 100% would carry arms. Intelligence volunteers would be engaged to collect information about the enemy among whom 30 percent would be equipped with weapons.
The regular forces would be organised into battalions and sectors.
The following strategies would be adopted while carrying out military operations against the enemy:
(i) A large number of guerrillas would be sent out inside Bangladesh to carry out raids and ambushes.
(ii) Industries would be brought to a standstill and electricity supply would be disrupted.
(iii) Pakistanis would be obstructed in exporting manufactured goods and raw materials.
(iv) Communication network would be destroyed in order to obstruct enemy movements.
(v) Enemy forces would be forced to disperse and scatter for strategic gains.
(vi) Attacks would be launched on scattered enemy. soldiers in order to annihilate them.
The whole area of Bangladesh would be divided into 11 sectors and different sub-sectors for operational purposes. The 10th Sector was directly placed under the Commander in Chief (C-in-C) General Osmani and included the Naval Commandos and C-in-C's special force.
In addition to nominating the sector commanders and making policy for operating both the Niomito Bahini (Regular Forces) and Gono Bahini (Citizen Soldiers), decisions were taken to fill in the numbers of the existing five East Bengal Battalions and raise four more. Ultimately only three East Bengal battalions, 9, 10 and 11 could be raised. Raising of conventional army formations were also taken.
There was no radio communication between the C-in-C [Colonel Osmani] and his Sector Commanders and the Indians on different pleas would not provide High Frequency (HF) radio sets to Mukti Bahini. The Indians instead advised to use their HF sets held in the respective Jackpot sectors. The underlying aim of this system was to keep a control on the Mukti Bahini activities. In this conference it was decided to establish an Echelon Headquarters under the Chief of Staff Lt Col M. A. Rabb at Agartala from where he could exercised control on 1, 2, 3, 4 and number 5 sectors.