Bangladesh Sena Bahini (Defence Forces)
'Niomita Bahini' (Regular Force) or 'Mukti Fauj' (Freedom Army)
During 1971 Bangladesh Sena Bahini (Bangladesh Defence Forces or Bangladesh Army) were divided into three forces (made up of 11 battalions):
Z-Force under the command of Major Ziaur Rahman responsible for sectors 1, 3 and 8.
K-Force under Major Khaled Mosharraf responsible for sectors 4, 9 and 10.
S-Force under Major K. M. Shafiullah responsible for 2 and 11.
They were named after initial letter of the name of its commander (e.g. 'Z' after Ziaur) and collectively referred to as 'Niomita Bahini' (Regular Force) or 'Mukti Fauj' (Freedom Army). Most of the soldiers came from East Pakistan Rifles (EPR) and East Bengal Regiment (EBR). Those members of the EPR, Police and Army who could not be accommodated in these battalions were divided into units and sub-units to fight in different sectors.
Initially, the Niomita Bahini consisted of five under strength EBR. However, by October 1971, eight regular battalions and one artillery regiment had been raised.
The task for the Niomita Bahini was to eliminate Pakistani base of preference (BOP), i.e. military base.
Few key battles
Table : Notable battles in the 11 Sectors during 1971 Liberation War
Sector
Battles
1. Chittagong-Chittagong Hill Tracts
Mirersarai (28 August)
A Freedom Fighter group lead by Mizan mined a railway track around Mirersarai. At 8:45am, a train carrying Pakistani troops were derailed. 35 enemy soldiers were reportedly killed

Nazirhat (9 December)
The guerrilla company operating in Nazirhat, lead by Lt. Shawkat, attacked Pakistanis. The freedom fighters killed 20 and inflicted heavy casualties. 5 of our soldiers were martyred and 3 were wounded.
2. Comilla-Noakhali
Feni (7 June)
While the Pakistan army was advancing towards Belunia, they confronted the K-Force, led by Brigadier Khaled Musharraf – after a day of fierce battle; the Mukti Bahini killed almost 60% people of an entire battalion. 300 bodies were found, many others washed off by the Chilonia river

Siege of Mynamoti cantonment (15 December)
9th Bengal regiment. 150 Pak soldiers surrendered and many fled.
3. Sylhet-Brahmanbaria
Katiadi ambush (7-16 August)
After an unsuccessful battle in Belabo, the Pak army was high in confidence. On Aug 16, Pakistani army was advancing towards Katiadi on a few steamers. The waiting S-force soldiers opened fire and destroyed many of these steamers. 143 Pak soldiers were reported dead, many fled. This ambush was lead by Habildar Akmal Ali

Dhaka victory march (13-16 December)
K. M. Shafiullah's S force were the first to take Dhaka. On Dec 16, at Demra, 0431 hrs, the Pak forces surrendered. The commander of the opposition was Colonel Khiljee
4. Habiganj zilla (Sylhet)
Latitila Operation (19 June)
Rob's company prepared for a dawn attack and was in position since 2pm. At 5:45 in the morning, the forces totally surrounded the Pakistani camp and the combat started. The soldiers of 22 Baloch fled to the woods indiscriminately. Most of them were killed

Khademnagar (15 December)
Joint troops sieged the Pakistani HQ at Khadimnagar. Fighting continued all day. Finally, on Dec 16, the enemy surrendered
5. Durgapur-Danki (Sylhet)
Gourinagar (30 October)
Major Taheruddin Akhanzee led the attack on the Pakistani camp at Gourinagar. 175 soldiers were at the front of the attack. The Sector commander himself covered the troops with 120mm mortar fire

Lamakazi (9-16 December)
Mir Showkat Ali attacked Govindaganj and drove the Pak army as far as Lamakazi. On Dec 12, 4 Indian Army jets bombarded lamakazi and within days, the pak army surrendered
6. Rangpur
Pachagarh (26-30 November)
1 Battalion Mukti Bahini and 2 Batallion of the Indian army attacked the strong Pakistani post at Pachagarh at night, November 26. One of the Major battles of the war, this siege lasted 4 days

Syedpur (13 December)
The joint forces advanced to take Syedpur. At about 5 miles from Syedpur, tanks engaged the opposition. 3 Pakistani tanks were destroyed while 1 Indian tank was also lost. Around evening, 107 Pakistani soldiers including the commander of the 48 Punjab regiment and another officer, surrendered
7. Dinajpur-Rajshahi-Pabna
Train blast in Shihipur (13 November)
Led by Dulu, from Mahimaganj, locals Bably, Khaleque, Hamid and other charged a Pakistan army train in Shihipur. More that 150 enemies were killed

Nawabganj (16 December)
Brigadier Ghiasuddin Chowdhury attacked Nawabganj with his troops at 6am and emerged victorious
8. Kushtia-Jessore
Gharibpur (24 November)
Major Alik Kumar Gupta led Joint forces engaged 14 Pakistani tanks. All Pakistani tanks were destroyed. The Joint forces lost 5 tanks

Jessore and Narail liberated (7 December)
Jessore and Narail were liberated on Dec 7
9. Barisal-Patuakhali
Skirmish at Panpatti (August)
Freedom Fighter Nurul Huda said that in a two day fierce battle, the Muktis came face to face with the Patuakhali region Pakistani army commander, Major Yamin.

Blockade of the Khulna Newsprint Mill (13-17 December)
The joint command met stern resistance from Brigadier Hyatt Khan. No notable progress was being made. There was heavy firing and air strikes even. Hyatt refused to surrender even after Dec 16. In the end, the Pak troops dropped their arms on 17 December 1971
11. Mymensingh-Tangail
Kamalpur base, Mahendraganj (10-11 September)
The ambush was long, hard and ultimately futile. Taher's troops systematically drew the enemy to a swamp and the siege turned into an ambush, according to the man himself, the LMG fire "killed" them like sitting ducks

Jamalpur to Dhaka, with love (10-16 December)
Freedom fighter Johurul Haque Munshee was sent to the commander of the 31st Baluch regiment, asking the enemy to surrender. The commander sent a bullet wrapped in paper as an answer. By the time the surrender happened at 5am next morning, 212 Pak soldiers had died and 200 further were injured
Source: Dhaka Tribune (Bangladesh)
One who excels at employing the army, leads them by the hand as if they were only one man.

Sun Tzu, author of "The Art of War"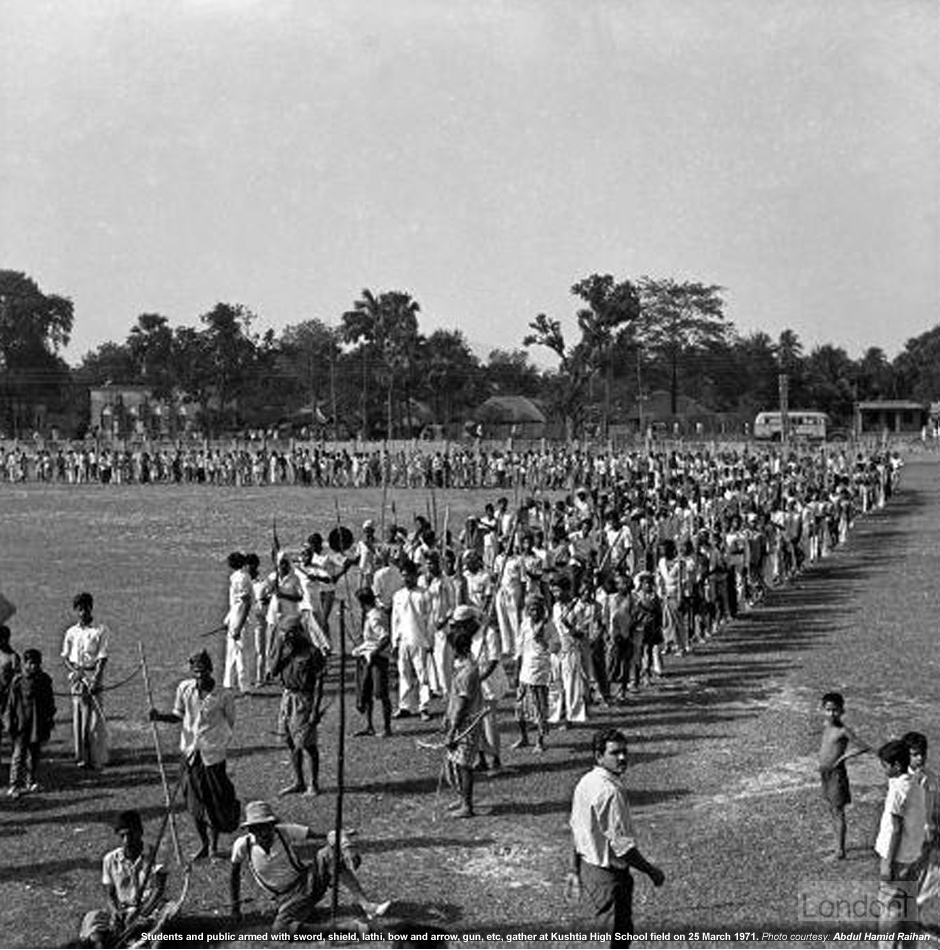 Gono Bahini (People's army)
Having realised that the Pakistan army could not be defeated by conventional warfare method, it was decided to create large guerilla forces all over the country. All Sector commanders were accordingly ordered to recruit, train and induct guerillas inside the country. In the meeting the organisational concept of the freedom fighter forces and the command structure were chalked out.
With the spirit and determination to liberate Bangladesh high nationwide, the Mujibnagar Shorkar had no manpower problem as Bengalis volunteered by the thousands. Many daring students, peasants, workers and political activists joined an irregular force ('Gono Bahini', People's Force) trained for guerrilla warfare - the Mukti Bahini (Liberation Force).
The canvas of Bangladesh's Liberation war is very wide. Armed resistance is an important part of that canvas.

Deputy Chief of Staff of the Bangladesh Armed Forces (later Air Vice Marshal) A. K. Khandker
It's a victory, but a victory not only of arms but of ideals. The Mukti Bahini could not have fought so daringly but for its passionate urge for freedom and the establishment of a special identity of Bangladesh. Our own forces could not have been so fearless and relentless had they not been convinced of their cause.

Indira Gandhi on Bangladesh's contribution in the House on 17 December 1971