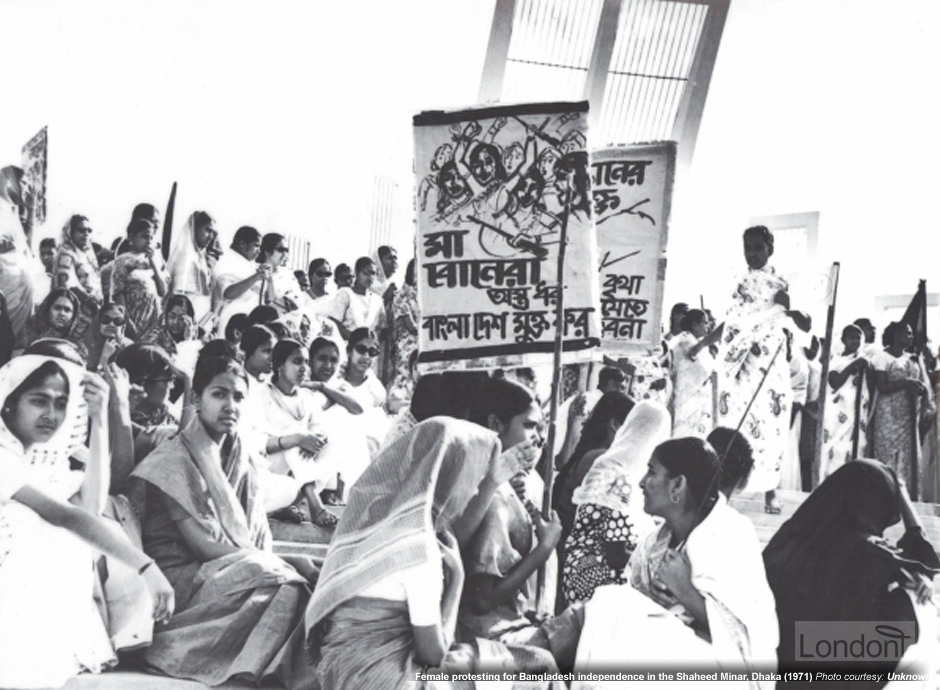 "Maa bonera osro dhoro, Bangladesh mukto koro!"
Historical account of war concentrates on military and political event, often to the negligence of women's contribution in war. The Bangladesh shadinota juddho is no such exception.
Bengali women had contributed so much to the war. They devoted themselves to taking care of the refugees in the camps and even took up arms to fight as part of the Mukti Bahini.
From cooks to warriors and leaders
Women underwent training on guerrilla warfare and first aid - in some instances there were more than 200 women in the training camp. Most of them had lost their family members and were resolute to take revenge. The food they used to get at the training camp was paltry but that didn't bother the camp inmates.
One such woman was Taramon Bibi. She joined the Sector 11 (Mymensingh-Tangail) camp commanded by Major Abu Taher initially as a cook and a cleaner. But noticing her resilience, bravery and strength, Taramon's godfather Muhib Habildar motivated her to become a freedom fighter. He taught her how to use arms like rifles and stein gun.
Taramon Bibi

(Born 1957) Bir Protik awarded in 1973 but no whereabouts found until 1995 when she was handed title by BNP leader PM Khaleda Zia. Village home in Shankar Madhabpur Kurigram. Fought in sector 11 (Mymensingh-Tangail). 'Taramon Bibi Female Students Hostel' at Begum Rokeya Government College, Rangpur, is named in her honour. She lives with her farmer husband and two children in Kaliakoir, Comilla.
Taramon Bibi's first encounter with the enemy came when she learnt that a gunboat carrying the Pakistani army was heading towards where they were located. She was having her lunch in the camp when she heard the news. She left everything behind and instantly got prepared for combat with her comrades. Together they attacked the enemy and succeeded in getting rid of them. This was just a flavour of things to come. Taramon fought in numerous battles, so much so she 'lost count'.
Taramon Bibi was only around 14 years old during the shadinota juddho.
She was the first lady - and only one of two, and the only one of them to have engaged in direct combat - who was awarded the 'Bir Protik (Symbol of Valor)' gallantry award by the Government of Bangladesh in recognition of her bravery during the war.
Some women even tied grenades to their bodies and threw themselves on the road in order to kill as many of the enemies as possible.
We were fighting to free our country. The last thing on my mind was worrying about my own safety.

Taramon Bibi, Mukti Bahini
Many women assisted at the 480-bed hospital in Agartala, Tripura (east of Bangladesh), known as the 'Bangladesh Hospital'. Here they treated injured freedom fighters and cared for their well-being. This group of young women put their heart and soul into their job as medical attendants and consoled themselves in the knowledge that helping out at the hospital was almost as good as fighting in the war.
This group were led by Dr. Sitara Begum, the only other woman to be awarded the 'Bir Protik' along with Taramon Bibi. She was a lieutenant at the start of the war, but promoted to Captain by Colonel Osmani.
Dr. Captain (Rtd.) Sitara Begum

() Bir Protik. Commanding Officer at makeshift hospital 'The Bangladesh Hospital' in Agartala, Tripura. Worked in Sector 2 (Comilla-Noakhali). Father Muhammad Israil was a lawyer. Passed her MBBS and completed her internship from Dhaka Medical College Hospital. Joined the arm force in 1970. Settled in America after brother Major A. T. M. Haidar, Sector 2 Commander, was killed in a conspiracy in 1975. Born in Kolkata.
Under Dr. Sitara's direction 400 final year medical students along with foreign doctors, such as Bengalis from UK who came to help out during the war, treated wounded mukti bahinis and Indian army officers. They worked in unimaginable circumstances with meagre facilities.
The hospital was made of bamboo which didn't look like a hospital from outside. The operation theater was a room covered with plastic cloth. The floor was also covered with plastic cloth.

Without Dr. Sitara Begum's devotion and excellent co-ordination it wouldn't be possible to give medical treatment to so many wounded soldiers with such insufficient facilities.
Similar to Bir Protik Taramon Bibi and Dr. Captain Sitara Begum many countless women carried out heroic deed during the war but they've gone unnoticed. It is an unfortunate characteristic of human beings, in general, around the world to neglect the veterans of war - both men and women. Their bravery and sacrifice for the greater good of humanity provides inspiration, but their are abandoned after the war and left to look after themselves.
Such tragedy happened with Taramon Bibi. She suffered from respiratory problems during March 2011 but could not afford to buy medicine, or extra food and fruits to improve her health. Her farming family survives on the honorarium Tk 5,760 (approx £57) per month from freedom fighter welfare trust and ration for three persons from police.
I want to live few more days to see the trial of the war criminals as my last wish. No mercy on them.

I fought against Pakistani troops with arms in hand, collected information in disguise. Death panic never touched me then and not even now.

(Speaking on her illness) It feels pain to inhale. Doctor has advised to buy an oxygen nebuliser but I do not have that ability to buy one.

Taramon Bibi, Mukti Bahini
Bengali women - sex toys for Pakistani Army and razakars
In the nine months of Bangladesh's war of independence, between 200,000 and 430,000 women are said to have been raped by members of the Pakistan army as well as local collaborators. Women from the ages of 7 - 75 were systematically sexually abused, gang-raped - sometime even front of their families - and either killed, or taken away by the military and made to become sex slaves of the officers and soldiers for the duration of the war.
Even as the Pakistani forces surrendered in 16 December 1971, some reportedly claimed that they were leaving their 'seed' behind in the women they had impregnated through the mass rape. A large number of survivors, including teenage girls, would never be able to bear children due to psychological and physical abuse.
The women were left to face the indignity of being 'tainted' - even today. Unable to bear society's shame many women committed suicide or had an abortion.
The army tied our hands, burned our faces and bodies with cigarettes. There were thousands of women like me. They gang raped us many times a day. My body was swollen, I could barely move. They still did not leave us alone. They never fed us rice, just gave us dry bread once a day and sometimes a few vegetables. We tried to escape but always failed. When the girls were of little use they killed them.

Aleya Begum, who was kidnapped at the age of 13, gang raped for seven months and rejected by her family after the end of the war
Many women had to serve a different man or men every night in the Pakistani army camp, and were moved from camp to camp every few weeks. They were used as 'comfort woman' by their fornicators. Left naked without food or water and their dignity shattered for life, many tried to commit suicide.
No account has demonstrated this more shockingly than that by Ferdousi Priyobashinee, who - after her fiance and relatives had left Khulna - became 'fair game' for a colleague, then a factory manager, then a businessman (mostly non-Bengalis), and finally for various Pakistani army officers and junior officers. She had to become the lover of an officer to escape greater harm.
Although thousands of young women were killed, the most attractive among them were captured to become sex slaves in the military cantonments. When the girls tried to hang themselves with their clothing, their garments were taken from them. Then, when they tried to strangle themselves with their long black hair, they were shaved bald. When they became five or six months pregnant, they were released with the taunt: "When my son is born, you must bring him back to me". Many such infants were strangled at birth.

Viggo Olsen & Jeanette W. Lockerbie, authors of "Daktar Diplomat in Bangladesh" (1996)
Mass rapes in Bangladesh in 1971 were not based simply on state policy or intent, but were the product of an extremely violent society, including a much longer history of open violence against women in East Bengal with undercurrents from two cultures of contempt and depreciation of women.
Much of the sexual violence can also be attributed to lust, colonial racism against Bengalis in general, the desire to humiliate Bengali men and women, and sadism. The Pakistani Army and its Razakar collaborators did not even spare the women or the innocent children when it came to the massacre.
....women fell like birds. Babies died in their mothers' laps. I don't think they were Muslims. How could Muslims kill others this way?

Rabeya, family massacred during Muktijuddho
A woman had a little child, but taking food to the Muktijuddhas occupied her attention more than looking after her baby. One day, when she returned home after feeding the fighters she found her child lying dead. A Pakistani army soldier had stood on the baby with his boots and killed the child. But she is (still) not recognised (by the nation) for her role.

Farida Akhter of UBINIG