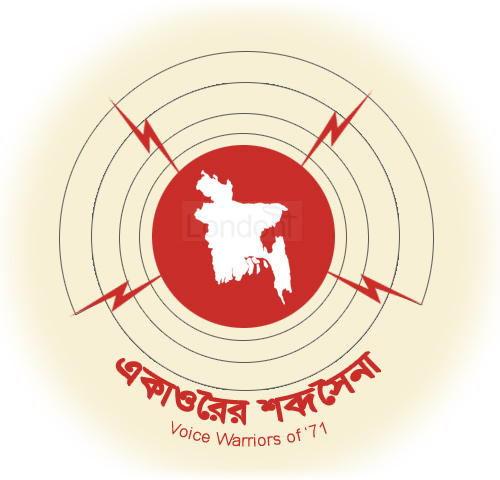 Swadhin Bangla Betar Kendra
On 27 March 1971, just the day after the Operation Searchlight crackdown, a voice was heard over Radio saying "Swadhin Bangla Biplobi Betar Kendra theke bolchi" (I'm speaking from Free Bengal Revolutionary Wireless Radio Station). It was the declaration of independence that was being read by Major Ziaur Rahman from a clandestine radio station which emerged from the Kalurghat transmission centre in Chotrogram (Chittagong).
During the whole period of Liberation War, Swadhin Bangla Betar Kendra successfully carried out its intellectual war like an organized front and aired patriotic songs which greatly inspired the freedom fighters in their relentless fight against the Pakistan-led occupation forces, war news and talk shows to boost people's spirits.
Perhaps it's greatest achievement was to turn the medium of radio from an official tool of ordering into a public tool of communication, jumping across the fences of occupation.
Founder & prominent contributors
It was all possible because of the gallant initiative taken by Belal Muhammad, then a scriptwriter and artiste of Radio Pakistan, and nine other young individuals who started with 1 KW transmitter, which had a radius of 10 miles listening area.
Thus the ten founding members were: Belal Muhammad, Abdullah Al-Faruque, Abul Kashem Sandwip, Kazi Habibuddin Ahmed Moni, Aminur Rahman, Rashidul Hussain, A. M. Sharfuzzaman, Rezaul Karim Chowdhury, Syed Abdus Shaker, and Mustafa Monwar.
Belal Muhammad

()

Abdullah Al-Faruque

()

Abul Kashem Sandwip

()

Kazi Habibuddin Ahmed Moni

()

Aminur Rahman

()

Rashidul Hussain

()

A. M. Sharfuzzaman

()

Rezaul Karim Chowdhury

()

Syed Abdus Shaker

()

Mustafa Monwar

()
On 7 March, when the Non-cooperation Movement began with the speech from Bangabandhu Sheikh Mujibur Rahman, I remember one particular line, which he directed towards the radio. He had instructed, that if nothing on behalf of the nation was broadcasted on the national radio, then all Bangali radio officers should stop contributing to a radio that was no longer ours.

I was then a government officer and worked as a scriptwriter and artiste for the radio, and I took his words to heart. I also believed that the radio was a strong backbone for a nation. That is when the idea of Swadhin Bangla Betar Kendra came to my head.
Belal Muhammad set out for the transmitter station at Kalurghat with two of his friends and co-organisers, Abdullah Al-Faruque and Abul Kashem Sandwip. They persuaded two other "unwilling" engineers to come along.
The station was situated three miles away from the city, in a very remote place, "devoid of any sort of human settlement".
First broadcast
The inaugural transmission of Swadhin Bangla Betar Kendra was broadcasted at 7:30 pm on the 26 of March 1971, under the leadership of Belal Muhammad, Abdullah Al-Faruque, and Abul Kashem Sandwip.
As content material for the first broadcast, they managed to collect a number of materials. This included their signature tune - "Joi Bangla, Banglar Gaan" from the film 'Joi Bangla' - and a photocopy of the leaflet that included a telegram from Sheikh Mujibur Rahman where he declared the independence of Bangladesh and instructions on further course of action. This telegram was translated into English
We had another broadcast, at 10:00 pm that night, where, Mahmud Hossain, a close friend of mine read out an announcement, in the form of an SOS, under the name 'Hello Mankind'. That night we ended with an invitation to stay tuned at around 9:00 am the next morning.

That was pretty much how we managed things the first day.

On returning home to Enayet Bazar, I instructed everyone to listen to other radio stations, such as BBC and Voice of America, and jot down important news and headlines, which we could use as material for later broadcasts.

Dr. Shafi's residence at Enayet Bazar was a flurry of activity that night as everyone worked with enthusiasm towards doing their part for the people. And I started thinking of ways to deal with the immediate problem at hand- that was, to gather some sort of security for the next day's broadcast.
Involvement of Major Zia
The Kalurghat station was based in a remote area where the risk of being attacked was potentially high and fatal. As such the team realised they required some sort of security force to back them up if such situation ever rises.
With this objective in mind, one of Belal Muhammad's friend, Taher Sobhan, mentioned that he knew the where about of a Major who was currently away from the headquarter and staying at Patiya Thana (south of Chotrogram), along with 150 of his soldiers, where they were in charge of unloading the cargo from two Pakistan army battleships, the Babar and Swat, that had arrived at the Chittagong Port. Unfortunately Taher Sobhan didn't know the name of this Major.
Thus, Belal Muhammad set out to find this 'anonymous' Major with the help of another friend, Mahmud Hossain, who provided the transport to go to Patiya. They reached there in the afternoon of 27 March 1971. Here Belal Muhammad came face-to-face with the young Major Ziaur Rahman - who was destined to later become a President of Bangladesh and founder of Bangladesh Jatiotabadi Dol, or more famously Bangladesh Nationalist Party (BNP).
They returned back to the Kalurghat station on the same day and Belal Muhammad requested Major Zia to give the Declaration of Independence as he was in a much senior and prominent role then the rest of them. Major Zia passionately accepted the request.
As it was, the Major who my friend Taher had mentioned, was none other then Major Zia himself.

On meeting the Major, who seemed genuinely excited to see us, I told him of our predicament and asked for his help, whereupon he immediately agreed to help us in every way he could. That day, we returned to Kalurghat feeling victorious. As we all got down to working, I stated to the Major, that since he held a position of importance among the people, it would be very valuable if he would address the nation in a speech over the radio. Again, he readily agreed, and we sat down to work on the speech.

It was thence that we worked for the next two days.
Relocation into India after heavy shelling - the first air raid by Pakistan in Bangladesh
The impassioned messages of the clandestine radio were highly effective in keeping Bengali morale high. On 30 March 1971 the Pakistan army generals decided that Swadhin Bangla Betar Kendra must go.
The Kalurghat radio centre was heavily shelled by the Pakistan Air Force on 30 March 1971 - the first air attack by Pakistan on the Bangladesh soil.
Two Sabre jets lifted off a Dhaka runway and streaked toward Chittagong. Banking in off the Bay of Bengal they roared over Chittagong, sighted their target, and each fell into a screaming dive. When their strafing and rocketing runs were complete, Radio Free Bengal was dead!
Thus Belal Muhammad and his team abandoned the station and moved initially to Patiya with their 1Kw transmitter.
During this difficult time they realised that the All India Radio had been supporting the Bengali cause and playing pro-Bangladesh broadcast. Therefore, with the hope that the All India Radio would pick up and rebroadcast their programme, the Swadhin Bangla Betar Kendra team relocated to Ramgarh thana to the north of Chotrogram and close to the Indian border. They settled there on 3 April 1971 - four days after the Kalurghat bombing - and as such there was no programme aired between 30th March and 3rd April 1971.
The District Commissioner for Rangamati, H. T. Imam, had settled in Ramgarh. He advised Belal Muhammad that the Indians had donated a short wave transmitter and he should go along with two of his colleagues - one to broadcast in Bangla and the other in English - and continue their activities in India. Thus Belal Muhammad set off in a boat along with his two close allies Abul Kashem Sandwip (Bangla) and Abdullah Al-Faruque (English) and resumed the second phase of their activities.
They initially came to Sabroom in Tripura state (India) - just north of Ramgarh - and registered their names in the local police station. From Sabroom they took a jeep up north to Forest Hill Road in Bagafa which was the headquarter of the Border Security Force 92. However, it was difficult to gather news from here so the team relocated once again, this time to Agartala. They initially moved to Shalbagan and then settled in a protected house owned by Mr Burma in Banamalipur, Agartala on 12 April 1971.
Here the original ten founding members were joined by one other additional member. Several other liberation activists from differing profession also joined them later on to lend their support.
The damaged 1Kw-transmitter that they brought with them from Kalurghat was made operative by engineer Syed Abdus Shaker, and this, along with the 400 watt short wave transmitter were the only two transmitter that were operational up until 25 May 1971.
The centre was shifted to Kolkata on 25 May 1971 where it started functioning on the same day. It was situated in Ballygunge Road (off Theatre Road/Shakespeare Sarani) where the Mujibnagar Shorkar was based. With the arrival of new and experienced radio personnel from Dhaka, the centre became fully operative technically.