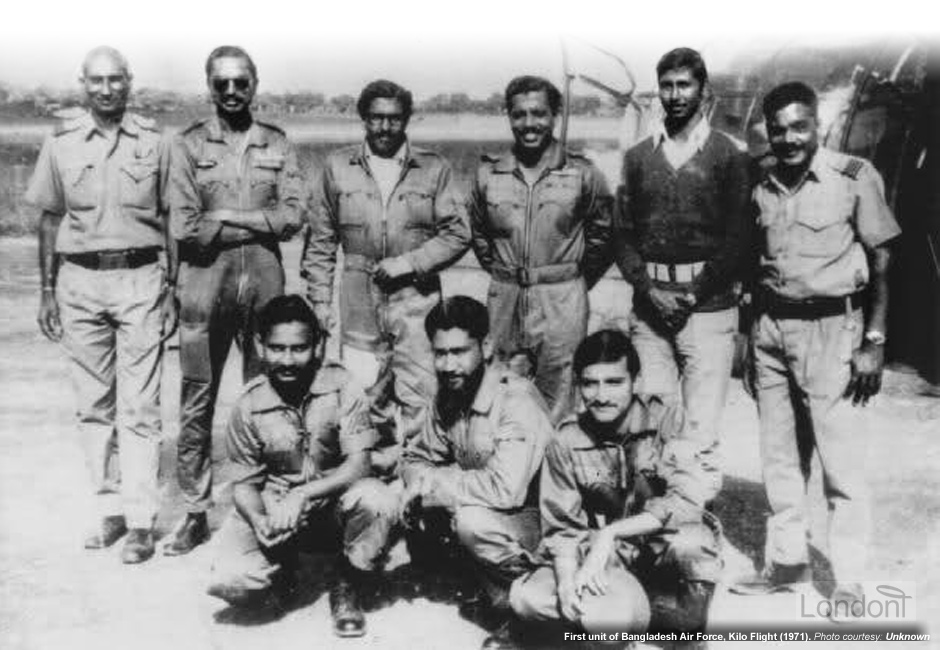 Bangladesh Biman Bahini (Bangladesh Air Force or BAF)
The designation of the regular force changed from a solely land force to an all-services organisation encompassing Bengali personnel of the Pakistan Air Force who had defected and slipped across the border into India. Among them were pilots, highly qualified technicians and specialist personnel. These were quickly absorbed into the freedom movement - and were responsible for expanding the scope of guerrilla operations to include river-borne patrolling, frogmen operations and eventually estuarine operations against shipping.
The function of the members of this guerrilla force was to blast bomb in big settlements of Dhaka city, electricity centres, Hotel Sheraton Banks and Television centre. Thus they raised fear in the hearts of Pakistani soldiers.
After 25 March 1971, all Bengali pilots were grounded and flight cadets training suspended. There were some 56 flight cadets to be sent back to Dhaka. I was required to make necessary arrangements for their return. I had come to know that on their landing in Dhaka, it was likely that the army would pick up these young boys and eliminate them out of fear that they could join the Mukti Bahini... Air Commodore Enam was the Air Officer Commanding (AOC) East Pakistan. I thought of giving full responsibility to East Pakistan Headquarters regarding their safety in Dhaka. I, therefore, sent a special message in the form of operational immediate signal.

A. G. Mahmud, Air Vice Marshall during Japanese hijacking of a plane in 1975, recalls the difficult and uncertain days following the aftermath of Declaration of Operation
Creation of Bangladesh Air Force (BAF)
Bangladesh Air Force (BAF, or Bangladesh Biman Bahini in Bangla) was created at an abandoned Dimapur airfield of Nagaland in India (north-east of Bangladesh) on 28 September 1971. It was formally launched by the Mujibnagar Shorkar on 8 October 1971. It initially consisted of 3 old and malfunctioning aircraft given to it by the Indian Government - a Dakota (DC-3) airplane, an Otter airplane and an Alouette helicopter. India also supplied all the machine guns, rockets, and fuel which were used for the aircraft.
The airfield was surrounded by thick jungles. We started training on bombing, rocketing and strafing with a parachute laid on a hilltop as the target. All these were very difficult for the crew in that jungle-surrounded, snake-infested land, during the monsoon, and without any navigational aid. No one but a pilot can realise it [just how difficult it was].

Air Commodore A. K. Khandker, Deputy Chief of Staff of the Mukti Bahini
The BAF was organised by Air Commodore A. K. Khandaker, a group captain of the Pakistan Air Force in 1971 who was stationed at the East Pakistan headquarters in Dhaka as second-in-command. The Mujibnagar Shorkar appointed him as Deputy Chief of Staff of the Bangladesh Armed Forces and gave him the responsibility of training and operations of the air force.
My first two attempts to join the Mukti Bahini went unsuccessful, but on the third try on 15 May 1971, 10 of us Air Force officers finally reached Agartala of Indian state Tripura. The next day, I went to Kolkata with General Kalkat Singh of Indian army and Major Shafayat Jamil of the Mukti Bahini.
Around 50 Bangladeshi technician and airmen formed the first air fleet of Bangladesh Air Force - these included 10-12 pilots, nine of whom had defected from Pakistan International Airlines.
These 9 defecting aviators were: Squadron Leader (later Air Vice Marshal) Sultan Mahmud, Captain Sahab Uddin Ahmed, Captain Akram Ahmed, Captain Alamgir Satter, Captain Khalek, Group Captain Md Shamsul Alam, Captain Mukit, Captain Badrul Alam and Captain Sharfuddin.
Sultan Mahmud

() Bir Uttam (Former Air Force Chief)

Sahab Uddin Ahmed

() Bir Uttam

Akram Ahmed

() Bir Uttam

Alamgir Sattar

() Bir Protik

Khalek

() Bir Protik. appointed as the commander of the 'Kilo Flight'. Died in Air Crash.

Md Shamsul Alam

() Bir Uttam

Mukit

() Bir Protik

Badrul Alam

() Bir Uttam

Sharfuddin

() Bir Uttam (later died in an air crash)
'Kilo Flight'
After completing rigorous training at a Nagaland Jungle, the patriotic pilots and technicians of the embryonic Bangladesh Air Force formed a flying unit named, 'Kilo Flight', under the able guidance of the then Squadron Leader Sultan Mahmud who appointed as the commander of the 'Kilo Flight'. Sultan Mahmud later became Air Vice Marshal and Chief of Air Staff.
Once the Alouette helicopter was repaired by technically efficient airmen into some operational form, Kilo Flight began its maiden operational flight as part of the new air force.
The air wing was mainly employed in communication duties with the Bangladesh Government in exile and the military top brass during the insurgency. After the Indo-Pak war began on 3 December 1971, the air force commenced its combat role and successfully launched 12 sorties against various Pakistani targets in Chittagong, Narayanganj and Bhairab.
Following this, the Bangladesh Biman Bahini relocated from its base in Dimapur in India to Shamshernagar in Sylhet, Bangladesh, after it was liberated on 4 December 1971. The base was was once again moved back to India, this time to Agartala, before the war ended.
Bangladesh Biman Bahini - the dream and sacrifice of Bir Srestho Shaheed Motiur Rahman
One of the first people who dreamt of forming the Bangladesh Biman Bahini to fight against the Pakistani occupational forces was Flight Lieutenant Motiur Rahman.
On 20 August 1971, he tried to flee the Pakistani air base with a trainer T-33 plane and fly towards India. However, in mid-air he had a fight with Minhaz and crashed to his death at Thatta, a few kilometers away from the Indian border - sacrificing not only his life, but the happiness of his family as well. His noble mission remained unfinished.
Motiur Rahman's heroic attempt has been rewarded by both the Bangladesh Air Force and the nation as well. The most important officers' training base of BAF in Jessore has been named after him (BAF Base Matiur Rahman) and the nation has awarded him the highest state title, 'Bir Srestho' - only 1 of 7 people to have ever received it. His sacrifice also earned him the honorary title of 'Shaheed' (Martyred).
Motiur's sacrifice will remain ever bright in the hearts of all Bangladeshis.
Like Bir Srestho Shaheed Motiur Rahman, there were many more valiant contributors to the development of Bangladesh Biman Bahini.
Squadron Leader Khademul Bashar (died in an air crash) participated in the war as Commander of Sector-6 and later became Air Vice Marshal and Chief of Air Staff .
Squadron Leader M. Hamidullah Khan Bir Bikram, who later became Wing Commander
Flight Lieutenant Liaqat as Battalion Adjutant
Flying Officer Rouf
Flying Officer Ashraf
Flight Sergeant Shafiqullah as company commanders
Squadron Leader Sadruddin Hossain
Squadron Leader Wahidur Rahim
Squadron Leader Nurul Qader
Squadron Leader Shamsur Rahman
Air Commodore Ataur Rahman as sub sector company commanders.
Flight Capt. Abul Hashem Bir Bikram also achieved the gallantry award TJ for his courageous steps during the war.
Both the Bangladesh navy and air force were heavily active during massive raids into enemy fronts from October 1971.