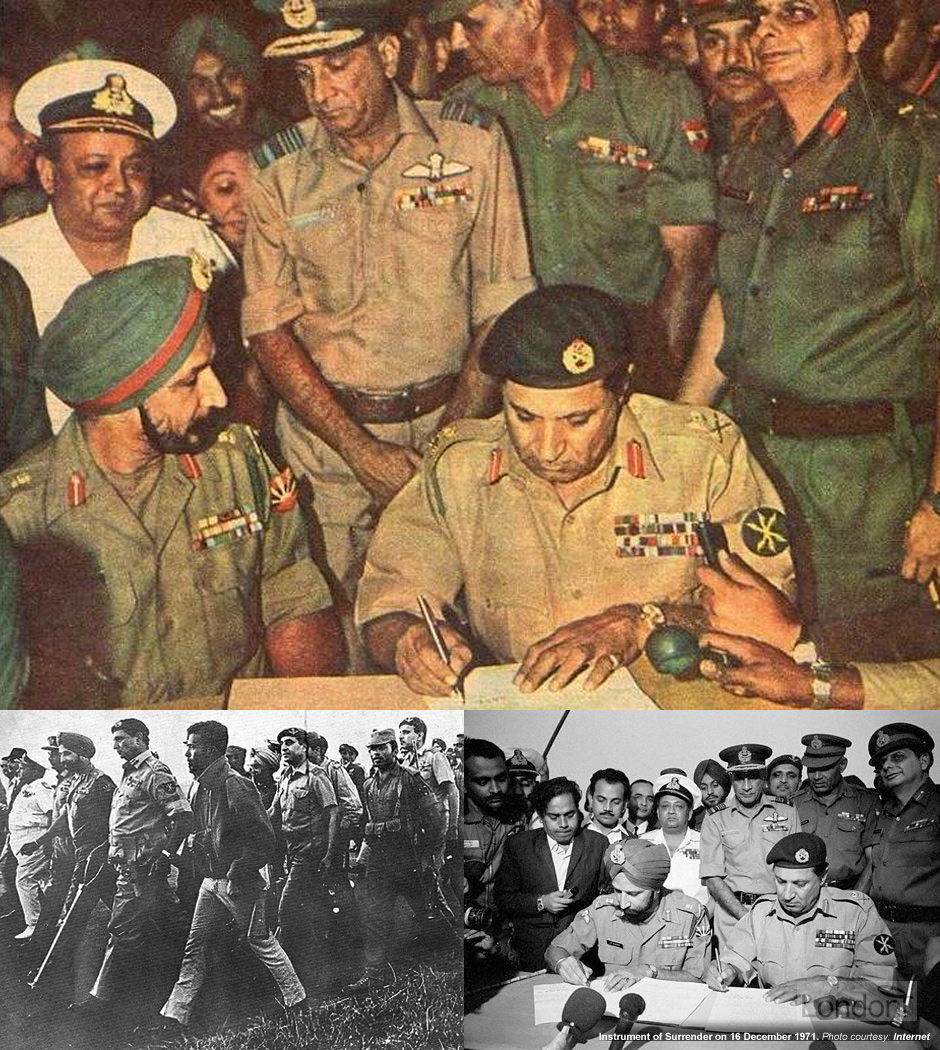 16 December 1971 - Bijoy Dibosh
Dhaka recaptured
Back in Dhaka, the fateful hour drew closer.
Only four days earlier, on 12 December 1971, whilst on tour of his defences, General Niazi gave an impromptu press conference at Dhaka airport - his first in Dhaka - in which he promised to fight to the "last man, last round" and pointing to his chest, proclaimed "they have to drive a tank over this". Some attributed his new find bravado to the reports of the US 7th fleet in the Bay of Bengal during that time.
Dhaka will fall only over my dead body.

General A. A. K. Niazi four days before he signed the instrument of surrender
By the early morning of 16 December 1971, as dawn was breaking, General Nagra's forces were in the western outskirts of Dhaka, exactly 12 days after the war had started. By this time Pakistani troops were surrendering all over the country and General Niazi realised that the game was up.
I fought my way into Dhaka from the North after crossing the Pakistan border on the morning of 4 December 1971. With slighty more than two brigades, we covered 160 miles, partly by bullock-cart and foot-fighting at every town.
General Niazi and General Nagra were already acquainted. They were both commissioned in the British Army and were classmates in Deradun Military Training Academy as young cadets. Their friendship further grew when General Nagra was the Military Adviser to the Indian High Commission in Karachi, some years before, and Niazi was a brigade commander in Sind.
Once classmates, they were now opposing generals at war, fighting for their respective countries. If General Niazi was going to surrender, General Nagra wanted to give him the chance to surrender to an old friend.
When General Nagra and his troops arrived on the far side of the Mirpur Bridge in Aminbazar area he pulled out a pen and a piece of paper from his pocket, and placed the paper on the hood of his jeep and wrote his famous chit (a short official note) to Lieutenant-General Amir Abdullah Khan Niazi - a message that was to echo around the newsworld:
My dear Abdullah, I am here. The game is up. I suggest you give yourself up to me and I'll look after you.
This simple and personal message, aimed toward softening up the Pakistani General, was delivered by his aide-de-camp (ADC), Captain Mehta, and Adjutant of the Para Battalion, Captain Nirbhay Kumar, in a jeep under a white, truce flag.
Major-General Jamshed, Major-General Farman and Rear-Admiral Shariff were with General Niazi when he received the note at about 9am. Farman, who still stuck to the message for 'cease-fire negotiations', said 'Is he (Nagra) the negotiating team?' General Niazi did not comment. The obvious question was whether he was to be received or resisted. He was already on the threshold of Dhaka.
Major-General Farman asked General Niazi, 'Have you any reserves?' Niazi again said nothing. Rear-Admiral Shariff, translating it in Punjabi, said : 'Kuj palley hai'? (Have you anything in the kitty?) Niazi looked to Jamshed, the defender of Dacca, who shook his head sideways to signify 'nothing'. 'If that is the case, then go and do what he (Nagra) asks,' Farman and Shariff said almost simultaneously.
After a final review of the situation and their own strength General Niazi sent Major-General Jamshed to receive Nagra.
Major General Jamshed, commander of the 14 Division of the Pakistan Army, surrendered to Indian Major General Nagra at Mirpur Bridge near Dhaka City, even though they still had 24,000 Pakistani troops to defend Dhaka. Conceding that there would be no further resistance, he asked the Pakistani troops to respect the ceasefire and allow Nagra a peaceful passage. At 10.40 am, the first Indian troops, from the 2nd Para Battalion (attached to the 101 Communication Zone), along with Kader Siddiqui and his men entered Dhaka city followed later by units of 95 Mountain Brigade, commanded by Hardev Singh 'Harry' Kler. Indian army's victory was over the same troops who were brothers only 24 years ago (1947 partition).
That was the virtual fall of Dacca. It fell quietly like a heart patient. Neither were its limbs chopped nor its body hacked. It just ceased to exist as an independent city. Stories about the fall of Singapore, Paris or Berlin were not repeated here.

Siddiq Salik, a PRO of Eastern Command, Pakistan Army
Had the Pakistanis decided to fight on, they would have been massacred to the man by the vengeful Mukti Bahini.

Indranil Banerjie, analyst
Dhaka went wild with joy. Jubilant crowds welcomed them with garlands and shouts of Joi Bangla and Indira Gandhi Ki Jai.
An-hour-and-a-half after sending his message, Major General Nagra met General Niazi at his office and exchanged jokes and pleasantaries over some tea. Nagra and Niazi, acquainted with each other previously, exchanged "unprintable jokes" as soon as they met the Pakistani commander's office at Dhaka Cantonment.
Surely by the 13th day of the war [i.e. 16 December 1971], Abdullah knew that he had lost the war. It was only a question of time. Any further delay would have meant more casualties. And when I walked into Abdullah's office in Dacca, there was instant recognition. General Niazi had put on some weight though his face still had the same glow. "Hello Abdullah, how are you?" I asked him. Abdullah broke down and exclaimed: "Pindi mein bethe hue logon ne marwa diya (The people sitting in Pindi doomed us.) I let him talk to lighten his heart. There were reminiscences. Tea followed and of course there was forced friendliness. The rest is history.
General Nagra also received news from Magura that Major-General Ansari, GOC 9 Pak Division, had surrendered with his forces.
General Nagra then travelled to Tejgaon Airport to await the arrival of the Chief of the staff of Eastern Command, Maj-Gen J.F.R. Jacob, by helicopter from Kolkata. All that was left to do was to draft up the Instrument of Surrender.
For the people who were holed up in Dhaka on 16 December 1971 the memories of the Victory Day are more of relief from days of nightmarish fear and deep anxiety over an uncertain outcome than joy of victory. We were sure that the days of the Pakistan Army were nearing the end, but we were not sure that we would live to see the day. Days before the actual D-day rumour was rife in the city of a last ditch battle by the retreating Pak Army to defend the city, with us the civilians as hostages. Other rumours of the hordes of Razakars and Pakistani loyalists let loose in the city to murder, loot and plunder the Bengali homes drove many to panic to the point that another exodus of the citizenry to the villages began like the one following 25 March 1971 Army massacre in Dhaka.

Ziauddin M. Choudhury, author of "Fight for Bangladesh: Remembrances of 1971" (2011)
Preparation for the surrender ceremony
The main architect of the surrender ceremony was Indian army officer Lieutenant General JFR Jacob, a Jew.
When the war finally broke out between the hostile neighbours on 3rd December, the Indian Army Chief Sam Manekshaw ordered his troops to go and seize Chittagong and Khulna to shut down the escape routes and resist possible aid for the enemy. The Chief of Staff under the Indian army's Eastern Command, Lt. Gen. Jacob, then a major general and junior to Aurora, thought otherwise and convinced Aurora to opt for Dhaka - the country's capital.
According to his chief of staff, Major General Jack Jacob, Aurora had grave reservations about mounting a drive towards Dhaka, and had been, to some extent, sidelined in campaign planning. The Indians were helped by the ill-preparedness of the Pakistani defenders, who were expecting a conventional confrontation. Instead, the Indian attackers were formed into small combat units, which disrupted Pakistani communications and hemmed them into fixed positions.

Guardian, (UK newspaper)
'Jack', as he is popularly known to his mates, drafted the Instrument of Surrender, as it is called in military terms, and talked in Lt. General AAK Niazi to accept it. The feat was the licence to the freedom of Bangladesh with the document officially ending the nine month bloodbath between the two wings of Pakistan.
How fascinating. An Indian, descended from Jews who had emigrated from Iraq, plays a decisive role that saved thousands of Hindu and Muslim and Sikh and Christian lives - odds are slim that there was even another Jew in that war neighborhood.
Lt. Gen. Jacob was keen to have a public surrender to pay homage to all those Dhakaiyas who suffered the Pakistani atrocities. However, the surrender ceremony had to be rushed as he only had two or three hours available in which to negotiate the surrender and to organize the ceremony.
Jacob landed with his helicopter at Dhaka's battered Tejgaon airfield at about 1 pm on 16 December 1971. He was accompanied by his staff officer Colonel MS Khara. Unarmed, they visited General Niazi in his office in the Dhaka Cantonment and convinced him to change his mind and accept to surrender rather than agree to a ceasefire as Niazi had originally expected. They did not have a formal surrender document but it had all the fundamental elements as per the Geneva Convention (a set of four treaties and three protocols which establish the standards of international law for the humanitarian treatment of the victims of war).
The Instrument was a normal one, including assurance to the surrendering personnel that they would be "treated with dignity and respect that soldiers are entitled to in accordance with the provisions of Geneva Convention and guarantees the safety and well-being of all Pakistan military and paramilitary forces who surrender. Protection will be provided to foreign nationals, ethnic minorities and personnel of West Pakistan origin by the forces under the command of Lieutenant General Jagjit Singh Aurora". The Instrument did not mention the fate of Biharis in East Pakistan or Bengalis in West Pakistan.
The surrender included all Pakistani land, air and naval forces as well as paramilitary forces and civil armed forces.
Pakistan's Eastern Command were to come under the orders of Lt. Gen. Aurora as soon as the instrument had been signed. Colonel Khara read out the terms of surrender - prompting objection from Pakistani General Farman Ali, one of the key men behind Operation Searchlight. After an intense 4-hour long negotiation, General Jacob gave General Niazi 30 minutes to think everything over and come to a final decision. At last General Niazi pushed the paper containing terms of the surrender back to General Jacob who took Niazi's silence as a yes.
There was dead silence in the room, as tears streamed down Niazi's cheeks.
On the 14th December [1971], we intercepted that a meeting was to be held at the Governor's House. Assuming that Niazi would be there with the governor, we planned an air strike. After it was carried out, the governor resigned. He took refuge in the Intercontinental Hotel. The situation was critical as the UN had the Polish resolution in their hand, the Russians telling us to hurry up as they were worried about the overuse of the veto power in our favour.

That afternoon, General Niazi sent a ceasefire proposal to the UN. Bhutto was in New York and he refused. On the 15th of December, the US proposed a ceasefire in Delhi and we accepted it. On the 16th of December, I was told to go and ask them to surrender.

He (Niazi) said, 'Who told you that we want to surrender? You are supposed to talk about ceasefire.' Then, the argument went on and on. Then it got stuck with regard to surrendering to the joint forces. He insisted it was to be the Indians. And I refused and insisted that it was going to be both Bangladesh and the Indian army. Later, when he was summoned to the Hamoodur Rahman Commission in his country, he said that the reason for his surrender was that I blackmailed him. He wrote that in his book too. I never blackmailed him. I was just negotiating the surrender process, not blackmailing him. All I said was that we would not take any responsibility for the resumption of any hostile situation if they did not surrender.

Then, I gave him 30 minutes to think it out. When I came back, he still kept quiet. Then I walked up to him and said, 'General do you accept this document?' I asked him thrice, but he didn't answer. So I picked it up and said I'd take it as accepted.

Then I saw tears in his eyes. I looked at him with pity and thought this man has behaved very badly with the people of Bangladesh. You know what his army did and I don't want to repeat that. I wanted him to surrender in front of the people of Dhaka.

He (Niazi) said, 'I won't surrender anywhere else. I'll surrender in the Dhaka office.'

I said no. You will surrender at the racecourse in front the people of Dhaka.

It's the only public surrender in history.

Niazi said: 'You'll also provide a guard of honour.'

It was he who had said Dhaka would fall over 'my dead body'. That's why I made it a point to make him surrender in front of the people of Dhaka.
Negotiation over, the top officials were informed accordingly.
However, the situation provided a dilemma for General Aurora as it was a break away from custom - as traditionally the defeated commander would come to the victor's HQ and offer surrender. Here, he had to go to the defeated commander to receive surrender. Nevertheless, Aurora flew in from Kolkata to take the surrender personally from his old Quetta classmate. Both Lt. Gen. Aurora and Lt. Gen. AAK Niazi studied and received training together in the Indian Military Academy, Dehradun. Aurora was only one term senior to Niazi whereas Nagara and Niazi's were class fellows.
At 4:30pm, as TG74 led by the USS Enterprise sailed from the Indian Ocean into the Bay of Bengal, a fleet of 10 helicopters landed on the tarmac of Dhaka's Tejgaon airport. Lt Gen Jagjit Singh Aurora arrived with his wife Sardarni Bhagwant Kaur, Air Marshal HC Dewan (Air Officer Commanding-in-Chief Eastern Command), Vice Admiral Krishnan (Flag Officer Commanding in Chief, Eastern Naval Command), Lt Gen Sagat Singh (the Divisional Commanders of the IV Corps), and Wing Commander AK Khandakar (Deputy Chief of Staff of Bangladesh Forces), representing the Mukti Bahini. They were received by General Niazi and General Jacob.
The Government of India also sent A.K. Roy, joint secretary in the Ministry of External Affairs, as their representative.
A sizeable crowd of Bengalis rushed forward to garland the General and his wife. General Niazi gave him a military salute and shook hands with him. They met for the first time after a quarter of century.
Immediately after the landing Aurora left for the cantonment or elsewhere in a black limousine along with Bangladesh's principal secretary Ruhul Kuddus and army officers.

Dr Malek [the last governor of East Pakistan] is a former student of Shantiniketan and he appeared to be a perfect gentleman. I still wonder how he could become a stooge of the Yahya's killer forces.

Bikoch Chowdhury, war correspondent of the then India's Agartala-based 'Daily Sangbad' newspaper
Amid scenes of mounting joy and noise of unprecedented welcome, the general, his naval and air force counterparts headed for the Ramna Race Course Maidan (now Suhrawardy Uddyan) in the centre of the metropolis where the surrender ceremony was to take place. It was ironically the same place where Sheikh Mujibur Rahman had made his famous freedom speech and threw defiance at the Yahya Khan regime before the dawn of the Pak Army on 25 March 1971. It was also the same place where the Bangladesh flag was hoisted.
Interestingly, nobody came from the temporary (Mujibnagar) government of Bangladesh. Along with Air Commander A. K. Khondaker, the only other representatives from the Bangladesh side were Major Haider, Flight Lieutenant Yusoof and Kader Siddique. Major K. M. Shafiullah was also present, but he was standing in front of the signing table and that is why he doesn't appear in any of the photographs.
On 6 December 1971, India became the first nation to recognize the new Bangladeshi government. When the West Pakistani surrender came ten days later, the provisional government had some organization in place, but it was not until 22 December 1971 that members of the new government arrived in Dhaka, having been forced to heed the advice of the Indian military that order must quickly be restored. Representatives of the Bangladeshi government and the Mukti Bahini were absent from the ceremony of surrender of the Pakistan Army to the Indian Army on 16 December. Bangladeshis considered this ceremony insulting, and it did much to sour relations between Bangladesh and India.
Instrument of Surrender signed at 5.01 pm
On the grassy lawns of the historic Race Course Maidan, Indian Brigadier Sabek Singh and seven other Indian officers set the stage in preparation for the surrendering ceremony. A wooden table was laid out under the winter open sky.
There has been some criticism of the public surrender and the combined guard of honor as well as the simple table set up. As I had no instructions or guidance and had to negotiate the terms in what amounted to obtaining an immediate and unconditional surrender without any time or resources for protocol or ceremonial frills, I acted on my own initiative, and in retrospect I do not regret the modalities adopted

Lt. Gen. Jacob on the informal, hasty set up during surrender ceremony
General Aurora and Lieutenant Niazi sat down side-by-side in the presence of high civil and military officers. They had an Indian Air Marshall, a Vice Admiral and Corps Commanders stood in a huddle behind them, with an ecstatic general public looking over their shoulders as if to see whether Niazi was signing correctly. The crowd were keen to witness the public humiliation of a West Pakistani General who had freely massacred many of their loved ones since that black night in March.
From the side of the surrendering army, the only other senior officer present was Major General Rao Farman Ali, besides a broken and pale faced General Niazi. This was a moment of utter humiliation for the highest Pakistani General in Bangladesh

Krishna Chandra Sagar, author of "The War of the Twins" (1997)
A grim-faced Niazi had to borrow a pen from General Aurora as he had lost his own at the moment of signing the surrender deed. Amid such scenes, General Niazi of Pakistan and General Aurora of India signed the Instrument. Neither of the two uttered a single word.
The Instrument of Surrender was the first and perhaps the only public surrender to date.
Afterward they both stood up. And, in line with military conventions of surrender, Lt. General Niazi took out his pearl-studded revolver from the wave belt and removed his insignias (the badge of the uniform) from his right shoulder thus stripping himself off his rank, and gave them to Lt. General Aurora. Then he pressed his forehead to that of the Indian General as an act of submission.
As Gen Aurora removed the military badges and took away a revolver from Niazi, crowds of tens of thousands chanted in one voice "Joi Bangla, Joi Bangabandhu".
With that, 'Tiger' Niazi surrendered unconditionally on behalf of his 93,000 war criminals and country and accepted the total defeat of Pakistani force and handed over 'their' East Pakistan. This signalled the end of the War of Liberation of Bangladesh and brought it to a successful conclusion after long nine months of genocide, rapes, arsons, loots, plunders and a short 13 days' 'war'. Thus, East Pakistan was transformed into the People's Republic of Bangladesh and became the eight most populous nation in the world.
It was the first open surrender of a regular army and the second largest after World War II . Also, this is one of the fastest surrender in military history.
General 'Tiger' Niazi, who boasted he would 'fight to the end', was seen to be near tears after he had signed surrender terms.
During the process, Aurora showed an army general like warmth to Niazi... but tears filled the eyes of the defeated Pakistani general the moment his shoulder badges were removed.
100 Pakistani army officers and 100 jawans followed Lt. Gen. Niazi and removed their badges and laid down their arms in a symbolic gesture. The ceremony of surrender lasted only for a few minutes. For security reasons, the surrendering Pakistani soldiers were quickly taken to cantonments as prisoners of war.
The heroic Mitro Bahini were mobbed by an ecstatic and rushing crowd on the tarmac of the Ramna Racecourse Maidan. General Aurora was embraced and lifted on shoulders by the fervent people, who could not control their emotions and joy at their deliverance from the Pakistani oppression.
We had seized the sun. And in the light of the stars we would sing of the glories of the moon as it shone on a land of free people.

The Daily Star (Bangladesh)
During that entire evening and overnight, whichever corner of Dhaka you went, the people were celebrating the victory hugging each other - and distributing sweets while Sheikh Mujib's historic March 7 speech and patriotic songs were being played in megaphones.
I don't think I will be able to witness ever in life again the strong pulse of life, the thunderous applauses of people despite their personal losses - most of whom lost their dear ones.
"Joi Bangla! Joi Bangla!" From the banks of the great Ganges and the broad Brahmaputra, from the emerald rice fields and mustard-colored hills of the countryside, from the countless squares of countless villages came the cry. "Victory to Bengal! Victory to Bengal!" They danced on the roofs of buses and marched down city streets singing their anthem Golden Bengal. They brought the green, red and gold banner of Bengal out of secret hiding places to flutter freely from buildings.

TIME magazine on 20 December 1971
We were about leave for Delhi to play another match when we heard the news that we had been waiting for nine months. The day was December 16, the air was full of euphoria and we joined the never ending celebration.

Zakaria Pintoo, captain of Swadhin Bangla Football Dal, the first football team of Bangladesh
In Bangladesh, 16th December is celebrated annually as 'Bijoy Dibosh' (Victory Day) to remember the conclusion of this horrific war.