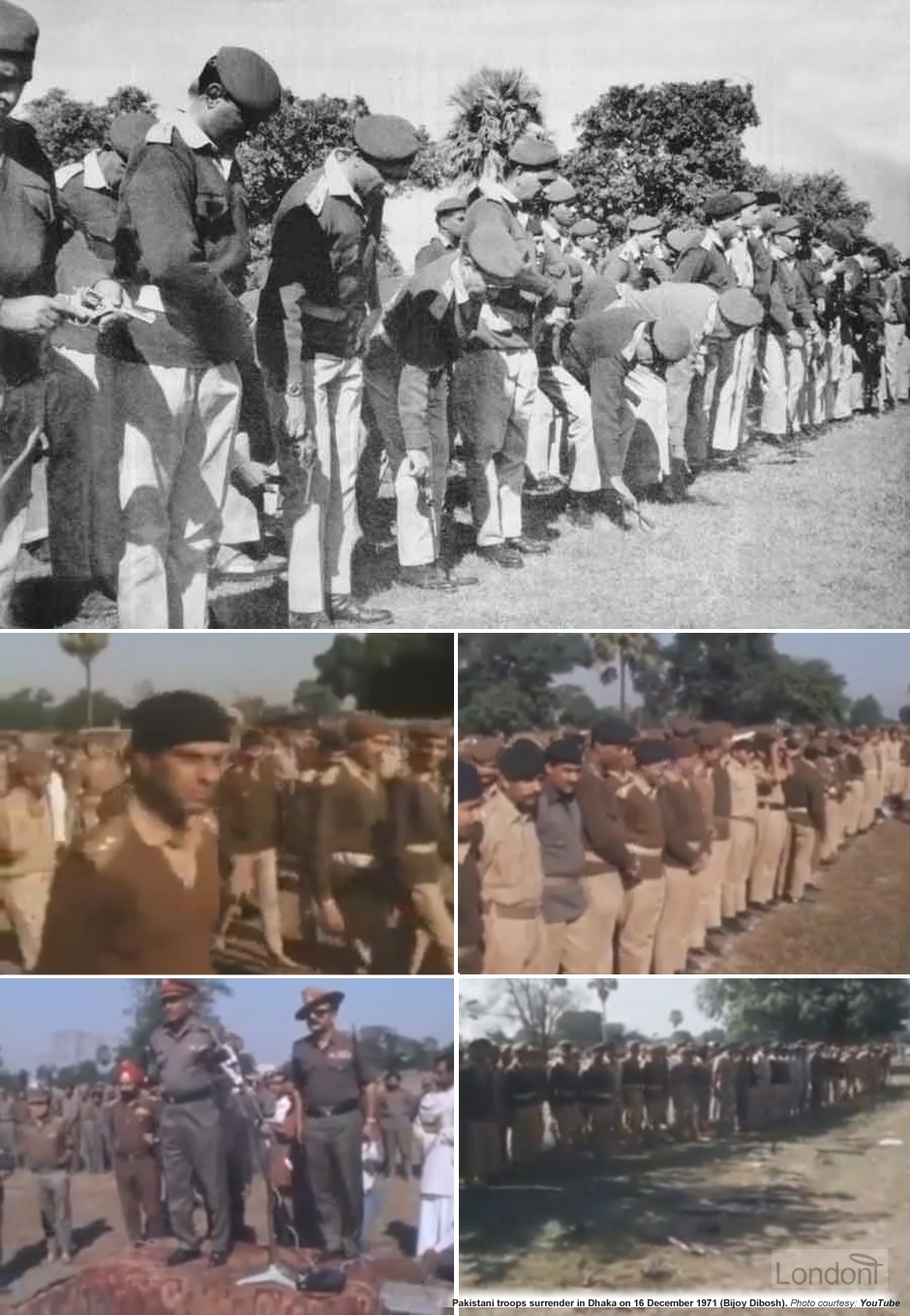 90,000+ Pakistani prisoners of war released by Indo-Pak Treaty of Simla
Demoralized and in disarray, the Pakistani troops were urged to obey the "soldier to soldier" radio call to surrender, repeatedly broadcast by Indian Army Chief of Staff General Sam Manekshaw.
Should you not heed my advice to surrender to my army and endeavour to escape, I assure you certain death awaits you.

General Sam Manekshaw, Indian Army Chief of Staff
He also assured the Pakistanis that if they surrendered they would be treated as prisoners of war (PoWs) according to the Geneva convention.
Around 97,368 West Pakistanis who were in East Pakistan at the time of its independence, including some 79,700 Pakistan Army soldiers and paramilitary personnel and 12,500 civilians - either family members of the military personnel or collaborators (razakars) - were taken as prisoners of war (PoWs) by India. Others put these figures to 90,000 or 92,000. Either way, this was the largest surrender since World War II.
Collaborators Act of 1972
On 24 January 1972, the recently formed Bangladesh government issued the Collaborators (Special Tribunals) Order via a Presidential order (No.8 of 1972) to try the war criminals of Bangladesh who had carried out genocides, war crimes, crimes against humanity and other such acts during the liberation war. After a series of amendments effected on 6 February, 1 June and 29 August 1972, the Order was finalized. More than 37,000 people were arrested under the purview of this order, including members of Razakar, Al-Badr, Al-Shams, and Shanti Bahini and their trial started in various courts of law.
participated with or aided, or abetted the occupation army in maintaining, sustaining, strengthening, supporting or furthering the illegal occupation of Bangladesh by such army;
rendered material assistance in any way whatsoever to the occupation army by any act, whether by words, signs or conduct;
waged war or abetted in waging war against the People's Republic of Bangladesh;
actively resisted or sabotaged the efforts of the people and the liberation forces of Bangladesh in their liberation against the occupation army;
by a public statement or by voluntary participation in propagandas within and outside Bangladesh or by association in any delegation or committee or by participation in purported bye-elections attempted to aid or aided the occupation army in furthering its design of perpetrating its forcible occupation of Bangladesh.
However, on 30 November 1973, the government granted clemency to those detainees who were not accused of rape, murder or arson. As such, nearly 26,000 of the 37,000 were released after the amnesty was granted. The other 11,000 remained imprisoned for the three major offences and their trial was underway. But two years later, on 31 December 1975, after the assassination of Sheikh Mujibur Rahman and during the governance of Ziaur Rahman, this law was repealed. Under the new law, all proceedings in any tribunal, magistrate, or court and all investigations or other proceedings before any police officer or other authority "shall abate and shall not be proceeded with". Consequently, the 11,000 held for trial were set free.
195 Pakistani war criminals identified by Bangladesh government
With the country ravaged and the new government still in its infancy, the newly independent Bangladesh did not have adequate facilities to keep the 1971's prisoners of war in accordance with the Geneva Convention, as such they were handed over to Indian custody. This proved to be an expensive task for India who is alleged to have spent one million US dollars a month to cater to the basic needs of these prisoners.
Initially, Bangladesh identified 1,500 officers as war criminals, but later trimmed this down to just 195. This 195 included Lt. General Niazi, Major General Farman Ali Khan amongst others.
Though Bangladesh was an independent state, it still needed international recognition in order to try these war criminals. Both Pakistan and China refused to acknowledge the new nation and prevented Bangladesh from joining the United Nations. China had even used their first ever veto in order to achieve this.
International Crimes Act 1973
In anticipation of these trials, in April 1972, the Jatiyo Sangshad (National Parliament) of Bangladesh passed the International Crimes Act 1973 which now allowed them to try any war criminals from anywhere around the world. India also consented to returning these 195 criminals. As Bangladesh prepared for the prosecution, Pakistan filed an action before the International Court of Justice in Hague, Holland, on 11 May 1973 claiming there could be no "competent tribunal" in Bangladesh because of the "extreme emotionally charged situation that prevails there".
Pakistan does not accept that India has a right to transfer its prisoners of war for trial to Bangladesh and claims that by virtue of Article VI of Geneva Convention, persons charged with genocide shall be tried by a Competent Tribunal of the state in the territory of which the act was committed. This means that Pakistan has exclusive jurisdiction of the custody of persons accused of the crimes of genocide, since at the time acts are alleged to have been committed, the territory of East Pakistan was universally recognised as part of Pakistan.

...That a competent tribunal means a Tribunal of impartial judges, applying international law, and permitting the accused to be defended by counsel of their choice... in the atmosphere of hatred that prevails in Bangladesh, such a competent tribunal cannot be created in practice...
However, Bangladesh maintained that the trial would be in line with Article 5 and 6 of the Geneva Convention, and invited international experts to observe the trial to maintain neutrality and transparency. Pakistan retaliated by blocking the return of 400,000 Bengali repatriates held in its country.
With regard to these events, it is interesting to note that both India and Bangladesh focused more specifically on genocide than on war crimes or "crimes against humanity". Also, Pakistan was particularly opposed to the notion of war crimes since it considered the conflict an internal one. In a sense, Pakistan could politically accept - at that time - a charge of individual atrocities, but it could not accept the legitimacy of East Pakistan's insurrection or India's intervention. or India's intervention.
On 22 September 1973 the Bangladesh Parliament also passed the Special Powers Act 1974 after the Second Amendment to the Constitution, allowing them to detain a person for up to six months. Later, in 1999, in a twist of fate, this bill which was passed under Sheikh Mujib's leadership would be used by his daughter Sheikh Hasina, then the Prime Minister, to detain the killers of the Sheikh himself in the "Bangabandhu Hoitta Mamla" (Bongabondhu Murder Case).
The first legislation of Bangladesh Collaborators (Special Tribunals) Order, 1972, was designed to prosecute collaborators. The other one passed a year and half later on 20 July 1973, the International Crimes (Tribunals) Act, 1973, was to try and punish any member of "armed forces, defence or auxiliary forces" who committed seven major crimes, including Crimes against humanity, Genocide and War Crimes. It baffles many, why it took so long to enact this law, purportedly to judge main protagonists of these crimes, while within five weeks after victory from occupations; laws were ready to try locals!

The two laws dealt with collaborators and members of armed forces differently for committing very same crimes. In fact, no members of armed forces were ever brought under the International Crimes Act 1973, while several thousand collaborators were brought under the net.

This duality, apparently with no plausible justifications, essentially went against an important principle of law, equal treatment under law, and as a result, when final batch of 195 POWs were allowed to return to Pakistan, for whom the International Crimes Act 1973 was primarily meant for, then the Collaborators Order lost some of its edge. If there was one law, for the crimes committed in 1971 and given adequate constitutional protection, perhaps that law would have played more significant roles.
Treaty of Simla
To promote peace between the two fierce rivals, India's Prime Minister Indira Gandhi and Pakistan's new President Zulfikar Ali Bhutto signed the Simla Agreement on 2 July 1972, six months after Bangladesh received victory. The agreement ensured that India and Pakistan formally resolved all conflicts between each other and agreed to exchange all prisoners of war and captured civilians. Bangladesh did not take part in the Simla accord, mainly because Pakistan had yet to recognise it as an independent nation and refused any sort of discussion with Bangladesh.
The accord also gave back more than 13,000 km2 of land that Indian troops had seized in West Pakistan during the war, though India retained a few strategic areas, most notably Kargil, Kashmir, which would in turn again be the focal point for a war between the two nations in 1999.
But some in India felt that the treaty had been too lenient to Bhutto, who had pleaded for leniency, arguing that the fragile democracy in Pakistan would crumble if the accord was perceived as being overly harsh by Pakistanis.
Following the signing of the Simla Treaty, Pakistan turned it's attention to internationalising the issue of International Crimes Act 1973 bill which the Bangladesh government had passed. On 28 August 1973, after 19 days of talks between India and Pakistan, a new accord was signed in Delhi, India, with the consent of Bangladesh - the New Delhi Agreement. According to this accord it was agreed that the three nation would exchange all prisoners of war except the 195 war criminals wanted by Bangladesh. Once this repatriation was complete, Bangladesh and Pakistan would negotiate directly regarding the 195. Thus two weeks later, on 13 September 1973, Delhi began the repatriation of the Pakistani PoWs in exchange for stranded Bengali and Indian nationals. This exchange also involved a substantial number of 'non-Bengalis' in Bangladesh who had 'opted for repatriation to Pakistan'. This 'non-Bengalis' was referring to Muslim Biharis, many of whom were accused of being razakars during the Muktijuddho.
By the end of October 1973, a huge air repatriation was under way with aircraft loaned by East Germany, the Soviet Union and the United Kingdom, there were 6 planes on mission duty, carrying an average of 1,200 people per day. By late January 1974, some 90,000 people had been transported from Pakistan to Bangladesh, and over 44,000 from Bangladesh to Pakistan. By mid-February 1974, over 200,000 people had been repatriated under the terms of the New Delhi Agreement.
By September 1974, some 9,000 people had been transported by sea between Bangladesh and Pakistan, and some 231,000 people had been airlifted across the sub-continent. Those airlifted included some 116,000 Bengalis who went from Pakistan to Bangladesh, some 104,000 non-Bengalis who went from Bangladesh to Pakistan, and some 11,000 Pakistanis who were airlifted from Nepal to Pakistan, having previously fled there overland from Bangladesh.

It was, at the time, the largest emergency airlift of civilians ever organised.
A week prior to the exchange, on 6 September 1973, Bangladesh became a member of the Non-Aligned Movement (NAM) after Prime Minister Sheikh Mujibur Rahman attended the summit held in Algiers, capital of Algeria. This was followed by their membership with the Organisation of Islamic Cooperation (OIC) on 22 February 1974 after Arab League leaders had pressurised President Bhutto in acknowledging the new independent nation of Bangladesh.
This new development would have profound effect on the issue of 195 war criminals, and ultimately on the relationship between Sheikh Mujib and 'his' people.
Bangladesh, Pakistan and India sign Tripartite Agreement in 1974 and free 195 war criminals
Since Pakistan had extended formal recognition to Bangladesh a three-way meeting of the Foreign Ministers of Bangladesh, Pakistan and India took place from 5-9 April 1974 in New Delhi, India, on the basis of "sovereign equality" of all parties concerned - something on which Bangladesh had insisted for over two years.
On 9 April 1974, few weeks after its membership in the OIC, Bangladesh signed a Tripartite Agreement with Pakistan and India in order to "reduce tension, promote friendly and harmonious relationship in the sub-continent and work together towards the establishment of a durable peace". As per the agreement, citizens of all three countries were permitted to return to their country of birth - known as a three-way repatriation process.
The agreement was signed by Dr. Kamal Hossain, Foreign Minister of Government of Bangladesh, Aziz Ahmed, Minister of State for Defense and Foreign Affairs of the Government of Pakistan, and Swaran Singh, Minister of External affairs, Government of India.
Kamal Hossain

()

Swaran Singh

()

Aziz Ahmed

()
The primary reason behind the tripartite agreement was to resolve the two issues of the 195 prisoners of war held for trials and the number of non-Bengalis to be accepted by Pakistan.
On the first issue, as was expected, the Government of Bangladesh dropped its insistence on the trial of the 195 war criminals for 'excesses' and mutually agreed that they'd not be tried as an act of clemency (mercy to offenders) on behalf of the Bangladeshi Government.
In making such a controversial and highly sensitive decision, the three ministers took into consideration the goodwill gesture shown by the two prime ministers of Bangladesh (Sheikh Mujibur Rahman) and Pakistan (Zulfikar Ali Bhutto). Zulfikar Ali Bhutto had declared that he would visit Bangladesh in response to the invitation of Sheikh Mujib and appealed to the people of Bangladesh to forgive and forget the mistakes of the past in order to promote reconciliation. Similarly, Sheikh Mujib had declared with regard to the atrocities and destruction committed in Bangladesh in 1971, that he wanted the people to forget the past and to make a fresh start, stating that the people of Bangladesh knew how to forgive.
Regarding the amnesty granted to Pak war criminals, the then foreign minister of Bangladesh and signatory to the tripartite treaty, Dr. Kamal Hossain said, since Pakistan pledged to try its war criminals in its own land, Bangladesh let them loose without trying them with the greater objective of creating an atmosphere of peace and understanding in the subcontinent. This, however, has nothing to do with the trial of the Bangladeshi war criminals. Even after the tripartite agreement was signed, the trial of local war criminals continued under the Collaborators Order, and the International Crimes (Tribunals) Act 1973 was not repealed either. That is why the issue of the trial of Bangladeshi war criminals and those from Pakistan must be treated in isolation. As regards the granting of amnesty, the law as well as the Constitutional provision is that the head of state can only pardon any sentence issued by the court, and not the offence. Once raised in any court of law, the issue of amnesty granted to the Pak war criminals without their being tried in a court of law shall be declared void

Shahriar Kabir, Analyst
On the question of Pakistanis in Bangladesh, Pakistan agreed to accept all those who fell in certain specified categories plus a sizeable number of "hardship cases". However, on this issue much scope was left for different interpretations.
Bangladesh is certainly not the only country where war criminals have not been tried, but it is certainly perhaps the only one where the demand for a trial has been withdrawn at a state level despite adequate evidence regarding the crimes. Here the war criminals being referred to are the Pakistani nationals who committed these crimes, not their collaborators who, in the passage of time, have been rehabilitated in society, have enjoyed positions in government and who deny their involvement in war crimes.