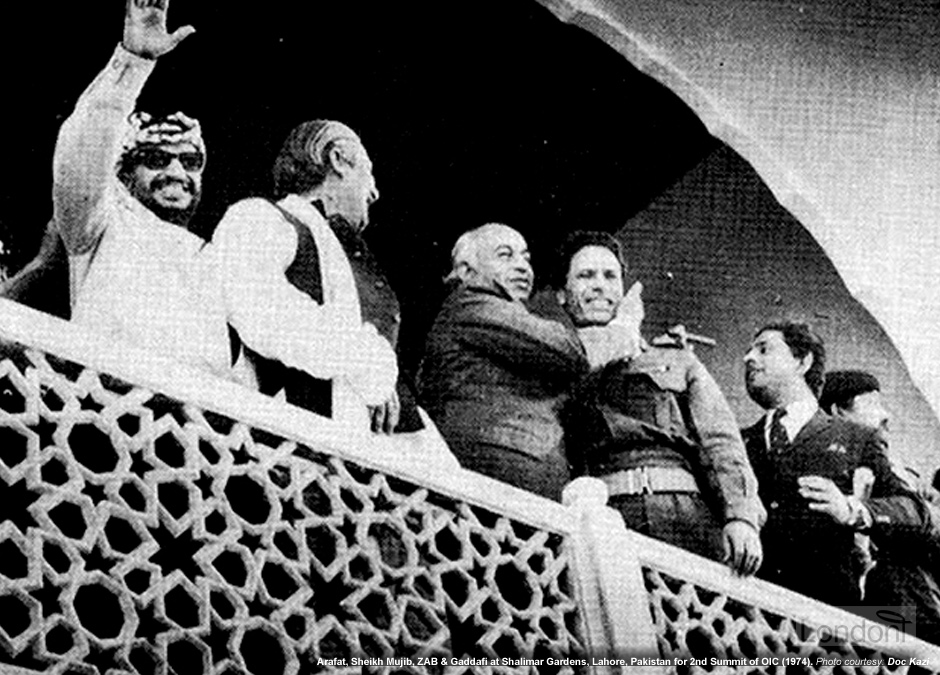 1974 Pakistan officially recognises Bangladesh
On 22 February 1974 Pakistan formally recognised independent Bangladesh during the 2nd summit of Organisation of Islamic Cooperation (OIC) held in Lahore between 22-24 February 1974.
Organisation of Islamic Cooperation (OIC)
The OIC was established on 25 September 1969 by the leaders of Muslim nations in Rabat, Morocco. The organisation attempts to be the collective voice of the Muslim world (Ummah) and attempts to safeguard the interests and ensure the progress and well-being of Muslim. It's the second largest international body after the UN and consists of 57 member states.
The 1971 OIC summit was convened to discuss the environment in the Middle East following the 1973 Arab-Israeli War and the Arab oil embargo. Attendees included Saudi Arabia's King Faisal, Libya's Muammar Qaddafi, Egypt's Anwar Sadat, Syria's Hafez al-Asad, and the Palestine Liberation Organisation's Yasser Arafat. At the meeting, Bhutto announced Pakistan's official recognition of Bangladesh, criticised Israeli seizure of Arab lands, and strengthened his ties with important Middle Eastern leaders.
The Islamic Summit proved to be a considerable success for Pakistan. It demonstrated to the world that Pakistan was not isolated but in fact enjoyed the friendship of many wealthy and powerful countries. This had strategic implications for Pakistan's relationship with India and also significantly enhanced Pakistan's prestige
Global recognition of Bangladesh
Initially, Bangladesh, then the second largest Muslim state in terms of population, was not invited to attend. As the group gathered in Lahore, several heads of state from the Arab world, especially King Hussain of Jordan, put pressure on the Pakistani prime minister, Zulfikar Ali Bhutto, to invite Sheikh Mujibur Rahman to attend. Bhutto yielded, and Bangladesh was invited.
A seven member delegation from OIC visited Dhaka on 21 February 1974 to formally invite Sheikh Mujib to take part in the OIC at Lahore, Pakistan, on 27 February 1974. They also brought a message from Bhutto that he would formally declare Pakistan's recognition of Bangladesh at the summit. Sheikh Mujib was flown by a special aircraft from Dhaka to Lahore. He was accompanied in the summit by Kamal Hussain. During the summit Sheikh Mujib made policy statements emphasising Bangladesh's Islamic identity and its commitment to be an active member of the OIC.
Pakistan recognised the independence of Bangladesh on 22 February 1974. Iran and Turkey, which had held back, along with Pakistan, recognised Bangladesh on the same day. After that China recognised Bangladesh.
Table: Official recognition of Bangladesh by other countries in 1972

| Date | Country | Note |
| --- | --- | --- |
| (6 Dec 1971) | India | First country to recognise Bangladesh |
| (7 Dec 1971) | Bhutan | Second country to recognise Bangladesh |
| 12 Jan | Poland & Bulgaria | First European countries |
| 13 Jan | Burma (aka Myanmar) | Bangladesh's only other neighbour (along with India) |
| 16 Jan | Nepal | |
| 20 Jan | Barbados | |
| 26 Jan | USSR (now Russia) & Australia | |
| 1 Feb | Senegal | First African nation |
| 4 Feb | UK, West Germany & Sweden | |
| 12 Feb | Italy | |
| 14 Feb | France & Canada | |
| 24 Feb | Indonesia & Malaysia | Two neighbouring Muslim countries in Southeast Asia |
| 8 Feb | Japan | |
| 4 Apr | USA | |
| 10 May | Mexico, Spain & South Korea | |
| 15 May | Brazil | |
| 25 May | Argentina | |
| 8 July | Iraq | First Arab country to recognise Bangladesh |
| 25 Sept | Vatican City | |
| (22 Feb 1974) | Pakistan | |
| (16 Aug 1975) | Saudi Arabia | A day after Sheikh Mujibur Rahman's assassination |
| (31 Aug 1975) | China | The last nation to recognise Bangladesh |
Source: Various
India had recognised the Bangladesh government on 6 December 1971, as the Indian army began its campaign against the Pakistan army in East Pakistan. This was significant as it made it clear to the emerging Bangladeshis and to the world that India had entered the conflict to help Bangladesh gain independence from Pakistan. Bhutan, following as it must the foreign policy actions of India, gave its recognition the following day.

A number of smaller countries, most of them within the Soviet bloc, followed suit during the month of January. The Soviet Union, which had signed a security treaty with India in 1971, recognised Bangladesh on 25 January 1972.

As Bangladesh desired to enter the Commonwealth of Nations, recognition by the United Kingdom on 2 February 1972 set that process in motion; however, Pakistan, at that time a Commonwealth member, would greatly delay Bangladesh's recognition. Muslim states, as Pakistan's fellow members of the Organisation of the Islamic Conference (OIC), delayed recognition. The ranks were broken when both Malaysia and Indonesia granted recognition on 25 February 1972, but the Arab states acted much more slowly. Iraq was the first to act on 8 July 1972.
After giving recognition to Bangladesh, Bhutto visited Dhaka in July 1974.
This visit was remarkable in the sense that it provided a severe blow to the worsening Indo-Bangladesh relations. Posters appeared on both sides on the way to airport resounding with slogans like 'Bangladesh-Pakistan Maitri Zindabad' and 'Zulfikar Ali Bhutto Zindabad'. Curiously many people shouted slogans against Awami League and Mujib regime. People threw garlands of shoes at Mujib's car on his journey back to Presidents house and the car used by the Head of the Indian High Commission in Dhaka, J.N. Dixit, was vandalised and the Indian flag tampered with by the crowds as it slowed down near the road. Abusive slogans were shouted against Indian High Commission and the Government.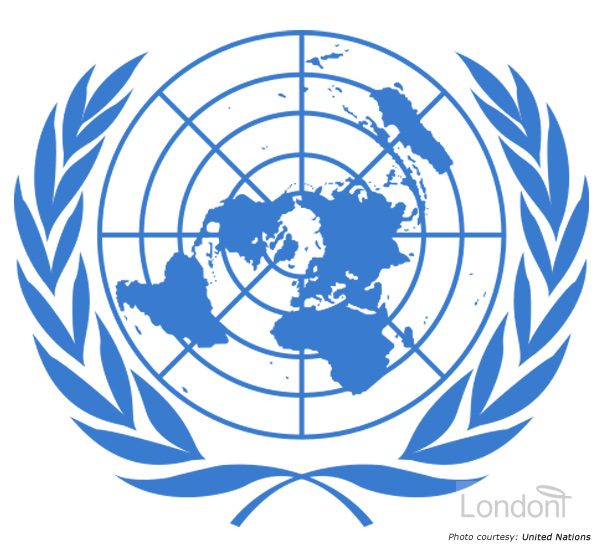 UN (United Nations) membership
On 17 September 1974 Bangladesh became a member of the United Nations.
United Nations (UN)
The UN is an international organisation which tries to stop wars between countries, and to provide a platform for dialogue. It's primary role is to facilitate cooperation in international law, international security, economic development, social progress, human rights, and achievement of world peace. It was established after the Second World War (1939 - 1945), on 24 October 1945, and contains 193 member states, including every internationally recognised sovereign state in the world except the Vatican City. It's main headquarter is in New York City, USA, but they also have offices in Geneva (Switzerland), Nairobi (Kenya), and Vienna (Austria).
China's first veto ever prevents Bangladesh from joining UN
With a popular democratic government installed in Bangladesh, international recognitions were quickly pouring in. However, China and Saudi Arabia, at the urging of Pakistan, did not recognize Bangladesh.
On 25 August 1972, exactly ten months after China's admission to the United Nations, the Chinese government wielded its first veto as a permanent member of the Security Council, Draft Resolution S/10771 , by preventing the admission of Bangladesh, another independent state.
The issue was particularly embarrassing for a country [China] that had itself been excluded for 22 years
Since it's victory over its western wing on 16 December 1971, Bangladesh had been recognised by 85 nations. But China, speaking for Pakistan, strenuously opposed Bangladesh's admission until its key ally Pakistan recognised Bangladesh on 22 February 1974. The United States, also a key ally of Pakistan, was one of the last nations to accord Bangladesh recognition.
No permanent members of the UN Security Council, except China, opposed recognition of its independence. In fact, it was only the conflict between the two Communist states - the USSR and China - that delayed the admission of Bangladesh to the UN. In order to counter the USSR's alliance with India, China, under Mao Zedong, supported Pakistan and effectively vetoed Bangladesh's admission to the UN until Pakistan agreed to recognise its independence in 1974.
United Nations in Bangladesh
The United Nations has 12 agencies in Bangladesh which are collectively referred to as 'UN country team' (UNCT). They are tasked with overseeing the implementation of UN procedures and acting as a support mechanism. UN funds and programmes are convened under the administration of a Resident Coordinator.
Their contact details are:
Address: UN Bangladesh, UN Offices, 19th Floor, IDB Bhaban, Agargaon, Sher-e-Bangla Nagar, Dhaka 1207, Bangladesh
Tel: 0088 02 8150088
Fax: 0088 02 8117811
Email: This email address is being protected from spambots. You need JavaScript enabled to view it.
Office opening hours: 08:00 - 16:30 Sunday - Thursday
Website: http://www.un-bd.org
Permanent Mission of the People's Republic of Bangladesh to the United Nations
Bangladesh has representatives in the headquarter of the United Nations in New York, USA. They cover a wide range of the objectives of the Bangladesh Ministry of Foreign Affairs - from the peaceful settlement of disputes, promotion of human rights, protection of environment, sustainable development.
The Permanent Mission, with support from other government ministries, represents Bangladesh in every negotiation that takes place at the United Nations in New York, ensuring that Bangladesh's interests and views are taken into account by UN bodies and the other member states.
At the same time the Permanent Mission tries to improve the way the UN works by strengthening the UN's capacity to deal with economic and social issues, peacekeeping and conflict prevention.
Bangladesh has been at the forefront of efforts to develop practical proposals for reform. Permanent Mission is working with the Secretary-General to promote these reforms and to ensure that the UN is a leaner and more effective organisation, to meet the challenges of the twenty-first century.
The team is headed by an Ambassador and Permanent Representative. Their role is to engage in a constant round of meetings, promoting Bangladesh's interests and persuading others to accept the Bangladesh's stance. Sayyid Anwarul Karim, one of the high profile diplomat who defected from the Pakistani government during the Shadinota Juddho, became the first ambassador on 18 September 1974.
Their contact details are:
Address: 820 East 2nd Avenue, Diplomat Centre, Between 43rd and 44th street, 4th Floor, New York, NY-10017
Tel: 001 212 867 3434
Fax: 001 212 972 4038
Email: This email address is being protected from spambots. You need JavaScript enabled to view it.
Website: http://www.un.int/wcm/content/site/bangladesh/
The contact details of their Geneva, Switzerland, office are::
Address: Rue de Lausanne 65, 1202 Geneva
Tel: 0041 22 906 80 20
Fax: 0041 22 738 46 16
Email: This email address is being protected from spambots. You need JavaScript enabled to view it.