Days of remembrance: Swadhinata Dibosh, Bijoy Dibosh, and Mujibnagar Dibosh
Swadhinata Dibosh (Independence Day)
The Independence Day of Bangladesh is celebrated annually on 26th March - the day the Declaration of Independence was made by Ziaur Rahman and Sheikh Mujibur Rahman (in 1971).
It's a national holiday and day of remembrance for all those who died and suffered during and after the 1971 Muktijuddho.
Swadhinata Dibosh is commonly associated with parades, political speeches, fairs, concerts, and ceremonies, and various other public and private events celebrating the history, and traditions of Bangladesh. TV and radio stations broadcast special programs and patriotic songs. Generally a thirty one gun salute is conducted in the morning. The main streets are decorated with Bengali national flag. Though there are many events, the celebration are usually low-key as the nation reflects on the tragic event of 1971 and remembers all those who suffered during this horrific ordeal.
Most Bengalis wear traditional attires such as panjabis and sarees and sport patriotic bandanas and wrist bands on the day to express their love, pride and devotion to the country. Boys tend to wear t-shirts with famous slogans or prints of the Jatiyo Potaka and other relevant landmark sculptures related to the Liberation War. Other designs take on abstract form - scenes of boats and paddy fields, a bird flying away from a cage depicting freedom, a small child standing in front of a scene of destruction depicting resilience and many such related and relevant artworks are now available in these nationalistic collections. Females can also wear these attire, however, in line with the guidance provided by the Noble Qur'an regarding women clothing (e.g. full body cover in public, loose clothing, etc), they tend to wear sarees and shalwar kameez in green and red with embroidery and other feminine motifs like paisleys.
The green and the red combination is a classic for us Bangladeshis and it will never get old. Simply adorning these colours can spark in any of us a sense of utter pride that no other colour in the world can arouse.
Bijoy Dibosh (Victory Day)
16th December is celebrated annually as Victory Day in Bangladesh as it commemorates the official surrender of Pakistani forces to the Mitro Bahini by signing the Instrument of Surrender on 16 December 1971 in Suhrawardy Uddyan, Dhaka.
Bijoy Dibosh is a national holiday and is celebrated with a pomp in Bangladesh.
'Vijay Diwas' in India
India too celebrates Victory Day on 16th December - known as 'Vijay Diwas'. The anniversary of Vijay Diwas is observed across India and most important celebration is held in nation's capital New Delhi where Defense Minister and head of all three wings of the armed forces pay homage at Amar Jawan Jyoti ("the flame of the immortal soldier") - a monument dedicated to unknown dead soldiers - at India Gate.
Mujibnagar Dibosh (Mujibnagar Day)
17th April celebrated as 'Mujibnagar Day' in honour of the achievement and leadership of the first Bengali government-in-exile in the border town of Baidyanathtala, Meherpur District, Kustia. Bhoborpara was later renamed to "Mujibnagar" (City of Mujib) in honour of Sheikh Mujibur Rahman.
The Awami League's programmes of the day include hoisting the national and party flags atop party offices across the country at dawn, placing of wreaths at the portrait of Sheikh Mujibur Rahman in his Dhanmondi home in Dhaka which has been converted to a museum ('Bangabandhu Memorial Museum'), and at the Banani graves of Syed Nazrul Islam, Tajuddin Ahmad and Captain M. Mansur Ali in Dhaka and at the grave of AHM Quamaruzzaman in Rajshahi in the morning.
Mujibnagar Monument at Meherpur
Located at a distance of about 7 km from the town of Meherpur, Kustia, is the Mujinagar Monument. It's dedicated to the first provisional revolutionary government of Bangladesh who had taken their oath of allegiance at this site on 17 April 1971.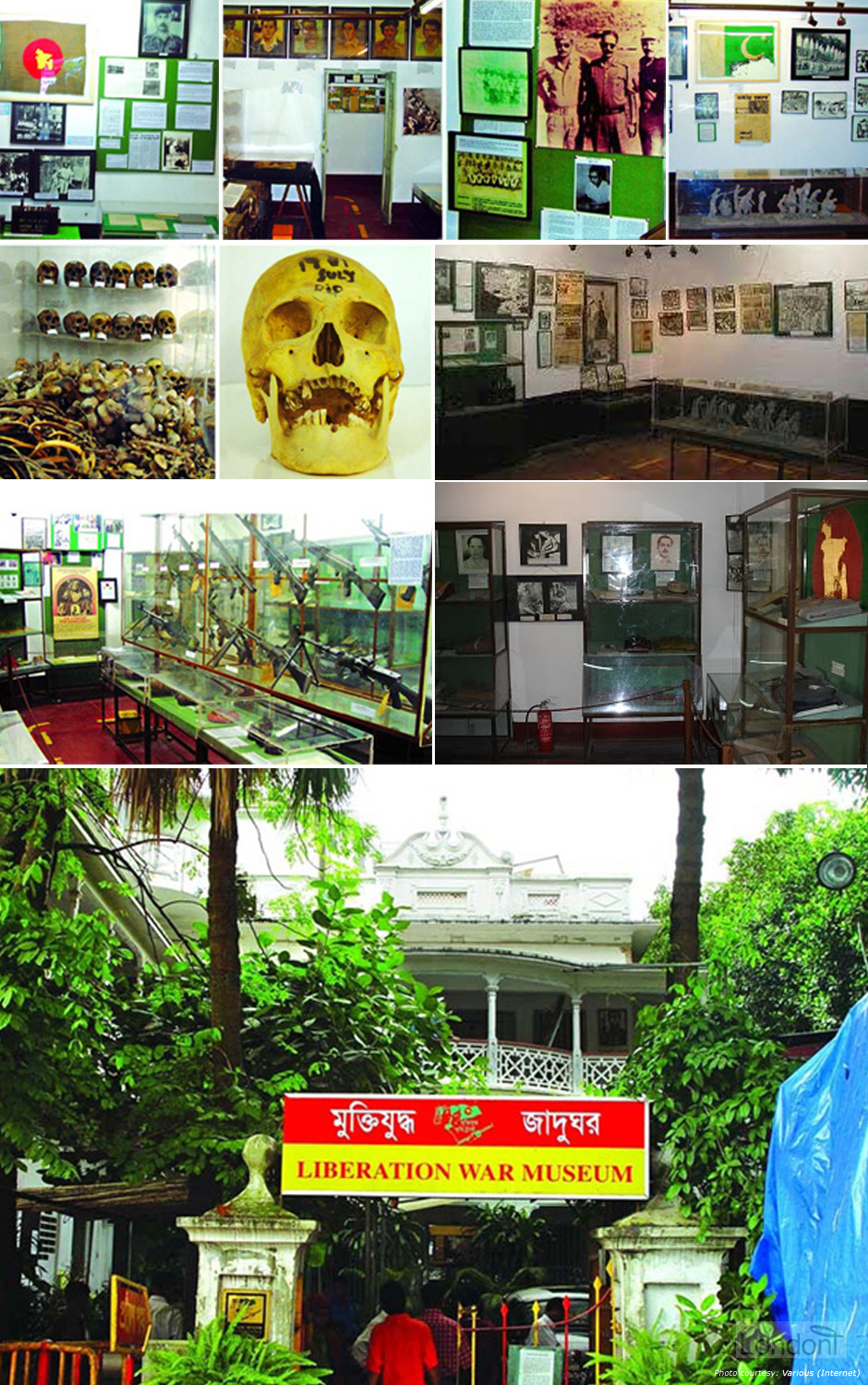 Muktijuddho Jadughar - Liberation War Museum
The Muktijuddho Jadughar is a community-funded initiative opened on 22 March 1996 in central Dhaka to commemorate the 1971 Swadhinata Juddho. The museum, managed by a Board of Trustee, is housed in a two-storied building and has 6 galleries containing over 10,000 artefacts from the war. However, the museum can only display 1,300 of these objects due to lack of space, though there are plans for a purpose-built museum to be constructed.
A haunting reminder of recent history. Its a little dusty and poorly curated, but still very compelling and relevant.

It's just a small building with loads of stuffs that were a part of the War. The museum chronicles Bengalis love for their language and fight to keep it, culminating in the 1971 Liberation War and birth of Bangladesh (Bengali country). The museum has over 10,000 objects, photos and newspaper clippings - many are gruesome and difficult to digest - but give an appreciation of Bangladeshis' pride, honour and fight for freedom. It is located near the Shilpakala Academy and fairly straightforward to get there by CNG from Gulshan (100-150 taka).

Visitors to the Liberation War Museum
The galleries on the ground floor begin with covering the early history of Bangladesh and the Indian independence movement against British Raj in Bengal. There's also a large section recording the events of the Basha Andolan, which is regarded as the beginning of the movement for Bangladesh's independence. Other galleries highlight the building of regional conflicts between West Pakistan and Bangladesh (then East Pakistan), the rise of Bengali nationalist leader Sheikh Mujibur Rahman and the events of 1971. The display on the 1971 War of Independence is arranged chronologically, with English and Bengali newspaper reports, photographs and various memorabilia.
Several galleries focus on the genocide carried out by the Pakistani army against the Bengali population and highlight the achievement of the Mukti Bahini. Wounded artefacts, such as weapons used by the Mukti Bahini fighters and their personal items are displayed here.
The displays gradually become more graphic and culminate in a room full of personal items of many Mukti Bahini fighters and civilian victims which have been donated by their families after the conflict. Each one comes with a short story on the owner's life. The room contains a large pile of human skulls and bones retrieved from mass graves of civilians killed by Pakistani forces and some very disturbing photos of rotting corpses with bound hands being eaten by dogs and vultures.
Though the displays might not make for happy holidays, this museum should be a compulsory stop for everyone.
In 2006 the museum was fitted with modern audiovisual and exhibition equipment as a donation from the Japanese government to help preserve the culture and heritage of Bangladesh's independence movement. The Museum is a founding member of International Coalition of Historic Site Museum of Conscience and an institutional member of American Association of Museums.
Address: Liberation War Museum, 05, Segun Bagicha, Dhaka-1000, Bangladesh
Telephone: 0088 02 9559091 and 0088 02 9559092
Email: This email address is being protected from spambots. You need JavaScript enabled to view it. and This email address is being protected from spambots. You need JavaScript enabled to view it.
Official website: www.liberationwarmuseum.org
Opening hours: Open everyday except Sunday from 10.00 am to 6.00 pm (in winter it closes at 5.00 pm)
Swapno '71 - the first magazine dedicated to Bangladesh Liberation War
In September 2012, Mukto Asor - a youth organisation working on the Liberation War - published a new quarterly journal dedicated to Bangladesh Liberation War. It's the first of its kind and contains memories of freedom fighters and their families' conditions, stories, poems and essays based on Swadhinata Juddho.
The publication ceremony was held at the Muktijuddho Jadughar on 27 September 2012.