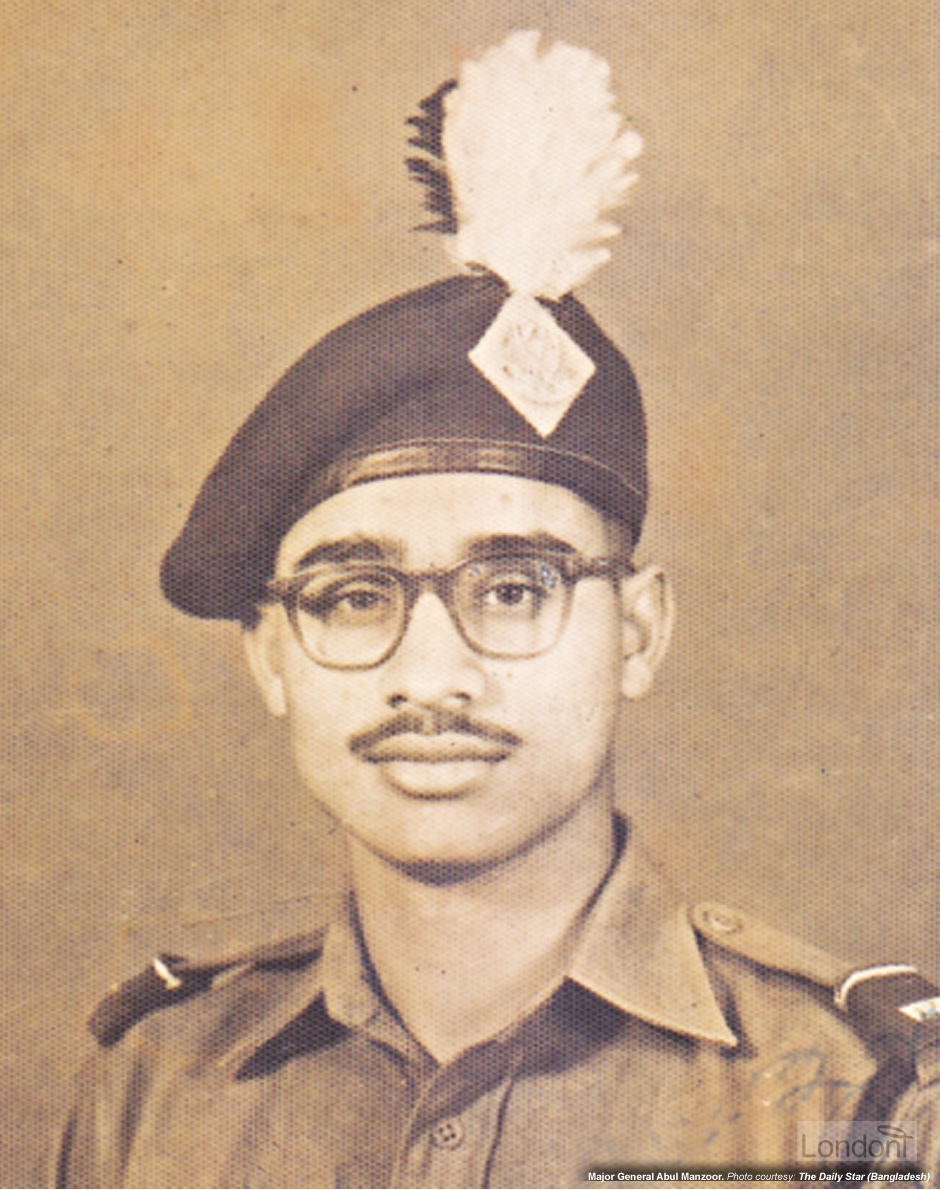 General Manzoor dies in controversial circumstances
By 1 June 1981 General Abul Manzoor cracked. He fled with 150 of his followers - including his wife and two young children and other officers' wives and children - around midnight on 31 May / 1 June in six desperate groups that went in six different directions. Their exit had been prompted by the surrender to Dhaka of a trusted platoon that General Manzoor had dispatched towards Noakhali (the platoon simply said goodbye to the rebels over the radio and voluntarily gave itself up to the government).
In a bid to prevent the killers from escaping, Dhaka airport was closed and all telephone and telex links to India were suspended.
Arrested but tape-recorded statement goes missing
General Manzoor and his group were eventually traced and arrested by the police in the Fatickchari forest 30 miles or so north of Chittagong, at around 9am on 1 June 1981 while trying to flee to Burma. The General was apparently caught feeding his young children inside a tea garden. The captives were taken to the Fatekchari police station (in Hathazari upazila) where General Manzoor begged his captors not to send him back to the cantonment but instead to imprison him in Chittagong central jail. He was especially anxious that the police tape-record his statements immediately. The police officer-in-charge apparently recorded General Manzoor's lengthy statement, which has not been released to the public and may have been lost or destroyed. General Manzoor and two of his officers were sent back to the cantonment in mid-afternoon. This, according to Ershad, was done under the directive of Acting President Abdus Sattar.
Death by 'angry mob' vs death by 'vengeful army men'
From this moment onward mystery surrounds the death of General Abul Manzoor. According to the official version of the Government of Bangladesh, announced via Dhaka radio, General Manzoor was killed by "angry mobs" on the way to the cantonment. Speaking during an investigation into General Manzoor's murder case in May 2013 - over 31 years after he had been killed - Hussain Muhammad Ershad denied any involvement with the murder and maintained that General Manzoor was killed by "enraged people" and "died on his way to hospital". He also claimed that news report published in the daily Azadi on 4 June 1981, headlined "Enraged armed people shoot Abul Manzoor dead and two cohorts during mutiny", was true.
Manzoor was being brought to Chittagong cantonment after his capture. Some enraged people tried to snatch him on the way and this sparked shooting between them and the guards. At one stage of the encounter, Manzoor was hit by bullets and died on his way to hospital.
However, the police originally stated that they had returned General Manzoor to the cantonment where he and the his two officers were subsequently killed by 'vengeful army men'. It is view that is also held by Ziauddin Chowdhury, deputy commissioner of Chittagong. Chowdhury believes that there was a huge conspiracy that was then going on in Dhaka to eliminate General Manzoor and an assassin brigadier was sent from there who shot General Manzoor in the head within Chittagong cantonment. A later autopsy report is alleged to have confirmed that he did actually die from a gun shot to the back of his head.
A captain arrived at Hathazari police station, demanding that Manzoor be handed over to him. Frantic calls to Dhaka followed. Acting President Sattar, contacted by the Chittagong civil authorities on the issue, kept stalling, kept telling the officials that he would discuss the matter with General Ershad. Eventually, Sattar and Ershad ordered the police to hand Manzoor over to the captain.

What followed was barbaric. Once out of the police station compound, the captain floored Manzoor with a karate move and then had the general bound hands and feet before being flung like a common criminal on to the back of a pick-up. A wailing Mrs. Manzoor and her two children were placed on the front seat of the vehicle. The rest of the story makes the heart crack a little more. Imprisoned in Chittagong cantonment, General Manzoor was visited by a brigadier sent from Dhaka. The brigadier pulled out a pistol, shot Manzoor in the head and coolly walked away. It was later given out that Manzoor had been killed by irate soldiers!
Though detail of his death still remains a mystery, what was certain was that General Abul Manzoor was killed on 2 June 1981 - three days after he allegedly murdered Ziaur Rahman. He left behind a wife and two child who have all migrated to the USA. A war hero and a sector commander of the Liberation War freedom fighter only to be remembered for all the wrong reasons.
Manzoor killed in confused circumstances. The country drew back from civil war and waited 180 days for a new president. Once again, a president had been removed by a disappointed former ally, who would fail to succeed to power.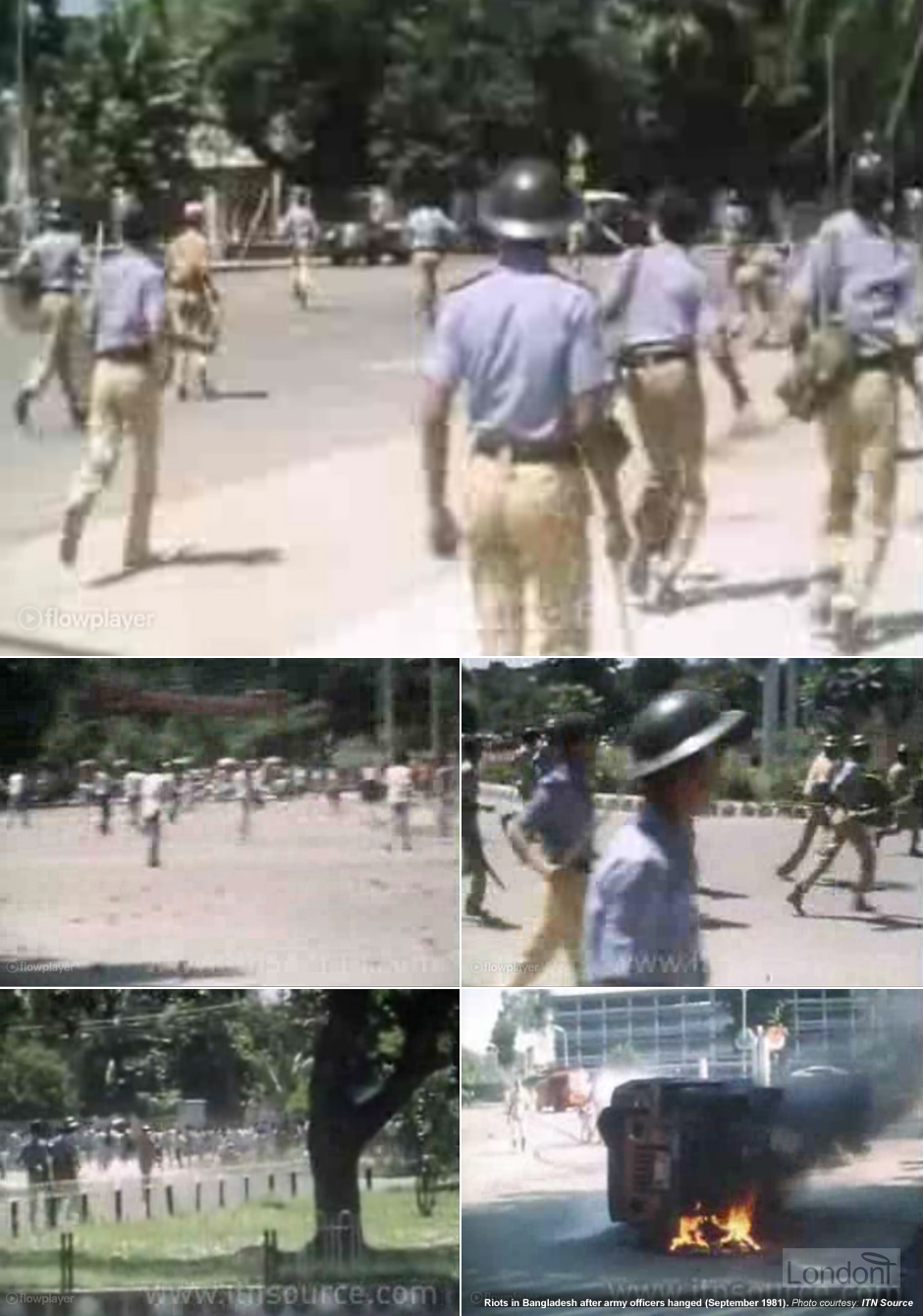 13 'conspirators', almost all muktijuddhas, hanged and 19 removed from army
The aftermath of the Ziaur Rahman's assassination was to be unimaginably gruesome. On 28 July 1981 a good number of army officers would be tried before a secret military tribunal in Chittagong Central Jail chaired by repatriated officer Major General Abdur Rahman on charges of conspiracy and murder. They were given sentences ranging from the death penalty to imprisonment. Their families, and a large number of other people, have always had questions about the fairness of the trial and about the truth behind the assassination of General Ziaur Rahman.
Another secret military tribunal
The court martial of the officers was decreed by General Ershad through a 'convening order' on 4 July 1981. A military investigation kicked off on 10 July 1981 and seven military officers were appointed judges at the court, which was headed by General Abdur Rahman. Major A.K.M. Bazlur Rahman was appointed the judge advocate, and the three prosecutors were Brigadier (later Major General) Nazirul Aziz Chishti, Colonel A.M.S.A. Amin (subsequently a Major General and ambassador for Bangladesh abroad) and Lieutenant Colonel (later Brigadier) Abu Nayeem Amin Ahmed. The three 'defending council' representing the officers were Brigadier M. Anwar Hossain, Colonel (later Major General) Mohammad Ainuddin, a Bir Protik, and Lieutenant Colonel (later Major General) Syed Muhammad Ibrahim, also a Bir Protik.
Abdur Rahman

()

A. K. M. Bazlur Rahman

()

Nazirul Aziz Chishti

()

A. M. S. A. Amin

()

Abu Nayeem Amin Ahmed

()

M. Anwar Hossain

()

Mohammad Ainuddin

()

Syed Muhammad Ibrahim

()
A mere eighteen days after the trial began, 13 army officers were hanged on dubious charges - eleven of whom were freedom fighters, and also included a nephew of General Manzoor. Initially 12 officers were hanged. The senior most officer to walk to the gallows was Brigadier General Mohsin Uddin Ahmed and the junior most was Lieutenant Mohammad Rafiqul Hassan Khan, who was only 23 at that time. The 13th officer, Lieutenant Colonel Shah Muhammad Fazle Hossain, was hanged two years later on 30 September 1983 as he was being treated for bullet wounds he had received during the 30 May 1981 incident in Chittagong.
Major Mosleh Uddin, the younger brother of Brigadier Mohsin Uddin Ahmed, was also sentenced to be executed. However, as his elder brother was sentenced to death by hanging, Mosleh Uddin's punishment was reduced to life sentence.
Mohsin Uddin Ahmed

()

Mohammad Rafiqul Hassan Khan

()

Shah Muhammad Fazle Hossain

()
On 31 October 1981, 19 officers were ousted from army in connection with the killing.
Brig. Mohsin Uddin Ahmed
Col. Nawajesh Uddin
Col. M. Abdur Rashid
Lt. Col. A. Y. M. Mahfuzur Rahman
Lt. Col. M. Delwar Hossain
Lt. Col. Shah Md. Fazle Hossain
Major A. Z. Giashuddin Ahmed
Major Rawshan Yazdani Bhuiyan
Major Kazi Mominul Haque
Major M. Mojibur Rahman
Captain Mohammad Abdus Sattar
Captain Jamil Haque
Lt. Mohammad Rafiqul Hassan Khan
Brig. Abu Said Matiul Hannan Shah
Brig. A. K. M. Azizul Islam
Brig. Gias Uddin Ahmed Chodhury (Bir Bikram)
Brig. Abu Jafar Aminul Huque (Bir Bikram)
Col. Md. Bajlul Goni Patwari (Bir Protik)
Lt. Col. A. S. Enamul Huque
Lt.Col. Md. Jainul Abedin
Lt. Col. Md. Abdul Hannan (Bir Protik)
Major Manjur Ahmed (Bir Protik)
Major Wakar Hassan (Bir Protik)
Major Md. Abdul Jalil
Major Md. Asaduzzaman
Major Rafiqul Islam
Major MD. Abdus Salam
Major A. K. M. Rezaul Islam (Bir Protik)
Captain A. S. M. Abdul Hai
Captain Jahirul Huque Khan (Bir Protik)
Captain Majharul Huque
Lt. Abul Hasem
It was a farce of a trial, seeing that the judgement to be delivered had already been arrived at by those connected to the tribunal as well as those directing them from behind the scenes.

All the accused officers, having already been subjected to rigorous torture in custody, were made to sit handcuffed on a bench surrounded by a grill that looked more like a cage. Absolute security measures were taken around the prison, with even anti-aircraft guns being positioned to ensure total secrecy. In more ways than one, it was reminiscent of the harsh secrecy that had gone into the trial of Col. Abu Taher during the period of the Zia military dictatorship in July 1976. The Zia murder trial was, therefore, a questionable affair from every aspect. The authorities had, by the time the court martial went under way, obtained 'confessions' from the accused. Once the trial began, however, the detained military officers made it known that their statements had been obtained from them under duress. Brigadier Mohsinuddin, a freedom fighter, wanted to show the court the wounds he had received from the severe torture inflicted on him by intelligence forces and other army personnel. The court ignored his plea. Col. Mahfuz, another freedom fighter, was left without any fingernails as a result of torture. All the accused, before they were brought to trial, were regularly beaten with rods and parts of their bodies were scarred with burning cigarettes. Not even their genitals were spared.

The litany of cruel behaviour goes on. Intriguingly, when news of Zia's murder came in, it was given out on behalf of the army chief of staff that those officers who had fled Chittagong but would surrender by 1 June would be pardoned. A large number of officers did respond to that appeal. Within days, though, some of these officers were taken into custody. When the defending officers pointed out the duplicity involved in the matter of promising amnesty to the officers and then arresting them, the court told counsel with a straight face that there had been no such announcement. When Syed Muhammad Ibrahim offered to present the taped version of the amnesty announcement carried by radio and television, the court played a trick. Only custodians of radio and television, in the words of the court, could come forth with the tapes. And then farce came in. When the defending officers appealed to the court to summon the relevant officials from radio and television, the presiding military judges paid no heed. And then, suddenly, the court was adjourned, on 26 July. Over the next few days, sentences of death were announced and the accused, in various states of physical torture, were transported to different prisons across the country. They would be hanged.
Chairman dies mysteriously and trial declared illegal
The chairman of the trial, Major General Abdur Rahman, was later sent to France on 30 December 1983 as ambassador where he died in mysterious circumstances. His family claimed General Rahman was killed by the Government of Bangladesh.
In 2000, a parliamentary committee in the capital Dhaka concluded that the trial of those accused of killing him was not conducted in accordance with the law. The committee recommended that the families of the 13 army officials hanged for the murder should be compensated as the officers were sentenced to death without valid evidence in some cases and were the victims of injustice.
'Bloodbath in the Military of Bangladesh (1975-1981)' documentary
In July 2009 freelance journalist Anwar Kabir produced a 10-hour long documentary titled 'Bloodbath in the Military of Bangladesh (1975-1981)' which looked at the political happenings during that period. The documentary, split into four episode with the last two parts dedicated to the 1981 incident, produced several evidence indicating the innocence of the 13 officers.
Later that year 'Bloodbath in the Military of Bangladesh (1975-1981)' was shown as a reference before the Appellate Division of the Supreme Court of Bangladesh during a hearing on a presidential reference on a different issue.
The army prosecutors, who were appointed to defend the suspected officers and whose ranks ranged between lieutenants and brigadier generals, later called it a 'farcical trial' as they were denied the minimal opportunity to defend them in line with Army Act.

The documentary, mainly based on interviews of the military people, including investigators and prosecutors, found that the accused were denied their rights for self-defence while the "motivated" investigators used brute force on them to obtain statements they had wanted ahead of and during the trial.

The Daily Star's (Bangladesh) review on Anwar Kabir's documentary
Anwar Kabir

()