Early life
Tajuddin Ahmad was born in the village of Dardoria in Gazipur district, 82 km northeast from Dhaka, at a time when the British ruled India and the world was recovering from the horrific aftermath of World War I (1914 – 18). This seemed apt for a man who would go onto fight colonial authorities and oppressive leaders and participate in war himself.
Dardoria, which means "The River Gate" or "Flowing River", is a small picturesque village standing on the bank of river Shitalakhya, which perhaps lends itself to its name.
Tajuddin's ancesteral village was Niguari in Gafargaon upazila of Mymensingh district. His great grandfather Ibrahim Khan came and settled in Dardoria village. The areas around their house was a jungle. Very few houses existed during those days.
Tajuddin was born in a traditional conservative family. His father was Moulavi Muhammad Yasin Khan and his mother Meherunnesa Khanam. His father was a maulana (or moulavi), a highly qualified Islamic scholar. Nobody in the neighbourhood was educated except Moulavi Muhammad Yasin Khan. The couple had 8 children - 4 sons and 4 daughters. Eldest child Waziuddin Ahmad was followed by Sufia Khatun, Tajuddin Ahmad, Mafizuddin Ahmad, Sahara Khatun, Mariam Khatun, Badrunnesa Khanam and Afsaruddin Ahmad. As such Tajuddin came from a very big family, which was quite common during those days.
Tajuddin's family home was surrounded by acres of agricultural lands acquired by his forefathers. Their house was made up of two buildings which were built by Tajuddin's father. These buildings were next to each other and made of tin roof, wood and clay. Tajuddin was born in the building in the west. Sadly, this was later burnt down by the Pakistan military in 1971.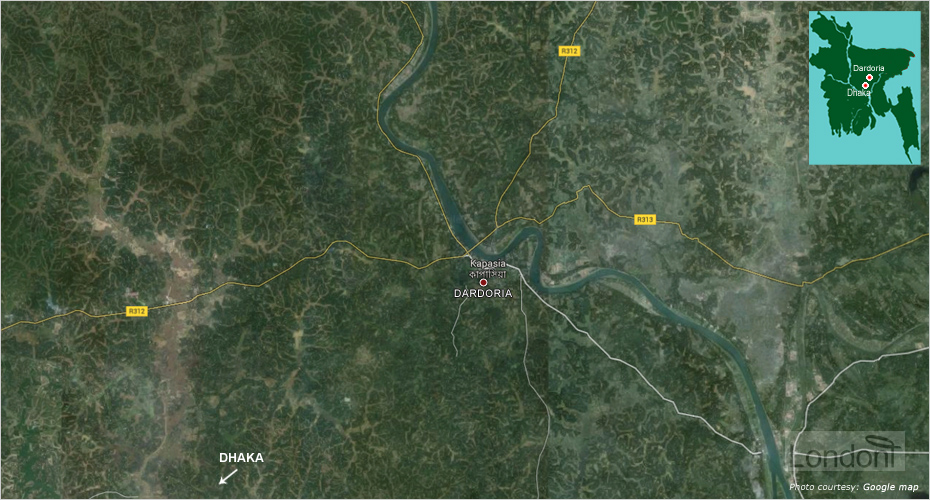 Beginning in his childhood years, Tajuddin was a very righteous, responsible and compassionate person. He spoke little, listened more and maintained moderation in his speech and action throughout his life.

As a child, his favourite foods were rice with cream and molasses.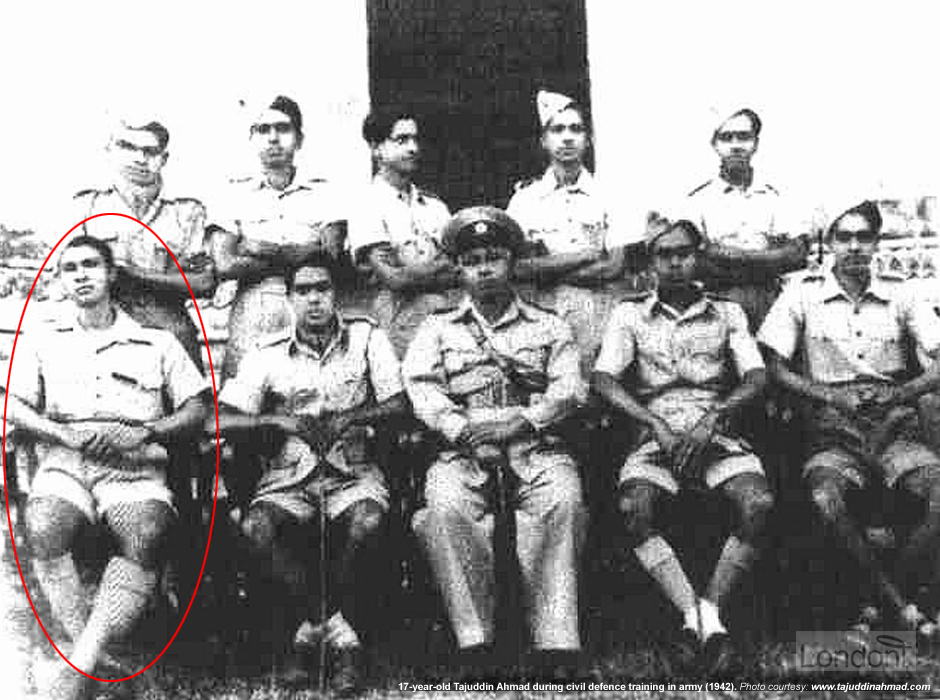 Bright and talented student
A hafez (one who memorised whole Qur'an by heart)
As was the norm for children from conservative middle class Muslim family, Tajuddin's education began at the village maktab (religious school) which was founded by his father.
Tajuddin eventually became a hafez, one who is extremely well-versed in the Noble Qur'an and has memorised the content by heart. At age eleven (1936) he had memorized up to the first eleven chapters of the Qur'an and around age 16 (1941) the entire Qur'an. This was an incredible feat for any Muslim, especially when Arabic is not your mother tongue. It requires great amount of mental strength, dedication, and long, frequent hours of studying to achieve such a difficult task.
As a Hafez (one who has memorized the entire Qur'an) in the Holy Qur'an he would occasionally lead during the Jummah (Friday prayer at midday) prayer at the Mosque. He would highlight in his sermons the importance of serving the poor, needy and orphans. The sign of a truly devout person, he believed, is one's unconditional service to humanity.

Tajuddin shunned all forms of self glorifications. He never gave any importance to his day of birth and refrained from celebrating his birthdays.
Later on he enrolled in Bhuleswar Primary School, 2 km from the family house.
I studied with Tajuddin in Bhuleswar Primary School for three years. Since childhood he was righteous. He never indulged himself or helped others in immoral things.

Abdul Mottalib, schoolmate
The prizes Tajuddin received, for the first time in his life, were a nine paisa (local coins) pen and one-and-a-half paisa ink pot for standing first in his class from grade one to grade two at Bhuleswar Primary School.

In the promotion exam from Grade II (Two) to Grade III (Three), Tajuddin stood first, as expected. As first prize he received books of "Ninety Nine Attributes of Allah" (God) and "Ali Baba and Forty Thieves" from the Arabian Nights.
Senior revolutionary leaders aid his education
When he was in Class IV (Grade Four) Tajuddin enrolled in Kapasia Minor English School, 5km away from Dardoria, thanks mainly to the encouragement of his mother. He was a brilliant student, especially in English. The school had an well known English teacher who used to love Tajuddin a lot and taught him special lessons. When Tajuddin was in Class VI (6) he stood First in the Dhaka district scholarship examination.
I've heard from my grandmother [Tajuddin's mother] that my father was a gifted and intelligent child. Since his childhood it became clear that he was a bit different amongst the 10 children. For example, my eldest aunt [Tajuddin's elder sister] who was older than my father said that the books she used to read Tajuddin could already tell from those books.

He used to talk less. He was involved in sports. Since childhood he had good sense of moderation. Finding his knack for education he was sent to Bhuleshawar school which was 1.5 km away from home. Teachers of that school soon noticed tha the boy was exceptionally gifted. Then the headmaster of that school met my grandfather and told him that the boy should be sent to a better school. Mostly because of my grandmother's eagerness my father was sent to Kapasia which was 6 miles away from home and was admitted into Kapasia Minor English School.
Ironically it was in this English School that Tajuddin drew the attention of three senior Indian revolutionary leaders who had dedicated their lives to liberating their country from the colonial rule of the British.
During those days there was a detainee camp in Kapasia made by the British for political prisoners. These detainees were brought from Calcutta (now Kolkata) and placed in different places. They had to report at the police station once a day. The locals went and visited these prisoners especially at night and would listen to their patriotic speeches and tales and borrow books from them. Young Tajuddin would also go and visit them regularly. He went and met Rajendra Narayan Chatterjee, Bireshwar Bannerjee and Mohindra Srimani and brought books from them. Within few months he studied more than 50 books which "planted the seed of patriotism in young Tajuddin's heart".
One day, when he returned from school, he found a bouquet of red roses placed on his bed. It was a gift from the revolutionary patriots who took notice of his talent. Since then red roses bore special significance and were among his favourite flowers.
Tajuddin was very honest and patriotic.

Abdus Samad, schoolmate
Tajuddin would also walk miles – even as far as 4-5 miles – to listen to speeches of prominent political leaders such as Sher-e-Bangla (Tiger of Bengal) A. K. Fazlul Haque.
The three revolutionaries were very impressed that such a young boy read the books so diligently and with so much interest. They went to his school and told the headmaster that the boy is destined to achieve something important in future life and requested to send him to a better school. Accordingly, Tajuddin was admitted into Class VII (7) in St. Nicholas Institution in Kalinganj. He studied here for one year. Tajuddin excelled in his new environment so much so that the headmaster advised that he be admitted into Muslim Government Boys' High School in Dhaka. He used to live in Dufrin Muslim Hostel. After here, Tajuddin went to St. Gregory's High School.
Lifelong Boy Scout member, training in civil defence in army, and excelling in Matric and IA exams
Tajuddin had been involved with Boy Scout movement throughout his life. In 1939 the world was once again entrapped in a global battle and World War II ensued (1939 – 45). At the height of the war in 1942 Tajuddin Ahmad, then only 17 years old, received training in civil defence. He did not fight in any war directly but his opportunity to utilise the war strategies would come along in 1971.
Two years later, in 1944, Tajuddin completed his Matriculation exam from St. Gregory's securing 12th place in the First Division in Calcutta Board, the only existing board in Bengal Province during that period (Dhaka Board had not been formed then). Four years later he secured 4th place in the First Division in Dhaka Board in his Intermediate examination.
When he was a school student cholera broke out in this [Kapasia] region. Down this river [Satkhiliya] in some households some people died of cholera. There was nobody left to cook for those families. Then he told my grandmother [Tajuddin's mother] "Mum, please cook for them and I will carry food to feed them". There was always an eagerness in him to help people.

Let me cite another example: during the British era somebody's land went to auction for not paying tax. My grandfather [Tajuddin's dad] purchased those lands. My father couldn't accept that some people who owned land would become landless overnight. He requested my grandfather that when the children of that family would grow up their land should be given back to them. And he gave back the land to those three families.
He used to stay at our home and would eat his meals here. We would walk to the school together. We used to cross the ferry as the school was on the other bank. He was the first boy in the class. He was a silent type and studied a lot. He was not indulged in gossiping. After school he would have snacks in the late afternoon and would walk beside the river.

Jalaluddin Fakir, schoolmate
Prominent student leader in Dhaka University
His academic excellence secured Tajuddin a place in the prestigious Dhaka University (DU) to study Economics. He became a student leader and a voice for the young people of newly formed East Pakistan.
My acquaintance with Tajuddin Ahmad dates back to my school days. Early in 1953, I stayed with my brother in Room N-12 of Fazlul Huq Hall of Dhaka University for about a month. Tajuddin Ahmad was one of his roommates. Tajuddin Ahmad lived a very simple but disciplined life. His usual dress was pyjama and shirt. He used to wash his clothes himself. I came to know later that he used to wash his clothes before going to bed even when he was the prime minister of the Bangladesh government in exile. He used to eat chira, gur [molasses] and banana in the morning.

Tajuddin Ahmad was a meritorious student and regularly kept a diary. He was well-read and had deep knowledge about politics. He was a regular speaker at all students' meetings and they used to listen to him with full attention and great interest. He was also very popular among the people of his locality in Kapasia. They used to come to him for assistance. He always listened to them attentively and helped them as much as he could, often going out with them to different places.

After I got admitted to Armanitola Government High School in 1953, my brother and I moved to a house close to my school. My brother was then a student of law at the University of Dhaka. Tajuddin and other close friends of my brother were regular visitors to our house and often shared meals with us. He once complained to my brother: "I am not eating chops or cutlets at your house. I shall eat dal-bhat [lentils and rice]. Why do you serve dal-bhat on such flat plates? I would prefer to eat in soup bowls instead". We still have those dinner plates at our ancestral house, and remember his comments whenever we use them.

Dr. Abdul Matin, former Chief Engineer of Bangladesh Atomic Energy Commission
Tajuddin Ahmad earned his Bachelor of Arts degree in Economics in 1954 and stayed on in Dhaka University to pursue a career in law. A decade later, in 1964, Tajuddin earned his Law degree. But he was political prisoner at the time and had to obtain a special permission from the board of education in order to appear for his law exam while in prison.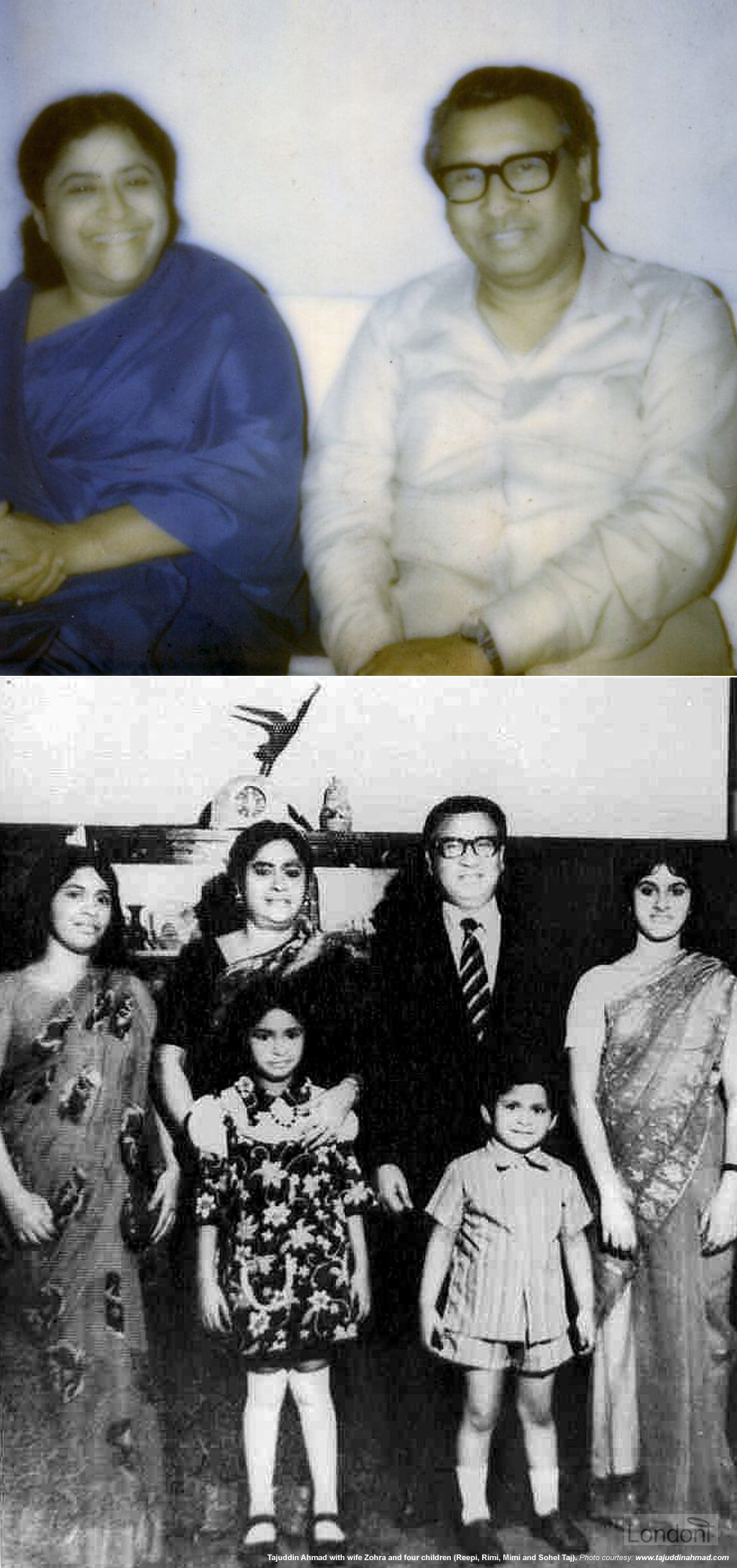 Family
On 26 April 1959, few years after graduating in Economics from Dhaka University, Tajuddin Ahmad married Syeda Zohra Khatun (nicknamed 'Lily'). He was nearly 34 years old and she was 26.
Zohra, who later came to be known as Syeda Zohra Tajuddin, proved a great companion for Tajuddin during his eventful life. She was a politically conscious and sensitive person. The pair inspired each other to continue to struggle for freedom and democracy at a time when all this seemed impossible. The couple went on to have 3 daughters and a son: Sharmin Ahmad (Reepi), Simeen Hussain (Rimi), Mahjabeen Ahmad (Mimi), and son Tanjim Ahmad (Sohel Taj).
Since my teens I used to wear white saree. I would wonder if my future husband wouldn't like my white cloth. I had that worry within myself. After marriage I found that he also liked white clothes a lot. Tajuddin asked me what I intend to wear during my marriage. He said his mother had made some gold ornaments. I told him I didn't wear gold ornaments. He then asked what I intended to wear, I said garlands of bheli phul'er [jasmine] flower. Then it was with jasmine flowers that our marriage ceremony took place. I found that Tajuddin liked this simple and plain behaviour a lot. I gradually began to know him.
Tajuddin and Zohra were married with flowers. At Zohra's request Tajuddin bought ornaments for her wedding made of fresh jasmine flowers. Gold jewellery as was customary for the bride to wear during her wedding were abandoned in favour of a higher valued floral jewellery. Finally, Tajuddin found an ideal life partner in Zohra.
Character: an honest, loyal, disciplined, organised, hardworking, no-nonsense, charismatic, passionate Bengali
Mr. Tajuddin was extremely skilful in analyzing a subject in every little detail, and looking at all of its ramifications. He had an excellent grasp of issues and ideas, and a rare gift of making them crystal clear to others. Which is why we would never have a real serious discussion until Mr. Tajuddin was there. It was mostly through those meetings that I came to know him personally. Until that time he was just a name I had heard of, never met him. It was through these meetings that I realized the scope of this man's abilities, and how dedicated he was to his work. He was the model of professional efficiency. If he was holding a position on some issue that was contrary to ours, he would cite texts and references to give a convincing argument in support of his position.

...He was a formidable workhorse. His patience was unbelievable. A tolerant man, and an approachable person. Day after day we would be talking, arguing, agreeing on something, disagreeing on others. He was a great listener. If he disagreed with someone he would not just brush him off, rather say: "Let me hear you out first, then I'll tell you why I cannot agree with you". It was during these times we could see the depth of his knowledge. His handwriting was a thing of beautylike an expert calligrapher. It was a joy for me to watch the articulate manner in which he would present an argument. His system was to first write down the points on a piece of paper, then deal with them in a precise surgical manner. This surely was an extraordinary gift of his. The meeting over, decisions taken, everyone gone home, and here was Mr. Tajuddin toiling away writing everything down in clear legible scripts, in coherent chronological order for everyone to have a clear idea at a glance. I would say anyone who knew him personally wouldn't hesitate to acknowledge these exceptional qualities of Mr. Tajuddin, no matter what other impressions he/she may have about the man. I was one of his greatest admirers.

Nurul Islam, former Deputy Chair of the First Planning Commission of Bangladesh
He had a very neat calligraphic style of writing. His decisions would always be written in beautifully crafted clear Bengali sentences. He took utmost care in keeping his files in perfect order. He was keenly aware of the historical significance of official files, which explains why he was so picky about not having any room for error in them. Sometimes I'd alert him to a certain file: "Sir, I think there is a problem here. I bet once it leaves this office, it will never return, or will, with extreme caution, even if it does. I think it should be sent to the Investigation Department". Mr. Tajuddin was an extremely intelligent man, and a very sharp nose for things that might go wrong. And yet he never questioned my judgment. He trusted my instincts completely. And, by the grace of God, no one ever found anything in his files that might embarrass him in any way.

There was one thing about Mr. Tajuddin's personality that whenever and wherever in the world he went on a tour he would make an impression on the other side by his wit, intelligence, depth and simplicity, they'd look visibly taken by his charm. He had a gift for putting his arguments in a very convincing manner.

Mr. Tajuddin was not to be taken in easily by unnecessary adulations. In fact, he used to loathe flattery. If anyone came to his office trying to gain his favour by empty words of flattery, there were times when I saw the person thrown out. Overt praise just to get things done wouldn't work with this man. He'd be immediately cut off by Mr. Tajuddin, and asked: "Just say what you came to say. There is no need for the other things, you may utter those words somewhere else". People, of course, knew what a disciplined man he was, so hardly anybody who knew him tried that approach.

Once I was confident that he was not the kind of boss who would do any harm to me I took the liberty of confronting him, if I felt necessary, with sharp critical comments. He'd encourage me to make those comments by saying: "Mr. Choudhury, please do not try to hide anything from me just because it may not be very pleasant. You must tell me frankly and bluntly what I need to know". My response to that was: "Sir, the kind of stuff you allow me to say to you would be enough to get myself fired for insubordination, had I been working with somebody else. You have given me that freedom so why shall I hide anything from you!"

What a strange man he was that he appreciated the criticisms more than the compliments!

Abu Sayeed Choudhury, private secretary of Finance Minister Tajuddin Ahmad (1972-1974)
One thing about Mr. Tajuddin separated him from others – he had a lot of opportunities to live very comfortably, yet he led a very austere and simple life. His household furniture consisted of an ordinary wooden charpoy, a cheap three-and-a-half-taka mosquito net loosely nailed against wooden supports; a pillow, a mat, a cotton quilt and a sheet of cloth. That's all he needed for a good night sleep – which generally meant 2 hours, from 2 in the morning till 4, and no more. Of the remaining 22 hours as much as 20 were for his official duties – meeting foreign dignitaries, field-workers, correspondents, reporters, diplomats, in addition to sending off daily instructions to various segments of his government in exile, plus frequent visits to field operations in different spots. This man's capacity to work was simply unbelievable. He didn't smoke, didn't drink, and didn't crave for any little vices or weaknesses. Never had the slightest interest in a member of the opposite sex, except on strictly business terms.

Tajuddin Bhai was a living example of the words 'discipline' and 'efficiency'. Every little file that ever crossed his desk received the utmost care and attention by him, no matter how important or how insignificant they were. His capacity for clear analysis and quick judgment was phenomenal. There was nobody in the whole country who could come close to match his intellectual abilities.

Ali Tareq, lawyer and politician was the Public Relation Officer of Finance Minister Tajuddin Ahmad (1972-1974)
What were the leadership qualities of Tajuddin? He was an intelligent person, and yet very close to the masses. Born in a middle-class rural family, he could feel the pulse of the peasants and small artisans. At the same time, he studied economics and had acquired all the qualities of a modern intellect. His involvement in organisational activities gave him an extra edge over others in dealing with ordinary people as party workers, and at the same time running a multi-class party under the guidance of the charismatic leader Sheikh Mujibur Rahman.

Atiur Rahman, economist
Animal and nature lover, anti-smoke campaigner and clean life advocate
Tajuddin Ahmad loved animals and nature. As a youngster Tajuddin would go fishing at the Shitalakya nodi with his friends. He also enjoyed tending the cattle and loved to take care of plants.
His love for animals was so much so that when the baby birds were born he would place baskets filled with soft cottons under the nests to protect them from injury from falling to the ground.

His love for animals persisted throughout his adult life. When a Bulbul (Nightingale) which made a nest in an outdoor hanging plant died in a storm he wept and grieved. He would shelter stray dogs from the street and join his daughters to play with them.
Tajuddin was a teetotaller throughout his life and as a teenager started an anti-smoking campaign to warn people about the danger of smoking. This was a brave and unusual move for person to undertake in a country where having a biri (cigarette) was the cultural norm. Today we understand the great harmful effect of smoking, however, back then cigarette played an important part in socialising. Two strangers could offer each other a cigarette and 'break the ice'. Therefore, for Tajuddin Ahmad to take up an anti-smoking campaign proved that he was ahead of time and not scared to do the right thing.
Tajuddin was also a passionate and proud Bengali. His favourite song was "Dhono Dhanne Pushpe Bhora" (Enriched with crops and flowers) composed by Bengali Hindu poet, playwright, and musician Dwijendralal Ray (also known as D. L. Ray) from Krishnanagar in West Bengal. It is a song which praises the Bengal motherland and was very popular as a muktir gaan (liberation song) amongst the freedom fighters and general public during the 1971 Bangladesh independence war.
"Dhono Dhanno Pushpe Bhora" kobita by Dwijendralal Ray (aka D. L. Ray)