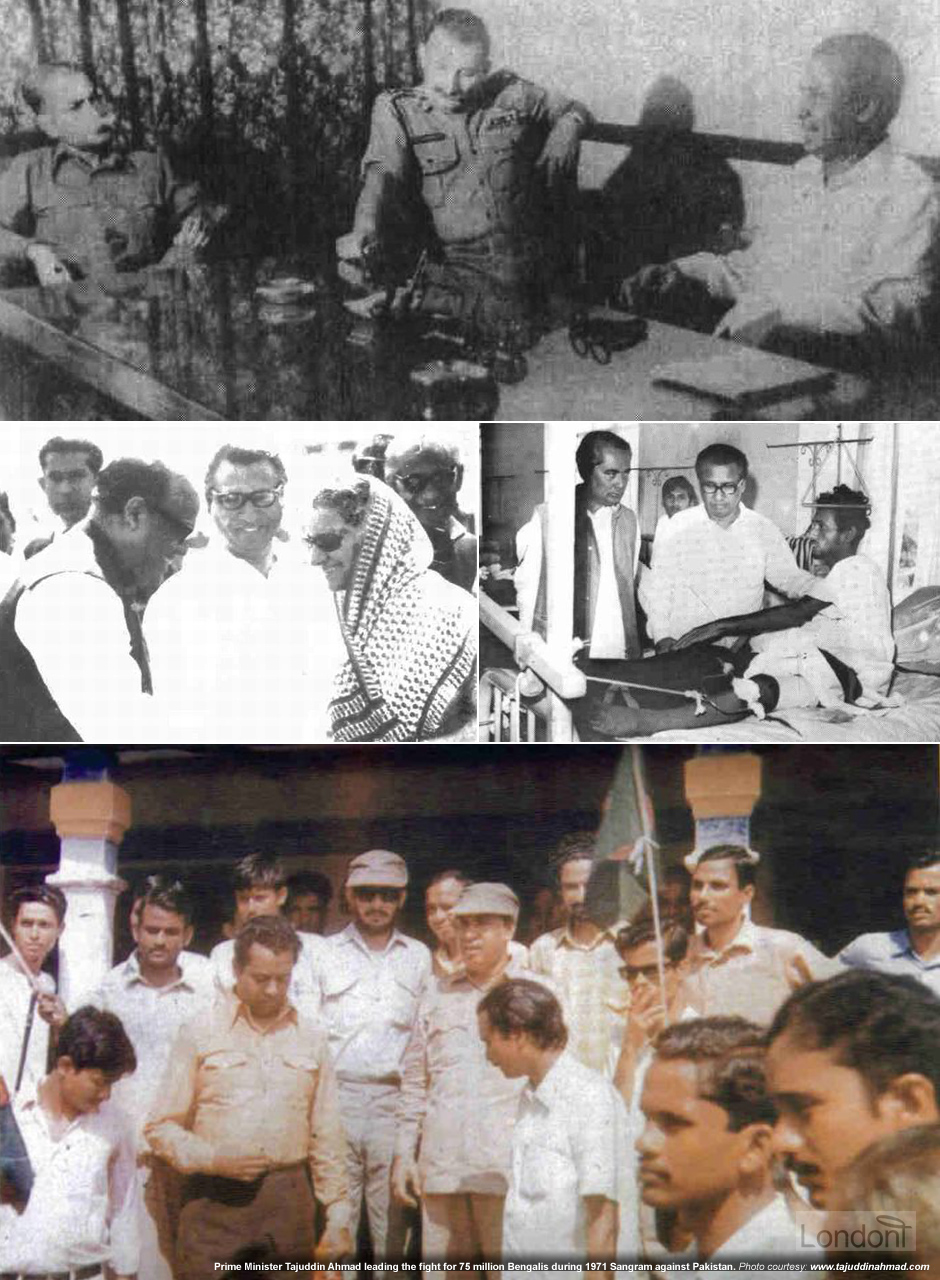 War-time Prime Minister of Bangladesh
In the physical absence of their powerful charismatic leader Sheikh Mujibur Rahman, imprisoned in Pakistan and isolated from all information, the responsibility of leadership devolved on Tajuddin Ahmad and he became the key political actor. There may have been a physical distance between him and his mentor but there was now psychological distance. Both men were born to lead. Now it was the turn of 45-year-old Tajuddin Ahmad.
Bangabandhu Sheikh Mujibur Rahman being in jail in Pakistan, it was Tajuddin Ahmad, the worthy deputy of Bangabandhu, who took the onus of leading the Bangladesh government in exile.
Formation of first Government of Bangladesh
Tajuddin was wise enough to understand, even at that early stage of war, the need for international assistance in an armed struggle to free his country. After their meeting with Indira Gandhi, Tajuddin immediately decided to form a government with the elected members of parliament. He realised that forming a government was the only way to fight against the occupational power and to gain international support for a free nation. It would also provide a point of reference for his colleagues whose whereabouts remained shrouded in mystery in the aftermath of the Pakistani onslaught.
Once Pakistan went on the rampage in Dhaka on 25 March 1971, Tajuddin lost little time in making his way across the border and linking up with Indira Gandhi. He was perspicacious enough to see, even at that early stage of national predicament, the need for outside assistance in an armed struggle he envisioned developing for Bangladesh's freedom. The man of substance in Tajuddin saw little alternative to the formal shaping of a governmental structure for a struggling nation.
The son of one of the largest landowners in Gazipur, Tajuddin Ahmad could have lived a life of carefree comfort. Instead, in 1971, with a lifetime of service and sacrifice already behind him, he found himself saddled with the extraordinary weight of revolutionary war on his shoulders as the first prime minister of the fledgling nation of Bangladesh.

With no clear directives from the larger-than-life leader Bangabandhu Sheikh Mujibur Rahman, and with an imminent military crackdown, the then General Secretary Tajuddin had come to terms with a few hard realities as he escaped with his life minutes before his home was raided.

Ever the pragmatist, he realised that West Pakistan's brutal suppression would continue unabated. A government was needed to legitimise and represent the cause and aspirations of the more than 70 million Bengalis living under subjugation. Ever the man of action, Tajuddin would cross the boarder into India and form Bangladesh's first ever government in Mujibnagar.

Taj Iman Ahmad, grandson of Tajuddin Ahmad
On 10 April 1971 the government of People's Republic of Bangladesh, or 'Gonoprojontontri Bangladesh Sthayi Shorkar' in Bangla, was formed. It was the first time in their history that the Bengalis became the rulers of their land. Tajuddin Ahmed became its Prime Minister by universal consent – making him the first PM of Bangladesh. The imprisoned Sheikh Mujibur Rahman was selected as President, Syed Nazrul Islam as Vice President (who was appointed Acting President in Sheikh Mujib's absence), Khondaker Mushtaq Ahmed as Minister for Foreign Affairs and Law, Muhammad Mansur Ali as Finance Minister, A.H.M. Kamruzzaman as Minister for Home Affairs, Relief and Rehabilitation, and retired Colonel (later General) Mohammad Ataul Ghani Osmani as Commander-in-Chief of Bangladesh Forces. Professor Yusuf Ali, teacher-turned-politician and Chief of the Department of Relief and Rehabilitation, was appointed as potentiary (someone similar to present day Chief Whip in Parliament) and administered the oath of office. Amirul Islam was appointed Chief of the Volunteer Corps, Abdul Mannan as Chief of Press, Information, Radio and Film, Matiur Rahman as Chief of Commerce, and Major Mohammad Abdur Rab as Chief of Staff.
The new government took formal oath of office a week later in the presence of Indian and foreign journalists in the Mango Orchard of Bayddanathtala in Kushtia, Bangladesh, which Tajuddin had renamed to 'Mujibnagar' (City of Mujib) in honour of their absent leader. He welcomed the journalists at the ceremony on behalf of "the Government Bangabandhu Sheikh Mujibur Rahman". Tajuddin then addressed the nation for the first time. His radio announcement provided reassurance and guidance for the people of the country who were left shell-shocked by the brutality of the Pakistan Army's sudden attack.
We do not aspire to join any bloc or pact but will seek assistance from those who give it in a spirit of goodwill free from any desire to control our destinies

Prime Minister Tajuddin Ahmad in a press statement following the new government's oath of allegiance,
The first Bengali government in history, administered by Bengalis and for Bengalis, it took shape in the grey region between the sinister and the illuminating. The sinister was the programmed genocide launched with unprecedented viciousness by the Pakistan occupation army; and the illuminating was the truth that such a brutal assault on human dignity, indeed on the traditions of a people, could not go unchallenged and unbeaten. And so it was on 17 April 1971 that in Meherpur of Chuadanga, the senior leaders of the Awami League, close associates of Bangabandhu Sheikh Mujibur Rahman, came together to proclaim before the world that out of the debris of a fast enveloping war had emerged a government, the overriding purpose behind the deed being the liberation of the land.

The moment was a first for Bengalis in their thousand-year history. Of course, Sirajuddoulah, the last independent nawab of Bengal, had perished in 1757, waging war against the British and their local cohorts in defence of a lost cause. But here was Bengal, or the eastern part of a whole truncated already through the grim turn of events in 1947, ready to rise in defence of its self-esteem. There was a qualitative difference between Sirajuddoulah and the men about to transform themselves into a government in April 1971. It was simple: the political structure which Tajuddin Ahmed and his associates hurriedly cobbled into shape would be the first Bengali government in history. Never before had Bengalis governed themselves. Now, caught between a rock and a hard place, the government that would come to be known as Mujibnagar had chosen to strike back.
Once the die was formally cast in the early hours of 26th March by Bangabandhu, just before being arrested, Tajuddin assumed the leadership of the war of liberation as an almost natural continuation of his capable administration during the days of non-cooperation. Besides preparing and then presenting the proclamation of independence on 10 April 1971, and forming a small cabinet to run the government in exile, he also led the war with utmost commitment. He preferred to remain in the war field with the valiant liberation fighters rather than sitting in his office. It was because of his steadfast leadership that we could transform the war of liberation into a people's war and could defeat Pakistan in only nine months.

Atiur Rahman, economist
The exiled government established itself at No. 8 Theatre Road in Calcutta (now Kolkata), India. In two rooms at one corner of the house Tajuddin set up his office and his residence. It was from this tiny location that he'd manage the affairs of a nation and wage a diplomatic war.
For the first and last time I met Mr Tajuddin Ahmad was at the Headquarters of the Provisional/Exile Government of the People's Republic of Bangladesh located at 8 Theatre Road, Calcutta (now Kolkata), India, during the first week of July 1971. It was just a chance meeting to exchange pleasantries.

On 26 March 1971, as a young Captain of about five years of Commission service I defected from the Pakistan Army to join the forces of Mukti Bahini so as to participate in the War of Liberation of Bangladesh '71.

Prior to meeting the PM, I had to wait at the office room of General (then Retired Colonel and MNA) Mohammad Ataul Ghani Osmany, the C-in-C of the Bangladesh Liberation Forces, at the ground floor of the two-story building, as at the upstairs in a shared room with Syed Nazrul Islam, the Acting President, Mr Tajuddin Ahmad was washing his clothes all by himself. The Indian Government wanted to house them in a better accommodation with much more facilities including house aides, but they refused. And that what Tajuddin Ahmad was - simple living, high thinking and thoroughly committed to the cause of Bangladesh and the welfare of its people. He had always been a source of inspiration and hope, especially during War of Liberation '71.

The acting President Syed Nazrul Islam was also a meritorious, simple, austere, honest and passionate personality but less rugged than Tajuddin Ahmad. Combined together, they were the pillars of strength for the Liberation Forces.

General M A G Osmany and Lt. Col A R Chowdhury, who was a staff officer at the Bangladesh Forces Headquarters/BDF HQ, would speak volumes about Tajuddin Ahmad and his activities. I heard their stories, particularly, when I served in Sylhet Cantonment from 1979 to1982.

Even under severe stress and strain Tajuddin Ahmad used to remain calm and composed. It was a treat to observe the way he used to handle Gen Osmany - honouring the sentiment of the General but without disturbing the cohesiveness of the cabinet and day-to-day activities. Though during Oct-Nov, 1974 he was unceremoniously kept out of the cabinet, he remained totally loyal to Bangabandhu Sheikh Mujibur Rahman until his death.

Amin Ahmed Chowdhury, Bir Bikram, a freedom fighter and a retired Major General and former ambassador of Bangladesh
Creating a blueprint for success
And so began the long, intense, arduous journey to the road to freedom filled with pain, sacrifice and ultimately joy.
During the next nine months Tajuddin had to create the blueprint for a successful new nation and manage obstacles coming at him from all angles. Whether it was earning the trust of Indian Prime Minister Indira Gandhi, handling internal conflicts, earning the confidence of the people of Bangladesh, foreign recognition of Bangladesh, strategic planning of the war, motivating and inspiring freedom fighters, forming the armed wing of the government called 'Mukti Bahini' (Liberation Forces) under an united command with the assistance from the Indian army, gathering resources to fight a long battle with a powerful and highly trained enemy, Tajuddin was at the heart of it all. He led the war with remarkable diplomacy to finally achieve freedom from the Pakistani colonial occupation.
Tajuddin's life events – albeit in minuscule degree of intensity – had trained him to manage this mammoth task. As a boy he had single handedly arranged for food and relief for cholera victims in his village. Now he would oversee the relief efforts directed towards the 10 million Bengali refugees pouring into neighbouring India. As a forthright young man he had "challenged the anachronistic politics of the aristocratic elite" in pre-partition Bengal with the guidance of Abul Hashim. Now he would challenge the machinations of a genocidal Pakistan military.
Many of his colleagues, be they Bengali (e.g. Nurul Qader who was charged as a roving ambassador with the unenviable task of reaching out to leaders for international recognition and support at the time) or Indians (e.g. Golok Majumder, the senior Border Security Force (BSF) officer in West Bengal), have vouched for his capability as a wartime administrator and had openly declared that had anybody else other than Tajuddin had been at helm, Bangladesh may never have won the war as quickly as it did or even achieved independence.
What if the Mujibnagar government had not taken shape? What if the men who would lead the armed struggle against Pakistan had chosen to spend the rest of their lives waiting for a negotiated settlement to the crisis? What if, in the absence of resistance, Pakistan had perpetuated its presence in Bangladesh and cast its ever-darkening shadow on Bengali heritage? Prior to April 17, 1971, these fears were all too real for the nation to dismiss out of hand. Bangabandhu had been abducted by the Pakistan army; and not one of us knew where the rest of the Awami League leadership was at that point. We would, of course, know subsequently that even as we worried about the future, Tajuddin Ahmed and Amirul Islam were making frantic efforts to locate the other men who would form the core of the Mujibnagar government. Over a period of nearly a month, Syed Nazrul Islam, Mansoor Ali, Quamruzzaman, M.A.G. Osmany and a host of others would link up with Tajuddin Ahmed. The moment that would make history would be at hand.
Throughout the entire war period there was one recurring theme in the way he spoke. He would always begin by saying: "under the responsibility I have been given" or "the responsibility entrusted on me" — in other words never trying to usurp the authority of higher powers, always eager to remind people that he was only doing a job that he was assigned to. I never heard him saying: "or I will do this, or I am going to do this". His position was I'm only doing my duty as a deputy. His loyalty and dedication to his leader and friend, Shaikh Mujibur Rahman, was as solid as a rock. I think the "I" word never entered his speech because he genuinely believed he was carrying out his "Mujib Bhai"'s wishes, doing exactly what he would have wanted him to do. As if all he was doing was carry out the orders of his commander-in-chief.
He [Tajuddn Ahmad] was always calm while taking decisions but firm in his convictions. The credit for the victory in the war of independence in Bangladesh goes to a great extent to his foresight, able leadership and great organising capability. Unfortunately, his contributions to the independence of Bangladesh are yet to be evaluated properly.
Tajuddin tackles war on the Islamic front
Pakistan authorities projected the war as a battle of "Islamic" Pakistan versus Bengali "miscreants" and Indian "chancers". For them they were the rightly-guided Muslims hoping to silence the "rebellious" "gaddar" (traitor) Bengalis led astray by pagan Indians and "save" Pakistan in the process. And if this silencing meant killing them then so be it. They were happy and willing to do that freely.
The Pakistan military sought the help of a small section of Bengali collaborators, known collectively as 'Razakars', to help them in this mission.
The task of re-educating these Pakistani attackers and razakars on the basic fundamentals of Islam which promotes peace upon mankind was left to a clandestine radio channel called "Swadhin Bangla Betar Kendra" (Independent Bengal Broadcasting Centre). The channel sought the advice and guidance of Tajuddin Ahmad who was a hafez and was very knowledgeable on the core principles of Islam.
For his part, whether it was his first broadcast to the nation following the formation of the new government on 11 April 1971 or his broadcast on the eve of victory on 8 December 1971, Tajuddin's spoke mainly the language of peace. He warmly congratulated the unarmed people of Bangladesh for offering heroic resistance to the occupation Army of Pakistan and highly praised the freedom fighters. He also reminded them not to take any aggressive action against innocent people including the non-Bengalis.
Tajuddin who was well versed in the Qur'an and knew Islam's core principles to be fairness, justice and compassion, resisted these false attacks through foresight and intelligence. As Prime Minister, who was also in charge of Broadcasting and through his helpmates, he launched a radio program to define, in the light of Islam, the people's right to justice, liberty and human dignity.

Tajuddin conceived the future framework of a free Bangladesh as one in which the adherents of all religions would be able to practice their faiths freely and co-exist in harmony and peace with each other. His vision is reflected in the Swadhin Bangla Betar (Free Bengal Radio Center) Kendra's daily presentations and recitations of the holy scriptures from the Bible, Qur'an, Gita and Tripitaka, from Christian, Muslim, Hindu and Buddhist faiths groups.
Internal conflict with Khandaker Moshtaque Ahmed and 'Mujib Bahini' of Sheikh Moni, Sheikh Mujib's baghna (nephew)
Passion and ideas were running high during sangram (war).
Majority of the people in senior position were young, inexperienced men thrown together unexpectedly by the barbaric unprovoked attack of the Pakistanis. They had one objective in mind: free the motherland. With their champion of Bengali autonomy locked up 1,200 miles away, and with no clear structure, time, and established method of communication, misunderstanding and arguments crept up often and fast.
For Tajuddin these came in the shape of Khandaker Moshtaque Ahmed, Minister for Foreign Affairs and Law, and a group of rebellious Mujib loyalist known as 'Mujib Bahini' (Mujib's Army) headed by Sheikh Mujib's baghna (sister's son i.e. nephew) Sheikh Fazlul Haq Moni amongst others. Both set aimed to undermine Tajuddin's leadership and were constant thorn in his life. It was not easy being a prime minister and running the newly formed government.
Sheikh Fazlul Haq Moni and his band of Mujib loyalists took it upon themselves to undermine the nation's first prime minister even as he defined military strategy for a nation at war. There were other troubles as well. Tajuddin had constantly to look back, behind his shoulder, for there was a smell of conspiracy in Khondokar Moshtaque.
The young leaders in the Awami League, like Sheikh Fazlul Haq Moni, thought they were ignored. Sheikh Moni claimed that Bangabandhu gave him the order to run a revolutionary force to free the country. When the party was bridled with pettiness within its own domains, Tajuddin was busy uniting a nation. He had to fight against two forces within the government- the opposing, unhappy leaders like Khandakar Mushtaq, and the young, aggressive force of Mujib Bahini. The intellectual in him was prepared to withstand the challenges his fellow Awami Leaguers were throwing at him.
He came under political assault the moment he took that considered step. The younger elements in the Awami League, typified by the likes of Sheikh Fazlul Haq Moni, thought they had been upstaged. Tajuddin, they thought and indeed propagated the message, had gone beyond his remit. He was not, said these angry young men, qualified or empowered to establish a government because he had not been authorised by Bangabandhu to do so. It was an unfased Tajuddin who went ahead with what he saw as his historic mission of bringing Bengalis together. The socialist in him was unwilling to cave in to fate or human machinations. The intellectual in his being was prepared to withstand onslaughts of the kind his fellow Awami Leaguers were throwing his way. He emerged from the experience a sadder man but a necessarily stronger man.
These conflicts would prove to be fatal for Tajuddin in an independent Bangladesh. For now, the war proved a powerful distraction - but the seed of hatred was firmly planted in the ground.
Vows to abstain from family life until Bangladesh is independent
On many occasions it used to be that I was sitting on a stool or a chair, while he was sitting on a small wooden chowki washing his clothes, at the same time in serious discussions about the affairs of the state. Maybe I'd read to him the contents of a file, and he'd stop me to go over some points more carefully. We discussed, we listened, discussed some more. An hour, an hour-and- a half would easily go by, like this, in discussions, in note-taking, note-reading, while Mr. Tajuddin would have his washed, rinsed, and cleaned. To see the prime minister of a country wash his own clothes with his bare hands, while conducting his official business was a humbling experience for me. A great lesson in humility and in what was the stuff that makes a true leader. Mr. Tajuddin was truly a great man, a wonderful human being.
There was a time during the War when his only son Sohel fell sick. His temperature rose as high as 104℉ and would become delirious at times. His condition was pretty serious. When I carried this piece of information to him his reaction was of angry dismissal of the messenger. My fault was that I pleaded with him to go home to see his son. He told me in a tone of reprimand: "I do not want you to utter that word to me again. Right now I have no personal family. All the freedom-seeking people of Bangladesh are my children. My concern now is with them alone. So I hope you will not badger me any more with those silly stuff".

This shows how serious he was about his oath.

Ali Tareq, lawyer and politician who was also the Public Relation Officer of Finance Minister Tajuddin Ahmad (1972-1974)
Tajuddin's political acumen and foresight during turbulent times aside, the quieter moments really give us insight into the essence of the man's soul. The Theatre Road government headquarters would double as his office and makeshift home. He had sworn not to return to family life until the country was liberated to demonstrate solidarity with the men out on the battlefields. During an odd occasion when Tajuddin could not be found in his office, he was tracked down to the home of his office peon who had come down with a bad fever. Tajuddin was by his bed with a wet towel nursing him back to health. On another occasion Tajuddin would lose an entire night's sleep during a storm. His agitated heart bled that night for the refugees who had no shelter.

Taj Iman Ahmad, grandson of Tajuddin Ahmad
Victory, finally!
On 16 December 1971 the Pakistan army surrendered to the joint command of the Mukti Bahini and the Indian army. Bangladesh thus emerged as an independent state in less than nine months after the Declaration of Independence.
As the principal political figure, Tajuddin Ahmad wassurrounded by journalists who asked him about his reaction. He broke into tears and said that he had performed his duty "merely as a midwife" and that he felt "sad" for not being able to "deliver the news of the child's birth to its father" Sheikh Mujib.
Even though the credit for the victory goes to a large extent to Tajuddin Ahmed, he never claimed any recognition for his achievement. On the contrary, he instructed Secretary Nurul Quader Khan before the latter's departure for Dhaka on 17 December 1971 that "nobody other than Bangabondhu should be given any credit for the victory of Bangladesh".
On 16 December 1971 the Pak Army surrendered. On the 17th the Prime Minister called me in his office to say: "Tomorrow morning you are going to Dhaka. You are carrying with you the entire Government of Bangladesh. You have to exercise extreme caution and composure as you conduct your duties. No flare-ups, no temper tantrums. You are entering a new, independent Bangladesh, so you have to be the picture of the highest ideals and principles of a new government. You must always remember, at no point credit should be given to anyone other than Shaikh Mujibur Rahman. It's an order, not advice. You'll always keep I mind that all these war-efforts, movements and struggles, everything that happened so far, were under his leadership and guidance, in his footsteps and following his ideals. I, too, have done nothing other than obeying him as my leader. So whenever you speak of the Government's official policies you'll never deviate from this central point – all credit goes to him. All glories, all accolades, belong to him and him only. You will carry the flag Bangladesh. We are giving you that privilege. History will acknowledge this contribution of yours. Now you go."

Tajuddin Ahmad tells Nurul Qader to give Sheikh Mujib all the credit for victory,
Tajuddin never took any credit for himself and shunned self promotion.
Despite crippling obstacles he organized both the political and the military front within a short time. His abilities, sacrifice, devotion and patriotism inspired all. The successful leadership during the liberation war marked the finest period of Tajuddin Ahmad's life.

All through the liberation war Tajuddin Ahmad worked day and night in that temporary office of theatre road. He passed night after night in discomfort, ate whatever food was supplied by the mess, even did his own washing. He took a vow that till Bangladesh was liberated he would not lead a family life. As the Prime Minister of a nation ridden in war and its freedom fighters' away from their families Tajuddin wanted to share their sufferings as well as set an example. It is not possible to express in words the hard work that he did during the nine months of the war. During those months there was no rest for him. It was because of his capable leadership that the nation could win its independence within a record time of 266 days.

His firm resolve and commitment on the question of the country's liberation had no parallel. He was far from an opportunist. He would never compromise the interest of the nation. It was his unbreakable spirit that helped the nation to wriggle out of the deep crisis into which it was thrown. With his idealism and firmness of resolve and unique qualities of leadership he was able to spurn all inducements and strove single-mindedly towards his goal. He was not willing to settle for anything less than full independence. No one could deflect him in the slightest degree from his firm resolve. Because of his clear pragmatic thinking and courage he could reach the cherished goal in due time. Tajuddin Ahmad possessed the rare ability to make the right decision with intelligence in a moment of crisis.

He was able to create enthusiasm in the 75 million people of Bangladesh across parties and ideologies for freedom. During the liberation war the force of his inspiring leadership and overpowering oratory made the 75 million people of Bangladesh, irrespective of party and persuasion, into determined freedom fighters – an achievement that might not have been possible with any other leader. He knew no nepotism and treated everyone, including his opponents and those who caused him harm, with fairness and justice.
A remembrance of Tajuddin Ahmed is surely the role he played in weaving the Mujibnagar government into a credible pattern in April 1971. He it was who undertook the task of locating all the senior leaders of the Awami League then making their way across the frontier into India in the face of all-round genocide and bringing them together as a wartime administration. There were those who clearly felt uneasy about Tajuddin's playing the foremost role in organizing the war; and they went overboard in trying to push him aside. Lawmakers elected on the Awami League ticket at the December 1970 elections were made to gather, the sole objective being a removal of Tajuddin from the leadership of the movement. Tajuddin did not waver in his overriding goal of seeing the nation through to victory. He survived, to wage war in Bangabandhu's name. On 16 December 1971, Tajuddin Ahmed's place in history was firmly etched in the human consciousness.
Tajuddin and others return and go full speed in rebuilding Bangladesh
Even before Bangladesh gained its victory Tajuddin Ahmad was very clear on the mammoth task that befell the war torn country. He knew rebuilding the country's economy and infrastructure, especially in the countryside, and attaining social cohesion would be top priority. But he felt it was a collective effort and not left to a single party or individual to make this happen.
After winning the war, we will have to win peace as well. Shonar Bangla has to be erected on the ashes of a war-ravaged economy. All the sons and daughters of Bangladesh have to engage themselves in the joyous efforts of reconstruction and development.

Tajuddin Ahmad started speaking about peace and rebuilding Bangladesh collectively when it became clear that Bengalis were winning the war (8 December 1971)
Tajuddin and the other members of the Mujibnagar Shorkar returned victorious to Dhaka on 22 December 1971 escorted by an army helicopter. They were greeted at the Tejgaon airport by hundreds of thousands of jubilant crowds. The cabinet members took over the administration of Bangladesh. The very next day in his first cabinet meeting in Dhaka, Prime Minister Tajuddin made Bangla the state language – which had been the dream of the people since Ekushey February 1952. He also passed government decisions to provide salaries to government officials of up to Tk 1,000 as the highest ceiling, nationalisation of jute, textile mills, and tea gardens. He also ordered Bangladesh Bank to function as a central bank by December 1971.
On 20 December 1971, he [Tajuddin Ahmad] already passed some orders encompassing stoppage of any financial transaction including revenue with Pakistan either through post-offices or banks. He also made it clear that Bangladesh would follow a self-reliant economic policy and avoid US aid.

As soon as he came to Dhaka, his first consideration was to improve the law and order through the help of Indian army. His next concern was how to bring back ten million refugees quickly and help them readjust. He then quickly moved into establishing bilateral economic and diplomatic ties with countries that recognised Bangladesh.
My first close glimpse of him was in the evening of 22 December 1971, the day he arrived from Kolkata to Dhaka to take over, in the absence of Bangabandhu, the reins of the government in Dhaka. He came to what is now known as Bangabhaban wherein along with some other offices we had, in a couple of rooms temporarily set up the Foreign Office. A rough English rendering from my Bangla book, Desh Deshantor brings out my sentiment of the day.

"On that day," I wrote, "Prime Minister Tajuddin Ahmed met each and every civil servant present one by one and went around shaking hands with them. For many of us, this was our first meeting with him. This leader-like approach of his was of considerable significance. On that evening of the seventh day of our 'Victory Day', Mr. Tajuddin Ahmed established the role of political leadership in that nerve-centre of governmental activities. This he did, not with any post-war roughness, but through the initial demonstration of his habitually polite, deliberate, and self-confident personality. A man of few words that he was, this knowledgeable, intelligent, and efficient political personality left a deep impression on many of us".

Faruq Choudhury, a former civil servant
Tajuddin always dreamt of a prosperous Bangladesh which was free from poverty, inequality, hunger, and foreign dependence. He indicated this bent of his mind through his various early actions as prime minister during the difficult days of post-independence. But his three budgets are even better testimonies of his pro-poor development thinking. His emphasis on improving the lot of the working class while formulating land and industrial policies was also very straight-forward.